Balandra bay, Mexico. With stunning turquoise blue waters nestled between rocky mountains, the secluded Balandra Beach is perhaps the most beautiful shore in all of Baja.
Pin Me for Later!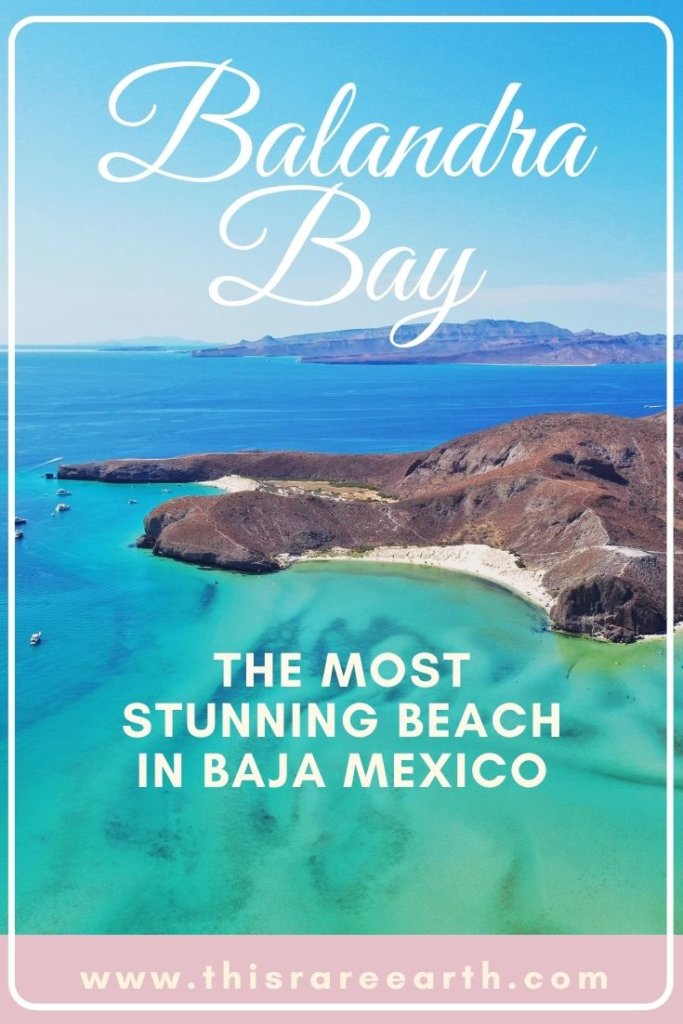 The road to Balandra Beach is a winding one, snaking through a cactus-dotted landscape and sunburnt brush. The sun beats down, even early in the morning, and the mountains surround you. I thought it was interesting that such a dry desert road led to one of the most beautiful blue beaches in Mexico!
And maybe it's because of this terrain that the calm waters of Balandra Bay are so unexpected. I would almost call it a "hidden beach", except that the locals flock here and it's certainly no secret.
Upon arrival, you'll see a large cove of shallow, turquoise water surrounded by layers of mountainous backdrop. It is simply stunning. Balandra Bay is one stop you cannot miss in the Baja Peninsula, but between the route, parking, and crowds, you should definitely come prepared.
Here is everything I learned from visiting Balandra Beach to help make your trip stress-free!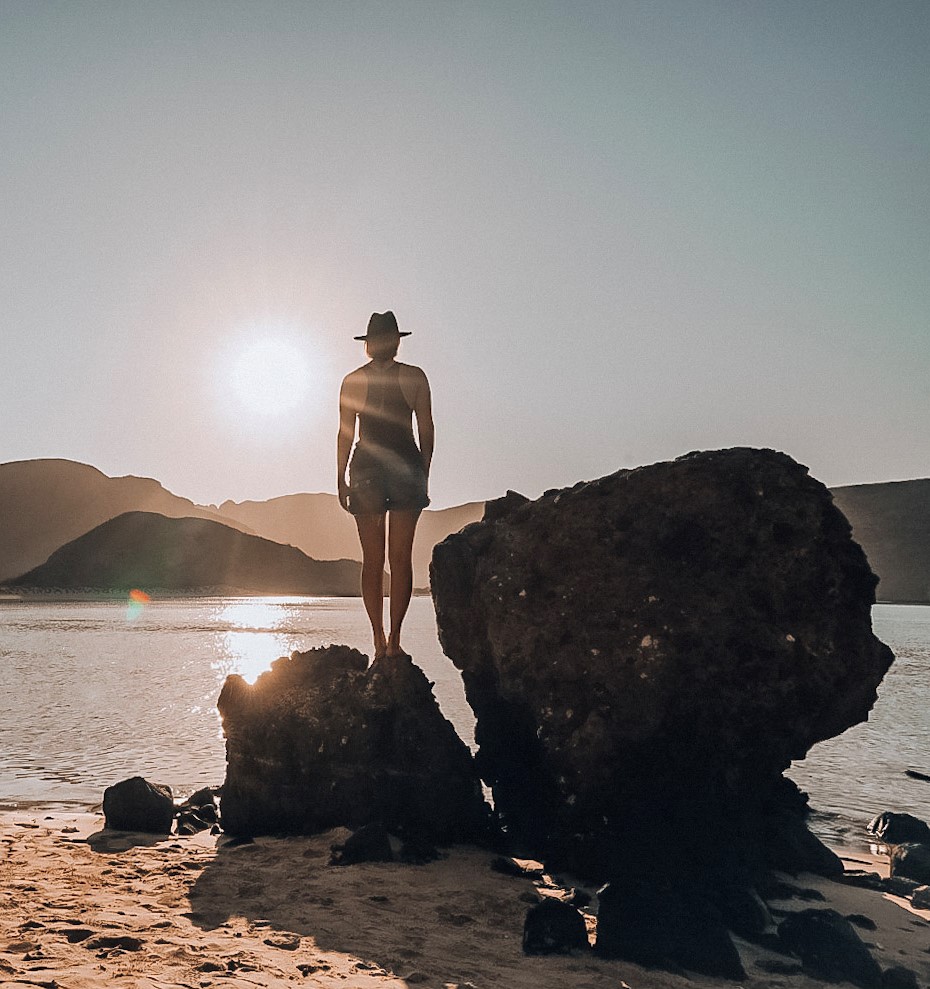 How to Get to Balandra Bay
It takes just under 30 minutes to reach Balandra Beach from La Paz, where I was staying for four nights. The road is mountainous and is currently about 50% unpaved. I did not have any issues driving it with a compact car I rented in San Jose del Cabo.
It is worth noting, there was construction in the mountain pass every morning, where it appears that they are either paving or, at the very least, widening, the route to Balandra Beach.
Click the map below to enter your exact starting point for your customized map to Balandra Bay.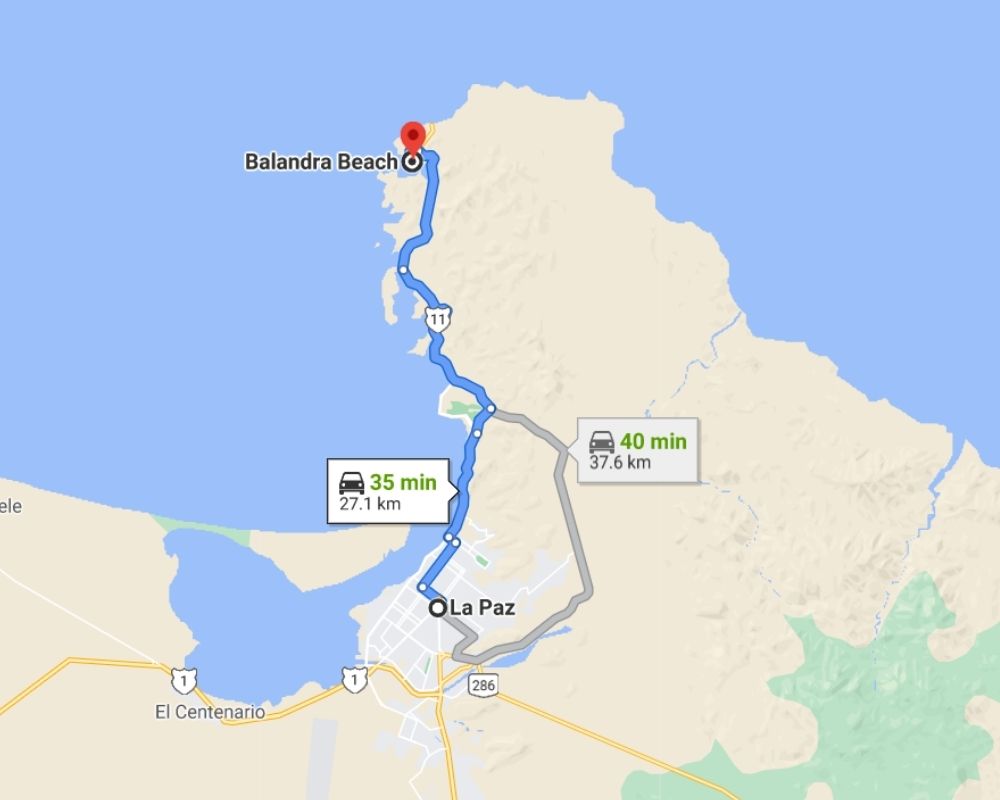 If you are driving from the Los Cabos area, it will take roughly 2.5 hours each way. A day trip is certainly possible if you leave early and plan ahead! But Balandra Beach and La Paz in general are so peaceful, that I highly recommend spending a few nights in the area.
If you do not have a rental car, fear not; a trip to the stunning Balandra Bay is completely possible through a day tour operator, such as below.
Visiting Balandra Beach – Helpful Tips
The calm serenity of this place hits you instantly, despite other beachgoing crowds, and the blue is so stunning that it instantly fills you with awe. And yes, all of this is despite the possible crowds (particularly if it is a weekend).
I tried to visit Balandra Bay just after sunrise, but it wasn't in the cards for me that day. The parking entrance is manned by officials, and they kept a line of about 25 cars waiting. We were not allowed into the parking area until 730am. There was no entry fee.
While this might seem crazy-early, I was 1) hoping to catch some sunrise shots with my camera, and 2) hoping to get a good spot on the limited beach area. The small parking lot fills very quickly, and even arriving this early, I got one of the few remaining spots. There was no parking fee.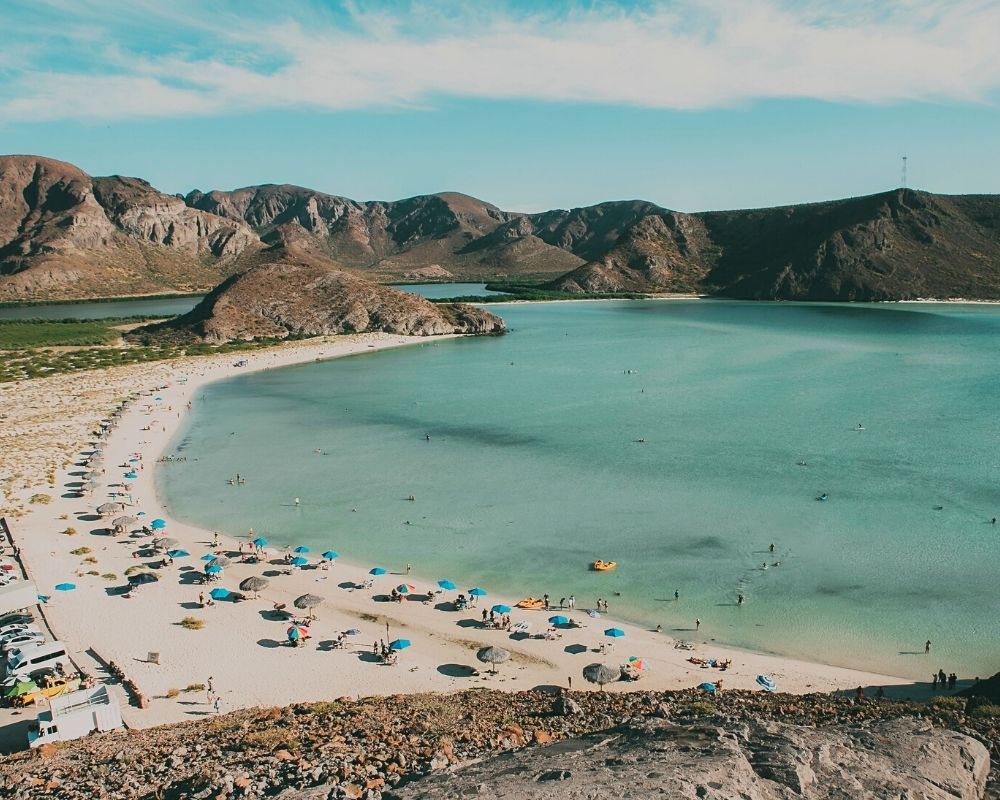 One thing I appreciated, there were only locals here at the time of my visit, meaning I got to chat with La Paz residents and enjoy the peaceful beach. There were no beach touts or food and souvenir establishments; just nature as far as the eye could see.
On the other hand, this means you need to plan ahead. Pack a lunch, pack loads of water, and anything else you might need for the day. If you get hungry for lunch, it's a bit of a trek to the nearest beach with restaurants, and you could will lose your parking by the time you return.

The Waters of Balandra Bay
The waters are extremely calm and shallow here, making it a great place for peaceful wading and escaping city crowds. You can walk deep into the bay and the waters remain about waist-high depending on the tides.
The water itself is extremely warm – around 85°F / 30°C on average – and saltier than the surrounding ocean water because of more rapid evaporation. Visitors may see everything from fish to coral to starfish to stingrays in the clear bay.
Balandra Beach and the Sant Rita Hot Springs were the two most peaceful locations on my entire Baja road trip.
Visiting Balandra Beach – Helpful Tips:
Arrive early. Parking is extremely limited.
There is no parking fee or entry fee.
Pack a lunch as no food is available in the area.
Bring books, towels, cameras, etc. – anything you would want for a beach day.
If lounging isn't your style, there are plenty of activities t try, which I will go into below.
Activities in the Balandra Bay
Once you've had your fill of lounging, there is plenty more to do here than lay on Balandra Beach! (Though no judgement from me if you simply do that all day – it is so darn peaceful).
The bay's water is so still and peaceful that is it the perfect place for stand-up paddleboarding (SUP). Tours run through the mangroves and surrounding scenery. I also noticed kayak rentals were available, though nobody seemed to be kayaking while I was there.
Larger tours visiting Isla Espiratu and Balandra Bay are available, as is snorkeling with whale sharks.
One free – and frankly the most stunning option of all – is a hike up on top of the rocky peaks to view and photograph the stunning bay below. There are several small hills next to the parking lot with rocky paths to climb. From the top, you will have the most breathtaking birds-eye view of the entire bay.
For photographers, Balandra Bay is stunning.  But because of the direction of the sunrise, you won't truly see the beautiful blue color of the water from the main beach near the parking area until afternoon. However, you can see if from the small hike mentioned above.
The morning sun rises over the mountains, and shines brightly on the sand area for beach-goers. It is a spectacular sight!
Balandra Bay is the perfect, peaceful, laid back destination. It is one stop that you won't forget, and is a must-see during any trip to Baja!
Pin Me for Later!