Most visitors in Los Cabos are there for one reason; the stunning blue waters in the Sea of Cortez. But I've recently discovered what I consider the best kept secret in Baja; the Santa Rita Hot Springs. Read on to learn all about these beautiful natural pools before your next trip to Baja!
Pin Me for Later!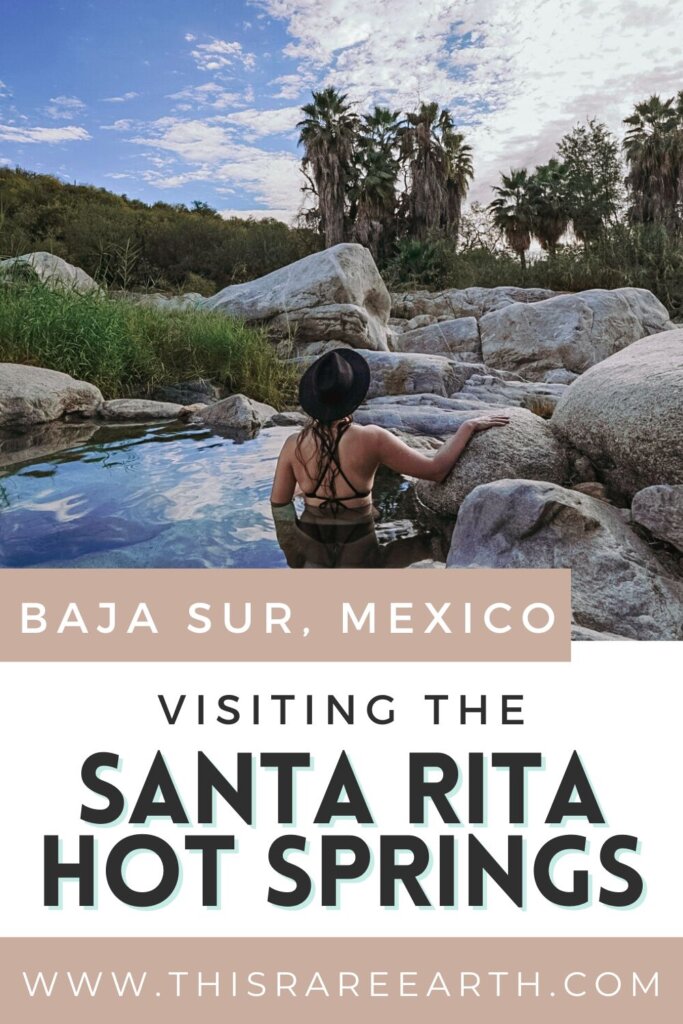 The Santa Rita Hot Springs – Baja Sur's Best Kept Secret!
Picture this: clear, warm, hidden pools nestled in between tall white rocks, green palm trees, and a sprinkling of cacti within the lush green grass. Such a place exists in a small pocket of Baja Sur, Mexico.
Locals have been visiting these natural pools known as the Santa Rita Hot Springs since the early 1900's. But it's only in recent years that gringos have discovered these beautiful natural hot springs and started to visit, also.
I stumbled across photos of this stretch of land and booked a trip to Baja, specifically with the intention to hike the Sierra de la Laguna and soak in the hot springs. And now, you can, too.
Where Are the Santa Rita Hot Springs?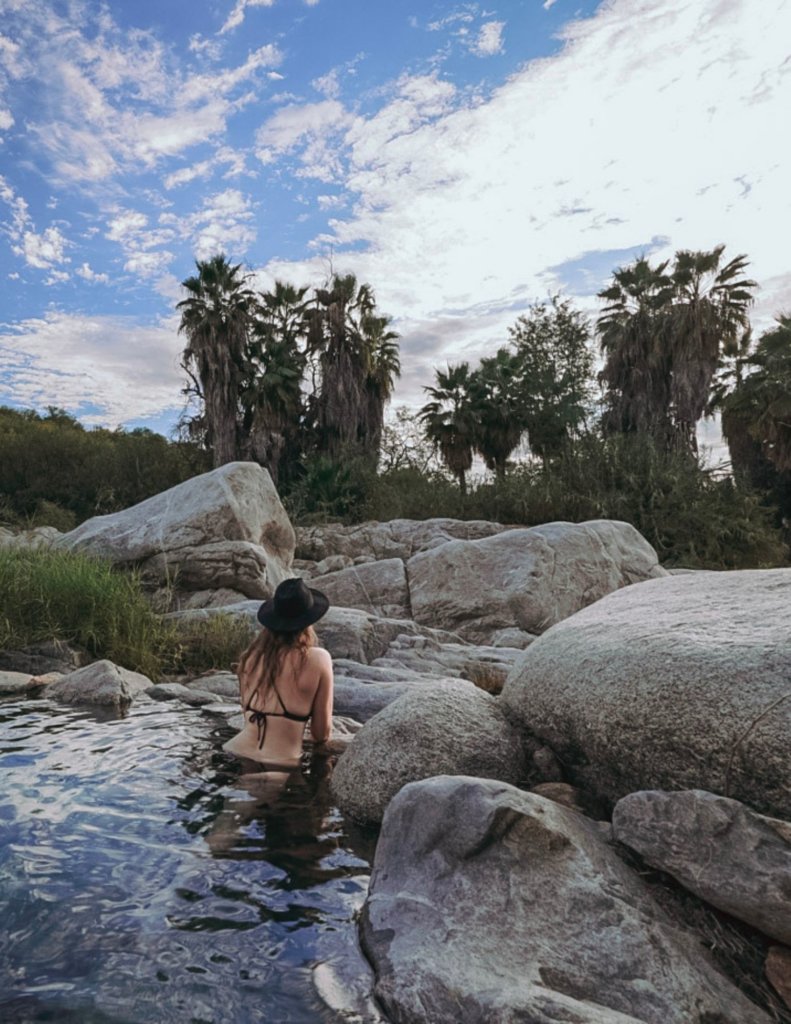 The Santa Rita Hot Springs are in the Mexican state of Baja Sur. This is the Southern half of the thin peninsula extending south from California, separated from the mainland. Personally, this is my most favorite area of Mexico due to the cactus-covered landscape and desert and beach vibes..
A mountain range known as the Sierra de la Laguna is located toward the southern end of the state, just a short drive from Los Cabos. This mountain range reaches into both the La Paz and Los Cabos municipalities.
Sierra de la Laguna is home to not only the Santa Rita Hot Springs, but also many small waterfalls, incredible white rock piles, and hills covered with everything from tall cacti to pine trees, depending on your elevation. The highest elevation point in Sierra de la Laguna is 6857 feet high.
You May Also Like: Things To Do in Cabo, Mexico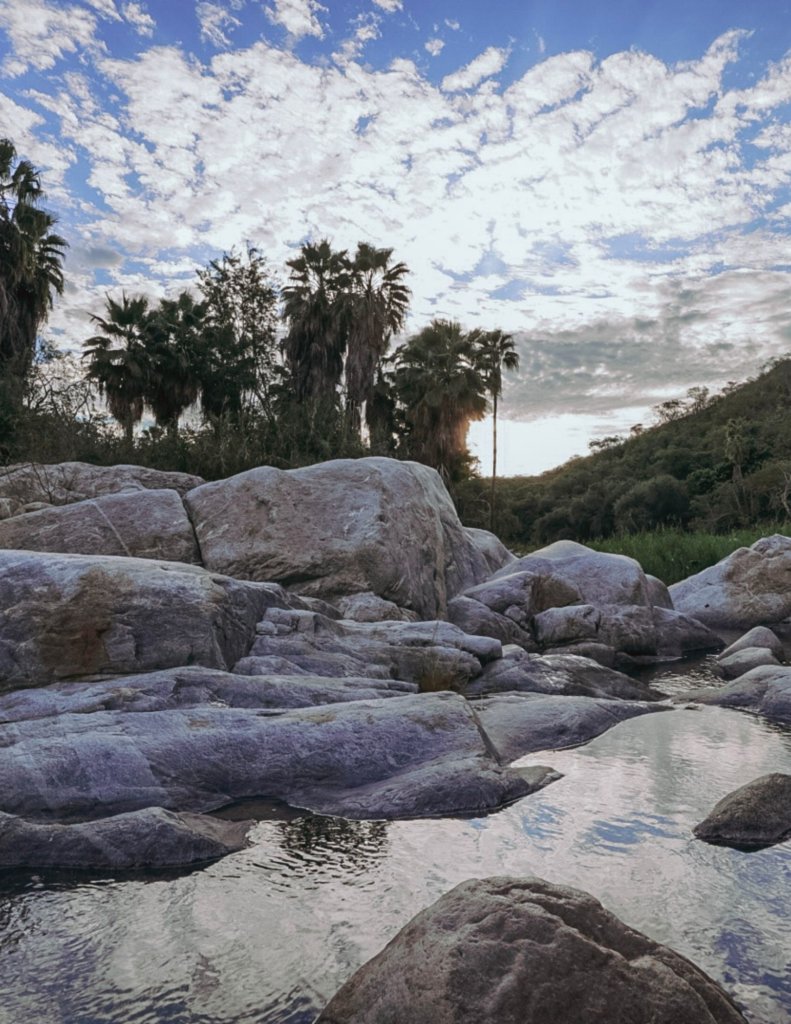 How to Get to the Santa Rita Hot Springs
Most people will fly into the area via the San Jose del Cabo international airport (SJD). From here your best bet is to rent a car and road trip through Baja, as I did. I was on my second solo road tip through Mexico in as many months, the first one being in the Yucatan Peninsula.
The Santa Rita Hot Springs are about an hour and a half from the popular tourist spots of Cabo San Lucas and San Jose del Cabo, give or take 15 minutes depending on where exactly your accommodation is. For a comparison of these two neighboring towns, check out this post.
As I mentioned, my trip to the Santa Rita Hot Springs was part of a larger road trip around the entire state of Baja Sur. I accessed the Santa Rita Hot Springs after spending a day and night in the small town of Santiago.
When I say small town, I mean small town. You can walk the entire area easily (and quickly). The people are extremely friendly and you just may be the only non-local, as I was. I stayed here overnight in a small guesthouse so that I could hit the springs early and not need to drive too far after hiking all day.
From Santiago, it will take less than 20 minutes to reach the Santa Rita Hot Springs by car. Be aware that the road is unpaved and has limited road signs.
Depending on the time of year, this drive may or may not be doable with a typical rental car. During heavy rainfalls, some large swaths of land flood and block the route. In dry months, there will be no problem.
You May Also Like: Mexico Travel Tips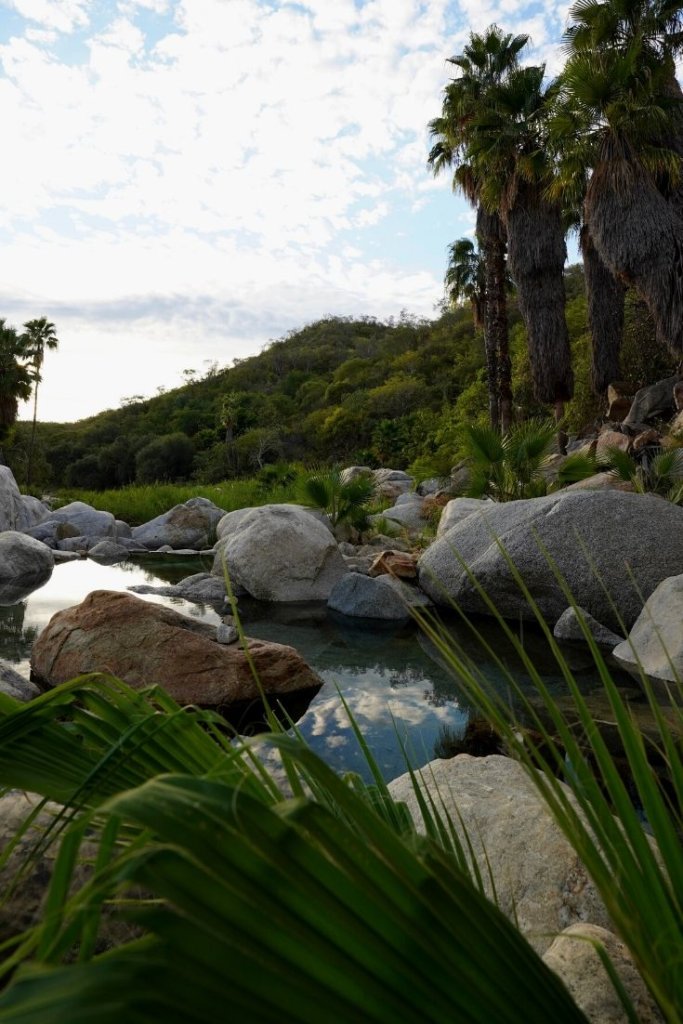 Visiting the Santa Rita Hot Springs
The Santa Rita Hot Springs and surrounding land is a reserve protected by the Mexican government. Visitors can only access the springs by traveling through a private landowners ranch. Visitors are required to pay the land-owner a small entrance fee of 200 pesos, and then that fee is split between him and the government.
The hours are currently Thursday to Tuesday from 8am-5pm, which is a recent change from the former 7am entry time. Be sure you don't come on a Wednesday! They will be closed. Parking is free near the ranch.
From the parking lot, the Santa Rita Hot Springs themselves are a simple 5 minute walk on a dirt path. You'll walk through sand, tall green grasses, and then over 2 wooden bridges. On the left-hand side, you will immediately see the shimmering, clear blue pools. They are a stunning sight.
You May Also Like: Solo Female Travel in Mexico – Is It Safe?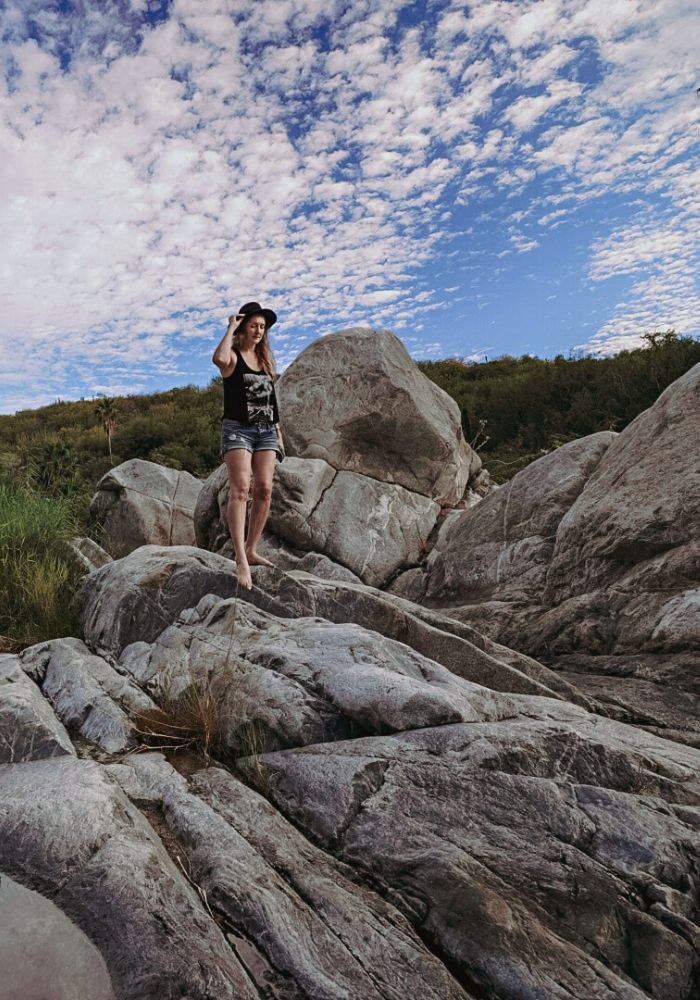 The higher pool of water is the natural hot spring. It is clear, shallow, and certainly hot! I was there first thing in the cool morning, and even so, it didn't take very long at all before I was sweating. These springs are hot!
Luckily, the lower waters are fresh cool spring water. I found it nice to alternate back and forth as I got too hot or too cold.
Some locals believe that these spring waters have healing properties. While I can't prove or disprove that, what I can say is that there is nothing quite like a natural hot spring in complete solitude. Pure heaven.
Though the Santa Rita Hot Springs are usually packed by locals, I got lucky and had a full 6 hours here solo, to not only soak but also to hike, with no other visitors whatsoever. It was truly my own private paradise.
If you are up for it, the hiking is gorgeous. But know that the term "hiking" is used pretty loosely here.
Truthfully, it is more bouldering and scrambling over streams and pools, so don't attempt this if you are not confident. Before becoming an aerialist, I used to rock climb pretty frequently, so I enjoyed this part of the day! But be aware, there are slippery rocks, jagged handholds, and plenty of places to fall.
What to Pack
Bring a lunch and snacks, because you will not have the option to purchase anything on site. There are picnic tables nearby where you can enjoy your food.
Definitely pack loads of drinking water! It get's pretty hot if you stay all day.
I highly recommend a good pair of trekking sandals, which you can wear for both bouldering and through the water. My favorite pair are hands down these ones here. They have traveled across six continents with me and are still going strong!
Bring a lightweight packable towel and a wide brim hat.
Bring a GoPro or another small waterproof camera. You are going to want to document this!
The further you go, the more pools you will find. I saw small waterfalls, tall cacti, and sheer white walls as the mountains gained elevation. Each secluded pool held tons of floating lily pads, a truly lush and natural place. Swimming is permitted in any of these pools, by the way!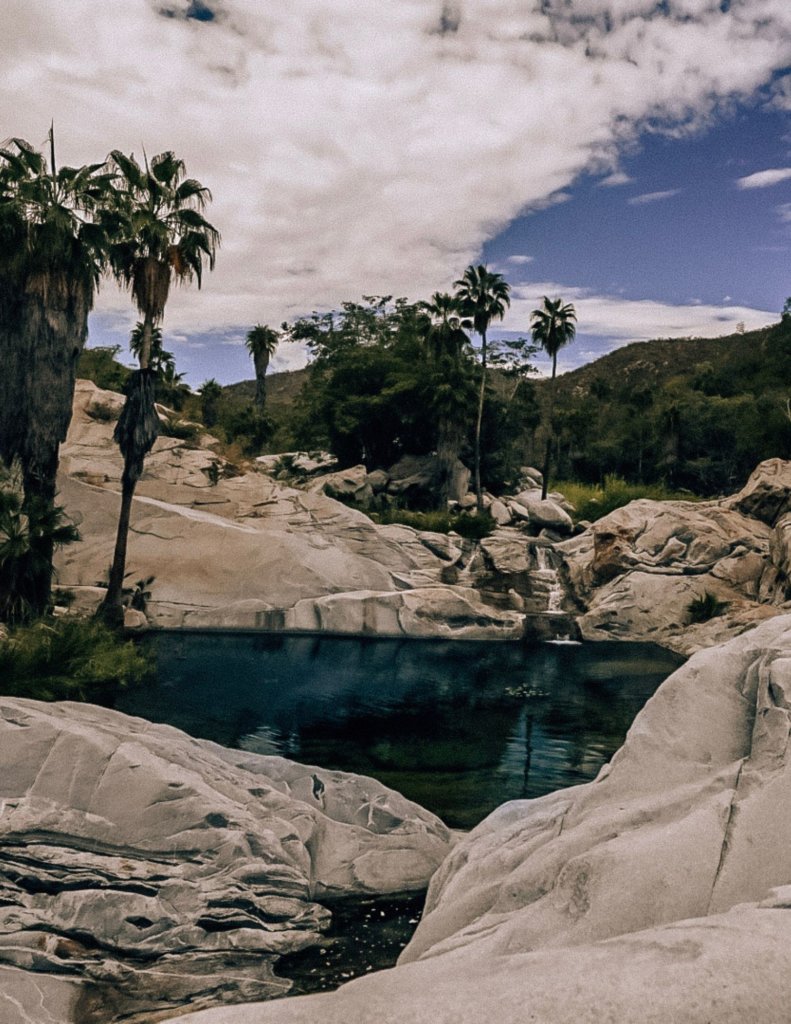 It is an incredibly peaceful area and completely worth the effort of traveling here as part of my Baja California road trip.
I am absolutely going to visit the area again! After traveling across the entire Baja Peninsula, I can confidently say that the Santa Rita Hot Springs are one of Baja's best kept secrets.
Additional Tips
Pack a lunch and snacks. There are picnic tables nearby where you can enjoy your food.
Also bring loads of drinking water! It get's pretty hot if you stay all day.
Don't forget to bring pesos for the entry fee. No cards or US Dollars accepted.
The landowner highly dislikes and discourages drone use. Please remember that you are technically on his ranch, where he raises animals cows and goats. Be respectful!
Pick up and pack your trash, of course! Keep this completely natural area beautiful.
Bookmark or Pin this page so you have the Google Map and helpful tips at your fingertips.
My entire day of hiking and soaking in the Sierra de la Laguna was absolutely incredible. The hot springs were just what I needed after a very hectic and crazy year, and offered such a peaceful chance to reset my brain and body.
If you're looking for what to do next, a quiet spot that helped me feel "centered" during this trip was the Balandra Bay, just outside of La Paz. Also a popular area, this beach is stunning.
These hot springs are a great place to stop if you are already visiting either Los Cabos or La Paz. An easy drive from either location, you will definitely not regret a visit. I highly recommend!
Do you have any questions about the Santa Rita Hot Springs in Baja Sur? Drop them below in the comments!
Pin Me for Later!