Valle de los Gigantes in Baja California is a must see! The giant Cardon cactus can grow up to 60 feet tall and Valle de los Gigantes offers scores of them, blanketed across the desert floor. Read on for a complete guide to visiting Valle de los Gigantes in San Felipe, Baja California.
Pin Me for Later!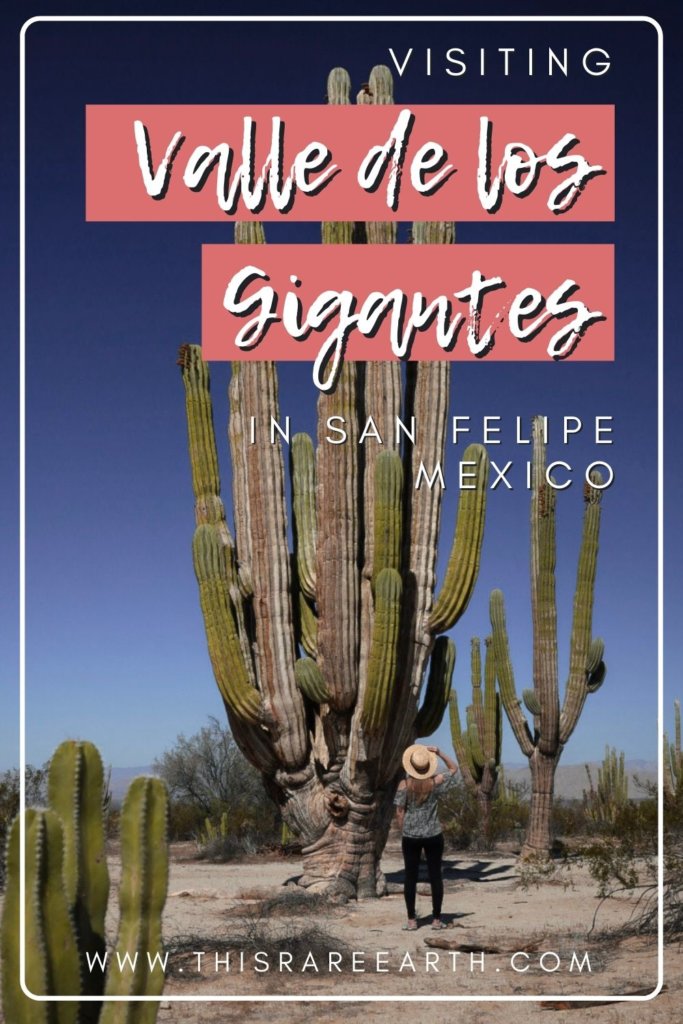 I knew, even before visiting, that the giant Cardón cacti of San Felipe were going to be *the highlight* of my entire trip. Hands down, no doubt about it, the one "must see" in the region!
Though I'd visited Baja California many times before, this would be the first time that I would drive through the San Felipe region. Visiting Valle de los Gigantes was at the very top of my list. Cacti are my spirit animal, after all!
Back when I lived in Arizona, I spent so much time with the giant Saguaros, I could probably consider them friends. Venturing out on grueling desert hikes in the hot morning sun was honestly quite magical for me.
Then in California, the amazing Yucca Brevifolia in Joshua Tree National Park stole a piece of my heart, too. So, when planning this Baja California road trip, Valle de los Gigantes was a non-negotiable. And, it didn't disappoint!
Read on for current information on visiting Valle de los Gigantes in San Felipe – and why you just can't miss it!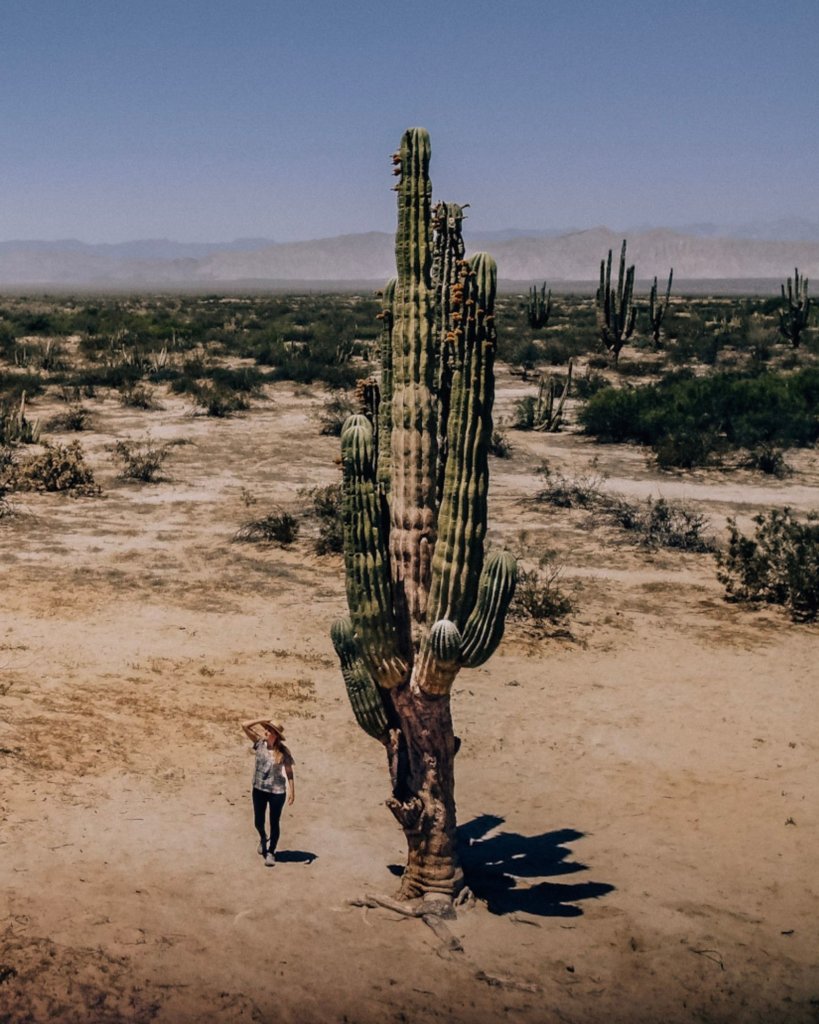 Visiting Valle de los Gigantes in San Felipe, Baja California
Translating to "Valley of the Giants", this large desert area contains an impressive spread of cardón cacti, a towering cactus that can reach heights over 60 feet tall. In fact, they are the tallest cactus species of all.
These giants are only found in Baja California and the Sonoran Desert, meaning they are quite rare. Cardón Cacti can live up to 300 years, and I must admit – standing next to one was pretty humbling. They are massive. Just think of all they've seen in their lifetime!
Cardón cacti are closely related to the Saguaro, but no Saguaros live in Baja.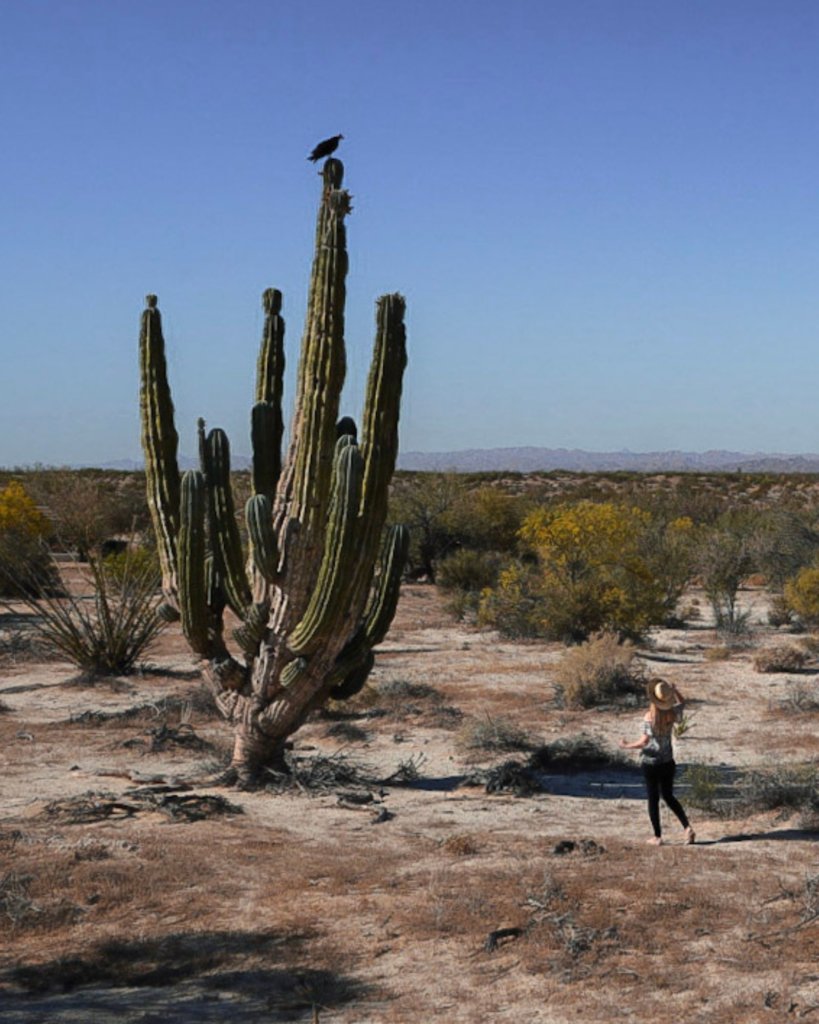 Where is Valle de los Gigantes?
In the northern state of Baja California, Valle de los Gigantes is just south of San Felipe, a popular and touristy coastal town. It is an easy drive on a paved road.
Take highway 5 south toward Puertecitos. Drive for roughly 20 minutes. The entrance to Valle de los Gigantes is just off the 5, near Punta Estrella, and signs or GPS will easily guide you.
Cost to Visit Valle de los Gigantes
Upon entry, visitors will need to pay a fee of $10 USD dollars per car. The fee is collected by one lone man at the entry.
After paying, there are no rangers of staff inside the park, so tread carefully! The road is unpaved, covered in dirt and sand. The sand get thicker the farther you drive.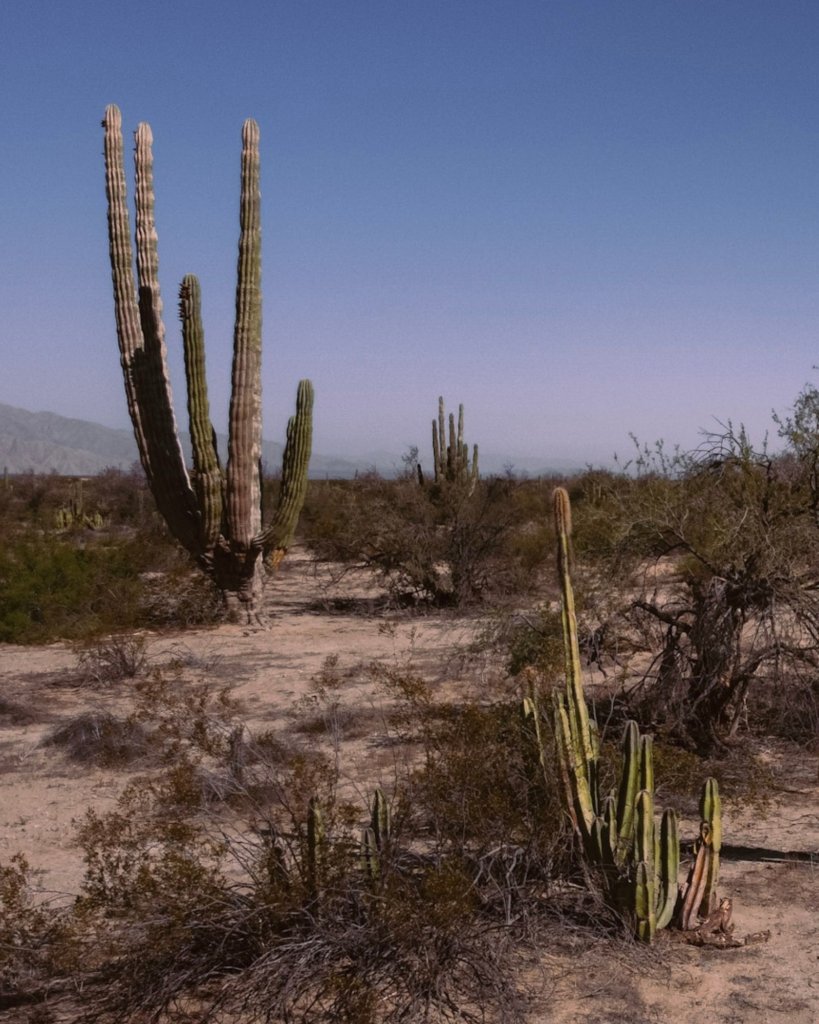 What You Will See in Valle de los Gigantes
Visitors can take a scenic loop drive around the park, and stop as desired for photo ops and exploring. The road is mainly flat and it's easy to see if any other vehicles are nearby. Though, when we were there, my friend and I saw only one other car in over three hours!
There is a small parking lot several minutes into the park, on the left hand side. Loads of tall cacti surround this area, towering up into the blue sky!
Beyond the parking area is a sign that says 4Wd if necessary to proceed. If you have the chance to drive further, I highly recommend it! The cacti get thicker the deeper into the park you get.
The plentiful cardon cacti dominate the land, and it is immediately obvious how closely related to the Saguaros they are. They both are similarly large, though the cordon is larger. They both have a central base, with "arms" flaring out. However, cardons tend to form bunches of these arms quite close to the base, whereas Saguaros arms are spaced out in height and location.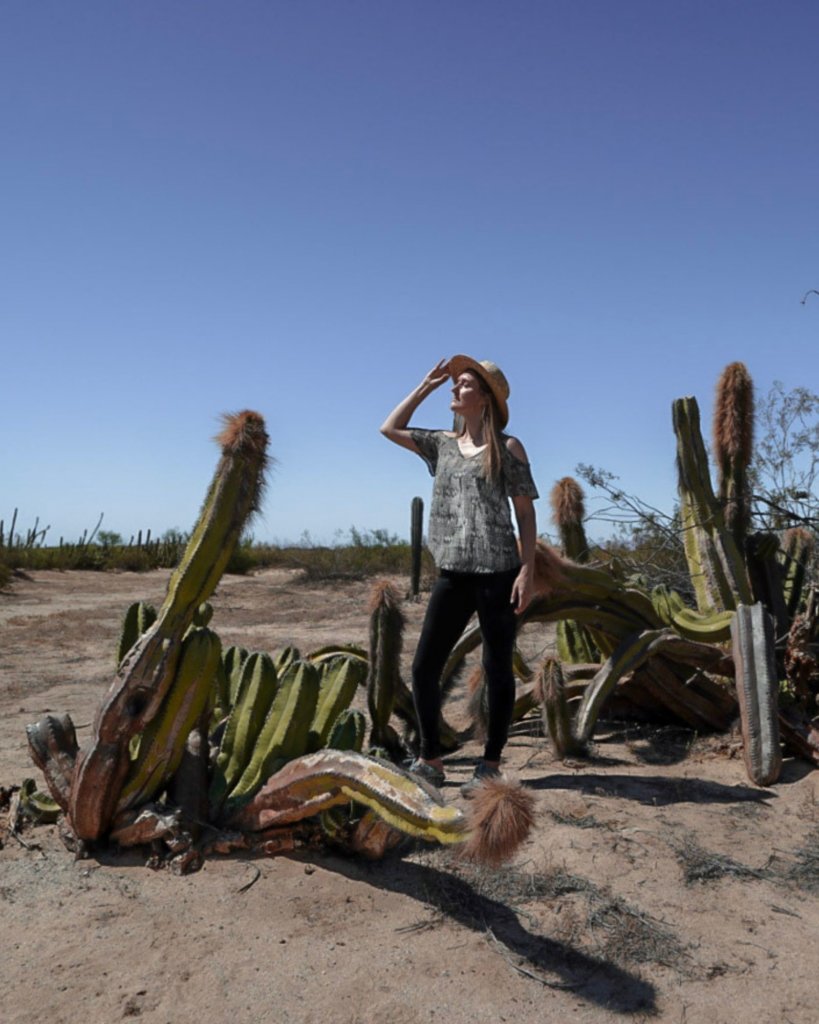 Smaller cacti and brush can also be seen here. The landscape is breathtaking. I'm glad I was able to visit during springtime, as orange blooms covered the tall cordons!
This park is cheap, vast, and one of a kind. Do not skip this, you will regret it!
I felt like we covered a lot of ground in our own car, but it is possible to hire guided ATV tours inside the park. These, however, need to be booked through outside companies. You cannot just show up and expect to rent one – there are none on site!
Where to Go Next
Baja California had plenty of scenic and interesting natural finds that we really enjoyed. Near Valle de los Gigantes, San Felipe offers beachy vibes with sun and sand – not to mention great cuisine, water sports, and Mariachi's on the beach if you're lucky!
In Parque Nacional Sierra de San Pedro Mártir, you can explore pine forests of Baja. That's right, pine forests in the Baja Peninsula! The California Condor was reintroduced into the wild here after near extinction, and you just may see one if you visit.
Lastly, you might consider driving farther south and road-tripping Baja Sur. Here you can explore Los Cabos municipalities and the sparkling blue Sea of Cortez.
Regardless of what comes next, do not skip Valle de los Gigantes! It is one of the highlights of the entire Baja Peninsula!
Pin Me for Later!