Choosing what to wear in Egypt as a woman can be, well, intimidating. After all, though they are no stranger to tourists, Egypt is still a Muslim country. Luckily, this women's packing list for Egypt will set you up for success! Combining comfort and modesty, this includes everything I would suggest for an Egypt packing list.
Pin Me for Later!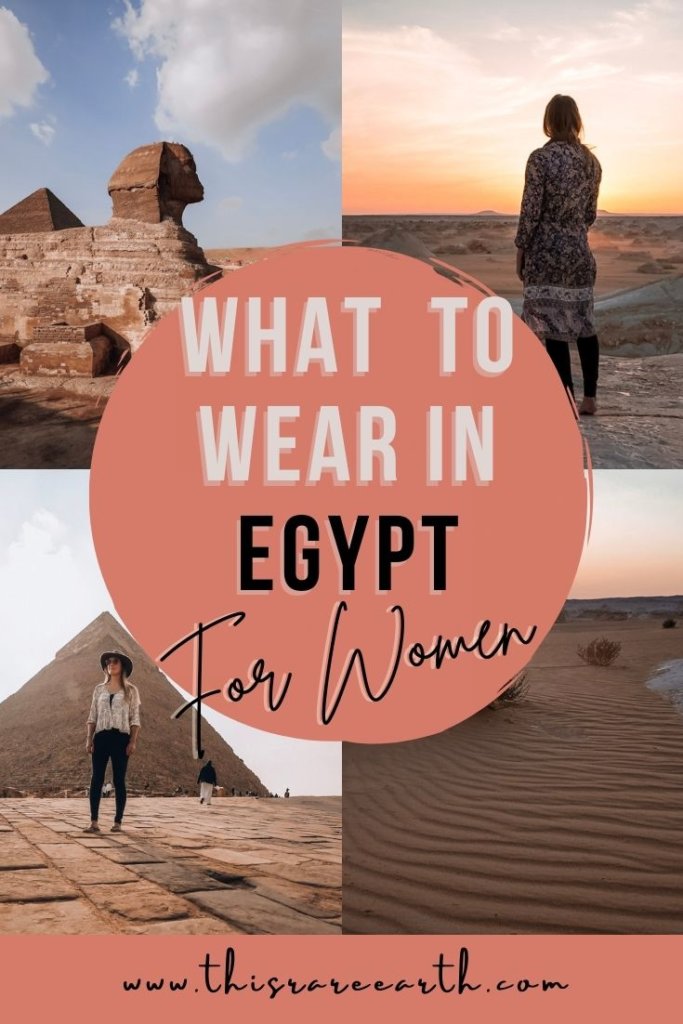 Egypt is beyond fascinating. Home to one of the original 7 Wonders of the World, this is likely a place you've studied or dreamed of visiting since elementary school.
However, visiting as a female – whether you are solo traveling Egypt or traveling with friends or family – does carry a few extra considerations that our male counterparts don't need to worry about. Story of our lives, amiright?
One of the biggest hurdles to tackle for females is often what to wear in Egypt that won't attract unwanted attention. That is exactly why I created this packing list for women, discussing what to wear around Egypt for comfort and safety.
One disclaimer, for those embarking on a seaside resort vacation in Hurghada or the like, you will have a bit more leeway. Resorts in Egypt are no strangers to western wardrobes.
But, this list is exactly what I wore throughout the country, while actively meeting locals and going it alone. Plus, I fit all of this is one single carry on bag.
So, if that sounds like you, let me help you out! Here is exactly what to wear in Egypt as a woman traveler.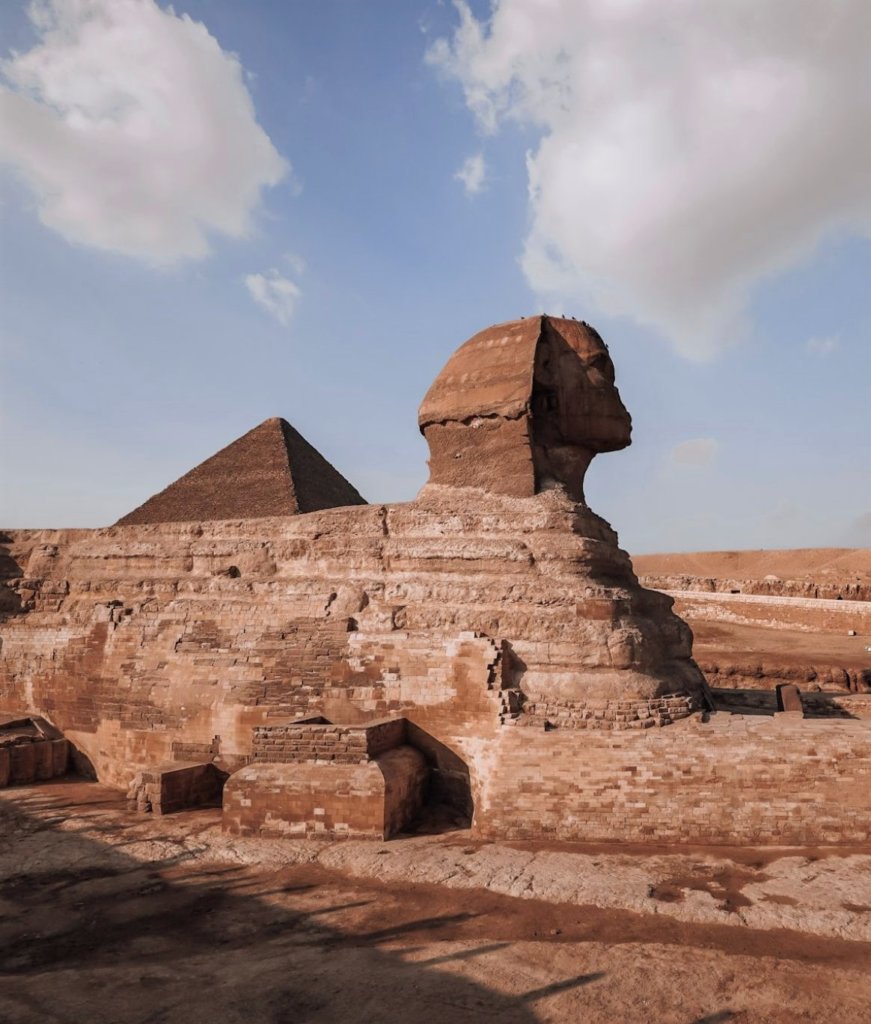 What To Wear in Egypt: A Packing List for Women
The first thing to note – that I'm willing to bet you are already aware of – is that the citizens of Middle Eastern countries tend to dress more conservatively than in the west.
So while you may be able to get away with tiny bikinis and revealing clothing in the seaside resorts, I would strongly discourage it elsewhere. Egypt has Muslim roots regardless of the frequent tourists, and I always consider it best to respect the local customs. After all, you are a guest in their country!
Below I have listed items that I personally recommend and traveled with myself. These are the tried and true items that I find to be the perfect balance between comfort and modesty. And, bonus, most of these same items have traveled with me to Dubai, Oman, Jordan, and more.
Here is exactly what to pack for Egypt as a woman!
You May Also Like: Egypt Travel Tips
1. Long Pants
For the first item on your Egypt packing list, I recommend three pairs of long pants. One is for on the plane, to be washed and reused, and two fresh pairs for arrival. The perfect trifecta consists of comfy sweats, fitted leggings, and flowy pants.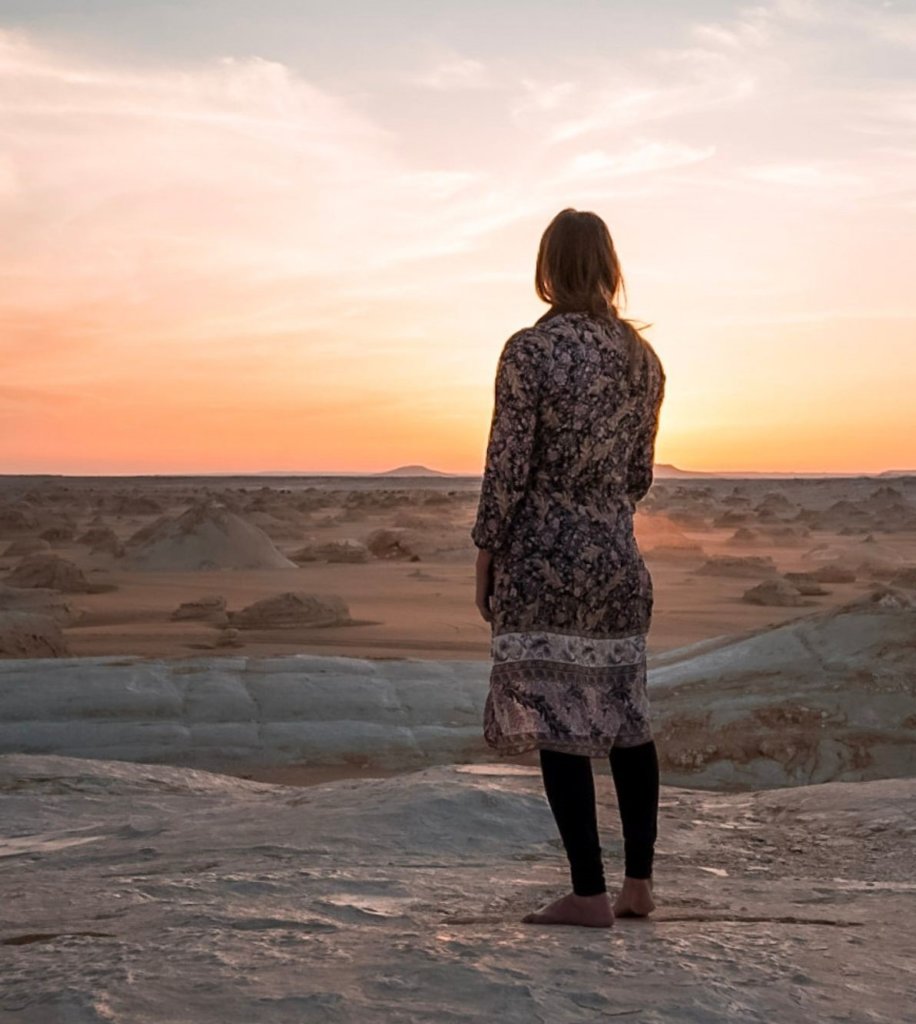 2. Tank Top and Kimono Combo
It can definitely get hot in Egypt, so loose and flowy clothing is key. One thing I have worn in every single Middle Eastern country I've visited is a kimono layered over a tank top. No women's packing list for Egypt is complete without this combo, in my opinion! It will keep you modestly dressed but cool and comfortable.
This combo is essential for any women's packing list for Egypt!
3. Long Maxi Skirt
Another item that women should pack for Egypt is a long flowy maxi skirt. Again, the theme here is a balance of comfort and modesty. Locals will treat you with respect rather than with stares.
4. Loose Short Sleeve T-Shirts
Since showing your shoulders is often a "no" in the Middle East – and since you will likely want to switch up your kimono outfit during the week – a couple of comfortable t-shifts are a great wardrobe option.
The above shirts (or any other that you already own) are good options to pair with your wide leg palazzo pants or leggings.
5. A Bathing Suit
Though you probably picture "desert" and "pyramids" when you think about Egypt, the country does border quite a bit of water! The Mediterranean Sea sits to the north and the Red Sea to the east, with popular seaside towns like Hurghada sprinkled in.
Not to mention, plenty of hotels around Cairo have swimming pools that you will be grateful for after a full day of exploring. Having a pool is a real luxury in the summer heat. So, in my opinion, a bathing suit is a must.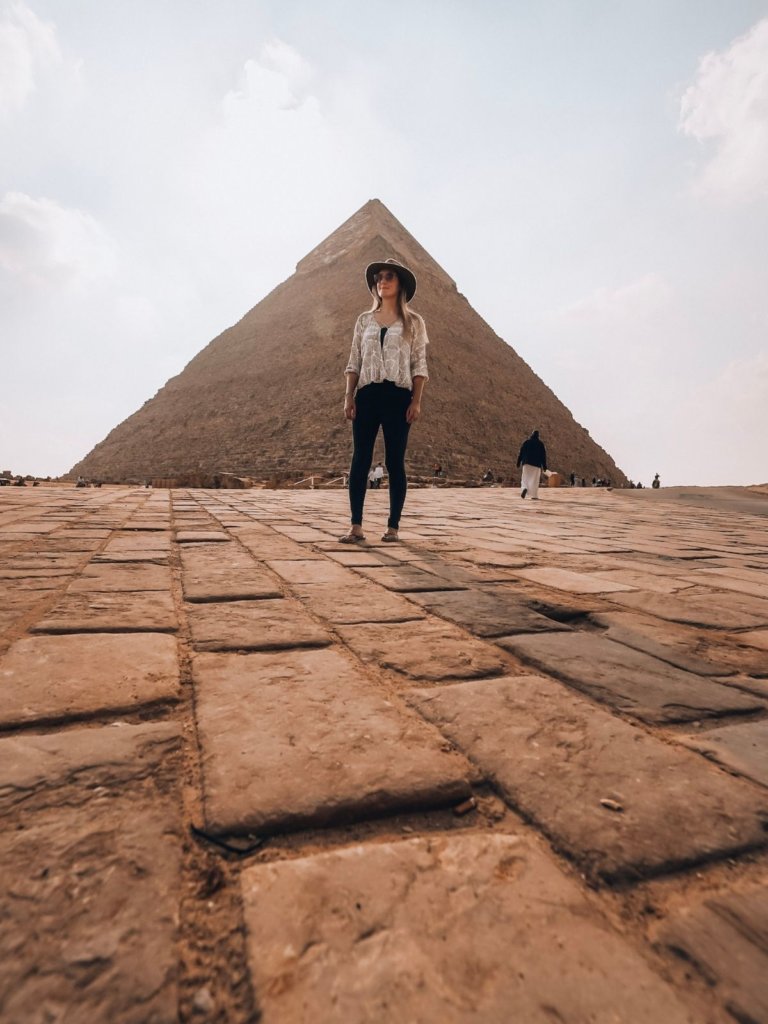 6. Lightweight Long Sleeve Options
I always pack some long sleeve tops, even in the summer. Though it may seem counterintuitive, oftentimes long sleeves help to keep you cooler due to physically blocking the sun from your skin.
7. Scarves- Lots of Them!
Both at home and abroad, scarves are a true staple in my wardrobe. They can add warmth, or modesty, or a pop of color to any outfit.
While in Egypt, scarves are so useful for both everyday wear around your neck, or for draping over your head to enter the mosques.
I usually bring two scarves for my trips, so that I can switch my outfits up and so that photos don't get too repetitive. Any woman wondering what to wear in Egypt should pack this without a doubt.
If you don't already own one, you can plan to buy a scarf in Egypt – there are plenty of beautiful options to choose from.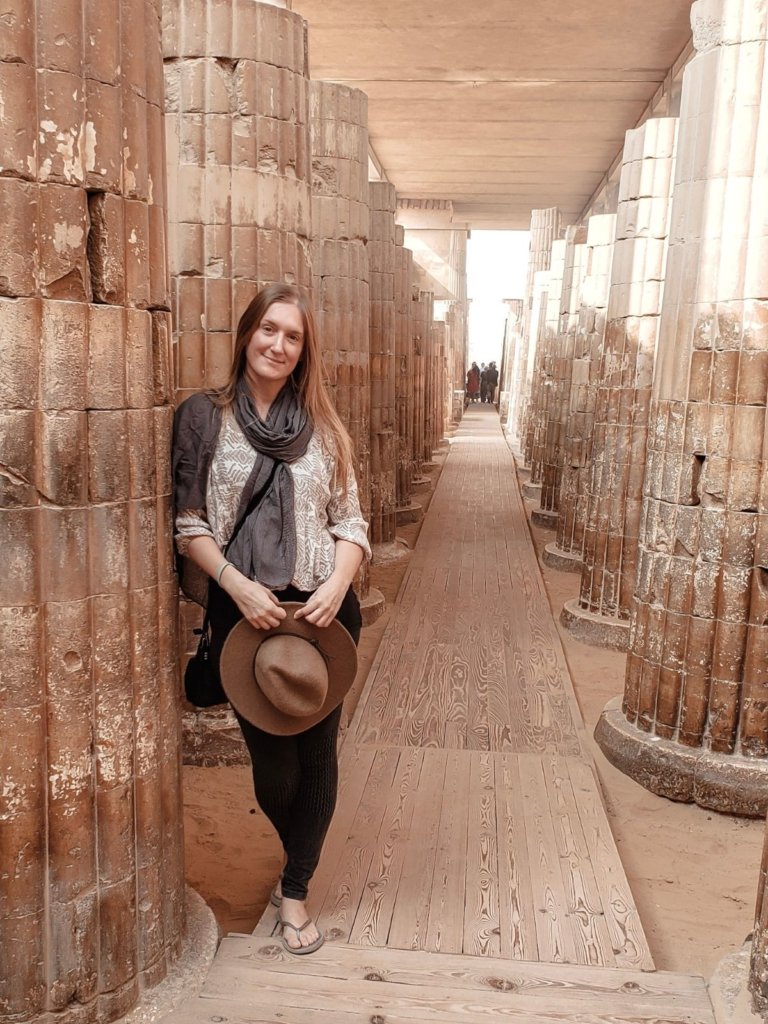 8. Flip Flops and Sandals
Everyone is a little bit different in their preferences, but I always opt for open shoes and sandals when possible. Here are my top sandal suggestions and exactly why you might need each. Note – I do not recommend packing all of the shoes listed below! Just the ones that match your trip's planned activities.
9. Closed Toe Shoes
You should consider adding a pair of closed toe shoes to your women's packing list for Egypt. The style will depend on your travel preferences. For example, maybe tennis shoes if you are likely to work out or hike, or ankle booties for the fashionable.
Remember: I typically pack carry-on only, so space is a valuable commodity and I choose my items wisely. Depending on the season, and the activities I plan to do, only some of these shoes will make the cut.= – not all.
sign up to GET a FREE downloadable MIDDLE EAST PACKING LIST below!
10. Sunglasses and Hat
One of the things you will constantly wear in Egypt is a pair of sunglasses due to the bright sun. And, for my fair-skinned friends, you should probably opt for a hat like I always do.
Your eyes and skin will both thank me for this reminder – the desert sun is no joke.
What To Pack for Women in Egypt: Extras
***
And there you have it! These are my top items for women wondering what to pack and wear in Egypt. These items will have you feeling comfortable, prepared, and not without options.
Having made countless trips to the Middle East in the past decade, I can confidently say that these items will get you through your trip. The bottom line: light, loose clothing that is both modest and comfortable will work for everyone!
Pin Me for Later!