Looking for the best things to do in Cairo, Egypt? Look no further! Here I share all of the top tourist attractions, can't-miss activities, places to visit and things to see in Cairo. Let's dive in.
Pin Me for Later!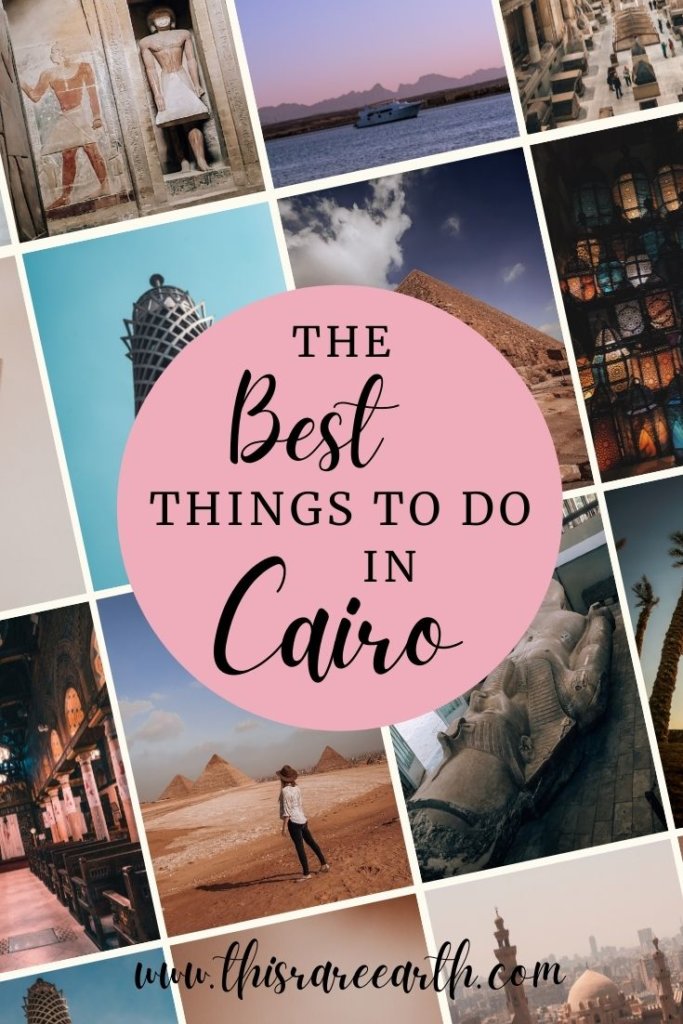 Cairo has more "soul" then people give it credit for.
Cairo catches a lot of flack for its dirt and dust and grime… the constant construction… its loud and busy pace. This is the type of place where the maps will be wrong and the dust visibly billows from the road and the streets will be blocked for hours due to a van's battery dying in the middle of the road. All true.
But Cairo is also full of history and tradition – from the imaginative architecture to the vibrant souks, and the mouthwatering tastes and kind-hearted people. Oh, and it is home to one of the Seven Ancient Wonders of the World, to boot.
Cairo is one of those larger-than-life places just vying for constant attention. And with so many things to do in Cairo, it's hard to turn away. Priceless ancient treasures sit silently in museums; luxury hotels tower over small and cramped food stalls; synagogues and churches hide away in Coptic Cairo – the list goes on and on.
Here I share all of the top tourist attractions in Cairo, the can't-miss activities, places to visit and endless things to see in Cairo. I dare you to try and visit them all!
You May Also Like: Egypt Travel Tips
Best Things To Do in Cairo, Egypt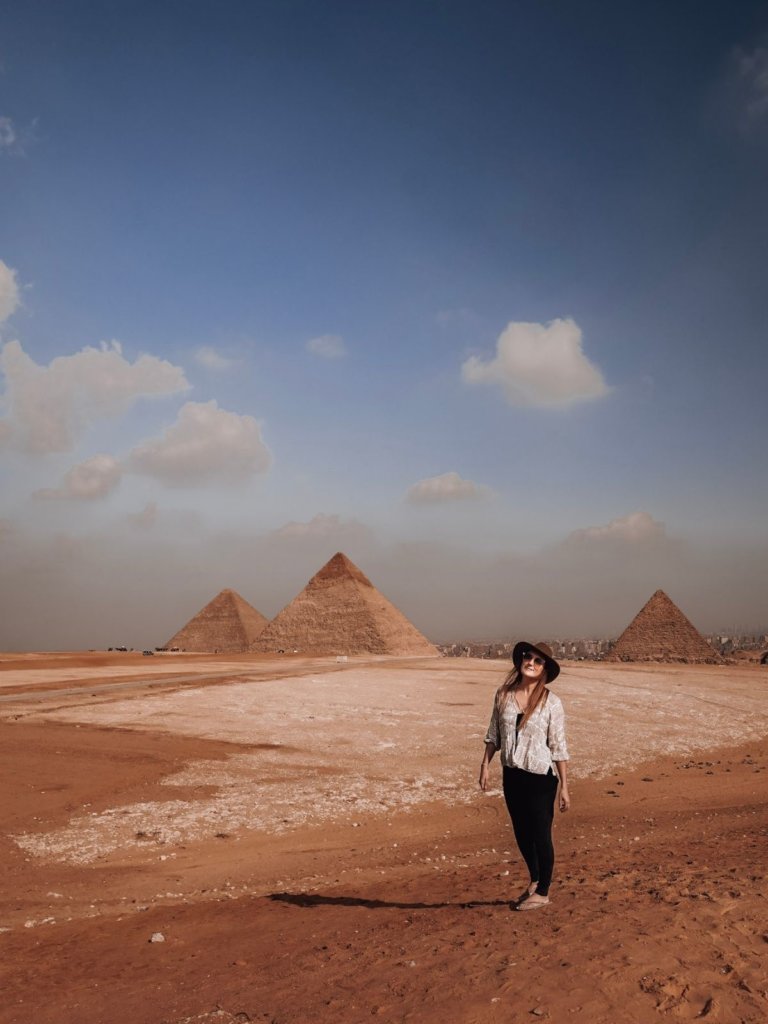 1. The Pyramids of Giza
Let's start with the non-negotiable, as I'm sure it's already on your list!
The Pyramids of Giza are what put Cairo "on the map" for international travelers. Home to the last-standing members of the Seven Ancient World Wonders, this is a sight you just can't miss.
Set in Giza, on the west bank of the Nile, this Plateau is home to the three famous pyramids that you've seen in all of the history books. Built as royal mausoleums, these tombs date back to around the 26th century B.C.
The Sphinx also lives on site here, and he is equally as fascinating. I had to take a pause as I drank in these views and truly feel the depth of what I was looking at.
Head to the post linked above for tips on prices, transportation, hassles, and insights. Of all the things to do in Cairo, this is one you just can't miss!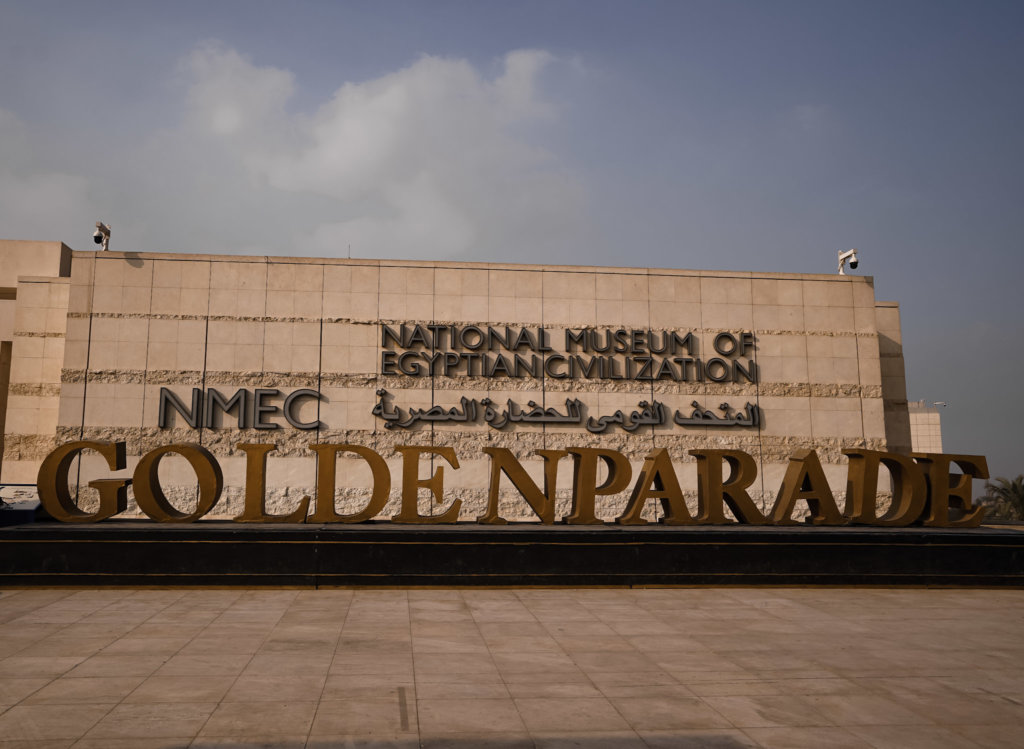 2. National Museum of Egyptian Civilization
This was my favorite of all of the museum I visited in Cairo! And that's saying a lot.
Set in Old Cairo, the National Museum of Egyptian Civilization holds an impressive collection of around 50,000 Egyptian artifacts. Here you will find a visual record of Egyptian civilization from prehistoric times all the way to the present day.
What types of artifacts, you ask? Here you will see jewelry, coins, sculptures, Islamic relics, tapestries, and – the pièce de résistance – a room holding 22 royal mummies complete with plaques describing their lives and histories. It was the biggest and most informative collection I have ever experienced and I definitely left there at least a hair smarter.
The National Museum of Egyptian civilization is a must-see, and should sit near the top of your list of things to do in Cairo. Linked above is information on costs, highlights, and need-to-know tips.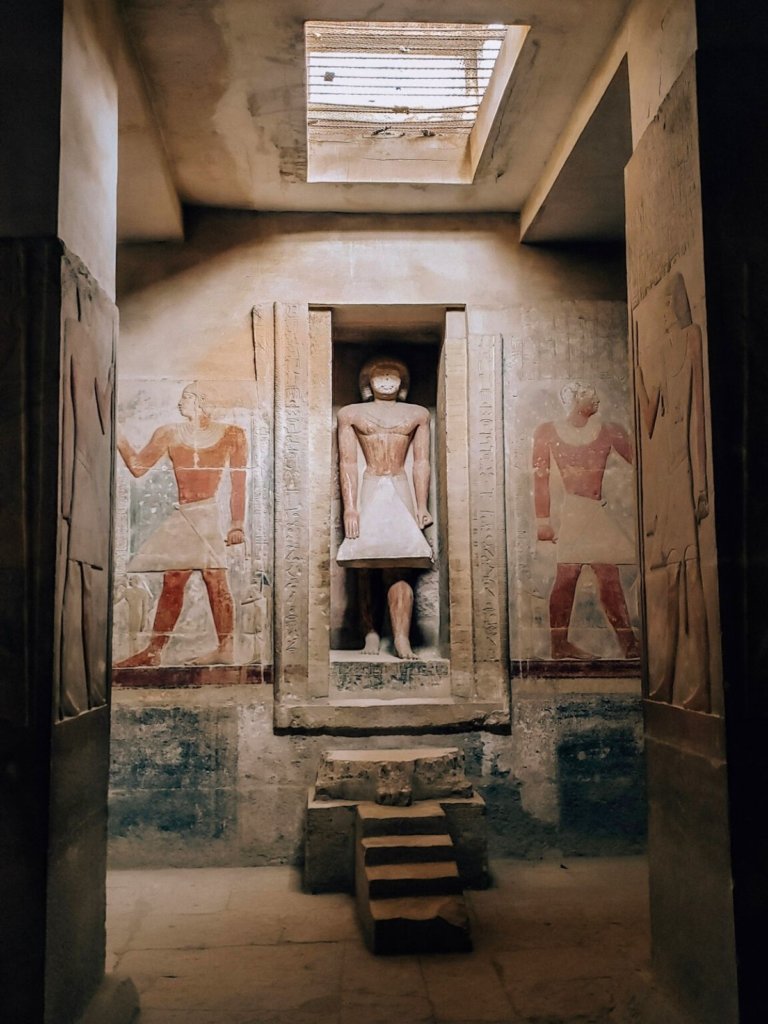 3. Saqqara
I was only vaguely aware of Saqqara before visiting Egypt. In fact, my visit was sort of "on a whim", and I didn't really know what to expect – or exactly just how blown away Saqqara woud leave me.
Somehow not so well known, this site holds some of the most vibrantly preserved painted hieroglyphics in the whole country. When I say that visiting Saqqara is one of the can't-miss things to do in Egypt, I mean it – CAN'T. MISS.
Saqqara was used as a burial ground for over 3,000 years and I swear that you can actually feel the history here.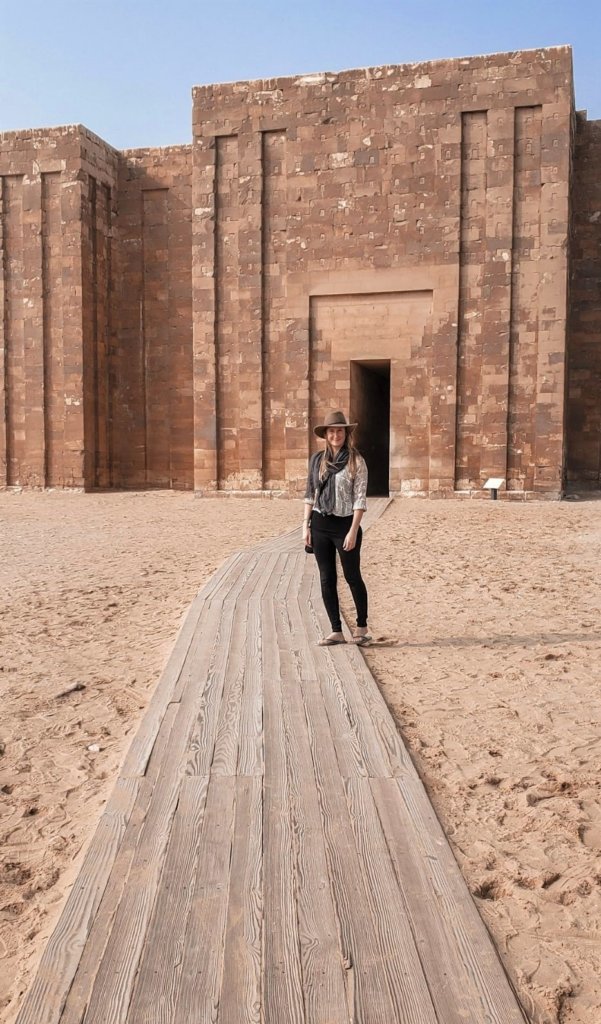 Photos and videos from Saqqara were some of the first things I shared with my sister in law upon my return – and I'm currently on a quest to get her to temporarily abandon my brother and head back to Egypt with me. Ha!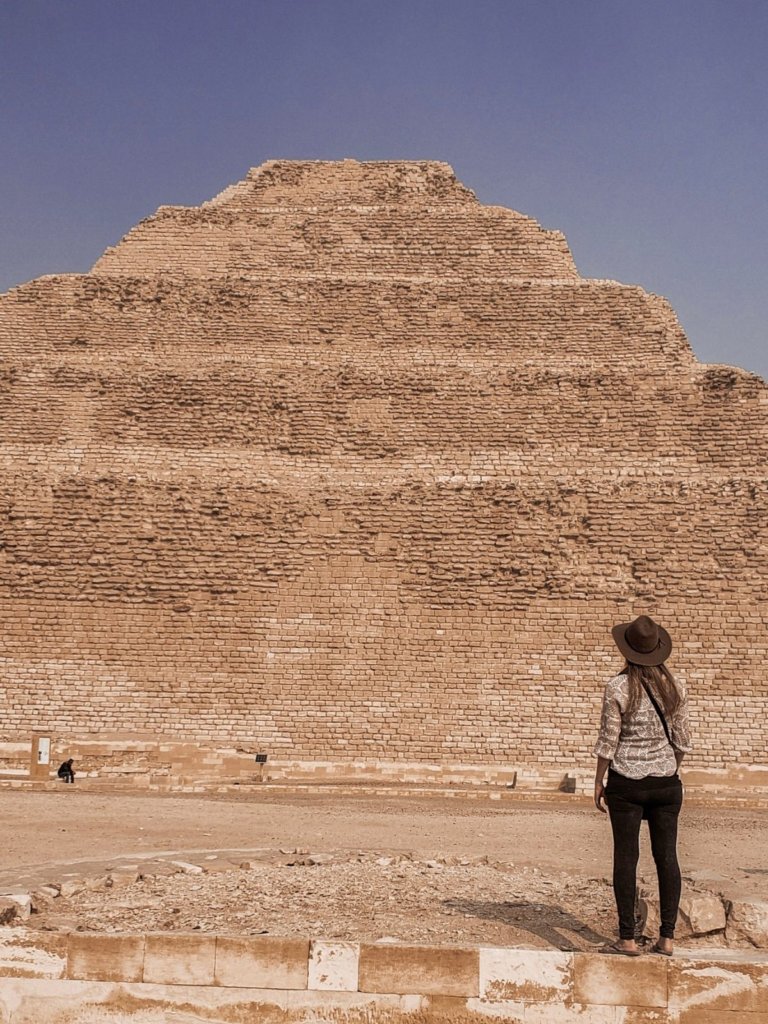 4. Djoser
Easily one of Egypt's richest archaeological sites, the Saqqara site is also home to a 4,700-year-old step Pyramid, which makes it roughly 200 years older than the more-famous Pyramids of Giza. This is known as the Pyramid of Djoser.
Djoser is not only the oldest pyramid, but is also the oldest stone structure in all of Egypt. It was constructed by the architect Imhotep for the Pharaoh Djoser and is speculated to have taken hundreds of workers to complete. It was the tallest structure of its time.
The pharaohs and their families, as well as sacred animals, were buried and then later discovered here. Djoser was not a tomb for one but a tomb for many.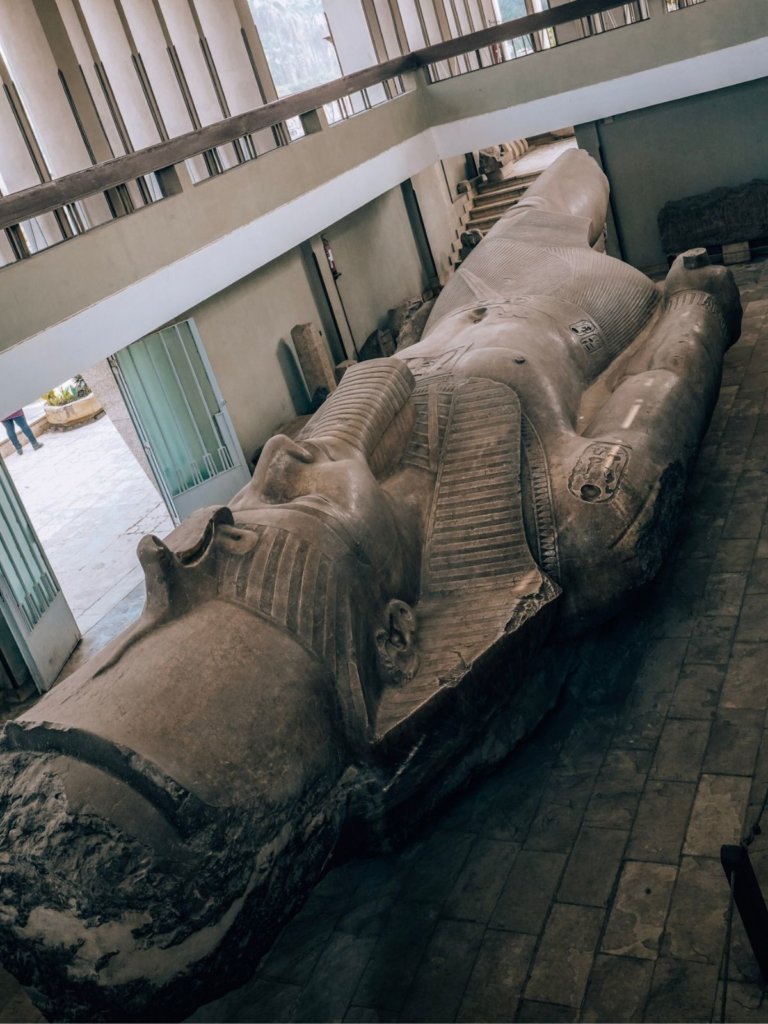 5. Memphis
Memphis was the capital of ancient Egypt and remained an important site across much of Egyptian history. The city is situated just 15 minutes outside of modern day Cairo, on the west bank of the Nile River.
The archaeological zone at Memphis was designated a UNESCO World Heritage site in 1979. It is home to a variety of temples, pyramids, and tombs – many of which are free to enter.
The most recognizable artifact is the giant sculpture of Ramses II, which is just massive! When they pulled it out from underwater, it was too fragile to stand upright. It is now displayed laying flat inside of a building, which is surrounded by other smaller archeological finds outside.
History buffs will not want to skip Memphis!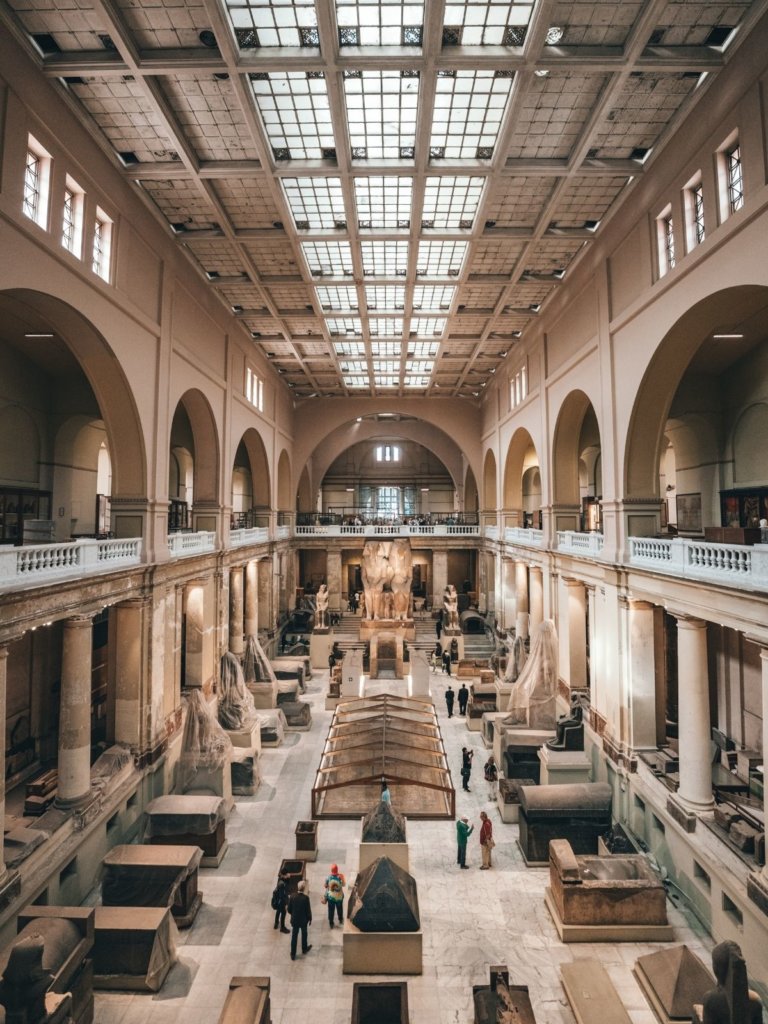 6. The Egyptian Museum
Downtown Cairo is home to another famous museum on Egyptian history – The Egyptian Museum. I recommend heading here after seeing the mummies mentioned above at NMEC.
Here you will find the world's largest collection of artifacts from the Pharaohs of Egyptian history. Over 120,000 to be exact. The endless rooms here house any and every type of ancient treasure salvaged from tombs and pyramids.
Also worth noting are the statues of the great kings Khufu, Khafre and Menkaure – the Pharaohs responsible for the Pyramids of Giza.
The Egyptian Museum is located inside of the oldest archaeological museum in the Middle East so it's safe to say they know their stuff.
It has a near endless list of artifacts to explore!
7. Dashur
The Dashur Pyramids are some of the least known (and least visited) pyramids in all of Egypt. Built around 2400 BC, they are possibly less "striking" than the famous Giza Pyramids, due to their curved and sloping sides. However, they are still a fascinating sight.
The two pyramids located here were an architectural learning experience for the ancient Egyptians. For example, here you will see the first smooth sided pyramids ever constructed, which were an immediate predecessor to the architecture of the Pyramids at Giza.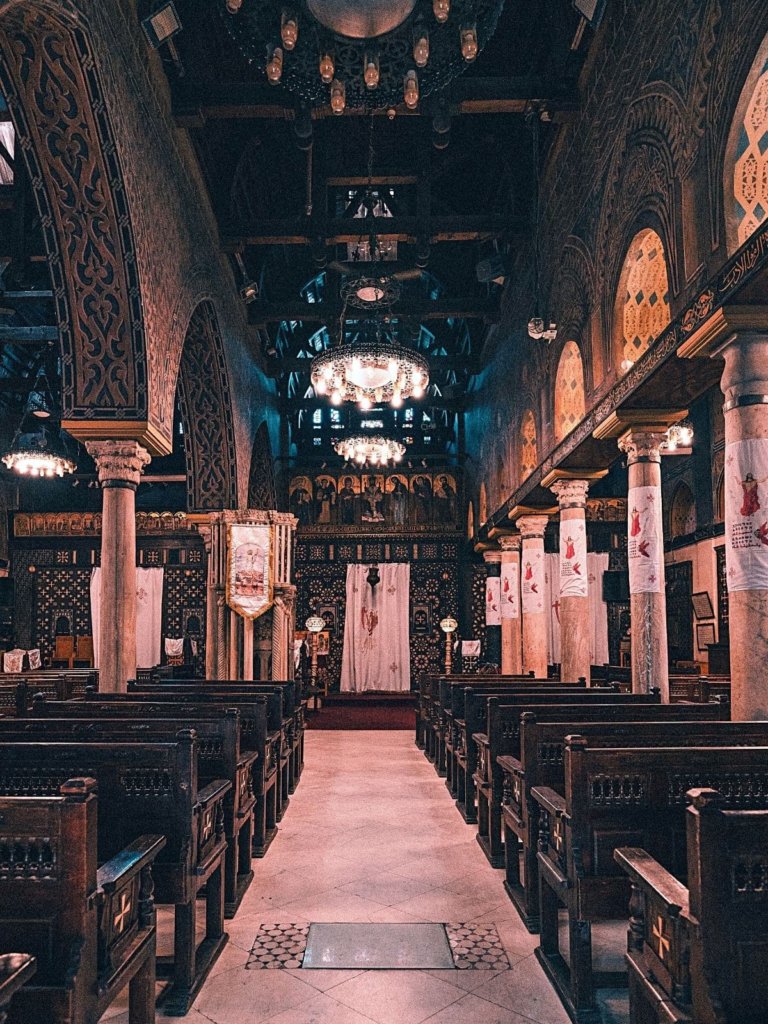 8. Coptic Cairo
The neighborhood that contains "Coptic Cairo" is the oldest part of the entire city, with a labyrinth of alleyways and ancient churches that are several centuries older than many of the mosques.
The Coptic Museum is a great place to start, and other must-sees include the ninth-century Hanging Church, which is inside of an ancient fortress of Babylon, and the Cavern Church, where Mary, Joseph and Baby Jesus are said to have hidden to escape from King Herod.
History buffs will find fascinating sights around every corner here and architecture aficionados will enjoy the intricate mosaics and woodwork present. The area is free to visit and wander around, but be mindful to avoid mass times (morning hours are best). The Coptic Museum is open daily from 9 – 4 pm.
9. Ben Ezra Synagogue
Also found in the Coptic Cairo neighborhood, the Ben Ezra Synagogue is arguably the most significant remnant of Cairo's once-thriving Jewish community. Reportedly built on the exact site where baby Moses was found long ago, this beautifully built synagogue holds a lot of history.
In the 1890's, a medieval hiding place was discovered in the synagogue that contained worn-out scrolls and sacred books from the Middle Ages. In the 1980's, the synagogue had a facelift through a restoration and today it is one of the most visited Jewish sites in Cairo.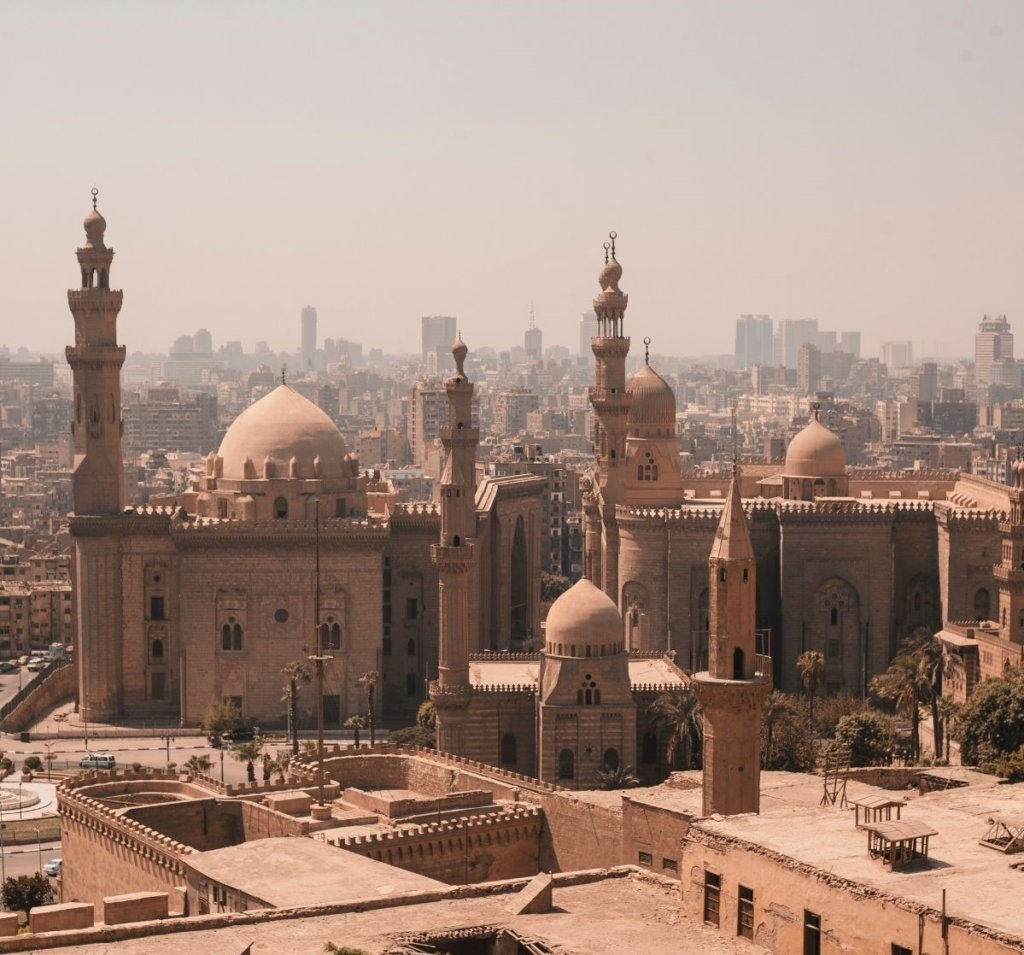 10. Islamic Cairo
Islamic Cairo is a must for any Western visitor.
One of the oldest parts of the city, this is where you truly feel like you've stepped back in time. This term refers to the historic areas that existed before the city's modern expansion, and particularly to the old walled city and around the Citadel of Cairo.
Getting lost in the alleyways is part of the adventure here. Hundreds of historical sites such as mosques, shrines, and souqs litter the streets.
Some must-sees include the Citadel of Salah Al-Din (Citadel of Cairo), Ibn Tulun Mosque, the Sultan Hassan Mosque and Al-Rifai Mosque. Islamic Cairo is a UNESCO World Cultural Heritage site.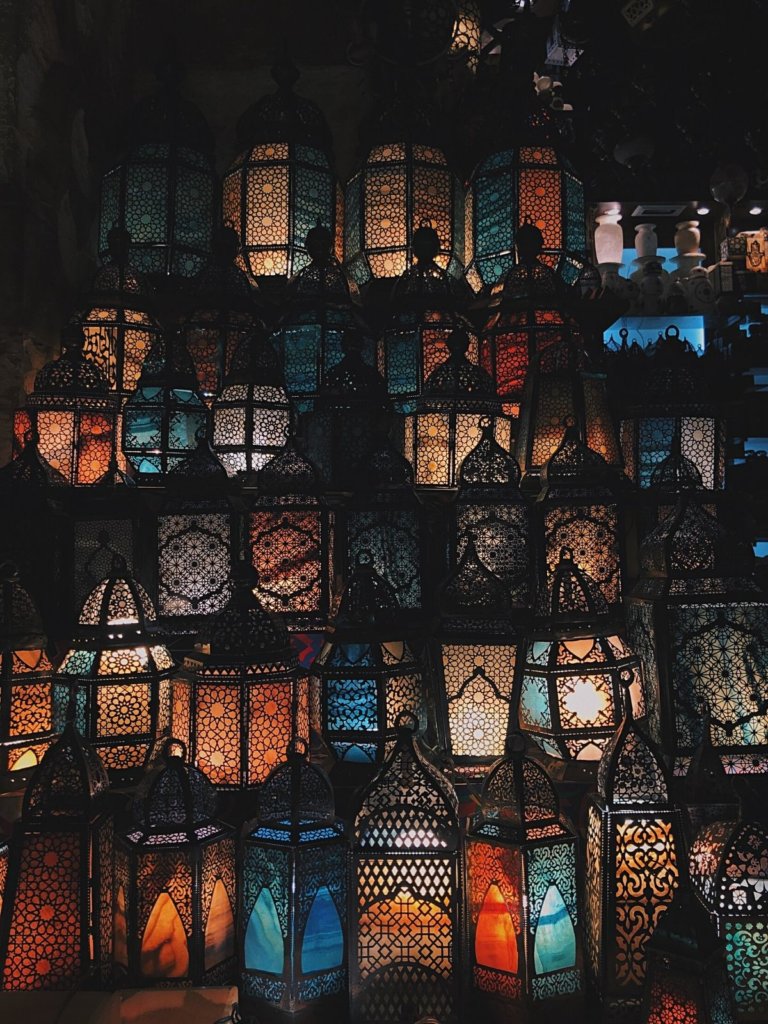 11. Khan-al-Khalili Market
Nestled inside of Islamic Cairo sits the famous Khan-al-Khalili market, an open air bazaar where one can find any manner of goods desired. Handcrafted metalwares, glasswares, and woodworkings can be not only purchased but sometimes observed as they are being created.
The fragrance of oud and frankincense take me straight back to Dubai and the mint tea transports me to Morocco.
Full disclosure, if you've never been to one of these markets – many of the stalls cater more to tourists and souvenir-shoppers than to traditional Egypt, but it is worth a stroll nonetheless!
12. Museum of Islamic Art
Another Islamic Cairo gem, the Museum of Islamic Art seeks to display, preserve and interpret Islamic artifacts. It is considered one of the greatest museums in the world, with an impressive collection of rare woodwork, plaster, metal, ceramic, and other Islamic treasures from all over the world.
They also offer workshops and courses from time to time to preserve the handicraft traditions from going into extinction, so if you are feeling artsy, check it out!
This museum is open daily from 9am-5pm with a two hour closure on Friday for prayer time, 11:30am-1:30pm. This museum is worth stop if you want to learn more about Islamic traditions and history.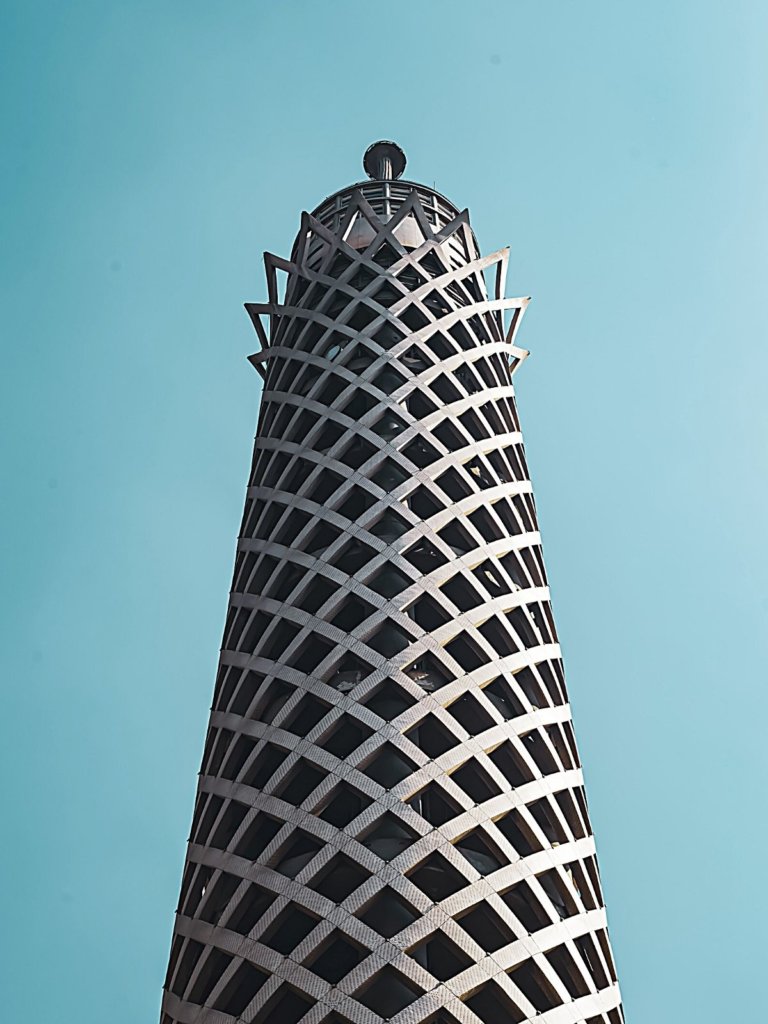 13. Qasr El-Nil (Cairo Tower)
The Qasr El-Nil is one of the tallest buildings in all of Africa.Its over-600 foot tall stance (187 meters) offers the best bird's eye view of Cairo.
Visitors can typically expect to see the famous Pyramids in the distance and – on clear days – the views can extend as far south as Sinai. Try and time your trip for just before sunset. Watching the bright fiery skies morph into glittering lights in the darkness is unforgettable.
The panoramic views will cost 70 EGP, which is less than $5 USD. Well worth it!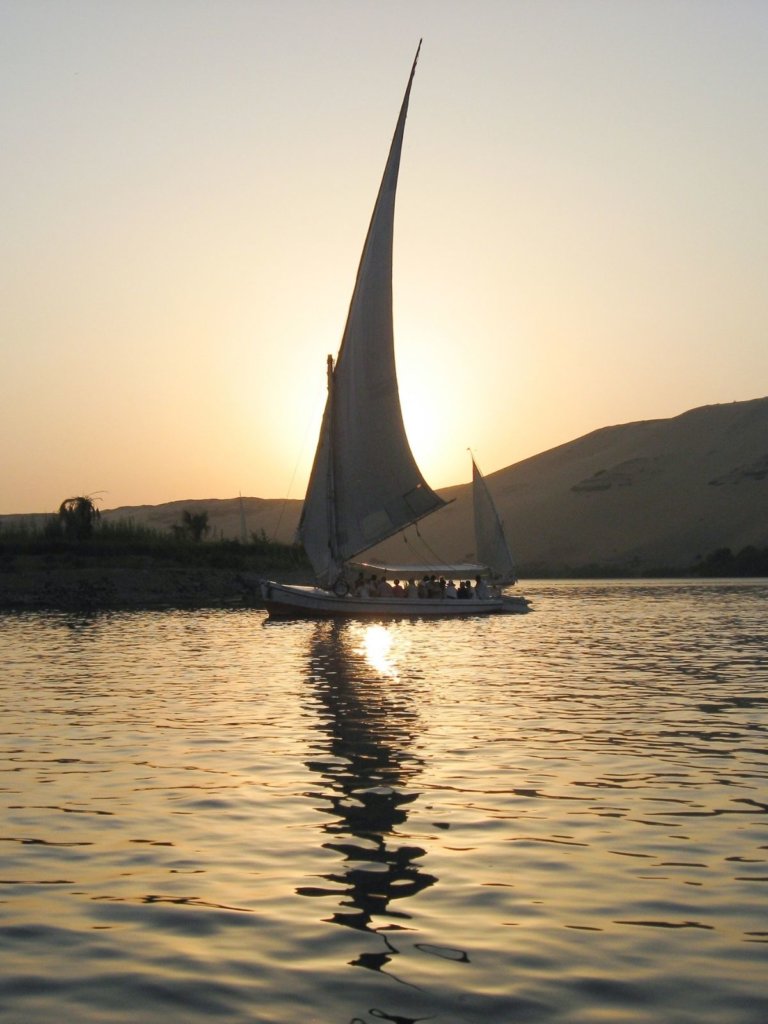 14. Sail on a Felucca
Even if you aren't embarking on a typical cruise down the Nile, you can still get a small taste on a traditional wooden boat called a felucca.
Offered daily, this 2-ish hour ride starts on the pier and sails past the Cairo skyline. Book a sunset tour if you can. Most boats will have a guide who is a knowledgeable Egyptologist so you can be sure to learn quite a bit while floating in tranquility on the water.
If you prefer, you can also kayak on the nile or join a large dinner cruise – but in my opinion, a traditional felucca is the way to go.
15. City of the Dead
One of my favorite things to do when visiting a new place is to wander a ways outside of the normal tourist-trodden paths. In Cairo, this wandering took me to the City of the Dead.
Otherwise known as Al-Qarafa, this area is home to about half a million people just outside of the center of Cairo. A smattering of cemeteries, shrines, and mausoleums dating back as far as the 7th Century are intricately weaved between modern day (living) Al-Qarafa. The equal mix of both the living and the dead in an interesting and eerie combination.
16. The Pyramids Sound and Light Show
Okay – I feel like I have to mention this as many others kept insisting that this was a must-see, but I do need to note that this was not something I was personally interested in seeing. I prefer my Wonders of the World to be, well – wonders in and of themselves.
And actually, a question I posed to a local man when it came up once was "Are the locals offended by this?" And he said that yes, some don't like it.
All of that aside, the Pyramids Sound and Light Show is a popular attraction in Cairo regardless of my opinion! So if it is something you might be interested in, you can check out the Pyramids and Sphinx lit up in vibrant lights against a soundtrack. Expect lots of lasers and music.
Some information on visiting can be found on my Pyramids of Giza post, or, you could opt to see it for free from a distance on any hotel rooftop with a Pyramid view.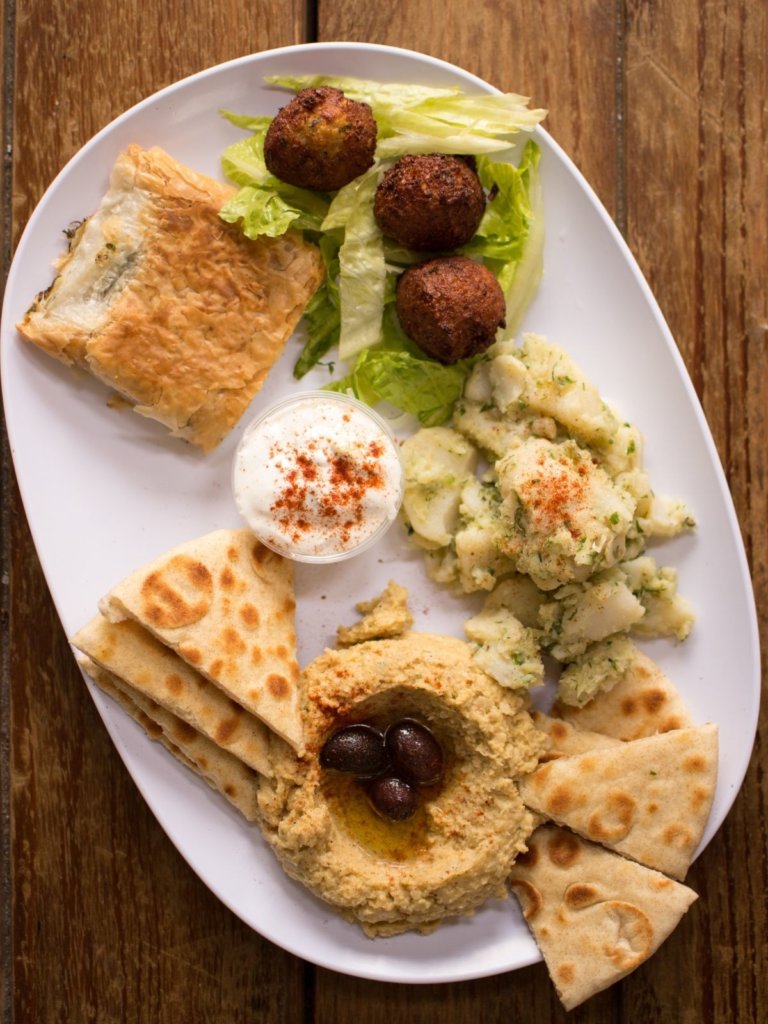 17. Sample Egyptian Food
Two things I love about authentic Egyptian food is that it is both tasty and cheap.
I got to enjoy long-time favorites like hummus and falafel almost daily, and found that pomegranate seeds and figs were plentiful. The highlight of my food journey was probably trying the Egyptian staple Koushari.
Koushari is a (vegan) mixture of ingredients that you wouldn't think belong together, yet somehow blend tastefully together in this traditional dish. Chick peas, pasta, fried onions, and zesty tomato sauce are all mixed and served on top a bed of rice.
Don't believe me? I actually understand! But trust me – just try it and see!
Willing to Travel a Bit Farther? There are Loads of Things to Do Outside of Cairo, As Well.
18. Visit the Bahariya Oasis
Bahariya is an oasis village in the Western Desert region of Egypt. It took me around 4 hours to reach here by car, and for me, it was worth the trek. I was traveling Egypt solo so I got chatty with some locals and honestly loved the break from the crowded city.
Picture tall date palms, humble houses, and roaming camels and livestock. There are also several natural hot springs, hence the "oasis" name, but I didn't find any of the pristine natural pools you may be picturing.
Instead, the hot water is pumped up from below ground into man-made enclosures, and is actually burning hot – or at least way too hot for me to have enjoyed on the day I discovered it! But, the surrounding sand and rock landscape is a great introduction to the Egyptian Desert's beauty.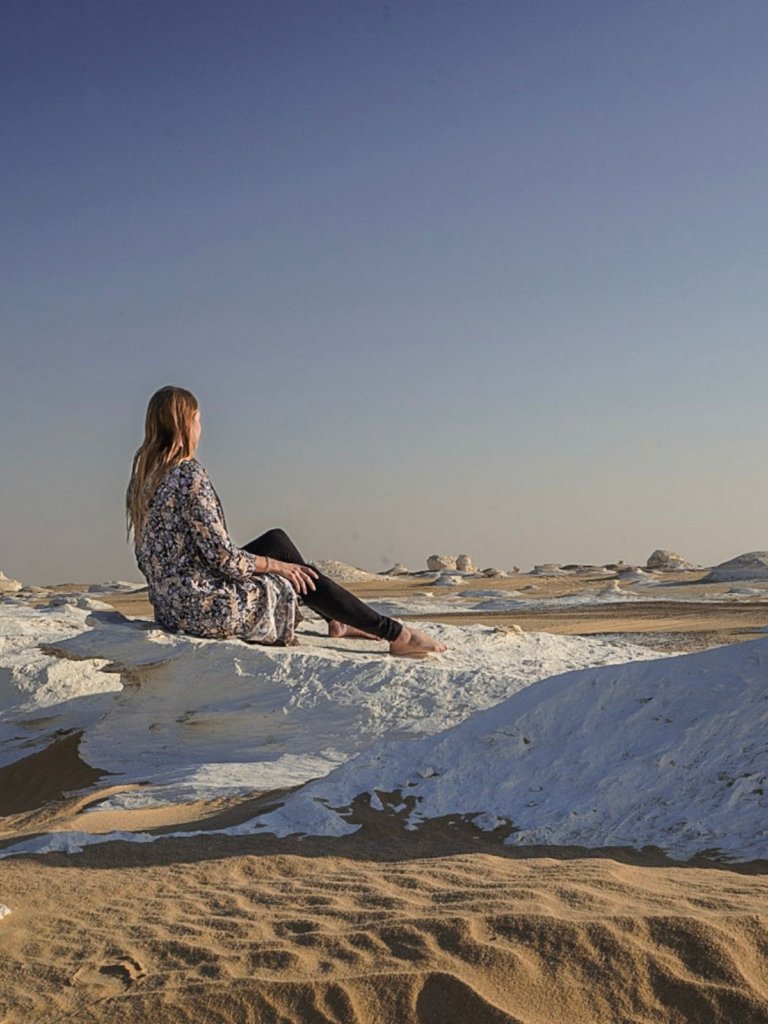 19. Visit the Black and White Deserts
Bahariya Oasis is also a perfect base point for a drive into the Black and White Desert. I have an entire post about visiting the Black and White Desert, which will provide you with loads of info, but suffice it to say that this was a non-negotiable for me.
As a true desert child – having spend endless time in the Arabian Desert and even the deserts of the Southwestern US – this was possibly the highlight of my entire trip. Which I know is a bold bold claim after seeing some of the most fascinating historical finds on the planet.
If there is anything I can say to you, it would be go read that post and consider adding this to your list of things to do while in Cairo!
20. Day Trip to Alexandria
Alexandria can easily be seen in a one day trip, though depending on your interests, you may wish to stay longer. Alexandria is a charming northern Egypt town situated on the Mediterranean coast.
The two most-visited sights are probably the Royal Jewelry Museum and the Alexandria Library (Bibliotheca Alexandrina) but it's also a nice place to relax on the beautiful beaches or dine at waterside restaurants. Alexandria can be reached by an easy train or bus ride any day of the week.
21. A Peaceful Trip to Tunis
Tunis is a cool spot to visit for anyone interested in arts and crafts. It is a village located in Fayoum, on the way to Wadi Rayan. The village has a stunning view of the desert just across the lake and is unbelievably picturesque.
Tunis is well known for its pottery workshops and art galleries, but also offers eco-lodges, horseback-riding, bird-watching and other peaceful activities. It is approximately two hours from Cairo.
22. Hurghada and The Red Sea
This is the farthest trip included on this list, at 5 hours by road. But Hurghada is well worth the effort and trek!
I think of Hurghada as both the adventure-city and resort-city of Egypt. I think both are accurate. And I would say, for as much as a desert-child as I am, most others would probably prefer Hurghada.
This coastal town is renowned for scuba diving, ATV adventures, bars and nightlife, though you can still find traditional coffee shops and souks in old town El Dahar. No doubt, Hurghada's long stretch of sandy beach is the highlight.
When to Visit Cairo
More details can be found in my Egypt Travel Tips post, but it's safe to say that most travelers will prefer visiting between October and April.
The summer months can be brutal in the Middle East, so it can make for some sweat-drenched days if you want to spend hours exploring the sights. Which, of course, is why you're going, isn't it?!
What to Pack
As per usual, I've got you covered in a lengthy post on what to wear in Egypt, but a good rule of thumb is to dress modestly yet comfortably. Think flowy kimonos and palazzo pants. Don't forget the scarves for mosques and dust.
***
That just about sums up all of the best things to do in Cairo, Egypt! Don't forget to leave yourself extra time to just wander the town, or to relax at your hotel pool if you have one.
As much as I tend to GO GO GO, I have also learned that adding a bit of downtime to my Cairo Itinerary was a great choice.
Pin Me for Later!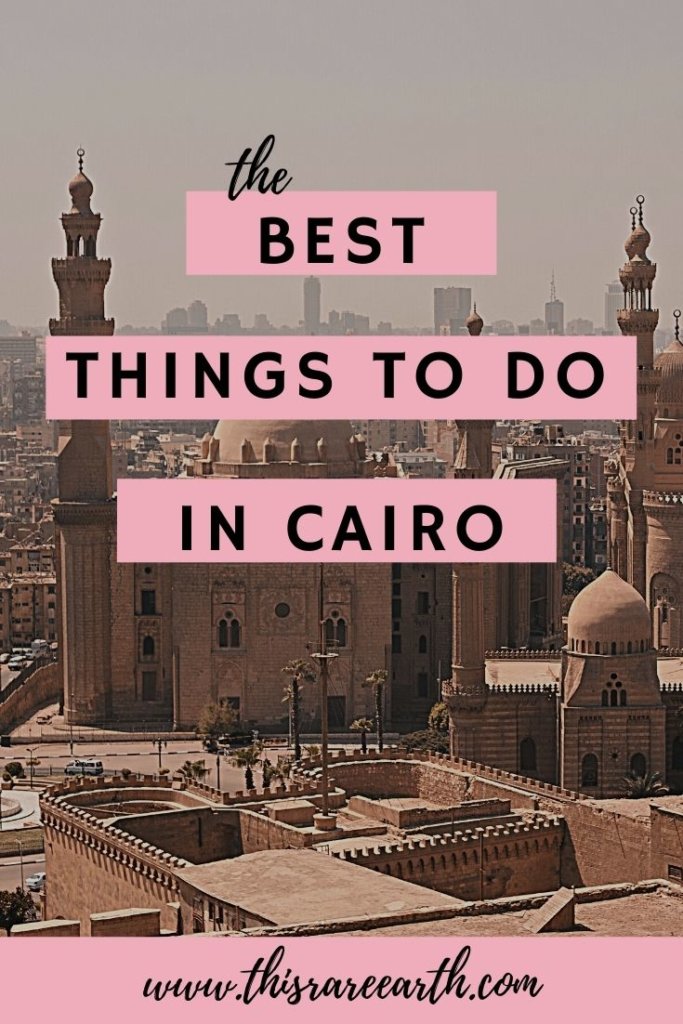 So let me know below – which of these things to do in Cairo is going to make the top of your list?