Visiting the White Desert National Park in Egypt was a non-negotiable for me during my visit. The Black and White Desert are two of Egypt's hidden natural gems. Orange sand, white rock formations, and black lava – fascinating! Let's talk about the Black and White Desert location, safety, when to visit, and more, below!
Pin Me for Later!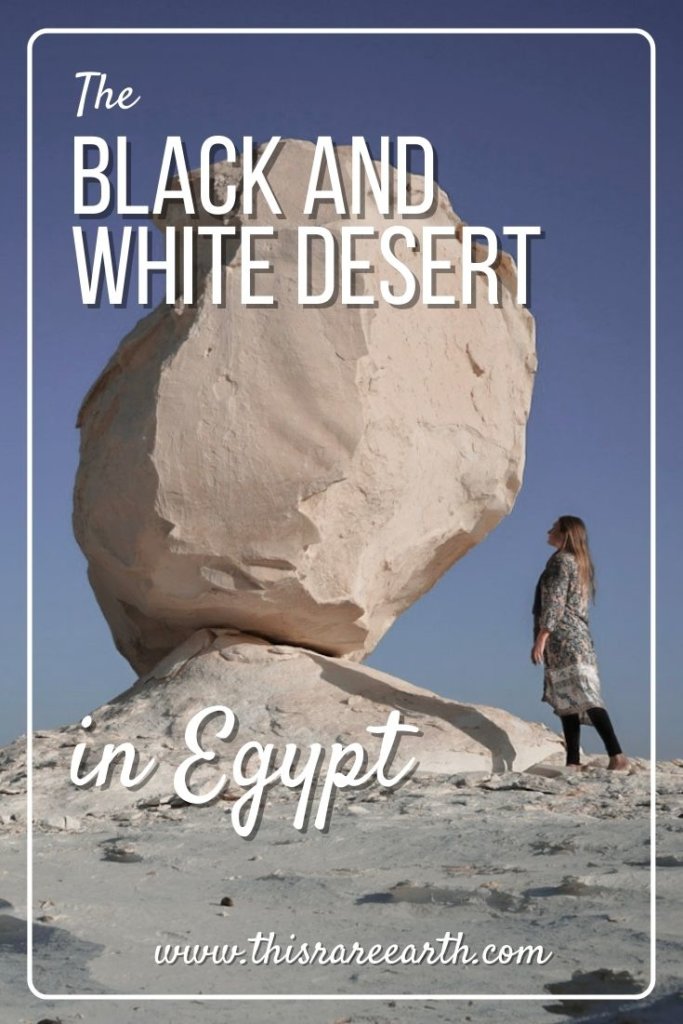 Visiting the White Desert National Park in Egypt – A Travel Guide to the Black and White Desert
"Is that snow?"
This is the reaction I got from every single individual who saw my White Desert National Park photos upon my return. And I can certainly understand why!
It certainly looks like crisp white snow (if it weren't for my bare feet giving away the warmer weather.)
Visiting both the Black Desert and the White Desert National Park in Egypt were "non-negotiable" items on my Egypt itinerary. And, I even got to see more than I'd bargained for!
While most tourists visit Egypt for historical wonders like the Pyramids of Giza, or to explore exotic sights of Cairo, the natural wonders here are like nothing you've ever seen.
To find out how to visit the Black and White Deserts, as well as safety considerations, weather tips, and areas to see, keep on scrolling.
You May Also Like: Solo Female Travel in Egypt – What it's REALLY Like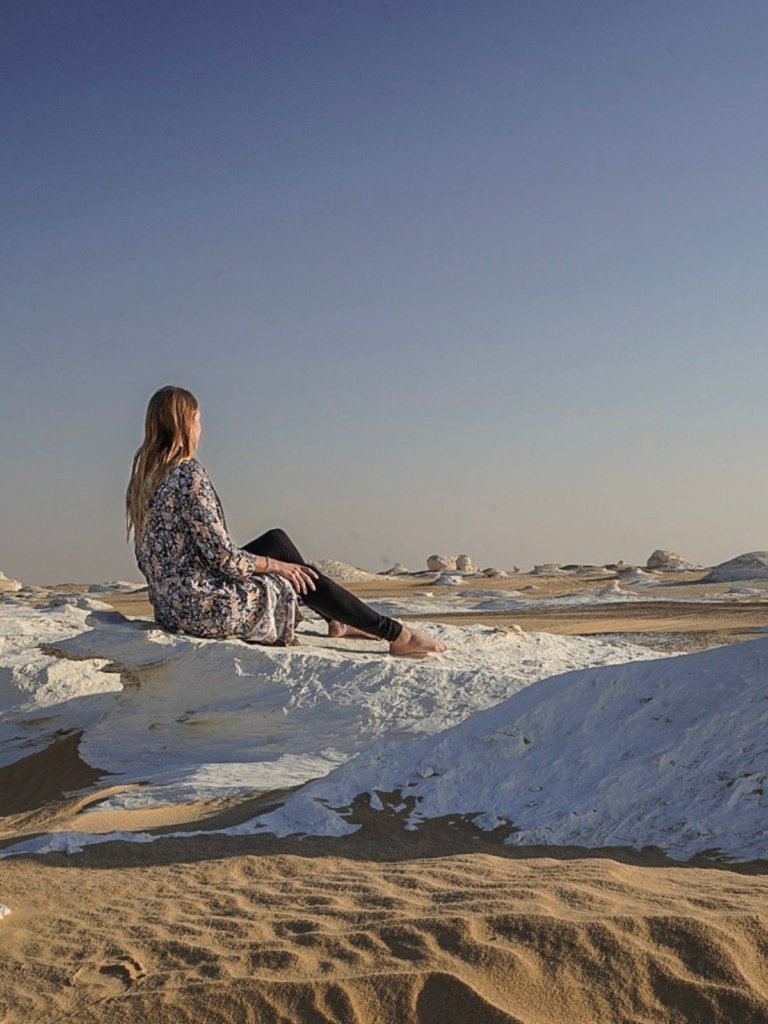 Where is the White Desert National Park in Egypt? Where is the Black Desert?
White Desert National Park is part of the Western Desert in Egypt. The Western Desert  is a region within the Sahara that lies west of the Nile River and extends to the Libyan border.
The Black Desert is roughly 80 miles north of the White Desert and is not as prominent on the maps. The Black Desert features orange dunes covered with stark black volcanic rocks, that appear to be toppling down the sides of the dunes.
Both of these iconic and contrasting desert landscapes are located along the same road and are easy to visit on the same excursion.
How far is the Black and White Desert from Cairo?
The White Desert is approximately 230 miles south of Cairo. It will take between 4-5 hours by car to reach the White Desert, depending on the weather conditions and how many stops you make.
Many people, including myself, make a stop in the Bahariya Oasis on the way. You can visit the small village, pop into small shops for drinks or snacks, and check out the naturally hot water.
On my trip, the oases were so so hot that I could barely put my hand in let alone anything else! These "hot springs" are not the beautiful naturally-filled pools like you find in California or Utah – but they are no less fascinating.
The underground water needs to be siphoned up into concrete wells. These wells direct the waterflow into the smaller villages, providing water for drinking, bathing and washing.
Life is simple in the Bahariya Oasis. Camels and cows will walk in the road and villagers are kind and courteous.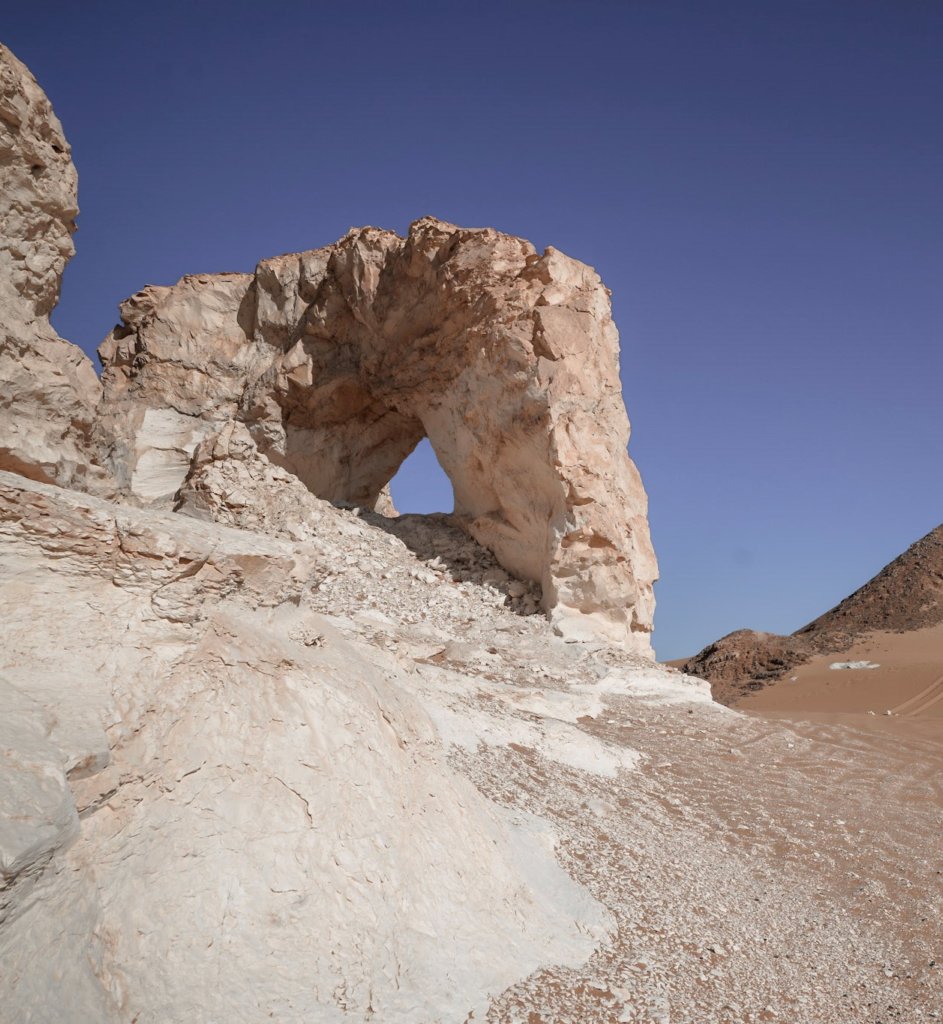 Is the White Desert Safe?
WELL.
I do have to warn you, most government sites (including the UK, USA, and Canada) strongly discourage tourists from visiting Farafra, the White Desert National Park, and the Bahariya Oasis. At the time of writing, and at the time of my own visit, here is the general consensus:
"Avoid all travel to the area within 50 kilometres of the border with Libya, the Siwa Oasis, the Western Desert, including the oases of Bahariya, Bawati, Dakhla and Farafra, and the White and Black deserts, due to smuggling, terrorist activities, the presence of armed groups and ongoing military operations."
On the other hand, the Egyptian government places no such restrictions. So, taking both of these factors into consideration, if you do decide to go, then do so at your own risk. I can not advise you either way, as conditions can change at any time.
That being said, during my visit, I barely saw any other humans whatsoever – tourist or otherwise – so it felt quite safe and secluded.
You May Also Like: Egypt Travel Tips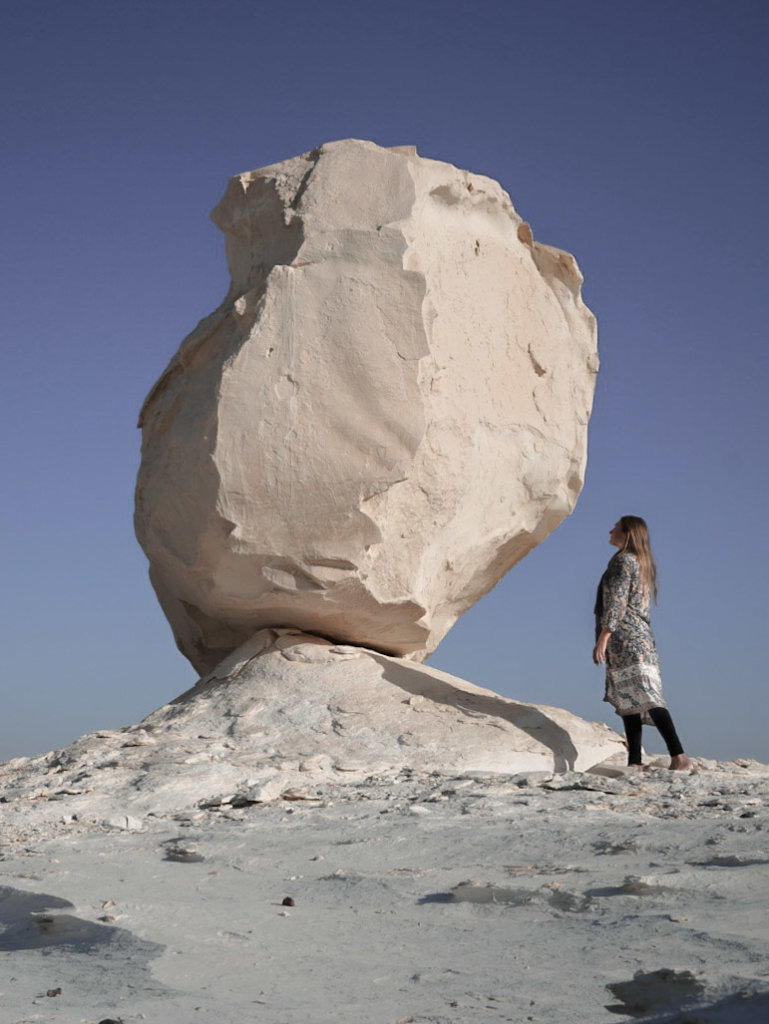 What Makes the White Desert in Egypt White?
The main attraction in the White Desert National Park is obviously the iconic white geological formations – called ventifacts – that the park is named for. They scatter across more than 115 square miles of desert sand.
These ventifacts are made up of chalk and limestone. They were shaped by erosive sandstorms over time, creating odd and alien shapes jutting up from the floor. If you thought Wadi Rum looked like Mars, then you will be shocked by the White Desert!
The dreamlike environment is peaceful and desolate.
There are two differing areas within White Desert National Park; the Old White Desert and the New White Desert. A local bedouin explained to me that the cream-colored mounds were older than the stark-white chalk formations. Both areas are equally impressive.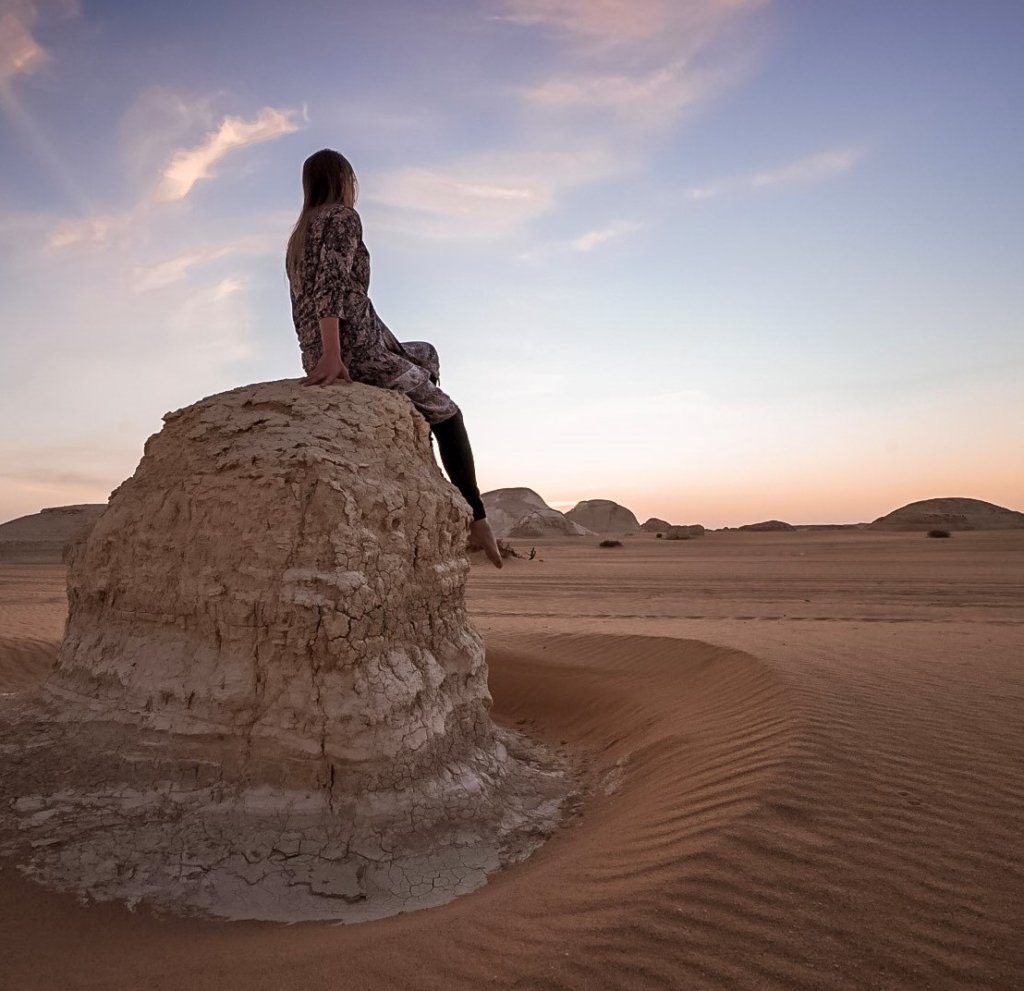 What Makes the Black Desert in Egypt Black?
The Black Desert, on the other hand, features tall volcano-shaped mounds that are covered in stark black rocks. These rocks are a dark black volcanic dolerite, it's almost as if they were just sprinkled across the landscape.
The Black Desert's rock formations date back to the Jurassic period, some 180 million years ago. A skeleton from a previously unknown species of dinosaur was discovered here, and the Black Desert was declared a natural reserve in 2010.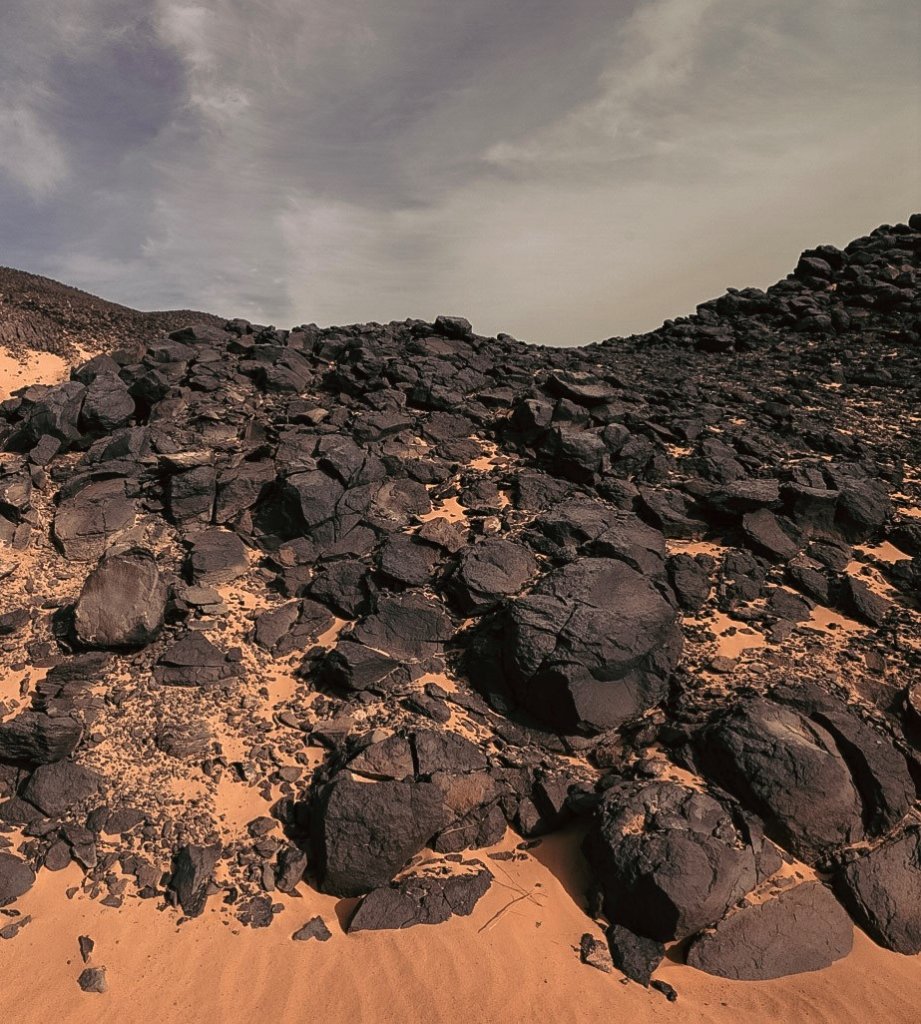 When is the Best Time to Visit Egypt's Black and White Deserts?
It's probably no surprise that Egypt's inland temperatures can get HOT. This is a desert climate after all.
October to March offer the most pleasant weather, avoiding the triple digits and offering a bit of a cool reprieve overnight. A good estimate of what to expect are temperatures between 55°-85°F.
The summer can be brutal. From May to August, expect the daytime temperatures to range from 88°F through 105°F. Overnight can be in the 70's and upwards.
December and January are the coldest months in the area, and september is the wettest..
I visited the Black and White Desert of Egypt in November, and the days were warm-bordering-hot and sunny. My nights in the desert were fairly cold, but if you pack correctly you'll be fine (more on that below).
Don't miss a sunrise and sunset in the White Desert! Everything glows a fiery orange and yellow, and the light bounces off of the white rock formations in a most spectacular fashion.
Staying overnight is unreal – the stars are endless in the sky and the quiet calm is so satisfying. Many people find that true peacefulness at the beach or in the mountains. For me, it's the desert. It always has been, and always will.
You May Also Like: A Liwa Desert Safari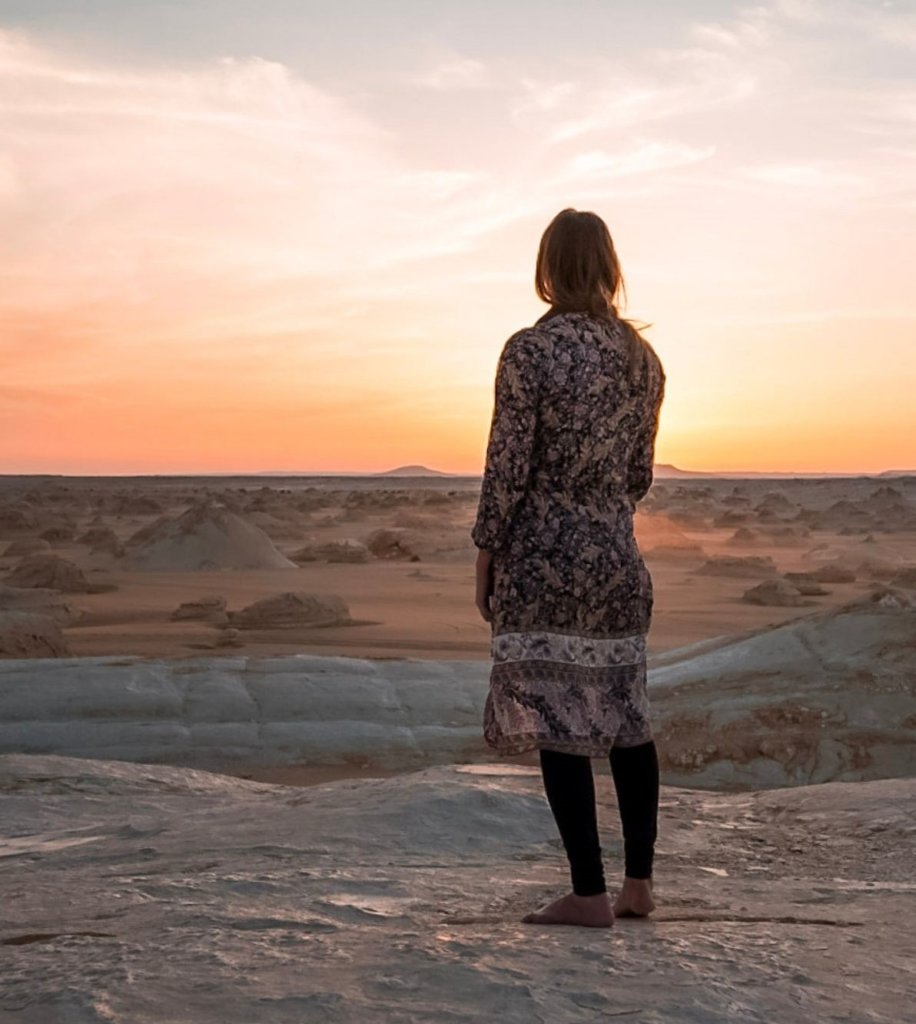 How to Visit the Black and White Desert in Egypt
So, the road to the Black and White Deserts is paved, free of potholes, and any car could manage it. But, to truly visit these deserts, you will need to spend the majority of the time off-roading.
Most car rental establishments will not allow you to go off-roading in their vehicles. And, there are a lot of obscure sights to see that are not easily found on the maps.
Therefore, your best bet is to either go on a tour or hire a local bedouin. You know me – I went with hiring a local bedouin from Bahariya. This did mean spending several days solo with a man I didn't know in remote areas, and sleeping in the desert with nobody else around but him.
I have been solo traveling for over fifteen years now across six continents, so I have learned to read people quickly and trust my gut. But, you need to go whichever route is comfortable for you.
Additionally, there are some security checkpoints on the route, and I heard (but did not experience) that cars can be sopped and tourists sent back if they don't have a guide.
Most people book one day or overnight tours from Cairo. You will be picked up from your hotel in the city and drive approximately four hours to Bahariya Oasis for lunch.
After lunch, it will be another hour or so until you reach the first stop; the Black Desert. Try trekking to the top of one of the hills – the views are incredible!
Next, you will continue to one of my favorite spots, Aqqaba. The large tufts sprouting up from the floor used to be underwater! I took some amazing photographs here and it was an experience I will never forget.
Then, off to the desert for camping (if you are staying overnight). Your guide will set up your camp, and you will also get a tasty dinner between the white structures before bed. I spent so much time exploring the White Desert, both before sunset and after sunrise.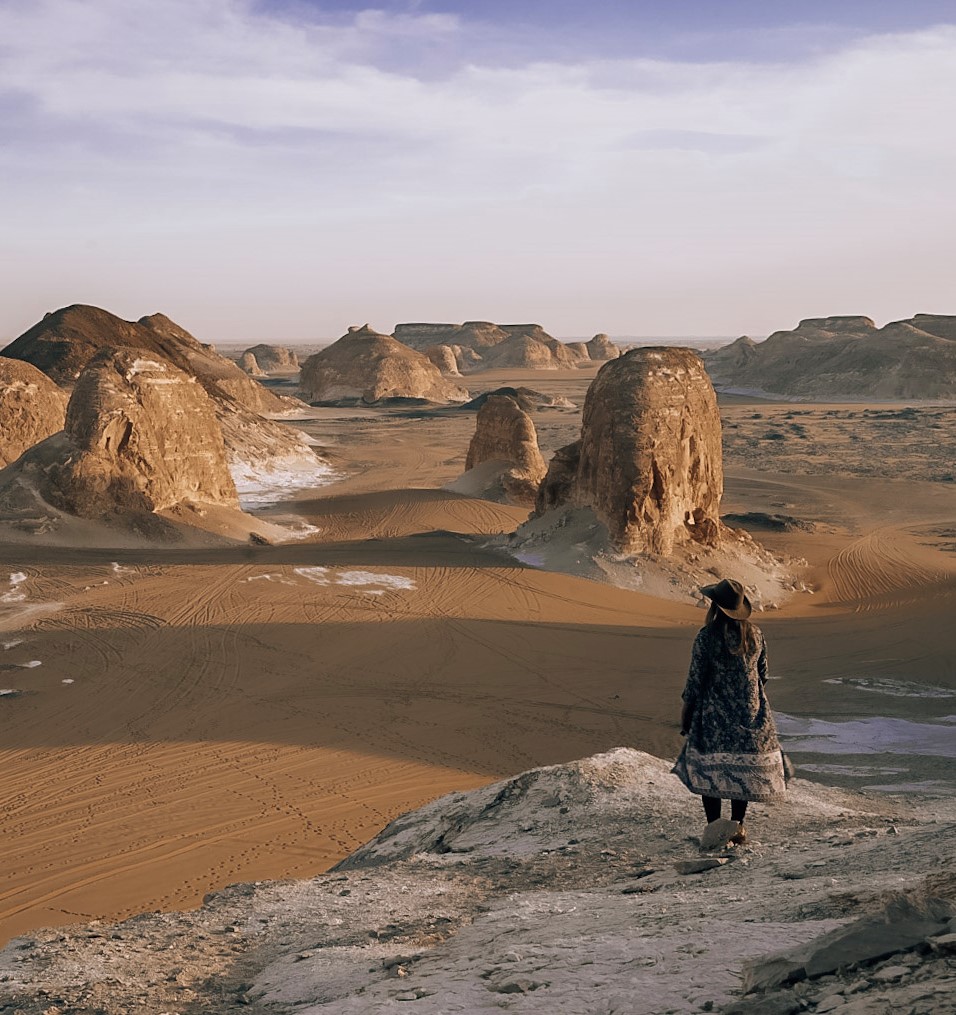 After the next morning's breakfast, you will get a chance to go sandboarding back near Aqqaba. I always love a good sandboarding experience in the desert. Then, a stop at the intriguing Crystal Mountain.
It is believed that a meteor crashed into the ocean here millions of years ago and turned the sand into these crystals. You can actually see the dark black burn marks on some of the crystals, while others are translucent and clear. I found this stop to be fascinating!
Then, it's back to the Bahariya Oasis to be transfered back to Cairo.
*Note that the order of events here can be shifted depending on you or your guide's needs. Also, if you spend two nights in the desert – which I highly recommend – you will have a lot more time to spend at each stop and they will be stretched out over three days.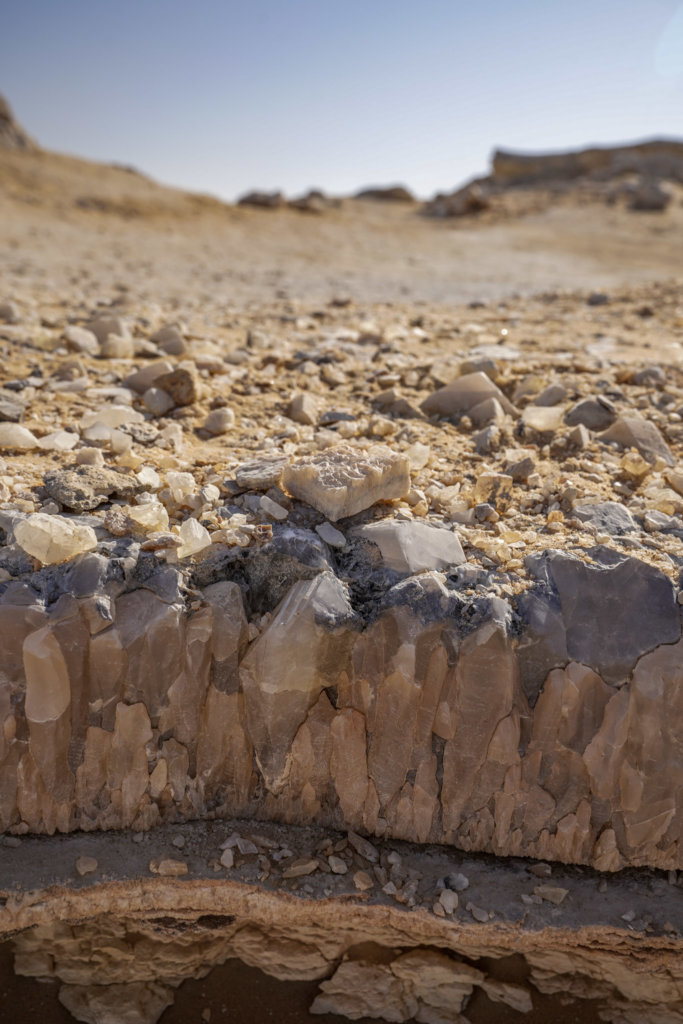 What to Bring on an Overnight Trip to the Black and White Desert
First and foremost, I have an Egypt Packing List post that will be helpful for your trip. But I want to focus a bit beyond that list and talk about what you'll need in the Black and White Desert of Egypt.
No matter what month you decide to visit, first and foremost you will need to protect yourself from the sun. Bring a sunscreen with 30 SPF (or stronger!). You will also need sunglasses for the daytime and a wide brim hat to protect your face. A scarf is a good idea too (I have the green one linked here – it's super lightweight but still offers coverage.)
I spent several days in the desert and unfortunately, this means a total lack of shower facilities. At times like this, I find biodegradable body wipes and cleansing face wipes to be the best substitute.
The hot and dry air in Egypt may dry out your skin, so a good lotion and some chapstick are a great idea.
If you visit in the winter, be sure to have long pants for sleeping. I had both long black leggings and a pair of warm sweatpants I had worn on the plane. Beyond that, I had some short sleeve t-shirts and of course one of my long kimonos that accompany me to all Middle Eastern countries.
Fifty percent of the time I wore my beloved trekking sandals, and the other fifty percent I just walked around in bare feet.
Lastly, do not forget your external battery pack! These are always a life-saver for me. In the desert, I can keep my cameras and phone charged for the epic photo views you see here. I've had good luck with the brand linked there.
Bring loads of water, both for drinking and also for brushing your teeth, etc. Plan on bringing at least a gallon of water per person per day.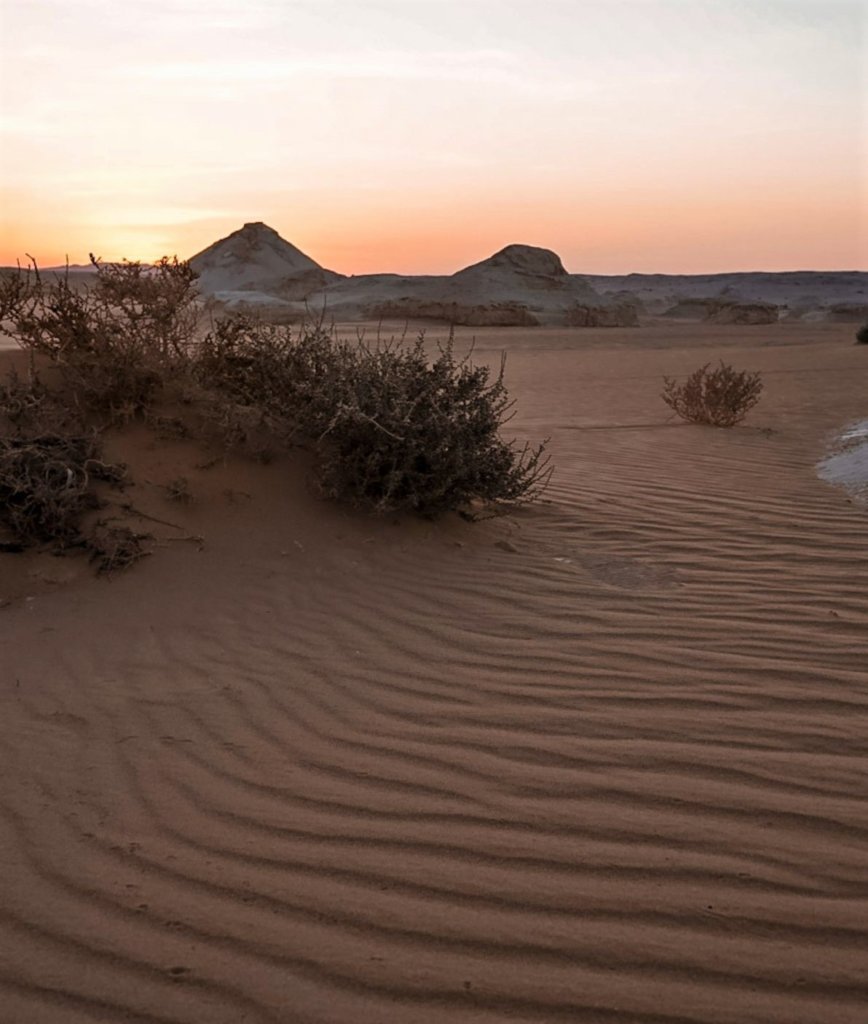 Why You Should Visit the White Desert in Egypt
A visit to the White Desert in Egypt immerses you in another world, far outside of Cairo's hustle and bustle. Four wheeling on the sand, off the beaten track, and seeing sights that my eyes can barely believe is my definition of adventure.
No electricity, no wifi, no technology, just nature.
I appreciated that my new bedouin friend left no trace of us humans in the desert. All trash was collected and we truly left nothing but footprints.
The White Desert in Egypt is like no other place on earth. Each formation is unique, and some of them have names and have become epic photo stops for visitors!
Check out "Chicken Mushroom" below.
I'm thankful that it became a National Park in 2002 so that it will remain intact for us to appreciate for years to come!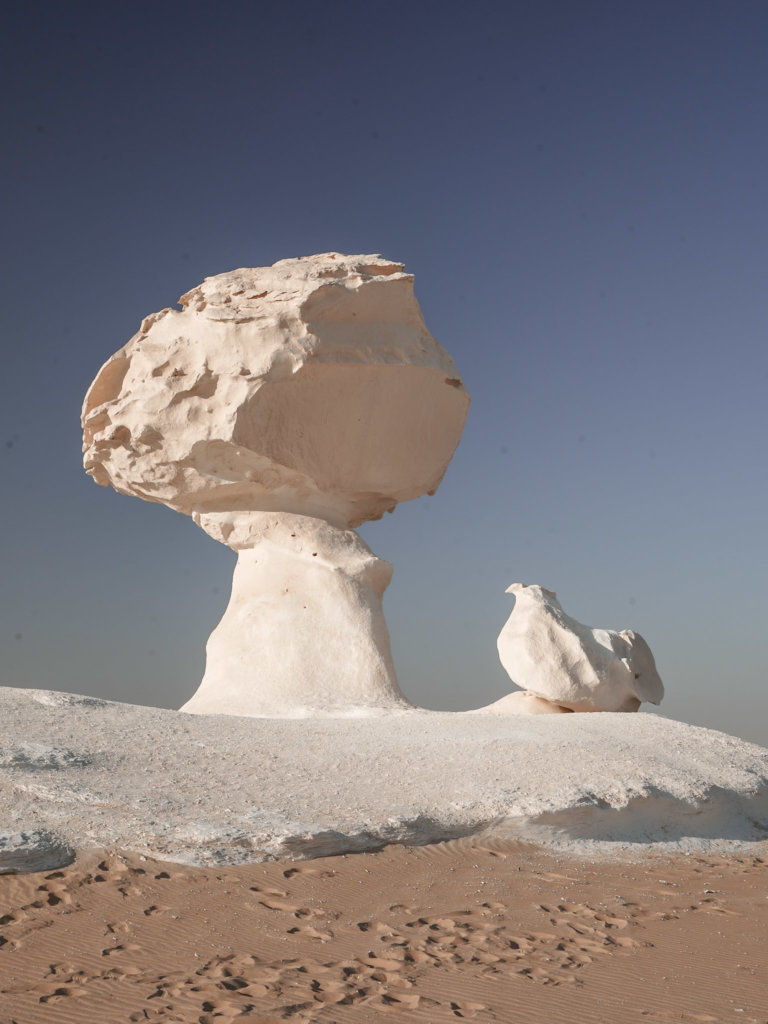 What Animals Live in the White Desert?
White Desert National Park is home to over 800 animal species. I was really hoping to see Fennec Foxes on my trip, but sadly they were not in a social mood.
You may spot animals like the Barbary sheep, gazelles, jackal, Fennec fox, Ruppell's fox, or sand cats. I heard that poisonous snakes live in the desert as well, but I saw not a trace of them. All was quiet in November.
***
Visiting the Black and White Desert is not on most tourists' typical bucket list for Egypt. But for me, the experience was a non-negotiable!
If you have any questions, let me know below and I'll be happy to answer them.
Pin Me for Later!