Here are my top Egypt travel tips for any first-time traveler to the country. This collection of information answers ALL THINGS EGYPT, from how to get around, safety concerns, and what to expect in Egypt. Read on for all the travel tips!
Pin Me for Later!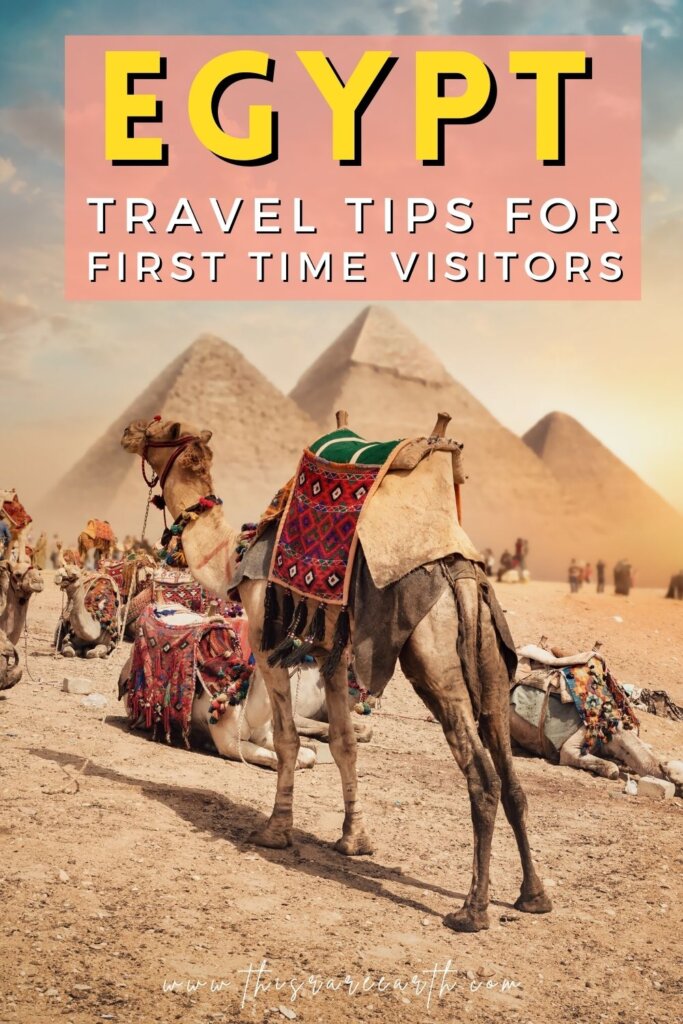 I am no stranger to solo travel in the Middle East.
Each country is of course different and has their own specific customs and traditions. I love the ornate sights and architecture; the booming prayer calls; the simultaneously busy and relaxed culture.
But Egypt has… a bit of a reputation for being "difficult" in the media and the travel world, doesn't it?
While my trip was not hassle-free, I did learn a few strategies during my time there, and I would like to share my top Egypt travel tips with you
Egypt Travel Tips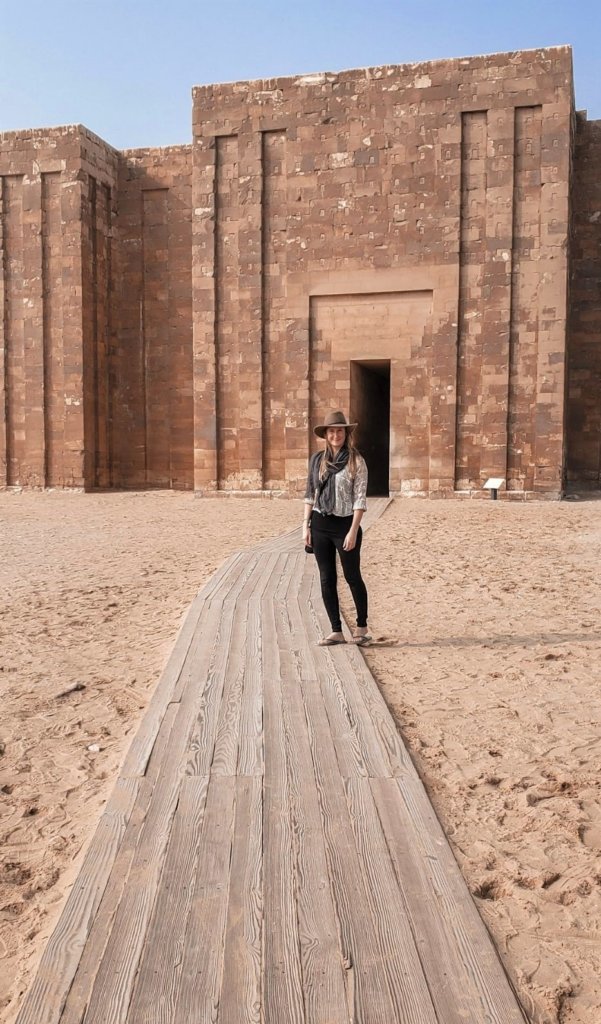 When is the best time to visit Egypt?
In terms of weather, the best time to visit Egypt is between October and April, when temperatures are largely pleasant and warm. Winter mornings may be chilly, but the daytime is still sunny and bright. These months are especially good if you plan to spend a lot of time outdoors exploring the sights.
In terms of tourists and costs, the high season runs from approximately October to February. Low season runs from June to August because of the intense summer heat. Shoulder seasons (March to May, September and October) are a good time to visit as you may find cheaper accommodations and fewer crowds.
I was personally there in November and I was extremely happy with that decision! First of all, it was early enough to miss the Christmas and New Years holiday crowds. In fact, nothing felt crowded at all in terms of tourists. While I was exploring Cairo, it did feel crowded, but it felt crowded with locals, which I loved.
What language is spoken in Egypt? Is English common there?
The official language of Egypt is Arabic. Signage on storefronts and streets are all typically in Arabic.
Within the tourism industry and near the tourist sights like the the Pyramids of Giza, most people will speak English. Tourist sights signage will also be available in English and Arabic, typically. The farther out from the cities you travel, the less English will be spoken.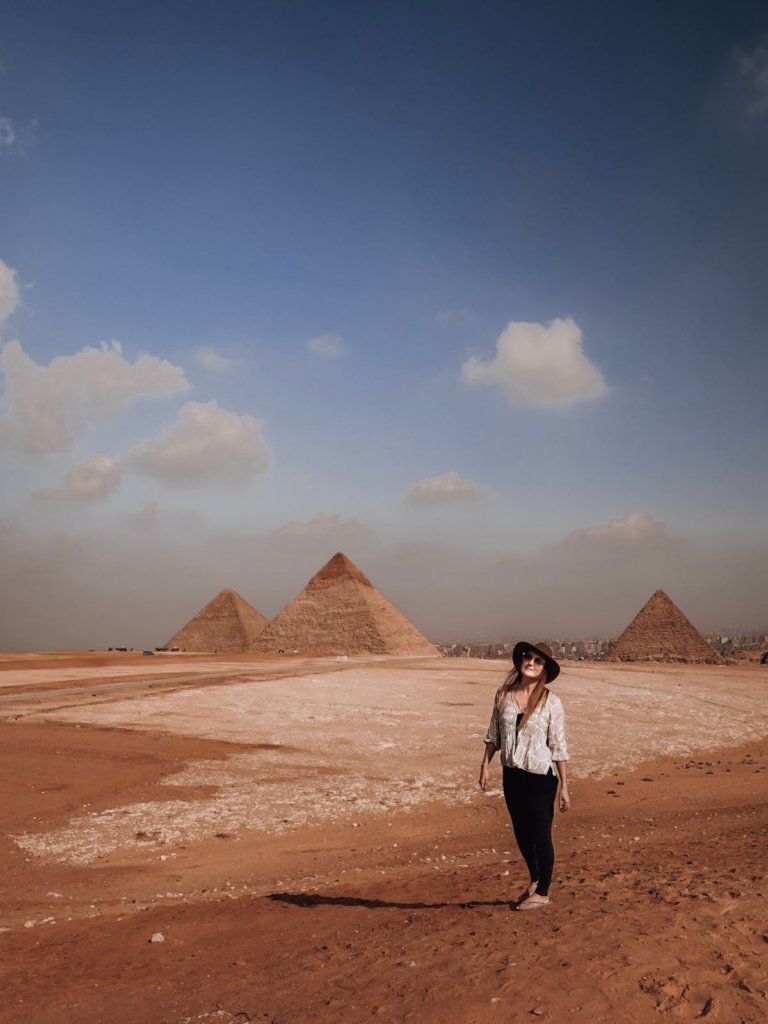 Is Egypt safe?
I traveled as a solo female to Egypt. Overall, I did have an enjoyable and safe time.
The small hassles and scams I ran into did not seem to target me for being a female, or for being solo. These hassles and scams included staff trying to charge me twice for entry fees, issues with my hotel bookings, and Egyptian men way too young for me vying for my attention. (Okay, maybe that last one was due to being female.)
Famous places like the Giza Pyramids – the last remaining Wonder of the Ancient World – was littered with policemen with large guns, metal detectors, the whole nine yards. So that felt beyond safe.
I did not strictly stay in the tourist centres though – actually I spent a lot of time outside of them. I did befriend locals and I did travel to areas in Egypt that foreigners may or may not be discouraged from traveling to. However, you do need to honestly assess what level of risk you are personally comfortable with.
Most governments currently advise against all travel to Egypt due to an unpredictable security situation and an ongoing threat of terrorism. While it is always wise to stay on top of the political situations before traveling, during my time there I did not ever feel unsafe in terms of terrorism / riots / political demonstrations. All was quiet on that front.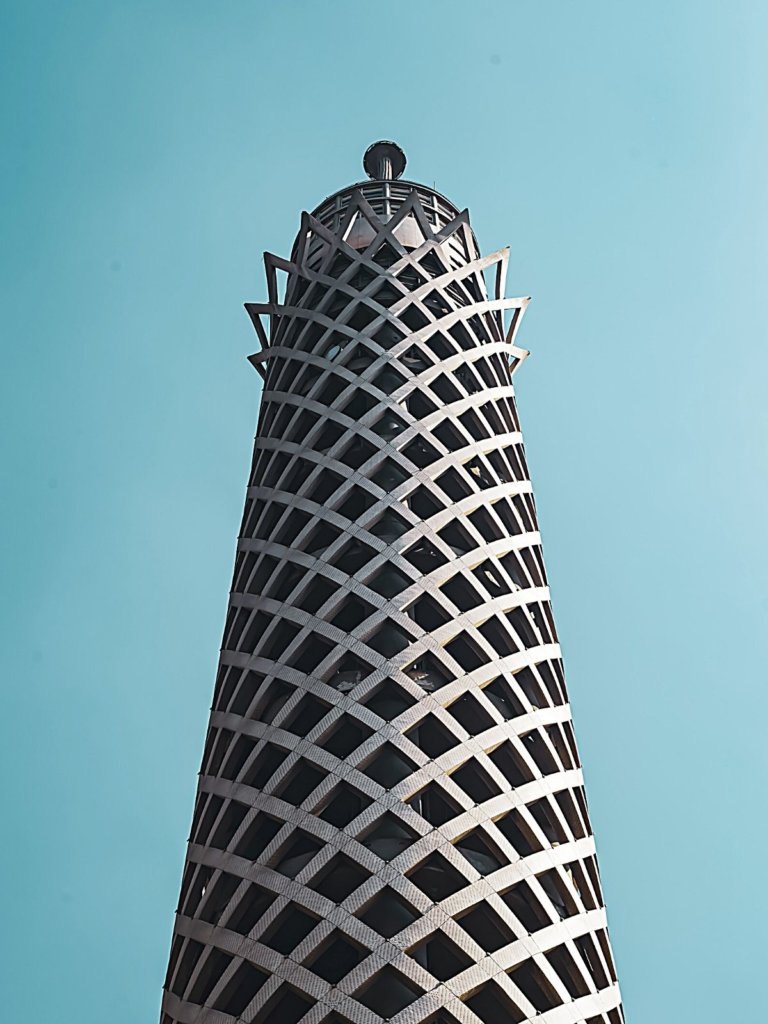 How to travel around Egypt
Most locals typically travel long distances around the country by bus or train. As a tourist with limited time in the country, though, you may opt to travel by air to save time. Let's dive into the options.
Buses in Egypt
You can get just about everywhere in Egypt by bus, and the service seems reliable and cheap. Go Bus and Superjet have pretty vast networks throughout the country, but several regional companies operate here as well: West Delta, East Delta, Upper Egypt.
The most popular destinations, like Sharm el Sheikh, Hurghada, and Luxor for example, are served by buses with air-conditioning and toilets for longer rides. Always check about air-conditioning, particularly if you travel during the summer. Ladies, be warned – the buses get cold when the AC is turned up, so bring along the scarf I mention in my packing list or purchase on in Egypt to bundle up with.
Check out my FULL recommendations here: Egypt Packing List
Trains in Egypt
Egypt has a well-known train system that connects almost every major city in the country. The Cairo–Alexandria and Cairo–Aswan routes are upgraded and smooth, but I've heard that the other segments are quite dilapidated. The most popular train ride for tourists is definitely the overnight sleeper train from Cairo to Aswan.
This route is pretty reasonably priced, includes meal service, and is very similar to the sleeper trains I took in India. Reservations should be made at least a few days before your trip, and they cutoff at 6pm on the day of departure.
Domestic Flights
From inside the country, most of your flights will likely be operated by EgyptAir. The good news is, they are pretty reliable and relatively cheap if you book in advance. The bad news is, they can be crowded and loud.
Pro Egypt Travel Tip: Book your domestic flights online. You almost always get a better fare than in person or through a tourism company.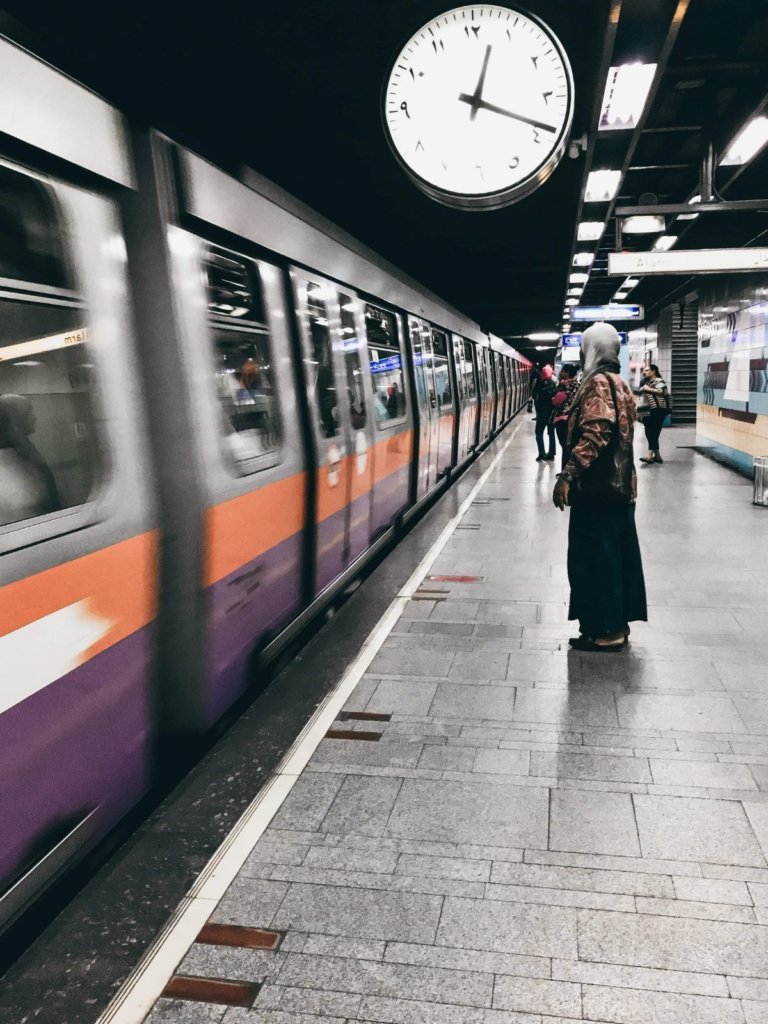 How to travel around Cairo
The capital of Egypt is quite large and most of the sights to see in Cairo are not walking distance from each other. In my experience, there are two great choices on how to get around Cairo.
First, you might be surprised to learn that there is a metro system in Cairo. It's fast, cheap and reliable. Bonus – there are signs in both Arabic and English, making it pretty easy to use.
All fares are between 3-7 EGP, which at the time of writing exchanges to less than .50 cents USD.There are also women-only cars, so if you are a solo female, it's a good option.
The metro can get you to places like The Egyptian Museum, Cairo Tower, Coptic Cairo or the Khan el-Khalili market. Bookmark this page to save the metro map and info.
If you have limited time in Cairo and don't want to be tied to the metro's schedule, the other best option is to use Uber. I have an entire post on Uber in Cairo that you don't want to miss – there are a few important things to be aware of when using Uber here that definitely could be an issue if you're not prepared. Check it out!
You May Also Like: The Best Travel Apps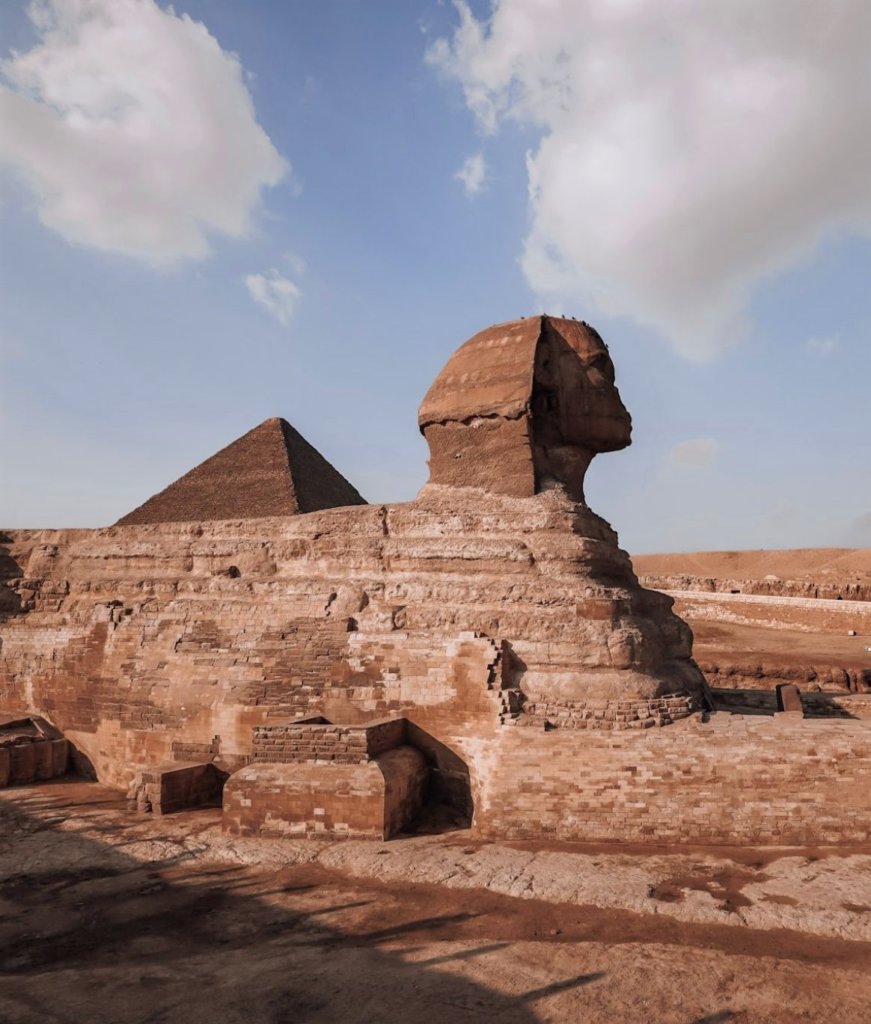 Should I visit the Pyramids?
Visiting the Pyramids deserves an entire post in and of itself. And guess what, I have exactly that! If you missed the link above, you can also find it here. It is completely possible to visit the Pyramids solo (and in fact, I preferred that).
Despite the crowds and despite the hassles, you just can't visit Egypt and not see these famous Wonders. It is more than worth it – and yes, the Sphinx is here too!
What is the predominant religion in Egypt?
The majority of Egyptians identify as Sunni Muslim (about 85-95% of the population). The second largest religious group would be the Coptic Orthodox Christians (around 5- 15% of the population). Architectural and religious sites from both groups, including a well-known Synagogue, can all be seen in Cairo.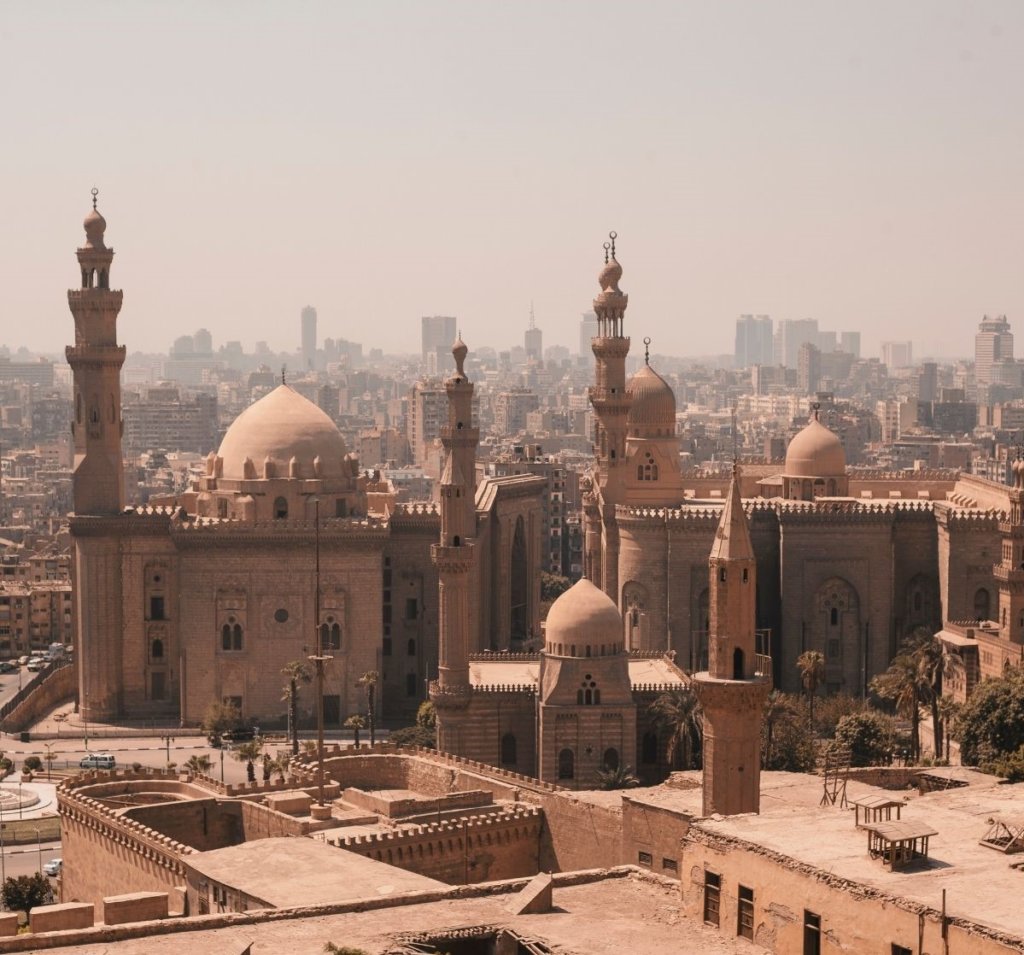 Egypt travel tips for your arrival in CAI (Cairo International Airport)
If you are coming from North America, there is a 99% chance you will fly into Cairo International Airport, which is the busiest airport in Egypt. CAI serves as the primary hub for the Egyptian airlines (EgyptAir and Nile Air) and is the most-used airport for international airlines, too.
Most visitors will need a visa to enter Egypt. You can purchase this in advance, or, some nationalities can take care of it on arrival. I chose the latter as I wanted to get the official visa sticker as a souvenir.
No matter which option you choose, your visa will cost $25 USD. On site, this needs to be paid in cash and specifically in USD. So do have this ready in your wallet before boarding your plane!
When you reach the arrival hall, with immigration and passport control at the end, you will see two banks to the right side directly after you exit the escalator. They are very small and you may be thinking, "Is this right??" But, it is.
Get in the line, have your cash ready, and pay when it's your turn. You will then get a visa sticker. Find an empty page in your passport, stick it on, and then proceed to Passport Control, where you'll go through the typical entry procedures. Easy.
SIM Card Travel Tips in Egypt
Another thing you might be interested in after arriving to Egypt is purchasing a local SIM card. After Passport Control, you will find three mobile phone providers offering SIM cards Vodafone, Etisalat and Orange.
Full disclosure, I have an international phone plan since I travel so much, so I did not have to go through this step. I just used my own plan rather than get a SIM.
But, if I had to recommend one, it would be Etisalat because I am familiar with them after traveling to Dubai so frequently.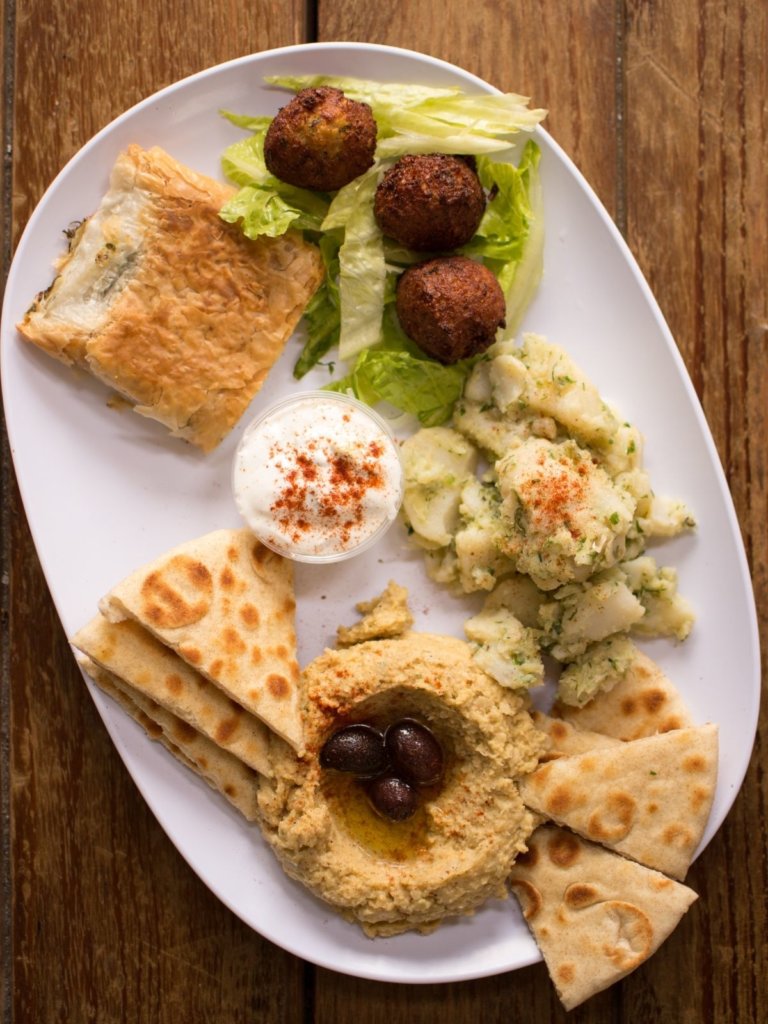 What food will I find in Egypt?
If you are familiar with traditional Middle Eastern food, than you know what to expect in Egypt. I ate all the vegetarian and vegan staples just about every day. Falafel, hummus, and foole m damas (if you haven't tried that last one, it is made from fava beans).
The real treat for me was trying Egyptian koushari, though. This mix of lentils, rice, spicy sauce, pasta, and chickpeas doesn't sound like it should taste very good – but there is a reason this is one of Egypt's most popular dishes! Give it a try and you'll see.
There were also plenty of fresh figs and pomegranite seeds. Yum!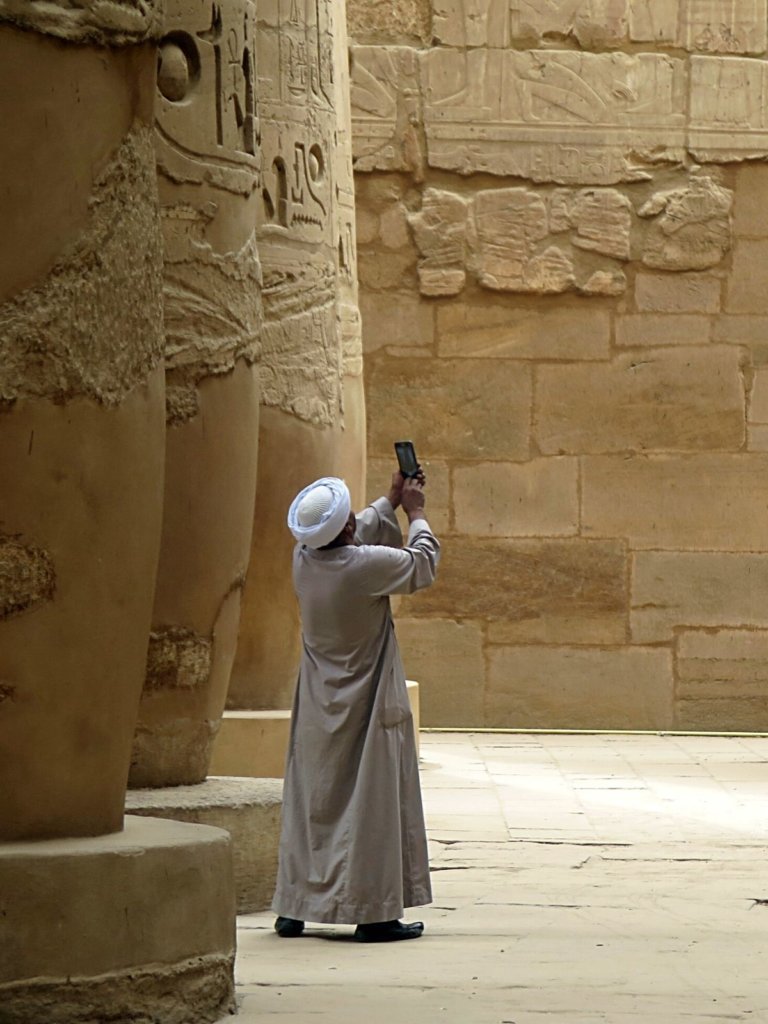 Is Egypt cheap to Visit?
In general, Egypt is a fairly cheap destination. Transportation, food and accommodation were very affordable, even as a solo traveler.
On the other hand, for those who crave luxury, you can certainly find it.
The bulk of my expenses in-country probably went toward entrance fees. As a foreigner, I had to pay significantly higher fees that Egyptian nationals. This price hike is nothing new – you see it all around the world, in Tanzania and India and Cambodia, among others.
While it sometimes feels irksome, just remember that those extra fees often go toward the restoration and taking care of the monuments. So, I suppose it's okay! Even for a budget traveler like me.
You May Also Like: How to Keep Money Safe While Traveling
Single tickets are not all that much individually but boy do they add up if you try to see a lot! Also, be aware – many sites do require an extra fee if you want to bring a camera or take photos while there.
You will need local currency to pay for many of the entrance fees, FYI.
Are people in Egypt friendly?
By and large, YES! With the exception of those small hassles and scams mentioned above, I found the locals in Egypt to be warm, friendly and really willing to help you out.
I had major problems with my final ride to the airport and an employee at my last hotel went above and beyond to help. And, I'm happy to call him a friend now. (Hi, Mohamed!)
Most conversations I shared or smiles I received were innocent and curious. Don't be afraid to get to know some locals – after all, that is always one of the best highlights of travel!
***
I hope these travel tips for Egypt help you plan a smoot h and successful trip! Egypt was such a fascinating and colorful place to spend some time. Actually, I'm looking forward to returning, as there is so much more I have yet to see.
If you have any questions or need additional Egypt travel tips, feel free to ask in the comments below! And have a great trip!
Pin Me for Later!