This past summer, I finally checked off an Africa Bucket List item: I went on an African safari. An not just any safari- a Tanzania Camping Safari in the famous Serengeti and Ngorongoro Crater. Read on for my thoughts an experiences in Tanzania and whether or not YOU should add a Tanzania Camping Safari to YOUR Bucket List, too!
Pin Me For Later!
Why a Tanzania Camping Safari?
After months of research, I decided on a Tanzania Camping Safari covering the Serengeti and Ngorongoro Crater over other popular safari spots like South Africa or Botswana. My decision was based on several reasons.
First, I would have the chance to see lions, leopards, and cheetahs – my favorite! – as well as the Great Migration of the wildebeest, a sight that I was obsessed with seeing in person.
Second, if you don't know by now, I do a lot of trips solo and I am always on the lookout for a deal. Camping can save you hundreds or even thousands of dollars, and safaris are generally not a cheap endeavor. And third, I was so excited by the thought of hearing the animals just outside my tent all night long.
An added bonus was the option to travel to Zanzibar fairly easily afterwards, which sounded like the perfect place to relax after all the dirt, grime, and exploration. Zanzibar is an island that is technically part of Tanzania, but it is semi-autonomous and has it's own government as well as immigration and customs. The sand is white, the water is blue, and the people were extremely welcoming.
How and When to Get There
Though I had been to the African continent in the past, I'd never visited East Africa or any of the popular safari spots. From the US, and especially from the west coast, getting to Tanzania is quite a trek. Direct flights don't exist, so you should expect a lot of time in the sky. You are likely to have layovers in either the eastern US, Europe, North Africa, or some combination of the three.
I was able to book every leg of my trip using points (another hobby of mine), subtracting another huge cost. I flew Turkish Air with a single layover in Istanbul and landing in Dar es Salaam, Tanzania. On the way back I flew the same route, but extended my layover in Istanbul to about a week, giving me two vacations for the price of one. Three if you also count Zanzibar!
I chose to travel in July because this is one of the months you can watch the Great Migration of the wildebeest. This is one of the topics that I spent months researching. There seem to be conflicting reports on websites about when the wildebeest will be in the Serengeti versus when they will be in Kenya. One explanation I found for the conflicting reports is potentially due to climate change.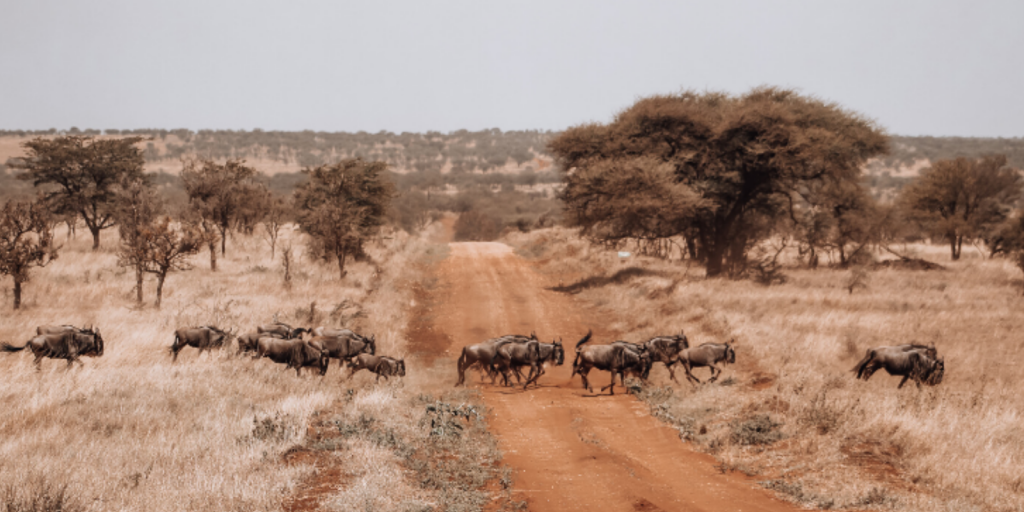 During the Great Migration, the wildebeest are moving to follow the water. As one areas riverbeds dry out, they are lush and flowing somewhere else, and the wildebeest follow. So, as the water levels and locations change, perhaps this is changing when the wildebeest roam.
I can attest that currently, the wildebeest will be migrating north in July and if you head to the western end of the Serengeti you have a good chance of spotting them. If seeing the wildebeest is important to you, you may want to even double check this with tour operators before booking.
What to Expect on a Tanzania Camping Safari
A Tanzania camping safari is not for the faint of heart; there are no armed guards and there are no fences around the campsites. Animals in the Serengeti have as much access to the campsite as you do.
During my trip, my tent was surrounded by many animals including hyenas, elephants, zebras, giraffes, and cape buffalo. Some of them were so close that if my tent had been unzipped, I could have reached out and touched them! Lions were not far, and you could hear them roar all night long. For me, this was magical- I will always remember the elephant trumpeting between the tents and the sound of those lions nearby. But for others, this may be your nightmare!
The typical Tanzania camping safari lasts anywhere from 1-11 nights. I don't recommend the short 1-night or 3-night trips because you won't see much. This is because the terrain changes the deeper into the Serengeti you go, and different terrain is favored by different animals. So, if you go for such a short time, it is very unlikely that you will be able to drive deep enough into the park to see all of the animals you want or to make it worth the trek there.
I suggest a minimum of 5 days for your safari. I chose a 6 day Tanzania camping safari and it worked perfectly. This will get you far enough into the park to potentially see The Big Five as well as the wildebeest migration, if the time of year is right.
A helpful site to compare prices and tour companies is www.bookallsafaris.com. You can easily filter by date, price, and duration of safari. This will display what options are available at the time of your trip, since all options will not necessarily be available all year round. As a bonus, this site also has real reviews displayed by people who have taken the trips- an invaluable before traveling such long way.
The Big Five
"The Big Five" is a term referring to lions, elephants, leopards, cape buffalo, and the rare black rhino. I was lucky enough to see all five on my trip and I will never forget it! The leopard and the rhino are the toughest to find because they are reclusive and small in numbers, respectively. I saw three leopards up close and personal (one was a baby!) and two black rhinos, albeit from a distance.
I will admit, before going, I was slightly worried about travelling in the high season. July is a month when Americans and Europeans commonly vacation, and I was afraid that the parks would be overcrowded. But, if I wanted the Great Migration to be part of my trip, that was my best chance to go. It was a pleasant surprise to realize that because of how large the Serengeti is, if it was overcrowded, I certainly never felt it! We would go long stretches of time without seeing another vehicle.
Unless you are traveling as a family or as a group of friends, you will likely get paired up with a couple of other travelers in the same car if you hire a guide. You can actually self-drive the Serengeti- be aware that vehicle requirements are quite strict and there will be large areas where you don't have cell service.
This is one of the rare times that I don't recommend a DIY trip. In my opinion, if you have invested a lot of time, money, or effort to get there, you really want an expert who knows the land as well as where to find the animals at any time of year. To have now seen the entire Big Five multiple times over, I can say it was well worth it. The guide also taught me a lot about the local community and the behaviors of certain animals that I wouldn't have learned otherwise.
The Day to Day
You will start in Arusha, which is accessible by either bus or a short and cheap flight from Dar es Salaam. I flew in to Arusha after several days exploring Dar es Salaam, but took a bus back out, in order to see more of the country.
You will drive farther into the Serengeti each day, meaning you change campsites just about every night. This is great because you don't waste any time making a big loop back to where you started; you simply drive to the next spot, setup camp, and pack up in the morning, only to do it all over again the next day. Typically you are expected to help set up the tents but if you don't know how, the guide can explain it. It's very easy, though I'm no stranger to camping.
As I mentioned earlier, this nomadic-pace is what gets you deeper into the park each day and is a great strategy to see the most in your limited time.
The morning departures from your camp will all be early, but I promise, the sunrises are worth it!
There will be a cook who will prepare breakfast and/or dinner for you, as well as pack you a sandwich lunch if you will be on the road all day (most days). I was slightly worried about vegetarian options as I read many reviews of veg options being nonexistent, but I was again pleasantly surprised. One other person in my car was vegetarian and that may have helped.
We had delicious vegetable based meals for dinners, such as eggplant curries with rice and veggie pastas and soups. Our lunch sandwiches were only cheese and bread which I suppose sounds a bit sad, but the lunches were plentiful with fruits or chips or cut up vegetables, so I was more than satisfied.
A few things you should mentally prepare for….
First, some areas are extremely dusty! I know, you might be rolling your eyes at that, but it deserves a warning because the vehicles are open-air. All of that dust is piling onto your face and hair, your eyes and mouth. So definitely bring sunglasses and if you have long hair (and want to keep it feeling like hair rather than straw), a hat is not a bad idea. To access my full Tanzania packing list, click here.
Second, many of the showers at the campsites are cold water only. While this is not the end of the world, in July, the Ngorongoro Crater area gets very cold at night. This is because it is at a higher elevation. You will want warm clothes for mornings and overnight! And my car-mates were seriously impressed and bewildered at me; I showered the grime off in cold water every night nomatter the temperature or situation. It's a habit at home too; I need to "wash the day off" to mentally prepare for sleep.
Pros and Cons of My Tanzania Camping Safari Experience
If you are a frequent traveler, you can probably already guess; it would be a lie to tell you that everything went swimmingly on this trip. I'd like to share some pros and cons of my trip below, which are not meant as judgement but are just the reality of what I experienced. I highly recommend joining a Tanzania Camping Safari and do not regret it at all! In fact, I'd like to head to some other East African countries, too.
The Pros:
Seeing the Big 5. We actually thought we might miss the rhinos and then finally caught two in Ngorongoro Crater on the last day. It's so memorable to have seen all of them! I'll never forget it.
New Friends. I became friends with everyone else in my car and still keep in touch with them to this day. We have an ongoing group chat from across the globe- USA, Ireland, Colombia, and India.
Seeing Cheetahs in the Wild. We saw four cheetahs, two from very close. This was amazing for me; cheetahs are my favorite big cat, I just find them fascinating. I've seen them in sanctuaries, breeding centers, probably zoos as a child, and now, finally, in the wild. Magical.
Hearing the Animals at Night. This is unforgettable. I can picture very vividly each campsite and what animals we saw inside each camp. I have a very funny video of an elephant, strolling and trumpeting through the campsite, not a care in the world!
The Cons:
Power Supply. I was prepared for this so it didn't ruin my day, but I want to mention it so that you are prepared as well. Bring at least one large power bank. Some of the campsites have little or no outlets to charge your cameras, phones, etc. There is an outlet in the vehicle, but the roads are so bumpy that everyone's wires were constantly falling out. Don't rely on the car or campsites; bring that power bank. There will also be limited cell service, but surprisingly, one of the campsites had wifi.
Campsite Bathrooms. They were overall fine, but, it's worth mentioning that there was no lighting in some of them. Bring a headlamp. Mine was so so helpful to have! Hot water was not always an option. And they are generally a bit of a walk from your tent, so be prepared to see golden eyes watching you as you go back and forth.
Lost Luggage. Out of the four of us in the car, our guide and cook "lost" one of the guest's backpacks or left it at the previous camp. Everybody makes mistakes, so the owner of the luggage was not angry or yelling at the guide. But the part that is worth a mention is that there was no apology. Actually they put the blame on the guest himself, even though they were the loaders of the luggage. Also, they yelled – yelled – at us for contacting the other tour companies we had seen to ask if any other cars accidentally picked up the backpack from the campsite. So not only were they unhelpful in trying to find the backpack, they were also more worried about saving face and blaming the guest then getting this man's luggage back. It affected the last few days of our ride, if I am honest. It was a disappointing element to add to the trip, but one I don't feel right about not sharing. Unfortunate.
So there you go, that's all of it! The good and the bad (mostly good, thankfully!) of this adventure. My philosophy is that not all parts of every trip will go perfectly, and best to roll with the punches. But I honestly wouldn't trade my Tanzania camping safari for any other trip last summer, it was unbelievable, and it has left me eager to return to Africa again.
If camping is not your thing, OR, if you plan to spend time in Tanzania outside of your safari – I highly recommend reserving accommodation through Booking.com. The offer the most flexible cancellation options and competitive prices that I've seen in the industry.
Pin Me For Later!
Have you been on an African camping safari? Do you have any questions for me? Ask them below!