Are you dreaming of an African safari or wondering what animals you will see in Serengeti National Park? Here is a detailed Tanzania Animals List featuring every animal I saw while on safari in Africa. Read on for a detailed list as well as animal encounters, population counts, and more.
Pin Me for Later!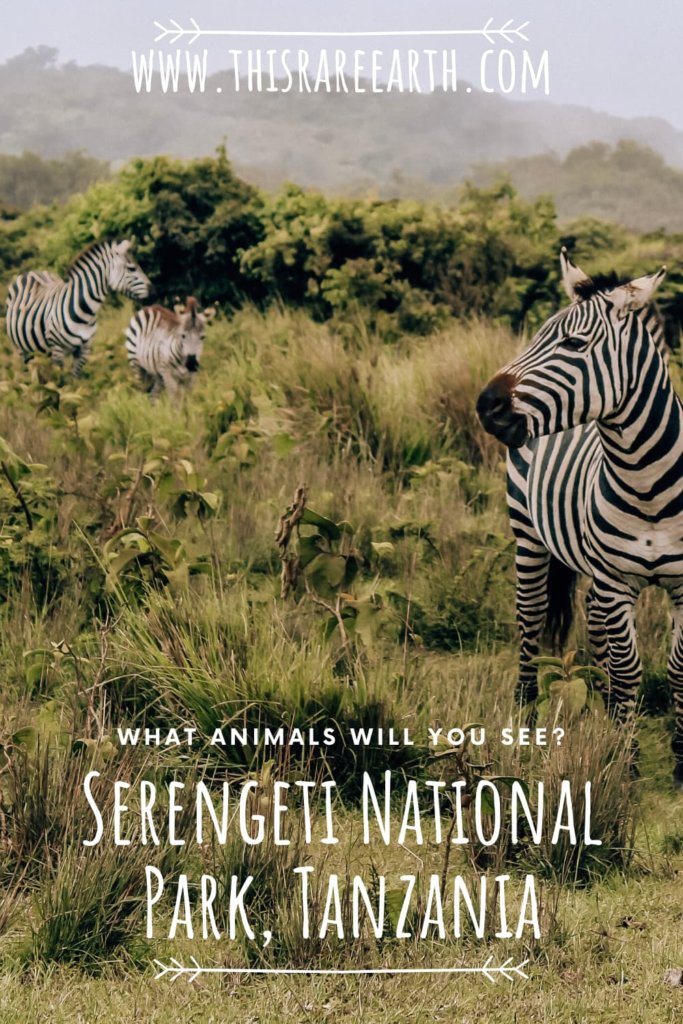 Last July I flew to Tanzania, filled with excitement, ready to finally experience the amazing Serengeti National Park in person and to cross "African Safari" off of my bucket list.
I had been to North Africa previously, but East Africa was unknown and mysterious – the culture was going to be completely new to me, the landscapes were going to be beautifully foreign, and the animals I would see in Serengeti National Park were some that I'd never laid eyes on in the wild before. In fact, many of the species that I would see on safari are not found outside of the African continent.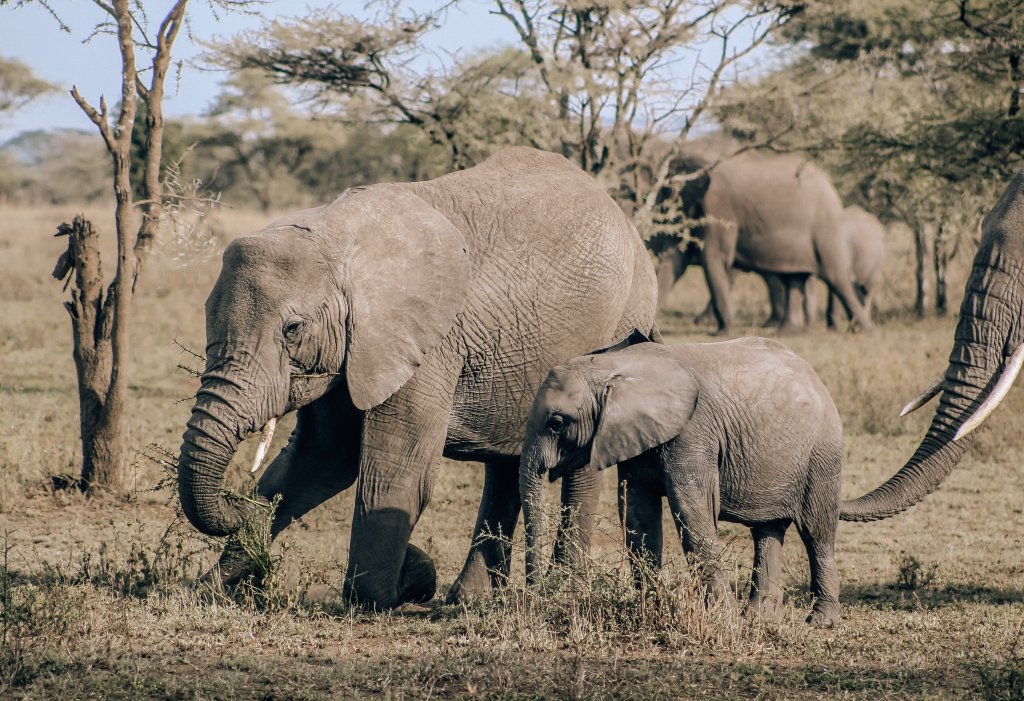 You may already be aware from my previous post, I chose to take a 6 day camping safari that got me up close and personal with the animals in Serengeti National Park, day and night. Seriously – I could hear them just outside my tent every evening – hyenas fighting, elephants trumpeting, zebras stomping their hooves. I even heard lions several nights in a row! It was incredible.
It's unexpected actually, how bold they are – the animals don't really seem to care if humans are around; they feel very sure that we are trespassing in their territory… and they are not wrong. I think that is what is so breathtaking about safari… you truly witness the animals as they live, in their home, in the wild.
While many animals showed no fear in walking very close up to the car, others were farther away or were smaller in size, and binoculars were incredibly helpful along the way. Click here for a detailed list on the gear (and clothing) that I found both helpful and necessary in seeing the animals.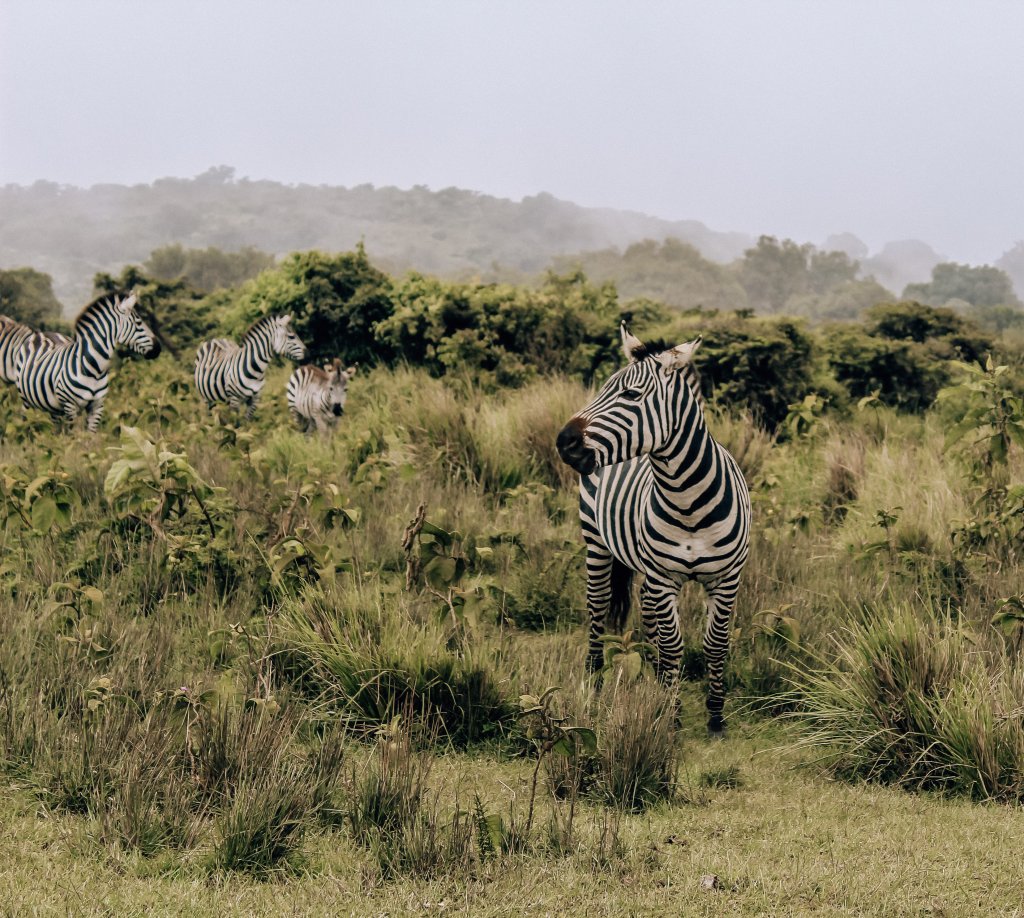 In the Maasai language, Serengeti means "endless plains". But in fact, Serengeti National Park features two distinct landscapes within it's 12,000 square miles: grasslands, and woodlands. Because some animals prefer the grasslands and some prefer the trees, you will see different wildlife in different terrain, the deeper into the Serengeti you go.
Besides the fearless animals that entered our camp, I saw countless mammals, birds, and reptiles throughout the park, and I kept a detailed list each day. I am excited to share with you below all of the animals I saw while on safari in Serengeti National Park, Tanzania.
Animals List Seen Inside of Serengeti National Park, Tanzania
Zebras
Baboons
Ostriches
Thompson's Gazelle
Grant's Gazelle
Vultures
Hartebeest
Elephants
Mongoose
Cheetahs
Hyenas
Quail
Giraffe
Wildebeest
Cape Buffalo
Clipspringer
DikDik
Eland
Jackal
Flamingo
Impala
Hippopotamus
Crocodile
Lions
Storks
Grey Herron
Monkey
Waterbuck
Egyptian Goose
Blacksmith Plover
White Belly Bustard
Leopard
Redbok
Sand Goose
Warthogs
Antelope
Kori Bustard
Caracal
Hyrax
Black Rhino
Below is a printout of the list above if you'd like to bring it on safari or research more into these incredible animals.
You will notice that on my safari, we were lucky enough to see all of the famous Big Five.
If you are not familiar with what "The Big Five" means, it is referring to the following animals:
Lions
African Elephant
Leopard
Cape Buffalo
Rhino
Your group is generally regarded as lucky if you are able to spot all five of these animals on safari – particularly the leopard and rhino, who are most-often missed. This is because leopards are excellent at hiding in the trees, and rhinos are sadly endangered. You wouldn't think the leopards spots would blend in very well with the bark, but Mother Nature sure knew what she was doing!
Approximate Population of Specific Animals in the Serengeti
We learned a lot about the animals that we saw from our guide, and sadly not all of it was good news. Below are some of the approximate populations of current animals in Serengeti National Park.
There are less than 1000 lions left in the Serengeti
There are less than 100 cheetahs left in the Serengeti
There are less than 500 leopards left in the Serengeti
There are approximately 10 rhinos left in both the Serengeti and Ngorongoro Crater
Compare that to the nearly 1 million zebras in the Serengeti
The good news is that there are a number of reputable animal conservation and breeding programs throughout East and South Africa, dedicated specifically to increasing the numbers of these animals in the wild. I've visited two of such Cheetah Sanctuary and Breeding Centers to date. Though they are usually quite expensive to experience, you can feel very good about where your money is going.
List of Notable Encounters with Animals in Tanzania
An African Safari is high on many people's bucket list, in the hopes of witnessing these amazing animals in the wild. For anyone living outside of Africa, by and large this will be a first. Typically, the only exposure you are likely to have had to these creatures has been on the television or in a zoo.
It is beyond fascinating to witness firsthand (and in many cases very up close and personal!) what these guys are like in the wild. The majority of the time, they pay no mind to the vehicles and tourists and you truly get to witness their everyday behaviors and habits. From beautiful to cute to majestic to even gruesome, nature is amazing.
I had countless memorable moments with or near the animals in Serengeti National Park. Some of the highlights were:
Witnessing part of the wildebeest migration. I had been hoping to catch this event, but of course it's never guaranteed. Luckily, we were in the right place at the right time. We parked the car with nobody else around and watched the wildebeest run by the thousands for the next 30 minutes. It was breathtaking, to hear the thunderous hooves as they ran.
Seeing two wild cheetahs close up. Cheetahs are my favorite. I find them to be fascinating. Their speed, their personalities, and did you know that they are the only big cat that purrs?
Having an elephant stomp right through our camp! Truly, he was walking in between tents. This elephant was determined to go wherever he darn well pleased, and no person or campground was going to stop him!
Watching a father baboon with his tiny baby on his back leap across the dirt road.
A tall giraffe meandered all around the campsite, following the half-circle non-fenced boundary of the sleeping area. It is worth mentioning that some tourists from another car walked way too close to the giraffe, and got in trouble with their guide. First and foremost, understand that you are in the wild animals' homes, and respect their space.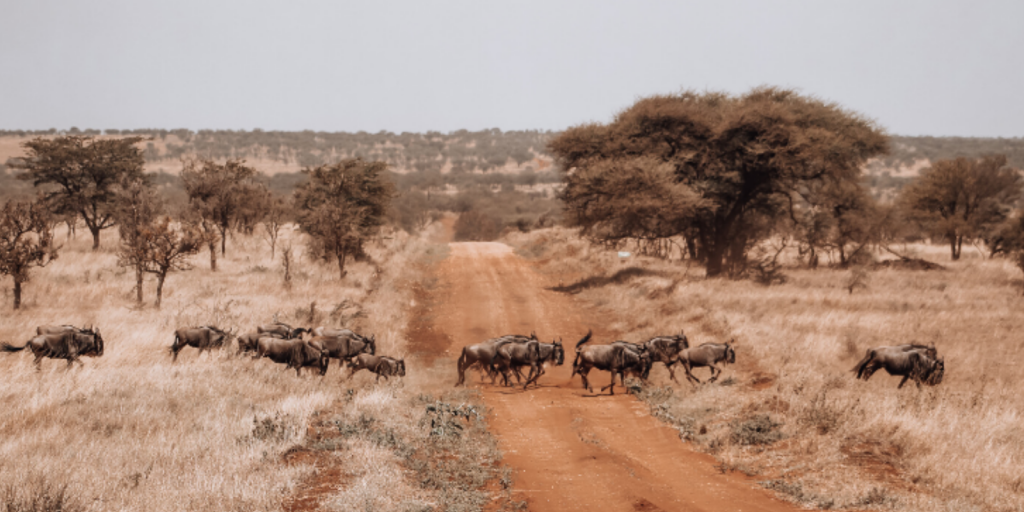 After visiting, it's easy to see why this park is so popular. Serengeti National Park in Tanzania is a must-see at least once in your life. Viewing all of these animals up close and in the wild was beyond magical and it has left me wanting to visit other regions of Africa for safari as well.
Pin Me for Later!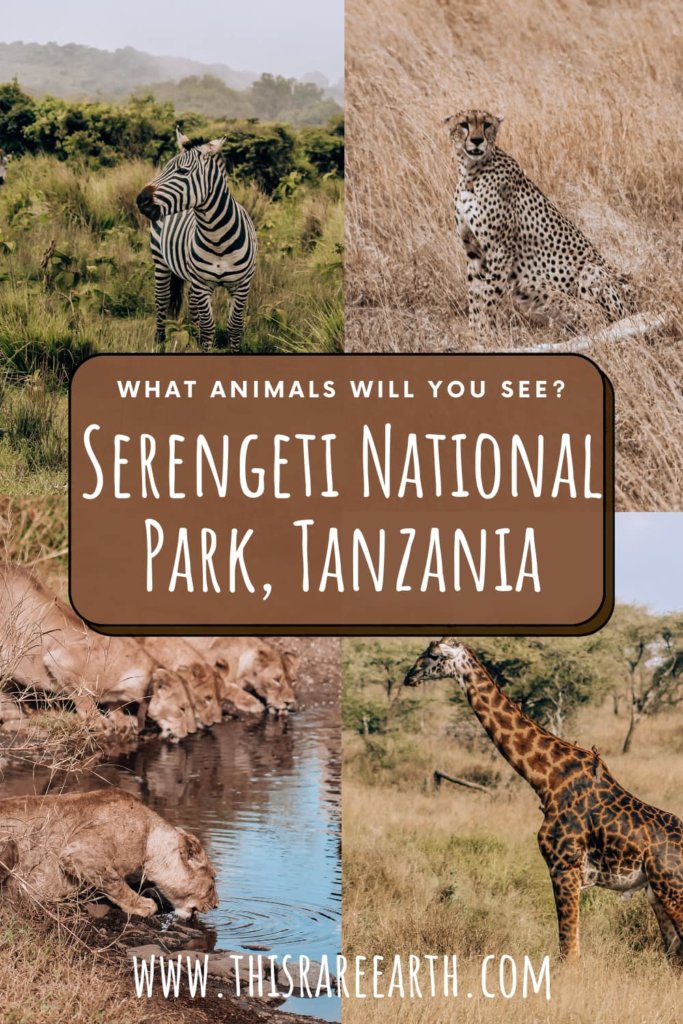 Are you dreaming of a safari in Tanzania? Please let me know below if you have thoughts or questions! This was an incredible experience and I highly recommend making it a priority in your travels.