If you are headed to United Arab Emirates, you absolutely cannot miss the opportunity to join a Liwa desert safari. I have spent significant time in Liwa over the past five years and have a ton of firsthand knowledge on what to know before you go. A desert safari in Liwa is a "bucket-list worthy" experience!
Pin Me for Later!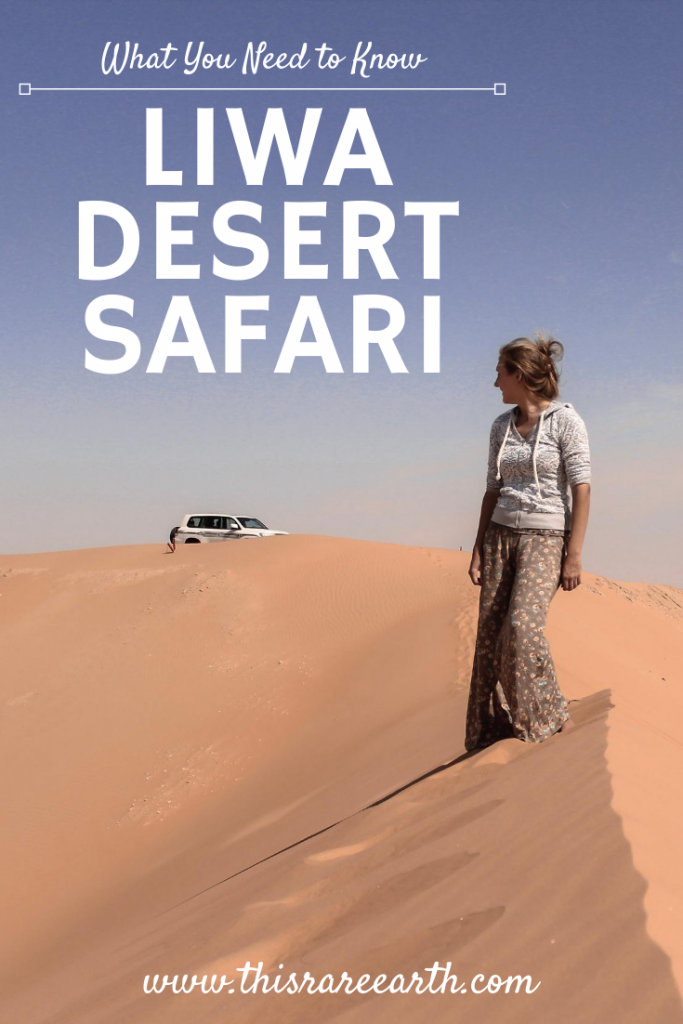 If you are planning a trip to the United Arab Emirates or have a stopover in Abu Dhabi or Dubai, you may have heard about the popular "dinner safari" or "sunset safari" tour options offered year-round near these locations. Hotels offer them, airlines offer them, heck – just about every tour operator in UAE will offer them.
While these local safaris are nice, and give a very small taste of the desert atmosphere along with dinner and a show, I would urge you to forego these in favor of a Liwa desert safari.
A Liwa desert safari will take you deep into the true Arabian Desert, many miles away from civilization and toward the Saudi border, where you will get a better feeling of just how vast this landscape is.
So What is Different About a Desert Safari in Liwa?
Firstly, Liwa will take you into the true heart of the Arabian Desert. While the small dinner safaris can be a short 30 minutes drive into small patches of desert from Abu Dhabi or Dubai, Liwa will be approximately 4 hours from Dubai and 3 hours from Abu Dhabi (give or take depending on how deep into the desert you drive).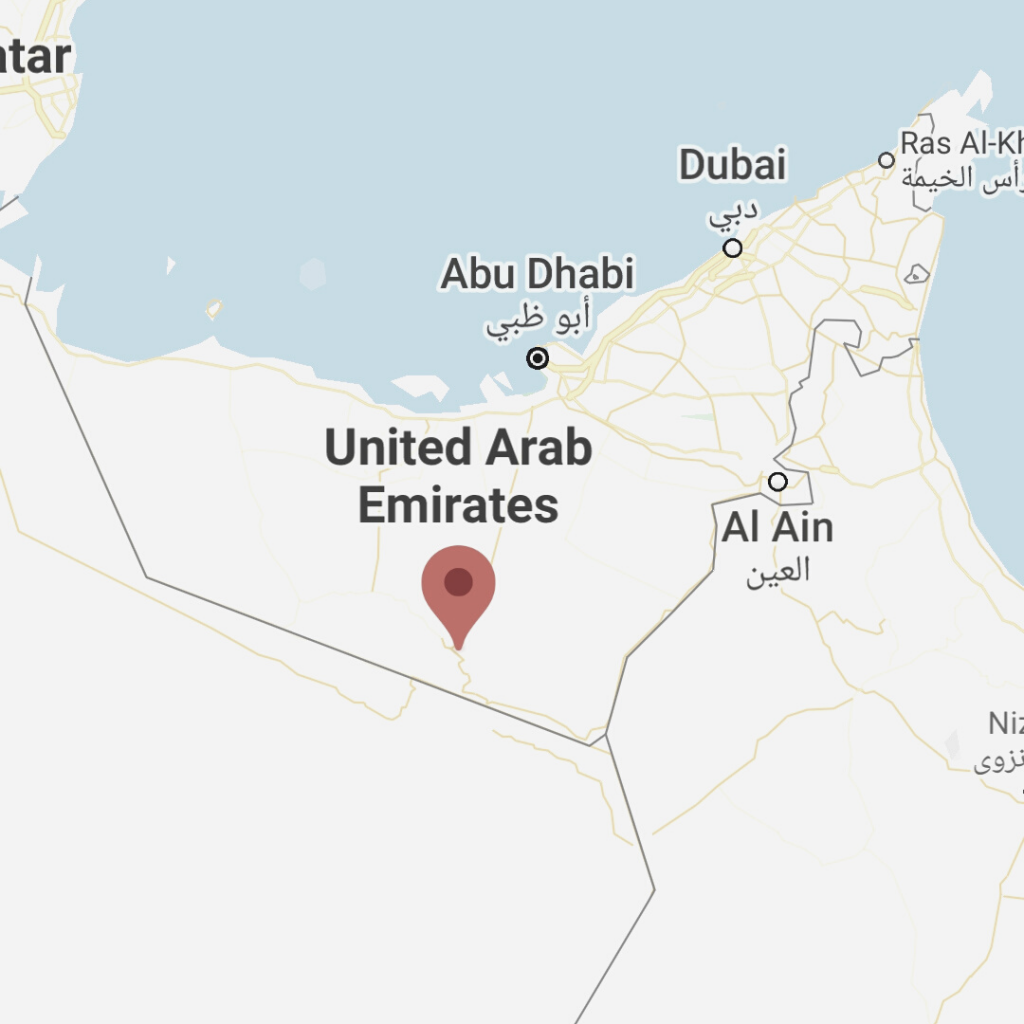 Liwa runs along the Saudi border. Liwa is also known as "Rub al Khali" – which translates to The Empty Quarter. I first read about the Rub al Khali desert as a child (I know, strange) and believe it or not, that is the entire reason I came to UAE as an adult. Most people come for the glitz of Dubai, but not me – I planned a visit primarily to go to the Liwa desert.
I was visiting the UAE as a solo female, and you should know that this made getting to Liwa admittedly more difficult. Though outsiders picture Dubai as super modern and forward-thinking, it's wise to note that traditional and conservative morals guide the way of life here.
Meaning, a solo male and a solo female should not be together if they're not related or not married. In this case, as all of the drivers are male, it took a lot of calls, emails, and persistence, for weeks before the trip, in order to find a company that would take me into the desert solo.
Thankfully it did work out and I have now visited multiple times per year since that initial trip. I am happy to share my top tips for anyone interested in a trip to the unbelievable Liwa desert.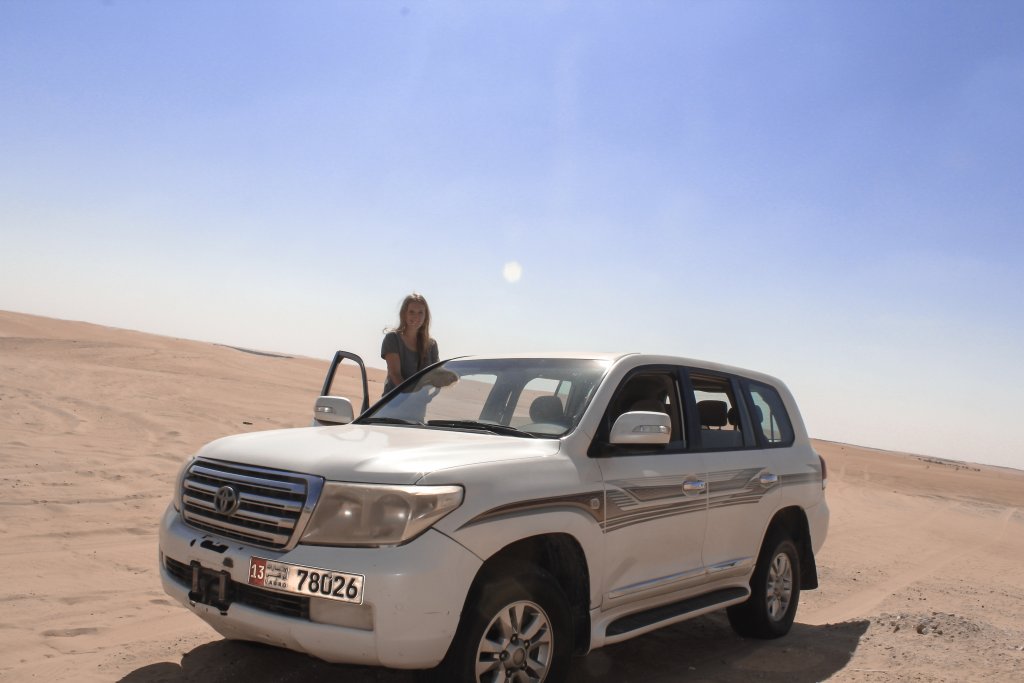 Now, for anyone who is familiar with my travels, you may be wondering why I didn't try to rent a car and make this trip solo. The answer is simple – my goal was to be deep inside of the desert, near the Saudi border, after hours of driving on the actual sand dunes.
Driving on dunes rather than the roads requires a bit of special know-how, from deflating and inflating the tires to acceptable levels to knowing exactly where you are even when all of the dunes look exactly the same to the untrained eye. People die in the Arabian Desert every year and getting lost is a real possibility.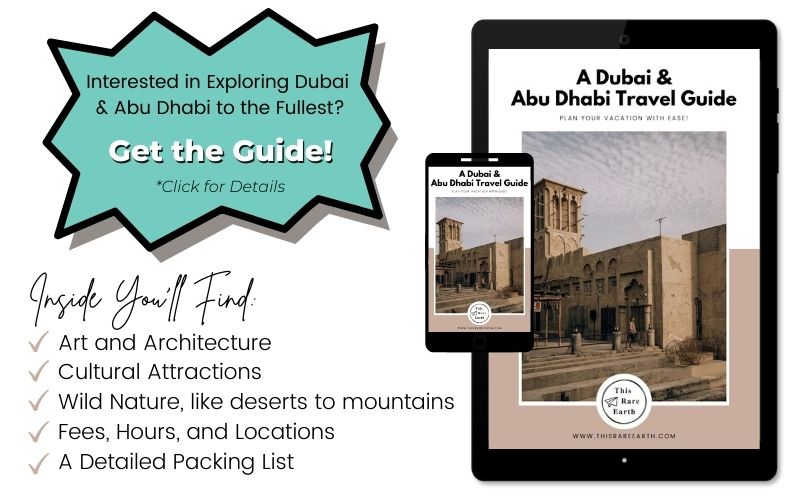 What is Included on a Liwa Desert Safari?
This can vary slightly depending on the company you book through. However, the general itinerary is as follows.
The Liwa Day Trip Desert Safari Includes:
Pick up from Abu Dhabi in the morning in a 4×4 vehicle
Usually, a visit to The Emirates National Auto Museum if the guests are interested. The museum showcases unusual cars and cars from the Sheikh Hamad Bin Hamdan Al Nahyan.
Dune bashing across the giant sand dunes. A very fun experience! Caution to those who experience motion sickness. Thankfully that is not me.
Photo stops
A picnic lunch at green Oasis
Camel farm visits if you are lucky
A visit to Tal Moreeb Dunes
A visit to the grand Qasr Al Sarab Hotel
Drop off in Abu Dhabi before dinner
Should you book an overnight safari in Liwa, this includes camping in the desert.
While I found a company to bend the rules and take a female solo into Liwa, I didn't find one that would go so far as to allow camping with a solo female. I wiggled my way around that by befriending a local, and have now camped in Liwa maybe 10 times over the last 5 years – and it NEVER loses it's charm.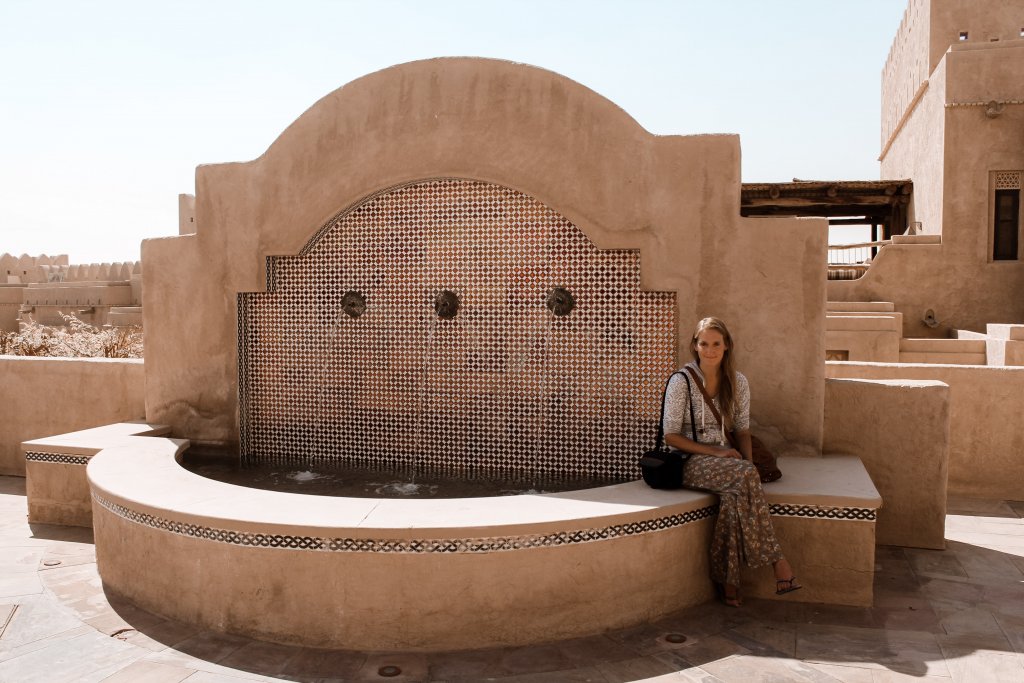 What to Wear on a Liwa Desert Safari?
Nomatter the season, you will want to wear layers into Liwa. It might surprise you, but even in the hot summer months, I usually wear long sleeves over a lightweight shirt and pants. This is both due to the conservative nature of the country as well as the added protection from the sun. Long sleeves and pants will actually keep you cooler by keeping those rays off of your skin.
Ladies and men, bring some type of  lightweight scarf or shawl for both heat and wind (creating possible sandstorms). Click here for my full post on what to wear in Dubai.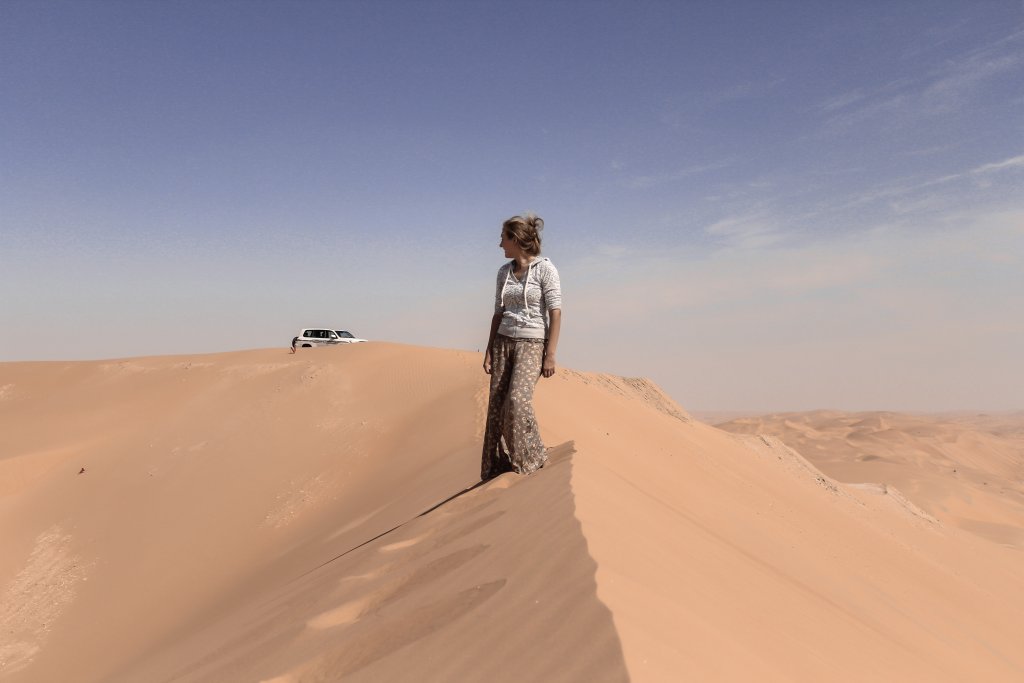 Do's and Dont's of Liwa
DO bring a high quality camera because the landscape is breathtaking. Bring something to cover the camera with when the wind picks up so the sand doesn't scratch your expensive lens.
DON'T be afraid of the camels in the desert! They are fascinating and will generally leave you alone while they live their camel-lives. They are also very fun to interact with on the farms.
DO let your driver know if you are feeling motion sickness from the dune bashing. You'd be surprised how commonly guests need to get out and throw up from the crazy driving.
DON'T forget your sunny weather necessities – hat, sunglasses, scarf, long sleeves.
DO find a quiet place to sit and take it all in. Be in the moment, soak it up. Liwa is an amazing place.
DON'T forget to tip. The drivers have to deposit the money you pay them to the company they are driving for. Tips are greatly appreciated after a full day of hard work.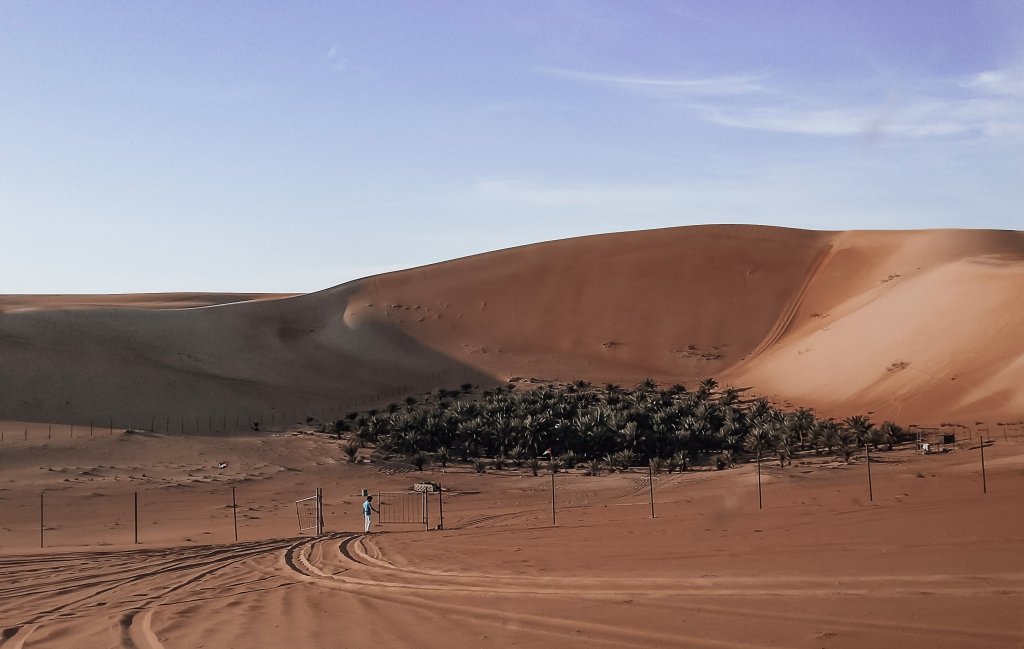 More About the Notable Places You Will Visit in Liwa
The Emirates National Auto Museum – While I could generally take or leave a car museum, this one is memorable to me for one reason; the gargantuan vehicles that were outside the museum, with wheels alone taller than me. The museum also holds Sheikh Hamad Bin Hamdan Al Nahyan's seven rainbow colored Mercedes inside.
The Camel Farms – The camel farms are interesting for me because they are not there to be "just" a tourist stop. These are working farms in the middle of nowhere, built for breeding or camel milk, where you can also meet and learn about these cool creatures.
Tal Moreeb – Moreeb Dune is a special place for me. It is the tallest sand dune in the UAE at 5,250 feet long and 984 feet high. The incredible 50 degree slope makes it difficult to climb; extremely so in the hot summer. But if you make it to the top you will be rewarded with wonderful views. The base and dunes are often enjoyed by people driving dune buggy's (and that is super fun for any adrenaline junkies!! Again, not for the feint of heart).
Liwa Oasis – Liwa Oasis covers a large area in the desert with vast, natural, underground freshwater supplies. This water is what makes large date farms in the desert possible (one pictured above). Because of this water source, Liwa is one of the top date producers in all of UAE.
Qasr al Sarab – Though it may sound strange to stop at a hotel on your desert safari, this Liwa hotel is 1) considered the height of luxury in the desert and 2) showcases some artifacts as you roam the halls in an A/C break during your trip. *Liwa Desert hotel comparison coming soon!*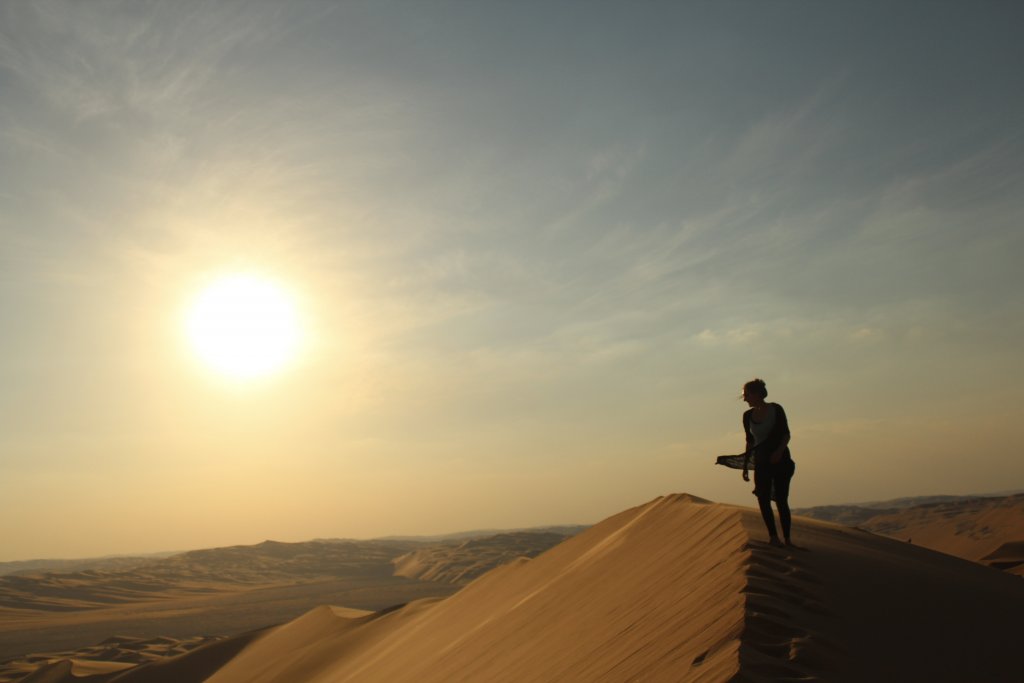 Liwa Desert is without a doubt one of my favorite places on the planet. The solitude and peace I felt here is indescribable. It also help a special meaning for me since it was a place I'd dreamed of visiting ever since reading that book in my childhood. I guess I was always meant to be an explorer, even before I knew it myself.
If you ever get the chance to go to the United Arab Emirates, do not pass up the chance to visit Rub al Khali, my lovely Empty Quarter, and absolutely book your Liwa Desert Safari, NOW!
Looking for more unique day trips from the UAE? Consider a trip to Musanam, Oman with it's clear blue fjords and rocky peaks.