Headed to Dubai? That's amazing! There is no shortage of incredible things to do in this desert oasis. But, be prepared – there is also a list of things NOT to do in Dubai in order to show respect for this amazing culture. Keep reading to learn about things that are frowned upon in this glamorous city as well as several laws in Dubai tourists should know about. Let's dive in.
Pin Me for Later!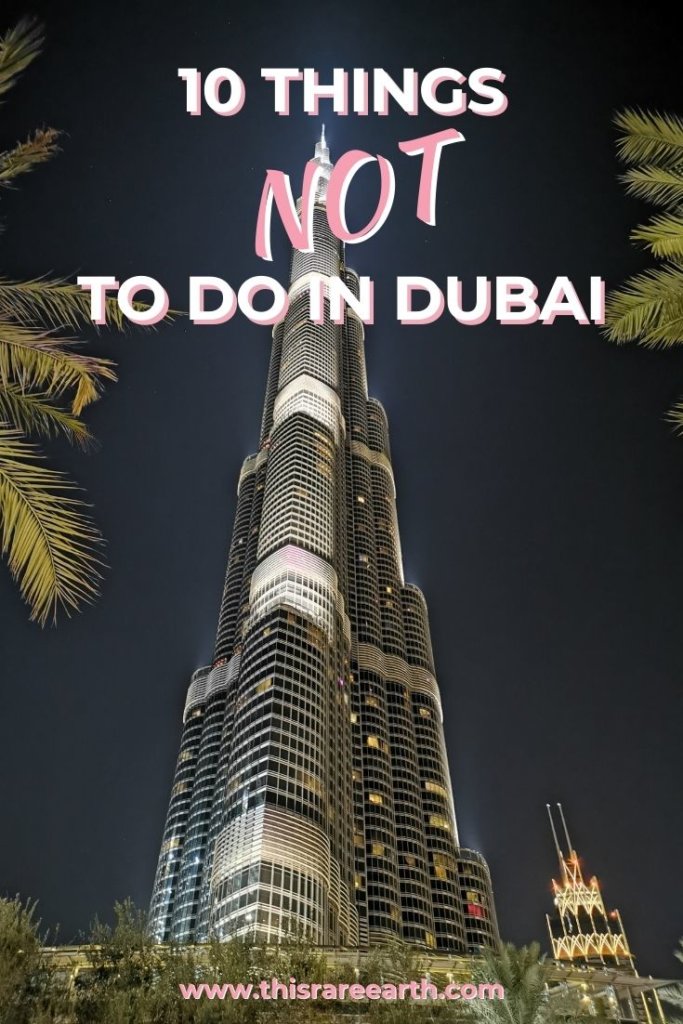 That is amazing that you are heading to Dubai! Surely you have been researching all of the amazing reasons to visit Dubai and all of the wonderful things to do there.
As one of the world's most glamorous and multinational cities, there is a lot to experience. However, the culture is much more conservative than most of Europe and the United States, so it is important to know what to do – as well as what not to do – so that you don't offend the locals.
After spending many months in Dubai for over six years now, I have some advice to share for first-timers. Let's go!
10 Things NOT To Do in Dubai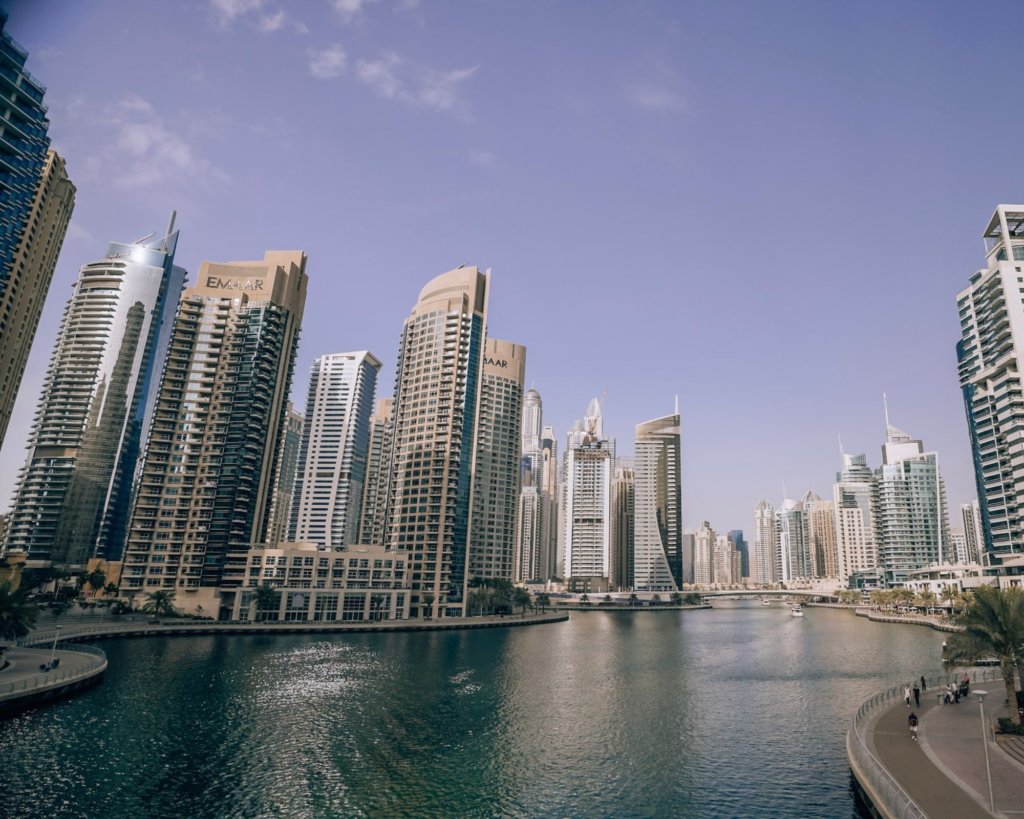 1: Don't Dress Inappropriately
Modern city or not, the conservative culture of Islam runs deep in Dubai's veins. I've read on a lot of blogs that you can wear "whatever you want here" since so many expats call Dubai home. I quite disagree.
Maybe in night clubs and resorts, nobody will bat an eye. But out and about, definitely choose conservative dress.
Personally, I believe this is an issue of respect. Whether you are Muslim or not, you are in a Muslim country. I think it's important to adapt to local customs and culture when traveling. And in Dubai, that means covering up.
I have an entire post for females on what to pack for Dubai, but here are the basics.
Avoid tight, short, or revealing clothes.
Swimwear should only be work at the beach.
Cover your head when visiting a mosque or religious site.
In taking this advice, you will also avoid uncomfortable and unwelcome stares and comments, too!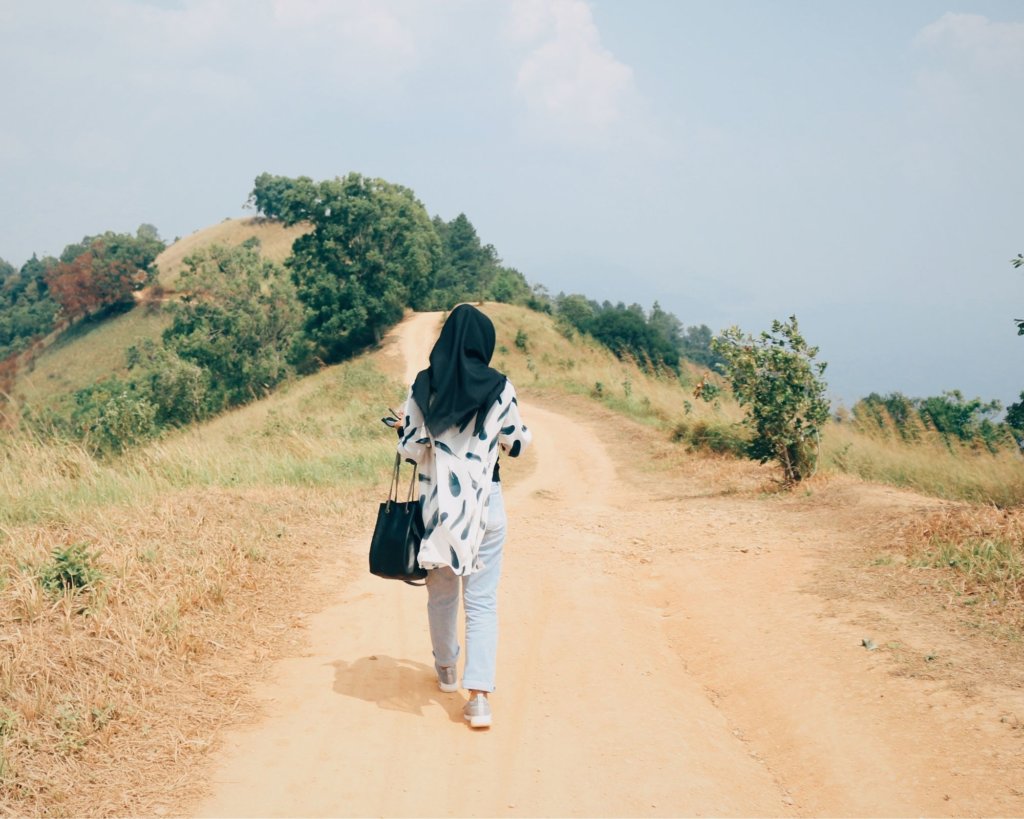 2: Don't Exhibit Any Public Displays of Affection (PDA)
When walking around Dubai, you will not see couples kissing, cuddling, or even holding hands, typically. Signs of affection are largely avoided in public, whether at a restauraant, a mall, the beach, etc.
Police will certainly notice if you are exhibiting these behaviors, because they are so taboo. It is illegal for unwed couples to engage in sex in the UAE, and even as a tourist you need to be cautious when out and about.
Depending on the area you are in, some hotels may not rent to unmarried couples. In Dubai, unmarried couples sharing a room seems to have become more common over the last 6 or 7 years, but in a more conservative area like Sharjah it may still be a problem.
3: Don't Get Drunk or Consume Alcohol in Undesignated Areas
Alcohol is technically forbidden in the Muslim culture, so it is not something you will commonly see being consumed. Not by locals, at least.
Because of the high number of expats in Dubai, though, alcohol is widely available at night clubs, restaurants, and in hotels.
However, that doesn't mean you should not use caution. Never drink and drive, and only consume alcohol in areas that it is specifically stated to be allowed.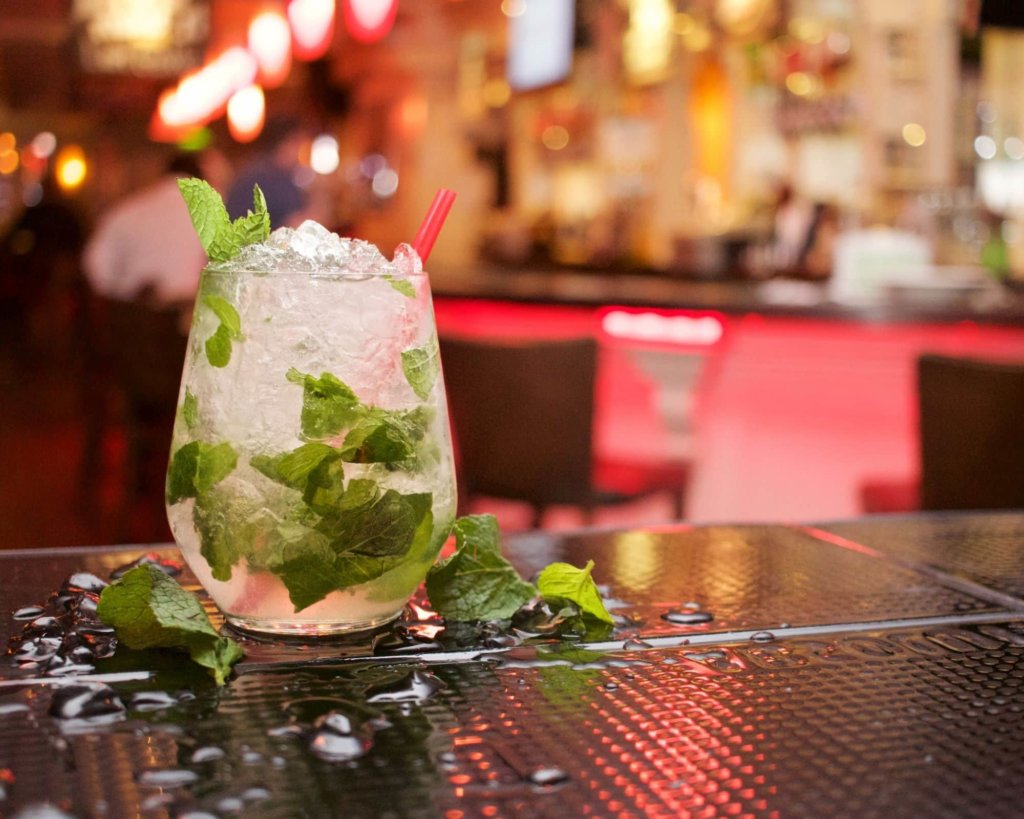 4: Don't Use Illegal Drugs
Along that same vein, illegal drugs are a big no-no in Dubai. You could land yourself in jail just for possession, be deported, or for larger drug offenses, be punished with life in prison.
This applies to tourists, locals, and even transit passengers through the airport. It's definitely not worth it!
5: Don't Disrespect Women
In the UAE, and specifically in Dubai, you will encounter plenty of women working at hotels, banks, and grocery stores. It is actually quite common nowadays to see women in the workforce here. And, it is completely okay to interact with and speak to women on the job whether you are male or female.
However, a man should not approach a random woman on the street in Dubai. Local life is pretty private and such an act can be viewed as disrespectful. A man should also not touch a woman he is not traveling with, even if it was meant in an innocent way, like a hand on the shoulder or similar. Additionally, never take a woman's photo without asking first.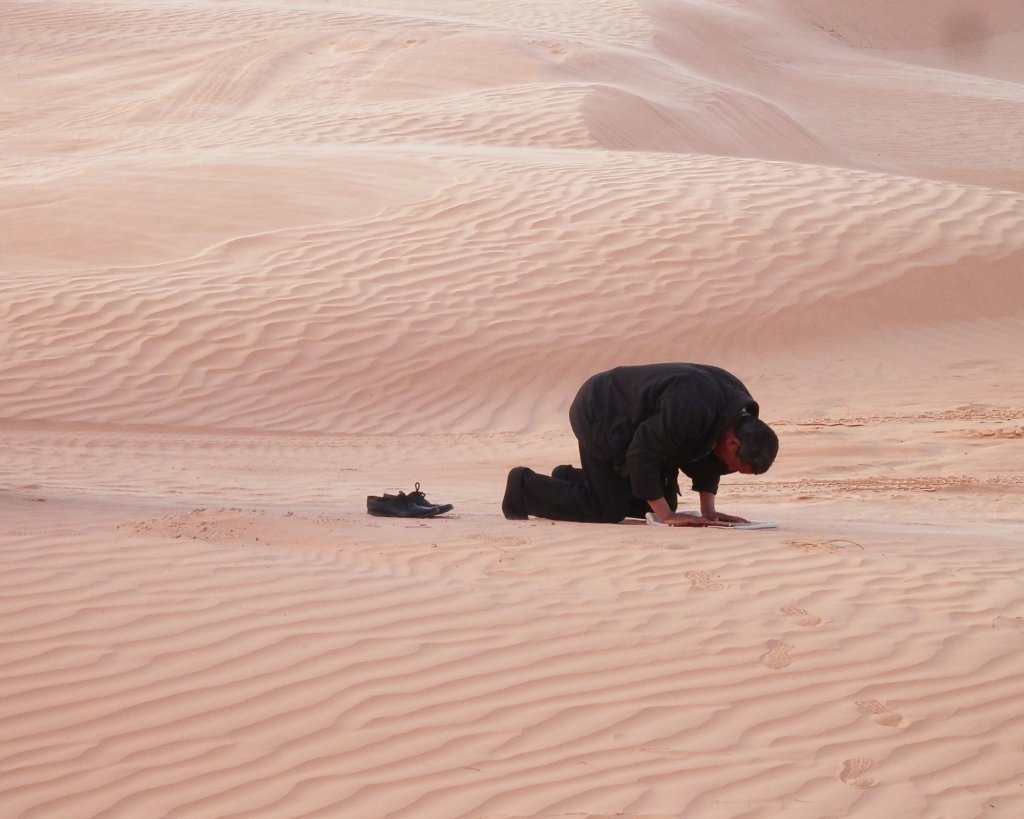 6: Don't Insult Islam
This will probably not be a surprise, but insulting or undermining Islam is extremely offensive to locals. The Islamic religion is the heart and life-blood of the UAE, and it's incredibly beautiful.
Any act that insults Islam can lead to a hefty fine and even jail time.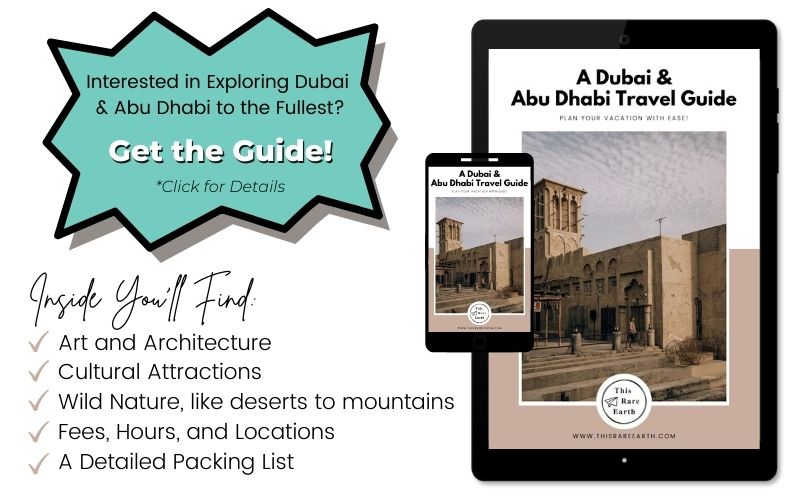 7: Don't Be Disrespectful During Ramadan
Ramadan is an important part of Islam. Each year, Muslims observe Ramadan by fasting during daytime hours until the sun has set. In this is a holy month, devout Muslims also avoid cigarettes, drinking, and even drinking water until nightfall.
If you visit or reside here during the holy month, you should personally avoid taking part in these activities in public. Non-Muslims should eat, drink, smoke, etc in the privacy of their on homes or hotels.
The evenings of Ramadan are a celebration, where people gather to break their fast – a practice called Iftar. But if this isn't something you want to cater to, simply avoid visiting during this month. (The dates change each year so you will need to research when they fall).
8: Don't Insult the Rulers
Dubai is one of seven emirates (or states) that comprise the UAE. Each emirate has a ruler or Sheik, and each Sheik is highly respected by the public. It is illegal to disrespect the rulers of the UAE, and this is one of the most important things not to do in Dubai.
9: Don't Lose Track of Your Finances
Can you believe that taking on debt in the UAE can actually lead to jail time if you're not careful? This might be hard to believe if you are from countries where credit cards and massive debt are (unfortunately) the norm.
In the UAE, debt is a criminal matter rather than a civil one. This means that if a borrower misses or is late with payments, it could lead to a three year jail sentence.
Be very careful, even as a visitor, to only take on activities that you can definitely pay for.
10: Don't Swear or Use Rude Gestures
In Dubai, it is illegal to swear at or use obscenities toward another individual, even in the heat of the moment. Offenders may be fined or jailed.
So, check your road rage, take deep breaths, and don't even think of flipping someone the bird here. If you offend the wrong person, you may find yourself in some hot water!
BONUS: Don't Skip Liwa Desert
I'm adding in a bonus item on this list of things not to di in Dubai:
You simply can't miss going out to Liwa for at least one day. Liwa Desert is the true heart of the Arabian Desert. The small Dubai Desert, less than an hour outside of the city and home to all of the dinner safari tours, can be nice. Don't get me wrong. But Liwa is where it's at.
Endless orange dunes as far as the eye can see, roaming camels, and miles from civilization…. what's not to like? This is one experience you simply can't afford to miss in Dubai.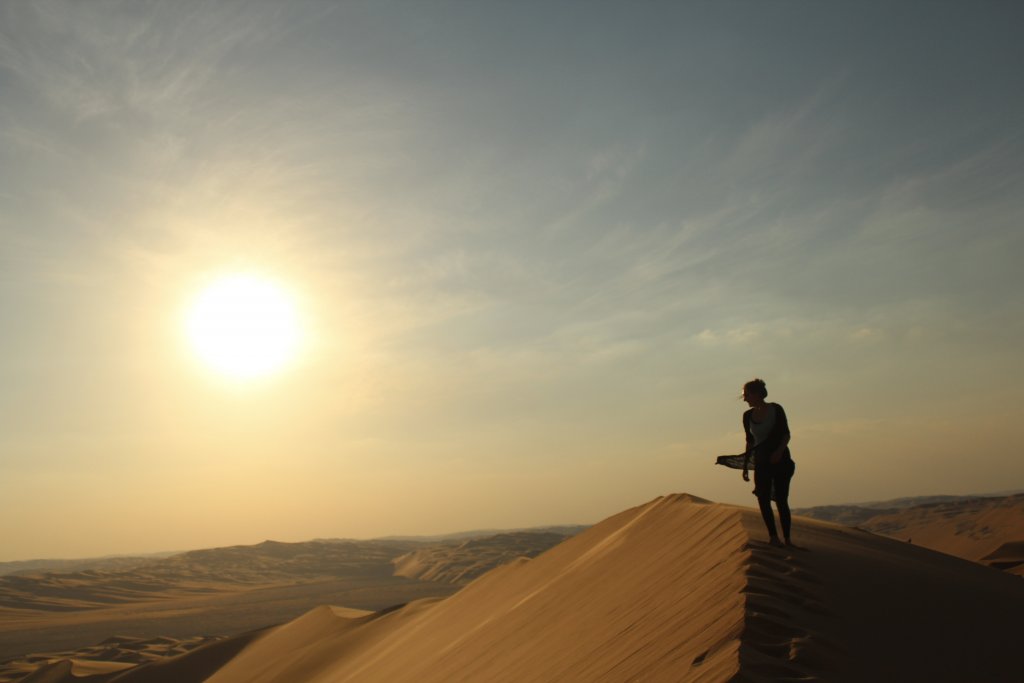 Hopefully these things not to do in Dubai are relatively easy to comply with. Follow these rules and you are sure to have a safe and happy time in Dubai!
Anything to add? Let me know below!