The Wings of Mexico in Dubai is a sculpture that stands in front of the iconic Burj Khalifa. Created by Mexican artist Jorge Marin, these wings are showing up on Instagram and social media around the world! So where is this metal wing sculpture in Dubai? Keep reading to access one of the most Instagrammable spots in all of Dubai!
Pin Me for Later!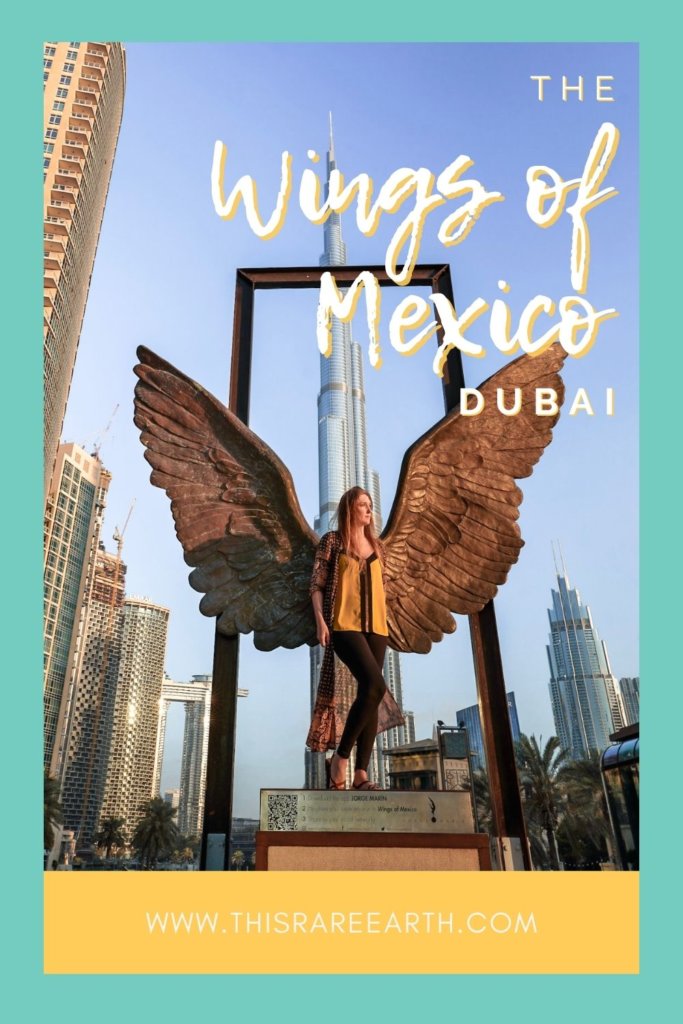 One thing that always amazes me about Dubai is the constant innovation. No matter how many times I visit, there is always something new to explore.
Recently, Dubai has seemed to focus a lot more attention on the arts, as well. From the stunning Museum of the Future to the impressively-constructed Dubai Frame to the small art galleries I see popping up, I am in full support of this.
One of my favorite outdoor sculptures in all of Dubai is easily the gorgeous winged sculpture in downtown Dubai called the Wings of Mexico. Here is everything you need to know to visit the sculpture. Don't miss it!
You May Also Like: Is it Safe to Travel to Dubai as a Solo Female?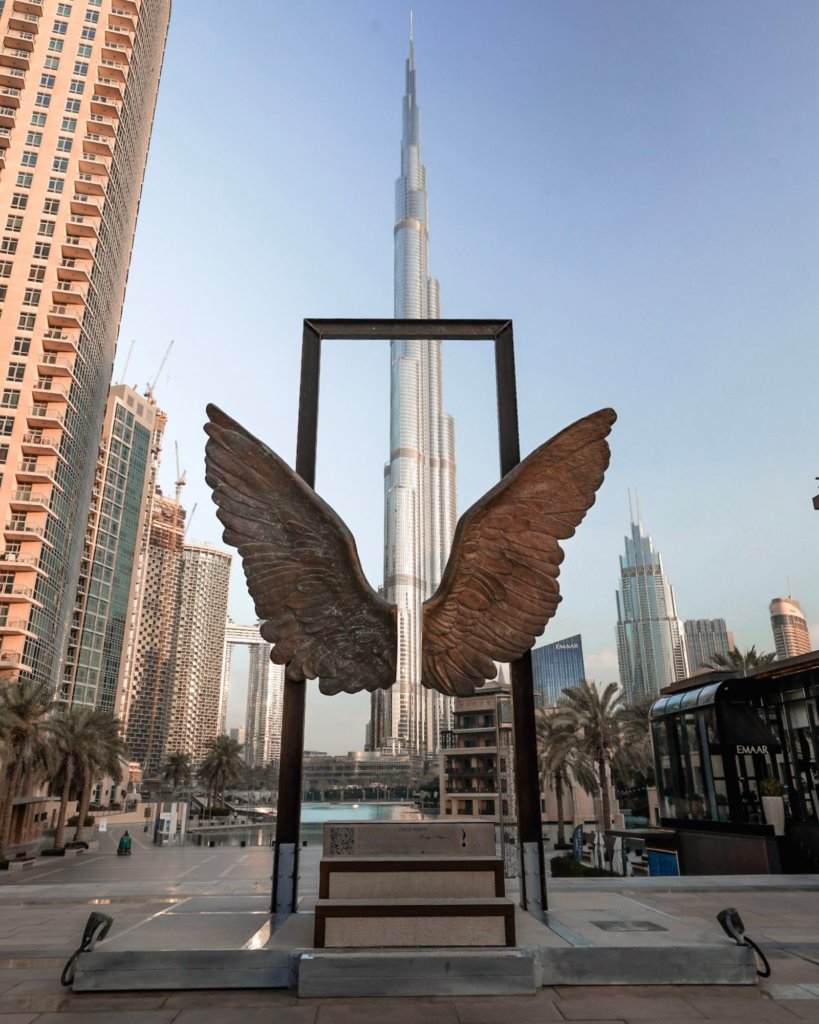 Visiting The Wings of Mexico in Dubai
Jorge Marin is an internationally known artist whose work has recently been cropping up all over social media – particularly his piece titled Wings of Mexico in Dubai.
This sculpture features a thin metal frame with large, life-sized, mounted wings atop a tiered platform. Wings of Mexico is meant to be interactive. Viewers are allowed to climb the three steps up to the platform and stand in front of the iconic angel wings.
Wings of Mexico is perfectly placed in front of the Burj Khalifa backdrop, creating a stunning visual that is perfect for photos and memories in Dubai.
Jorge Marin's Wings of Dubai was part of an exhibition by the same name. Marin intended viewers to experience the "dream of flying freely with their own bodies and consciousness, relying on desire, belief and passion."
Since the original exhibition, the artist has donated copies of the Wings of Mexico to several countries around the world, including to the UAE.
You May Also Like: Reasons to Visit Dubai
Where Are The Wings of Mexico in Dubai?
This impressive sculpture is located in downtown Dubai, in the Burj Plaza by Emaar. It's worth taking a stroll around, because other artworks decorate the plaza grounds.
However, the Wings of Mexico is definitely one of the most impressive installations around – not to mention one of the best photo spots in all of Dubai! Viewers and photographers can frame the Burj Khalifa within the metal rectangular border outside of the wings.
The exact location and directions to the Wings of Mexico sculpture can be found here.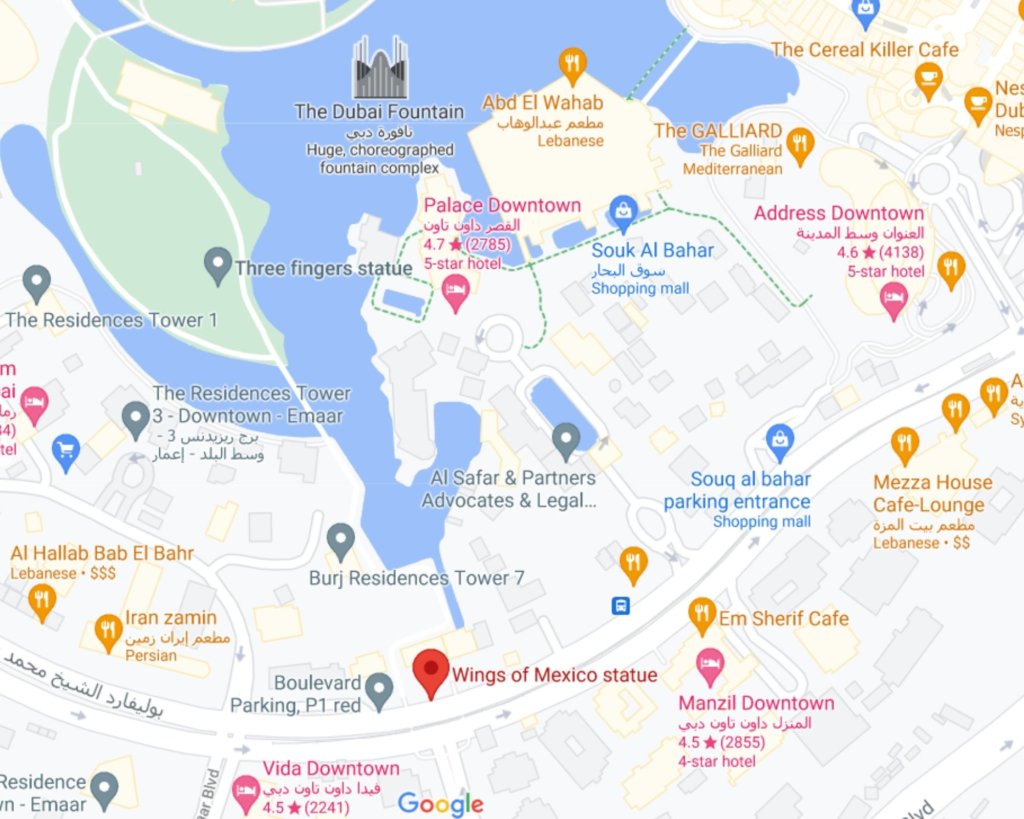 How to get to the Wings of Mexico in Dubai:
By Taxi or Uber: In Dubai, neither taking taxis nor Uber are as cheap as I would prefer, but they are still a great option to get downtown. They are also great ways to avoid traffic or parking hassles.
By Shuttle: Many hotels in Dubai have a shuttle service that runs directly to the Dubai Mall. Check if your hotel offers this before hiring a taxi! The Wings are walkable from there.
By Car: Click the map above for specific directions to the plaza from your hotel or starting point. There is an underground parking very close to the sculpture. If you are facing the sculpture, the parking garage entrance is to the left, less than a block away.
(More on hotels near the Wings of Mexico below.)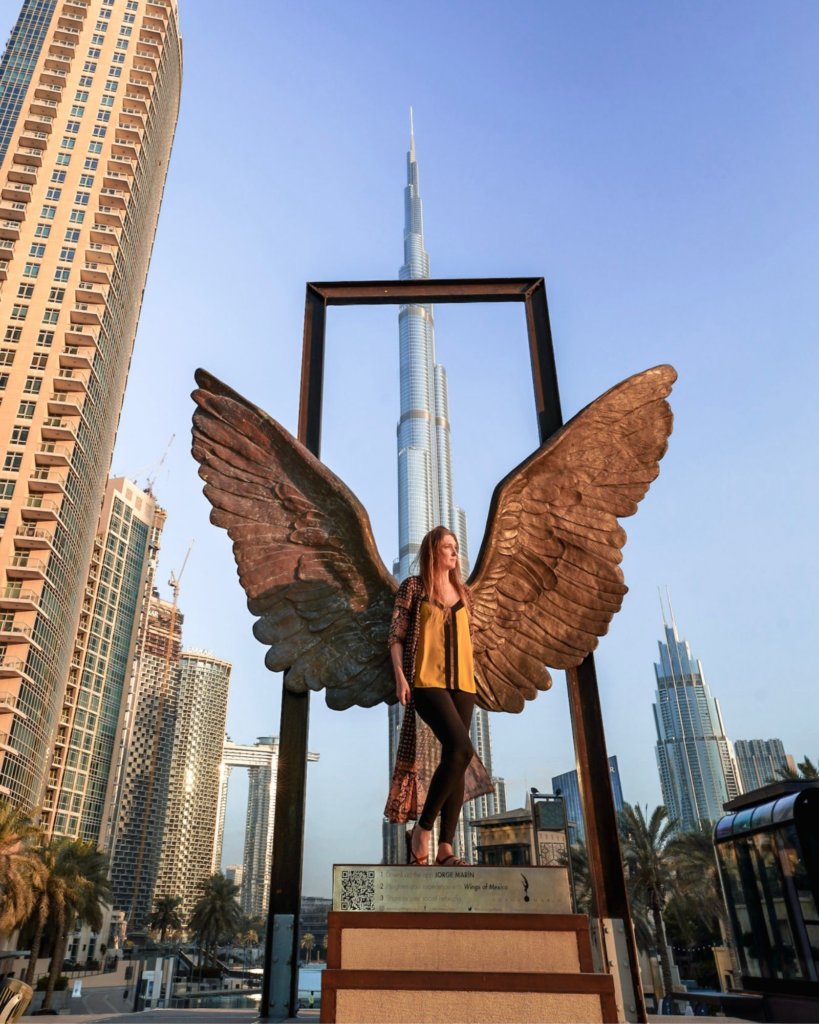 When To Go?
The sculpture is located within a park with no gates or closing hours, so technically you can access the Wings of Mexico 24/7.
Though the plaza can get quite busy as the day goes on, if you're patient you can get photos without other people in the frame!
If you visit midday or in the evening, the lighting is better. If you arrive early after sunrise, there are less crowds but the lighting is more shadowed. This is all due to the sun's positioning for sunrise and sunset.
What is the cost to visit the Wings of Mexico in Dubai?
Free! This sculpture is free to visit, and free to photograph. Burj Plaza is also free.
What should you wear to the Wings of Mexico in Dubai?
While I always recommend dressing in a way that respects the host country's culture and values, I do understand – as a photographer myself – that sometimes you want a specific shot. And perhaps your "perfect shot" includes a certain dress or outfit that may somewhat contrast with cultural norms.
Here are my thoughts on that.
On one of my visits to the Wings of Mexico, I wanted to wear a specific outfit and color combination that would require a bare midriff. While this is not something I would ever wear or recommend wearing as your all-day outfit, I see no problem with wearing your intended outfit to get the shot, and then changing afterward to carry on with your day. That's what I did.
Note that in Dubai, you will likely see women in all manners of dress. So, yes – it is not unheard of to see other bare midriffs around the modern city.
But I personally don't like to dress in a way that draws attention to myself or disrespects the culture, so I immediately changed clothing after. You can check out my full Dubai packing list for more recommendations on that if you like!
.
Need more inspiration for the UAE? Check out my Dubai & Abu Dhabi Travel Guide!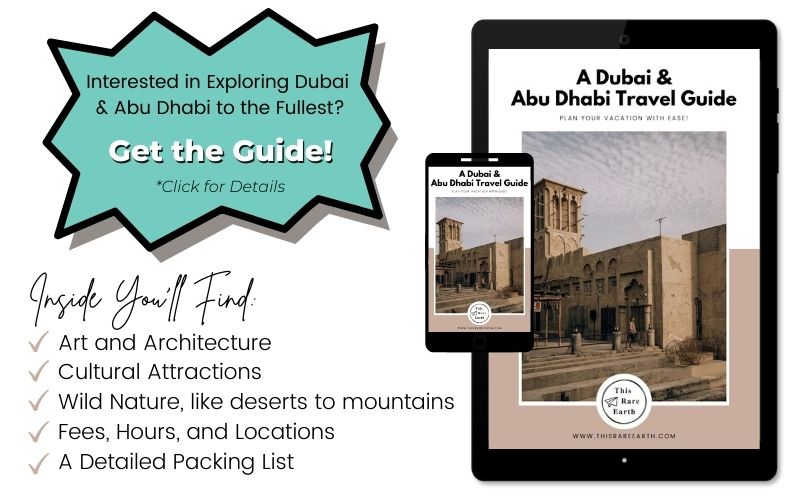 Hotels Near the Wings of Mexico in Dubai
You all know, I have stayed in a lot of hotels after my many years of visits to the United Arab Emirates. Here are my top three recommendations for a range of budgets.
These are also ideal if you would like to be in walking distance of the Wings of Mexico, the Dubai Mall, and Emaar Plaza, among other sights.
The most famous option with arguable the best views in town. This luxury hotel has become well-known for it's stylish interiors and stunning pools. It overlooks the Dubai Mall and is within walking distance of several must-see landmarks. the price is steep, but what you get is a choice of nine restaurants, relaxing spas, high speed wifi, and ultra-chic rooms. This hotel is for anyone looking for a central location dripping in luxury.
Typically about half the price of the Address, the Manzil Hotel still offers beautiful architecture and a peaceful outdoor pool and seating area. This hotel feels very much high end, but not outrageous in price. Guests can enjoy 24 hour gym access, a business center, and a Mediterranean Restaurant on site. And, you still get great city views!
The most reasonably priced for such a central location, the Hotel Indigo is surrounded by city views of the gorgeous Dubai skyline. The hotel is stylishly decorated, with colorful accents and Dubai-themed murals on the walls. This hotel offers a fitness room, outdoor swimming pool, continental or buffet breakfast, and also allows pets. This is one of the best bargains so close to the center of the city.
Where to Visit Next?
If you are interested in sculpture and architecture, definitely head to the Dubai Frame next. I highly recommend exploring this stunning gold structure for views of both Old and New Dubai.
For another beautiful but more nature-themed spot, check out the Dubai Miracle Garden. Never-ending floral sculptures line the grounds here and it is quite the sight to see in the middle of the desert city.
But, hands down, my favorite location in all of UAE is the Liwa Desert. If you have the chance, you can not miss this spot. It's a great addition if you are also headed to Abu Dhabi's Sheik Zayed Grand Mosque.
***
I absolutely recommend a visit to The Wings of Mexico by Jorge Marin. It might feel a bit "touristy" but I found it too beautiful to pass up. With the framing of the Burj Khalifa, it's such a stunning photo op!
Have you visited the Wings of Mexico in Dubai? What did you think? Let me know below!
Pin Me for Later!