There is much more to Dubai than flashy skyscrapers and indoor malls! Dubai has countless offerings for tourists – plenty more than you'd probably expect. If you are wondering about things to do in Dubai or what places you can visit, you've come to the right place. Here are 23 great reasons to visit Dubai in 2023.
Pin Me for Later!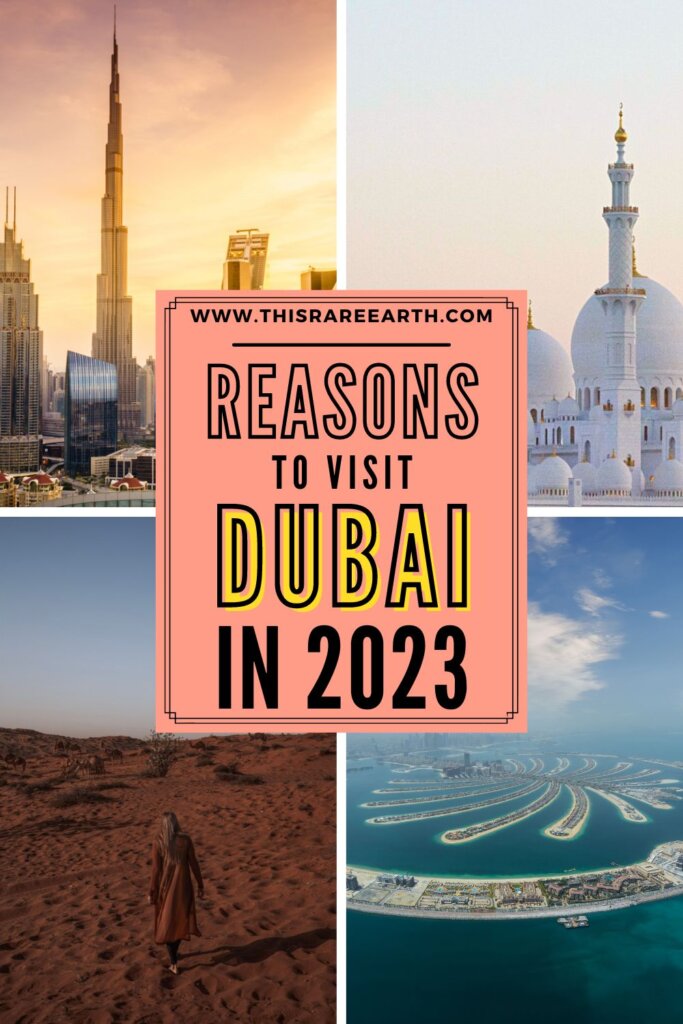 Oh, Dubai. It's a place I hadn't expected to fall in love with, but here we are. And I will be the first to say, if you're a bit skeptical, I hear you. I get it. Dubai gets a bad rap for being excessive, flashy, and loud. And that's not completely incorrect.
However, most people only visit the UAE for a stopover, often 24 hours or less – which doesn't even begin to scratch the surface of what Dubai has to offer.
Believe it or not, when I visited the United Arab Emirates for the first time, I was there as a solo female, primarily for the desert and the nature. To this day, the Arabian Desert is still one of my absolute favorite places not just in the UAE, but on earth.
In the spirit of full disclosure, I maaaaay have even been a bit judgy myself about the glitz of Dubai at times. However, I've learned to appreciate quite a bit more that Dubai has to offer over the years.
Now, after spending countless months over the last eight years exploring UAE, I want to pass on some true highlights. Read on for all of the reasons to visit Dubai!
23 Reasons to Visit Dubai in 2023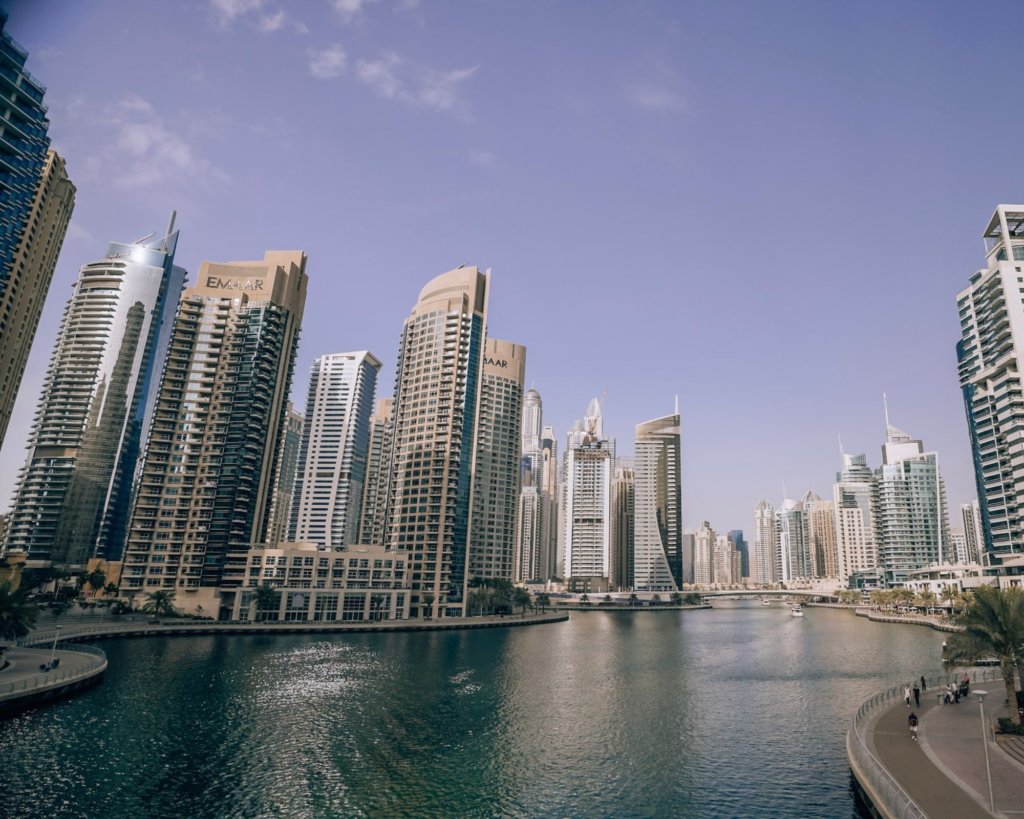 1. Go Back in Time in Old Dubai
Old Dubai is found in the eastern part of Bur Dubai, near the Dubai Creek. Though modern day Dubai is fairly young, the old buildings in this area are beautifully authentic.
Outdoor souqs selling spices and clothing still exist here (though some are being relocated to unfortunately build more high-rises). Visit the indoor gold souk or walk the outdoor Deira Grand Souq. Stop into a tea house for a traditional Arabic lunch. For a taste of history, visit the Dubai Museum.
For a traditional feel, take an abra across the creek like the locals do.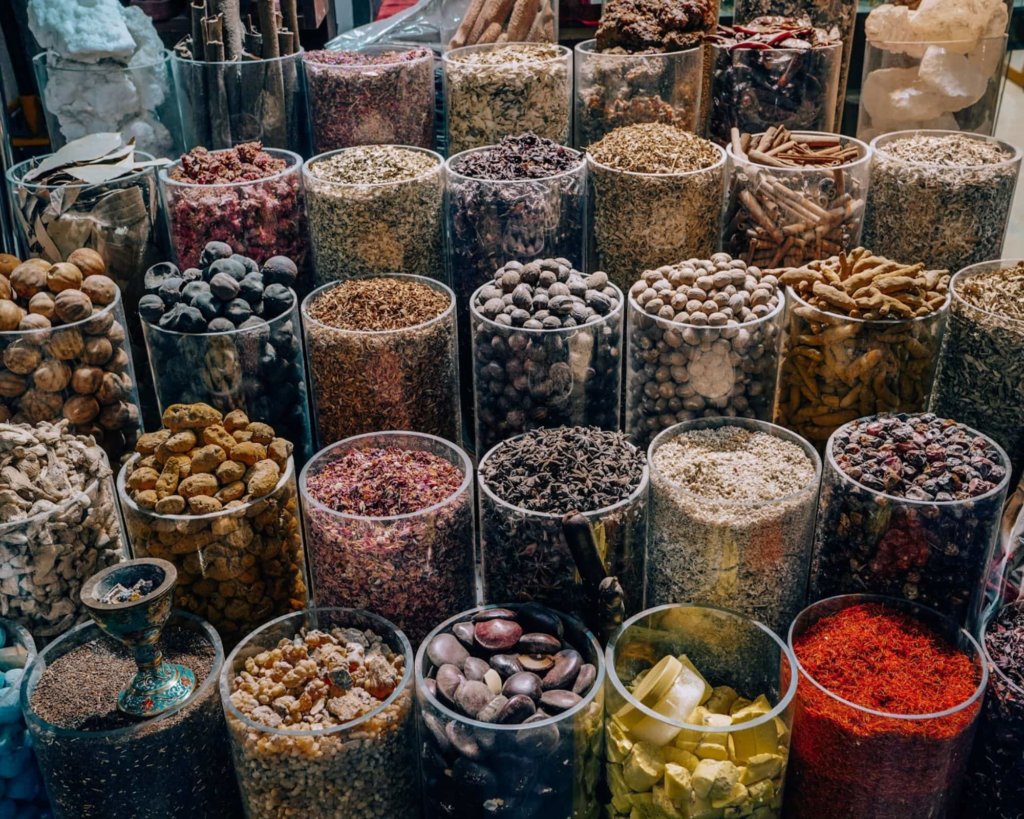 2. Incredibly Diversity
The latest statistics I read stated that over 92% of the UAE's population is from the expat community. When I first visited Dubai years ago, that number was around 85%.
This means that whether you want to live here or just visit, you will find all kinds of people here. Huge populations from India and Pakistan live here, but it's also very common to meet Europeans, Canadians, and Americans enjoying life in Dubai.
Rest assured that in this huge melting pot, you will have an easy time making friends!
3. Dubai is the Largest Airport Hub in the Middle East
For me personally, this is a huge plus. Having the largest airport hub in the Middle East provides easy access to countries not only within the Gulf, but well beyond.
Dubai is Emirates Airline's home base, as well as a smaller fleet called flyDubai. Centrally located, this airport hub can easily get you all around the world. While in Dubai, I've used their hub to access everywhere from Jordan to the USA to Serbia to Qatar.
Daily flights to six of the seven continents can get you anywhere you want to go…. and often much quicker than from my home country the United States.
You May Also Like: Is Dubai Worth Visiting?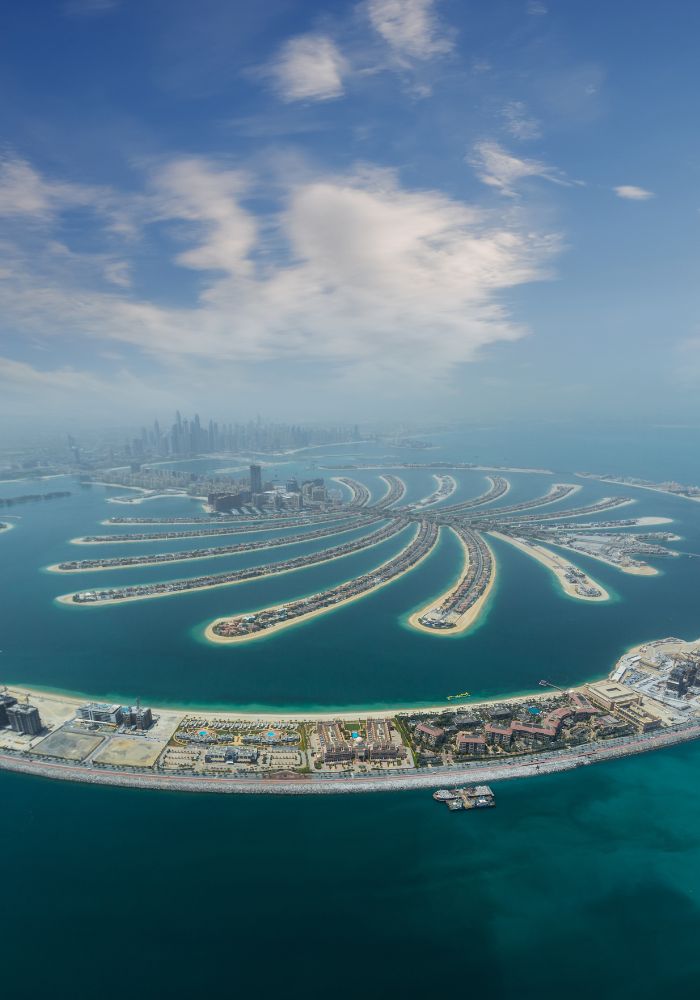 4. The Land Development is Unreal
Love it or hate it, Dubai literally shapes their own country into impressive shapes. Just take a look at the palm shaped island of Jumeirah, or the newer man-made islands built in the shape of the continents. It's awe-inspiring to say the least.
You May Also Like: Abu Dhabi vs. Dubai – Which is better?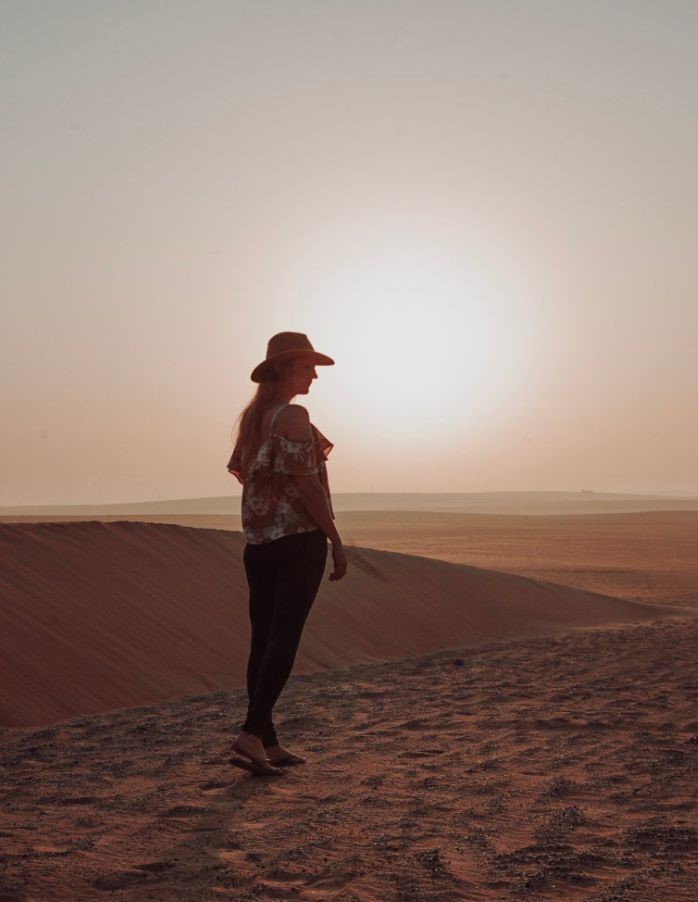 5. An Epic Day Trip to the "Real" Arabian Desert
The Arabian Desert is a place ingrained so deep in my heart that I never tire of it.
If you are willing to take a several hours drive toward the Saudi border (which I highly recommend you do), then you can spend time in the "real" Arabian desert. You'll be in the heart of the Empty Quarter, with nothing but sand for miles and miles.
This area is completely breathtaking. In the daytime, the endless orange dunes will leave you speechless. At night, you will see hundreds of thousands of stars stretching to infinity. There is nowhere like it on earth, and of all the reasons to visit Dubai, this is my greatest one.
You My Also Like: Everything You Need to Know for a Liwa Safari
6. Dubai's Food Scene is Delicious
Remember the huge expat scene I mentioned?
This large collection of people from all over the world means that you can find cuisine from all over the world as well.
Lebanese, Pakistani, and Indian restaurants are plentiful. Italian, American, Thai, and even vegan restaurants can be found here.
From cheap street food to expensive five-star restaurants, it is possible to find almost anything your heart desires here. Want to try it all? Check out one of the many food tours below!
7. An Oasis in the Desert: The Dubai Miracle Garden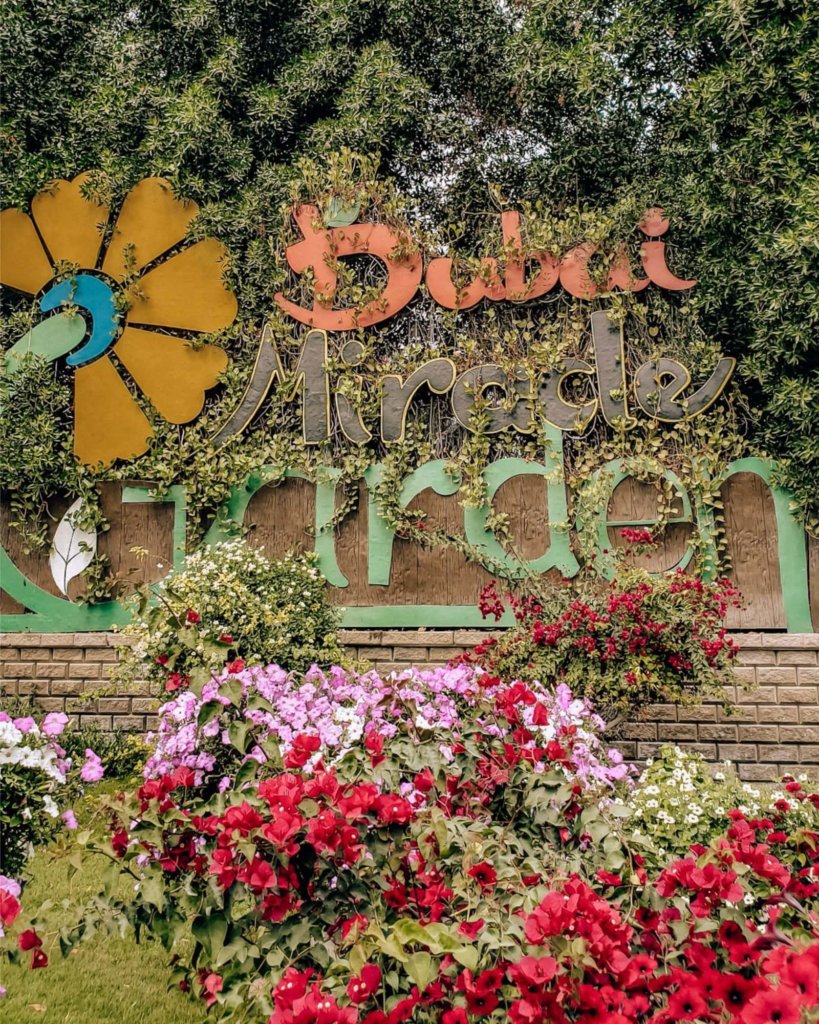 Another unexpected attraction in Dubai is Dubai Miracle Garden, located in Dubailand. This is not only touted as the world's largest flower garden, but this is a literal 2000 square meters garden in the actual desert. That takes dedication!
It's a fantastic sight to see, full of bright pinks, yellows and purples. But as Dubai will always take things to the next level, these flowers are not only on the ground. Rather, they are planted on large-scale sculptures and mechanical moving displays. Unreal!
You May Also Like: A Complete Dubai Packing List for Women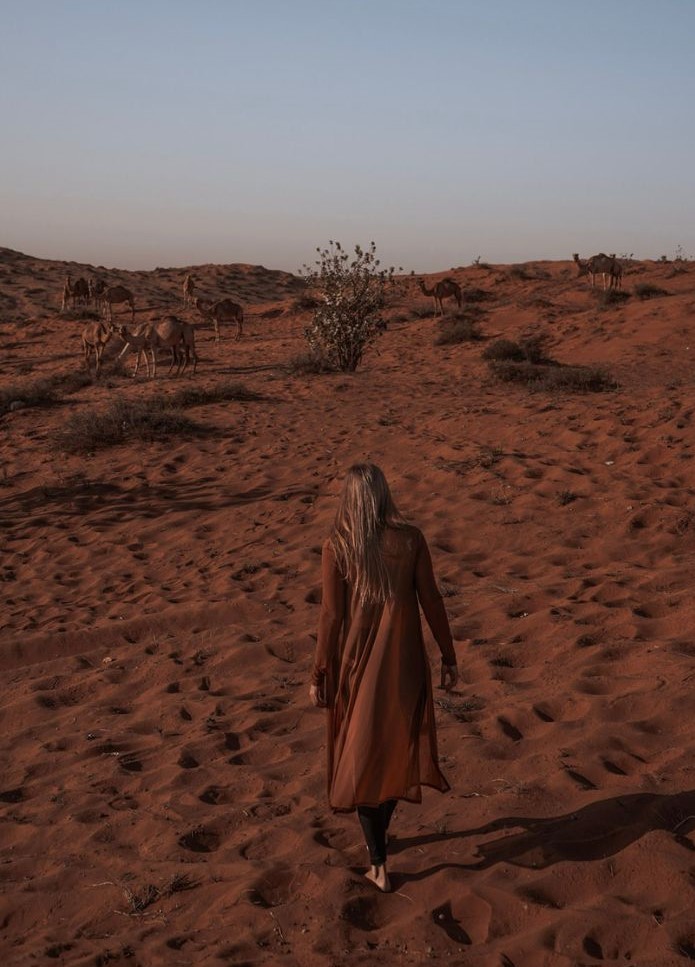 8. The Dubai Desert
If you don't have time to make it all the way to the Saudi Border, fear not. You can still enjoy a small taste of the desert closer to Dubai.
Dubai desert tours are run daily, in the morning or evening. Enjoy dune-bashing, a delicious meal, and much more. Some tours include a belly dancing show and others include a visit to a local camel farm.
If you go in the morning, you can enjoy a stunning sunrise or a small hike at Fossil Rock. If you go for an evening desert safari, you can enjoy dinner, henna tattoos, and a belly dance show.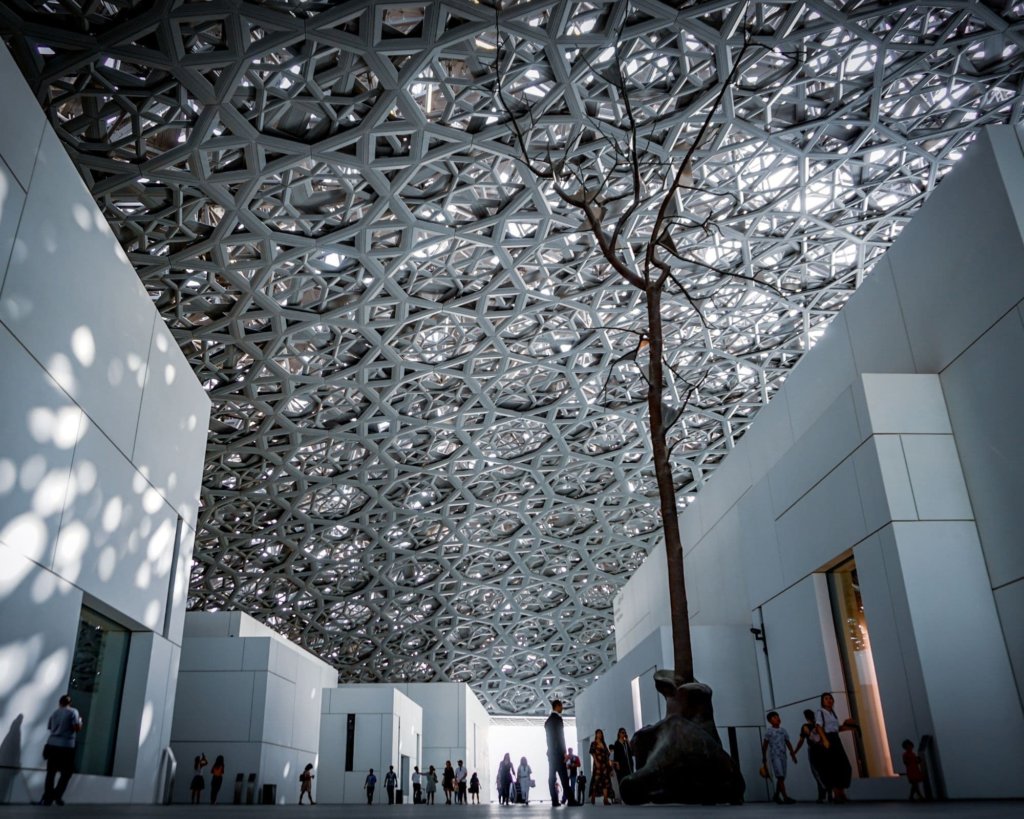 9. Dubai Has a Budding Art Scene
Pleasantly surprising, there is a small but growing art scene in Dubai.
Contemporary galleries are springing up in Old and Modern Dubai, and Abu Dhabi has recently opened the Louvre Abu Dhabi. It's an incredible sight! The architecture is impressive and the exhibitions are top notch.
10. Dubai Provides a Fix for Adrenaline Junkies
Want to go skydiving? Dubai has you covered.
Want to go skiing inside of the mall? Dubai has it.
Want to sandboard down the tall sand dunes? Completely possible.
Looking for more UAE Trip Planning Resources? Check out my Dubai & Abu Dhabi Travel Guide! Click the image below for more info.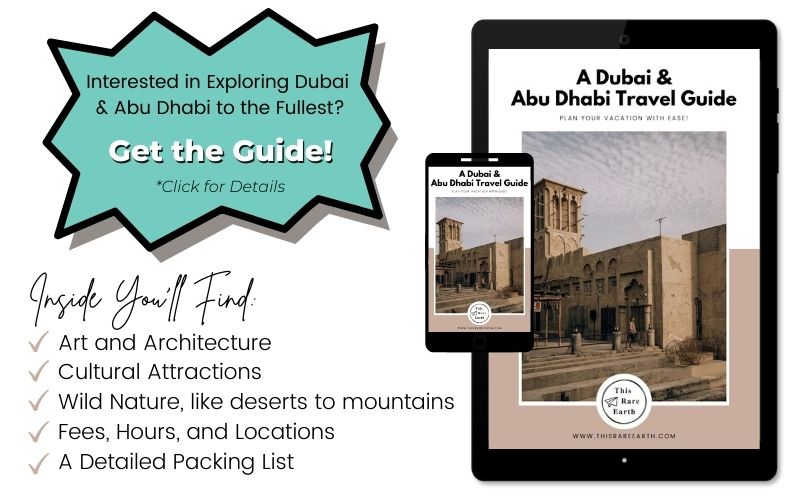 On my last visit, I even saw that a new ziplining course was open just near the Dubai Marina, sailing over the water and through buildings! I feel certain that I need to try that next time.
Any adrenaline junkies looking for reasons to visit Dubai should look no further. Dubai has everything that an adrenaline junkie could want, and more!
You May Also Like: 10 Things to Know Before Visiting the Sheik Zayed Grand Mosque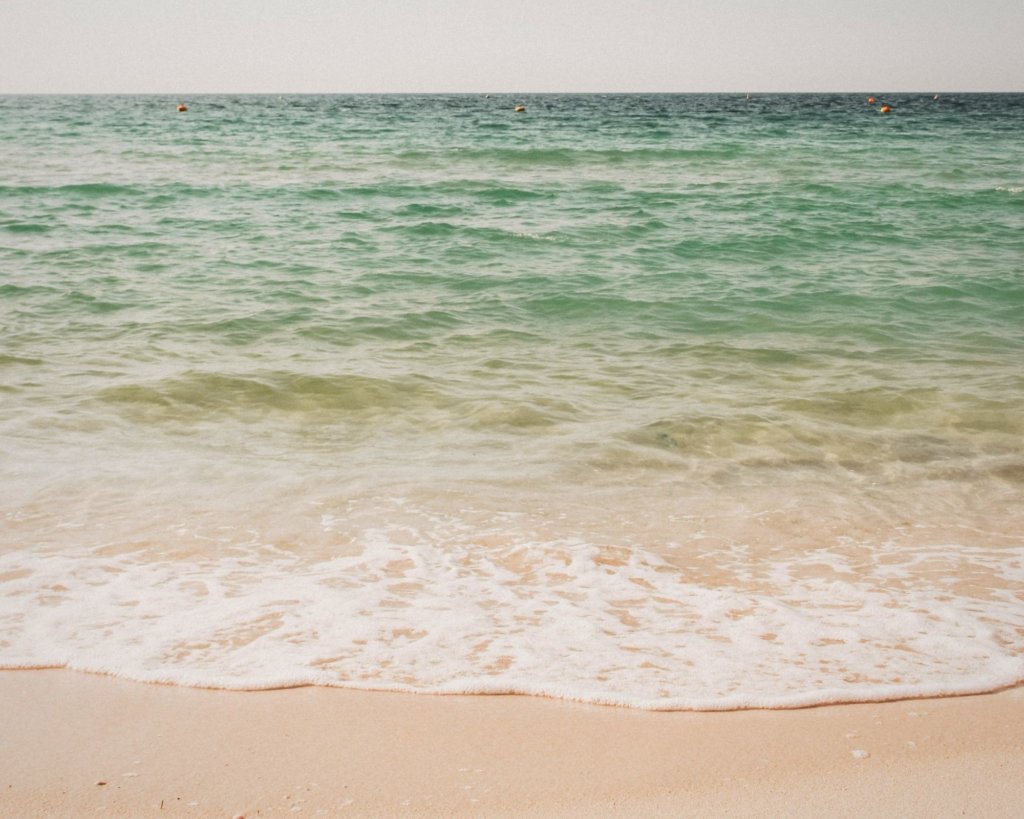 11. The Arabian Sea
Coming from California, I'm no stranger to beautiful beaches. In fact, after spending so much time in Malibu or on the Orange County beaches, I might be a beach expert.
But I bet you didn't expect to head to a beach in the Middle East!
Dubai has some of the most beautiful deep turquoise waters in the Middle East. And, you don't need to be staying at a fancy resort to access the waters. You can lounge on public beaches, go jet-skiing, or take a sunset boat ride on the water. All of these wonderful experiences are right at your fingertips in Dubai.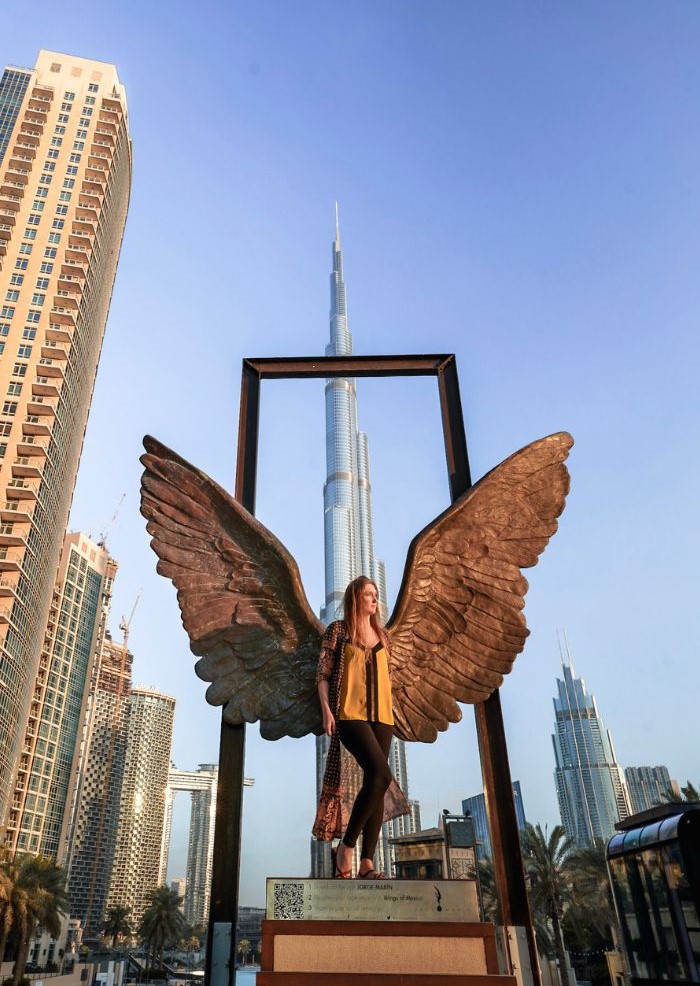 12. New Sculptures Seem to Go Up Daily
Okay, that's a bit of an exaggeration. But I can honestly say that each year I travel to Dubai, there are new sculptural additions to find all over the city!
My most favorite sculpture of all is hands-down the Wings of Mexico by artist Jorge Marin. It perfectly frames the Burj Khalifa in the background and is stunning all on its own. And, nearby, large metallic dandelion sculptures dot the park, as well.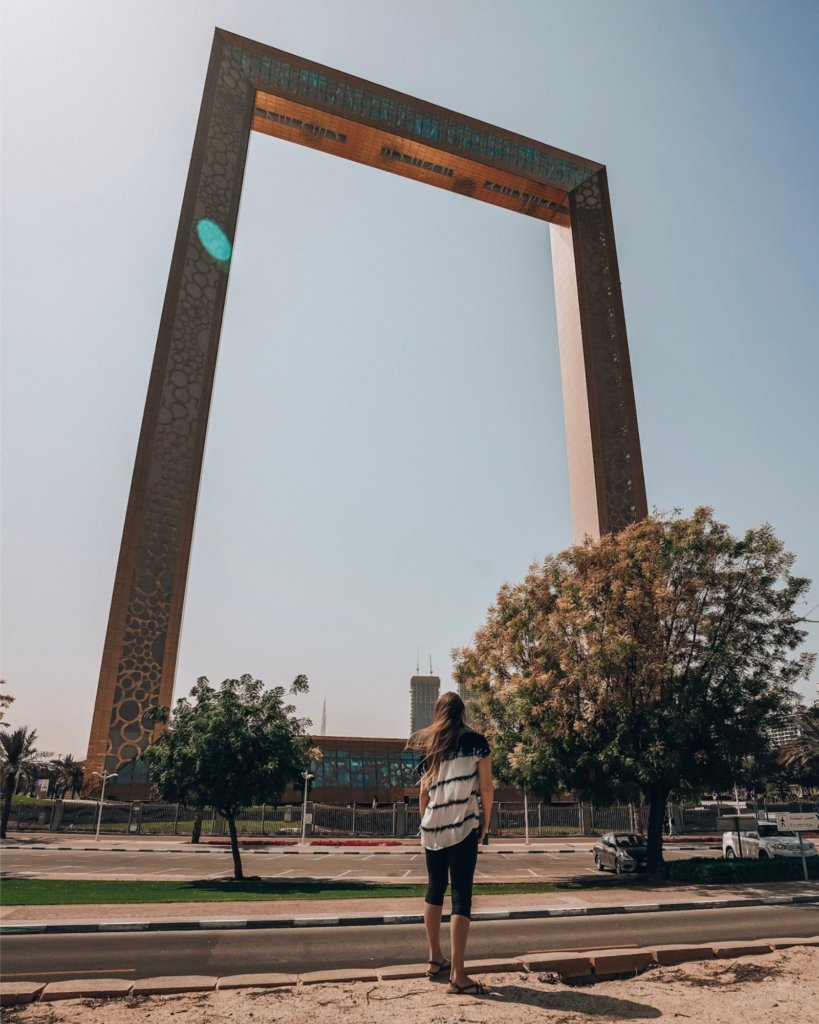 13. Travel Up the Largest Picture Frame in the World
Much of the architecture in Dubai could also be considered sculptures in and of themselves.
The un-missable Dubai Frame is a sculpture that tourists can enter inside of… and travel to the top of for epic views. The Dubai Frame sits between old Dubai and modern Dubai. Depending on where you stand, one era is framed in gold.
Learn more about visiting here.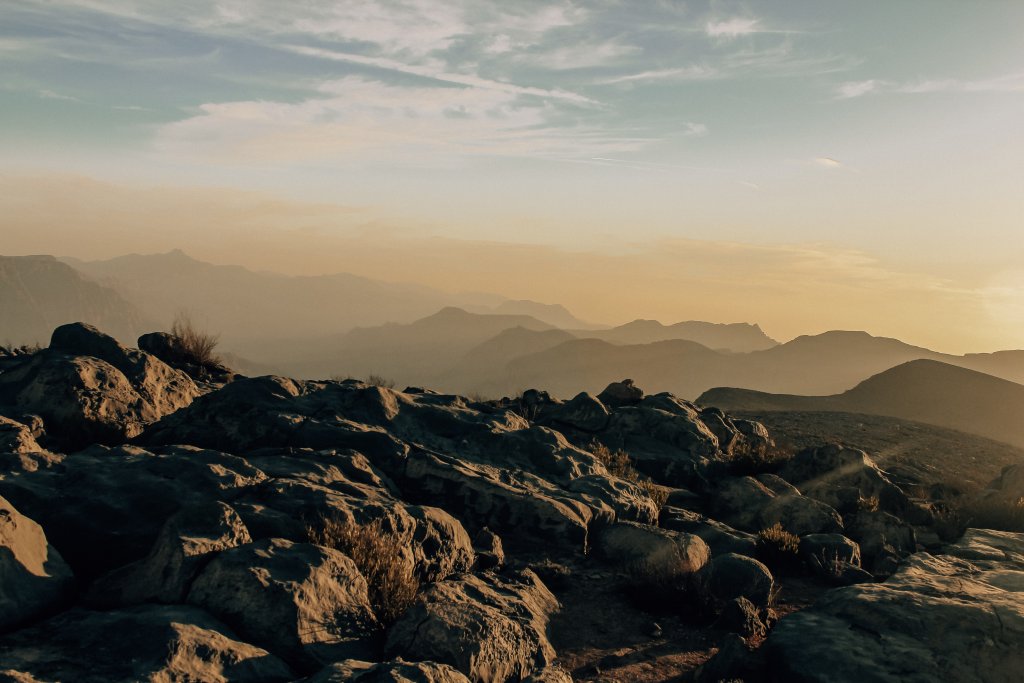 14. You Can Easily Visit Musandam Oman
Just a short drive over the border to Oman is the incredible Musandam Peninsula. This area showcases stunning waters, incredible fossil-covered mountains, and a lot of history.
I found this area fascinating. If you are interested in visiting another country while in Dubai, check out my full post on the topic. This includes detailed descriptions on where to go, crossing the border, and what sights to see.
15. Yoga and Wellness are Making an Appearance…
Each year I see more and more health and wellness opportunities spring up in Dubai. This takes the form of everything from outdoor yoga (even offered outside of the Louvre Abu Dhabi!) to meditation and yoga inside of an art gallery.
I personally think this is great. A little self-care is just what the doctor ordered from time to time.
16. …As are Fitness and Health
In the same vein, fitness and health have a sharp focus, as well. Plenty of outdoor gyms are popping up and are accessible to the public (on my last trip I tried the one at Dubai Marina and it was so fun!).
Vegan and vegetarian restaurants keep opening as well as plenty of health spas. Since traveling and living abroad can be stressful at times, I am all for this.
17. Dubai is Easy to Get Around
In Dubai, there are plenty of ways to get around the city.
One great affordable option is the Metro. It's very straightforward and the routes are easy to understand. Trains run on time and are kept clean.
Taxis are plentiful, but can be quite expensive. Uber does exist in Dubai, and I've recently used it quite a bit, but it's not as cheap as I'd like. I've read that Uber in UAE had to partner with the taxi network, meaning there is a base fare and higher pricing than we might see otherwise. But, it's still an easy option.
Renting a car in Dubai is pretty straightforward as well, and worth it if you need to go where the Metro does not run. If you are from the USA, Europe, Australia, or the GCC (Gulf Cooperation Council Countries), you can drive a rental car with your current license. For all other nationalities, you may need an International Drivers License.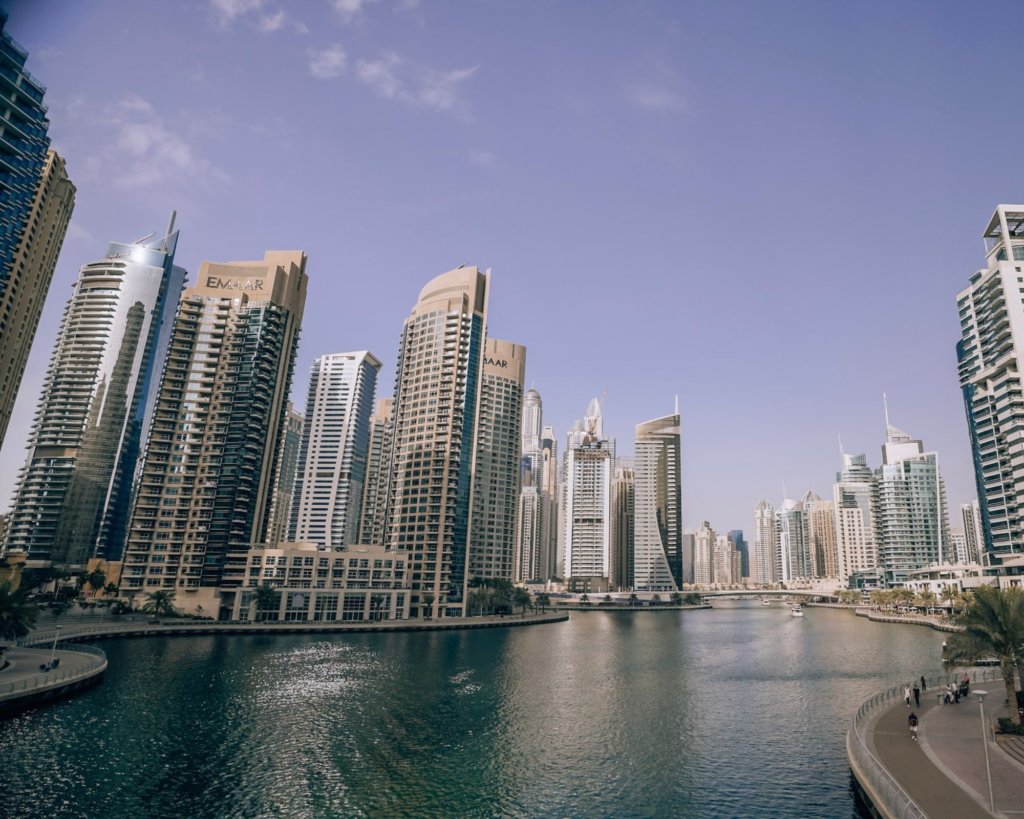 18. An Impressive Skyline
You have probably seen photos of the many impressive skyscrapers in Downtown Dubai, and you have to admit – it's pretty unique and impressive. Even the Burj al Arab hotel, with it's sail inspired shape, is an unbelievable sight next to the ocean.
You can see the incredibly diverse architecture in Dubai along Sheikh Zayed Road, the main street cutting through Downtown Dubai, and I recommend that you take a stroll here. Plenty of restaurants and ice cream shops line the streets so continue grabbing a lunch or dinner in this area one day.
19. You Can Visit the Tallest Building in the World
One of the most famous places t visit in Dubai, and arguably the symbol of the entire city, is the Burj Khalifa – the tallest building in the world. This 829.8 meters tall building is a must-see.
From a distance, the iconic skyscraper is visible for miles and miles around. But, you can even visit the Observation Deck at the 128th floor for an incredible birds-eye view of the city. The gardens and the Dubai Fountain on the ground floor are also worth a visit.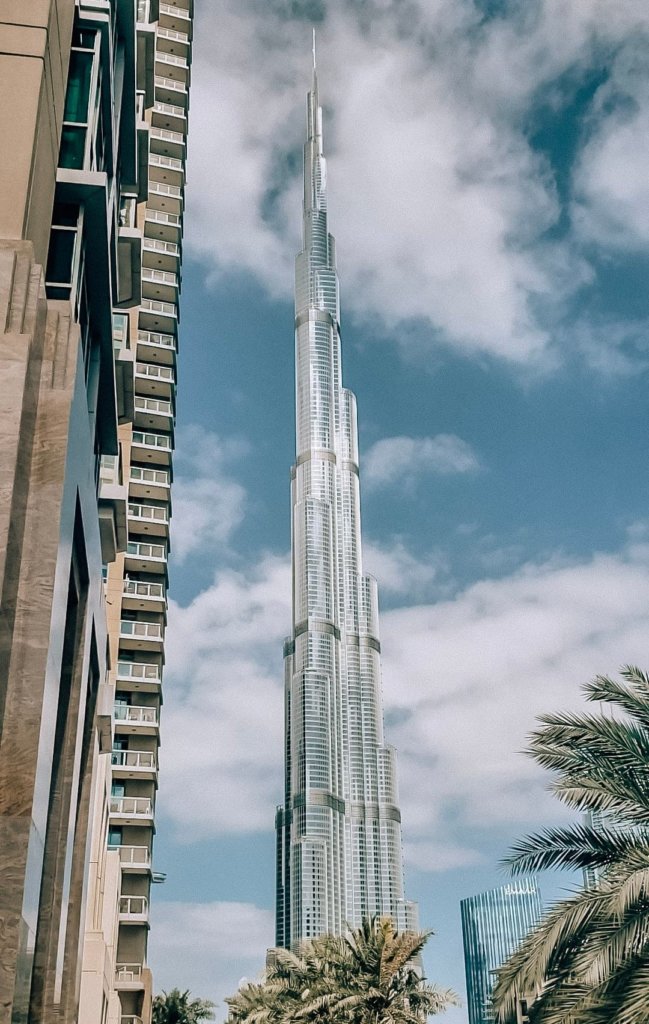 20. The Mosques are Beautiful in Dubai
There are mosques found on every few blocks around Dubai, and they are surprisingly unique in appearance. There is a Saudi Mosque, an Iranian Mosque, and the Grand Mosque of Dubai – all with their own specific architecture and identity.
While it's not allowed to visit all mosques as a tourist, definitely make it a point to visit at least one! The inside is often stunning.
If you can take a day trip to the Sheik Zayed Grand Mosque in Abu Dhabi, it is well worth the visit! This mosque is the largest and proudest within the UAE.
21. Dubai is a Very Safe Place
21st on our list of reasons to visit Dubai is a very important one. Crime is nearly nonexistent in Dubai. Violent crime almost never happens, and even petty theft is uncommon.
While it's never advisable to leave valuables out and always smart to be mindful of your money, I have had to leave luggage and valuables in the car for periods of time between hotels and have had no problem.
While I come from a place where doors need to be locked overnight and when you leave the house, that is not a concern for many people living here. You are largely safe traveling as a solo female in Dubai.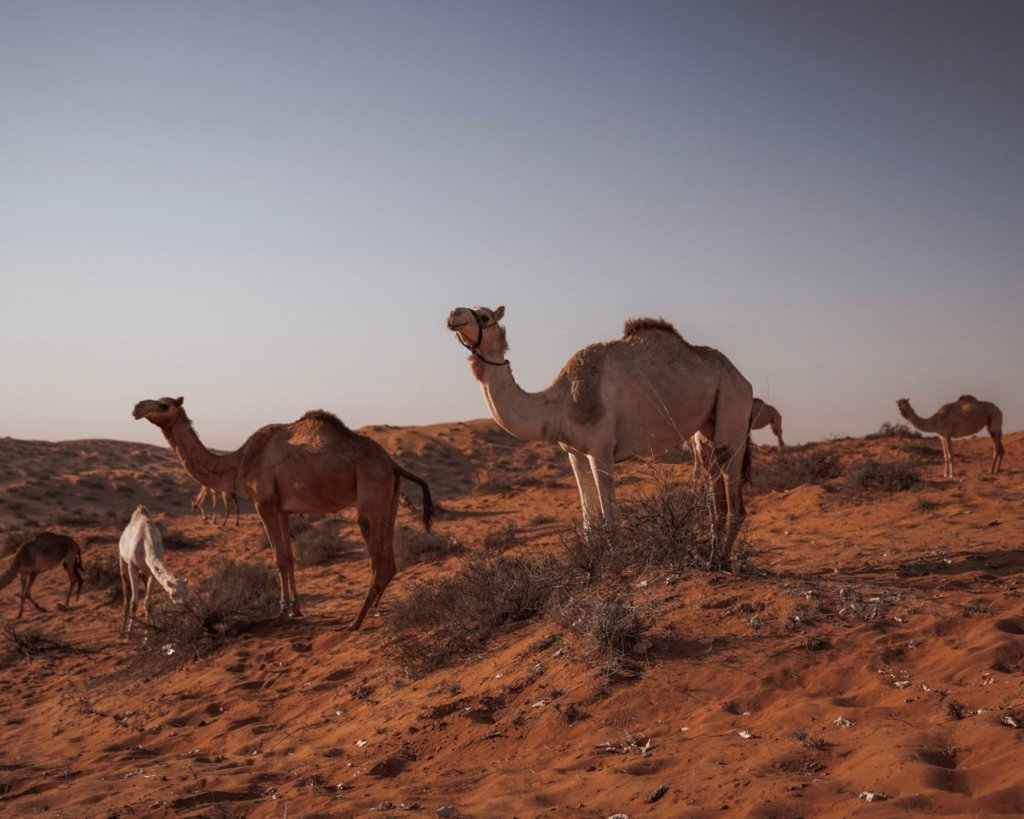 22. Dubai Boasts 350 Sunny Days Per Year
Last but not least, let's talk climate. YES, it does get super hot in the summer, which not everyone will be a fan of.
But, heat aside, Dubai has roughly 350 sunny days per year on average, which is incredibly similar to Southern California! As one of the sunniest places in the world, how can you ever be unhappy in such a gorgeous place?! If this isn't one of the best reasons to visit Dubai, I'm not sure what is.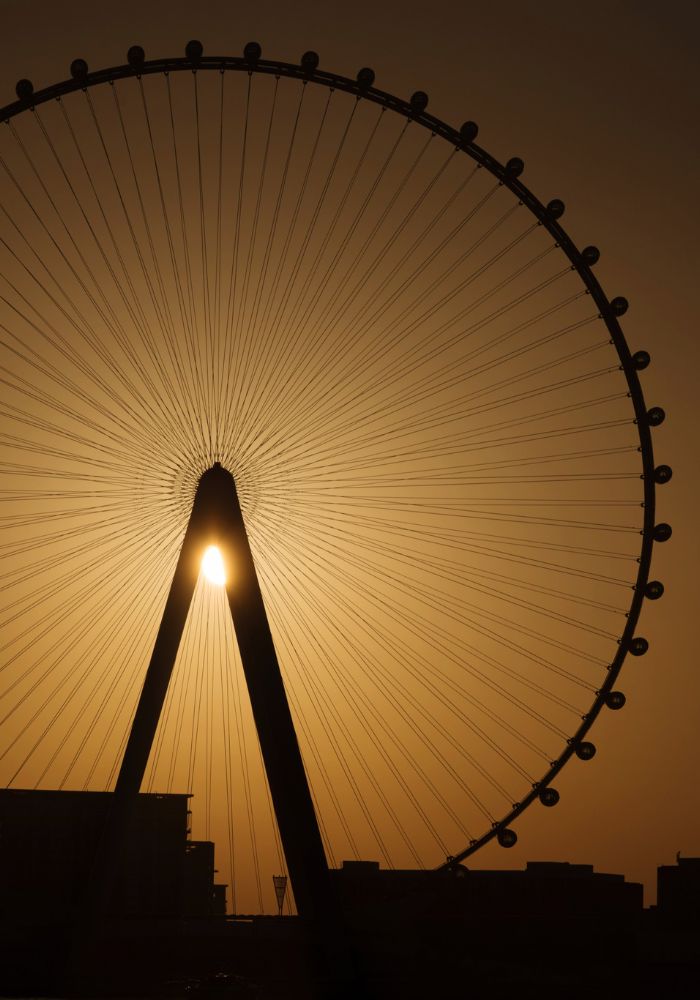 23. Take a Ride on the World's Tallest Ferris Wheel
In 2021, the world's tallest Ferris wheel opened to the public and it calls Dubai home. Ain Dubai stands at roughly 820 feet tall and provides epic views of the Dubai skyline.
Ain Dubai is almost twice as tall as the London Eye (roughly 440 feet tall) and beats the High Roller which previously held the title of tallest Ferris wheel (at 550 feet tall.)
This ferris wheel can hold up to 1,750 passengers at once, and does allow food and drink while you ride. Which is a nice bonus, since one full rotation will take approximately 38 minutes to complete!
***
And there you have it! All of the awesome Reasons to Visit Dubai in 2023 (and frankly there are plenty more).
Dubai is a lovely place with impressive man-made elements and natural scenery combined. It's a central hub to almost anywhere and you can meet people from all over the world here.
Anything else you would add to this list? Let me know below!
Pin Me for Later!