Learn about the UAE's long tradition of pearl diving at Suwaidi Pearl Farm in RAK. Here is everything you need to know about visiting Suwaidi Pearls!
After so many visits over the years, I thought I was pretty knowledgeable abut the UAE's history. After all, I witnessed first-hand some of the rapid growth that Dubai experienced across a ten year period.
But on my last visit to Ras Al Khaimah, my mind was completely blown. I learned that there was a long history of pearling in this region that I knew nothing about. Enter, Suwaidi Pearl Farm in RAK.
Pearl diving was a huge industry in the Arabian Peninsula for centuries. And though I was aware that Bahrain had a history in pearl diving, I was not aware that it was also a major industry in the UAE. Believe it or not, pearls were the main commercial product here prior to the discovery of oil and gas.
A visit to Suwaidi Pearl Farm in Ras Al Khaimah will teach you all about traditional and modern-day pearling, and the fascinating ways that the industry has changed over the years.
You May Also Like: Reasons to Visit Dubai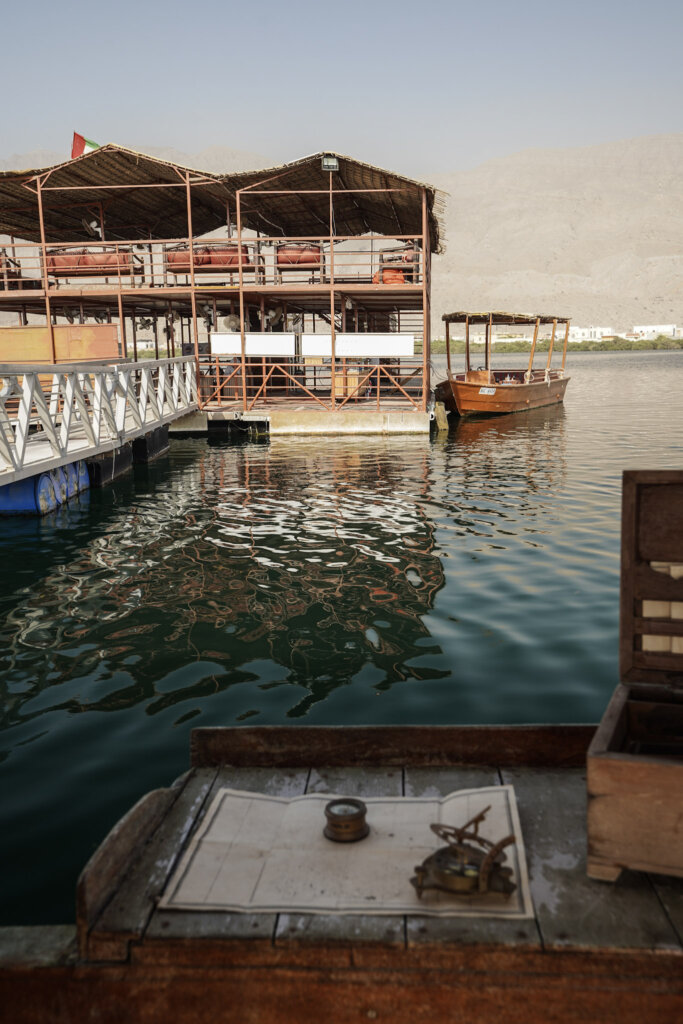 Where Is Suwaidi Pearl Farm?
Suwaidi Pearl Farm is located off the coast of Ras Al Khaimah (RAK), United Arab Emirates. On a large pontoon floating in the Arabian Sea, with the towering Hajar Mountains serving as the backdrop, Suwaidi Pearls is a peaceful place.
Ras Al Khaimah is the northernmost emirate within the UAE, next to Musandam, Oman.
Suwaidi Pearl Farm Location: Al Rams Corniche, Ras Al Khaimah
Suwaidi Pearl Farm Phone Numbers: +971-7-221-1124 | +971-56-570-9990 | +971-50-681-5151 (WhatsApp)
What to Expect
Suwaidi Pearl Farm is the first of its kind in the UAE. Visitors will ride a dhow boat for about 10-15 minutes past lush green mangroves and turquoise sea. Juices, tea, and snacks are provided and the ride is quite pleasant!
When you arrive to the floating pontoon, a guide friendly guide teaches visitors all about how pearls are formed in nature, as well as what pearl farming looks like today. Expect to be on the pontoon for roughly one hour, learning all about the history of pearl diving.
The guide will share stories about the original pearl divers in the area, from their gear to their lifestyle. Visitors can also peruse a small store where Suwaidi Pearl Farm jewelry is sold on site. (Fun Fact: Suwaidi Pearl Farm supplies pearls to Rolex and Cartier!)
This farm has is credited with helping to revive the age-old pearl industry of Ras Al Khaimah. I highly recommend this experience for anyone who wants to see a different side of the UAE, far from the deserts that you might expect! It was downright fascinating.
A Brief History
Abdulla Al Suwaidi is the founder of Suwaidi Pearls, He is the grandson of one of the last traditional pearl divers in the UAE, and his passion for sharing the old way of pearling life is evident.
Long ago, working as a pearl diver meant heading out for several months at a time and diving for pearls multiple times each day. Without modern diving equipment, divers wore only a tortoise-shell nose plug while they searched underwater for many minutes at a time.
Established in 2005, Suwaidi Pearls offers a fascinating glimpse into one of the UAE's traditions that I would bet most people are not aware of.
You May Also Like: The Best Places to Visit in Ras Al Khaimah
When Is Suwaidi Pearls Open?
Suwaidi Pearl Farm is open from Saturday to Thursday, 9:00 am to 05:00 pm.
It is necessary to book a tour to see Suwaidi Pearls, as you need to ride a boat to get to the pontoon. On the roughly-two-hour tour, your boat ride, snacks and drinks, guide, and return are all included. I highly recommend this experience!
Suwaidi Pearl Farm tours can be booked here.
***
So let me know below – did you know that the UAE had a long history of pearl farming? Would you take this tour to learn more?!
I highly recommend a visit to Suwaidi Pearl Farm in RAK on your next visit to the UAE! It offers such an interesting glimpse into the tradition of pearl diving and is sure to teach you something new.
Need more inspiration for your visit to the UAE? My Dubai & Abu Dhabi Travel Guide is jam-packed with attractions and tips for both areas.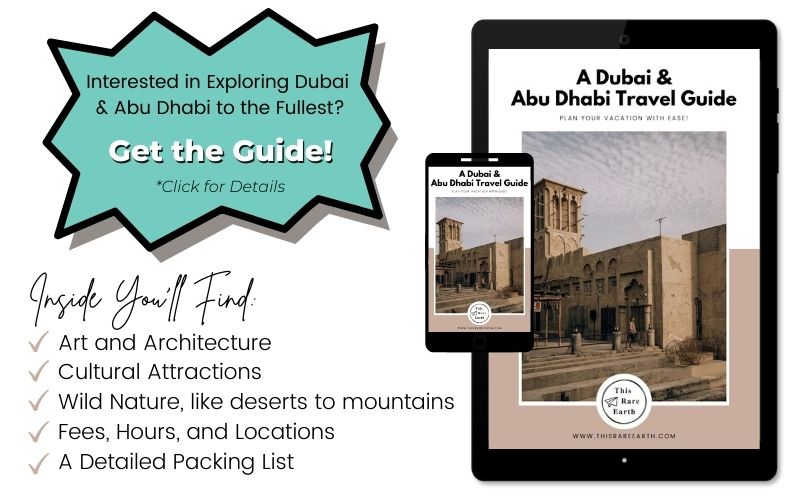 Where to Go Next?
I highly recommend visiting the Al Wadi Desert Reserve in RAK to see the Arabian Oryx.
Or, check out my full list of places to visit in RAK.
If you are heading outside of Ras al Khaimah, consider visiting the Sheik Zayed Grand Mosque in Abu Dhabi, or hit Dubai for the Wings of Mexico or the Dubai Frame.
Pin Me for Later!