Mysk al Badayer Retreat in Sharjah is a striking hotel nestled between desert dunes. If you are thinking about staying overnight here, read this Mysk al Badayer Retreat review first!
Pin Me for Later!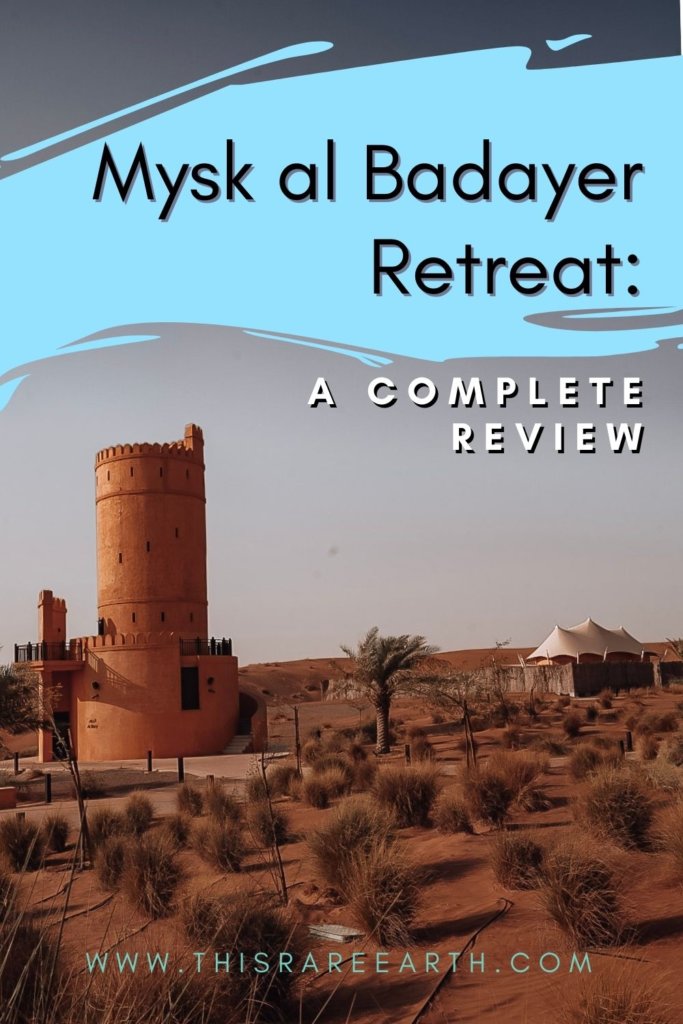 Mysk al Badayer Retreat
As an avid desert traveler, I frequently make my way deep into the Liwa Desert in Abu Dhabi. However, on my most recent trip to the United Arab Emirates, I found myself unable to make it that far south.
I knew in my bones that I wanted needed to spend time in the sand, though. To feel the heat radiating through each grain; to see that fiery red sunset; and to spend time with my camel friends.
I had visited the Dubai Desert and Fossil Rock many times before, and had explored Umm al Quwain on my last trip. So this time, I decided to try out a new-to-me hotel in the Sharjah desert – the Mysk al Badayer Retreat.
Keep reading for my complete Mysk al Badayer Retreat review!
Mysk al Badayer Retreat: A Complete Review
Upon Arrival
This hotel is located roughly 45 minutes outside of Dubai, but it feels a world away. Gone are the skyscrapers and the shining architecture.
Small independent shops and restaurants line the streets, and the road was mostly deserted. If I had not pulled up Mysk al Badayer Retreat on my map apps, I may have completely missed it.
Mysk sits on the left hand side of the road if driving from Dubai. Built to blend in with the range desert dunes, it's stature is unassuming from the street.
To enter the property, guests need to show their reservation to a gate attendant, who then allows cars through to park. Staff members in golf carts zip around the lot, driving guests and luggage to the check-in lobby.
As it was over 120 degrees in July, I definitely appreciated not carrying heavy bags around the hotel grounds! It's a fairly large layout.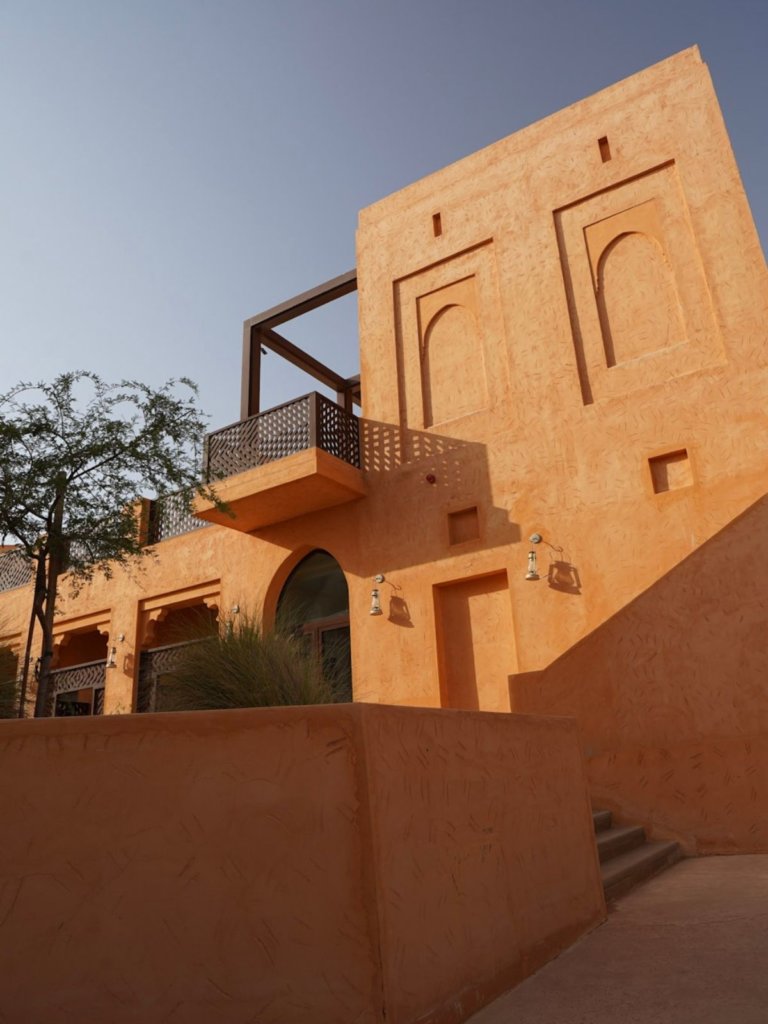 Check-in went smoothly. The staff was friendly and courteous, and our same golf cart driver showed us to our room and assisted with luggage again.
The Rooms
Visitors have their choice of several room options.
Within the concrete-walled "hotel" area, guests can book either a Deluxe Double, Deluxe Twin, or Deluxe King room. Alternately, private "glamping" style tents can be booked on the outskirts of the property, with private pools and dune-views.
I had booked a Deluxe Double Room, which at $81 USD per night was the cheapest option, due to a holiday weekend. The total was a bit under $100 per night including taxes and fees. And, we got an unexpected upgrade to a Deluxe King because of a last-minute cancellation. Can't complain about that!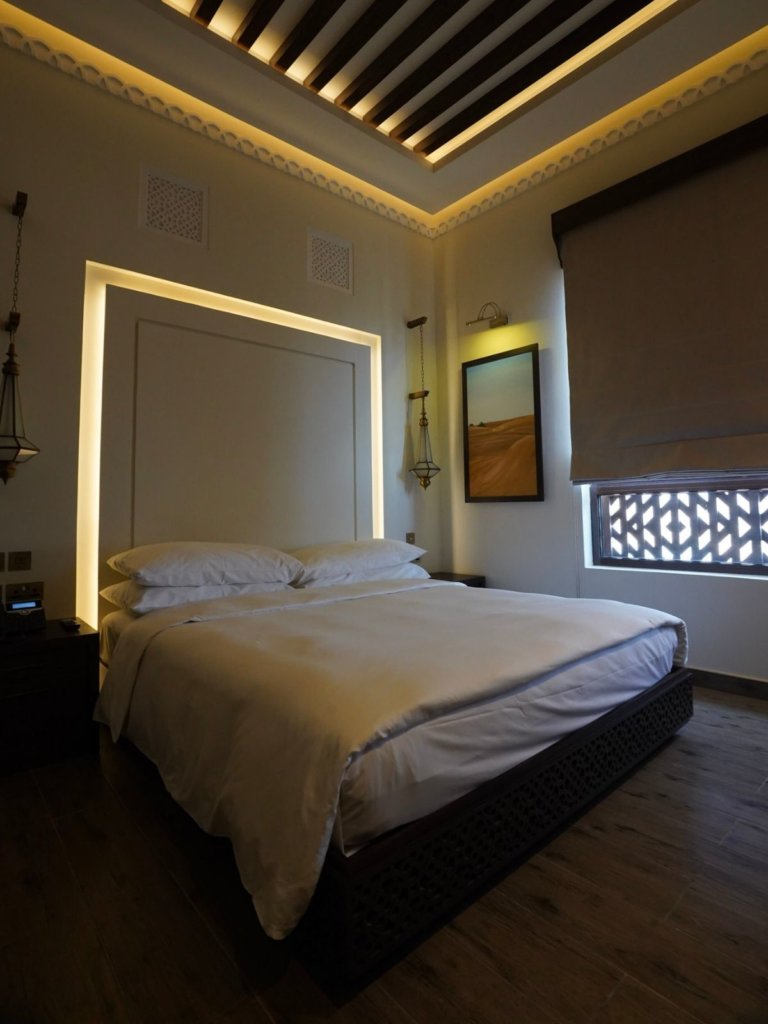 For anyone who wants to book the private tents, I hear you. They are stunning! They are private and oh-so-cute. And, you just can't beat a private pool in the desert! But beware. These rooms were over $1000 USD when I was there – again, due to the holiday weekend. At other times, expect prices around $400 per night.
The rooms are sparkling clean – white walls and floors, clean and crisp bed linens, and no signs of wear and tear whatsoever. Fluffy robes and slippers, spicy-smelling soaps and shampoos, and dried fruits and nuts are provided for free.
Nothing is overly gaudy here – everything feels clean and light, with touches of Middle Eastern decor peppering the room. It was one of the most comfortable rooms I stayed in during my entire visit to Dubai.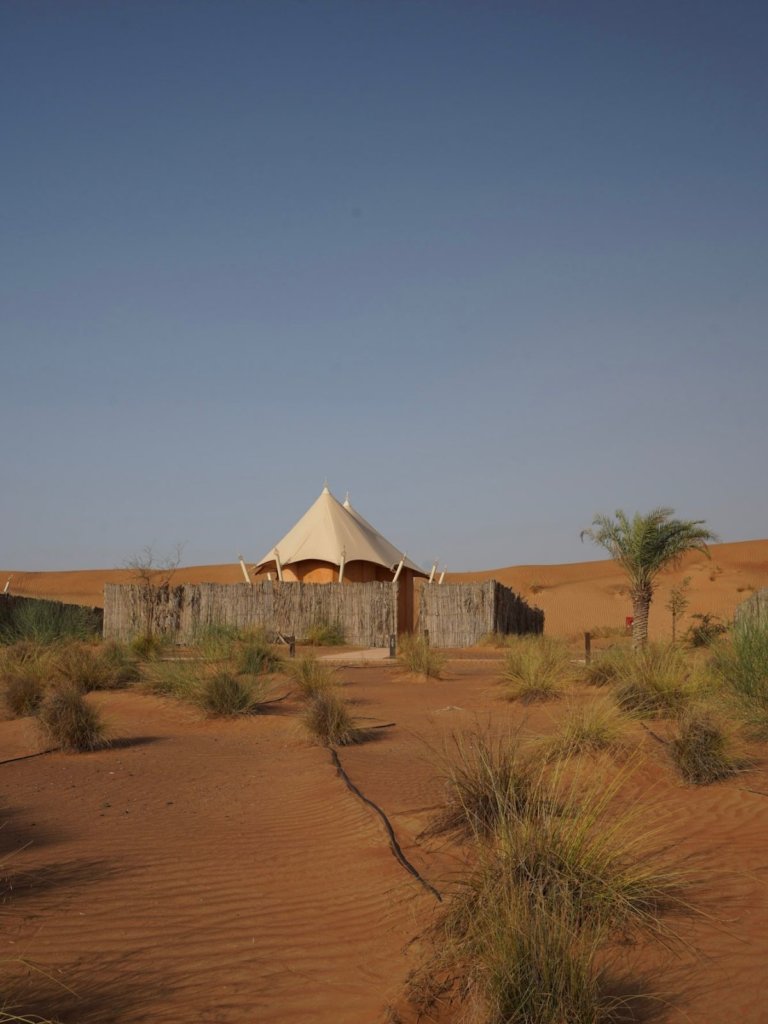 The Property
The grounds are spacious, with even, paved walkways and orange-hued walls. Shade is created by stretched cloth above our heads, like I used to see in Phoenix and Tucson.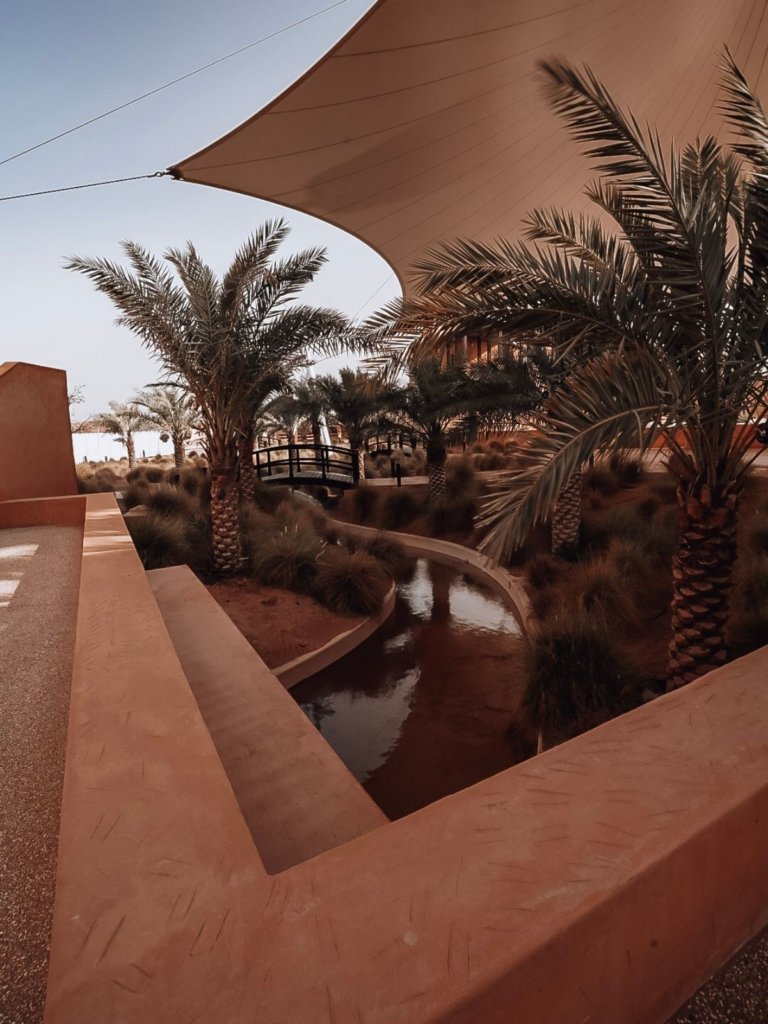 There is a communal indoor pool, for those of us who just couldn't splurge for those private tents! Small dune "walls" surround the property.
There is ample parking for everyone here.
A large amphitheater is built near the edge of the property, where falcon shows took place every night, for free. Yes, free! I truly enjoyed this show. The trainer showed how they train their falcons to hunt, and he let everyone who was interested in holding Marley do so. It was one of the highlights of my stay.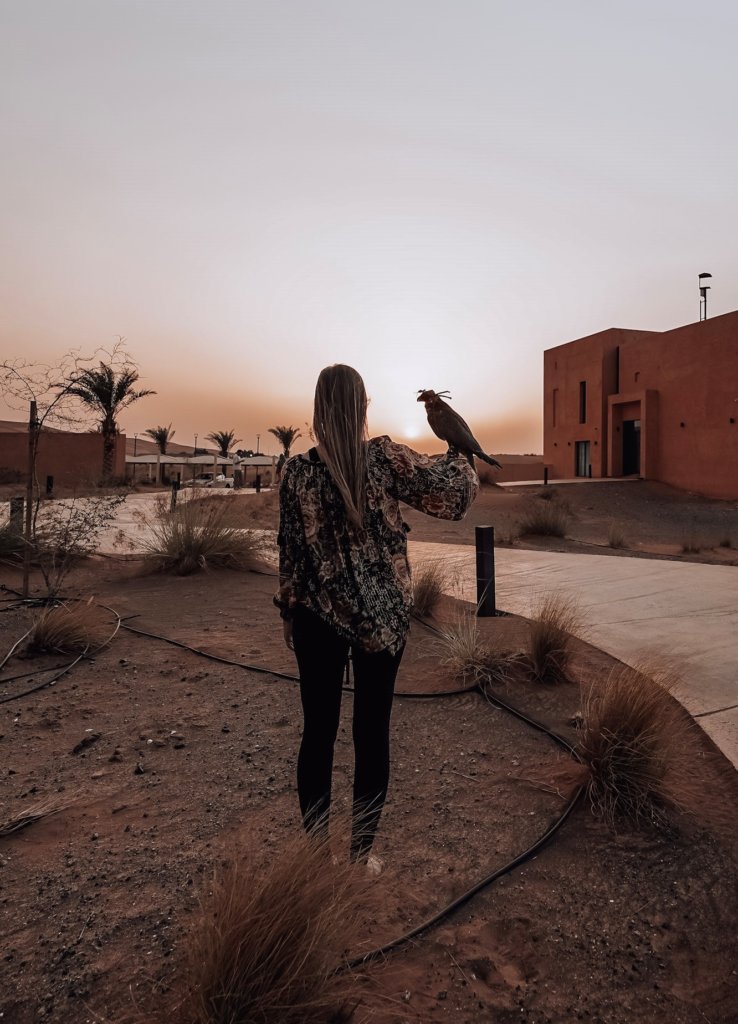 There is a restaurant on the property. However, food prices are astronomical here. Breakfast is $37 USD per person per day, and lunch or dinner are $48 per person per day.
As we had a car, and like to explore local food stalls, that's exactly what we did. I see no reason that my food total should surpass my hotel room total in one day. For two of us to eat all three meals on sight for just one day would be $266 USD.
There was also a big area of construction toward the back of the property. I'm curious to see if this will be an outdoor pool, fountain, or another living space.
There is also an onsite mosque, which is a nice perk so that guests do not have to venture off site for each prayer time.
Activities like archery, bicycles, darts, and private sunrise coffees can be booked, as well.
The Pros and Cons
Mysk al Badayer Retreat was overall wonderful. I would absolutely return back for another visit. It offered comfortable beds, clean rooms, and a visually stunning property. I felt very relaxed here.
I enjoyed the pool, and during mid-summer, was thankful it was indoors. The falcon show was amazing. The staff were friendly and courteous, and all seemed happy to be doing their jobs.
There are a few opportunities for improvement that the hotel could focus on. Firstly, the high cost for food mentioned above.
And they are very very strict about No outside Food allowed. We were given this warning both in an email after booking and on the phone prior to booking. (The room does have a mini-bar, but we did not partake so I cannot comment on prices for drinks and candy bars).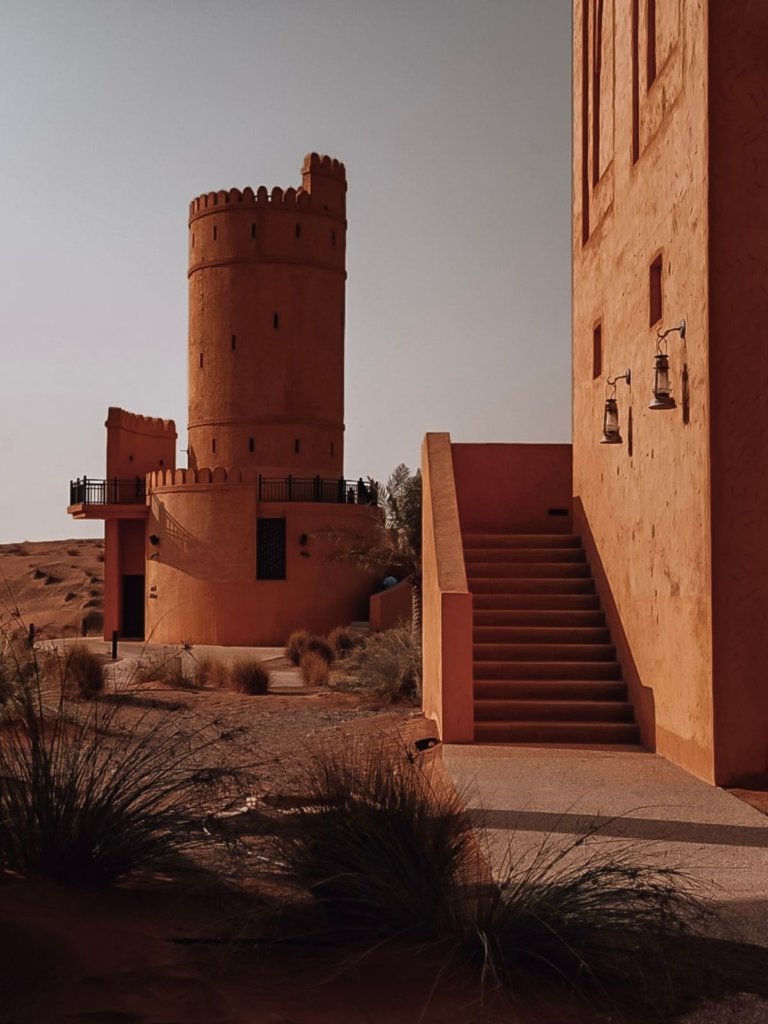 On our first night there, the hotel left loud music on all night long, and the speaker was right outside our door. That did keep me up on and off throughout the night.
However, the next night it was turned off, so I might assume that they forgot to turn it off the first night. Beware, it was turned on at 6am! Good thing I was an early riser here.
Lastly, for a true desert child like myself, this property was just a bit too close to the roadway and to civilization. I would prefer if it were nestled farther back into the dunes so that visitors can get that middle-of-nowhere feeling that I love so much.
Considering everything, I highly recommend a visit to the Mysk al Badayer Retreat and would love to come back and try out one of their private tents one day! This is an easy and worthwhile escape from the hustle and bustle of Dubai that I think guets of all ages will appreciate.
Pin Me for Later!