Abu Dhabi vs. Dubai – which is better? Whether you are a traveler or looking to move to UAE, there are some stark differences between Dubai and Abu Dhabi. From cost to vibe, to activities, let's dive into the question – which is better, Dubai or Abu Dhabi?
Pin Me for Later!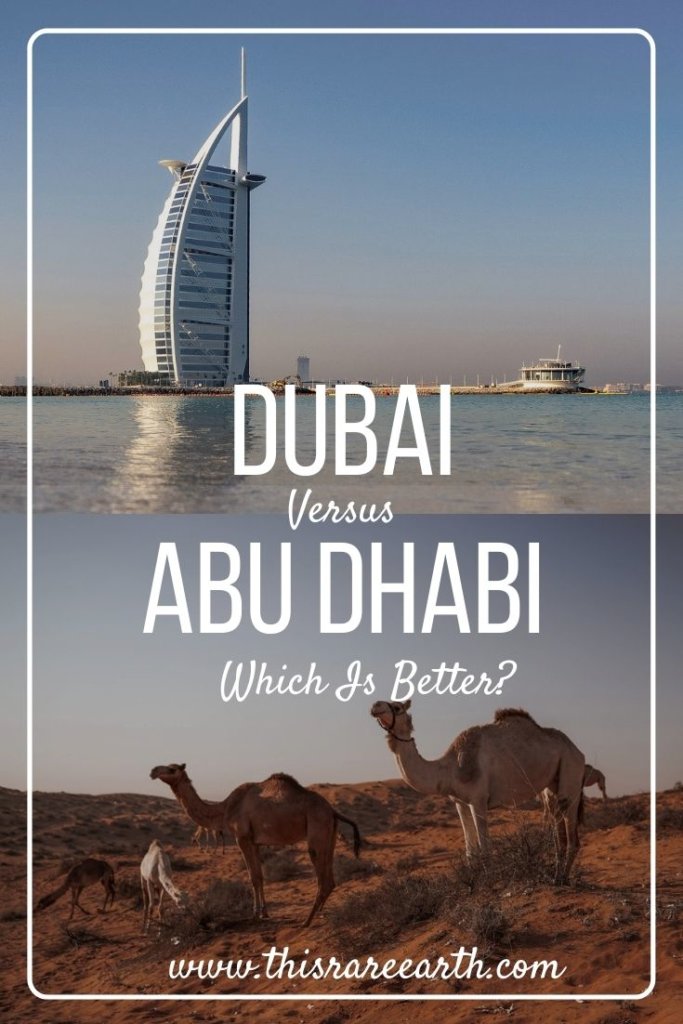 United Arab Emirates is one of those countries that unexpectedly stole my heart.
Being the central Middle Eastern flight hub, you can hardly travel this region year after year without a visit to UAE. I've now been back repeatedly over the past nine years, and I can definitely say I've learned a lot about the country!
Abu Dhabi and Dubai are two of the seven Emirates (states) that make up this small Gulf country. And, they are the most well known of them all, too.
But when it comes to comparing Abu Dhabi vs. Dubai, they honestly couldn't be more different! Just 1.5 hours apart from one another, Dubai and Abu Dhabi are offer very different experiences that different types of travelers will appreciate. Let's talk about exactly what.
You May Also Like: Reasons to Visit Dubai
Abu Dhabi vs. Dubai – Which is Better?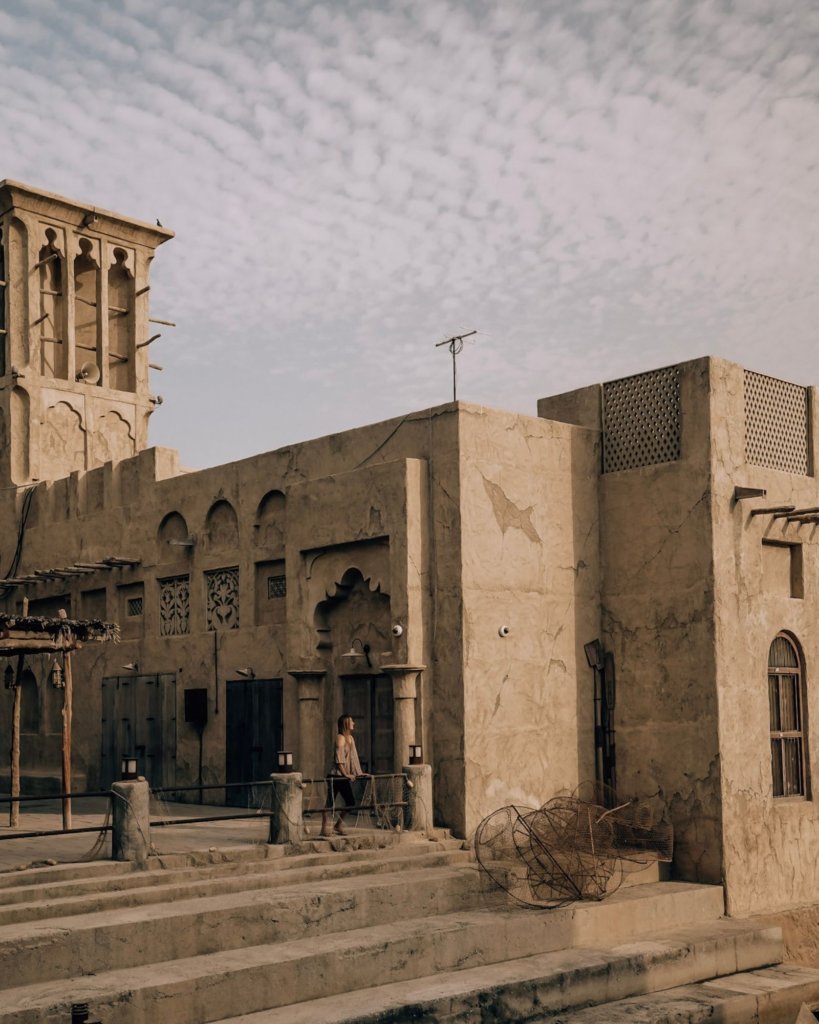 Abu Dhabi
For all of Dubai's extravagance, Abu Dhabi equals that in calmness. Abu Dhabi is the capital city of the UAE and home to the official government. It's more quiet and conservative than flashy Dubai, but that's exactly why it deserves a visit.
When you're in Abu Dhabi, a more authentic version of the UAE surrounds you. The architecture is more understated and more of the population is made up of native Emiratis than you'll find in Dubai. Many of the expats in this area work for the UAE government in some capacity.
There isn't much nightlife to speak of, so this may be too "sleepy" of a place for night-owls and party-animals. But, there are a lot of great things to see in Abu Dhabi during the day!
Things To Do in Abu Dhabi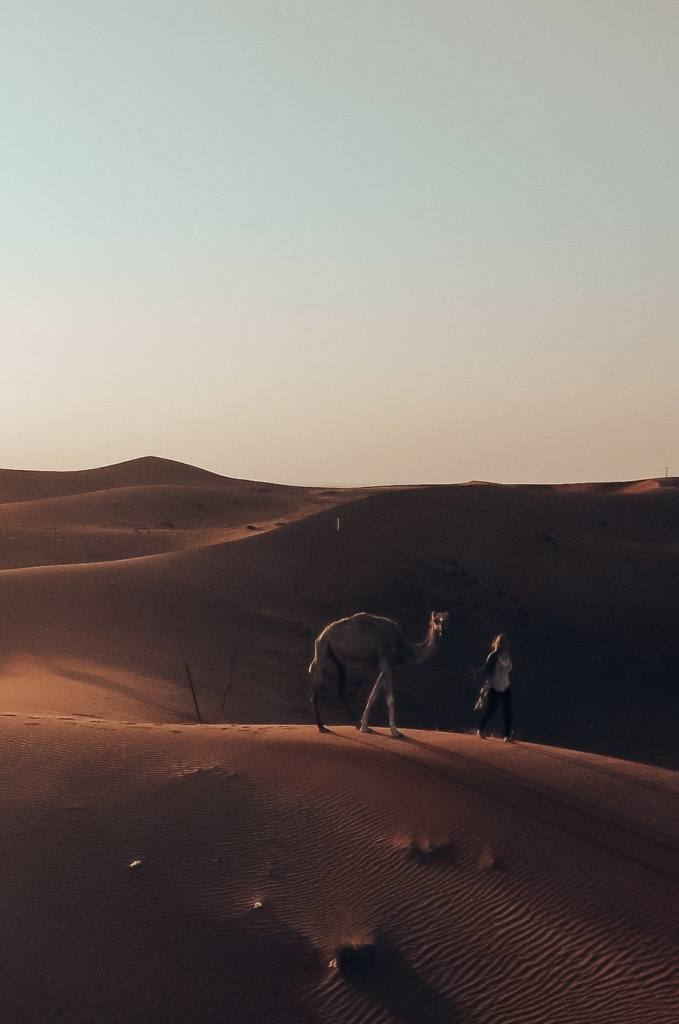 The Arabian Desert
Hands down, my favorite thing to do in Abu Dhabi is to head to the heart of the Arabian Desert. There is nowhere else in the entire country that offers such a peaceful experience or spectacular sunset. I feel so connected to the planet when I camp overnight on the dunes.
Can't make it all the way to Liwa? Book a morning desert safari instead! Just 45 minutes from Abu Dhabi, you'll get to experience the open desert, camel rides, and dune bashing, before the heat of the day sets in. Private or group options available. Book the experience here!
Sheik Zayed Grand Mosque
As the largest mosque in the UAE, the Sheik Zayed Grand Mosque is a must-see. It can hold up to 55,000 worshippers and and took more than a decade to complete! The mosque was built to symbolize peace and tolerance and welcome people of all beliefs – meaning yes, you can go inside even if you are not Muslim.
Entrance is free. Women should dress accordingly – either in your own modest dress including a head-covering, or you will need to wear the full-length hooded gown offered on-site. Check out my post on what to wear in the UAE for some suggestions.
Prefer a guided tour? You can book that here.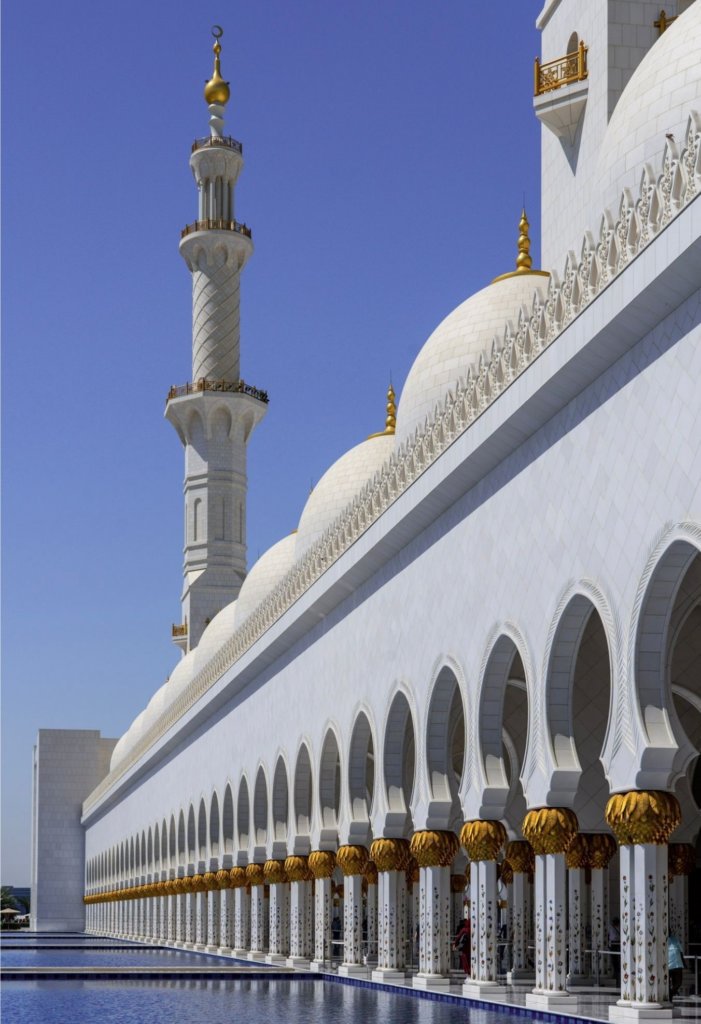 Emirates Palace
Emirates Palace is a common tourist stop in Abu Dhabi. It is nothing short of opulent and is worth a glance; even if you aren't seeking luxury, you can't help but be awe-struck at some of the offerings here.
Built on 85 hectares of meticulously landscaped gardens, this hotel has 14 restaurants on site. The rooms are grand, with whirlpools and butler service. Though it has since been removed, I was in awe of an ATM that dispensed real gold. Yes, real, solid gold.
Heritage Village
Heritage Village is a time capsule that transports visitors into a traditional souk, mosque and camp. Though a reconstruction of pre-modern UAE life, Heritage Village offers a glimpse of what the area was like just decades ago. You can shop souvenirs, watch artisans working in pottery, glass and metalsmithing, among other endeavors.
Need more inspiration for your visit to the UAE? My Dubai & Abu Dhabi Travel Guide is jam-packed with attractions and tips for both areas.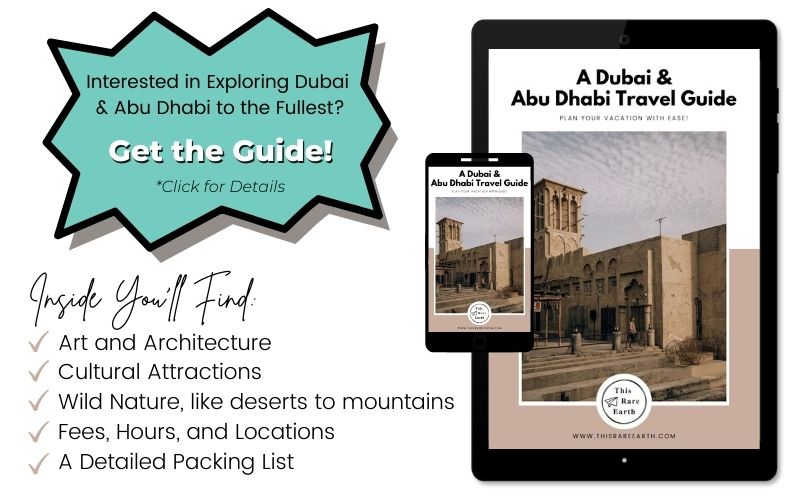 Ferrari World
If you like theme parks, or, are a car enthusiast, then Ferrari World might be for you. Here you will find the fastest rollercoaster in the world and plenty of other rides to enjoy. The grounds are mostly indoors, so even in the intense heat of summer, this is a good way to spend a day.
Corniche
The Corniche is approximately a 5 mile stretch of sandy beaches and attractions. Everything from children's play areas, a bicycle pathway, restaurants, cafés and the Corniche Beach are accessed from here. It is a popular hangout for both tourists and locals. This path leads straight to Emirates Palace.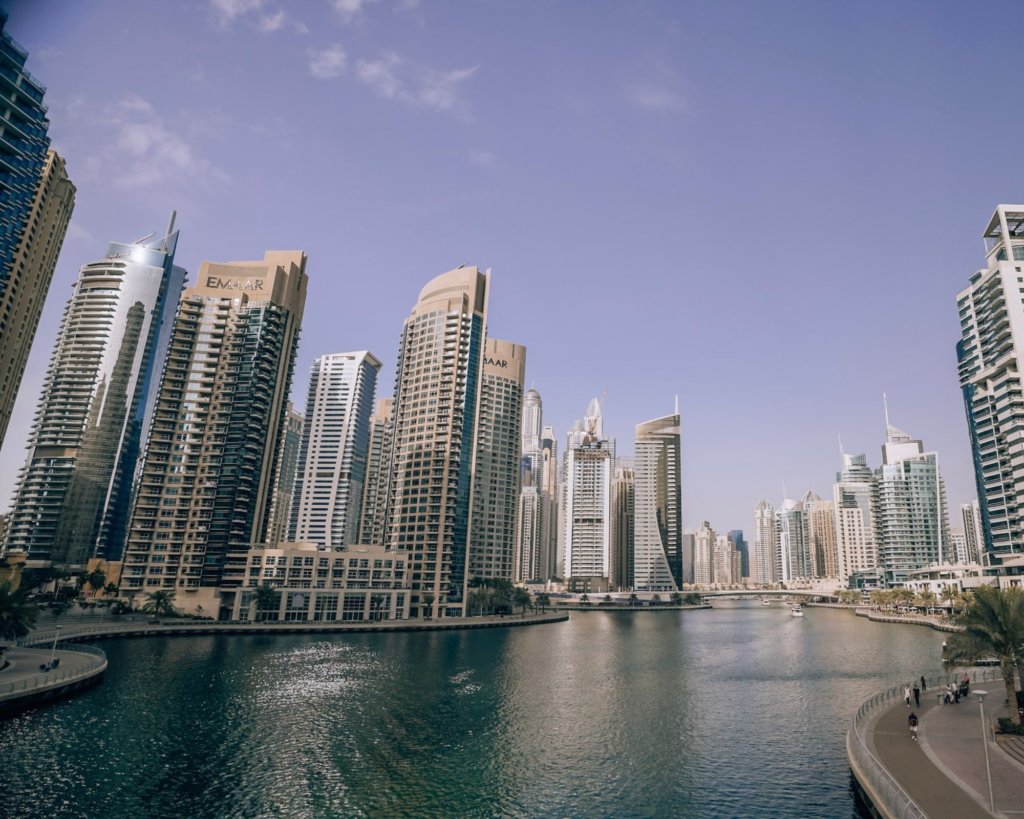 Dubai
Everything you've heard about Dubai is true – the glitz and glamour is a sight to see! The world's biggest and tallest skyscrapers reside here, including the famous Burj Khalifa.
Many expats in the UAE choose to live in Dubai because there is a lot more "happening" by many people's standards. The public transportation system is easy to navigate, and tasty restaurants, large malls, and gyms or outdoor exercise parks are plentiful. Bars, resorts, and night clubs can be found easily.
However, for all the conveniences Dubai offers, there are some drawbacks, too. The prices are much higher in this area, both for expats and visitors. There is more traffic, more crowds, and more noise. And, if you don't venture out of the city, you won't get a feel for the "real" UAE culture.
But, in turn, there is a lot to do here!
Things To Do in Dubai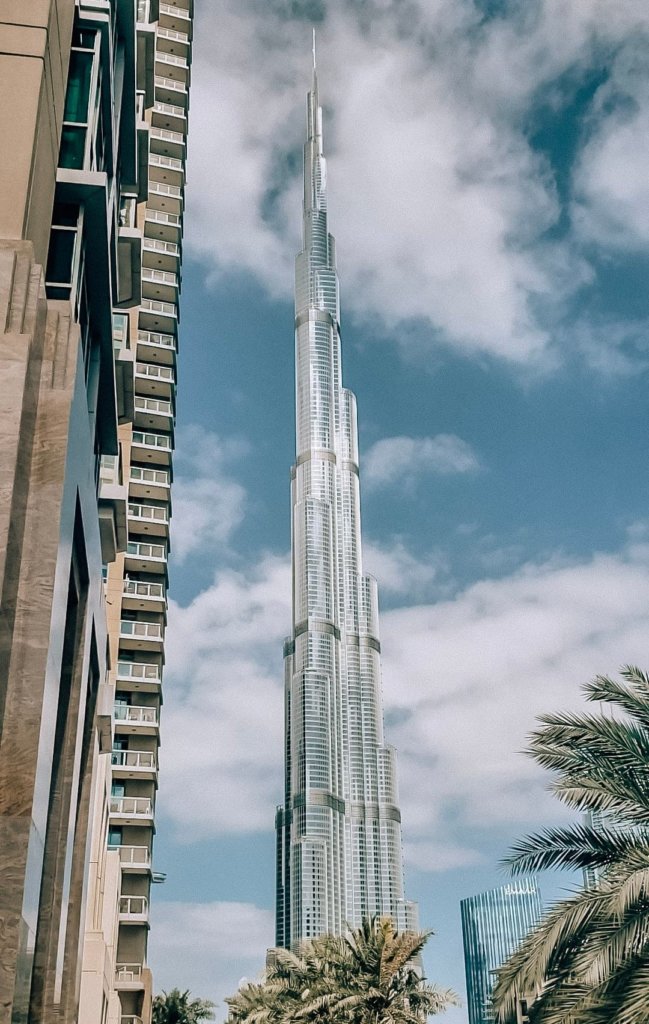 Burj Khalifa
At over 150 stories tall, the Burj Khalifa is a top attraction in Dubai. Tourist tickets will take you to the 125th floor, where on a clear day, you can see far and wide across the city. This building is worth a visit for all first-timers – it's practically a rite of passage to see this manmade structure while in town.
Dubai Miracle Garden
The Dubai Miracle Garden is carefully curated flower garden occupying nearly 18 acres of land. It is often called the world's largest natural flower garden, but there's really nothing natural about it at all!
Over 50 million flowers and 250 million plants are carefully laid out into everything from heart-shaped sculptures to animatronic dancers. It's a great photo stop and certainly impressive that this can exist in a desert.
You May Also Like: Is Dubai a Desert?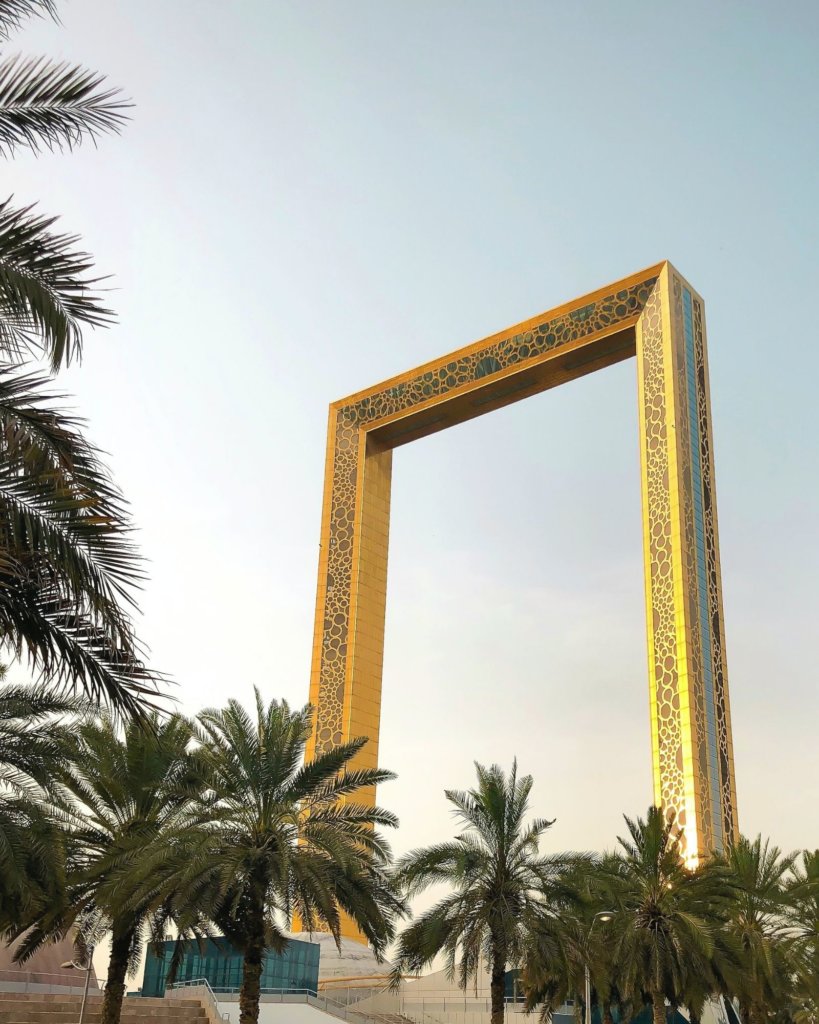 The Dubai Frame
This impressive landmark is a towering, golden rectangle that is visible from afar. Depending on which side of the structure you are standing, it 'frames' either the Old Dubai or New Dubai cityscape.
It is meant to symbolize a connection of both past and present in this rapidly changed city, and visitors can ascend to the top for sweeping views. The Dubai Frame is definitely worth a visit!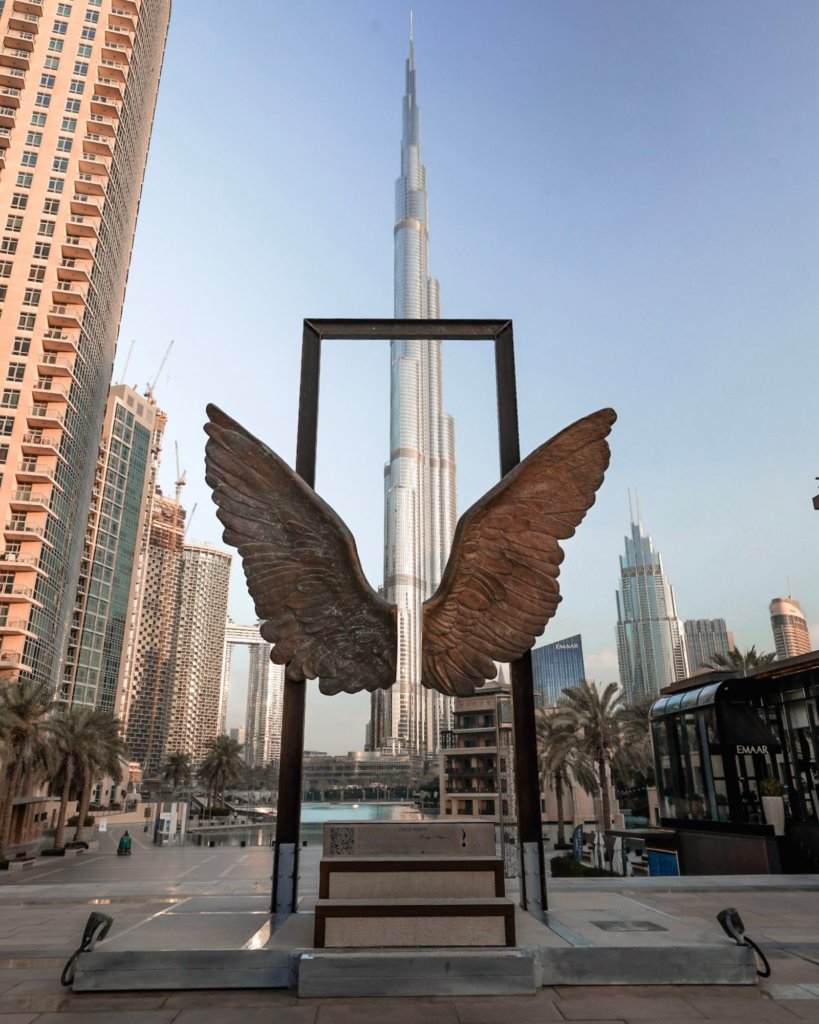 The Wings of Mexico
Made popular on Instagram, the Wings of Mexico have become an iconic sight in downtown Dubai. Created by artist Jorge Marin, these wings are framed by a small rectangle that, when centered just right, provide a pretty view of the Burj Khalifa in the background.
You May Also Like: Visiting the Wings of Mexico in Dubai
The Dubai Mall
Okay, you heard it here first – I personally don't understand the UAE obsession with their malls. Maybe it has to do with the fact that it is an air conditioned location to hang out and escape the desert heat. Maybe it is a love for luxury.
In any case, no mall is more opulent or packed to the brim with luxury stores than the Dubai Mall.
Jumeirah Beach
Located on the impressively blue Persian Gulf, Jumeirah Beach offers white sand stretches of beach that are open to the public from 7am to 11pm. Access to the public beach is free and is set along the lively neighborhood of Jumeirah, where plentiful hotel chains can be found.
You May Also Like: Where to See Arabian Oryx in Dubai & RAK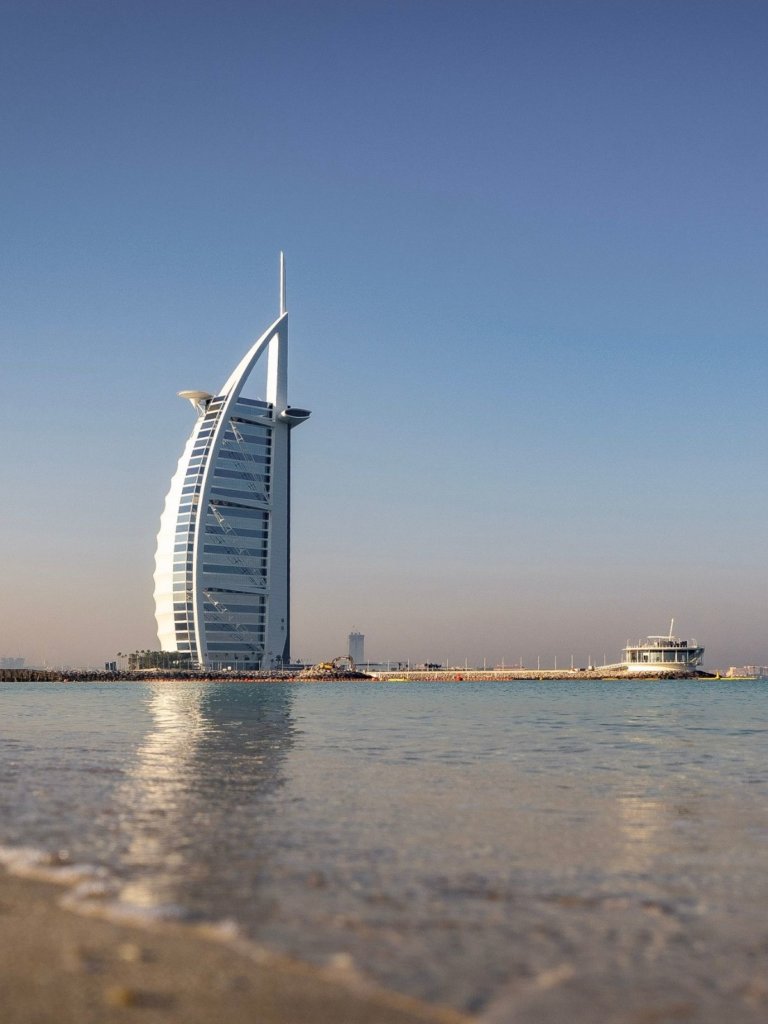 So, Abu Dhabi vs. Dubai – Which is Better?
I've spent countless nights in each area, and to be honest, my opinion is to experience both if you can. What Dubai offers in luxury and opulence, Abu Dhabi offers in quietude and culture.
That said, it ultimately comes down to your personal preference.
If you only have a short visit, I would recommend staying in the area where most of the attractions you prefer are easily reachable. Also, weigh what type of environment you like more – do you like things to be quiet and calm, or do you like endless entertainment all night long?
There, you'll find your answer.
Getting Between Abu Dhabi and Dubai
While it is easy to get between the two cities, it is probably not realistic (or cost-effective) to travel three hours (1.5 hours each way) each day to see the sights. This is why I recommend staying near the area that has most of the attractions you prefer. That said, it is easy to make that trip once or twice.
A local bus ride between the two costs roughly $7 USD each way, while a taxi ride is more like $65. Uber is an option, but it won't save you much money. If you book a tour, it will likely transport you from one city to the other – but always read the fine print.
***
So, as usual, the simple question of Abu Dhabi vs. Dubai – which is better? is not an easy one to answer.
It mainly depends on what you prefer and what sight you just can't miss. For me personally, the glitz and glamour of Dubai is certainly a sight to see, but once you've made the rounds a few times, the quietude of Abu Dhabi is a nice change.
Which do you think you would prefer? Abu Dhabi or Dubai? Let me know below!
Pin Me For Later!