There are so many beautiful places to visit in Ras Al Khaimah. From adventurous things to do to epic views and historical sights, RAK offers a lot to explore! If you are looking to step out of Dubai and Abu Dhabi to explore the more adventurous emirate, then check out all of these can't miss spots.
Pin Me for Later!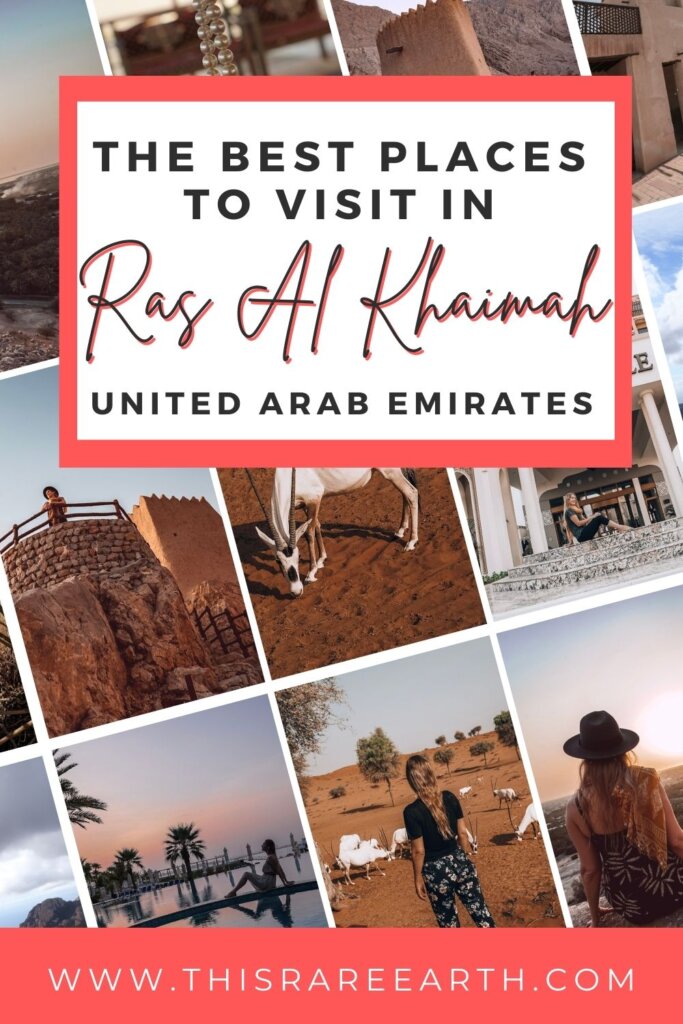 The Best Places to Visit in Ras Al Khaimah, UAE
Ras Al Khaimah may not be as well known as neighboring Dubai or Abu Dhabi, but this up-and-coming emirate is a welcome escape from the perfectly curated skyscrapers and shopping malls of the heavily visited areas. If you want a taste of adventure mixed with history and beauty, then RAK is the place to be!
Travelers visiting Ras Al Khaimah can choose from numerous experiences during every season of the year, whether they are looking for adventure or leisure. RAK also offers some of the most beautiful nature in the UAE, such as a peaceful coastline, a vibrant orange desert, and tall jagged mountains.
For those needing transportation from Dubai to RAK, book your private transfer here. You will get a private door-to-door trip.
RAK is located in the northernmost corner of the United Arab Emirates. It borders the Musandam peninsula of Oman, which shares part of the same rugged mountain range with RAK.
So why should you consider visiting RAK on your next trip to the UAE? Let's dive in to all of the places to see, things to do, and adrenaline-filled experiences that Ras Al Khaimah has to offer.
Dhayah Fort
The Dhayah Fort sits atop a rugged 230 foot (70 meter) high hill surrounded by lush green palm groves. It is one of the best places to visit is Ras al Khaimah for spectacular sweeping views – especially at sunset.
As the only remaining hill fort in the entire United Arab Emirates, this mud-and-brick monument commemorates the battle between British troops and local Qawasim tribes from the early 1800's. If you take the time to closely inspect the walls, you'll find not only small pebbles but also small sea shells mixed within the mud.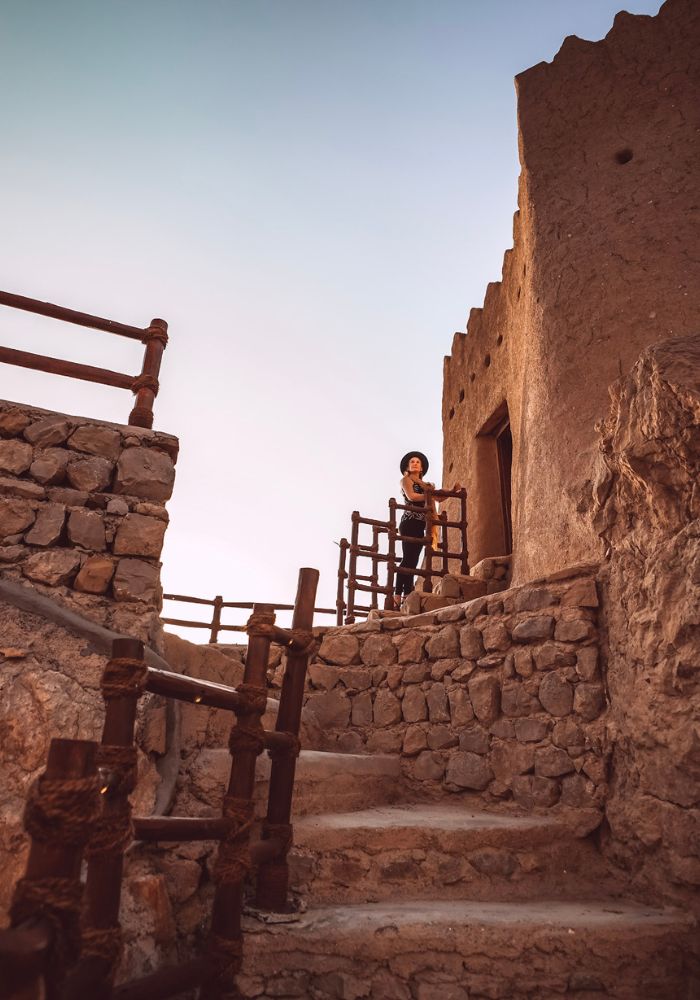 This fort served as both shelter and protection at the time it was built. The residents worked in the surrounding palm groves at the base level, while the towering watchtowers rose above them.
Visitors can walk inside of the structures and enjoy the views across the Jebel Jais mountains and the green oasis below. The climb to the top is worth it for these views alone!
The Dhayah Fort is located here.
The Ritz-Carlton Al Wadi Desert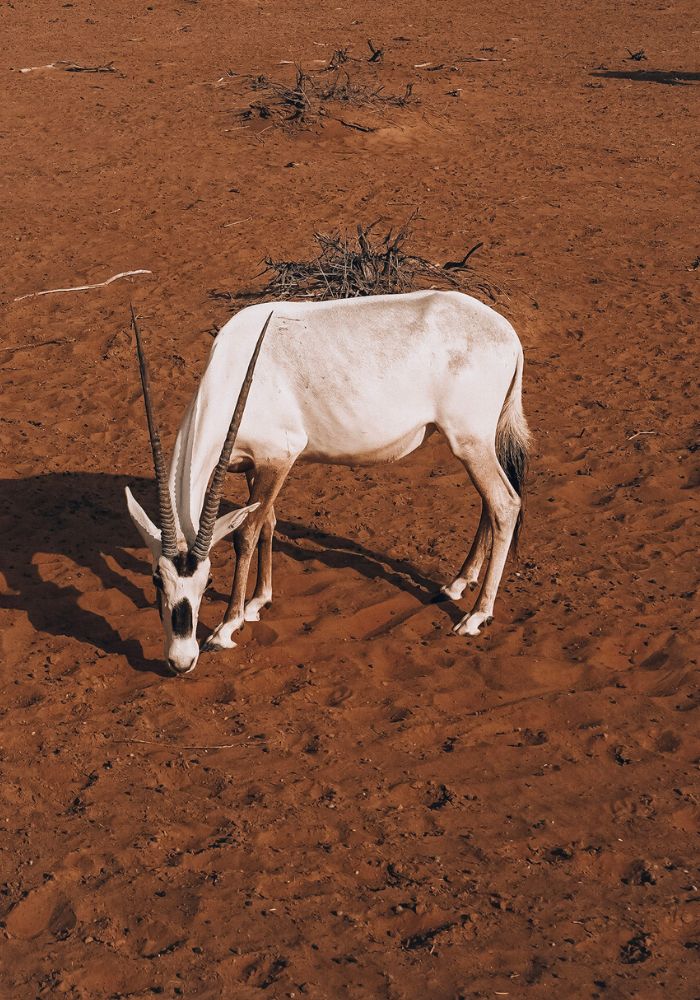 As someone thoroughly obsessed with the Arabian Desert, I was very excited to get up close and personal with the Al Wadi Desert reserve found at the Ritz Carlton – Ras Al Khaimah. Spoiler alert – it did not disappoint!
Unfortunately, the Arabian Oryx is no longer found in the wild. They were hunted to near-extinction for their horns, which were seen as a trophy.
By the 1970's, only seven Arabian Oryx remained in the entire UAE. The Al Wadi Reserve is committed to breeding and repopulating this impressive species, and it seems to be going very well.
In 2011, when Al Wadi Reserve began the breeding program, only nine Oryx lived on site. Now they personally care for 78, with 23 babies coming this year.
Each morning, staff members set out to feed the Arabian Oryx and gazelle populations within the Al Wadi Desert Nature Reserve. They personally check for any health issues or problems, but otherwise let the animals live in peace, as they would in the wild.
You May Also Like: Where to See the Arabian Oryx in Dubai & RAK, UAE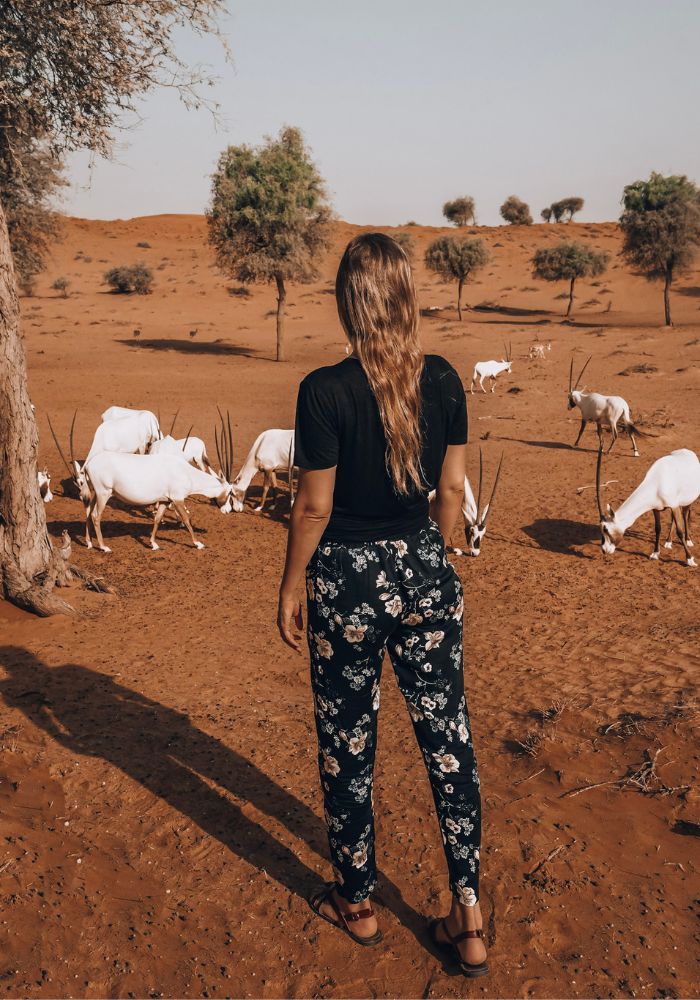 It was fascinating to learn about this animals characteristics and traits. Like, the brown spot found on their face and cheeks is unique to each animal, like an individual fingerprint. And, the Oryx don't seem to have twin babies, ever – but for gazelles it is quite common.
You May Also Like: Is It Safe to Travel to Dubai as a Solo Female?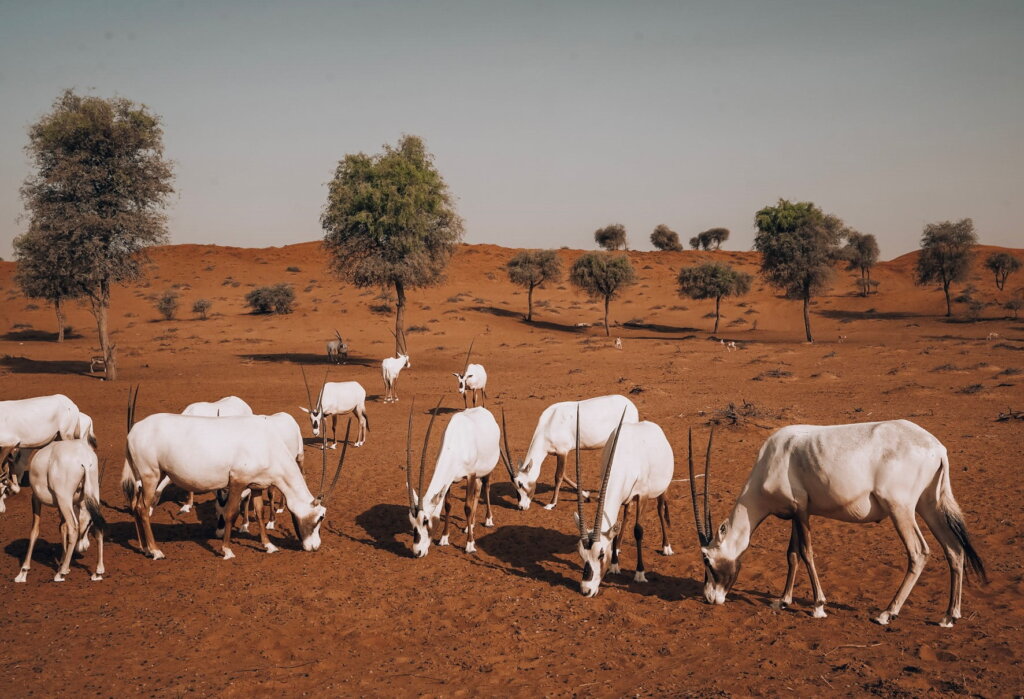 Getting to see these incredible animals from just a few feet away was one of the highlights of my time in RAK. Our expert guide Cicero taught us all about the Nature Reserve wildlife and the great work that they are doing.
You can find the Al Wadi Nature Reserve here.
Suwaidi Pearls
Ras Al Khaimah has a long and celebrated history of pearl fishing that dates back for centuries. Entire communities, like Al Jazirah Al Hamra below, were built for the pearl-diving men and their families.
Though I've visited the UAE many times over the years, I was surprised to learn how deep this tradition flows in the countries veins – particularly for Ras Al Khaimah. In fact, pearl fishing in RAK dates back to the 12th century, and this industry made the trading ports here some of the busiest in the region.
At Suwaidi Pearl Farm, visitors can learn all about how this industry has evolved over the years. Long ago, working as a pearl fisher meant heading out for several months at a time and diving for pearls each day. Without modern diving equipment, divers wore only a tortoise-shell nose plug while they searched underwater.
Today, modern pearl farming takes place on a pontoon floating on turquoise blue waters, at the base of the Jebel Jais mountains. A guide teaches visitors all about how pearls are formed in nature, as well as what techniques are used today to produce the maximum amount of pearls.
Suwaidi Pearl Farm was founded by Abdulla Al Suwaidi in honor of his grandfather – a traditional pearl diver. Visitors have a chance to explore this fascinating tradition through both a historical and a modern-day lens to understand why Ras Al Khaimah is often called 'the pearl of the Emirates'.
I highly recommend this experience for anyone who wants to see a different side of the UAE, far from the deserts that you might expect! It was downright fascinating. Visitors are also treated to endless tea and juices, as well as dates or cookies and water.
Suwaidi Pearl Farm tours can be booked here.
Al Jazirah Al Hamra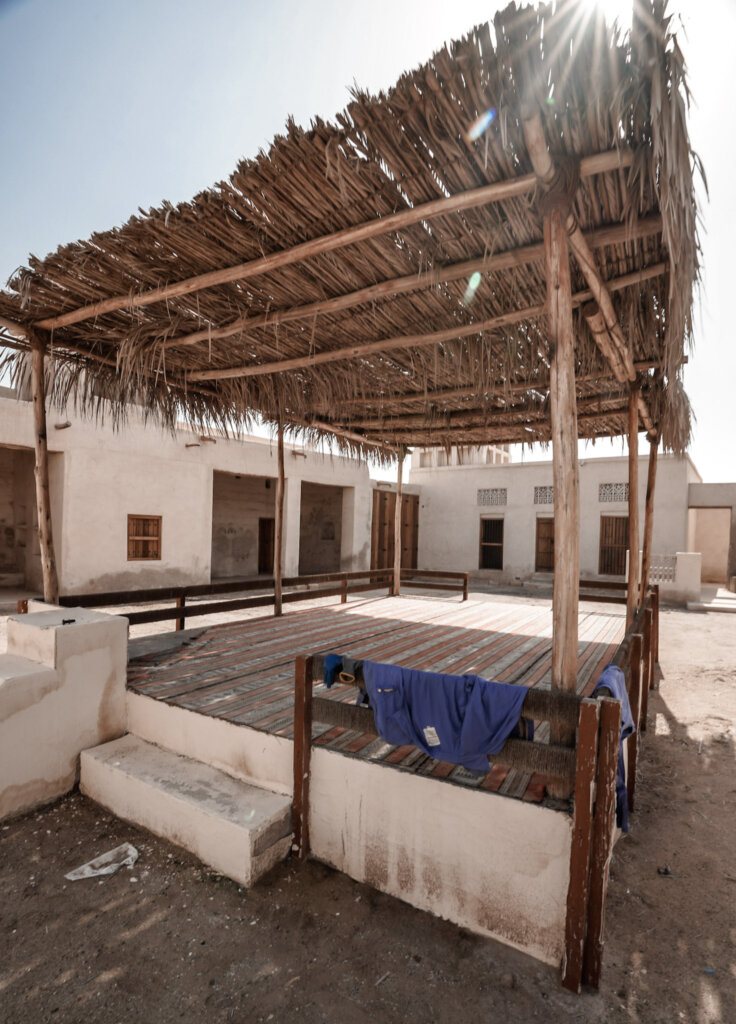 Once you have visited Suwaidi Pearls, your next stop should be to Al Jazirah Al Hamra. Here you will get a glimpse of how traditional pearl-farming communities were built and exactly how the families lived.
Visitors can explore the houses, courtyard, mosque and watchtower of this historical neighborhood. Everything you see was built from natural materials like mud, sea shells, mangrove trees, and beach rocks. The houses vary in size, depicting the difference of income that people in the pearl industry could experience.
Al Jazirah Al Hamra is the last remaining historical pearling village in the entire Gulf region. It is currently under consideration to become a UNESCO World Heritage Site.
Al Jazirah Al Hamra is located here.
National Museum of Ras Al Khaimah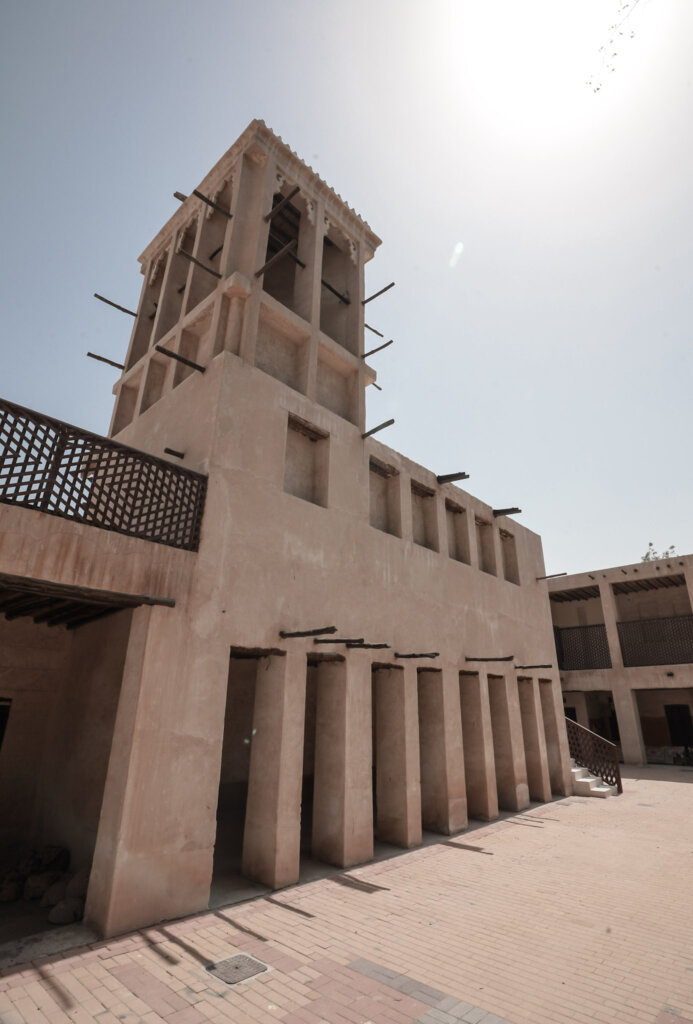 The National Museum of Ras Al Khaimah showcases an impressive collection of artifacts that teach visitors about both ancient and traditional life in RAK. If you are looking for a deeper understanding of Ras Al Khaimah, then this is one of the best places to visit!
Ras Al Khaimah is one of the longest-settled places in the world. Archaeologists have found evidence of human civilizations here that date back to the year 5000 BC.
Historically, Ras Al Khaimah held the perfect location for trade throughout India, Mesopotamia, and China throughout the years. This strategic port as well as the pearl farming trade put RAK on the map, so to speak.
This structure was originally built to act as a defensive fort. Later, it became the palace of the ruling family, and even later became the police headquarters and jail. It was as recently as 1987 that it was converted into the museum we see today.
The historical and archaeological artifacts provide a deeper insight into the lives of the rulers and traditions of the local people from this area. For example, one room showcases the traditional way of date syrup making. Another showcases the weaponry collected by the royal family.
The collection contains pieces from the earliest settlers of RAK through to the late Islamic period, and many of the artifacts were donated by locals.
The museum is open from Tuesday through Sunday from 8am to 6pm, except for Friday, which are open from 2pm to 8pm. The museum location is here.
Jais Sky Tour & Jais Flight
For anyone craving a bit of adrenaline during their trip to RAK, than the Jebel Jais' Sky Tour and Flight zipline tracks are an absolute must-do. Both of these are separate, bookable courses – and the hardest part will be choosing which one to try.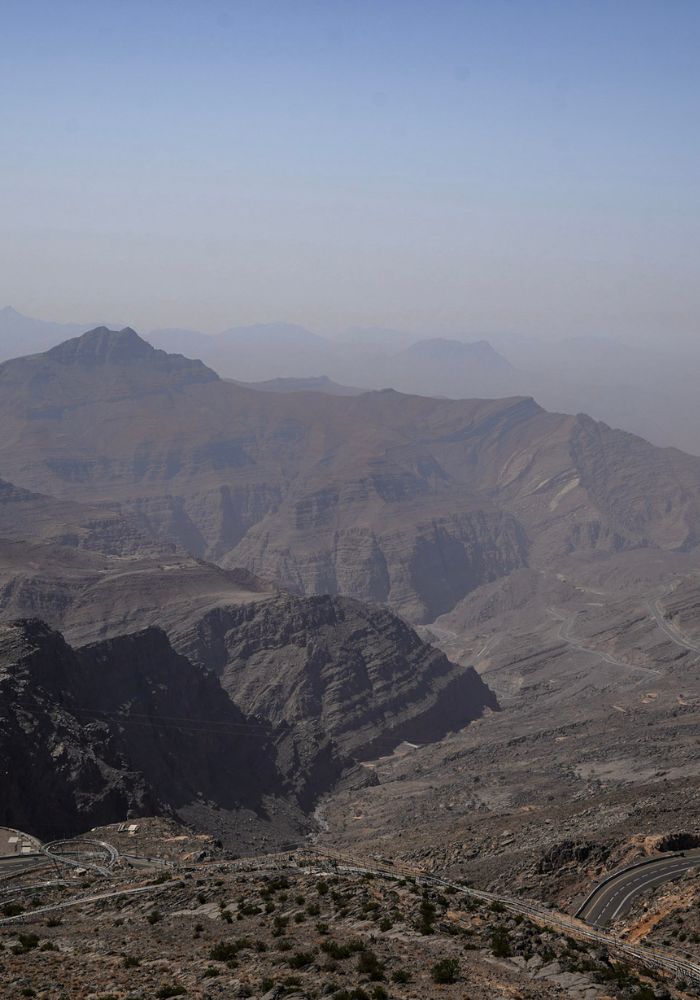 Jais Sky Tour
The Jais Sky Tour zig-zags through a winding route of six zipline tracks. They range in length from around 1100 feet (337 meters) to well over a half mile (1 km.)
Some of the tracks were scarier than others, as the height above the deep canyon below varied. But all of them were incredibly scenic! You can see everything from the rugged purple mountains to bright green wadis below.
Get ready to fly at roughly 37 mph (60 kmph) at one mile above sea level. The whole track takes roughly two hours to complete as you zip from side to side between platforms (the most exciting of which is probably the suspended platform!)
The track was amazing, but I also need to compliment the team who traveled with us from platform to platform. They were professional, knowledgeable and super-fun and funny. They really made the experience memorable!
You can book the Jais Sky Tour here.
Jais Flight
Jais Flight, on the other hand, is one single zip line, also set at roughly one mile above sea level and over the Hajar Mountains. What makes it so memorable is that it is the longest zipline in the world. In the world!
Over 1.7 miles long (2.83 km), this track will send you soaring through the sky at around 93 mph (150 kmph) over the jagged peaks.
When you arrive to the platform, the team fits you into a harness and an oversuit. This is essentially a black tarp-like material square cloth that you lay on, face down ( I jokingly called it my body-bag as I watched the group before my begin their flight.)
You are weighed to make sure you can make it across (if you don't weigh enough, they add some weights. This is pretty common and happened to me.)
The other thing the weights do is "even you out" with any other friends you may be traveling with. There are actually two ziplines side by side, so two people can fly at once and essentially race to the other side!
Need more inspiration for the UAE? Get the Dubai & Abu Dhabi Travel Guide today!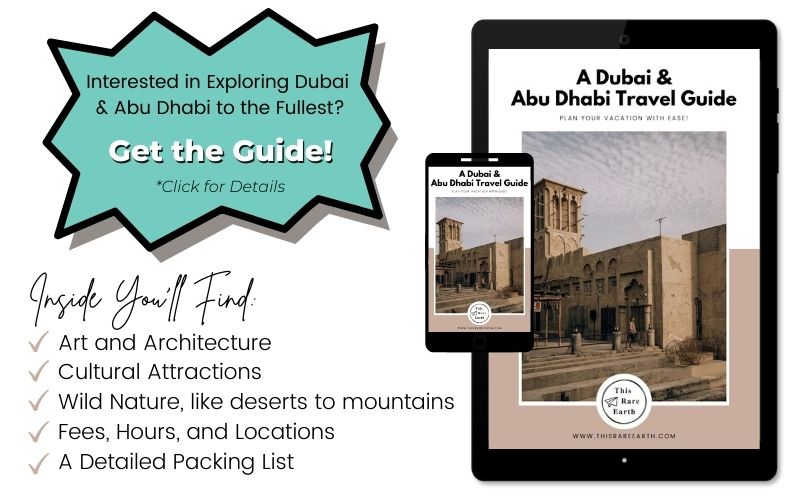 The rushing wind was intense. I kept my body in a plank-like shape and thought aerodynamic-thoughts. Turns out, it worked! I won my track and reached the other side first.
The whole idea of Jais Flight is to fly superhero-style, laying face-down, all the way to the other platform, which they estimate to take around two minutes. It was an excellent experience and I would do it again in a heartbeat!
Adrenaline-junkies, listen up. This is one of the best places to visit in Ras al Khaimah for you! Dont skip it!
Book your Jais Flight tickets here.
Jais Sledder
The Jais Sledder is the newest adventure attraction on top of Jebel Jais. Picture a go-kart-meets-bobsled tumbling down the mountain, and you have Jais Sledder!
The cart sits super low on the track, swerving through the mountain peaks. As it roars downhill, riders may see all the way tot he coastline on a clear day!
The entire track takes about eight minutes and covers over 6000 feet (1,840 metres) from top to bottom.
Full disclosure, on the day that I was set to ride the Jais Sledder, it was closed. There had been a flood that week and the track had to be cleaned. So, I unfortunately have yet to ride the Sledder and hope to do so on my next visit!
Jais Sledder tickets are sold on site. More information can be found here.
Beaches of RAK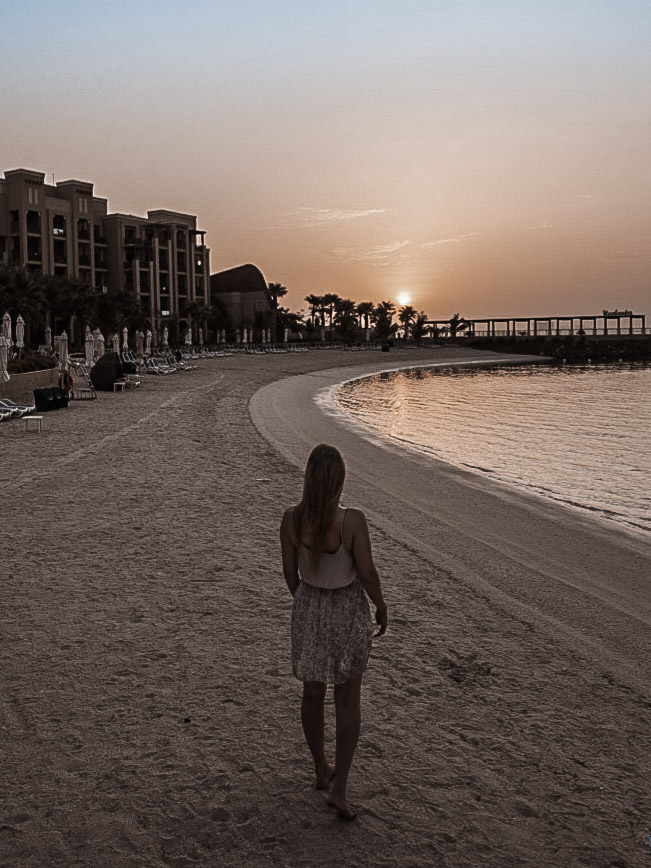 When you think of Middle Eastern destinations, the first thing you picture is probably not the beach. But, it would be a mistake to skip it!
The beaches in the UAE, and in Ras Al Khaimah in particular, are stunning. The water is shockingly turquoise and the sand is soft (albeit hot in the summertime!)
RAK has both private and public beaches, meaning that you can spend a day relaxing here no matter where you stay. A few of my favorite public beaches are: Flamingo Beach,
Flamingo Beach gets its name from the two large flamingo statues on site. You'll find restaurants, free parking, and stunningly clear water here.
Al Jeer Beach sits near the Oman border, and is picturesque due to the soft white sand and rocky pockets.
And, Titanic Beach is a popular spot for overnight camping on the beach. Those with an
The shore is surprisingly one of the best places to see in RAK and I highly recommend spending at least one day here! With over 50 beaches, there is something for everyone.
Additionally, some of RAK's most beautiful beaches are privately owned, and we will discuss one of them below.
Where to Stay in Ras Al Khaimah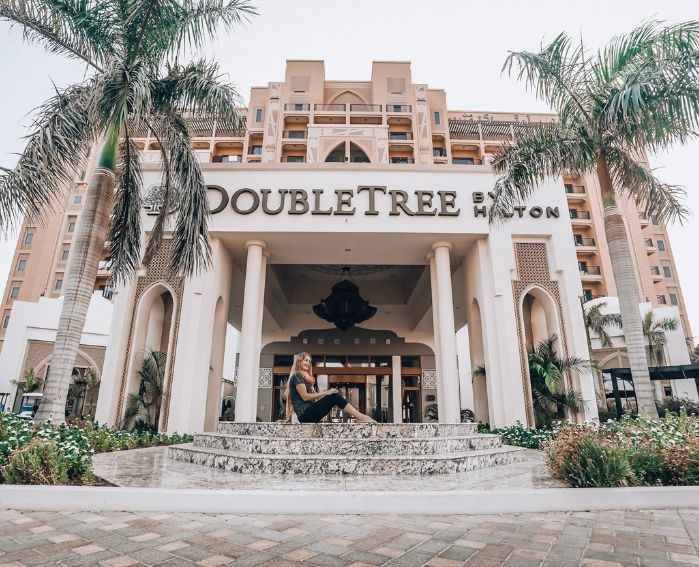 If I can suggest only one single picturesque accommodation in Ras Al Khaimah, it would be this: The DoubleTree by Hilton Resort & Spa at Marjan Island. It is the perfect place for couples, families, and friend-groups alike. Here is everything you can experience, from activities to gourmet foods to beachfront rooms.
Activities
This resort sits on a 650-meter private beach, with calm blue waters, soft sand, and loads of activities for all types of travelers. Though the resort has hundreds of rooms, the beach is large enough and has enough seating that it never felt crowded.
Adventurous guests might try out the on-site watersport rentals. From parasailing to jet-skiing to wakeboarding, they have just about anything you wish for! Add on the tennis courts and kids water park, you really can't lose.
Guests looking to relax should head to the hotel's Spa for massages, facials, or sauna. And those who want to swim or relax by the pool have seven temperature-controlled options to choose from.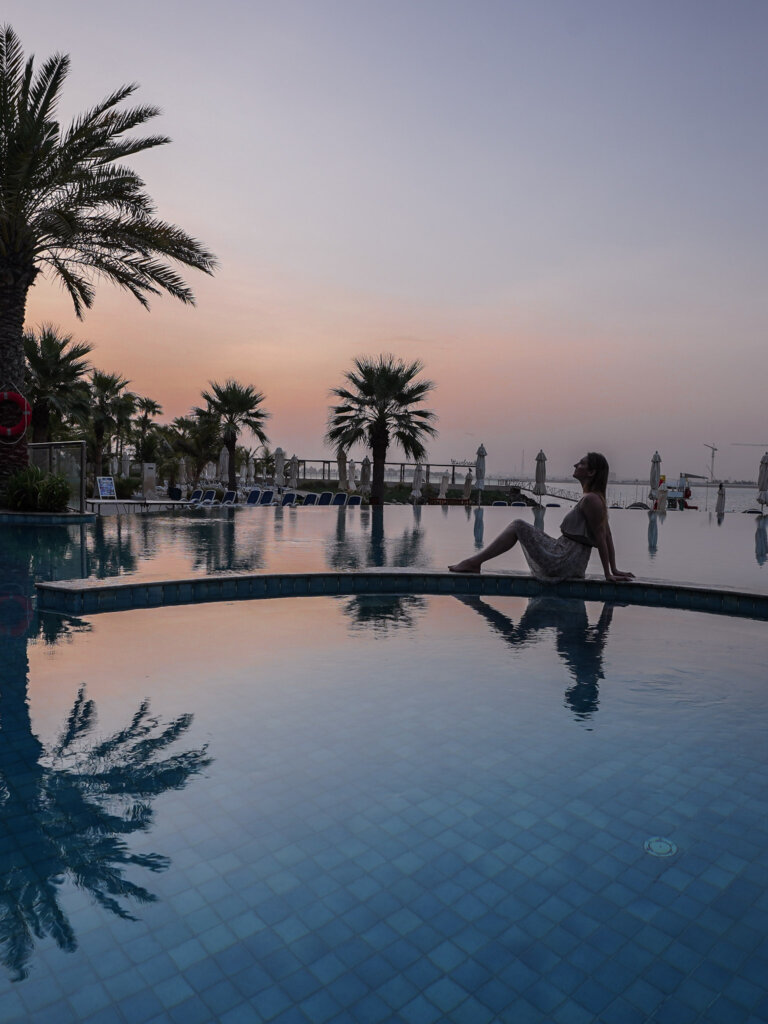 Food
One thing that impressed me was the incredible array of food options. You might expect to get tired of the same food each day if you're staying at the same hotel for a week or more. I can tell you, that won't happen here!
While there are 13 restaurants to choose from, I would like to feature my favorite three.
One notable dinner restaurant that you've got to try is Meze, which serves Turkish fare. It is some of the best I've tasted (and yes, I've been to Turkey!) Everything was tasty here, from the perfectly crisp falafel to the larger-than-life pide to the house made baklava stuffed with ice cream. I highly recommend a stop into Meze. It was hands down my favorite meal at DoubleTree.
A very close second was Sanchaya, which served the most incredible sushi tower imaginable (and yes, they even created a vegetarian one for me!) The soups were rich and flavorful, the edamame perfectly crisp, and the environment was so lively and friendly.
Lastly, the breakfast buffets at Al Marjan Restaurant were expansive. You can find traditional American breakfasts here such as make-your-own omelets and various types of eggs, toast and cereals. Or, cold Arabic salads like hummus, mixed greens, and baba ghanoush. Deliciously spicy Indian dishes were served at every meal. And, small surprises like za'atar pita and pancakes were available, too.
Rooms
Pictured here is the Oceanfront King Room, which had a super-comfortable bed, a couch, a table for snacks, meals, or working, and also an outdoor balcony overlooking the pool and beach. It was sparkling clean, spacious, and smelled pleasantly of lavender.'
In fact, it was the perfect end of day retreat after spending activity-filled days outdoors.
Lastly, I want to highlight how friendly the entire staff was at DoubleTree. Whether helping us build the perfect meal or working with after our flight was canceled, everyone was incredibly kind and helpful. I can't thank them enough!
DoubleTree has been happily serving guests since 2014 and prides themselves on being the perfect home away from home for both local and international guests. The location is phenomenal, with beautiful views and a calm ocean.
Visitors of all ages have plenty to enjoy here. Families will appreciate all of the kids' play areas, like the Bouncing Castle, Pirate Boat Aqua Zone, and outdoor playground. Couples can enjoy peace and quiet in the Adults Only pool area.
I highly recommend DoubleTree by Hilton Resort & Spa at Marjan Island as your home base while visiting Ras Al Khaimah. It will not disappoint!
***
We all know that I will be back to this beautiful country soon enough, and I can guarantee that I will spend part of that time in Ras Al Khaimah. For one, I need to get on that Jais Sledder! And, I would love to explore the attractions that are closed during the summer months, like the hiking trails, wadis, and Bear Grylls' camp.
Beyond that, I look forward to another stay at DoubleTree and can't wait to relax on the ocean again.
Have I convinced you yet that Ras Al Khaimah needs to be next on your list of places to visit?! With seemingly never-ending options on things to do and places to go, RAK is the hidden gem of the UAE.
Let me know below – what are you most excited for on your next trip to Ras Al Khaimah?!
Pin Me for Later!