The Musandam Peninsula of Oman is a stunning and rugged place, cut off from it's own country, and easy to visit from United Arab Emirates. Read on to learn how to plan a Musandam trip to Oman, as well as top things to do in Musandam, Oman – whether self-driving or on a tour through Khasab.
Pin Me for Later!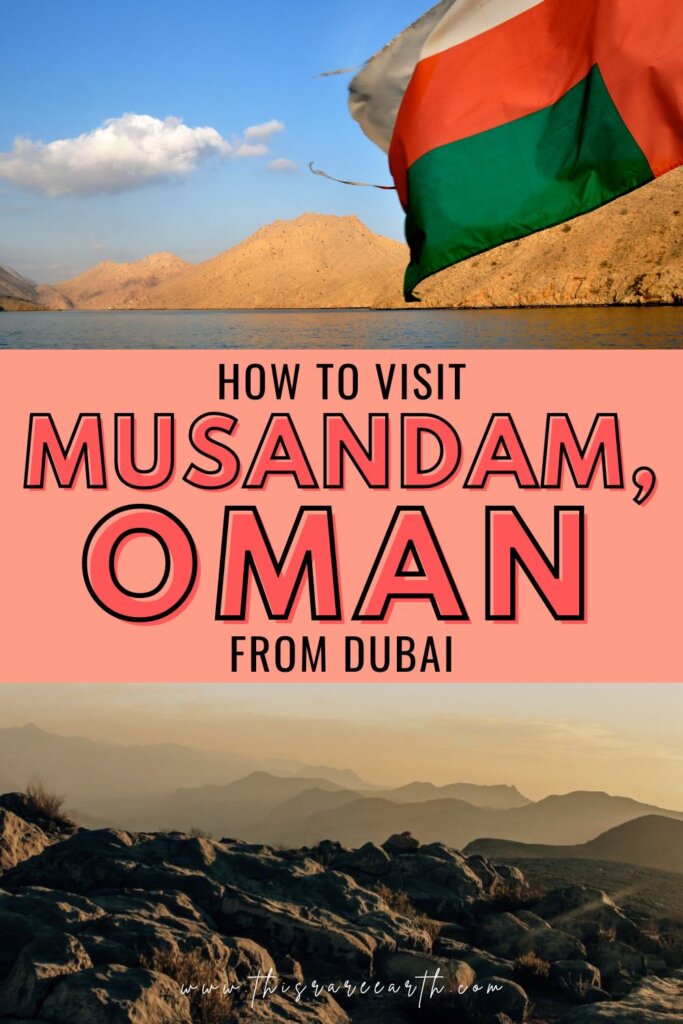 No time to read? No problem! Book your tours here!
Jebel al Harim Mountain Tour – Take a 4WD tour of Jebel al Harim in the Hajar Mountains. See fish and trilobite fossils etched into the rock walls and catch an amazing sunset. Get a glimpse of villagers trekking down the mountains. Book your tour here!
Full Day Dhow Cruise – This full-day excursion guides visitors through the clear blue waters of Musandam. See dolphins and snorkel with fish, or just enjoy the stunning scenery! Lunch provided. Book your tour here!
Khasab City Tour – This tour guides you through the city's highlights, like the Fort of Khasab, dating back to the 16th century, which now showcases traditional Omani handicrafts. Also, the Khasab Castle showcases traditional Omani life, including thatch huts that you are free to explore. Book your tour here!
My first taste of Oman was part of a larger trip around the Middle East, where I traveled extensively as a solo female. I was traveling overland to Oman from Dubai – a place much more familiar with tourists and expats in general.
Admittedly I wasn't sure exactly what to expect once I crossed the border. Oman is much less traversed than UAE in general, so I assumed that a solo female in Oman could potentially cause some issues.
But I went for it anyway and – spoiler alert – the Musandam Peninsula is one of the most rugged and beautiful parts of all of Oman.
If you are spending time in the UAE and are looking for day trips from Dubai, or, are just looking to dip your toes into what Oman has to offer, then a Musandam trip is for you. Read on to learn how to plan a trip to Musandam, Oman and what things to do once you get there.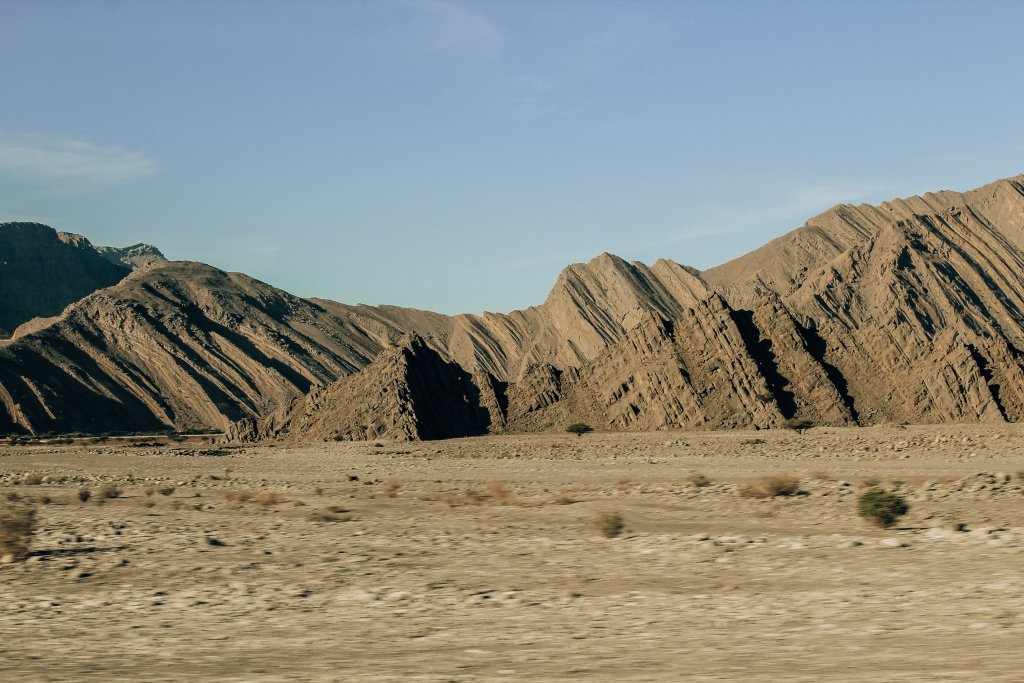 How To Plan a Musandam Trip in Oman from Dubai
Where is Musandam, Oman?
The Musandam Peninsula is split from the rest of Oman by the United Arab Emirates. The Musandam Peninsula borders with the emirate of Ras Al Khaimah, which also offers plenty of adventurous activities in the mountains.
In 1971, when the United Arab Emirates was formed, Oman retained ownership of the small patch of land on the northern Gulf Coast. To give up this peninsula would be to lose the strategic advantage of the northern coast and port, across the sea from Iran.
So, while it is still part of Oman, the Musandam Peninsula sits separate from the rest of the country.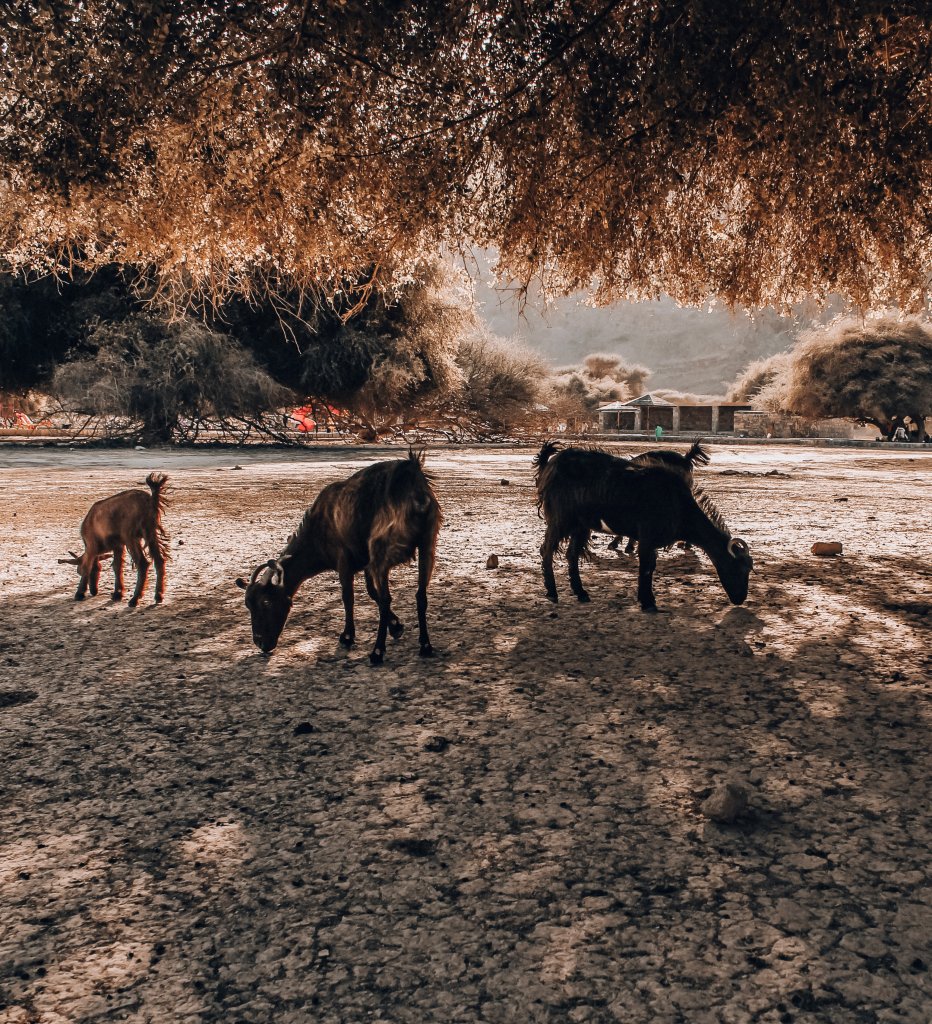 How To Get To Musandam, Oman from Dubai, UAE?
It is absolutely possible to rent a car and drive from Dubai to the Musandam Peninsula.
Depending on where you are in Dubai, it will take around 3 hours to drive, passing through Sharjah and Ras Al Khaimah, to the Al Qir border post. This is the only border crossing to enter Musandam for tourists. 
If you rent a car, you do need to plan ahead and work with your rental company to make everything legal BEFORE you drive there. On the border you will need:
Proof of Omani insurance purchased through the rental company. The car rental company needs to know in advance and include on your contract that this is allowed. It will be checked at the border.
NOC letter (No Objection Certificate) from the rental company.
Bring your passport. It must have 6 months validity remaining upon entry.
Many nationalities can receive a visa on arrival. If you are not eligible for this, you must obtain one in advance.
You will pay a UAE Exit fee of 35 AED and an Oman entrance fee of 50 AED. Total charges 85 AED per person (approximately $23 USD, for reference).
The border is one of the most simple I have ever passed through, though on holidays I've heard the lines can get long.
If you are not quite feeling brave enough to plan for self-driving on your Musandam trip, don't worry. You could a) hire a driver to take you through the crossing or b) pre-plan your entire Musandam trip as part of a tour group. Whichever way you decide to go, I do urge you to take this trip to Musandam, Oman.
Need more UAE planning inspo? Check out my Dubai & Abu Dhabi Travel Guide!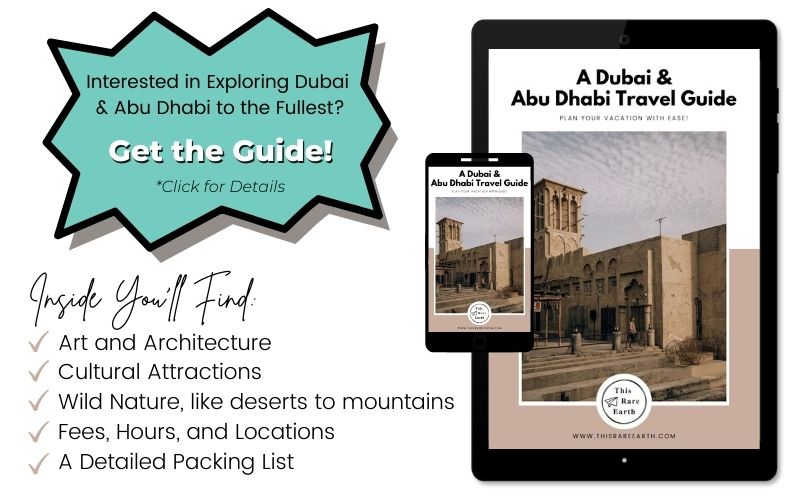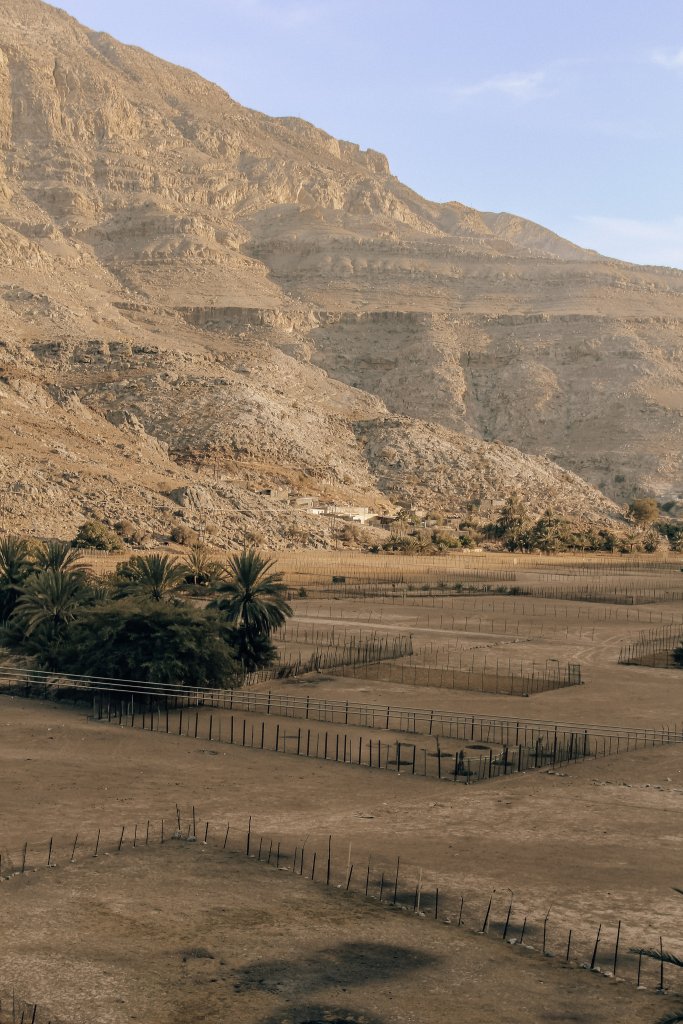 Things to Do in Musandam, Oman
Firstly, I urge you to spend three nights on the Musandam Peninsula, at minimum. Each of the three suggestions below could easily fill an entire day each. I left after four days, feeling like there was still more I could explore.
Read on for my suggestions on what to do in Musandam, Oman!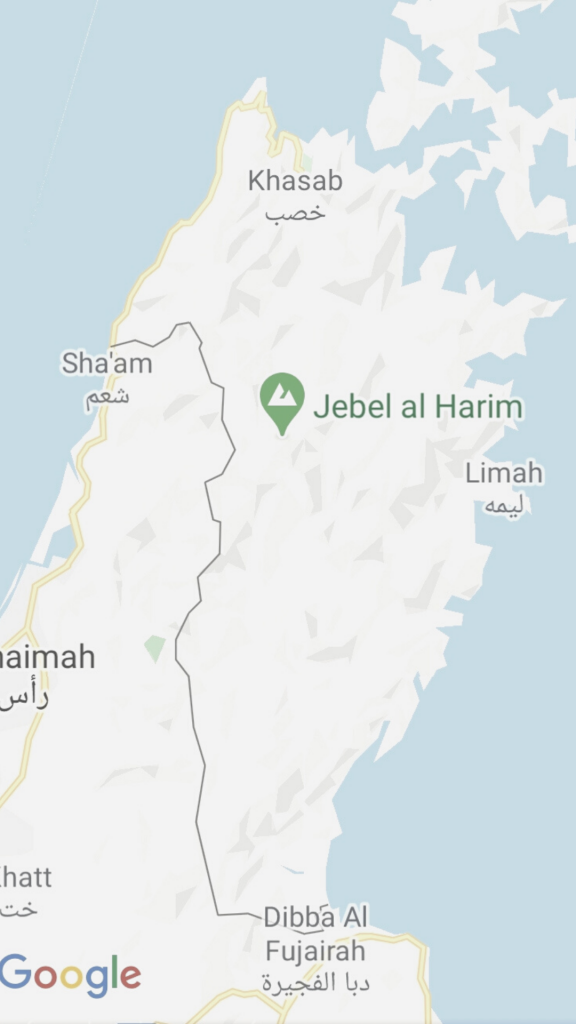 1. Visit Jebel al Harim in the Hajar Mountains.
This is by far the most memorable place I visited in the entire Musandam Peninsula.
"Jebel al Harim" in English translates to Mountain of Women. Long ago, local women would trek up to the safety of the mountains when the village men were off on extended fishing and pearling trips. The highest peak of the peninsula sits at 2087m tall.
You May Also Like: Visiting Suwaidi Pearl Farm in Ras Al Khaimah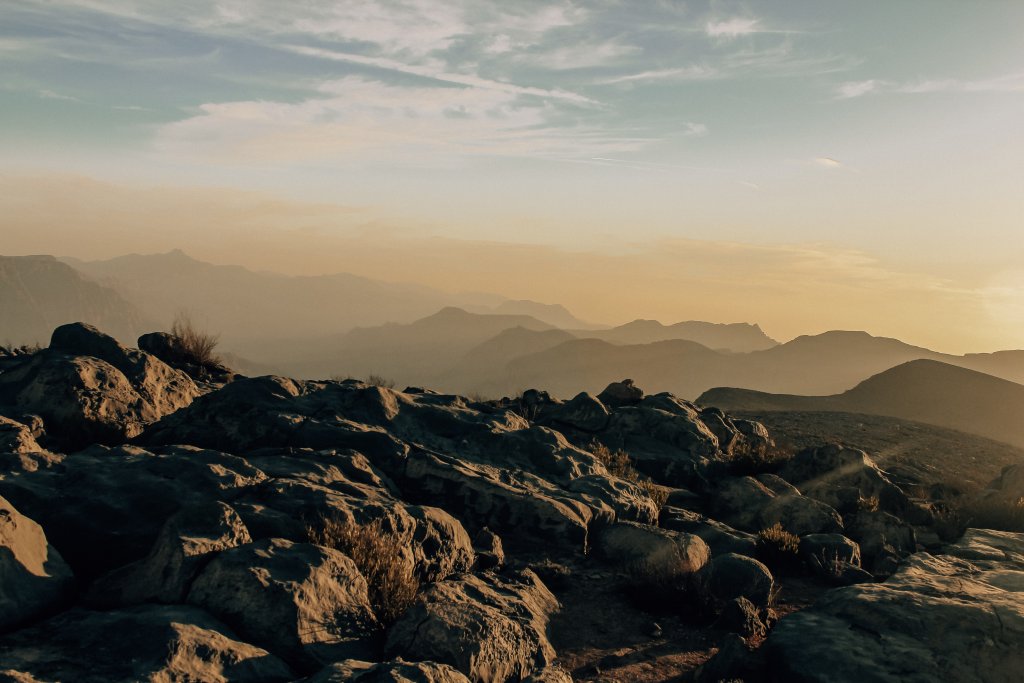 You can still catch a glimpse of a few village tribes living in the mountains – I saw them trekking up or down three different times while I was here. It's fascinating to see modern people still living in this ancient way in the harsh mountains.
After a while of zig-zagging up curving roads, you will reach the summit.
What really struck me – and actually what drew me to this corner of Oman to begin with – is that you can find perfectly preserved fish and marine fossils from the bottom of the ocean, now standing atop the highest peak of these Omani mountains!
The fossils are plentiful. You will see fish, trilobites, clams, and other documentation of long-gone creatures all over the rocks of Jebel al Harim, and it is fascinating.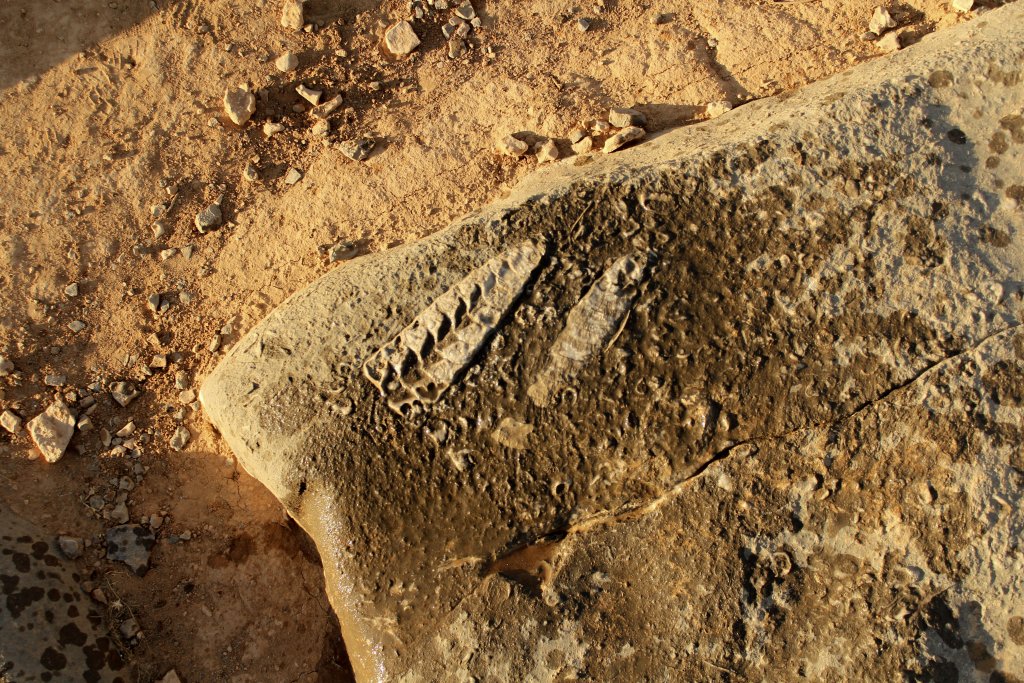 There is even a vertical cliff wall showcasing crystal clear silhouettes of starfish, shells, and crabs. This used to be the ocean floor and now here it is, high in the mountains of Oman!
Do not skip Jebel al Harim in the Hajar Mountains. You do need a 4WD vehicle so it is wise to book a tour for this trip. An added benefit for having a guide in these mountains is that they know exactly where to find the most stunning views and fossils.
2. Take a Dhow Cruise in Khasab.
Traditional dhow cruises are available in either half-day or full-day excursions through the fjords of Musandam. That's right, I called them "fjords". This area off the coast of Oman is often referred to as the "Norway" of the Middle East, and it's easy to see why once you are standing in awe of the stunning scenery!
Tall rocky cliffs, glistening water, and the open sea. Perfection.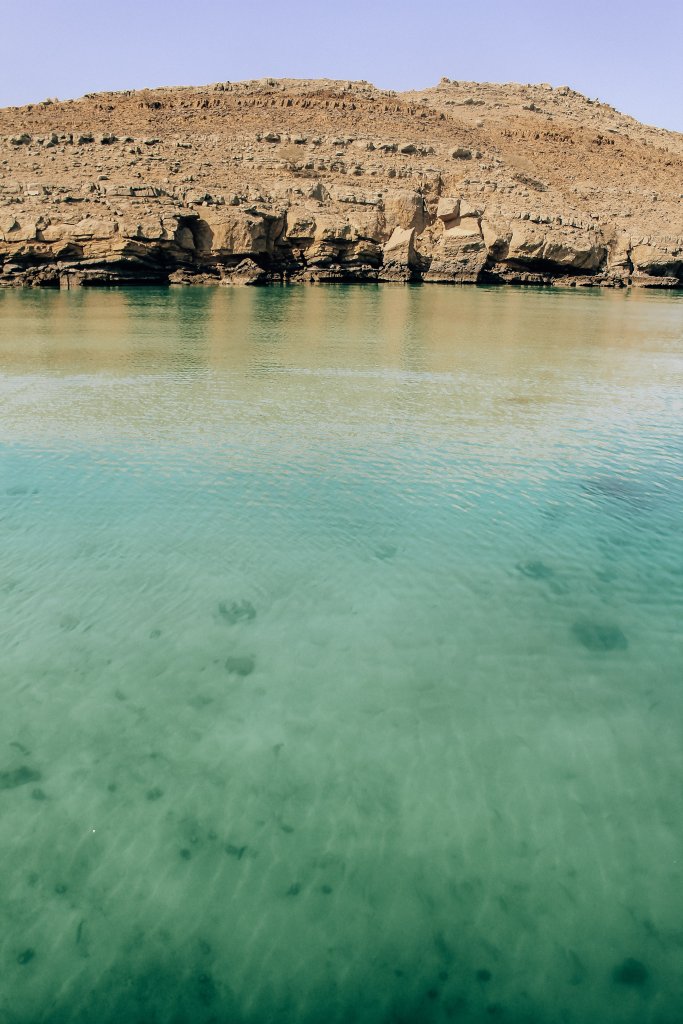 On the dhow cruises, you will glide through the water, most likely seeing dolphins swim next to the boat as you go. The dolphins chased my boat for a long while!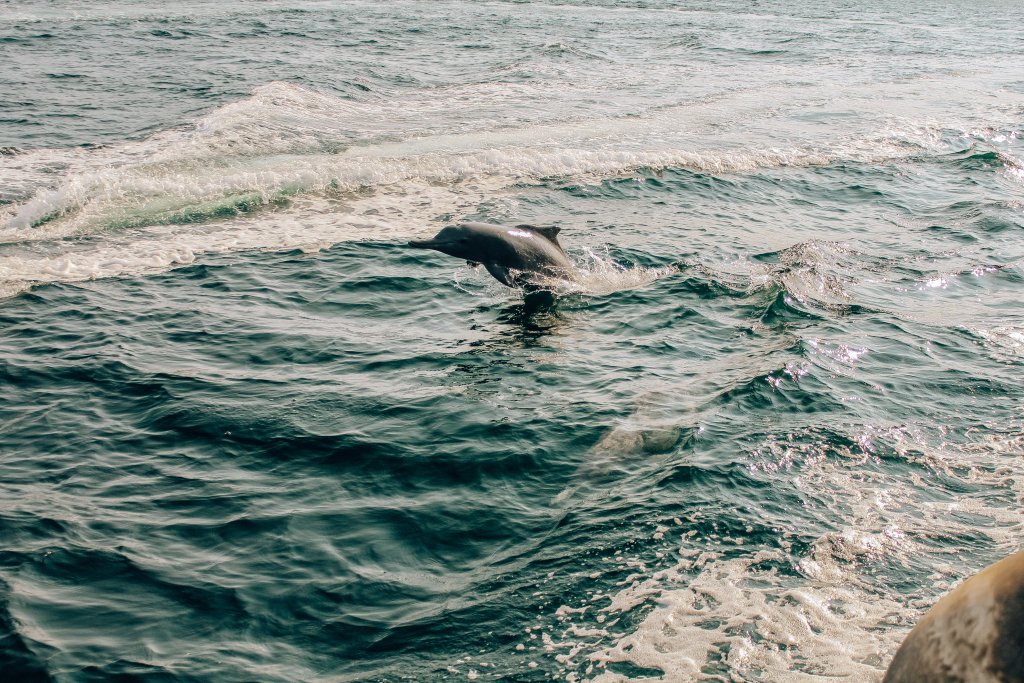 Many of the dhow tours offer snorkeling and swimming near Telegraph Island, in crystal blue water, so don't forget your swimsuit.
I recommend a full day tour over the half day tour, because there is just so much to see. The full day tours typically include lunch on the boat and half-day tours do not.
Also, most tours include round-trip transfer from your hotel (or even to the airport I hear), so be sure to let the tour operator know beforehand where your pickup and dropoff will be located.
The ride was absolutely gorgeous and you may be shocked at just how clear the water in the Persian Gulf can be. Definitely worth the trip.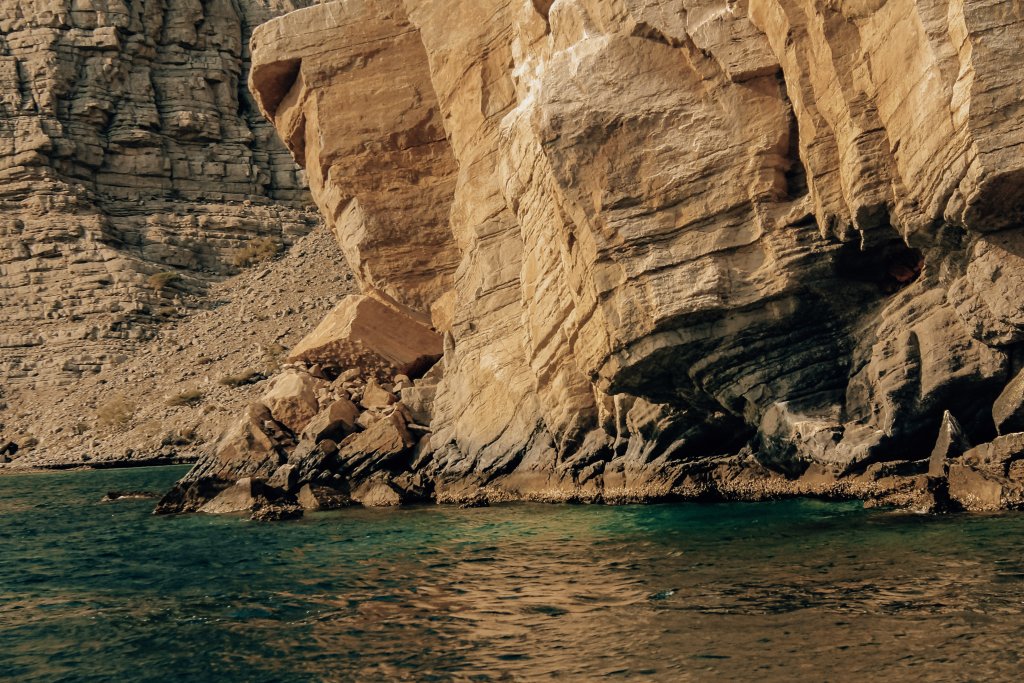 3. Explore Khasab City.
Khasab is the capital city of Musandam. Here you can learn a bit more about typical local life. If you have a car, this is easy to do solo, as Khasab is not extremely large. If not, there are plenty of tour groups to show you around.
Khasab is well-known for it's fishing activities. Overlooking the Persian Gulf, Khasab has a population of about 18,000 people.
The most interesting stops in the city are the Fort of Khasab, dating back to the 16th century, which now showcases traditional Omani handicrafts. Also, the Khasab Castle showcases traditional Omani life, including thatch huts that you are free to explore.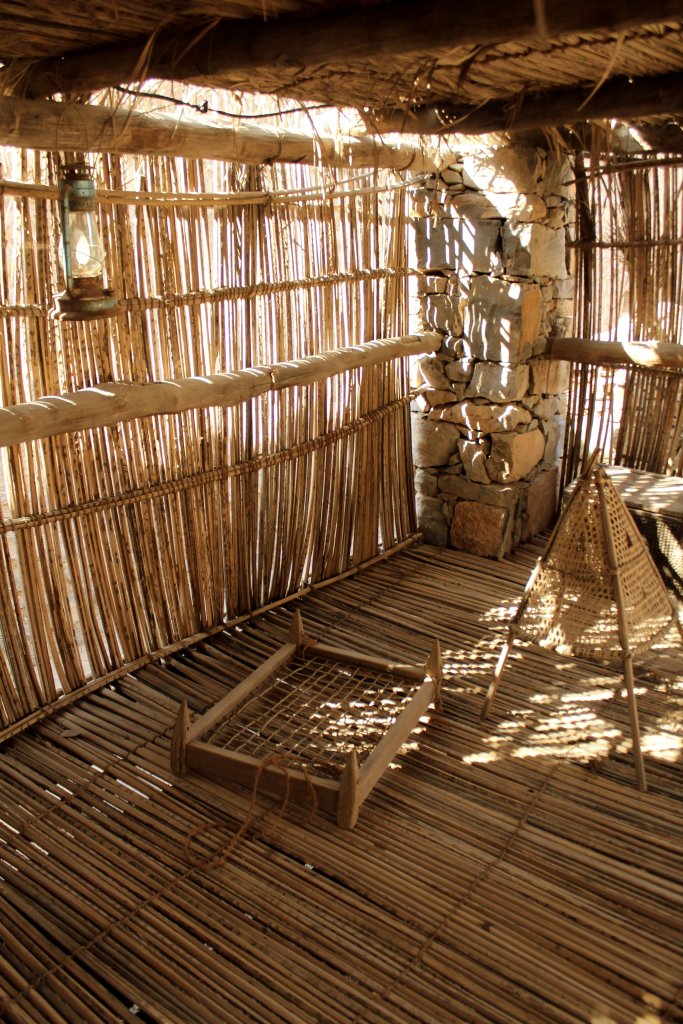 Walking through the old and new souks in Khasab is enjoyable, whether you purchase souvenirs or not. If you do plan to buy, be sure to haggle and get the best price possible.
Don't worry too much if it feels uncomfortable or is not part of your own culture; decide for yourself what price you are willing to pay for any given item, and be prepared to walk away if the shop owner won't budge.
There is also plentiful tasty and traditional food in Khasab, so plan to stay for lunch or dinner (or both!). I had a very tasty baba ghanouj with pomegranate seeds on top, among other vegetarian staples. Delicious.
Whether you are living in Dubai or just visiting, a Musandam, Oman excursion trip is an excellent choice to escape the hustle and bustle of daily life. The drive is short and straightforward, and border officials (as well as car rental agencies) have dealt with tourists enough to have a smooth system worked out.
Though the Musandam Peninsula of Oman is a popular weekend trip from Dubai, the mountains and sea are so large that you can fee like you have the entire place to yourself. Actually, I don't think I saw another vehicle the entire day I was in the Hajar Mountains. Talk about off-the-beaten-path!
***
My entire trip was relaxing, awe-inspiring, and simply begging me to return again. Whether you travel solo on your Musandam trip or travel through Oman with a tour guide, this is a spectacular place to spend several peaceful days. As I write this, I'm already dying to go back to Oman – and I can promise that I absolutely will!
Pin Me for Later!
Let me know if you have additional questions below! And have a great trip!