Visiting the Dubai Miracle Garden is like stepping into another world. The dry deserts of Dubai transform into a lush oasis full of pink and yellow flowers at every turn! Interested in visiting this Miracle Garden in Dubai? Read on for the complete guide!
Pin Me for Later!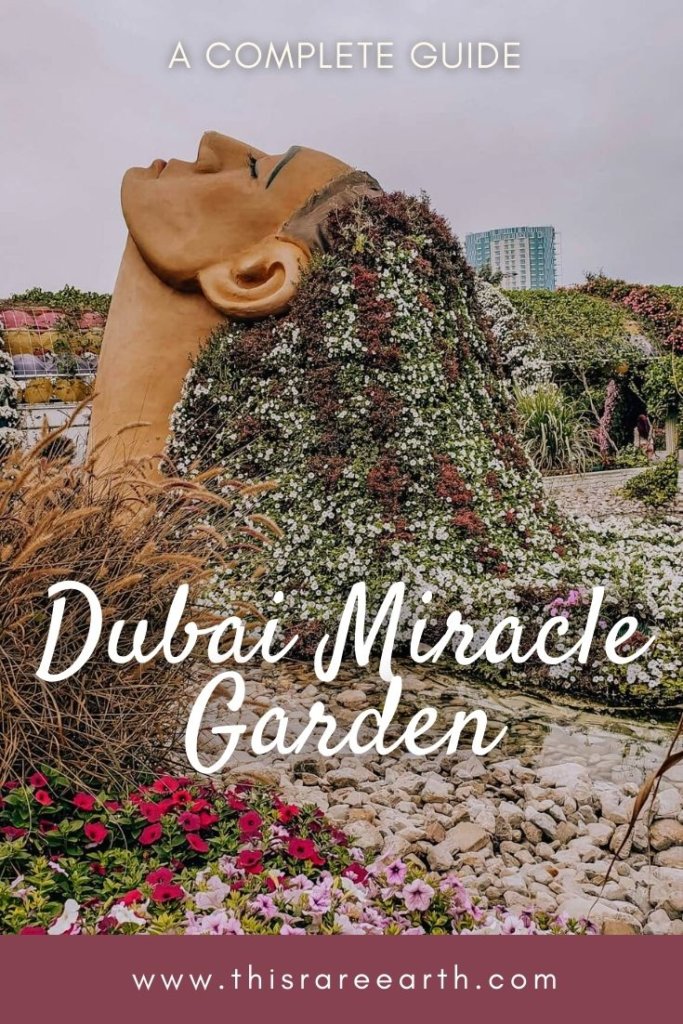 A Complete Guide to Visiting the Dubai Miracle Garden
Dubai Miracle Garden is not your ordinary botanical garden. It is literally an oasis in the desert of UAE, as well as the world's largest natural flower garden.
With more than 50 million colorful flowers and 250 million plants, this is easily the most lush and green area in all of Dubai. And, in typical Dubai fashion, these flowers are not just planted in the ground! Check out some of the incredible flower-adorned sculptures in the photos below.
Opened as recently as 2013 – and on Valentine's Day, no less – Dubai Miracle Garden is one of many reasons to visit Dubai as soon as you can. Below is all of the information needed to make your visit to this special garden a pleasant one.
Visiting the Dubai Miracle Garden: The Basics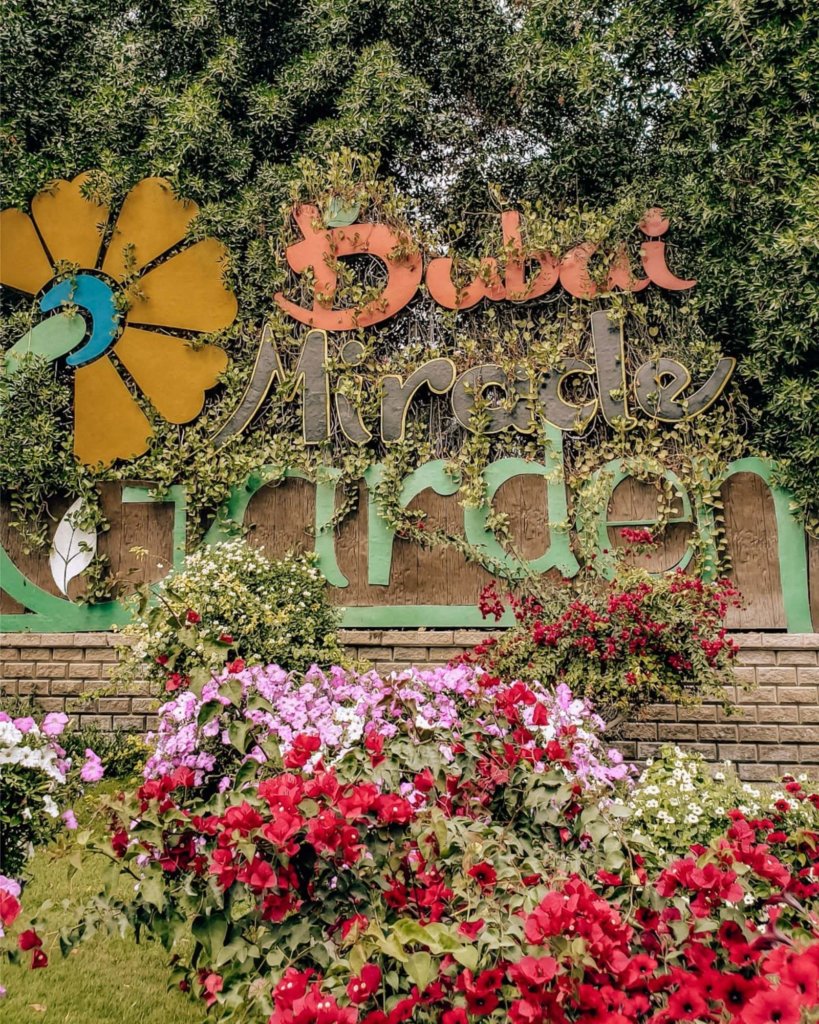 Dubai Miracle Garden Operating Hours
This is a seasonal attraction, operating only during winter months. Generally this means November through May, but it can vary from season to season.
The Garden's daily operating hours are:
Sunday through Thursday – 9:00 AM to 9:00 PM
Friday – 9:00 AM to 11:00 PM
Saturday – 9:00 AM to 10:00 PM
(Be aware that weekends in Dubai are Friday and Saturday, and the work week runs from Sunday to Thursday.)
When Is The Best Time To Visit?
The winter months are much more pleasant in Dubai, and as mentioned above, this attraction is fully closed during the summer due to the heat. Even in winter and spring, the earlier in the morning you visit, the more comfortable you will be in terms of temperature.
You May Also Like: Abu Dhabi vs. Dubai: Which is Better?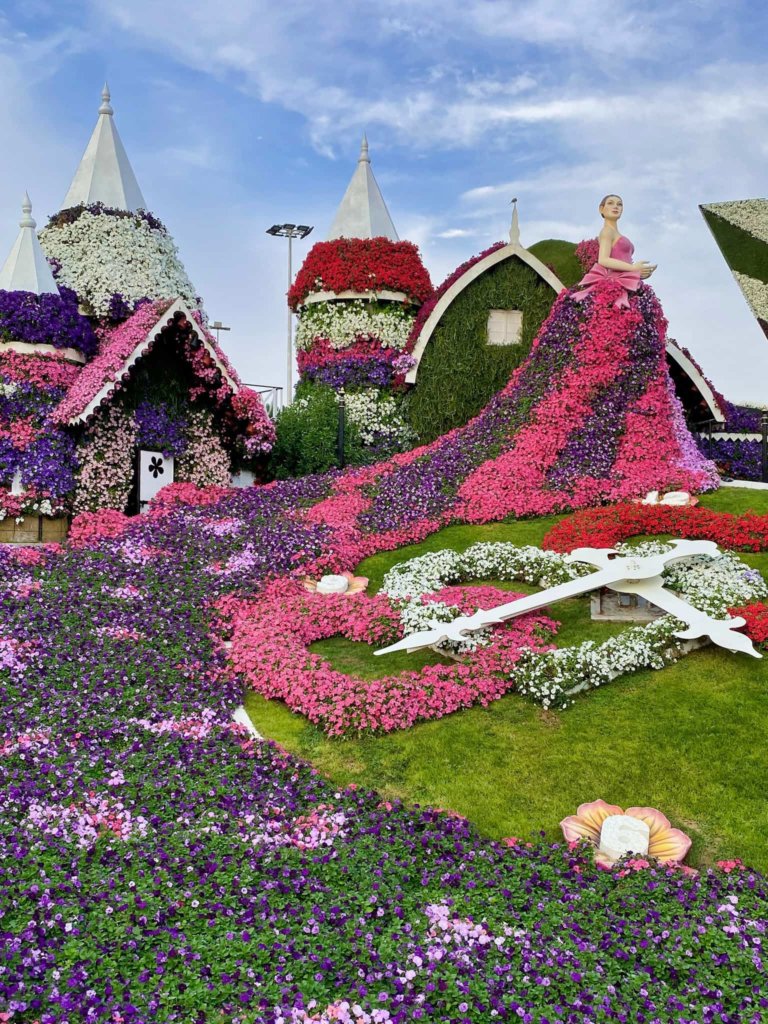 Dubai Miracle Garden Ticket Price
The entrance fees are:
Adults: 55AED (around $14-15 USD)
Children (3 to 12 years): 40AED (around $11 USD)
Infant (under 3): FREE (still Free in USD! Ha!)
Other Useful Information
It is completely possible to walk the garden entirely by foot. I did this multiple times. However, golf carts are available for assistance if anyone in your party prefers or needs them.
Food and beverages are available throughout the entire park. You can find small snacks to full meals here. Plentiful tables and seating areas are available.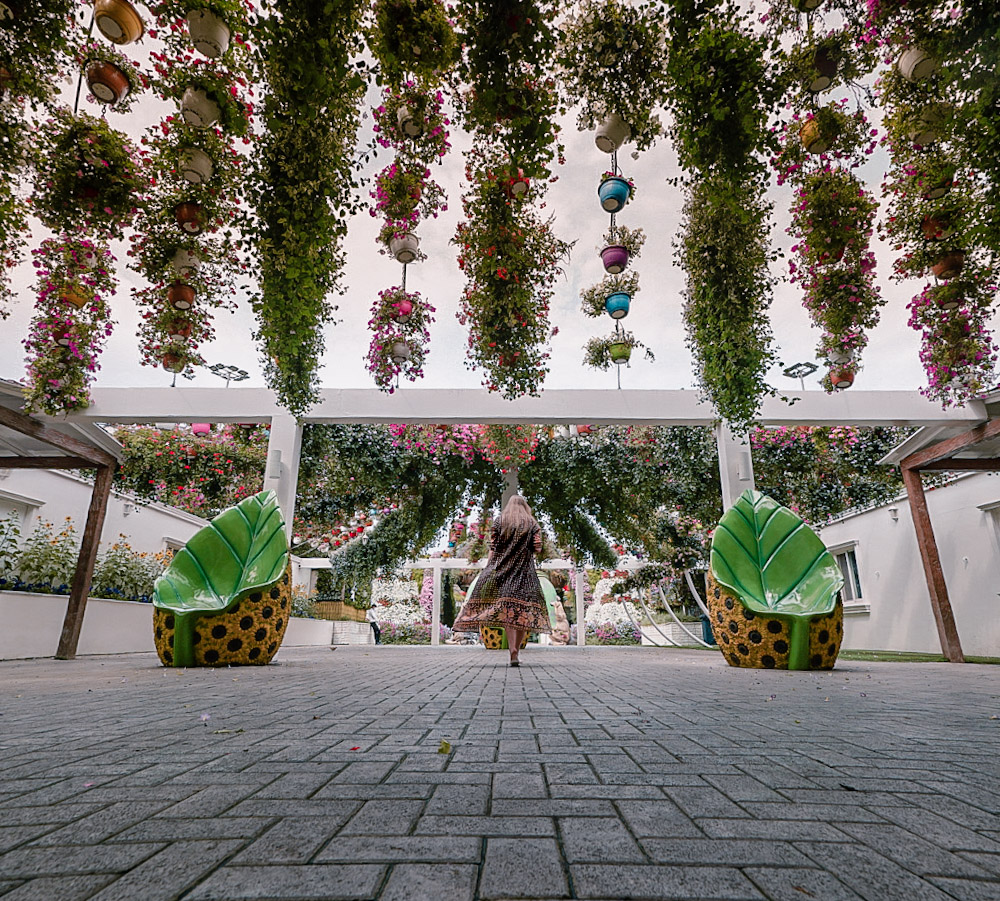 The Dubai Miracle Garden: A Sight to See
The most striking part of this display is simply that these flowers can live in the middle of the desert. Sure, they are cared for with incredible precision, but it's quite a feat nonetheless. You are literally visiting an oasis in the desert here!
Though the attractions do change at least somewhat each year, one thing you can be sure of is that impressive sculptures await.
On my most recent visit, I saw these sculptures and more:
A flower-covered animatronic ballet dancer
A woman leaning backwards with flowery hair
Giant green cat sculptures
An Emirates airplane adorned in over 500,000 pink and purple blooms
The Love Tunnel – a heart shaped pathway in Dubai Miracle Garden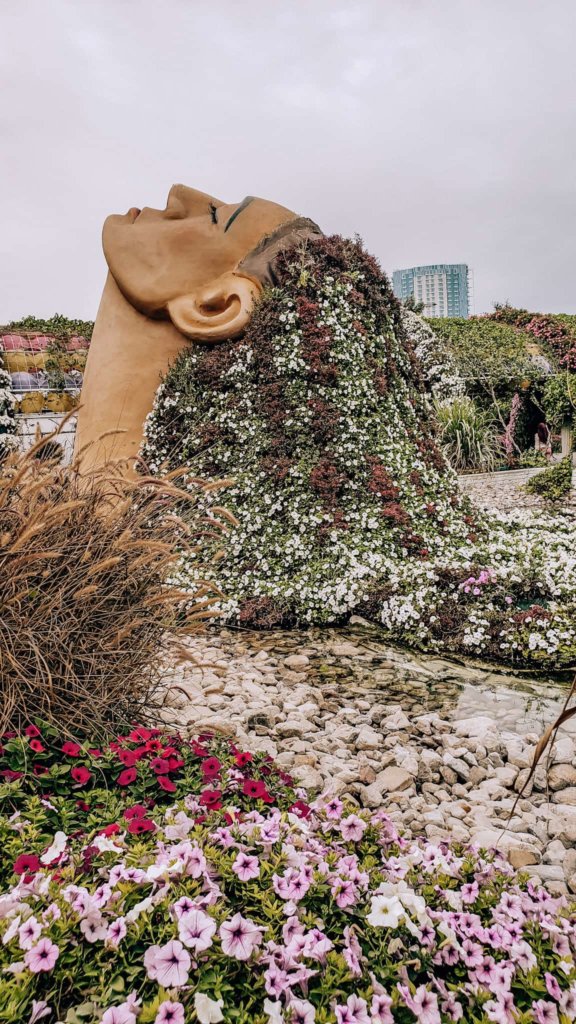 How to Get To Dubai Miracle Garden?
There are several ways to reach Dubai Miracle Garden.
Taxis. Though somewhat expensive, taxis can be the easiest way to reach the gardens if you are on a time crunch. Price will vary due to starting point.
Uber. Uber does operate in Dubai, however it is not quite as cheap as I would wish. That is because Uber needed to partner with Taxi companies in Dubai, meaning that there is a base fare to ride here. Price will vary due to starting point.
Public Transportation. The 105 RTA Bus services the Miracle Garden from the Mall of the Emirates. The ride is around 15 to 20 minutes long and costs only 5AED per person.  Click here for RTA timetables.
Tour Including Transportation. If you would like to learn a bit about the gardens, or possible visit several attractions in a day, tours might be a good option for you. Several tour options are listed below.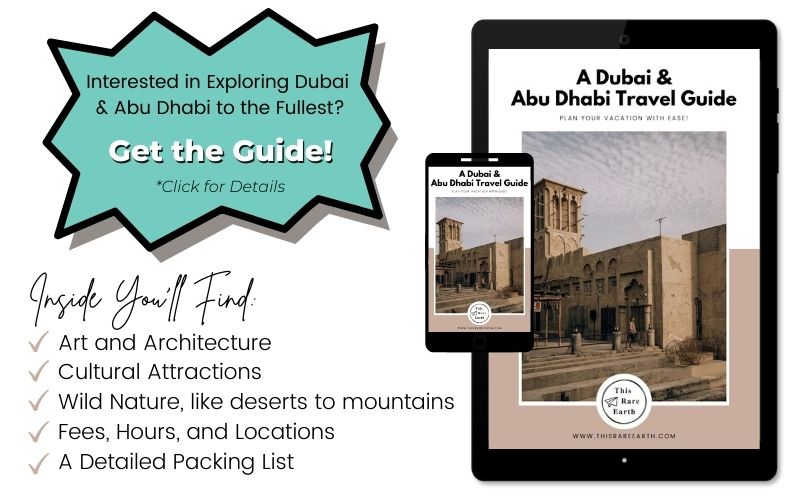 Where to Buy Tickets for Dubai Miracle Garden?
Buying tickets on site is quick and easy. Entry is very organized, like most things in Dubai.
If you join a tour, the tour guide will purchase tickets for all attendees. Check all terms and conditions for each specific tour.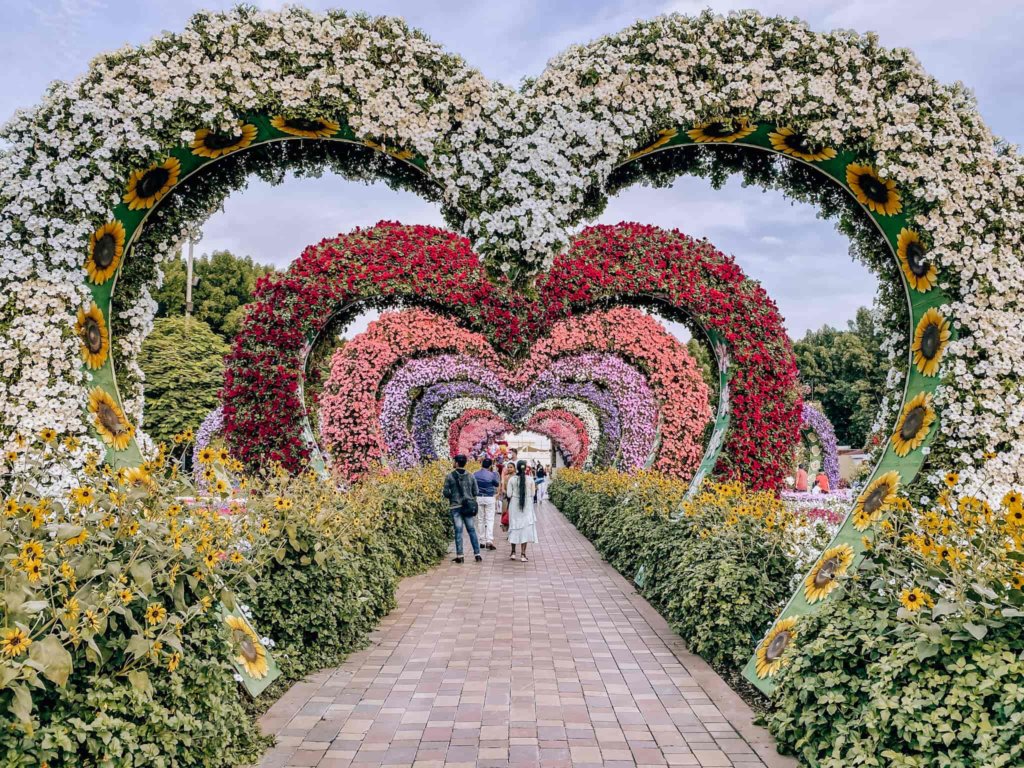 Where To Go Next?
There are of course never-ending options in Dubai, but I do have some personal favorites.
Try a safari into the Arabian Desert for an unforgettable day. Or, explore the city looking for large impressive sculptures like the Dubai Frame. If you're feeling extra adventurous, you can even cross the border into Musandam, Oman for incredible mountain and sea views.
The Dubai Miracle Garden is an easy half day trip that everyone will enjoy. I hope this guide helps you plan your visit, and I hope you enjoy this splash of green as much as I did.
Pin Me for Later!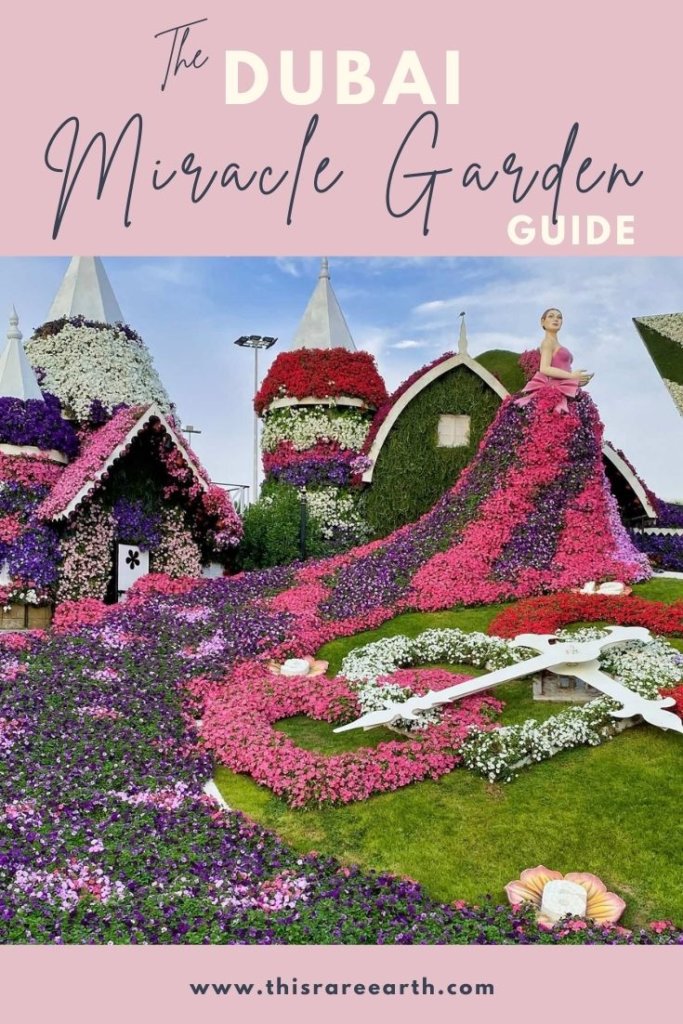 Have you been? Let me know below!