United Arab Emirates: Is It Safe to Travel to Dubai as a Solo Female?
Maybe the Middle East holds as much fascination for you as it does for me. Maybe it also scares you a bit to think about visiting. You wouldn't be the first to tell me this ‐ one of the most common questions I hear, after all of my Middle Eastern travels, is about the safety of each country- especially as a solo female.
I can understand. The entire area has gotten a bit of a bad reputation in the western media. If you're feeling a bit hesitant, Dubai is a great place to dip your toes in. With a huge expat population, not to mention that English is widely spoken, it is a very navigable place even for a first time visitor. At the same time, just outside of the bustling city is a more traditional way of life, so you can still absolutely get a feel for the "real" middle east.
Here are some of my main tips, after having spent many months in United Arab Emirates over the last five years, on how to stay safe while you travel to Dubai as a Solo Female.
When you fly into United Arab Emirates, you will most likely land in either Dubai or Abu Dhabi. Both offer something uniquely different for visitors, which you can read about here, and both are certainly worth a visit. A common misconception is that Dubai is the name of the country; that is not so. The country is United Arab Emirates, and Dubai is one of the seven Emirates (like states or provinces), as well as the main city's name in that Emirate.
Dubai is extremely well-known for it's luxury shopping, giant skyscrapers, man-made beaches and even it's nightlife. Did you know that you can ski at the indoor ski park or sleep inside of an aquarium hotel room, complete with fish swimming overhead?! It is nothing short of flashy.
The undercurrent of the city, however, is deeply religious amidst all this excess. Islamic morals guide the government, the laws of the country, and many of the locals' day to day lives. Dubai's glitz and glam is a relatively recent development in the last couple of decades, after the discovery of oil provided a warp-speed facelift. Outside of the city, you can still catch glimpses of traditional way of life. Frankly I find it quite beautiful.
So when asking if it is safe to travel to Dubai as a Solo Female, my answer is a loud YES. However, you must first familiarize yourself with the culture and expectations beforehand. I can't deny that the role of women will be somewhat different than you are used to if you're from the USA. But if you learn a few key points and come prepared, you can avoid unwanted attention as well as avoid offending the locals. And that will set you up for a safe and happy trip.
Is it Safe to Travel to Dubai? Here are 7 Tips to Know Before You Go.
Dress Appropriately.
This is the number one thing you can do to avoid unwanted stares, comments, or advances from men. I have an entire post about what to pack as a female for Dubai, and I highly suggest reading it in detail. By dressing in a conservative and culturally sensitive way, you will gain instant respect from Emirati citizens. Do not assume that because Dubai is an expat-heavy country, anything goes. It does not.
Realize That You Are an Anomoly.
Dubai locals as well as those outside of the city center will probably still find it curious that a woman is travelling alone. This is especially true if you plan to travel the whole country and not just expat-heavy Dubai. I experienced this myself, and was met with the question "Where is your husband?" several times.
While 99% of people are simply being kind and curious, if anything feels off about someone's glances or questions, simply say "he is at the hotel", or "at work". In my opinion there is nothing wrong with a white lie when safety is at stake. Again, typically this question is brought on purely by curiosity, but stay alert and trust your gut.
Be Prepared to "Fight" for What You Want.
I don't mean literally. What I mean is, as a solo female, you may be treated quite a bit differently in some aspects than if you were with a man.
A great example is when you need to hire a driver. I was planning to go deep into the Arabian Desert, toward the Saudi border, so I was limited in options. There is no public transportation going to the area, and renting a car means you need to be an expert at driving on the sand dunes for miles. The Arabian Desert is gorgeous, but is not something you want to mess with as a novice. People do die there when they get lost or have a wreck and don't have enough water. I had to be smart.
What I found on my search for a driver is, the majority of companies would not accept me as a client because I was a solo female. The drivers for that type of work are all male, and one male being alone with one female is both improper and considered a risk for all parties involved. The males worry about any type of complaint or accusation; the females worry about unwanted advances.
So what did I do? I persisted. I was so determined to get to this particular area that I devoted a lot of time (seriously, a lot) to calling around until finally I found one company that would take me. On the day that the driver arrived, I trusted my gut and felt all to be well. And, it led to one of the most beautiful travel experiences I have ever had.
Not all of your Dubai tourism will be like this. If you plan to tour the city you can easily join a group tour. But if you plan to go off the beaten path, be prepared to be persistent to get what you want.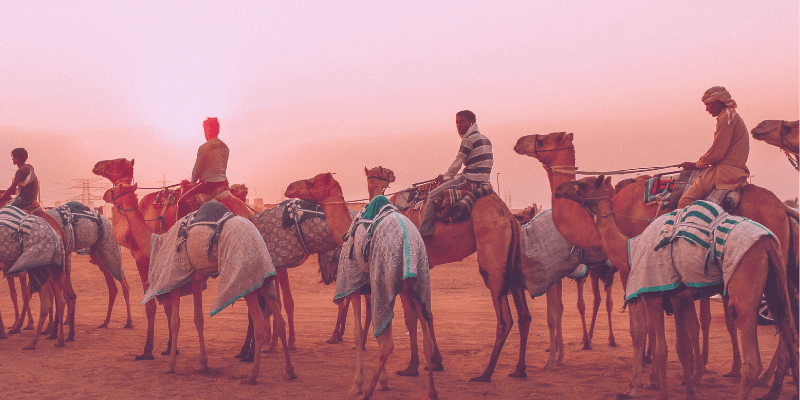 Absolutely no PDA.
Public displays of affection are taboo in most middle eastern countries, and in Dubai it is no exception. If you happen to be at a resort or on resort grounds, there may be some wiggle room. But do not push it. And absolutely do not engage in any PDA while out in public. Even holding hands is a pretty uncommon sight.
If you are coming from the western world, maybe you don't understand or don't agree. Follow this protocol anyway. You are a visitor in the country, and PDA is not just socially unacceptable– it is the law.
No Drinking in Public.
Drinking goes hand in hand with the aforementioned PDA– best to do this safely behind closed doors (in your hotel room). There are bars and nightlife in the city, but if you choose to indulge there, it is advisable to keep your wits about you (i.e., stay sober enough) to not draw any attention even on your way home.
Choose Your Hotel Wisely.
This tip is actually two-fold.
First, should you not be solo travelling but instead are with a friend or significant other of the opposite sex, there are fairly strict laws about sharing a room as an unmarried couple. This is particularly true in any apartment-style hotels. You will almost always be asked to show a marriage certificate, and if you can't, will be turned away. I will add that things seem to be more lenient at touristic centers and hotels frequented by foreigners.
Not sure how to tell? First, anything labelled "aparthotel" means apartment-style hotel. Typically, don't waste your time trying. If it is a western brand hotel or a large chain hotel in a tourist area, you are probably okay, but I would certainly suggest calling or emailing to ask in advance. Another option which will usually help to avoid this confusion is to use Airbnb. There are some wonderful Airbnb rentals all over United Arab Emirates. Click here to save up to $55 USD on your first reservation!
My second hotel tip is to not go too cheap, even if you are on a budget. Hostels are not really a thing in Dubai, as sharing of rooms with the opposite gender is a big NO. So, if you are travelling solo, you may be tempted to choose some really budget options to keep your costs down. I did this a couple of times, and one time in particular it was a disaster. The locks wouldn't lock, the hotel manager wouldn't help, and the maintenance man said it could be fixed "tomorrow". It's a long story, which I can share if anyone is interested, but the bottom line is, spend the extra $10 USD for the better hotel down the road. Your safety and sanity is worth it.
If You Do Find Yourself in Harm's Way, Be Loud.
If you follow all of these suggestions but still come across that one bad egg, fear not- I have a tip on how to handle him.
The conservative laws are in your favor if you ever have a man follow you, touch you, make obscene comments to you, etc. Remember, everyone else is under the same restrictions that you are. If any of these things do happen, be loud. Speak up. Either by yelling loudly in public at the perpetrator to leave you alone, or by going up to any group of people, particularly other women, and tell them that so-and-so is following you or harassing you. Strangers will absolutely come to your aid in this situation as it is considered highly inappropriate behavior on the man's part.
Furthermore, if you are ever lost and confused while travelling, do not hesitant to ask another woman for help. Most of the time they will be happy to assist. Dubai even has pink colored taxis that are only for women and families, so if you see one, hop in!
Pin Me for Later!
And there you have it; several tips to keep you safe as you travel to Dubai. As you can see, about half of these center on modesty in dress and action. If you can remember that basic premise, you'll be well on your way.
It is absolutely safe to travel to Dubai as a solo female once you arm yourself with information. Be knowledgeable, be respectful, and go explore. And always trust your gut.
Click here to read my in-depth Dubai Packing List for Women!
Have you been to Dubai? Do you have comments or questions? Leave them below!