Interested in visiting the largest picture frame in the world? Then you've come to the right place! Here you will learn all about the Golden Frame in Dubai and how to visit. Let's get to it!
Pin Me for Later!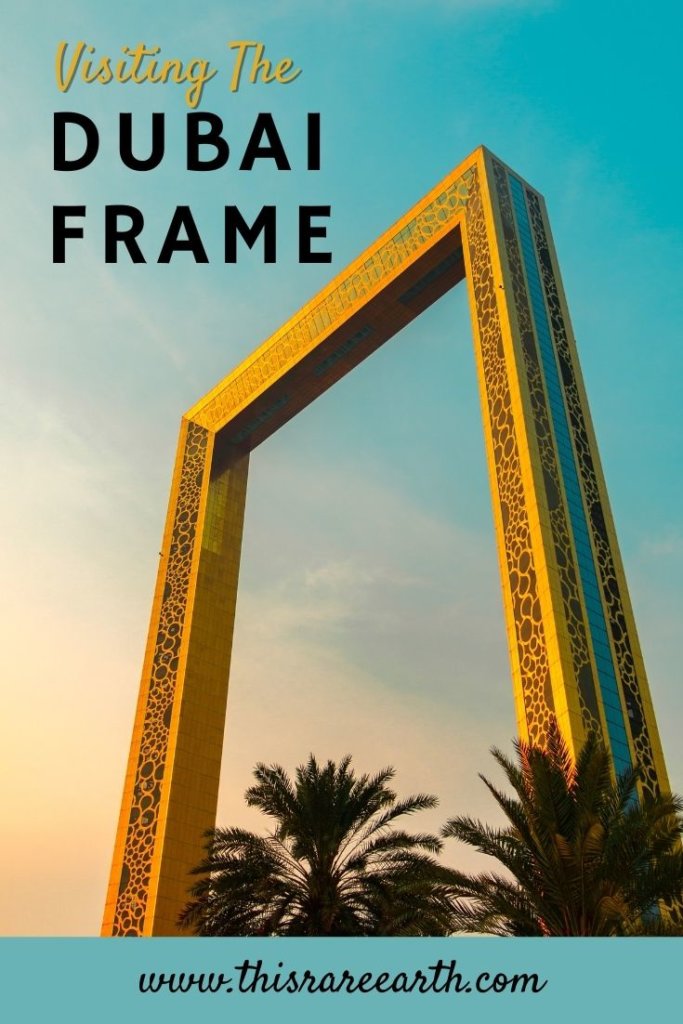 The Golden Frame in Dubai
Debuting in 2018, the Dubai Frame is already a well-known symbol of the city. This gargantuan golden sculpture-slash-building-slash-tourist-attraction towers over everything surrounding it, and it is seriously hard to miss.
It envelops the city from afar, making the iconic skyline feel almost miniature from far away. So why was Dubai's golden frame built and how can you see it?
Framing the City
This new and impressive landmark in the United Arab Emirates called the Dubai Frame is a towering, golden landmark that stands 150 meters tall and 93 meters wide.
It was built with a concept in mind; depending on which side you stand, the structure 'frames' impressive panoramic views of both Old Dubai and New Dubai. It is meant to symbolize a connection of both past and present in this rapidly changed city.
Even if you are a nature-lover like me, it's impossible not to appreciate Dubai, architecturally at least. The city's passion for spectacular skyscrapers is just one of the many impressive reasons to visit Dubai.
The Dubai Frame's design has garnered a lot of respect from architects and artists, as it was inspired by the 'golden ratio' of 1.618. This number is often believed to form the ideal structural balance.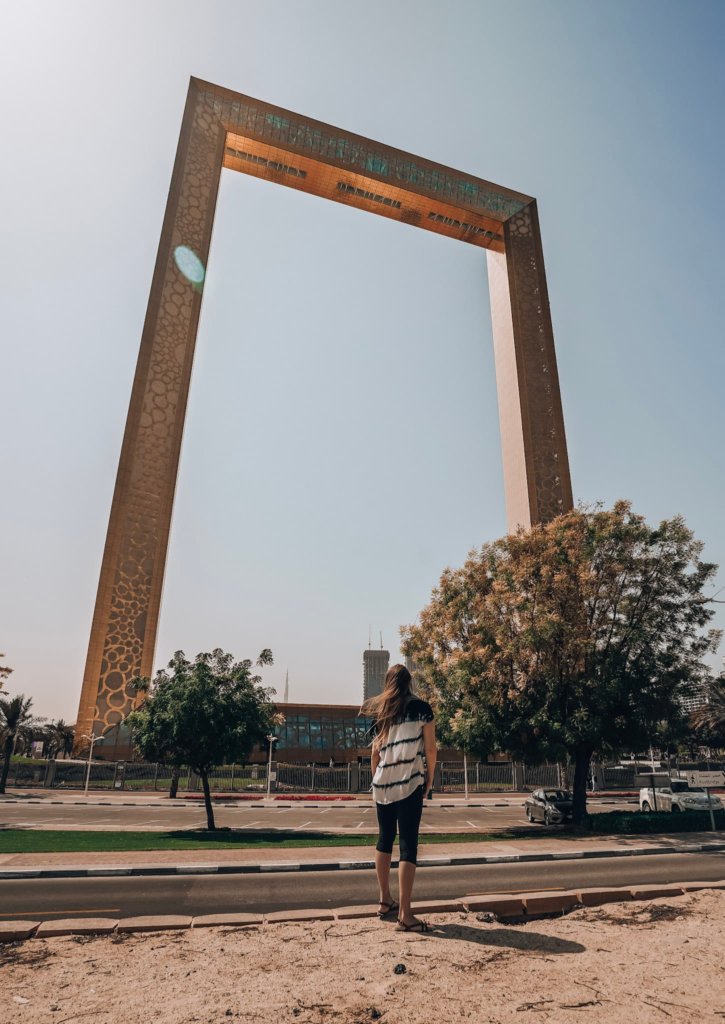 For those who want to be a bit daring, it is possible to see views of the city from atop Dubai's golden Frame. The elevator to the Sky Deck travels 48 floors in 75 seconds to show spectacular views to riders.
Pro Tip: Visit late in the day for a gorgeous sunset over the Dubai skyline.
Dubai Frame Hours of Operation
The Dubai Frame is open year round, 7 days a week.
Hours of Operation are from 09:00 am till 09:00 pm.
(Hours may vary during the holy month of Ramadan, holidays and public holidays.)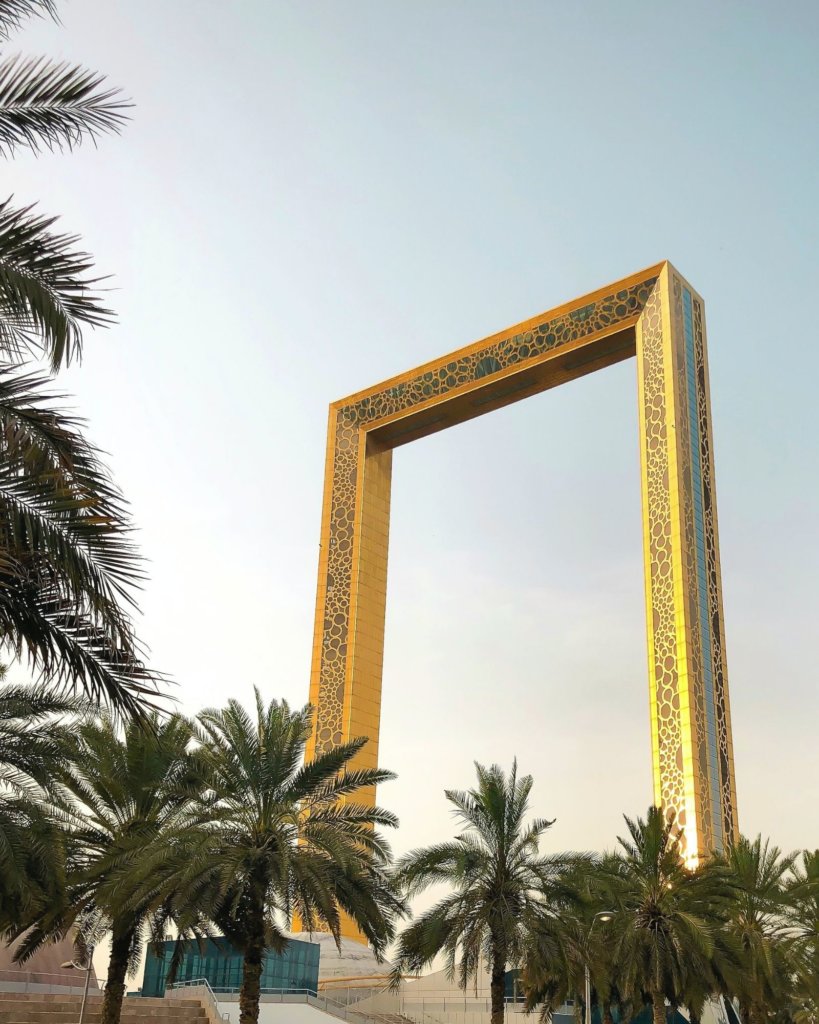 Dubai Frame Ticket Price
Adults: AED 50 (around $13 USD)
Children (3-12 years): AED 20 (around $5 USD)
Infant (under 3 years): Free 
Tickets can be purchased in advance here, or, you can visit the golden Dubai Frame on one of many city tours.
Where Is the Dubai Frame Located?
If you are planning to visit the Dubai Frame by car, drive toward Gate 4 at Zabeel Park. Alternately, you can reach Zabeel Park using the Metro through Al Jafiliya Metro Station.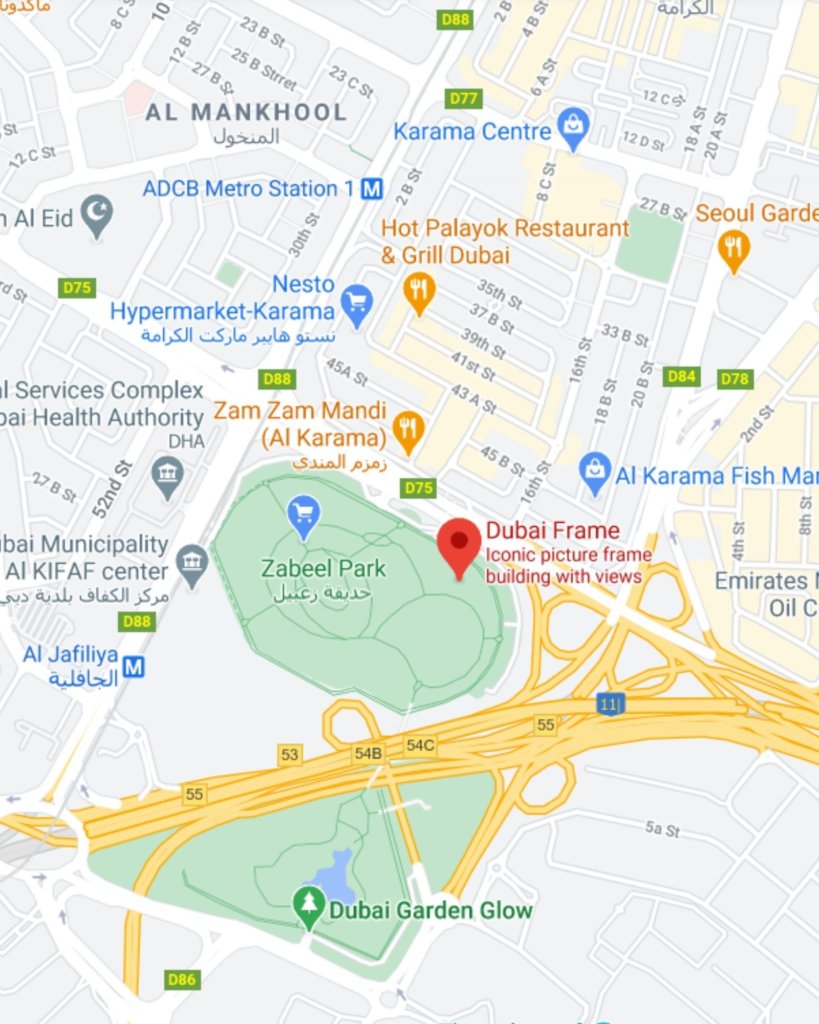 Dubai Frame Rules and Regulations
No pets allowed.
No smoking allowed.
No food or beverages allowed.
Don't lean or climb over the railing.
Toys and sharp tools are not allowed.
Respectful clothing must be worn.
Items displayed on exhibitions must not be touched and/or removed.
Don't sit or place children on the railing.
Children under age of 12 must be accompanied by an adult at all times during the visit.
Large bags and strollers must be kept at the counter.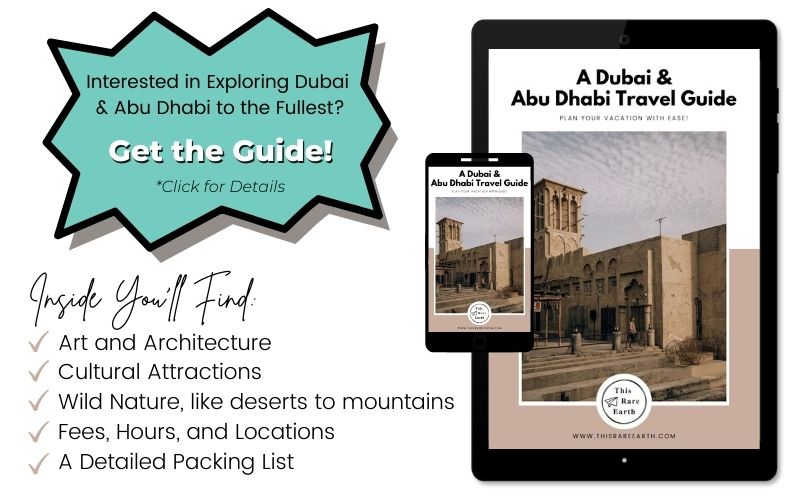 Is The Dubai Frame Worth a Visit?
I think the Dubai Frame is definitely worth a visit. Minimally, you can visit from outside the park. You can avoid the entrance fee and still see this huge structure.
But, if you want to see the spectacular city panorama, then it's worth it go to the top and check out the birds' eye view at least once.
What To Do Next?
This will come as no surprise to those who know me – hands down, you should absolutely spend a day (or three) in Liwa Desert. This place continuously wins my heart even seven years after I first met the Arabian Desert. No visit to the UAE is complete without it.
Alternately, you can check out the Dubai Miracle Garden for an impressive flowery oasis in the desert.
Have you seen the Dubai Frame? What did you think?