It is still possible to see the Arabian Oryx in Dubai and Ras Al Khaimah, United Arab Emirates. Though hunted to near extinction just 50 years ago, conservation efforts are slowly but surely increasing their numbers. Here is where you can see the Arabian Oryx in Dubai and Ras Al Khaimah, UAE.
Pin Me for Later!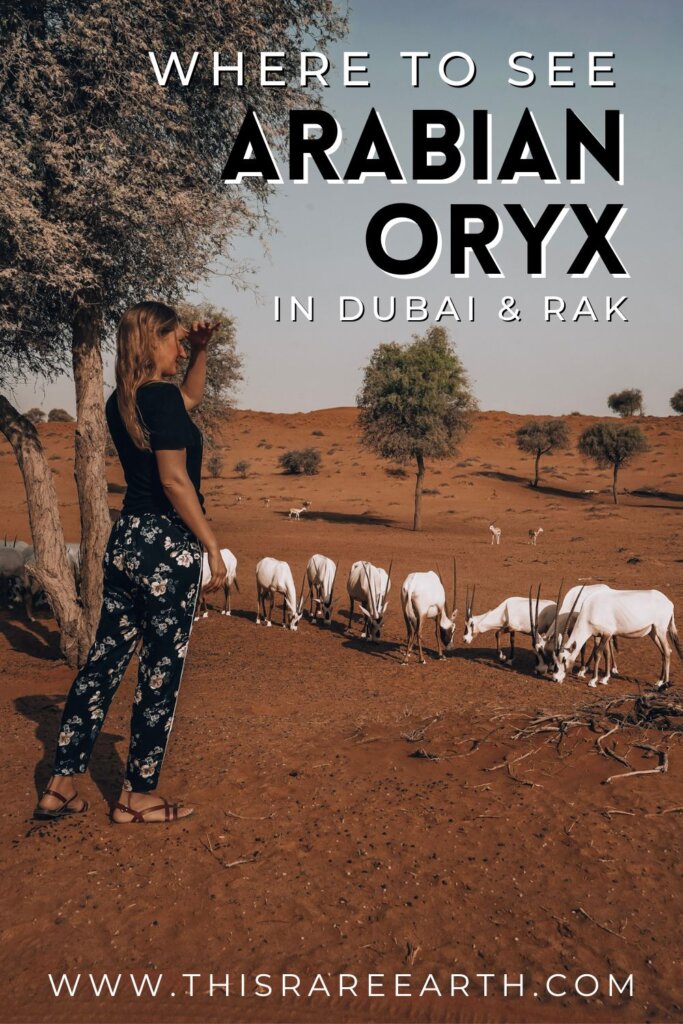 The Arabian Oryx is the national animal of the United Arab Emirates (UAE). It has been an important part of Arabian culture for many years, though just 50 years ago the Oryx was nearly extinct. Hunted for their long elegant horns, the world came thisclose to losing them forever.
Thankfully, conservation efforts have been made and this beautiful antelope is once again increasing in numbers!
Though you will not see the Arabian Oryx in the wild, it is completely possible to see the Oryx in Dubai and RAK conservation areas. Keep on scrolling to learn all about this incredible animal and where to see the Arabian Oryx today.
You May Also Like: Reasons to Visit Dubai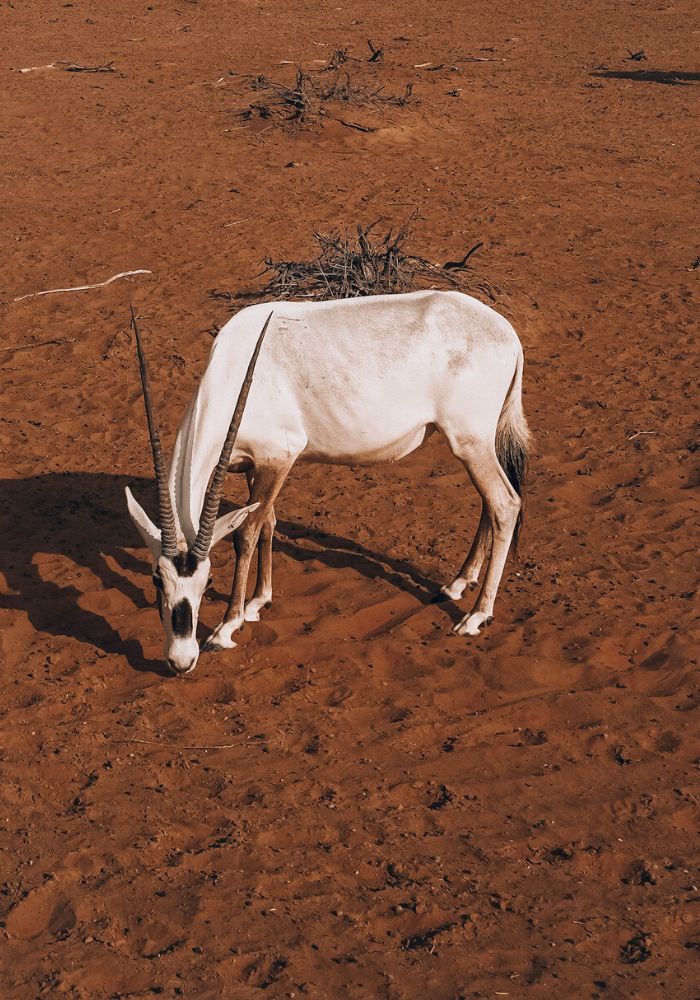 Arabian Oryx Basic Facts
The Arabian Oryx has a white coat with black markings on it's face, ears, and tail. The black markings on their face act as their "fingerprints" – or, are different on every animal. If you look closely at their neck, forehead, nose and between the horn and mouth, you will start to see the different shapes and sizes of these spots.
Both males and females have long, slightly curved horns with a ringed texture. Their horns can grow between 20-30 inches long.
When fully grown, the Arabian Oryx will weigh approximately 150 pounds. They will stand at a height of 30-40 inches. Females are typically longer and thinner than their male counterparts. Males are called bucks and females are called does. Baby Oryx are known as a lamb or calf.
Their bright white coats reflect the hot sun away from their bodies temperature, and provide a beautiful contrast against the orange desert sand! I've been lucky to see the gazelle many times in the wild within the Liwa Desert, but the Oryx are much more noticeable due to their snow-white color.
Due to the very purposeful conservation efforts, the Arabian Oryx's population has grown to more than 8,000 across the countries mentioned above.
Arabian Oryx are herbivores. They survive on grasses, roots, cacti, and tubers. They, like camels, can last for days without drinking water.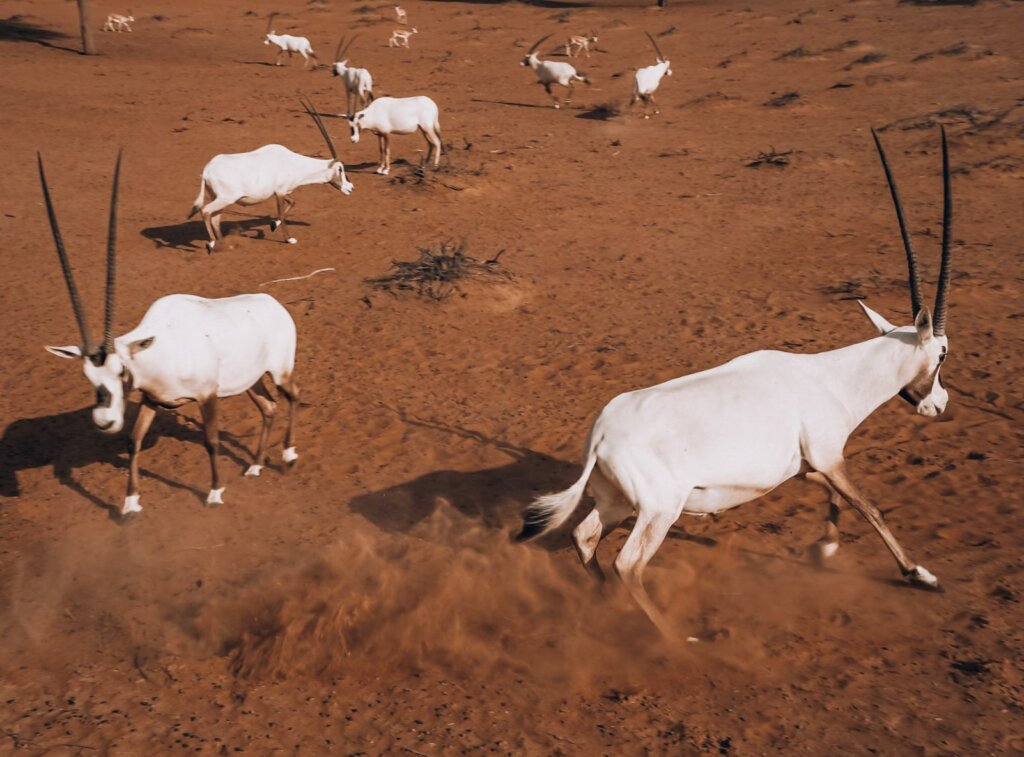 Scientific Classifications:
Kingdom: Animalia
Phylum: Chordata
Class: Mammalia
Order: Artiodactyla
Family: Bovidae
Genus: Oryx
Species: Oryx Leucoryx
Need more inspiration for your visit to the UAE? My Dubai & Abu Dhabi Travel Guide is jam-packed with attractions and tips for both areas.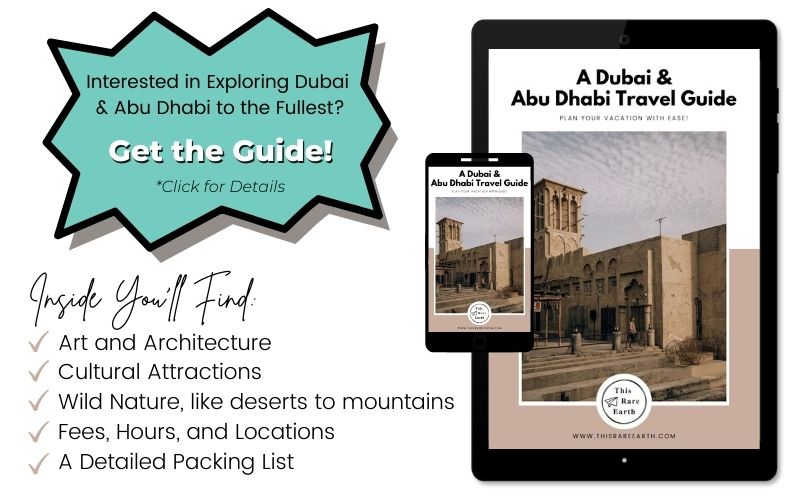 Where Do Arabian Oryx Live?
The Arabian Oryx can be found in several countries across the African and Asian continents. Today, it is possible to find them in UAE, Saudi Arabia, Egypt, Jordan, Syria, Iraq, Yemen and Kuwait.
The Arabian Oryx is dependent upon the desert shrublands and temperate grasslands. They thrive in the extreme heat of the day and chill of the night.
Where Can You See Arabian Oryx in The UAE?
Here are the best places to see the Arabian Oryx in Dubai and Ras Al Khaimah, UAE.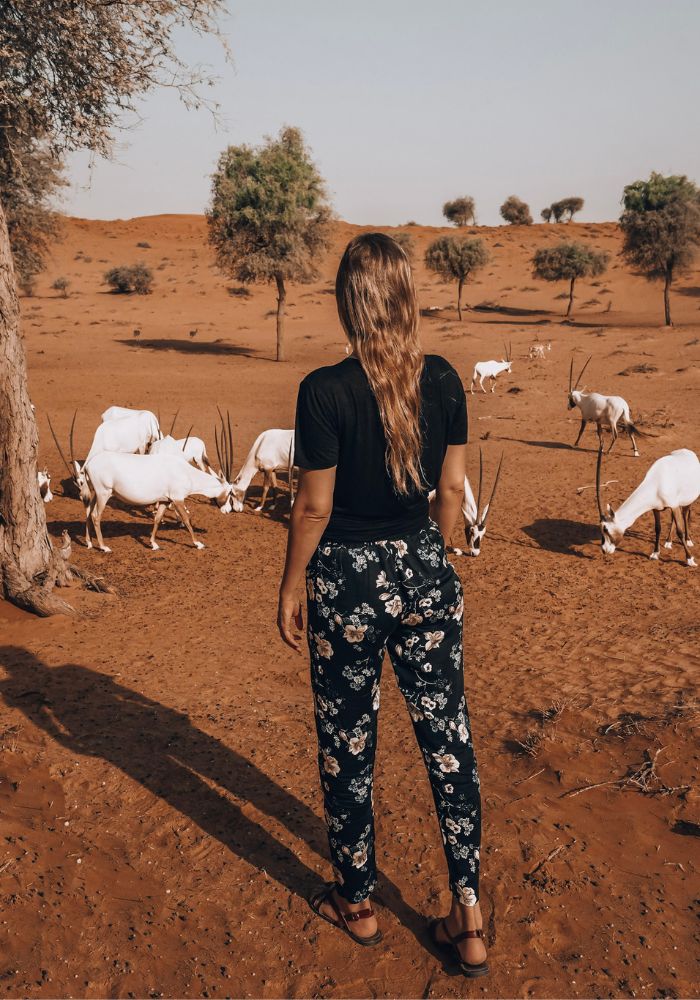 Where to See Oryx in Ras Al Khaimah
Al Wadi Desert Nature Reserve
The Al Wadi Desert Reserve in Ras Al Khaimah is the best place to go, hands down. This large stretch of desert is found at the Ritz Carlton – Ras Al Khaimah and is about as close to seeing them in the wild as you will get.
The staff here take great pride in studying the Oryx, repopulating the species, and letting them live as free from human interaction as possible.
In 2011, when Al Wadi Reserve began their breeding program, only nine Oryx lived on site. Now they personally care for 78 Arabian Oryx, with 23 babies coming this year.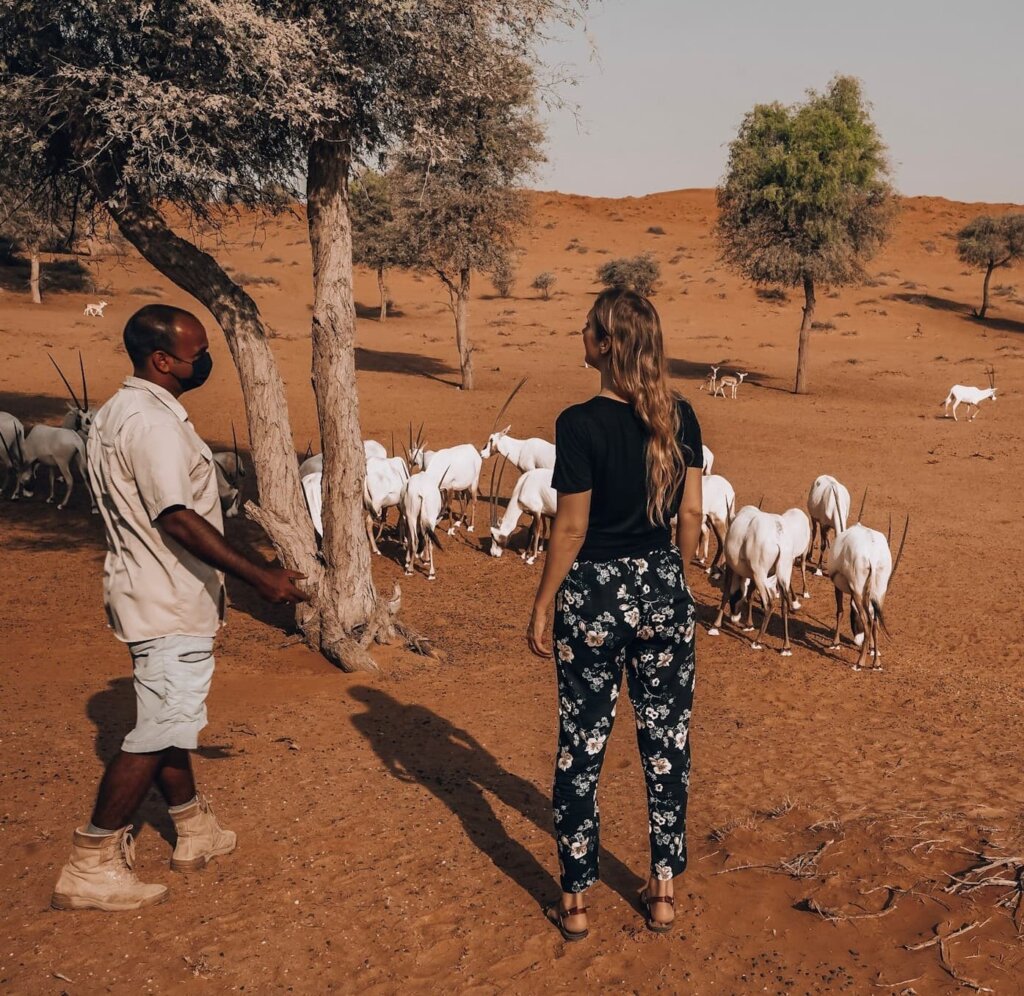 Each morning, staff members set out to feed the Arabian Oryx and gazelle populations within the Al Wadi Desert Nature Reserve. They leave food on the ground and are careful not to interact too closely with the animals, unless they find health issues or need intervention. Otherwise, they let the animals live in peace, as they would in the wild.
Guests can book this experience and get up close and personal themselves! While you are not able to touch or interfere with the animals (thankfully!), visitors are able to get quite close while the animals eat and go about their day.
It was breathtaking to see this beautiful animal up close. Our guide was incredibly knowledgeable about the Oryx and the surrounding desert. I'm so thankful for the work that they are doing here, and have every intention to go back again!
You May Also Like: Places to Visit in Ras Al Khaimah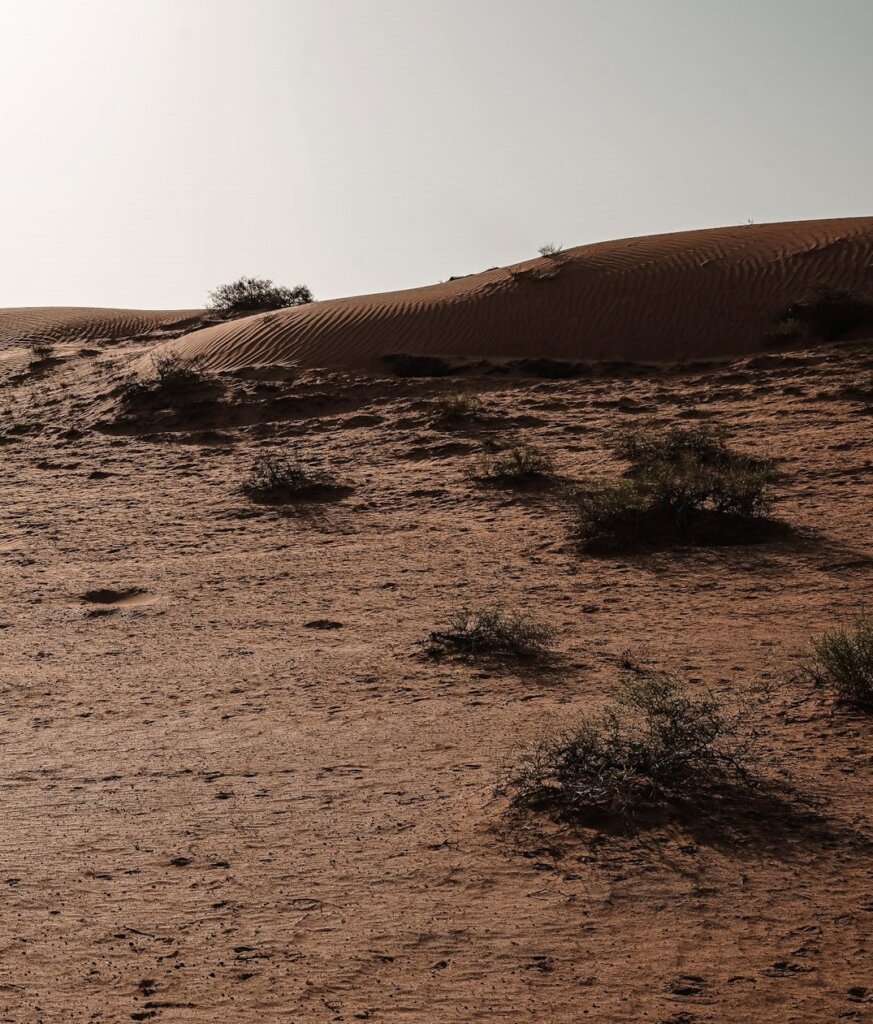 Where to See Oryx in Dubai
Dubai Desert Conservation Reserve
The Dubai Desert Conservation Reserve was the UAE's first national park, established in 2002. Tis area comprises about 5% of the Emirate of Dubai's total landmass, which is about 87 square miles of land.
The Dubai Desert Conservation Reserve, or DDCR's purpose is to preserve and represent the indigenous fauna and flora of the area and focus on the rewilding of the natural desert habitat. It also aims to provide an authentic desert experience for visitors.
Several tour operators have permission to run tours here, like this 5 hour Dubai Desert Conservation Reserve and Breakfast, where you are able to get up close and personal to the Arabian Oryx. Other activities such as dune driving, falconry, and camel treks are available, too. Guests can also book a sunset dinner in the desert.
The DDCR is home to the gorgeous Al Maha Desert Resort and Spa.
Where Else to See the Arabian Oryx
There are a few zoos outside of Ras al Khaimah and Dubai where the Arabian Oryx is present. Admittedly, these will not offer the same gorgeous desert environment or quite the same background and depth as the Al Wadi Reserve does, for example.
However, if you are in Sharjah or Abu Dhabi, here are two zoos that take care of the Arabian Oryx on site:
***
The Arabian Oryx is one of the most beautiful and graceful desert animals in the Arab region. Though growing in numbers, they are not so abundant that it's easy to see them without some planning!
I highly recommend visiting the desert conservation areas in Ras Al Khaimah and Dubai to see the Arabian Oryx during your stay. It's one of the most awe-inspiring and humbling experiences you can have here in the UAE!
Have you seen this incredible animal? Do you wish to? Let me know below!
Pin Me for Later!