One of the most iconic photos from any trip to Cambodia is an Angkor Wat sunrise. The golden pink light bathing the ancient ruins is a stunning sight to behold. If you have limited time at Angkor Wat, this sunrise guide will help you catch that iconic shot with insider tips on tickets and where to shoot.
Pin Me for Later!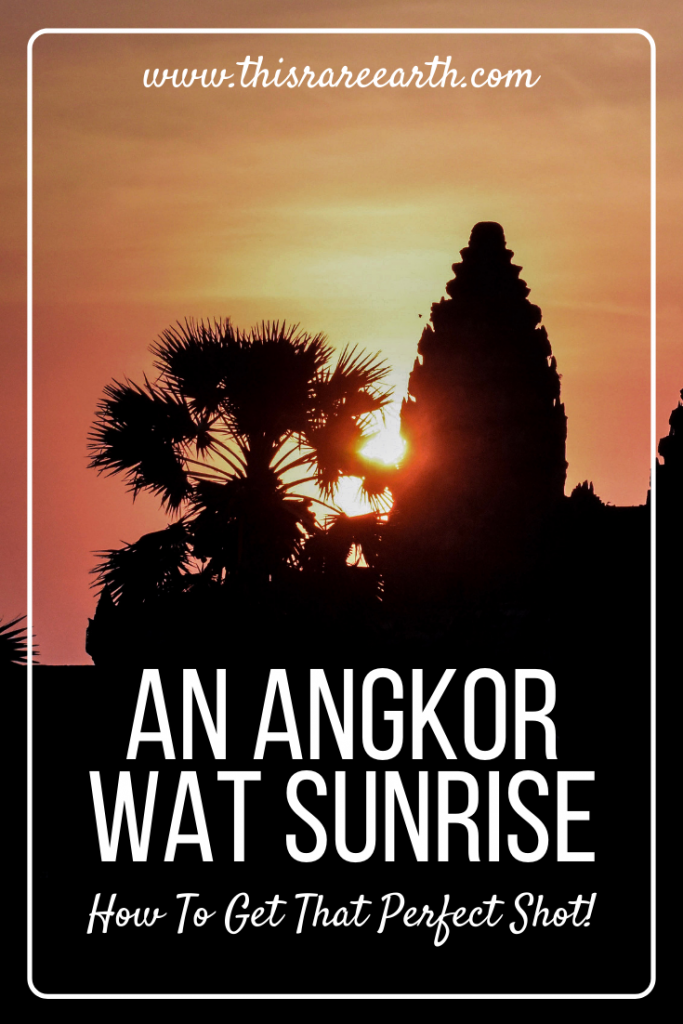 One of the most iconic photographs from any trip to Cambodia is hands-down an Angkor Wat sunrise. The golden pink light bathing the ancient ruins is a stunning sight to behold. In fact, the sunrise at Angkor Wat and that golden hour light are some of my most vivid memories of this impressive temple.
However, if you don't plan ahead, you may find yourself in the wrong place or with a lousy view, or even behind a long line for the ticket counter while the sun is starting to ascend. Luckily, I can help you avoid these scenarios! Let me share my top tips for catching an Angkor Wat sunrise, stress free.
First, A Quick History
Angkor Wat is a world famous structure in Siem Reap, Cambodia, constructed in the 12th century and originally intended as a Hindu temple. Throughout history, the Angkor Archeological Complex stood as the capital of the Khmer Empire, and today is considered one of the Seven Wonders of the World.
Angkor Wat was later transformed to a Buddhist temple, and evidence of both religions can be found on site. The complex covers an area just under 400 square miles (roughly 1000 square kilometers) and how well these structures are preserved is impressive. It's easily one of my favorite historical sites and Wonders of the World that I've seen.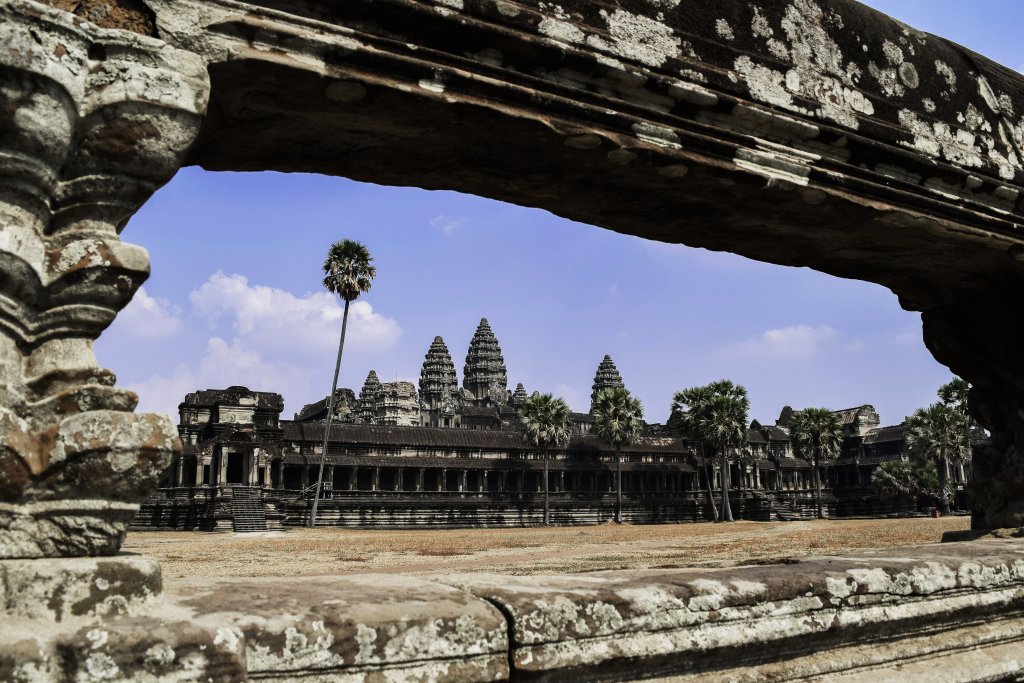 Angkor Wat: Best Time To Visit
The Dry Season in Cambodia runs from December through March, making these four months the best chance of avoiding rain. Temperatures will typically be in the mid-80s and 90's (Fahrenheit), but know in advance that this is the busiest time for tourists.
The Wet Season spans from May to October, so it literally covers a solid half of the year. I've been to Angkor Wat during the wet season and honestly, it's not a big deal. On the bright side, everything is lush and green. The downside though is that the humidity is unreal. Temperatures are again in the mid-80s and 90's range (Fahrenheit).
If I were to give some advice on the best time to visit Angkor Wat, consider going on the shoulder season months. These are April and November. You'll hopefully get the best of both worlds weather-wise, not deal with excessive crowds, and potentially get cheaper deals on accommodations.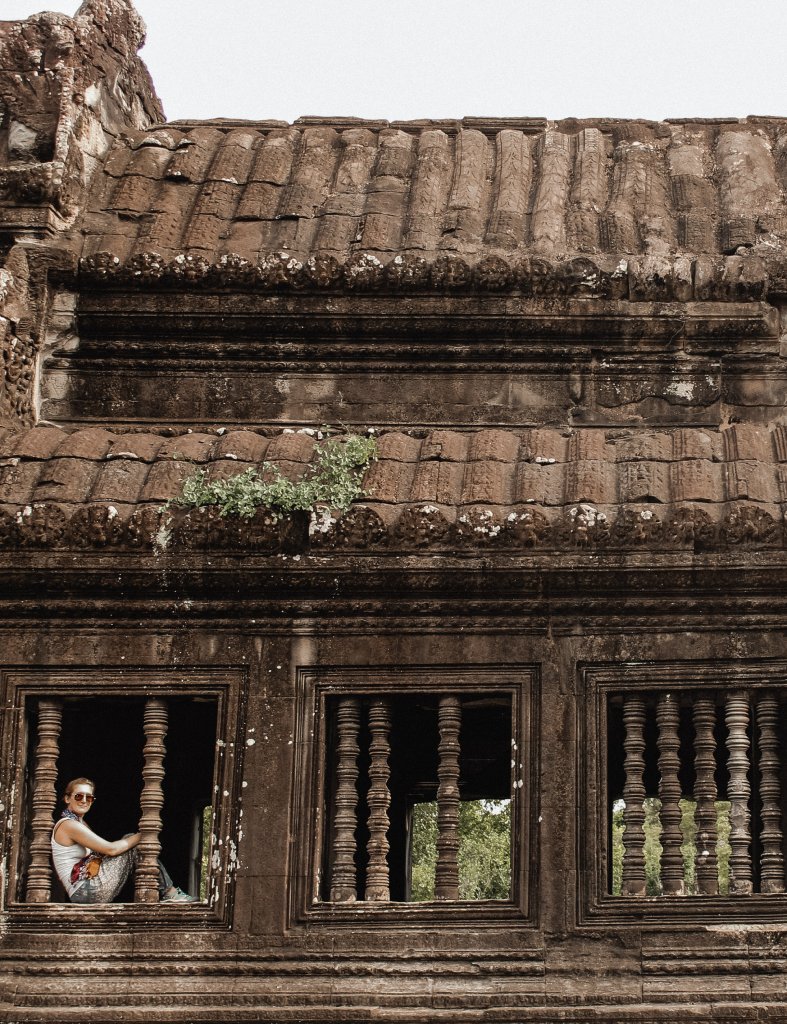 An Angkor Wat Sunrise Guide: Tickets and Planning
You're going to want to plan ahead for your Angkor Wat sunrise, especially if you have limited time in Siem Reap. As I mentioned above, if you only have one day there and get this wrong, you could miss that perfect view in an instant.
Transportation
How will you get to Angkor Wat while the sky is still pitch black? Me and my Cambodia travel companion rented a motorbike for our entire visit, which made things easy to manage.
If you don't feel confident driving in Cambodia or renting a motorbike, you could pre-arrange a taxi or tuk-tuk to pick you up. Do this the day before and specify your pickup time and location, as well as price. Be sure to know the sunrise time on the morning you plan to visit.
You want to make sure everything is crystal clear and that your driver will be reliable so that the sun isn't starting to rise while you wait on the street corner. Oftentimes hotels and guesthouses can recommend a reliable driver that they work with regularly.
Another option is to take a tour. Since we had the motorbike, I did not attend one of these, but I know that several companies do run Angkor Wat Sunrise tours. However you plan to get there, make sure you work out the details the night before so you don't waste precious morning minutes attending to this,
Tickets & Rules
Tickets to Angkor Wat are another issue that can be dealt with the day before, and I even have a secret tip about this that I used myself! Keep reading to hear it….
Angkor Wat tickets are sold in various lengths – one day, three day, and seven day passes (check below for prices). If you have already bought a multiday pass, that's great because you won't waste time in the ticket line on the morning of your sunrise at Angkor Wat.
But what to to do if you only have one precious day to spend at this Wonder of the World?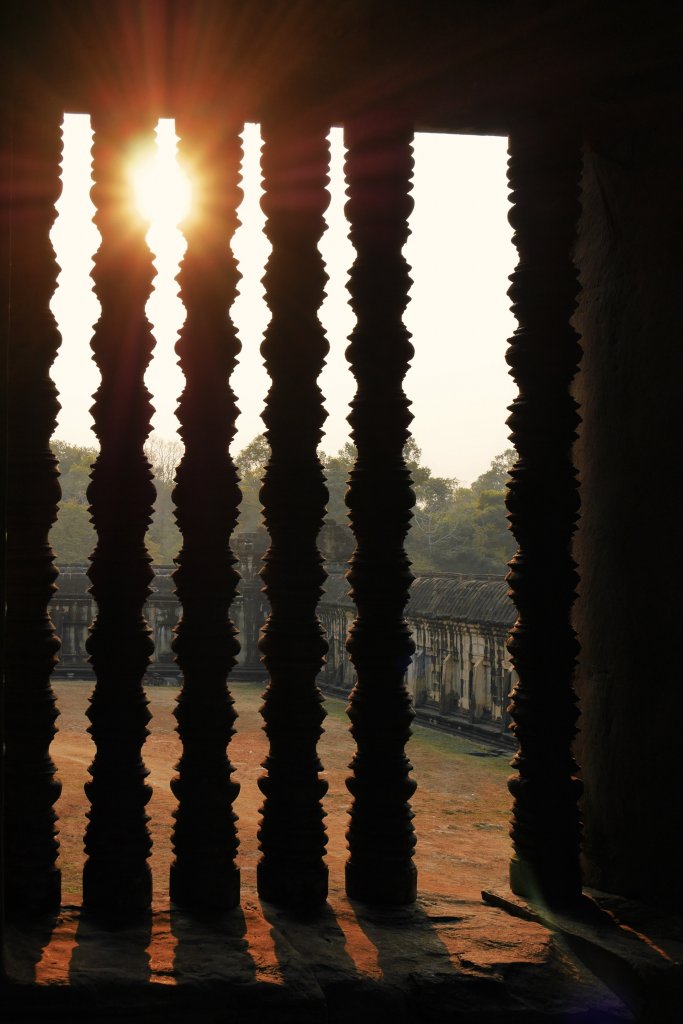 Angkor Archaeological Park visiting hours run from 5am to 6pm though some temples may have differing times (see blue box below). Around 5:30pm, guests will begin to be shuffled out and steered toward the exit. Same-day ticket sales are sold at the ticket counter, which operates from 5am to 5:30pm.
One little-known fact to the average visitor: you can buy your ticket for the following day in advance. This ticket will allow you access to the complex for the last 30-45 minutes of the day in which you buy it, too.
So, if you head to the ticket booth at 4:45pm on the dot (no earlier, or it won't work), you can purchase a ticket for the following morning. You can also use that ticket for the following morning to walk in on the spot – the guards will not punch your ticket and it will remain intact for the following day.
This is an awesome way to experience a free evening in the complex, either just as a bonus or for scoping out some epic spots to catch the sunrise. Pro Tip – if you're traveling in winter months with shorter days, you can even catch an Angkor Wat sunset on the eve of your sunrise plans. The sun will be setting before you are kicked out for the night. Not bad.
ENTRANCE TIMES
* Angkor Wat & Sras Srang: Open from 5.00 AM to 5.30 PM
* Phnom Bakheng & Pre Rup temples: Open from 5.00 AM to 7.00 PM
angkor wat tickets & prices
Purchase your tickest at the Angkor pass at Angkor Enterprise ticket office, located next to Angkor Panorama Museum. It is all very organized. ** At the time of my visit, a passport was required for purchase** Don't leave this at the hotel!
1 day = 37 USD
3 days = 62 USD
7 days = 72 USD
Free for children under 12
PHOTO AND VIDEO
Drones are strictly not allowed. Filming, or taking pictures with professional equipment for commercial purposes requires a permit.
What To Bring To An Angkor Wat Sunrise
Insect Repellent (particularly in the wet season months)
Water Bottles
Passport (for tickets; see above)
Clothing That Covers Shoulders and Knees
A Shawl
Cameras / Cell phone / Charging Cables and Battery Bank
Flashlight or Headlamp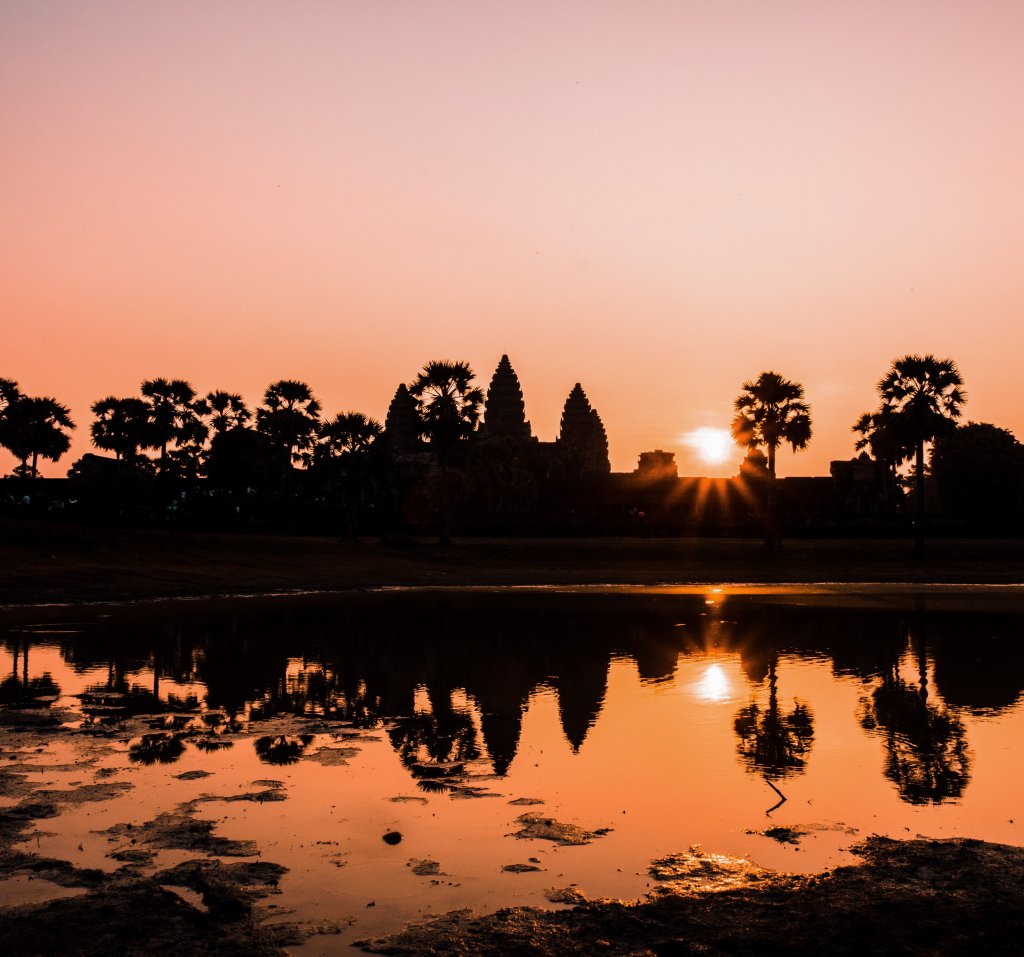 An Angkor Wat Sunrise Guide: Getting The Shot
By now you have gotten your tickets, figured out your transportation, and packed your insect repellent, cameras, flashlight, and water. AND, you've arrived early.
My first tip is honestly to shoot wherever catches your eye. Sometimes the most unplanned moments can make the best images later. Plus, as an artist, I really trust in my in-the-moment aesthetic. It may not work out 100% of the time, but most of the time I leave happy.
But, if your creative juices aren't flowing or if you're more technical and like a plan and directions, here are some iconic spots that photographers will flock to. And I mean it – THEY WILL FLOCK. So get there early to grab a coveted spot.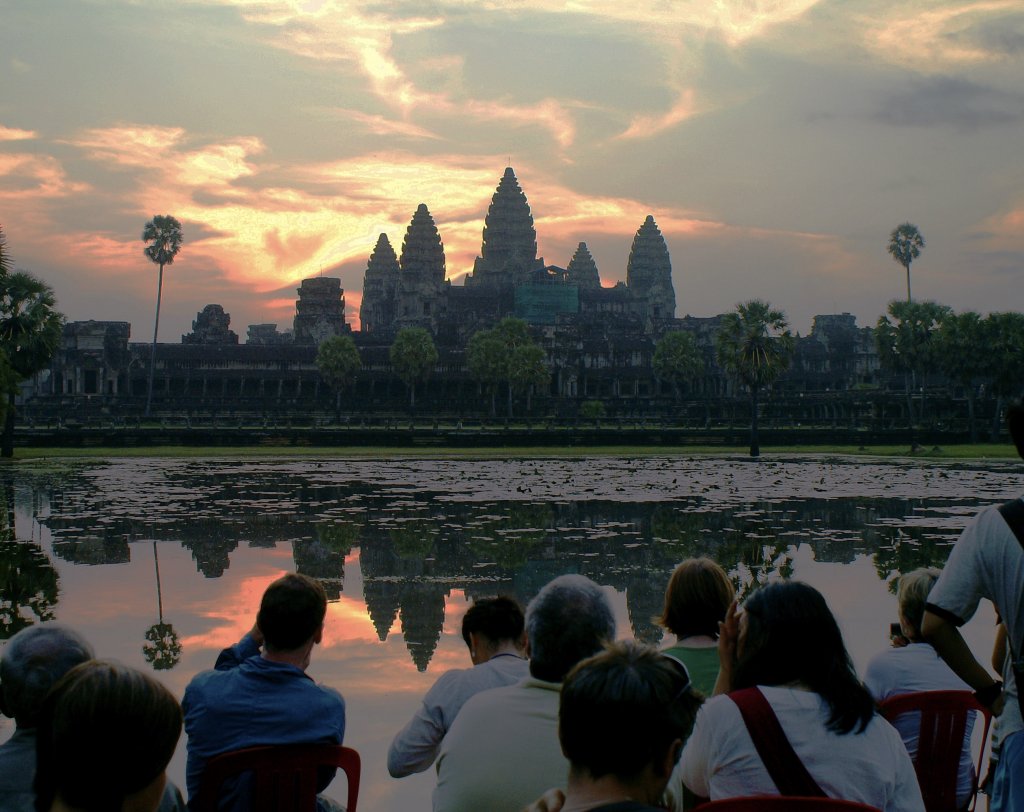 angkor wat sunrise photo spots
The reflective pools offer the most iconic Angkor Wat imagery around. This is because the still pools reflect crisp clear details of the temples above. It's a stunning sight to see at any time of day, but is particularly beautiful during sunrise or sunset.
The Left Reflective Pool gets extremely crowded. If you're looking for a serene experience, it won't be found here. But many prefer this spot for an Angkor Wat sunrise becasue of it's symmetrical reflection and beauty.
The Right Reflective Pool on the other hand is far less crowded. This is because the shape of the pond offers a less symmetrical view. So, if you are looking for fewer people to fight with, you can still get some beautiful photos here.
If you go for either of the pools described above, try to get as close to the water as possible to avoid someone setting up in front of you. I swear, it is a strange photographer's fight to the death.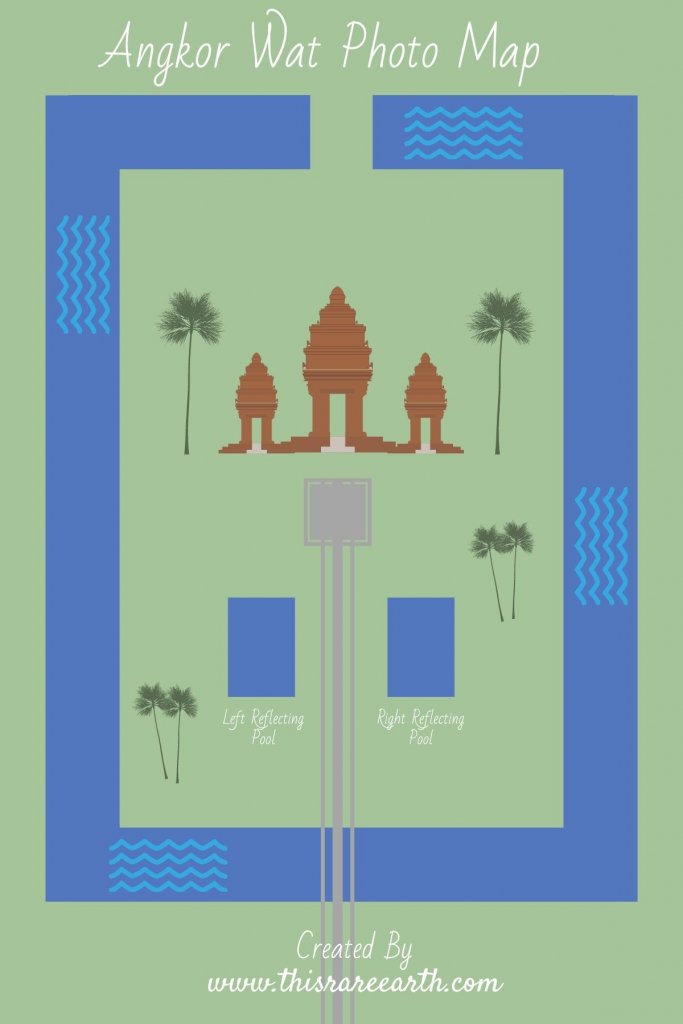 In Front of The Entrance at Angkor Wat is a great photo spot, and the earlier the better to get a shot without throngs of visitors in the background.
But again I want to impress upon you – find your own spot! The water reflection is beautiful. It is. But look at all of the open ground where you won't be struggling and fighting for space!
Additional Tips
Don't forget a tripod if this shot will truly make or break your trip.
If you buy a multi-day pass, check the morning weather for each day you're there.
If you buy a multi-day pass, you can catch more than one sunrise .
Don't forget a battery pack and the correct wires needed for charging your cameras and phones.
Be sure to wear or bring clothing that will cover your knees and shoulders.
The sunrise photo is an iconic moment, but exploring this beautiful site is even more breathtaking.
I hope you found this Angkor Wat Sunrise Guide helpful! My time in Siem Reap was unforgettable, and I hope this helps to make your experience great, too.
Don't Forget to Pin Me for Later!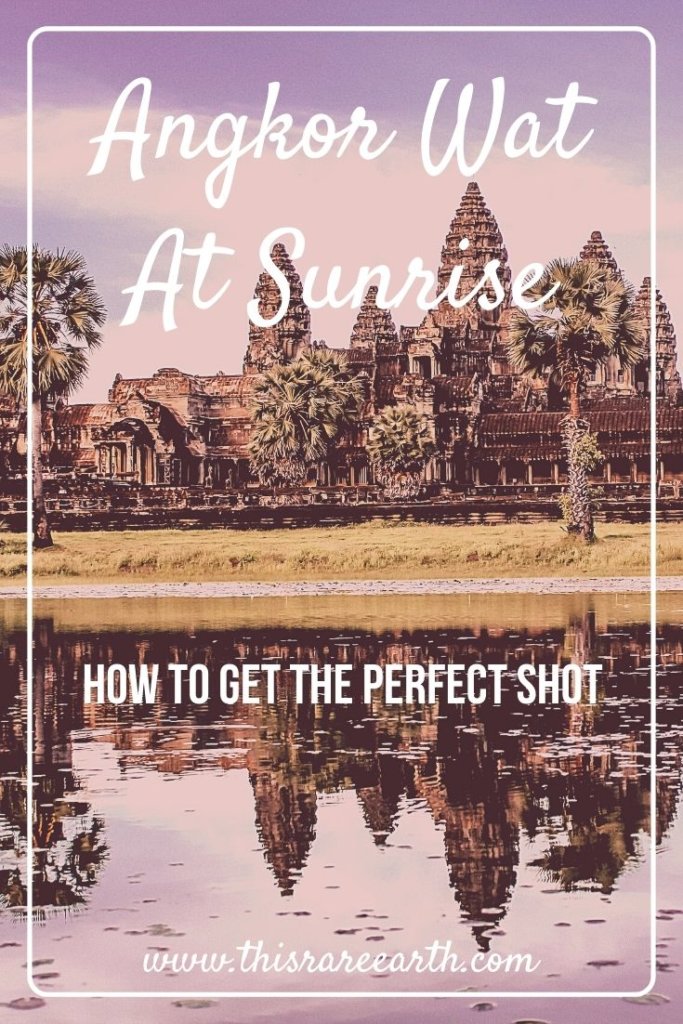 ↡ Drop me a comment below if you have questions or if this guide helped you out! ↡