Martvili Canyon is one of the most beautiful places to visit in all of Georgia. The lush green trees and clear blue waters are breathtaking. Here is everything you need to know about visiting Martvili Canyon, Georgia – from rafting in Martvili Canyon to opening hours and tours, it's all here!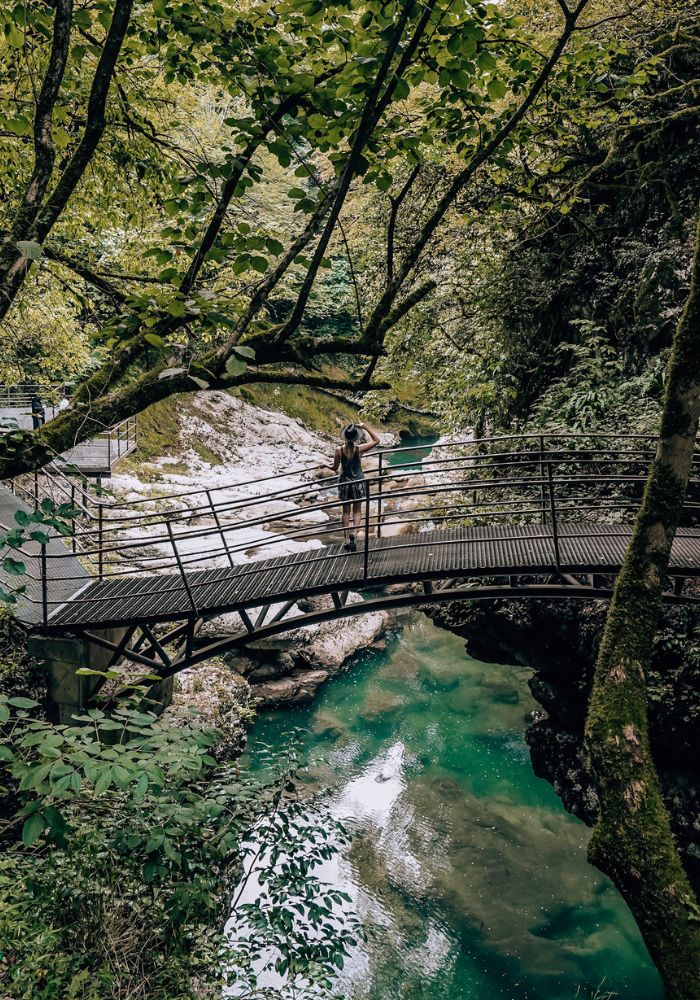 Martvili Canyon Georgia: The Basics
Let's lay out the basics. I'm diving into questions like "What is the Martvili Canyon ticket price / opening hours / and location?" first thing. Further down, I will talk about my personal experience and opinion about that park – and whether or not it is worth a visit!
Martvili Canyon Ticket Price
The entrance fee to Martvili Canyon is quite steep, compared to other prices in Georgia. In fact, I think this was the highest entrance fee that I paid in all of my time in the country.
The current ticket prices are as follows:
Foreign Adults: 17.25 GEL
Children (6-18 years): 5.50 GEL
Children under 6 years old: FREE
Georgian citizens and residents: 10.35 GEL
Rafting tickets are sold separate, which will be discussed below.
Tickets can be purchased upon arrival at the Visitors Center, and they accept cash or credit card.
You May Also Like: How to Keep Money Safe While Traveling
Martvili Canyon Location
Martvili Canyon is located in western Georgia's historic Samegrelo region. The nearest town is Martvili, which is roughly 10 minutes away from the park. I found this small town to be the perfect home base for a night or two, when visiting Martvili Canyon National Park.
I stayed in this hotel, which was inexpensive, basic but comfortable, and was run by the friendliest family.
Martvili Canyon sits about 4 to 4.5 hours away from Tbilisi. If you have rented a car, I highly suggest an overnight in the area to break up the drive.
It can be visited as a day trip from Tbilisi, but requires a nice early start! The best Martvili Canyon day tour can be booked here. It includes all transportation and visits both Martvili Canyon and the Prometheus Cave.
Martvili Canyon s also a popular stop for those visiting Kutaisi, one of the best places to visit in Georgia.
Martvili Canyon Opening Hours
Martvili Canyon's hours differ slightly depending on the season.
Spring and summer (March-September): 10am-6pm
Fall and winter (November-February): 10am-5pm
I arrived right at 10am, and while it wasn't crowded, the summer season did bring in a fair amount of visitors first thing. As I was leaving, significantly more people were flooding in, so I do advise that you go right at 10am or closer to closing time.
You May Also Like: The Best Things to Do in Sighnaghi, Georgia
Martvili Canyon Rafting
Inside of Martvili Canyon is a rafting tour – a short and sweet ride across the blue waters. It's the only way to get in between the canyon walls and up close and personal with the water, so I do recommend taking the tour!
However, rafting Martvili Canyon does require and extra fee. When you buy your entrance ticket, if you want to raft, you will need to also pay an additional 15.50 GEL. (See what I mean about prices being fairly steep? It is not a large park.)
The boat ride is gorgeous, though. It takes roughly 20 minutes to complete, and a guide will be in every boat and it is very organized and structured. The last boat ride of the day departs the docks roughly half an hour before closing.
The Best Martvili Canyon Tours
All About Visiting Martvili Canyon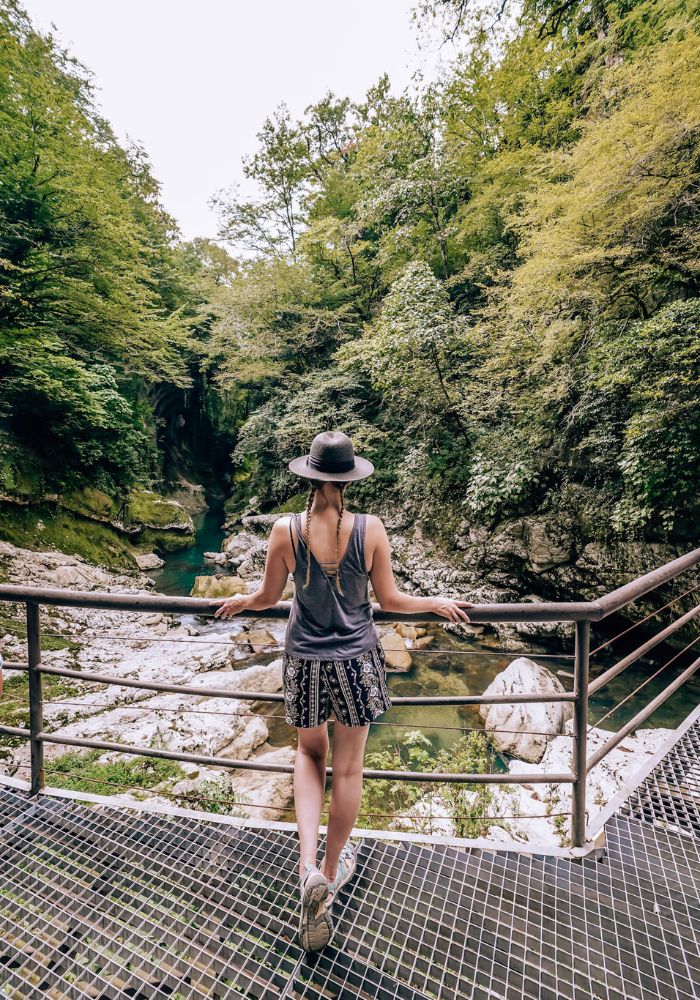 When is the Best Time to Visit?
You can easily visit Martvili Canyon year round, whether on your own or via a tour.
The summers are bright and sunny with various shades of green exploding all around you. The water is clear and flowing. And after the sweltering triple digits in Tbilisi, the cooler shaded trails were very welcome.
The downside of visiting Martvili in the summer is that it can be very crowded. The park is quite small and the walking paths can get congested.
In the winter, it can be quite cold in Martvili, though it remains quite green! The trails will be much more empty.
I think the best of both worlds is to visit on the shoulder seasons, in the spring and fall. Temperatures will still be cool and comfortable, and the walking paths will be much emptier and the park more calm.
What to Pack for Martvili Canyon
Here is everything that I personally brought and recommend taking to Martvili Canyon:
Can You Swim at Martvili Canyon?
No, you cannot. Swimming in Martvili Canyon is strictly forbidden. However, the river continues on outside of the park and swimming is allowed in many nearby spots.
You May Also Like: Visiting Holy Trinity Cathedral in Tbilisi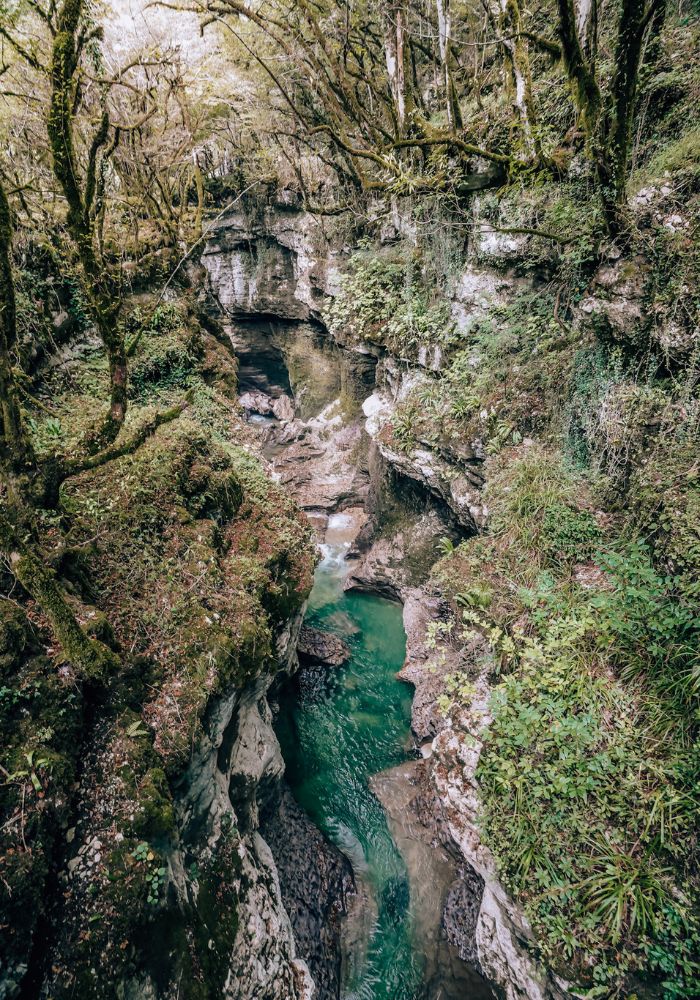 Martvili Canyon Georgia Pros and Cons
I'm so glad I visited this beautiful stretch of Georgia, although there were definitely pros and cons to visiting Martvili Canyon. Let's talk about them below and determine whether Martvili Canyon was worth visiting or not.
The Pros
First, the beauty.
Though there are many canyons and rivers throughout Georgia, it's easy to see why this area was designated as a national park. It is hands down the most gorgeous section of the Abasha River. The lush green moss and flowing waterfalls are truly breathtaking.
Secondly, while it's not large, the park offers over 2,000 feet of hiking trails and the option to go rafting in Martvili Canyon, as mentioned above. Both activities are well worth trying, as they let you step up close and personal with nature.
And third, it was very easy to self-drive here in a rental car. The roads are paved and mostly smooth, and the maps are accurate
The Cons
First is the cost. Martvili Canyon was probably the most expensive attraction in Georgia that I visited. Yes, when compared to US costs, it's not too steep. But, this is Georgia and many travelers come here because it is cheaper and have specific budgets in mind. Martvili might break that.
Second, the size of the park is so small. And with limited footpaths, the crowds can make you feel a bit like a sardine at certain points.
Lastly, things are very organized. While that might sound like a pro, I assure you it is not. Martvili Canyon feels rather rigid, not freeing. There are very strict guidelines on where you can walk and exactly where you can raft or not.
Yes, I can absolutely appreciate this for the good of the nature. But it feels very commercial and strict for a nature park!
You May Also Like: The Best Tbilisi Cooking Class for Georgian Food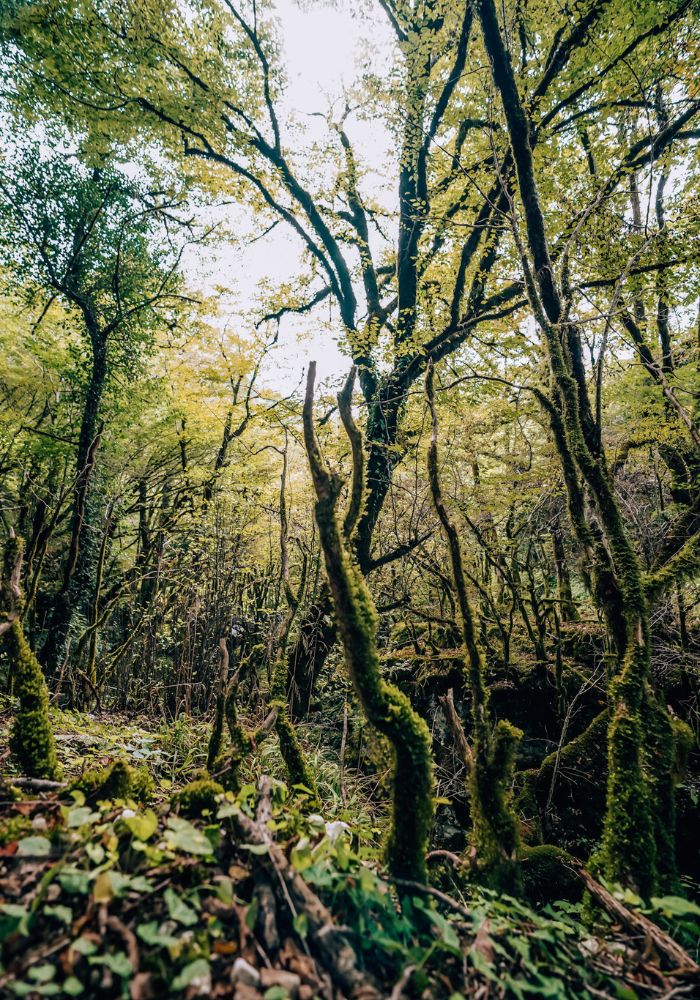 So Is It Worth Visiting Martvili Canyon in Georgia?
Despite the cons listed above, I did enjoy my visit to Martvili Canyon. Georgia has lots of beautiful nature and this small spot sits very high on the list.
The lush green forest made me feel like I was walking through Ferngully, with moss-covered branches and the bluest water tucked between huge rocks.
Martvili Canyon is so beautiful that I do think it's very worth visiting. Take my advice above about what season nd time of day to visit, and you'll avoid the worst of the crowds. And, despite the potential crowds, cost, and rigid rules, I would absolutely go back again just to experience that green environment again.
Pin Me for Later!