There are so many great things to do in Tbilisi, the capital city of Georgia. From unique attractions to colorful places to visit, Tbilisi has it all. This post will cover some of the most famous spots as well as some hidden gems. If you are looking for the best things to see in Tbilisi, look no further! Let's dive in.
Pin Me for Later!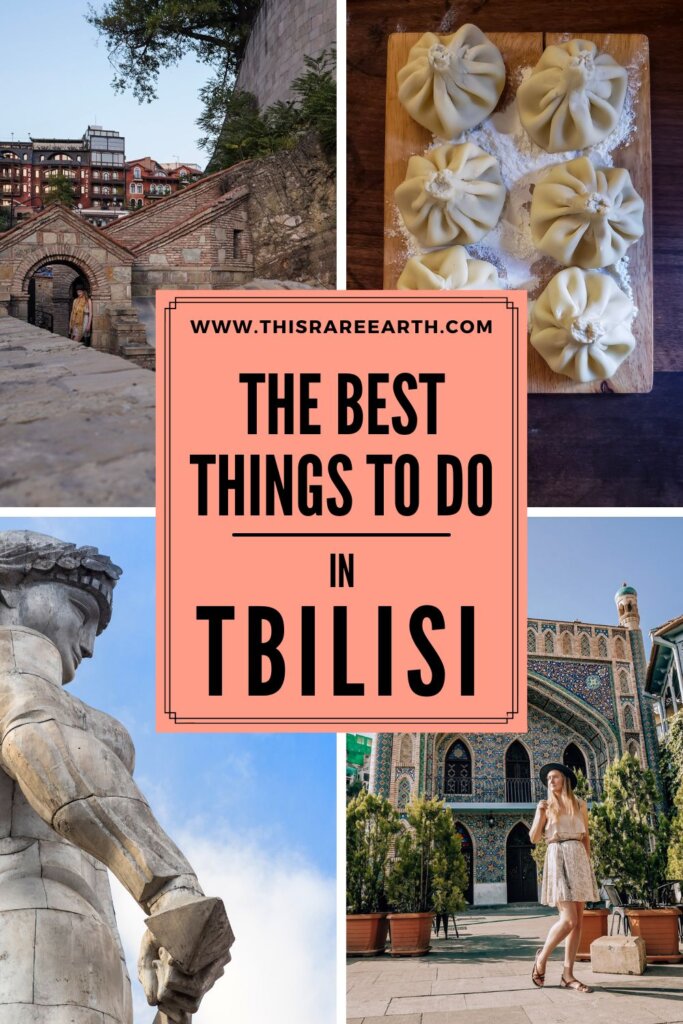 Tbilisi is the kind of place that feels quaint yet boldly alive at the same time. It is overflowing with history at every turn, yet is also very trendy and modern is the hip areas of town. Tbilisi is suave and chaotic, charming and eccentric all at once.
Tbilisi is the capital of Georgia and its largest city, with a population of over 1.5 million people. The city is located on the banks of the river Mtkvari, and its climate is characterized by warm summers and cool winters.
Tbilisi's long history dates back to the 5th century AD, when it was founded by the king of Georgia. Remnants of this can still be seen around town as you tour Tbilisi's attractions and sights.
Today, the city is a major tourist destination. Tbilisi is well known for its eclectic mix of architecture, its vibrant nightlife, and its trendy restaurants and cafes. Tbilisi is also home to a number of museums and historical sites, making it an ideal destination for those interested in culture and history.
Whether you're looking for a fun-filled vacation or a chance to learn about a different culture, Tbilisi is sure to have something to offer. Let's jump into some of the best things to do in Tbilisi, Georgia below.
Top Tbilisi Things to Do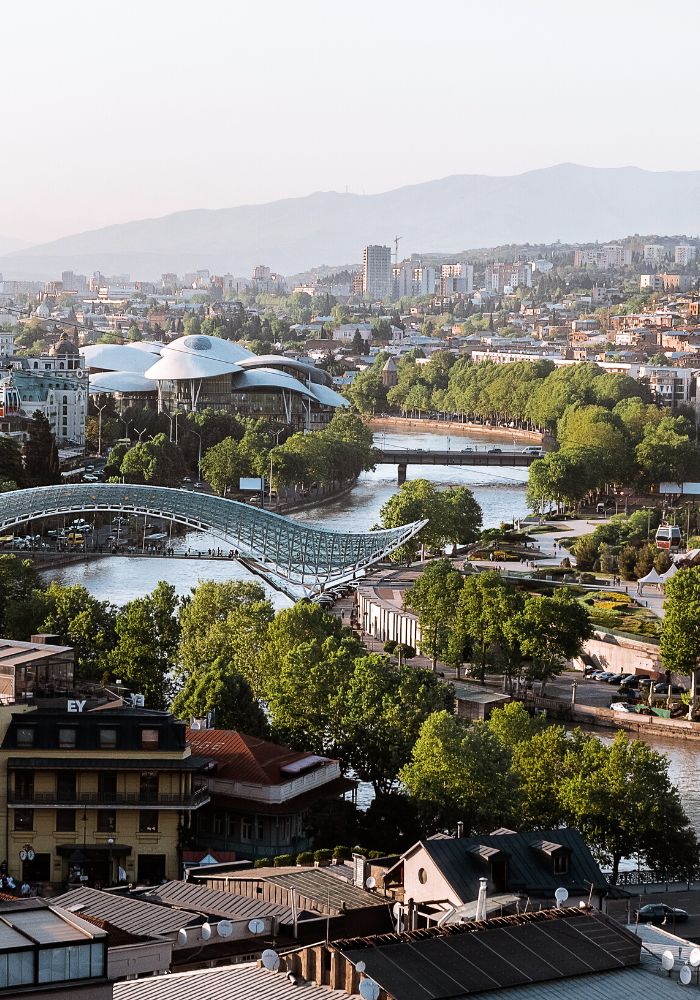 1. Take a walking tour.
I've said it before and I'll say it again – the best way to orient yourself in a new city is by booking a walking tour. In Tbilisi, it is no different!
Tbilisi is full of winding alleyways and side streets, and things are not necessarily laid out in a gridlike pattern. Therefore, it can be tough to navigate for first timers, particularly if you don't have a great sense of direction. Fix that by taking a walking tour.
I highly recommend this exact tour, which is incredibly cheap for the huge value it provides. The tour guide will walk you all around Old Town, which is arguably the best part of Tbilisi. And the tour even includes a wine tasting and a cable car ride to get a birds-eye view of the city.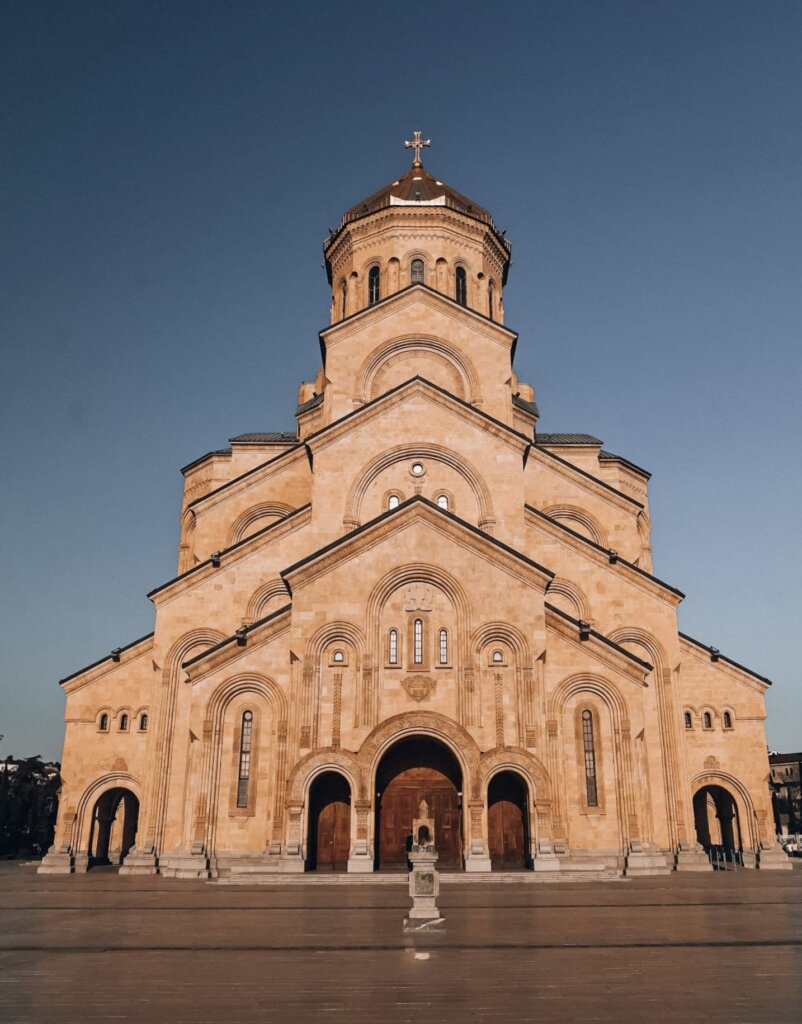 2. Visit the Holy Trinity Cathedral.
The Holy Trinity Cathedral in Tbilisi is one of the city's most breathtaking tourist attractions. It is renowned for its spectacular architecture and distinct style.
Located a short taxi ride uphill from the central tourist zone, this renowned holy site towers above Tbilisi. After decades of decay, the cathedral was fully restored to its former grandeur after the Soviet era.
Upon entering, visitors are greeted with an impressive open nave filled with golden iconostases and intricate wall paintings crafted by some of Georgia's most prestigious painters. From the light-filled cloisters to the domed roof adorned with intricate carvings and illuminated frescos, Holy Trinity Cathedral should be at the top of your list of things to do in Tbilisi!
You May Also Like: Visiting the Holy Trinity Cathedral in Tbilisi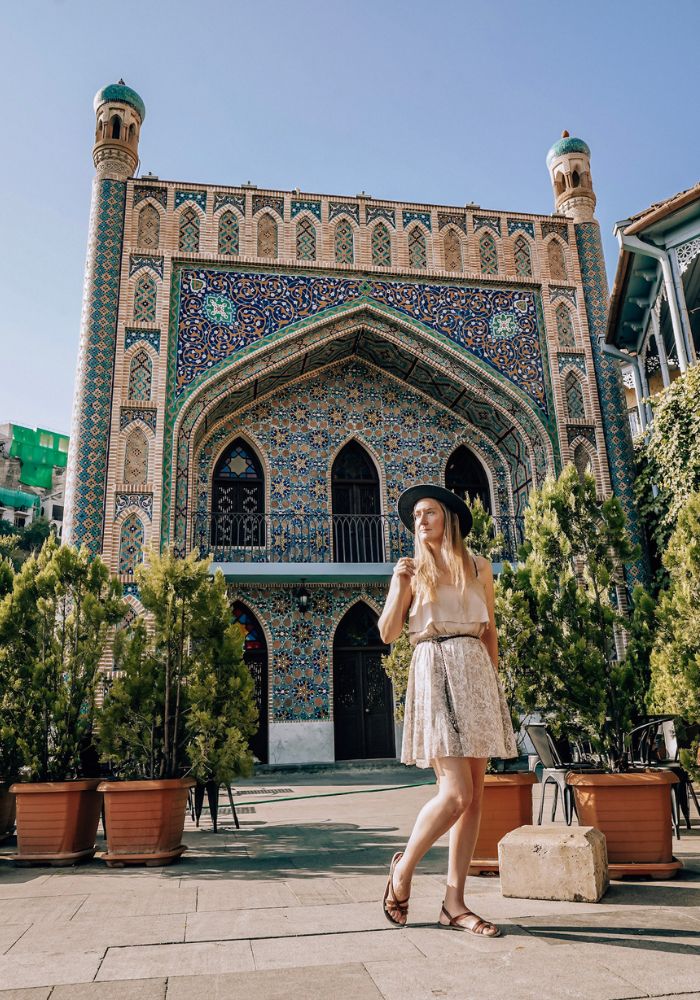 3. Take a dip at the Sulfur Baths.
The sulfur baths in Tbilisi are one of the city's most popular tourist attractions. Located in the center of the city, the baths are said to have therapeutic and healing properties.
These hot water sulfur springs are, as legend goes, the origin of Tbilisi itself. King Vakhtang Gorgasali was out hunting, and a wounded deer fell into a hot spring. When it emerged fully healed, the King was in awe of the springs' miraculous healing properties. Thus, the king immediately moved the capital city from the town of Mtskheta to Tbilisi instead.
Similar to hammams in Turkey and Bosnia, visitors can choose from a variety of different treatments like massages and body scrubs. The most popular way to enjoy the sulfur baths is to simply soak in one of the many warm pools, especially in the winter.
In the photo above, I am standing in front of the famous Orbelian Baths. Covered in beautiful blue tile, this is one of several Sulfur Bath Houses in the area of Abanotubani. It was one of my favorite sights to see in all of Tbilisi!
Whether you're looking for a relaxing experience or a way to improve your health, the sulfur baths in Tbilisi are definitely worth a visit.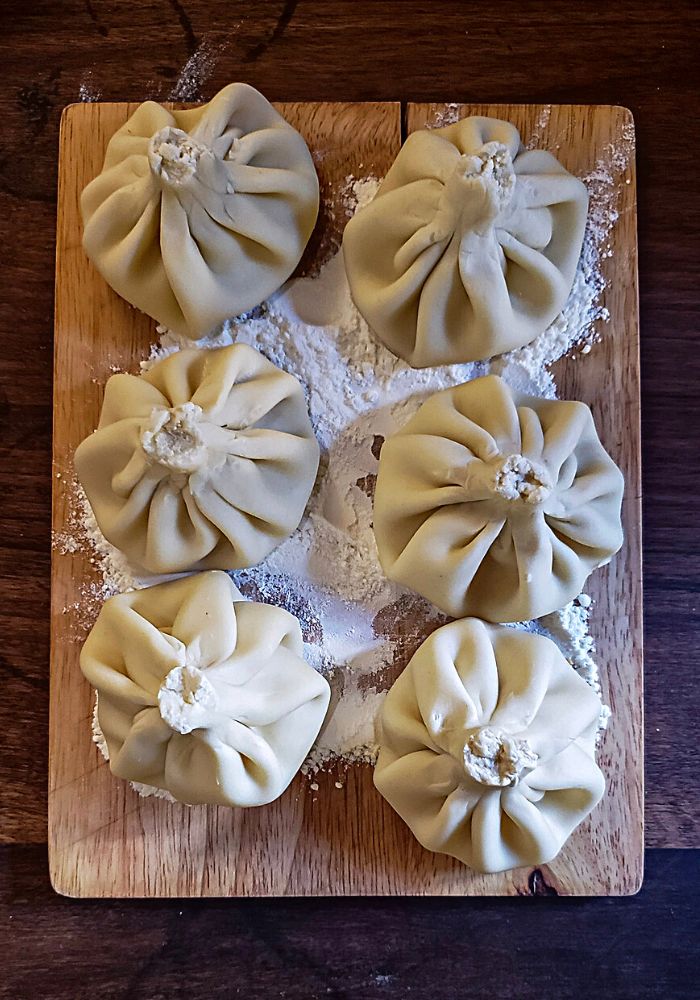 4. Learn to cook traditional Georgian food.
One of the best things to do in Tbilisi is to earn about the local cuisine. What better way to do that than by taking a local cooking class?
I personally booked this exact class and could not have been more pleased. I learned to cook Megruli Khachapuri and traditional Georgian Khinkali. Spoiler alert – they were delicious.
You can read more about my experience here, but I will sum it up in a nut shell. You learn step by step how to make both of these traditional dishes, and also get to enjoy a glass or Georgian wine, a fresh salad, and local cheeses too.
Ten out of ten! I think I have a bright future as a Georgian chef.

5. Or, take a food and wine tour instead.
Cooking not for you? No problem! You could opt to take a Tbilisi food tour instead.
This food and wine tour walks guests to various restaurants and cafes in the Sololaki district, tasting at least ten delicious dishes along the way. You'll hear local stories about Tbilisi's history and modern day life.
What food tour would be complete without trying famous Georgian wine? Learn about the ancient Qvevri wine making process and try a glass (or two.)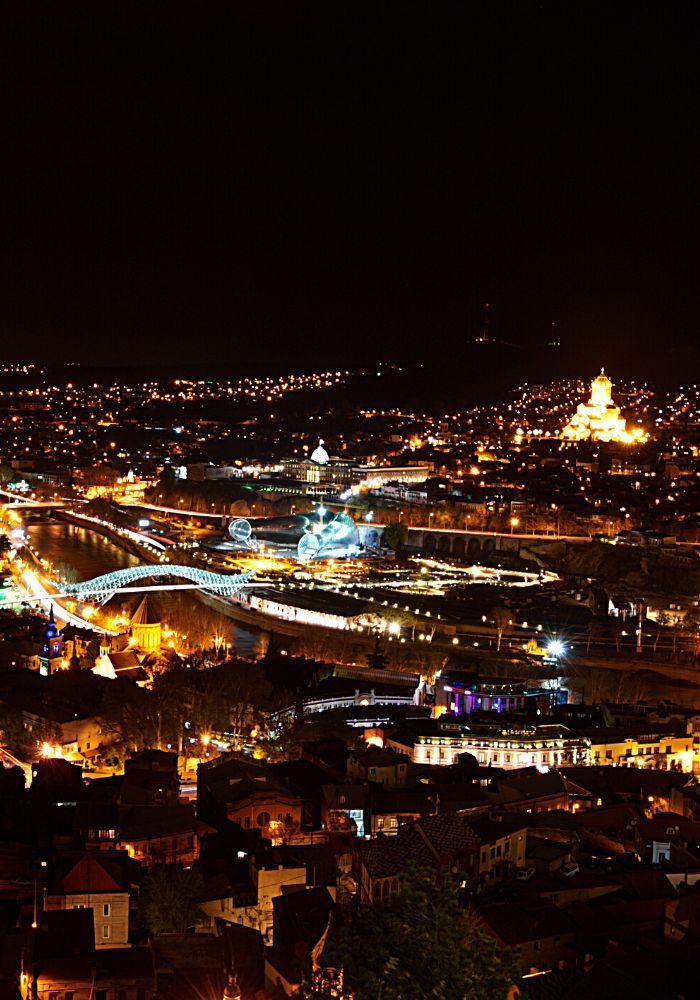 6. Ride the cable car high above the city for spectacular views.
If you want to get a panoramic view of the entire city, you have got to ride on Tbilisi's famous cable car.
The most popular time to ride the cable car is at sunset. However, the line is quite long and you'll spend much longer waiting than riding! I rode the cable car late at night and was more than pleased with the views! It as very beautiful to see Tbilisi from above, lit up at night.
You could also take the cable car in the daytime and have equally pleasing views. The cable car is one of the most popular things to do in Tbilisi, so you should definitely add it to your list.
This tour includes the cable car ticket and even visit the Holy Trinity Cathedral mentioned above. It stops at several other highlights on this list, too!
7. Walk the Narikala Fortress.
Accessible via the cable car ride, the Narikala Fortress is a must see attraction in Tbilisi.
This 4th century fortress has overlooked Tbilisi for centuries. From the fortress, you can see incredible views of Tbilisi including Narikala church, Metekhi church, and further down into the Old Town area.
Originally built in the 4th century, these picturesque ruins are a reminder of Tbilisi's rich history and its importance as an integral part of Georgia's past.
A trip to the fortress should not be missed as part of any Tbilisi itinerary.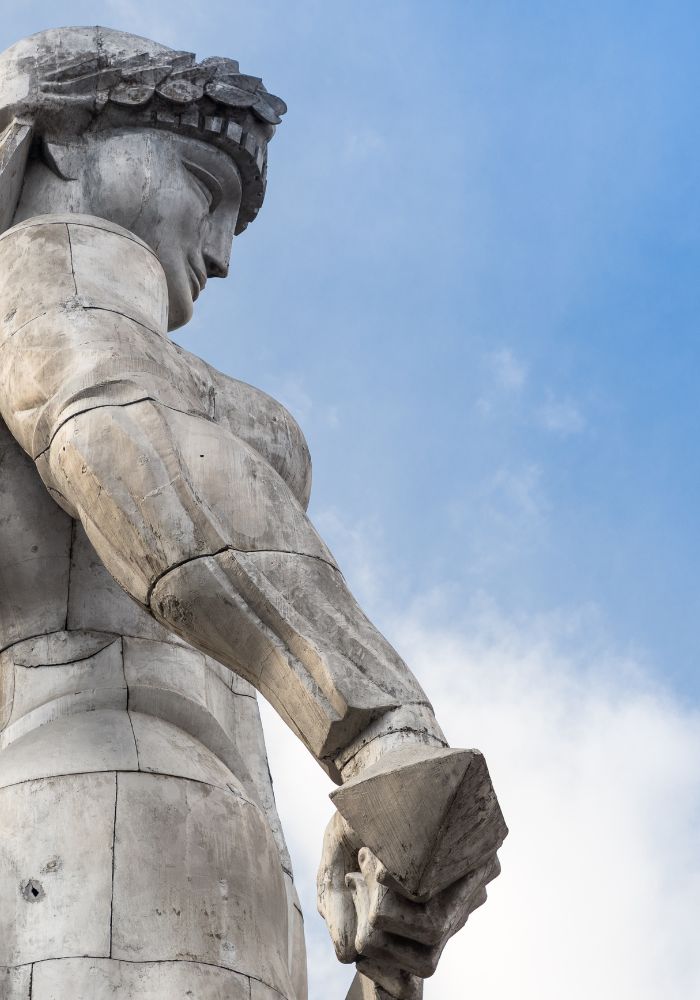 8. Meet the Mother of Georgia.
Constructed in 1958, the Mother of Georgia statue is a symbol of Georgian pride and is one of the city's most popular tourist attractions. Standing high above the bank of the Kura River, it serves as an iconic reminder of this proud nation's culture and history.
Made entirely from aluminum, the statue was created by renowned sculptor Elguja Amashukeli and depicts a woman wearing traditional Georgian attire. She is holding a bowl of wine in one arm and a sword in the other, representing both peace and strength.
The Mother of Georgia Statue in Tbilisi stands a short walk from the Narikala Fortress. It is accessible via the cable car ride.
9. Stroll around Freedom Square.
If you're looking for things to do in Tbilisi, then a visit to Freedom Square should be at the top of your list. This historic square has been the site of many important events in Georgia's history, and it is also a beautiful spot to relax and take in the city sights.
The square is surrounded by impressive architecture, including the old City Hall and the Parliament building. There is also a lovely park area with a fountain, where you can enjoy some peace and quiet away from the hustle and bustle of the city.
Freedom Square is definitely one of the most popular tourist attractions in Tbilisi, so be sure to add it to your itinerary!

10. Visit the Monument of St. George.
The Saint George Statue is one of the most popular attractions in Tbilisi, Georgia. Located in front of the Tbilisi City Hall, within Freedom Square, the statue is a replica of a 13th-century original that once stood above the city.
The original statue was destroyed by Soviet forces in the early 20th century, and was replaced with a statue of Stalin. So, it was a big deal when the Stalin statue was dismantled and the replica was erected in its place in 2006.
Standing at 22 feet tall, the Saint George Statue is an impressive sight. Visitors often take photos with the statue or climb to the top of it for a better view of Tbilisi. If you're looking for top things to see in Tbilisi, be sure to add the Saint George Statue to your list!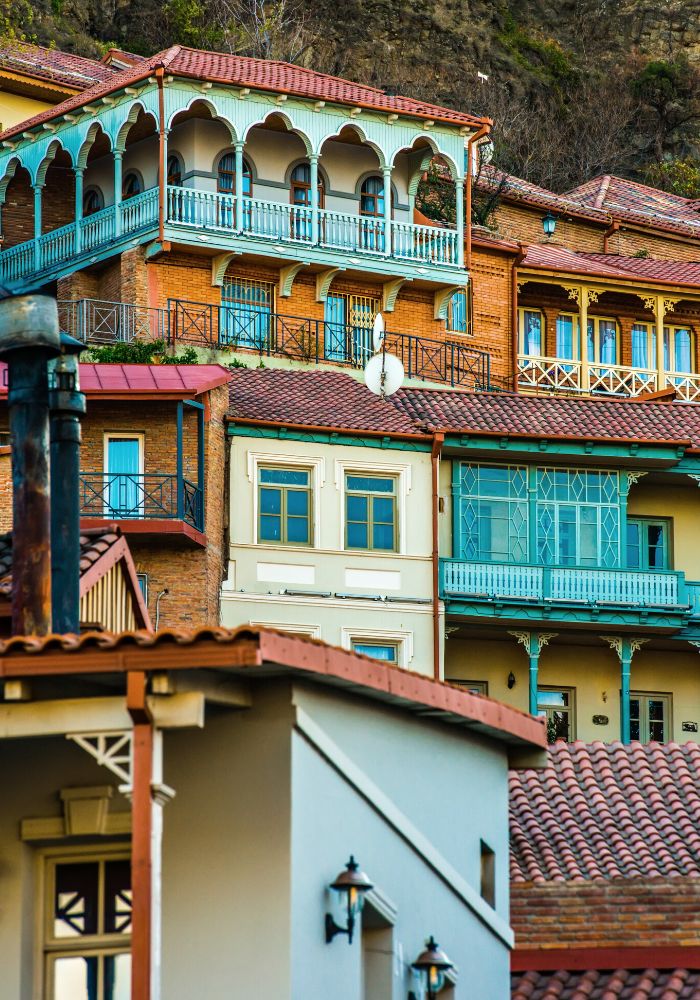 11. Explore the colorful courtyards and buildings.
Tbilisi's Old Town area is incredibly charming. Full of colorful courtyards and brightly painted buildings, I highly recommend taking an aimless stroll to explore the area.
The typical Tbilisi balcony and a courtyard are characteristic elements of the city's traditional dwellings. The windows and balconies are adorned with intricate ornamental details, while the tiled roofs keep in line with local tradition. Inside, you will find tiled fireplaces, cozy alcoves and even courtyards or gardens that bring a feeling of peace to the area.
Exploring Tbilisi's traditional houses is sure to be an inspiring experience for any visitor!
12. Visit the leaning Clock Tower and Marionette Theater.
There's something incredibly charming about the leaning clock tower in Tbilisi. Despite its wonky angle, the tower stands tall and proud, a symbol of the city's resilience.
The clock tower was built by the adjacent Marionette Theatre, where you can catch an adults-only puppet show. Also, one the hour, you can watch an angel come out to ring the bell.
These days, it's one of the most popular tourist attractions in the city. The leaning clock tower is a fun photo opportunity, and it's a great way to get a unique perspective on Tbilisi. If you're looking for things to do in Tbilisi, be sure to add the leaning clock tower to your list!
13. Cross the Peace Bridge.
The Peace Bridge in Tbilisi is one of the most popular tourist attractions in the city. The bridge is located in the heart of the city and spans the Mtkvari River. It is a suspension bridge and was built in 2009.
The bridge was named after the Georgian president at the time, Mikheil Saakashvili. The bridges design was inspired by the shape of grapevines. When the bridge is lit up at night, it is a beautiful sight.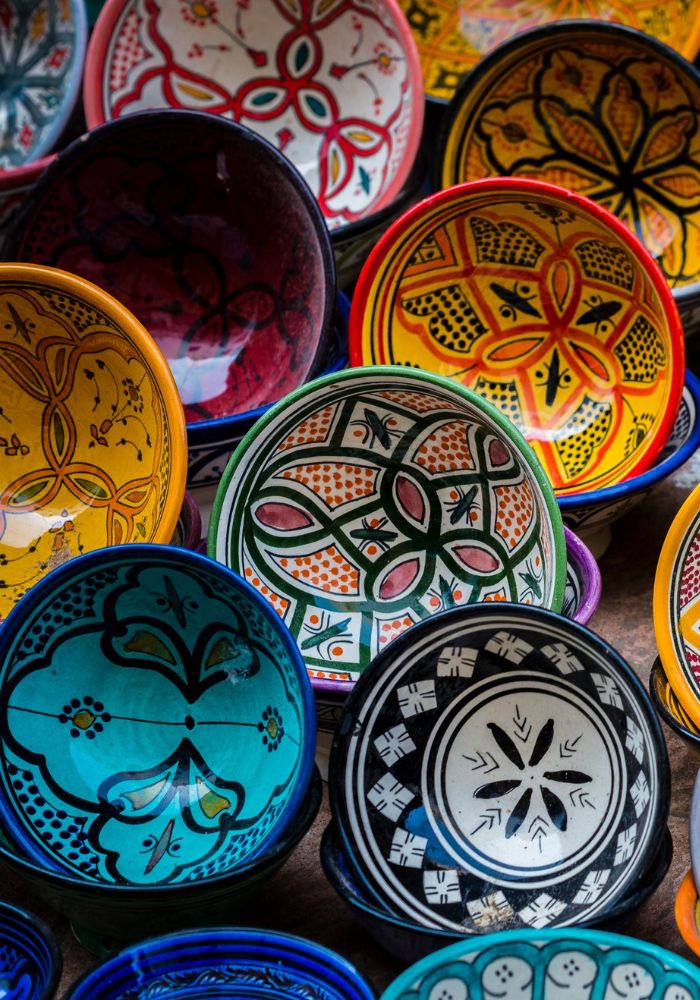 14. Go underground at the Meidan Bazaar.
The Meidan Bazaar in Tbilisi is a great place to find souvenirs and gifts for friends and family back home. The market is full of colorful items like traditional Georgian pottery and handmade art. While the Bazaar is quite small, it is jam-packed.
The Meidan Bazaar is the perfect place to immerse yourself in Georgian crafts and pick up some bargains. Bonus, about a block from the staircase leading underground is a bright and bold "I Love Tbilisi" sign that is great for photos.
15. Stand at the base of Tbilisi's waterfall.
If you're looking for something to do in Tbilisi, make sure to check out the Leghvtakhevi Waterfall. This natural wonder is part of Tbilisi's Botanical Garden and is just a short walk from the sulfur baths. It's a great place to go if you need a nature-break after all the sightseeing.
The waterfall is about 72 feet tall, and it's surrounded by a lush green forest. There's also a small bridge that crosses the creek, providing a perfect spot for some photos.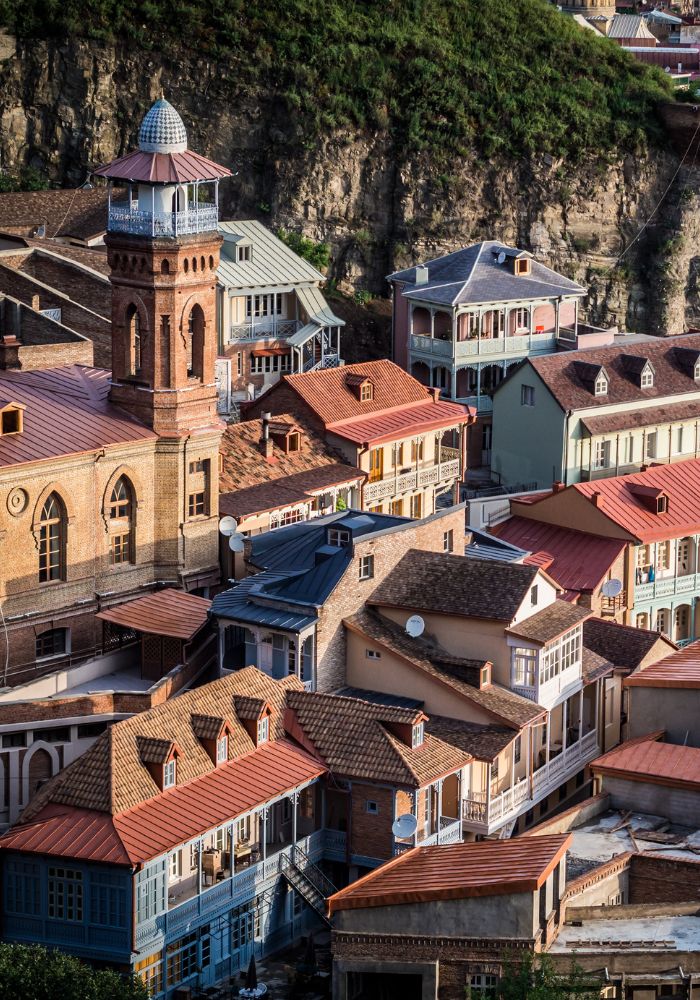 Where to Stay in Tbilisi, Georgia
If it's your first time visiting Tbilisi, I highly recommend reserving a hotel in or near the Old Town areas. This will place you within walking distance to almost all of the sights above.
Here are my top picks:
Golden Light Hotel – I stayed here on my second visit to Tbilisi. Tucked away on a small side street, this exceptionally clean and comfortable hotel is close to the cable car and Meidan Bazaar. The wifi is strong and each room has a kettle and fridge. The staff was so friendly and helpful. I highly recommend it!
TbiliSee Hotel – This cute hotel has a restaurant on site, free private parking, and a shared courtyard. It is close to many of the sights on this list of things to do in Tbilisi. This hotel also has a 24-hour front desk, airport transportation, room service and free wifi.
Castle in Old Town – This unique hotel has beautifully decorated rooms, free wifi, a seasonal outdoor swimming pool, and is within walking distance from Freedom Square. Offering everything from smaller double rooms to executive suites, this hotel has something for everyone.
***
If you have a limited time in Tbilisi and want to make the most of it, I still recommend taking a walking tour. The one linked here is incredibly cheap for the huge value it provides. The tour guide will walk you all around Old Town, hitting many of the things to do in Tbilisi listed here!
(Bonus, the tour even includes a wine tasting and a cable car ride to get a birds-eye view of the city.)
***
I hope you enjoy your time in Tbilisi! Drop me a comment below and let me know your favorite stop.
Pin Me for Later!