Wondering what not to do in Egypt? Here are ten things to know before you go! This list covers things like safety, scams, sites, and money matters in Egypt, and will help prepare you for a smooth and stress-free trip.
Pin Me for Later!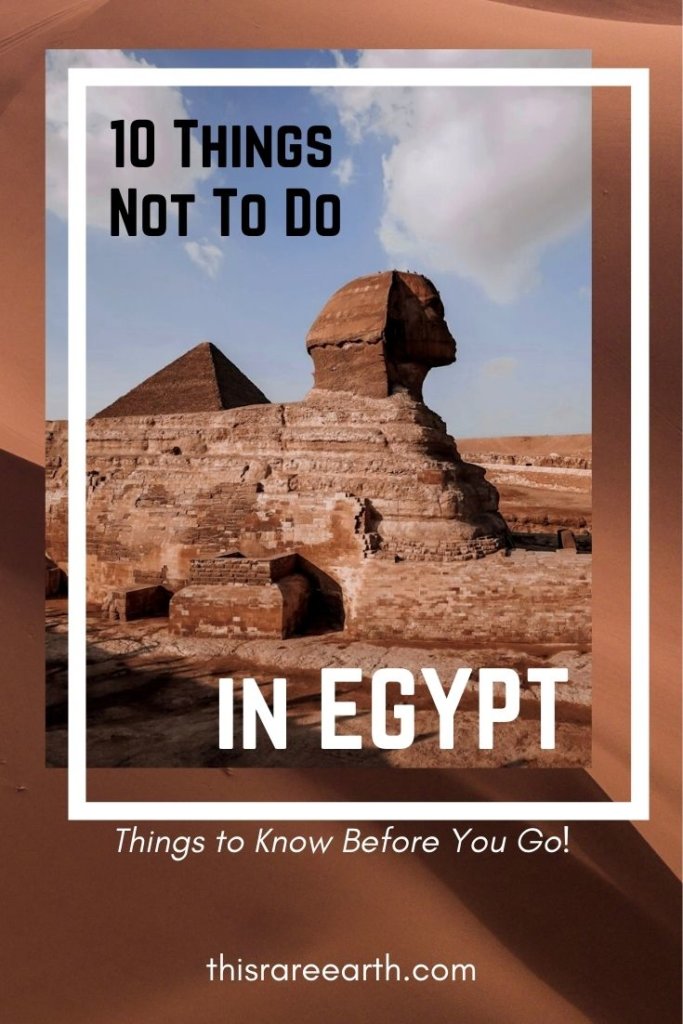 I grew up dreaming of visiting Egypt.
I've always been fascinated by Middle Eastern cultures – in fact, this fascination still remains today and has led me to travel through much of this region. And, the sheer mystery of the Egyptian people has always captivated me – how they lived, how they built the Pyramids of Giza, and understanding their civilization is just mind-boggling.
While the historical and archaeological treasures of Egypt were mind-blowing to say the least, Egypt is not for the feint of heart. Many people find Egypt exhausting, or trying, or just plain difficult.
I'm here to share with you the realities of traveling to Egypt that most research simply doesn't (and can't) prepare you for. Here are all of my recommendations on what NOT to do in Egypt.
What NOT to Do in Egypt: Things to Know Before You Go
1. Do NOT Skip Cairo.
Many travelers make a quick stop in Cairo to visit the Pyramids and then they are off to other parts of the country. I'm here to tell you that that would be a mistake.
It's true that Cairo is a bit dusty and definitely crowded. But Cairo is a true mix of modern and ancient, and there is just so much to see.
Some of my favorite things to do around Cairo are:
The National Museum of Egyptian Civilization for Egyptian treasures and Royal Mummies.
Memphis and Saqqara for colorful hieroglyphics and larger than life sculptures.
Qasr El-Nil (Cairo Tower) is one of the tallest buildings in all of Africa and offers a bird's eye view of the city
Coptic Cairo to ogle at the Christian churches and relics.
Islamic Cairo to explore the alleyways for hundreds of historical mosques and shrines.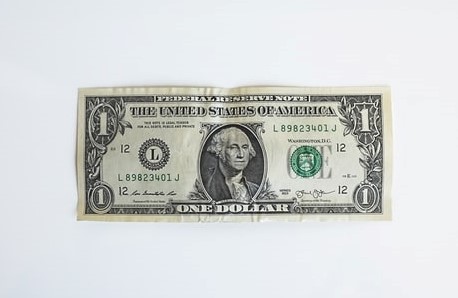 2. Do NOT Forget to Carry Cash.
Of all the things not to do in Egypt, be sure that you don't forget to bring cash in addition to your credit cards.
Tipping is very much expected around Egypt, no matter where you go. Base salaries are often pretty low here, so locals do somewhat rely on tips for their income.
Definitely carry small bills with you. Some areas do accept US dollars, so a small assortment of $1 and $5 bills is a wise addition to your wallet. Egyptian Pounds are also wise to carry. Think 10's, 20's, 50's.  (20 EGP is currently worth 1.27 USD, for reference).
Do note, you may be surprised at the amount of people who expect a tip from you. This can include everything from drivers to airport staff to temple guards at the doors of the monuments. This also can apply to someone who helps you out by say taking your photo.
Many of these small tips are deserved, but every once in a while you may find yourself wondering "why should I give a tip to so and so" or being pressured to tip more. Yep, pressured.
I had a driver who I hired for a short distance and he wanted way more than I thought was reasonable as a tip. I mean, more than I'd even tip in the USA. My best advice is to hold your ground and remember that tips are optional and the amount is up to you.
Be cautious (but not unkind) if someone walks up to you and is extra friendly and helpful. I believe in tipping when it is deserved and tipping generously when it is earned. But I do not believe in being pressured or tipping for something I didn't even want.
3. Do NOT Fall For Scams.
Hassling, scams and bribery are not uncommon here, especially near the tourist sites. Be prepared for constant sales pitches for camel rides, souvenirs, and sometimes even official temple guards and staff at archaeological sites.
I had someone try and charge me an entrance fee twice, and I know for a fact that they were aware that I had already paid. It wasn't simple mistake. I stood my ground and eventually got through.
Here is a good rule of thumb: assume that nothing is free.
Don't take photos of camels or go on a "free" camel ride. Don't accept any "free" souvenirs. A firm NO will do wonders for you.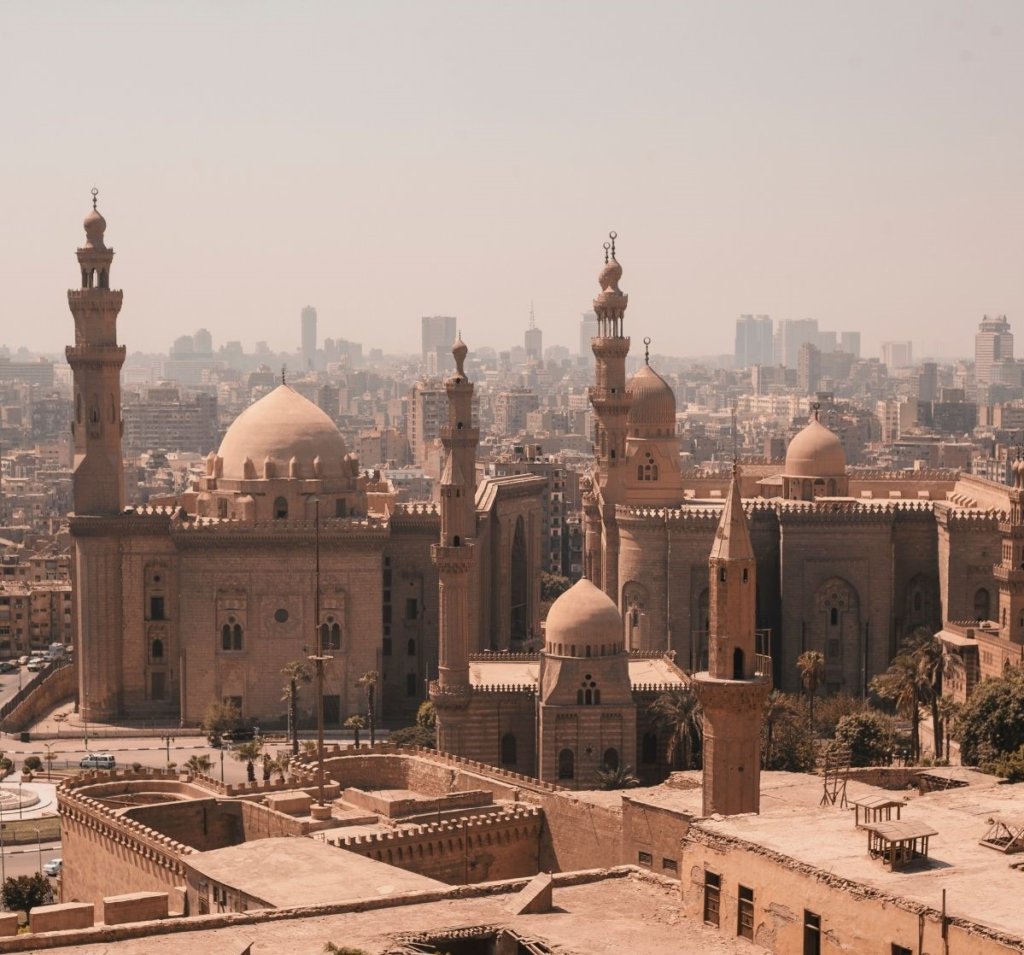 4. Do NOT Neglect to Check Current Safety Regulations.
Though I can say that I never felt unsafe during my time in Egypt, it is worth keeping up to date on current safety regulations in the area. There are still the random demonstrations and bombings from time to time and many governments still discourage tourists to visit many areas of Egypt.
No country is impervious to danger, or safe from the bad apples. 100% safety can not be guaranteed in any country in the world. However, violent crime against tourists is fairly low in Egypt. You do need to be aware of petty crimes and scams, though (keep track of your belongings at all times).
5. Do NOT Be Surprised By Military and Police Presence.
In light of everything I mentioned above, the Egyptian government does make an effort to keep heavily trafficked tourist sites safe. When you visit places like the Pyramids of Giza, you will see loads of armed police with rifles. You will also see their presence in airports.
When entering major attractions, you will likely need to have your bags scanned and walk through a metal detector, too. Love it or hate it, they do this to keep people safe.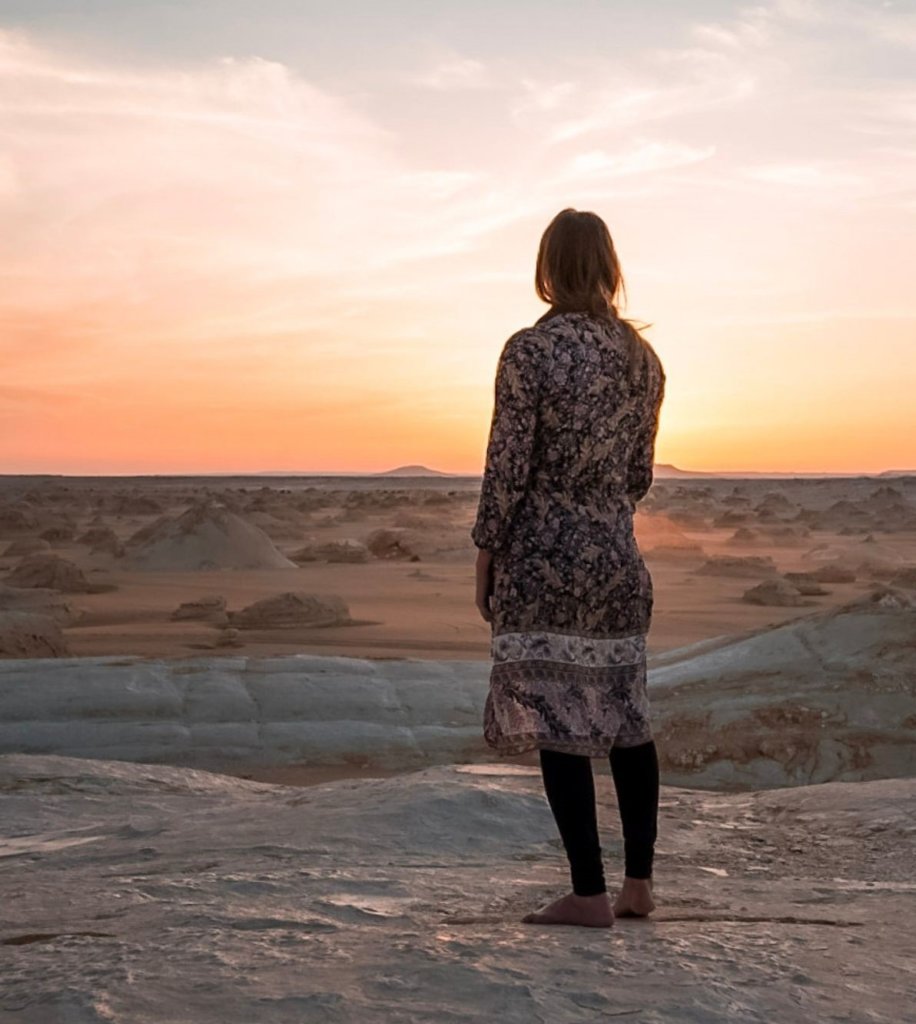 6. Do NOT Dress Like You Do at Home.
As a woman traveling alone in Egypt, I was careful to dress modestly and pack my typical wardrobe for the Middle East.  Egypt is a (mostly) Muslim country that will not take kindly to exposed cleavage or skimpy dress. 
I have an entire post on what to pack for Egypt as a female, but here it is in a nutshell:
Dress modestly out of respect for the Egyptian culture as well as the religion. Local women will be covered up in anything from an abaya to long dresses, pants, and scarves.
I recommend packing and wearing loose-fitting pants, dresses, and skirts. My go-to items for this region are black leggings paired with a long kimono and loads of lightweight scarves.
You will want to cover your shoulders at all times unless you're at the beach or the pool. I do typically pack tank tops or sleeveless dresses, but I purposely pair them with my kimono and scarves.
Bonus – Dressing modestly will also help to keep men's catcalling to a minimum.
7. Do NOT Forget to Budget for Extra Fees.
I've already mentioned the tipping above, and that is one element that you do need to add into your budget.
However, one thing that surprised me was that many sights and museums do charge an extra fee if you want to take photos. And even still, others will add a fee for using a tripod, too.
While none of the fees are too extremely steep, they do add up.
For example, if you want to actually enter King Cheops pyramid or go into Mereruka's Mastaba at Saqqara, there will be another fee on top of your first entrance fee.
I would recommend budgeting something like 25% -30% extra for these various fees in advance so that you are not surprised on the spot. Bonus tip, many nationalities will need $25USD in cash for a visa on arrival.
You May Also Like: Egypt Travel Tips
8. Do NOT Be Afraid to Go It Alone.
Egypt is a place that intimidates man travelers, none more so than solo females I'd wager. But I think if you want to travel Egypt solo, I am living proof that it is possible.
It's true, I'm super comfortable in Middle Eastern countries because I've spent loads of time in this area. But I found the Egyptian people, beyond the small hassles and scams, oto be some of the friendliest and warmest people I met. They genuinely wanted me to have a wonderful impression of their country.
Sometimes language barriers got in the way, but so many of them made an effort to welcome me or try and speak to me with no expectation of anything in return.
I would wholeheartedly return solo without hesitation. (But of course, only do what you are comfortable with.)
9. Do NOT Bring Your Drone.
As a travel blogger and photographer, I would have loved to bring a drone in to get some amazing photos in Egypt. But, it is strictly not allowed.
Egypt passed a law in 2017 prohibiting the use and trade of drones altogether. This law means it is illegal to import, possess, or fly drones unless you receive a permit from the Ministry of Defense.
Leave it at home! Otherwise, at best you would be fined. At worst it would be confiscated.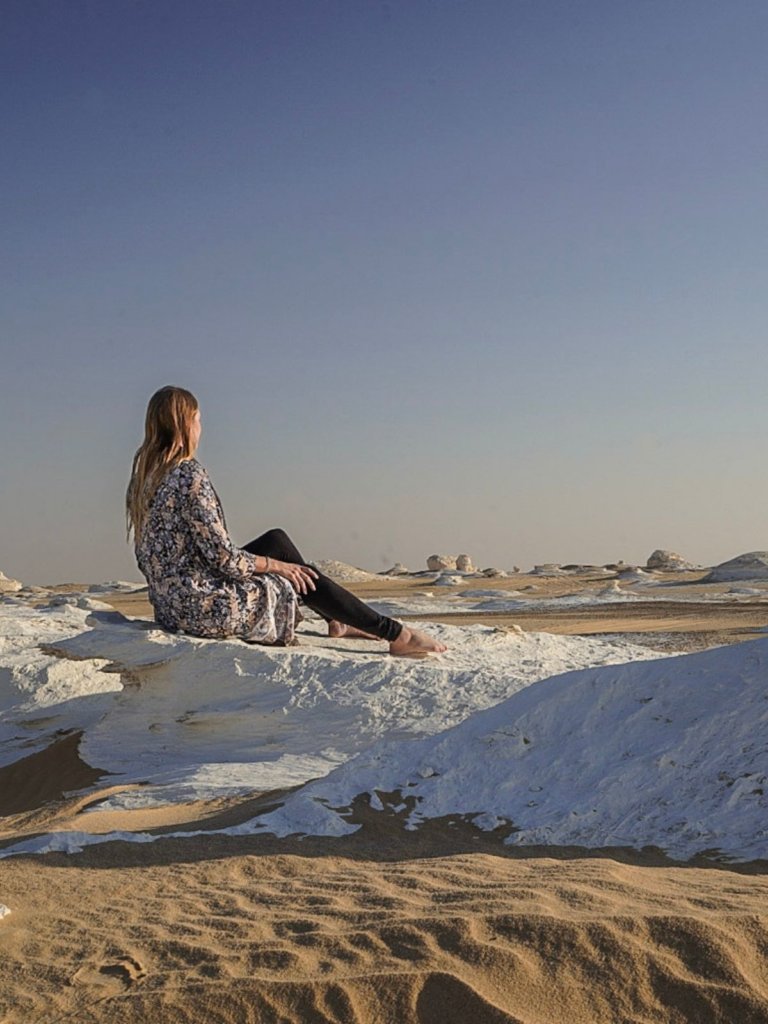 10. Do NOT Forget the Natural Wonders.
While Egypt is decidedly full of ancient man-made wonders that absolutely deserve a lot of attention, Egypt also has some of the most beautiful natural wonders you can find in the area.
My favorite stop was several days camping in the Black and White deserts of Egypt. Additionally, Hurghada is home to some naturally beautiful islands. And, you can even climb Mount Sinai, believed to be the place where Moses spoke to God and received the Ten Commandments.
Do not skip the natural wonders of Egypt! They are one of the best parts.
***
This concludes what not to do in Egypt! These ten things to know before you go will set you up for a smooth and stress-free trip.
Pin Me for Later!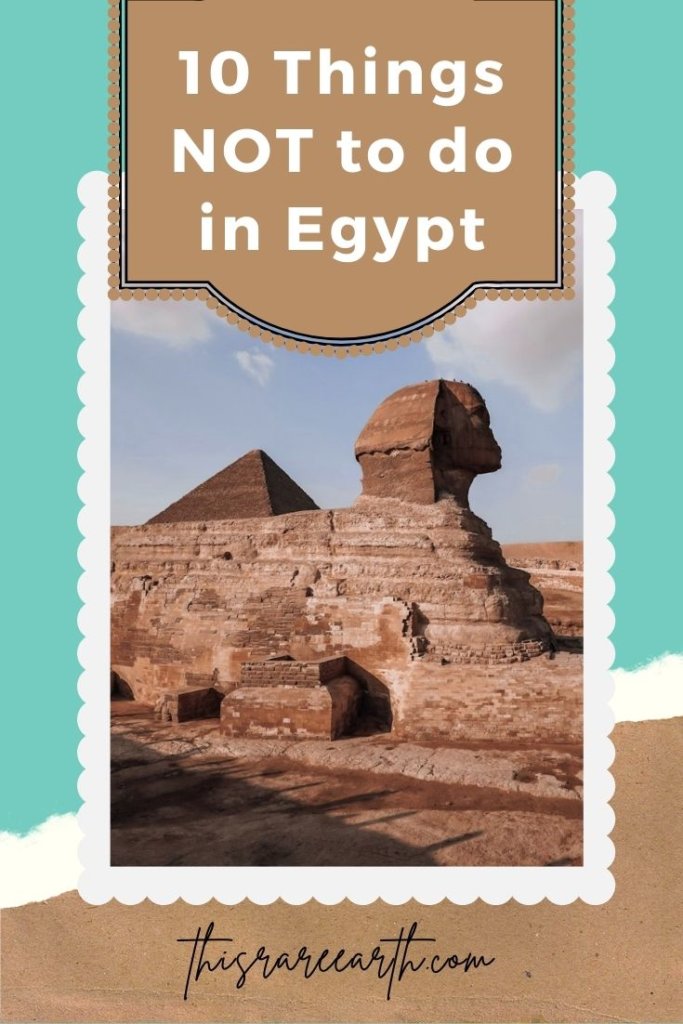 Questions? Let me know below!