Are you planning on visiting the Pyramids in Giza, Egypt? These great and famous pyramids are a sight to see! Here I will help you plan your trip and pass on tips for visiting the pyramids in Egypt in person – as well as share a virtual tour of the Egyptian pyramids.
Pin Me for Later!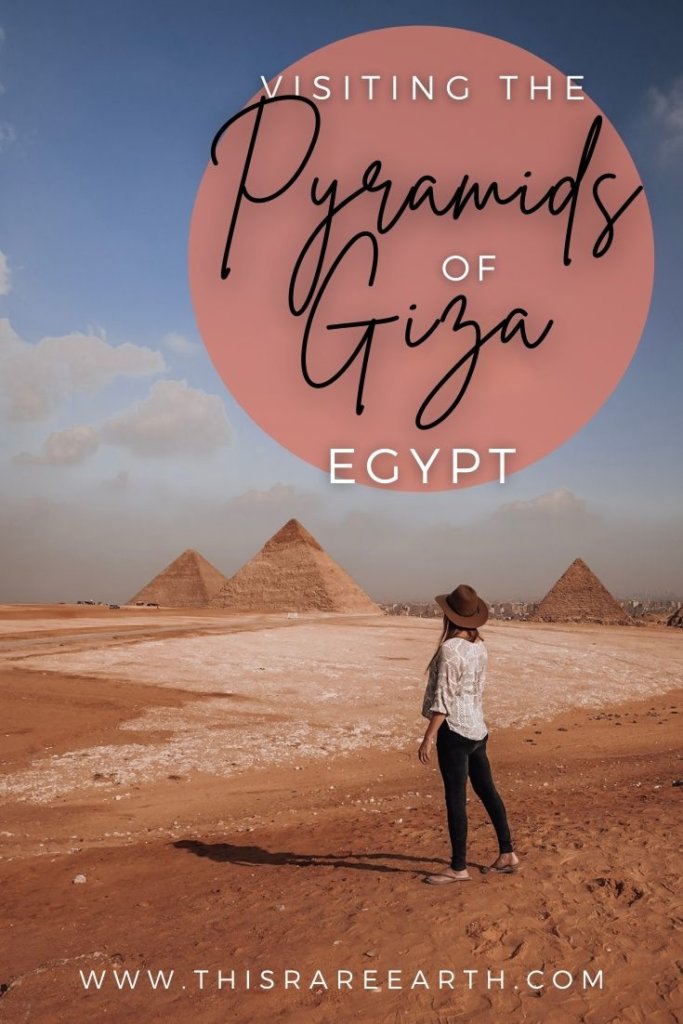 Visiting the Pyramids in Giza, Egypt is an experience that sits at the very top of many people's bucket lists. After all, they are one of the most famous of the Seven Wonders of the World.
I remember learning about the Pyramids of Egypt in my grade school classroom, not to mention watching many historical television programs on the architecture of these structures. The sheer mystery of how they were built has captured endless attention over the years – and yet we still don't have definitive answers.
Visiting ancient Egypt is like taking a trip back in time. The fact that we can stand within arms length or climb inside of these stone legacies of this ancient civilisation is unreal.
Visiting the Pyramids of Giza is a non-negotiable must-do on any Egypt itinerary. However, it is not without challenges and annoyances. Below I will share current and detailed info on spending a day at the Pyramids of Giza. Here is everything you need to know to visit these wonders!
You May Also Like: Best Things to Do in Cairo, Egypt
Visiting the Pyramids of Giza in Egypt
The city of Giza is full of activity. The hustle and bustle begins quite early and the honking of horns is like a constant melody in the city. The crumbling buildings and congested streets are covered in dirt and grime and dust. It's definitely what you'd call rough-around-the-edges, and is a dazzling chaos for the senses.
Meanwhile, from just about anywhere, the tall and ancient Pyramids rise silently in the background – triangular silhouettes against fiery skies.
It's almost surreal to see these ancient wonders while eating your breakfast or haggling over taxi fare. It seems like it shouldn't be a casual occurrence. And yet there they are, always watching over the city.
Love it or hate it, spending some time in Giza is a necessity if you are visiting the Pyramids. Here we will cover everything from costs to weather to when to go and what to wear – as well as annoyances and scams to be aware of. So let's get into the nitty gritty!
First, some basics.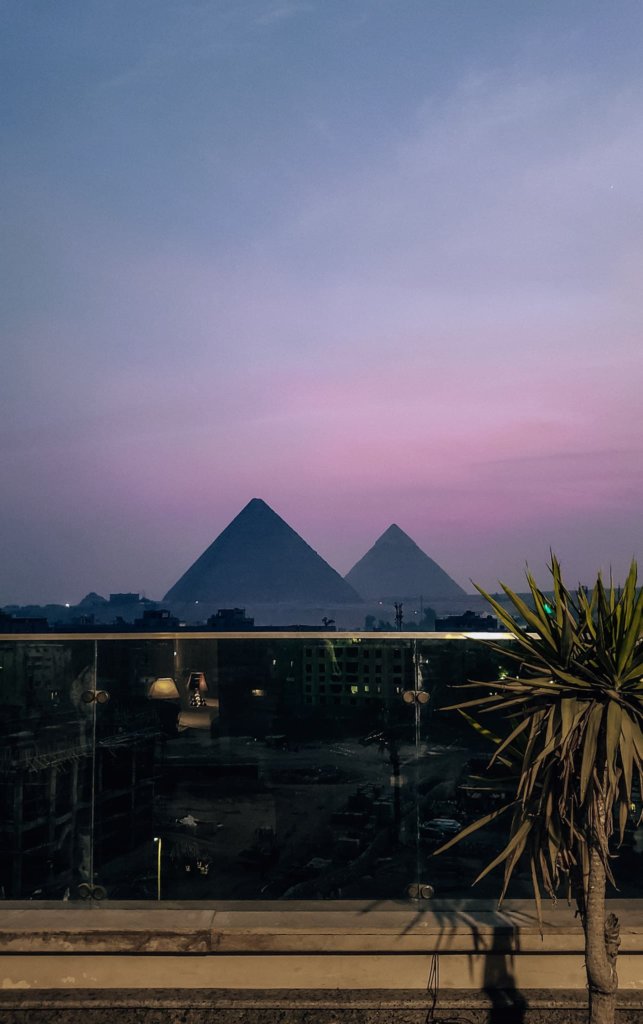 Are the Pyramids Worth Visiting?
Hands down, yes! You simply cannot visit Egypt and skip seeing one of the Seven Wonders of the World. Visiting the Pyramids of Giza are worth any potential hassles and scams, and are well worth the price in my opinion. (More on those hassles and scams below.)
How Much Does it Cost to Visit the Pyramids of Giza?
The flat entrance fee into the Giza Pyramids Complex is 200EGP, which is roughly $13USD. Additional costs will be added if you choose to enter inside of the Great Pyramid or one of the smaller two.
Please note that a camera / photography is included in your ticket but a tripod will cost an extra 20EGP.
Below are the current prices for everything at the Giza pyramid Complex, however these prices can change at any time:
| | |
| --- | --- |
| Entry to Giza Pyramids Complex | 200EGP |
| Entry into the Great Pyramid (Cheops) | 400EGP |
| Entry into the 2nd or the 3rd Pyramid | 100EGP |
| Entry to the Solar Boat Museum at Giza Pyramids | 100EGP |
| Entry to Pyramids Sound and Light Show | 300EGP |
Can Tourists Go Inside of the Pyramids?
As listed above in the price chart, yes. Tourists can pay extra for entry inside of certain Pyramids.
I personally paid the extra 400EGP to go inside the Great Pyramid. Is it worth it? Well, that depends on the person. A few things to be aware of.
Don't expect to see colorful hieroglyphics, statues or artworks. You will be entering an empty stone room with an empty tomb. A start contrast to other Egyptian sights, indeed!
To get to this room, you will need to climb up an inclined path, steep and narrow, and much of the climb needs to be done hunched over so as not to hit your head. If you tend to get claustrophobic, I imagine this might be your nightmare.
If you do choose to climb up, you will be entering through the tomb-raiders' entrance, with the "door" cut straight into the side of the Pyramid.
For me personally, it was worth it to experience climbing up as the thieves did. But there were plenty of unhappy murmurings that I overheard as others walked by me.
Where are the Pyramids of Giza Located?
The pyramids are located on a sandy plateau on the west bank of the Nile River. They are roughly 11 miles southwest of downtown Cairo.
Unlike you may see in some photos, the Pyramids are not located in the middle of the desert. Look closely at my images here- you can see bustling Giza in the background.
How Can I Get To the Pyramids?
You have a few options for transportation.
The first and easiest option, at least for most Americans, is Uber. Yep, Uber operates in Cairo and Giza, and I have an entire post on using Uber in Egypt. This is the most convenient and reasonably priced option, and bonus – you know the price upfront. Be sure to check out that post above though for a few of the drawbacks, as well.
Another option is to pay for a taxi ride. The price will vary depending on where your hotel is located, and be ready to haggle and set a price before you get in. From Cairo you can also opt to take the Metro Line 2, but it does not travel all the way to the Pyramids entrance so you would still need to take a taxi for the remainder of the trip.
Lastly, you might opt to book a tour if you don't feel confident about going it alone. I did travel Egypt as a solo female, but am well aware that not everyone will choose to do so. Some highly rated tour options are below.
What Time do the Pyramids Open and Close?
It depends on the season.
From October – March: 8am through 5pm (last entry at 4pm.)
From April – September: 7am through 7pm (last entry at 6pm.)
When is the Best Time to Visit the Pyramids?
Just outside of the Sahara Desert, Egypt can get HOT. If you can avoid the summer months from June through September, you will also avoid much of that heat. I visited in November and the mornings and nights were slightly chilly but the days were warm, sunny, and overall pleasant.
I recommend visiting the Pyramids right when the complex first opens early in the morning. This avoids heat and crowds. If you are not an early bird, you can also get tickets (on site) for the last entry time of the day and linger a bit until most of the crowd has dissipated.
What Is It Like to Visit the Pyramids of Giza?
It sparked a mix of emotions for me. First and foremost, an overwhelming sense of awe as I gazed up at the Sphynx, which I had seen in countless photos during my life. I took a few moments just to appreciate the wonder of it all.
Also, I felt alive as camels and locals and tourists alike hustled and bustled around the complex. I felt protective of my camera gear and was very cognizant of where it was at all times. I felt curious as I entered the thieves' pathway up into the Great Pyramid and imagined myself in another time. And, yes – there were a couple of internal eye rolls directed at Egyptian men way too young for me trying to get my attention.
I was reminded of some of the other ancient wonders I've seen, like Angkor Wat in Cambodia; Chichen Itza in Mexico; Machu Picchu in Peru. They all are very different of course, but that sense of going back in time is the same.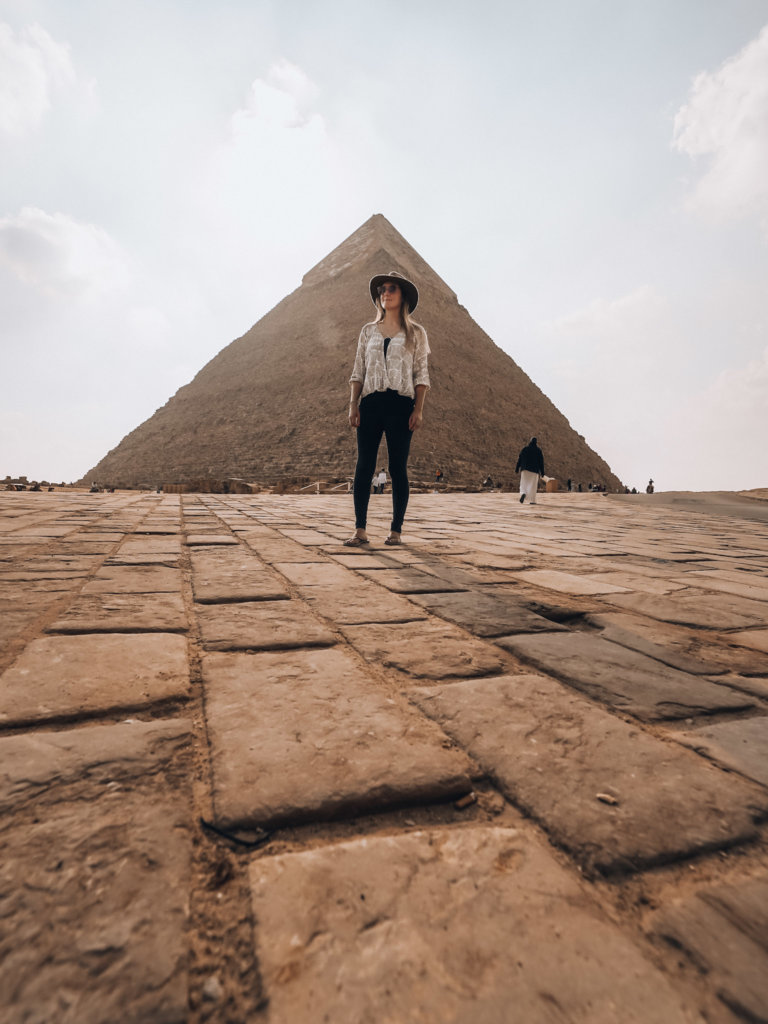 What Should You Wear to the Pyramids?
I saw people in all manner of dress. Men don't need to worry too much about their wardrobe, but of course should plan to wear a t-shirt paired with long pants or even shorts in hotter months.
For women, most importantly keep your clothing modeset. You'll see in my photos that I wore long pants and a loose long sleeve top. A good rule of thumb is to keep knees and shoulders covered, and avoid tight tops. I have an entire Egypt Packing List post for women that will give you all of the specifics.
Can You Climb on the Pyramids?
The short answer is no,it is illegal to climb the Pyramids. After all, the Great Pyramid is 4,500-years-old and is a Unesco World Heritage Site. We want it to last for a long time to come. Strict rules are in place and violators can be sent to prison.
Can You Touch the Sphinx?
You cannot touch the Sphinx. In my experience, you cannot get close enough to it to even try. But, because the Sphinx is so huge, it is actually best viewed from a bit of a distance anyway.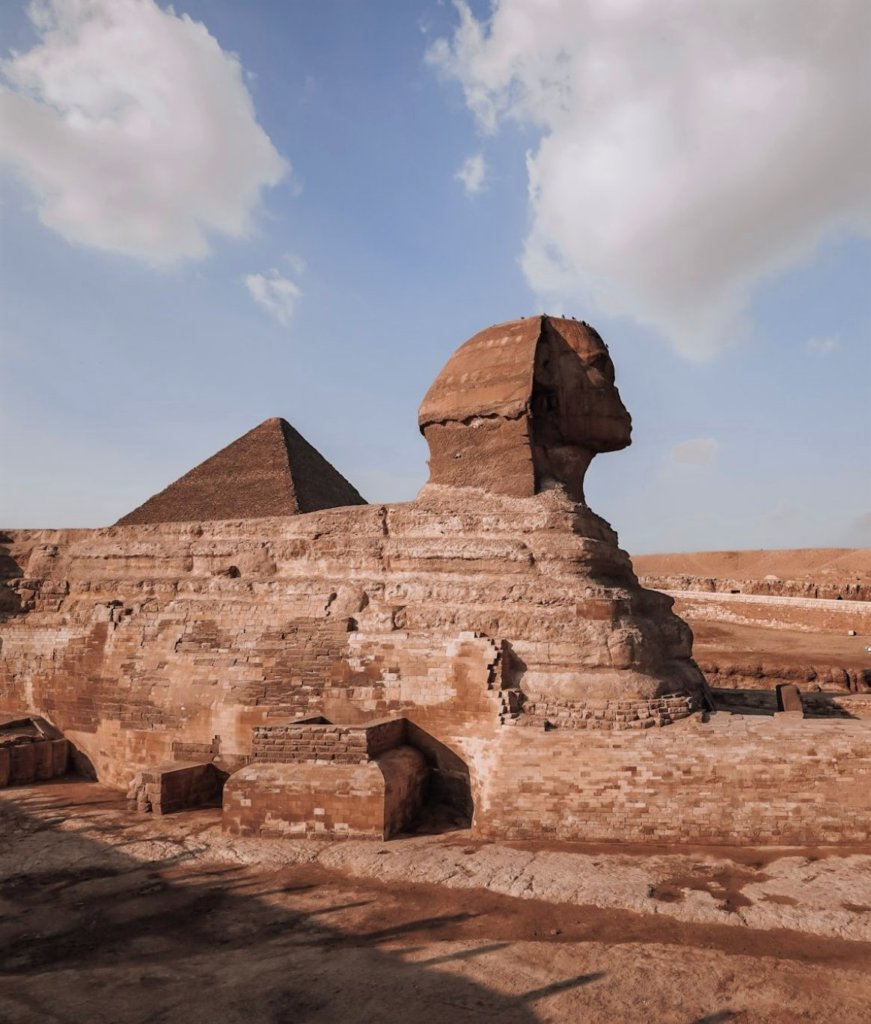 What Annoyances and Scams Will You Find at the Pyramids?
There are a few things to be aware of as a tourist entering the Giza complex.
Firstly, I have heard of taxi drivers taking passengers past the actual entrance and insisting that you need to hire a guide or a camel or a horse to get in. Flat out not true. There is an entrance that you can walk through on foot, with a ticket office and an X-ray for bags.
Secondly, the men who offer camel rides are charging A LOT. As in, more than you would pay in other Middle Eastern countries. Not to mention, I have questions about how the poor camels are treated here. After witnessing the camels who roam pretty freely throughout the UAE, the camels stationed near the Pyramids gave me pause – but that is another story.
Lastly, I heard that there are camera snatchers and pickpockets all around here. Personally I did not run into any of this, but as mentioned above, I was definitely cognizant of my camera and belongings while visiting the Pyramids of Giza.
There are a number of Police stationed around the complex, so know that if you do run into any issues that help is nearby.
You will also likely be bombarded with offers for everything from souvenirs to camel rides to taxi rides and tour guides. Having been to similar environments before, this honestly doesn't phase me anymore. But I completely understand that this can be overwhelming.
Have a firm but kind "No, thank you" ready at all times unless it's something you truly want.
You May Also Like: Egypt Travel Tips
Is Visiting the Pyramids Safe?
Yes. Despite the annoyance and scams listed above, the entire complex is quite safe.
There are plenty of policemen (with big rifles) stationed all around the grounds, as mentioned above.
There are metal detectors and X-Ray machines that all visitors must pass through to enter. It is mandatory.
How Tall are the Pyramids and How Much Do They Weigh?
The Great Pyramid of Giza is over 450 feet tall (or 139 metres) and each block weighs between 2.5 – 15 tonnes, according to a worker on site. Can you imagine how heavy a 15 ton rock would weigh??
This is why we still do not definitively know how ancient Egyptians managed to stack them on top off each other. Even a wooden ramp seems a stretch, with each block weighing so so much. There are an estimated 2.3 million blocks that make up the Great Pyramid of Giza.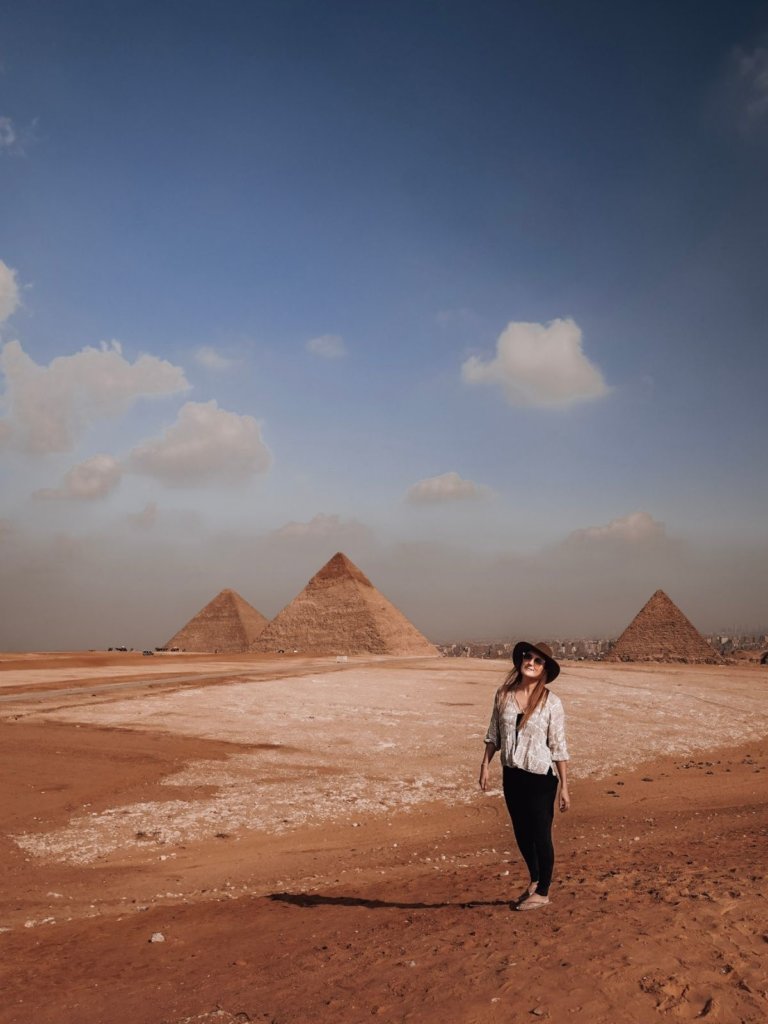 How Long Did It Take to Build the Pyramids of Giza?
In short, we don't actually know. Historians theorize that it took two decades to complete the Great Pyramid, which is the only surviving remnant of the Seven Ancient Wonders of the World. Many Egyptologists believe that it took an army of around 100,000 slaves to build.
The Great Pyramid is referred to as Cheops after the Pharaoh Khufu (or Cheops as the Greeks called him). The smaller second and third Pyramids of Giza are called Chephren and Mycerinus. These two were built by Pharaoh Khafre (who is also responsible for the Sphinx) and Pharaoh Menkaure, respectively.
Did you know that there are actually 9 Pyramids at this location? That's right – not just the famous three. The six others are smaller ones reserved for a mortuary and a "Queen's Pyramid" for each of the larger three.
Who Were the Pyramids Built For?
The Egyptians believed in an afterlife and therefore believed in preparing for it as best as possible.
Each of the Pharaohs had elaborate tombs constructed, which we know today as the Pyramids. All of their worldly belongings were buried with them, like clothing and riches, to be carried with them into the afterlife. Khufu, Khafre, and Menkaure ordered the Pyramids to be built as their tombs.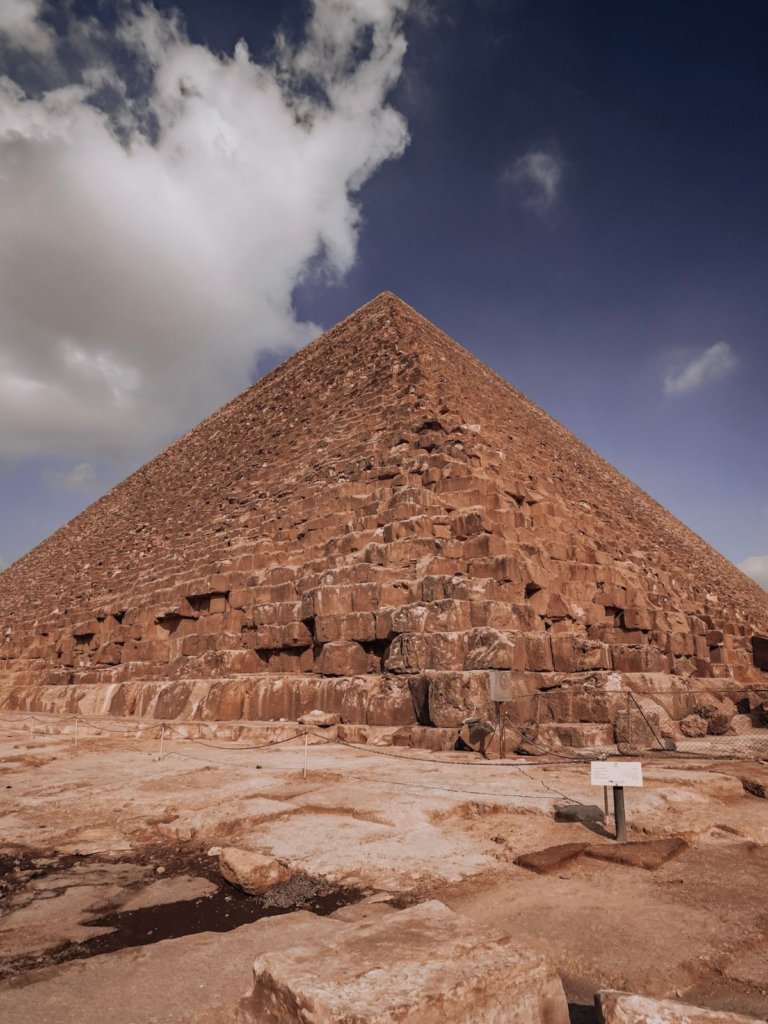 Take A Virtual Tour of the Egyptian Pyramids of Giza
In this video, produced by Harvard X, Professor Peter Der Manuelian takes viewers back in time as he explains the significance of many sites within the Giza Complex. Take a photographic virtual tour of the Egyptian Pyramids below.
And this one, by BBC, takes viewers inside of the Great Pyramid, to some areas that are not open to the public on site.
Additional Pyramids of Giza Travel Tips
Spend at least one night in Giza rather than Cairo. Waking up to see the Pyramids outside of my window was an awesome experience. And yes, you can get this view on a budget!
If you are nervous to go it alone, hire a guide or join a tour.
Avoid 9am and 10am arrival times, as this is when I saw loads of tour buses piling in. The ticket line will be massive. Super thankful to have avoided all of that.
Remember to detach from any hassles and be present in the moment of history that you are witnessing. It is breathtaking.
There is a sound and light show at the Pyramids nightly. I did not opt to do this, as it's not really my thing, but for some it might be interesting. I did however catch some free glimpses from my Giza balcony.
Be sure to have small change in your pockets at all time. Tips are expected for everything in Egypt. Small tips can be given to short taxi rides and toilet attendants. Big tips can be given to hired drivers and tour guides. In the end, tip what you feel is fair based on the service. This is a huge part of their livelihood in some industries.
There are toilets near the entrance to the Complex, but none farther in. Plan accordingly!
Sunscreen, a hat, scarf and sunglasses will be your BFFs.
You will likely spend a couple of hours minimum on site walking from one attraction to another, and there is no time limit. Take as much time as you like. (Unless you are on a tour, then I imagine that everything will be timed out specifically.)
So! Do you feel ready to survive visiting the amazing Pyramids of Giza now?
Seeing the Pyramids with your own eyes is so much different to seeing it from the pages of a history book. It's like walking back in time and seeing a glimpse of what daily life was like for the ancient Egyptians. With preparation on what to expect, you'll be just fine.
What To See Next?
Definitely take a day trip to Dashur, Saqqara, and Memphis! While these sites are far less known than the great Pyramids, I found them to be some of the most fascinating places I saw in Egypt, period.
Don't skip the city of Cairo. There are loads of interesting things to see in Cairo.
And, you know me – I couldn't travel to Egypt without making my way into the Sahara and spending a few days camping.
Have fun traveling back in time to ancient Egypt! You can find loads of other Egypt travel resources here.
Pin Me for Later!