A Pacific Coast Highway road trip is something that everyone should experience at least once in their life. This Pacific Coast Highway Itinerary travels 7 Days along California's famous highway, and highlights the best stops along the way. If you are looking for the perfect Pacific Coast Highway Road Trip itinerary, then you have come to the right place!
Pin Me for Later!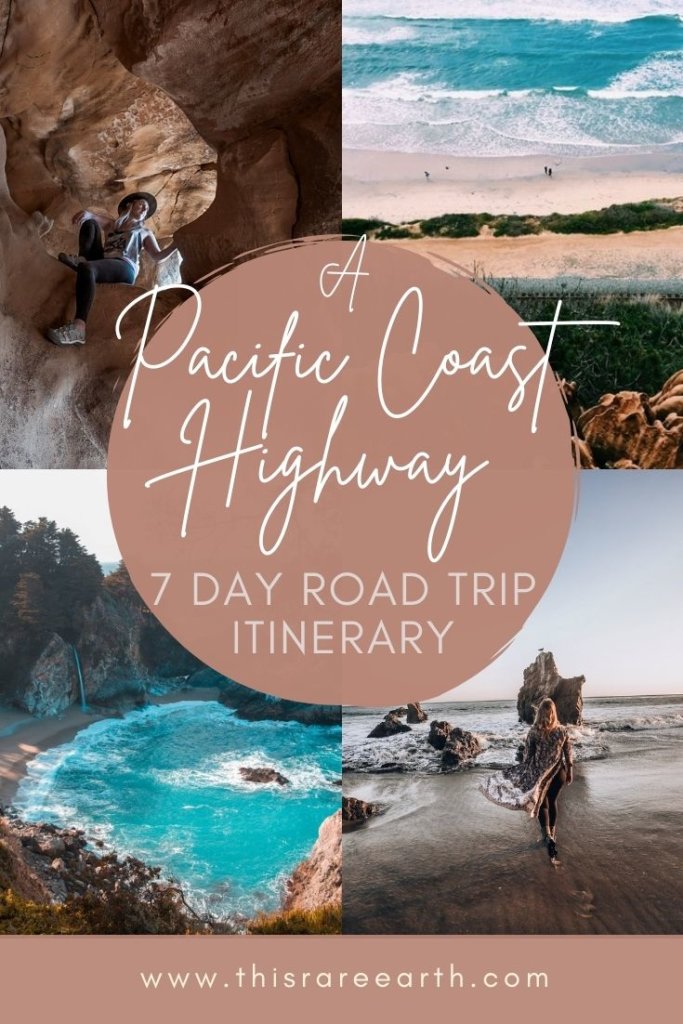 So, you have one week off. You want to explore the California coast and drive the Pacific Coast Highway. But now, you need an itinerary.
You have come to the right place!
I've lived in California for 13 years and have driven the Pacific Coast Highway many times. Here you will get an insider's perspective on the best things to see and stops to make on your Pacific Coast Highway 7 Days Itinerary.
This road trip itinerary will be written from south to north, since I am a SoCal native. But, you could easily reverse the order if you plan to start in Northern California instead.
Lastly, stay until the end, because there you will find some important FAQ's on driving the PCH, as well as a map of the entire journey. So let's do this!
A Pacific Coast Highway Itinerary: 7 Days On the Road
Itinerary Overview
Day 1: San Diego to Orange County + Activities
Day 2: Orange County to Malibu + Activities
Day 3: Malibu to Santa Barbara + Activities
Day 4: Santa Barbara to San Luis Obispo + Activities
Day 5: SLO to Big Sur + Activities
Day 6: Big Sur to San Francisco + Activities
Day 7: San Francisco to Mendocino + Activities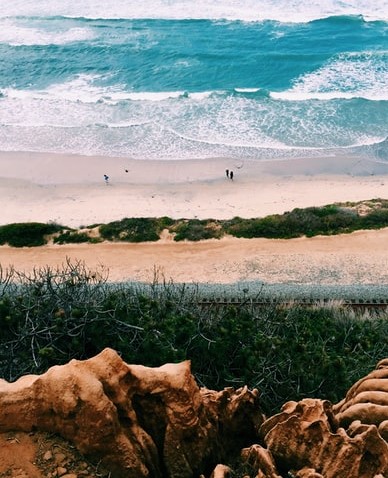 Day 1: San Diego to Orange County + Activities
San Diego is the perfect place to start your journey. It's famous beaches, laid back surfer lifestyle, and ideal climate are the best introductions to California that one can have. Plan to start your day as early as possible, because we have a lot to fit in!
To do San Diego justice, you simply need to hike Torrey Pines State Reserve. Bask in the golden sun and explore the rugged trails overlooking the dark blue ocean. Next, head to La Jolla Cove to see the sea lions and epic cliffs!
Drive inland and visit Balboa Park, one of the most popular urban parks in the entire United States. While you could easily spend several days exploring all that Balboa Park has to offer, choose one or two attractions that are most interesting for you. Choices include the Natural History Museum, Japanese Friendship Garden, Botanical Garden, and Cultural Village, just to name a few.
You May Also Like: California Themed Gift Ideas
And now, we hit the road! It's time to head north into Orange County. It will take roughly 1.5 hours to drive from San Diego to Laguna Beach, which is where you will stop for the night.
Once in Laguna, walk the streets of this small coastal town and grab dinner from one of the local establishments. Pop into some of the local art galleries and boutique shops.
And, once the sun goes down, Day 1 of our Pacific Coast Highway road trip is complete.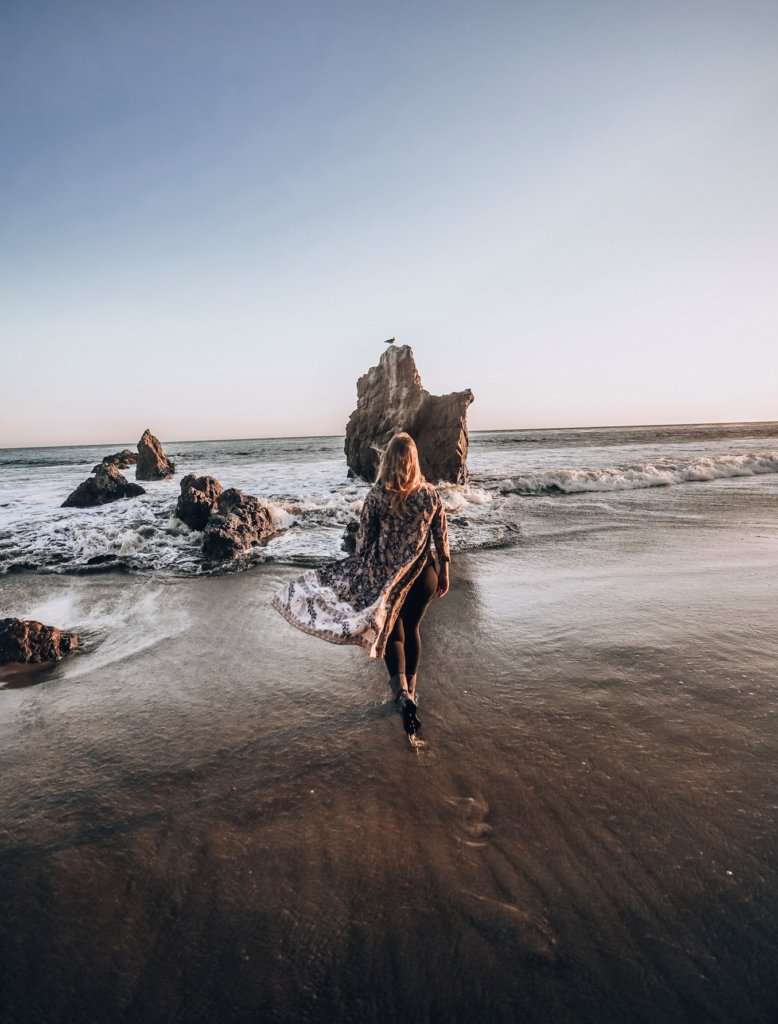 Day 2: Orange County to Malibu + Activities
Day 2 of your Pacific Coast Highway Itinerary begins with a picturesque hike to get your blood pumping. Drive to Laguna Niguel to hike the 2.3 mile Badlands Park Trail.
The panoramic ocean views can't be beat – and don't skip walking down the stairs to admire the rock and sandstone formations below. Go as early as you can handle, and you will have the views all to yourself!
After a hearty breakfast, consider visiting the Orange County Art Museum or the vibrant Santa Ana artists community. Even if you don't consider yourself "artsy" you are sure to find something that inspires you. Or, explore this long list of thing to do in Orange County.
From here, we continue north, through Los Angeles County. Continue along Highway 1 until you see signs for Marina del Rey and Venice Beach, where you can explore seaside towns or paddleboard in the marina.
Keep heading north to Old Muscle Beach, which is an absolute must-see on your trip. Public workout equipment is free for use on the beach here, and people will be using the rings, climbing ropes, and practicing acro-yoga on the grass.
Each of these areas has a personality all their own, so it is definitely worth exploring them all. But, if you're pressed for time, maybe choose the one that sounds most interesting for you.
You May Also Like: Unique Things to Do in California
If you do have time to spare, head inland to Los Angeles to visit LACMA or the LaBrea Tar Pits. Both are super popular for a reason!
The goal is to get to Malibu by sundown, and grab dinner right on Highway 1 to see the sunset over the ocean. Choose Duke's Malibu for a more reasonably priced meal, or Ocean Club if you're feeling extravagant.
After dinner, head to your hotel, relax, and tuck in for a good night's sleep.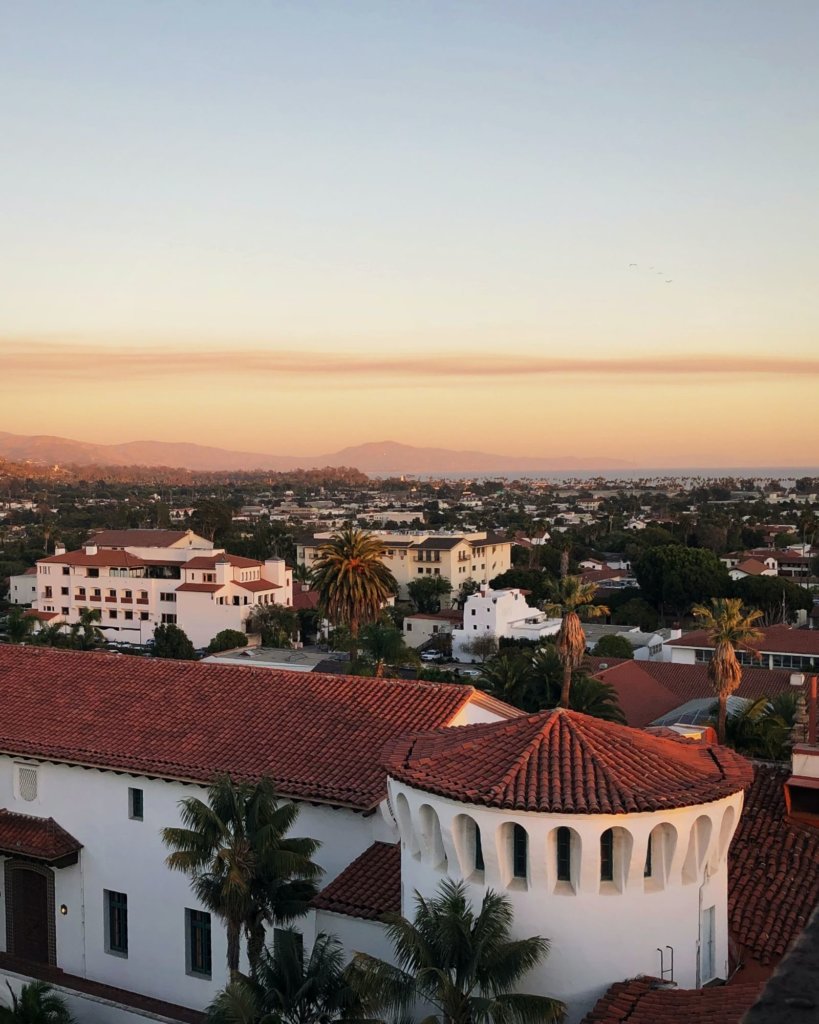 Day 3: Malibu to Santa Barbara + Activities
Today we spend half of our day in Malibu,which has some of the prettiest views of the entire PCH in my opinion. I have an entire post on how to spend one full day in Malibu, but I'll list the highlights here.
Definitely don't skip El Matador State Beach, which has awe-inspiring cliffs and natural caves. The rock formations are rugged and beautiful, and often fill with starfish and other sea life.
If you have time, both Leo Carillo and Point Dume have several hiking trails leading up into the dry mountains, overlooking the Pacific Ocean.
Once you've explored all of Malibu's nature, time to start driving north to Santa Barbara.
Santa Barbara is such a cute artsy town. You can walk the Funk Zone to see artists at work and stop into a trendy brewery for dinner. Explore the town until you are ready to tuck in for the night.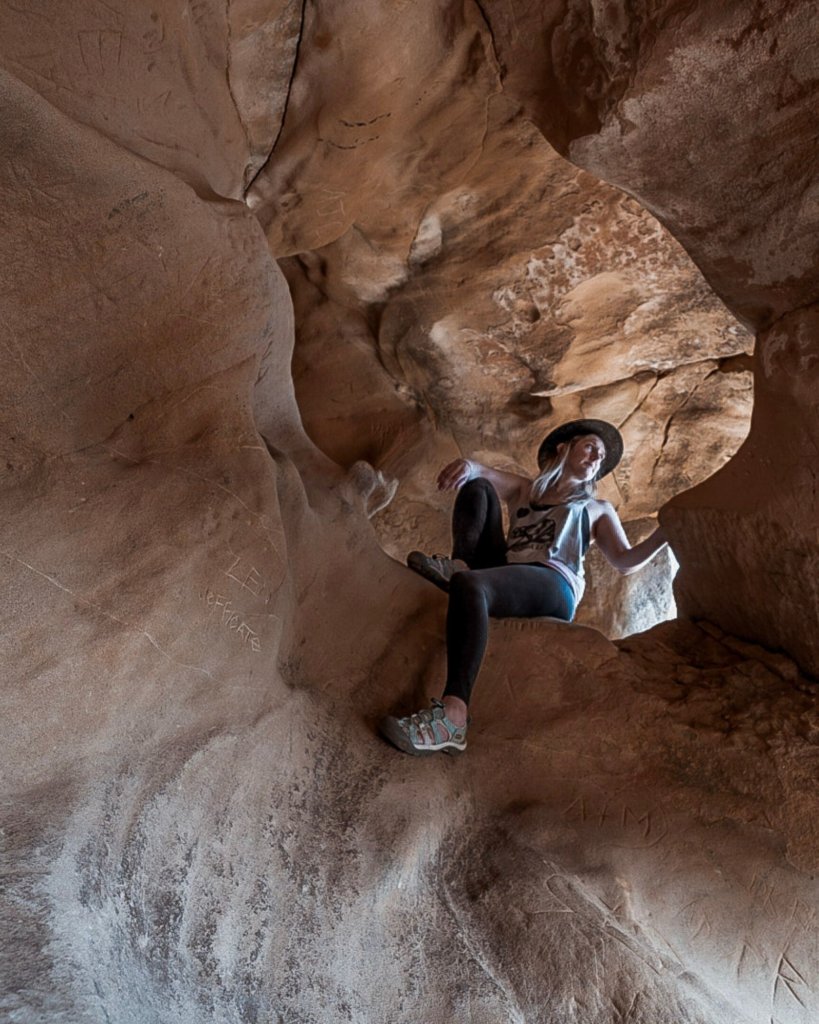 Day 4: Santa Barbara to San Luis Obispo and Paso Robles + Activities
On Day 4, head out early and drive north toward Gaviota State Park. I highly recommend a stop at the Gaviota Wind Caves to start your day off right.
This hike has it all – odd and interesting rock formations, epic views of the ocean, and just enough elevation gain to get your heart pumping.
Once you're back on lower ground, continue your Pacific Coast Highway road trip 1.5 hours north toward San Luis Obispo. Once you check into your hotel, it's time to explore the town!
San Luis Obispo is known for its relaxed vibe and quaint feel. Take your time exploring local wineries, boutique shops, and relaxing resorts.
If you'd like to stay on the coast, consider a whale or dolphin watching tour out in the water. If you're up for more small town vices, head inland to Paso Robles on a wine tour.
After a full day of exploring the caves, coasts, and culinary treats of the central coast, get a good night's sleep. Because tomorrow, we rise early.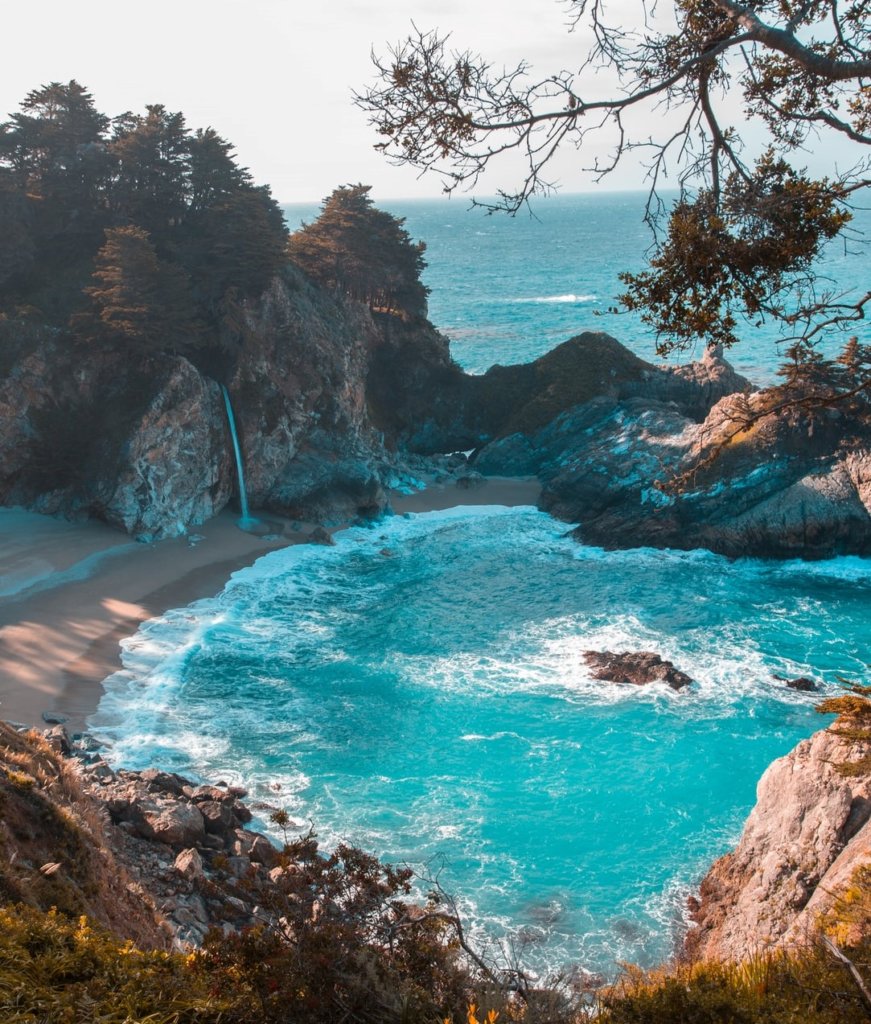 Day 5: SLO to Big Sur + Activities
Start your day as early as possible because you are going to want to spend as much time as possible exploring Big Sur. I guarantee it. The drive will take just over two hours to reach here from SLO.
This 90-plus miles of coastline is going to be heaven for nature lovers. Visit Pfeiffer Big Sur State Park and walk along Sand Dollar Beach.Spend some time at Limekiln State Park and stand in awe of some of the oldest redwood groves.
If you need to stretch your legs after driving, consider hiking in Andrew Molera State Park or Garrapata State Park. Both offer picturesque treks that lead to the jagged coastline.
Head to Keyhole Arch Rock at Pfeiffer Beach for one of the best sunset spots on the central coast. This will be an epic way to end Day 5 of your Pacific Coast Highway itinerary.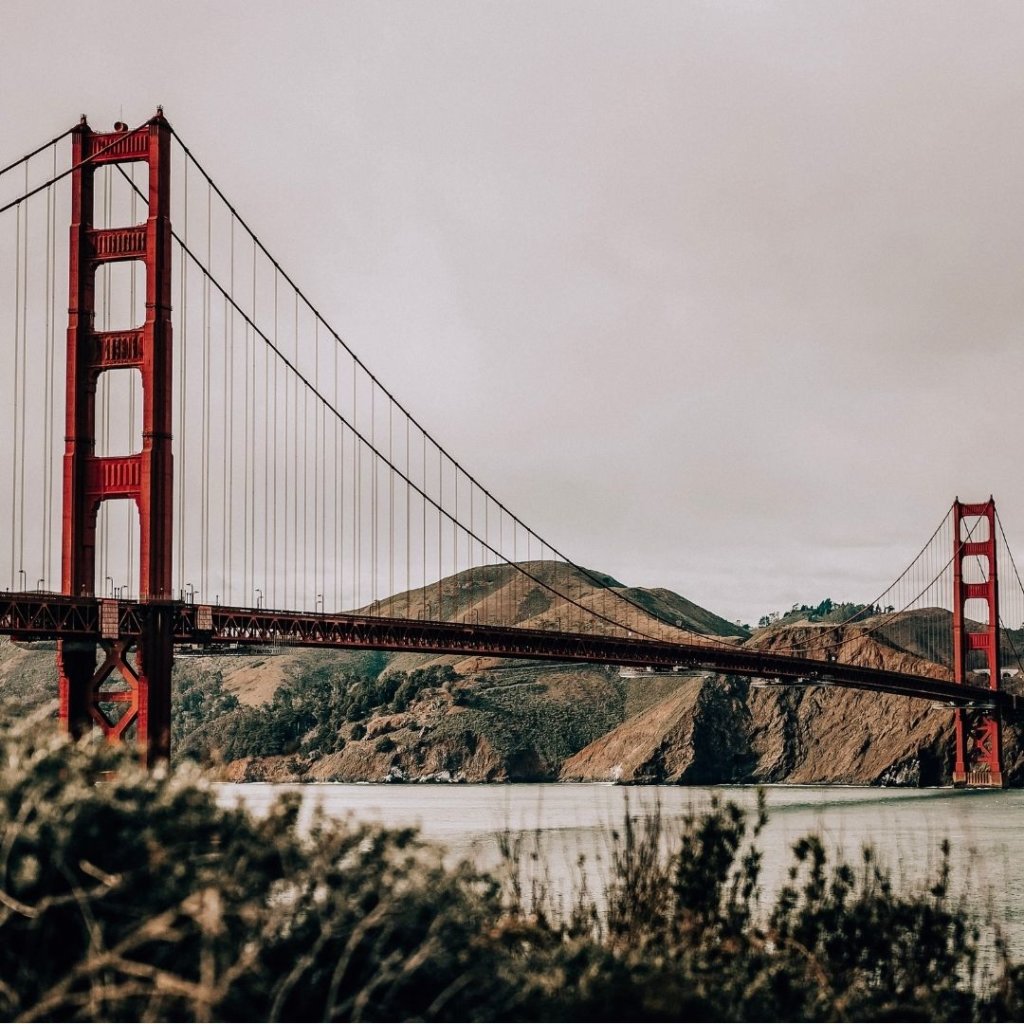 Day 6: Big Sur to San Francisco + Activities
Day 6 will depart from the nature of Big Sur and drive three hours into the hustle and bustle of San Francisco. While you're here, I recommend hitting some of those quintessential San Fran sights and activities as well as head off the beaten track a bit.
You can't visit San Francisco and not see the Golden Gate Bridge and Golden Gate Park. Take a ride on the famous cable cars and zip around the hilly city. And, definitely take a tour of Alcatraz to learn some interesting history.
If you need some time to chill out after lunch, take a boat ride around Stow Lake and check out the birds and turtles.
Later, spend some time exploring Chinatown. Walk this exotic city-within-a-city and stop into the plentiful shops, food markets, and colorful temples – many of which can be found on Grant Street.
Enjoy a delicious dinner here in Chinatown or at one of the city's other well-known restaurants if Chinese food isn't your thing. Tomorrow is the last day of your Pacific Coast Highway road trip, so be sure to go to bed having seen everything your heart desires in San Francisco.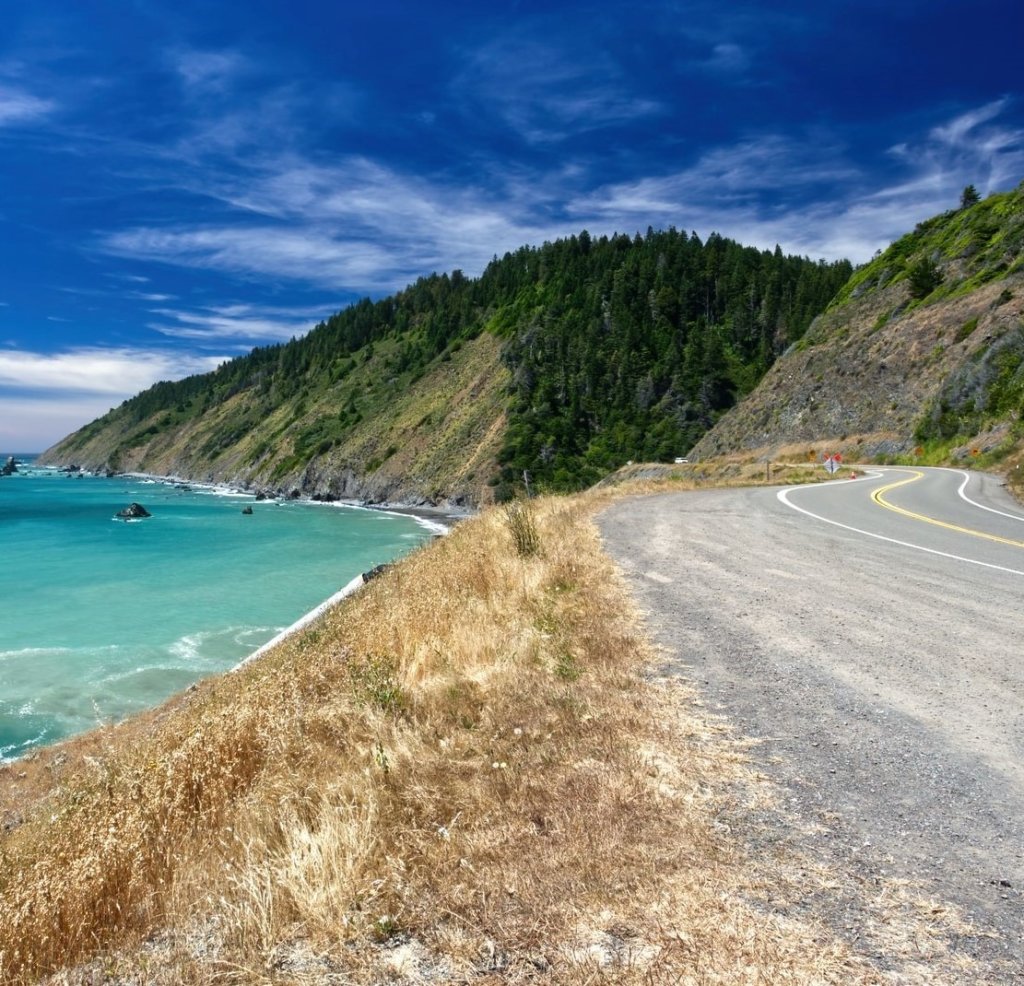 Day 7: San Francisco to Mendocino + Activities
Now Day 7 can be modified depending on when you fly out of California. If you are flying out of San Francisco, you may want to skip Mendocino and just spend the day exploring more of the city.
However, if you have the time, the four hour drive to Mendocino has some pretty spectacular views along the way.
Seeing giant redwoods never gets old. Stop over at Montgomery Woods to walk within the giants.
Next, Bowling Ball Beach is a must see. Loads of round boulders appear to be stuck into the sand, and these guys are one hundred percent natural. Plan your visit for low tide, because the stars of the show will be submerged at high tide!
Consider visiting the Mendocino Coast Botanical Gardens for spectacular flowers, plants and trees blanketing 47 acres of land.
And, at the close of your trip, consider visiting one of the many wineries or breweries in Mendocino County.
FAQ's
How many days do you need to drive the Pacific Coast Highway?
Driving the entire Pacific Coast Highway takes between 10-12 hours without stops. But, the whole reason you are embarking on this trip is probably for the stops! Amiright?!
The ideal time frame is 7 days, but you could do this trip in as little as 3 days or as many as 10.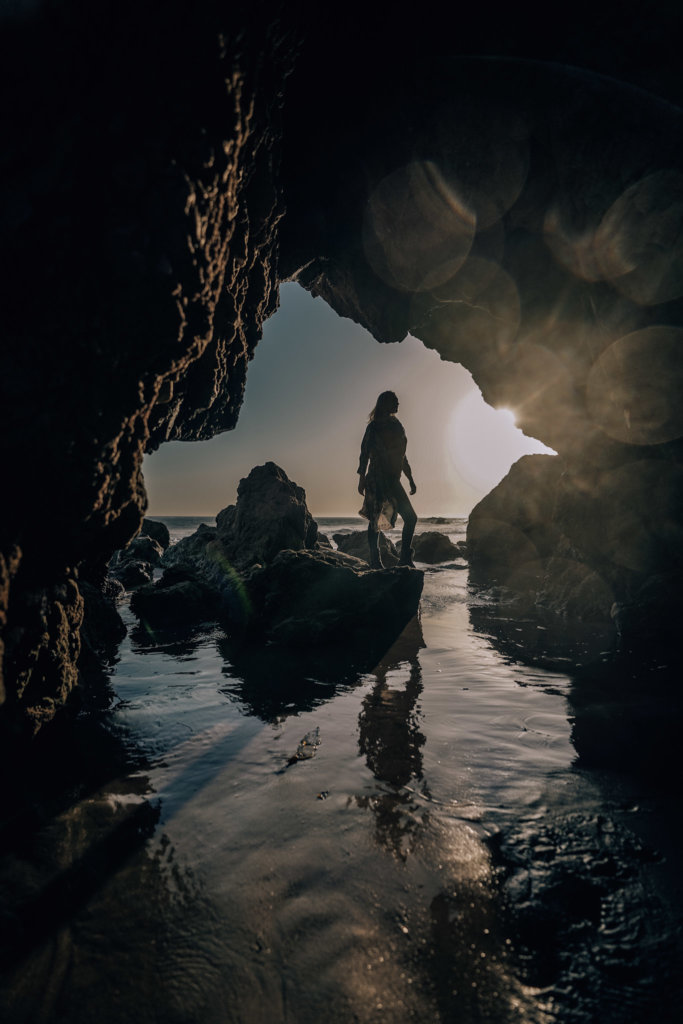 What is the prettiest part of the Pacific Coast Highway
I'm sure this is subjective – but in my opinion, the prettiest two spots are Malibu in Southern California and Big Sur in Northern California. These are the most breathtaking views along Highway 1.
What is the best time of year to drive the Pacific Coast Highway?
Southern California stays reasonably warm and sunny year-round. Hooray! But, Northern California does not.
The best time to plan your Pacific coast Highway Itinerary would be from late spring to fall – roughly April through October.
Be aware that in May and June, coastal areas may experience what we Californian's call "May Gray June Gloom." This is when the marine layer blocks out the sun and the skies look gray in the mornings. This will typically burn off by lunch time but it is something to be aware of if you travel in the summer.
Summertime will also mean more crowded attractions and beaches.
Is it better to drive north or south on Pacific Coast Highway?
In my opinion, the PCH is equally fabulous from either direction.
Is the Pacific Coast Highway worth it?
Yes! If you are still on the fence, then please go back and check out the photographs above.
The landscapes along Highway 1 are some of the most pristinely beautiful places on earth. Plan your hikes and attractions early, and enjoy the sunset over the Pacific every chance you get!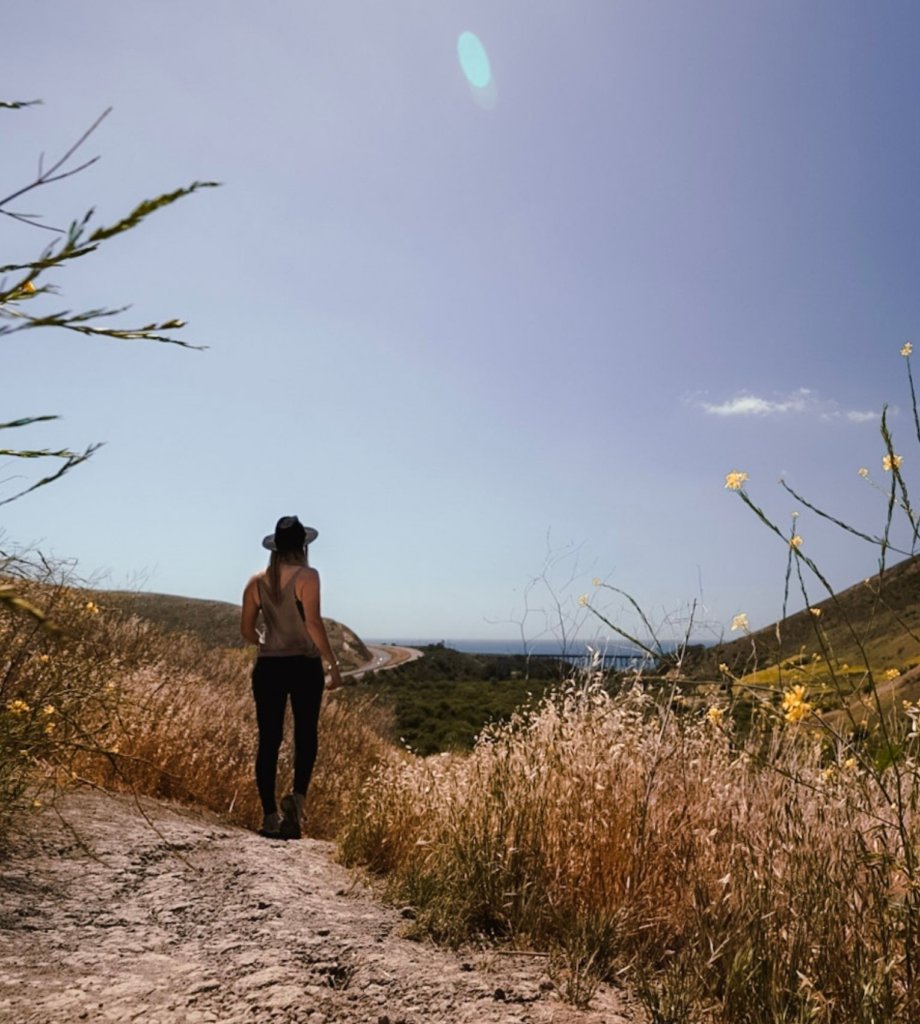 Is the PCH hard to drive?
It's not difficult per se, but there are a few things to be aware of.
First, it is very twisty and windy at some points. Always stay under the maximum speed limit. Especially because there are no guard rails on many sections of this road.
Also, the PCH gets busy. So, be prepared for some traffic and crowded one-lane situations.
But otherwise, it's not too bad if you stay focused and drive safely!
***
Let me know how your PCH drive goes! And tell me down below what was your favorite stop on this PCH road trip itinerary!
Pin Me for Later!