There is no shortage of fun and unique things to do in California. It offers so much diversity, from climates to geography to people. With never-ending things to see in California, this is an excellent state to explore! Below are 25 of the most fun and unique offerings that the Golden State has to explore.
Pin Me for Later!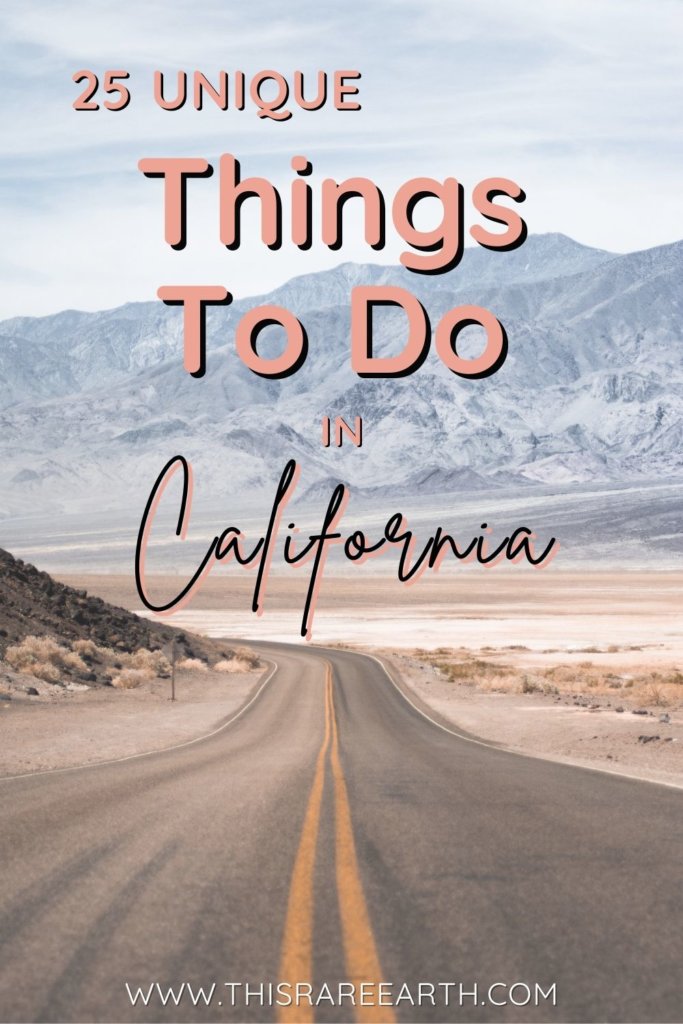 California is big. As in, very big.
It's the third largest state in the USA, with only Alaska and Texas beating California's land mass.
California delivers everything from sprawling and snow-capped mountains to vast and bone-dry deserts. There are lush green forests and quaint small towns. On any given day, Californians can choose between activities like skiing, surfing, hiking, and whale watching.
For a visitor, it's no small feat to decide what to see in California on limited time. That's why I've created this list of fun and unique things to do in California that spans all climates, from oceans to deserts and everything in between.
There is something on this list for everyone. Sit back, relax, grab some tea and a snack – this list of California things to do is LONG!
25 Fun and Unique Things To Do In California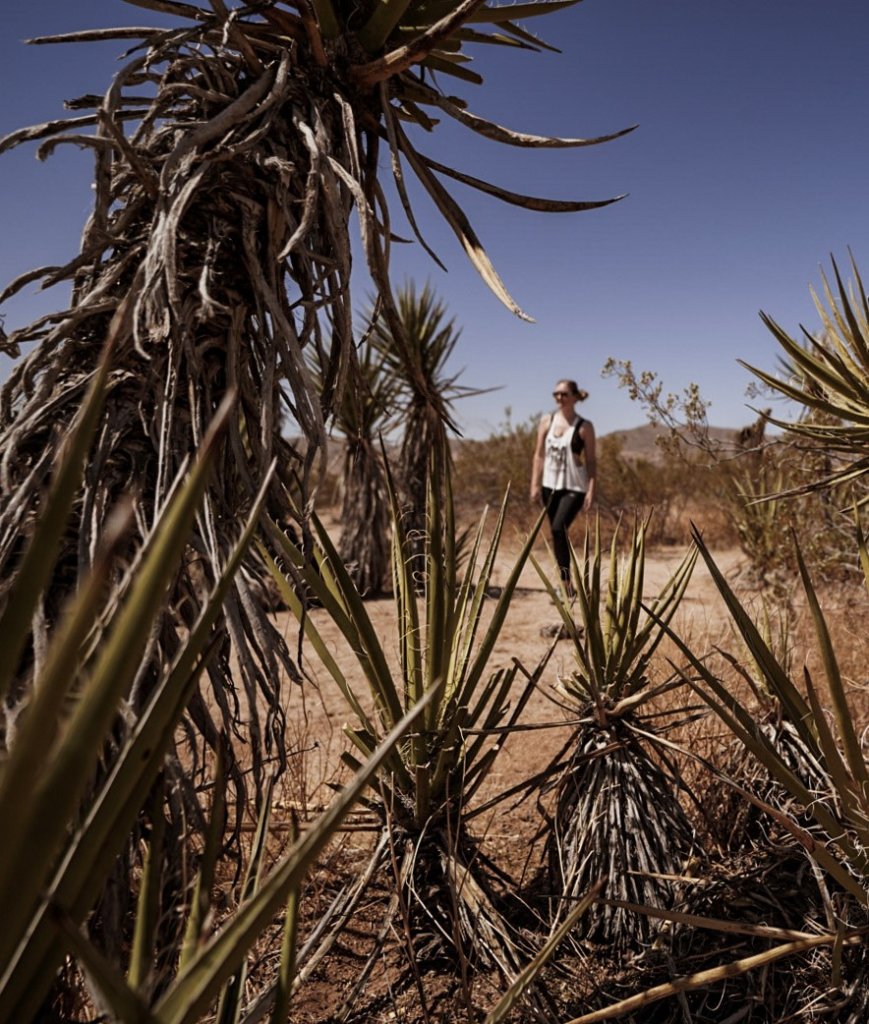 1. Hike Two Deserts in One Day
Joshua Tree National Park is a unique place. Not only because of the wild and dancing plant life, or the bulbous rocks that just out from the desert floor.
This park actually straddles two distinct deserts – the Mojave Desert and the Colorado Desert. The Mojave is home to the famous yuccas and the giant boulders. The Colorado is home to cholla cacti and rocky purple mountains.
These two areas are directly next to each other, which means that visitors can actually hike both of these deserts, even if only visiting Joshua Tree in one day.
You May Be Interested In: The Best Hikes in Joshua tree National Park
2. See the World's Largest Natural California Palm Oasis
Indian Canyons in Palm Springs is home to the world's largest natural California Fan Palm oasis. This area is desert land, and the palms and streams that crop up naturally here truly are real life oases.
The Agua Caliente Band of Cahuilla Indians historically made their home here, due to the abundant water source.
Both the Murray Canyon hike and the Andreas Canyon hike offer spectacular views and scenery. They are definitely worth a visit!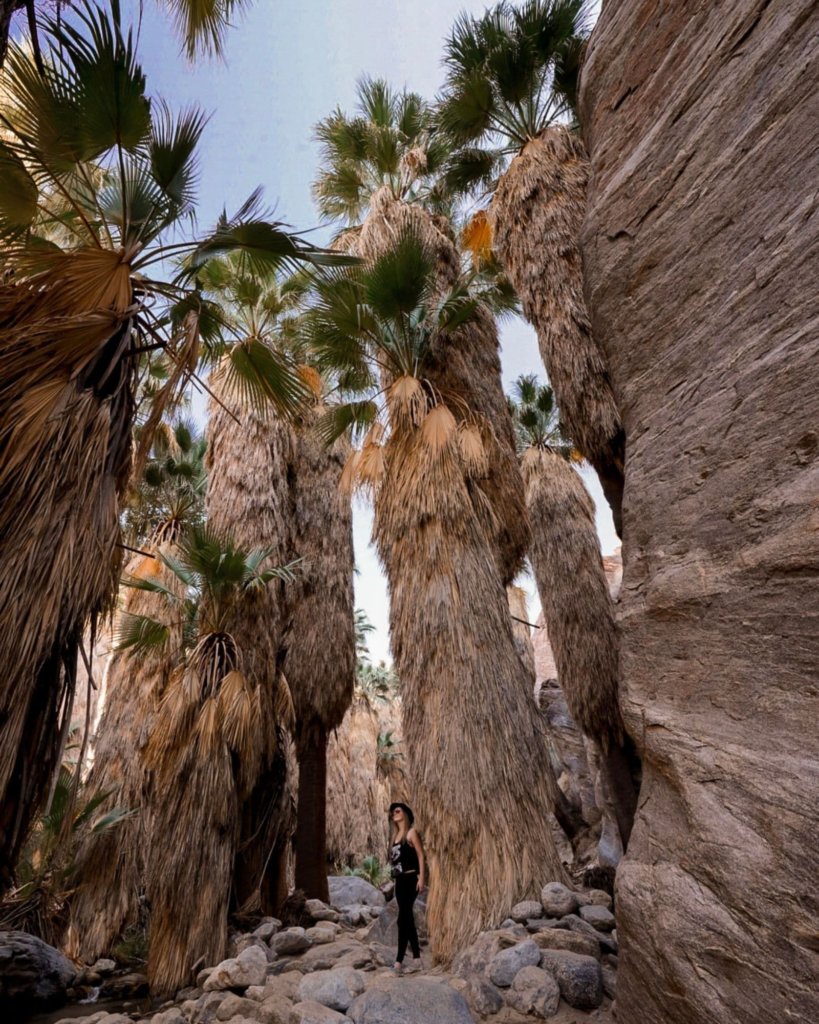 3. Stand on the Lowest Point in All of North America
Death Valley National Park is the largest of all National Parks in the contiguous United States.
This park holds several records, other than for it's size. One of them is being home to the lowest point in all of North America; Badwater Basin.
Badwater Basin is located near Furnace Creek, down a long and winding road that culminates at a large expanse of cracked white salt flats. Ideally, visit Badwater Basin outside of the summer months, when it can be over 120 degrees!
Badwater Basin is one of the most unique things to do in California. Add this to your Death Valley itinerary immediately!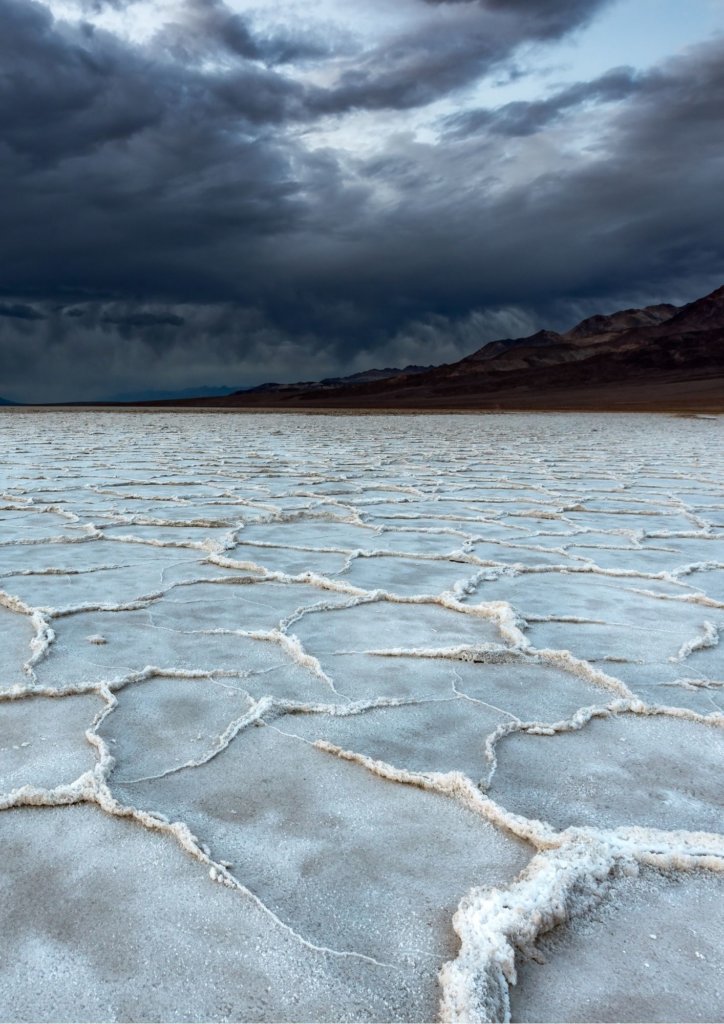 4. Visit a National Park Made Up of Islands
California is home to a total of nine National Parks. Due to the varying terrain and climates, each of these parks is vastly different.
Channel Islands National Park is made up of four main islands – San Miguel, Santa Rosa, Santa Cruz, and Anacapa. This park is roughly 160 miles off of California.
Native land mammals on the islands include foxes, island deer mice, harvest mice and the spotted skunk. Whale watching, kayaking, hiking, and other activities can be completed on and around the islands.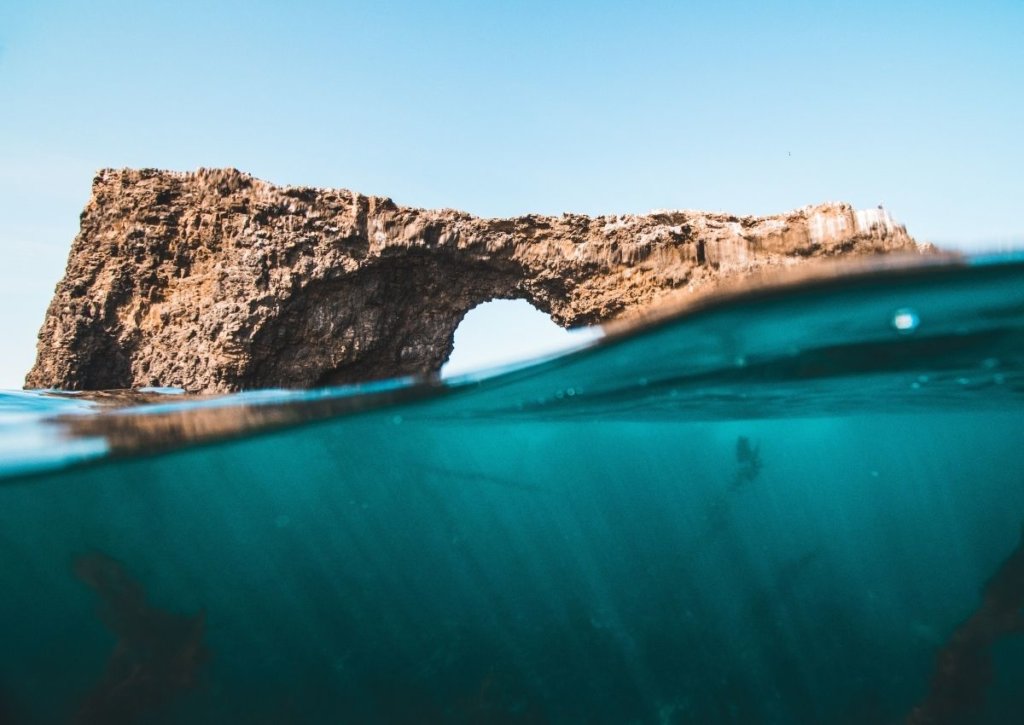 5. Gaze at That Iconic Red Bridge in the Fog
It would be a mistake if I didn't include visiting the Golden Gate Bridge on this list of unique things to do in California! But i recommend that you don't visit on a clear day.
This iconic bridge can look both spooky and ethereal in the plentiful fog of San Francisco. Beginning in June and lasting through August, early morning fog crowds into the vistas surrounding the bridge. It is very similar to the Souther California phenomenon called May Gray June Gloom.
The fog typically burns off by the afternoon, so if a clear view is more interesting for you, that is possible too.
6. Take In Sun, Sand and Surf
Malibu, CA is a misunderstood place.
Those who have never been here picture perfectly manicured streets more akin to Beverly Hills than the more natural beauty that Malibu possesses.
Malibu is home to rocky cliffs and seaside caves at places like El Matador State Beach and Leo Carillo. Parking and beach entry is mostly free and open to the public. This is a quiet and sleepy town.
Mom and pop shops still line the streets in many Malibu areas, while famous surf spots like Zuma Beach sit next door. All of this can be seen in one perfect day in Malibu.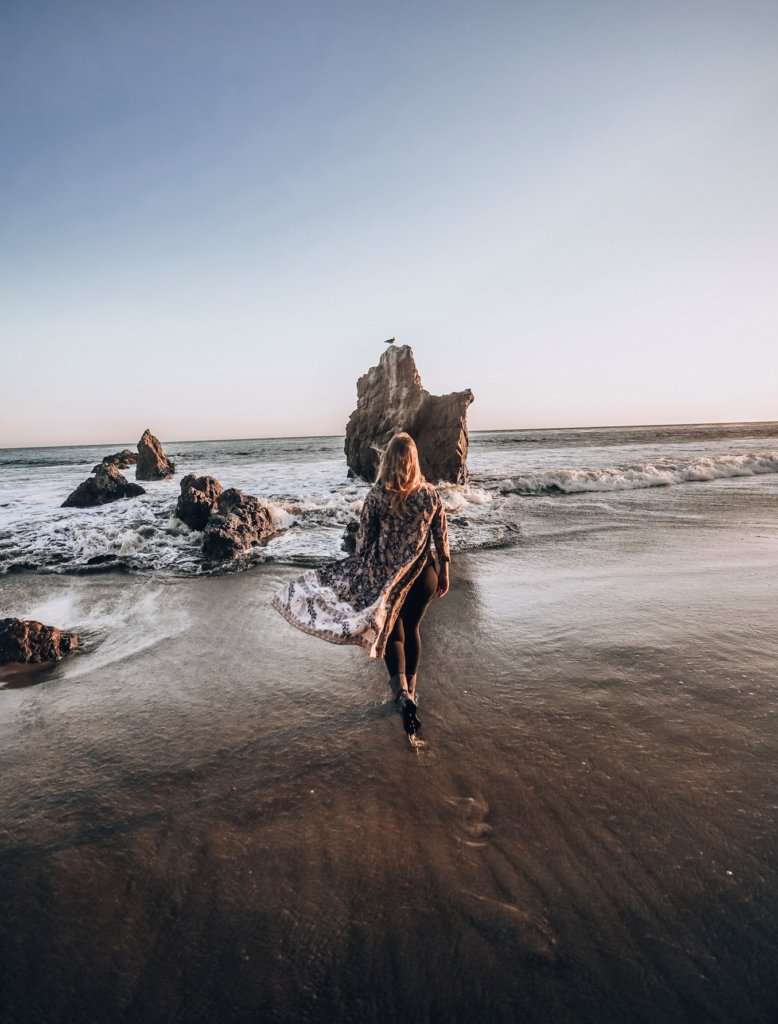 7. Catch a Glimpse of Denmark
Did you know that California is home to an original Danish settlement? If not, you aren't alone!
Solvang, CA is located roughly three hours north of Los Angeles, in the Santa Ynez Valley. Visitors can learn about the Danish culture and history of Solvang here inside of a Scandinavian-inspired house.
Traditional Danish meals, pastries, and desserts are part of the draw.
8. Squeeze Through Narrow Slot Canyons
Southern California has several lesser-known slot canyons within parks and deserts. The most scenic of all would be The Slot.
This is my favorite of all hikes in Anza Borrego Desert State Park. It is short – under three miles, which can be ideal for desert hikes in hotter months.
But the scenery is what really makes this hike stand out. Tall and towering cliffs envelop the trail, and hikers need to squeeze between rock walls too narrow for even a backpack.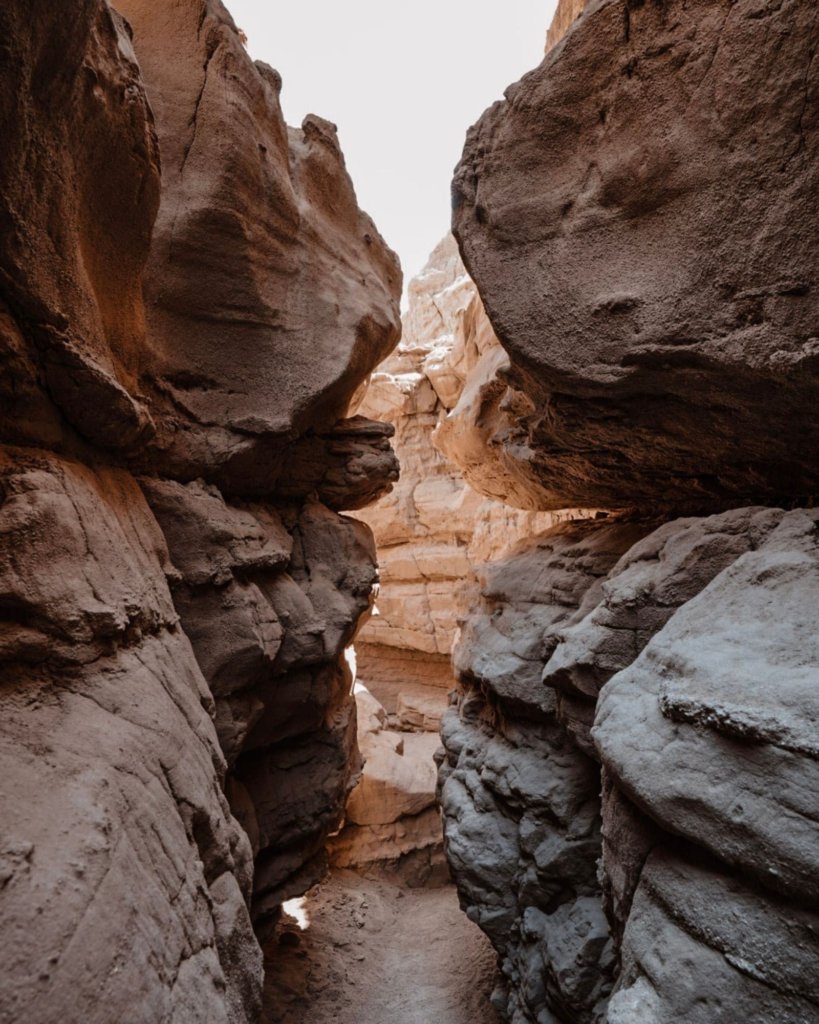 9. Camp Between Towering Red Rocks
If colorful desert landscapes are your thing, then Red Rock Canyon State Park is for you. This is one of the most obscure but unique things to do in California.
This largely unknown state park packs a punch of color right in the middle of the dry brown desert. The hikes are scenic and the camping is plentiful – I've never seen this park crowded.
Consider hiking and camping at Red Rock Canyon State Park for your next trip!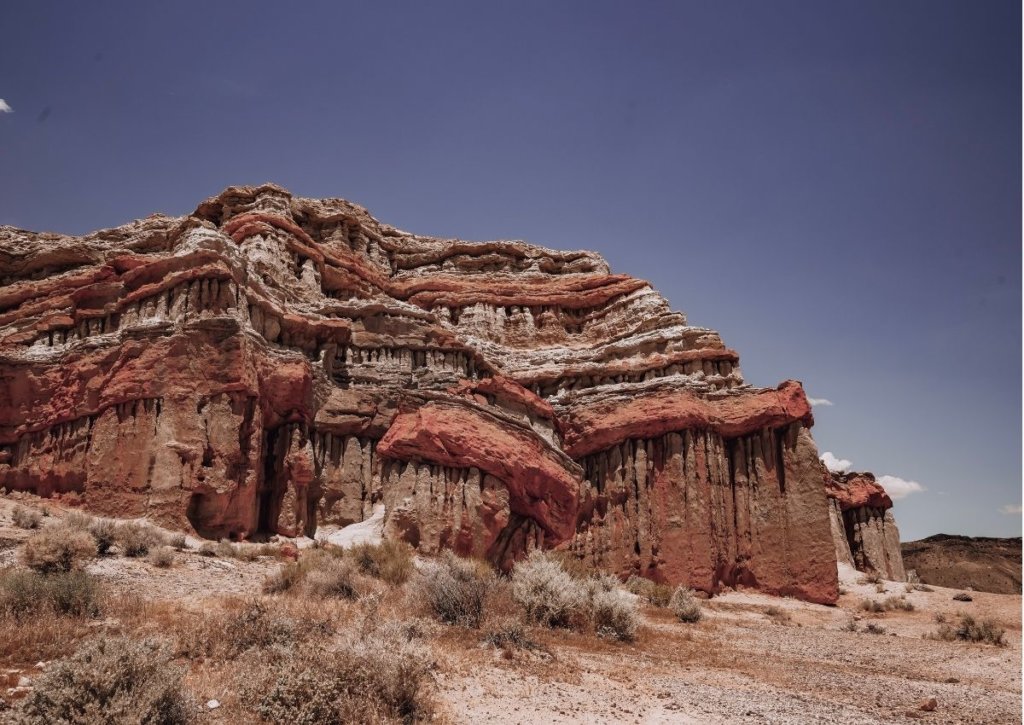 10. Stand on the Cliffs of Big Sur
One of the most spectacular scenic drives in all of California is along Highway 1 near Big Sur.
The jagged mountains and towering redwood trees surround the roadway, and the Big Sur beaches are home to herds of seals and sea otters. One word I would use to describe this area is "lush" after all of my time spent in the California deserts.
11. Climb Massive Sand Dunes
Southern California is home to massive golden sand dunes. Not in just one location, but several!
My personal favorite sandy options are the Mesquite Flat Sand Dunes in Death Valley and the Kelso Dunes inside of the Mojave National Preserve.
Mesquite Flat Sand Dunes reach roughly 100 feet tall. Visit at sunrise and sunset for the bright golden glow. However, this is a popular spot, so you will see plenty of other visitors.
Kelso Dunes on the other hand are lesser-visited dunes, inside of a lesser visited park. On weekdays, I've had the area all to myself – though I know it can get crowded here, too.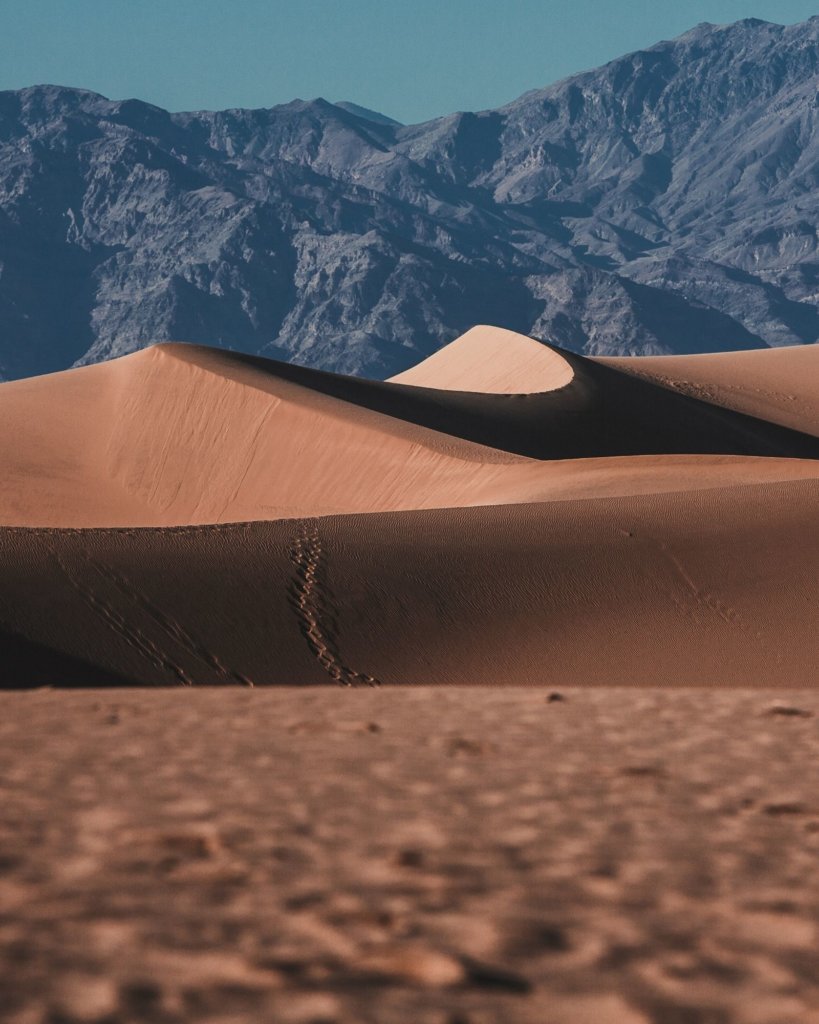 12. Meet the Tallest Trees on Earth
In the northernmost part of the state sit both Redwood National Park and Humboldt Redwoods State Park. Here visitors encounter the tallest trees in the world, at 300-400 feet tall!
Activities in the parks include camping, hiking, fishing, and kayaking. I highly recommend hiking, as these colossal giants must be seen up close to be believed.
13. Soak in Healing Mineral Waters
20 minutes northeast of Palm Springs is a small town called Desert Hot Springs.
Plentiful resorts offer overnight stays and day passes to soak in their heated pools filled with healing mineral waters. I don't know if they are truly healing, but I've experienced a few that really do leave your skin feeling softer and smoother!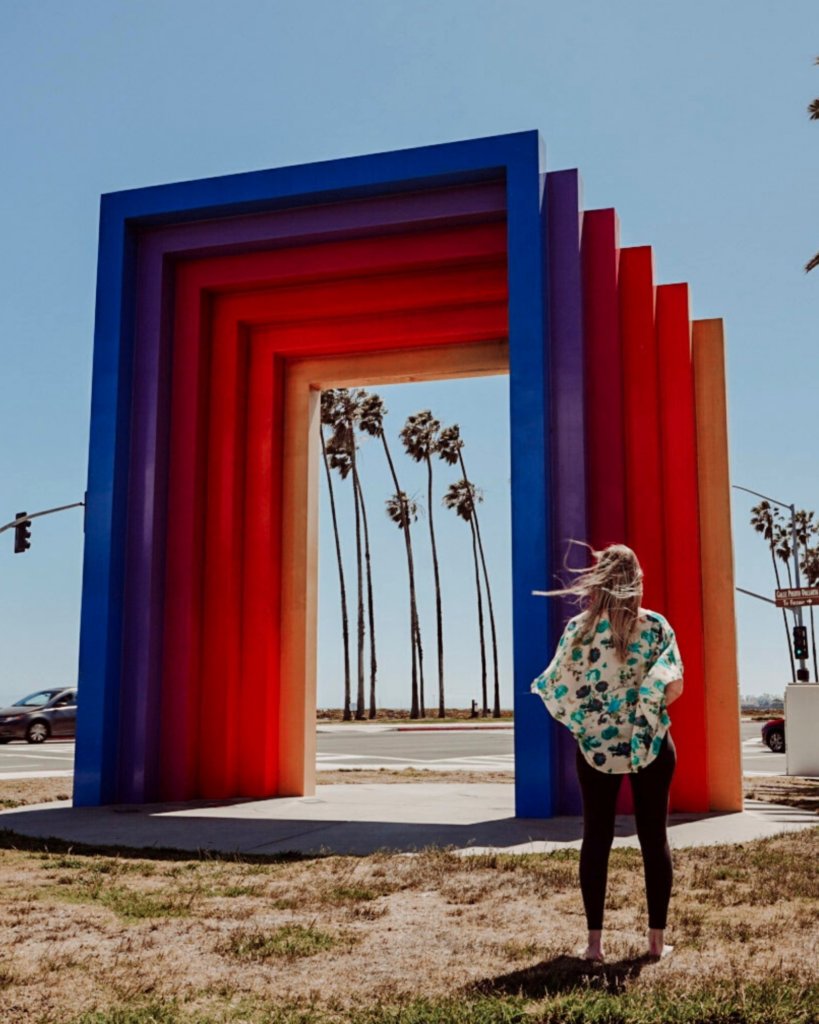 14. Buy Original Art in the Funk Zone
The Funk Zone in Santa Barbara is a hip neighborhood filled with eateries, breweries, and artist studios. This is one of the most unique areas in the California art scene and one of the coolest things to do on a trip to Santa Barbara.
On weekends, visitors can often walk through the studio spaces and the art galleries, watching the creative minds at work with various drawings, paintings, sculptures, and pottery.
Colorful murals coat many building walls, making a simple walk down the street feel like a stroll in an outdoor museum. And, the famous Chromatic Gate is a short walk away.
15. Spend the Night with Lions at a Big Cat Refuge
Shambala Preserve is a big cat sanctuary in Acton, California, a desert community roughly one hour north of Los Angeles.  Shambala cares for mistreated big cats that were rescued from movie sets, exotic pets, and from the circus.
Founded in 1973, this refuge houses over 40 big cats, such as lions, tigers, cougars, leopards, bobcats, and more. This is a true cat sanctuary, where no breeding, selling, or trading occurs.
The cats live out their lives in peace. It's a place that you can feel good about paying an entrance fee, knowing it fully supports the animals.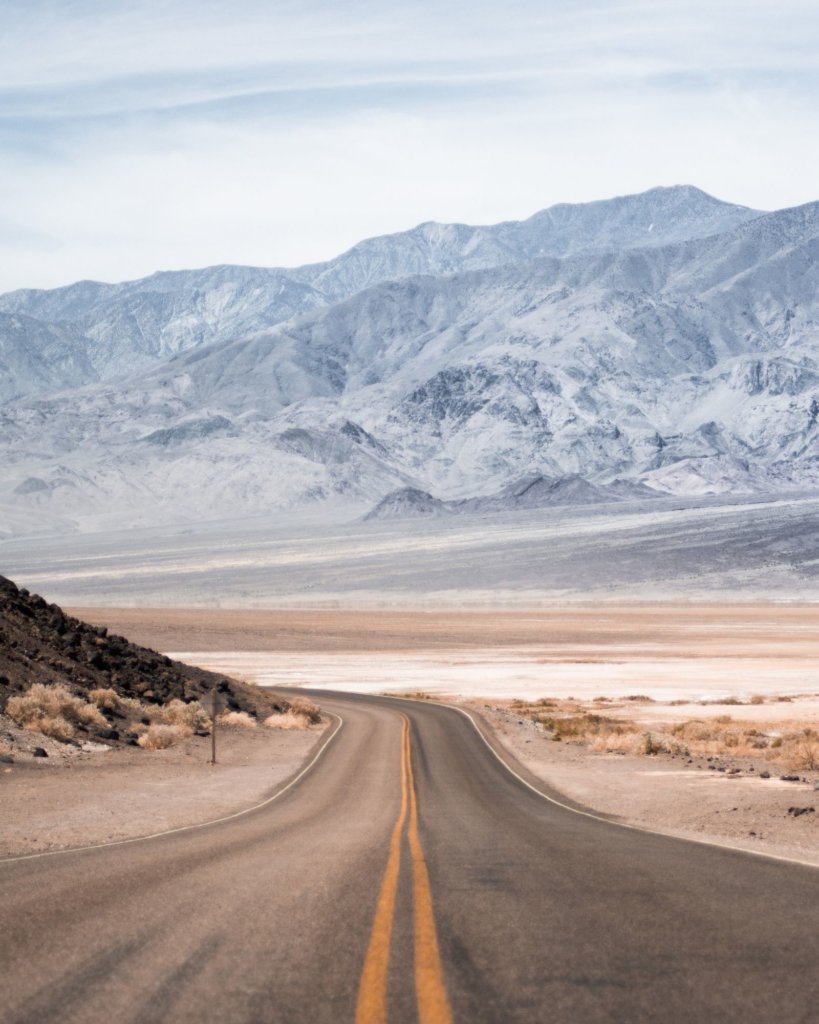 16. Walk, Drive or Hike In The Hottest Place on Earth.
Death Valley National Park sprawls across more than 3 million acres of land in eastern California, right along the border of Nevada. This massive park delivers everything from the sand dunes mentioned above to epic salt flats to rugged badlands.
Death Valley is nothing if not diverse!
Furnace Creek holds the official world record for the hottest temperature ever recorded on earth; 134°F back in 1913.
17. Catch Sunrise in the Movie-Famous Mountains
The Alabama Hills National Scenic Area is one of the hidden gems inside of the state of California. The large and haphazardly placed rocks near the base of Mount Whitney create an epic landscape and a very unique camping experience!
Follow the road through the odd rock formations until you reach the top of the hill at Movie Road. The view behind you toward the mountains is a famous one, showing up in loads of Hollywood movies over the years.
I highly recommend camping at Alabama Hills and experiencing the pink-gold glow of sunrise at these mountains. It's spectacular!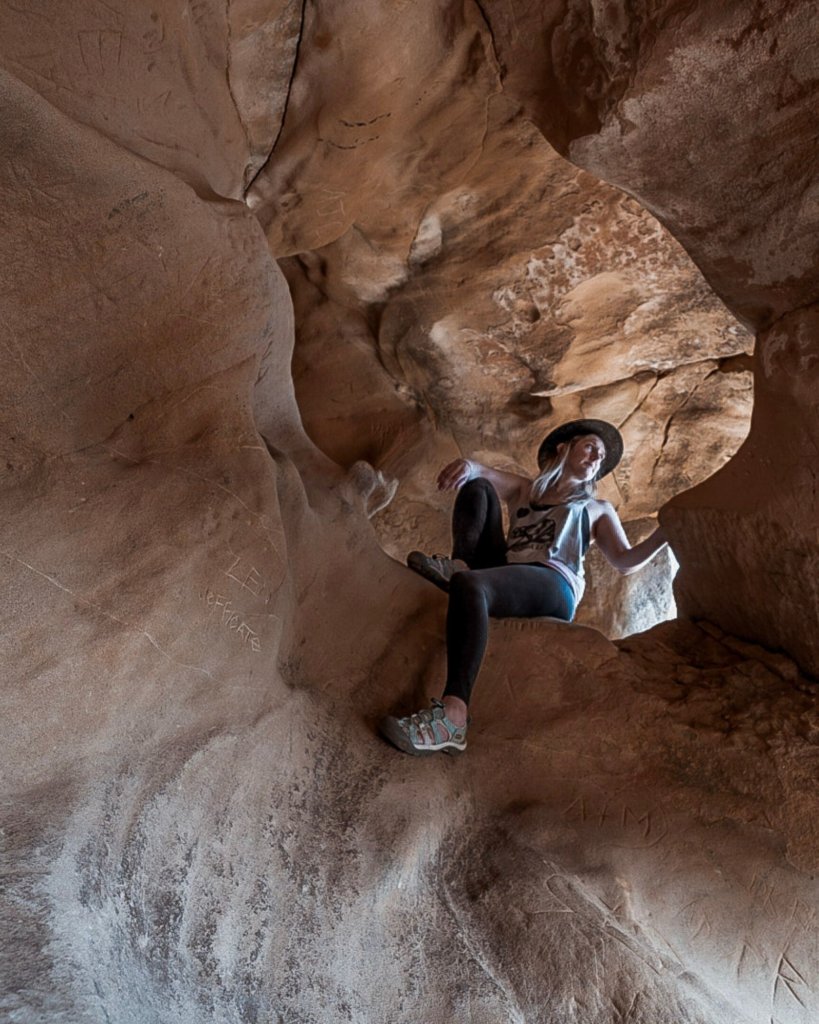 18. Climb Inside of Wind-Formed Tunnels
Twenty minutes north of Santa Barbara, visitors can hike the Gaviota Wind Caves – tunnels and nooks eroded into the side of mountains by nothing other than the wind.
The caves are surprisingly large, and provide some much-needed shade after the moderate-level climb up the side of the mountain.
From the caves themselves, your reward is a view of the blue Pacific Ocean in the distance.
19. Stargaze in an International Dark Sky Park
Two of my favorite options for watching bright stars against a pure black sky is in both Joshua Tree National Park and and Anza Borrego Desert State Park. Both are far enough away from Los Angeles and San Diego to avoid the light pollution and show off bright star-studded skies.
Both parks have earned the designation of International Dark Sky Park, sue to the excellent stargazing opportunities.
20. Taste World Famous Apple Pie
Julian, CA is nestled in between the Cuyamaca Mountains of San Diego County. It was made famous for it's over-stuffed Julian apple pies – definitely worth a taste!
Historic buildings from the 1800's are now converted into cute shops. Oaks and pines, which are unique things to see in Southern California – are found here.
Fresh air and green-drenched scenery make Julian a perfect stop for the weekend.
21. Stomp on Grapes at the Vineyards
California may be best known for Napa when it comes to wine, but did you know that Southern California is home to a few more obscure winery regions?
Paso Robles on the Central Coast and Temecula near San Diego are smaller and – dare I say tastier – wine regions. (This review comes from a family member who has spent time at each of them!)
Both host wine tours and even special events, like grape-stomping and three-course dinner feasts.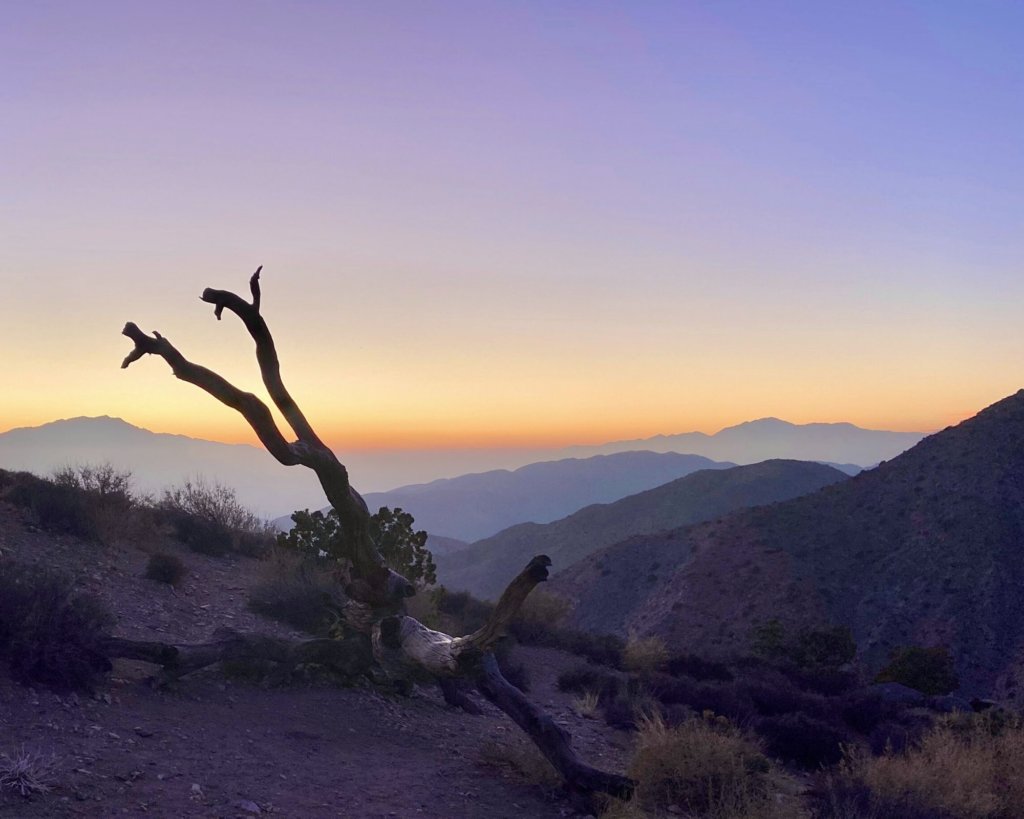 22. Take in Sunrise Overlooking the entire Coachella Valley
Keys View in Joshua Tree National Park is one of the best sunrise spots in all of Joshua Tree.
Overlooking the sprawling Coachella Valley, the views are endless. Pink and gold light bounces off the mountainous facades and stretches of desert land.
While there are plenty of spectacular places to take in a sunrise in California, this is one of my all-time favorites.
23. Get In Touch with Your Inner Sci Fi Nerd
Picture dry and foreign lands that look as if they may be from another planet, far far away. The Trona Pinnacles offers such a place.
This natural formation in the Searles Valley used to be submerged. Now they sit, dry tufas reaching up to the sky, in the California Desert National Conservation Area.
More than 500 rock spires exist here, creating an alien landscape that has been featured in many sci-fi movies and television shows.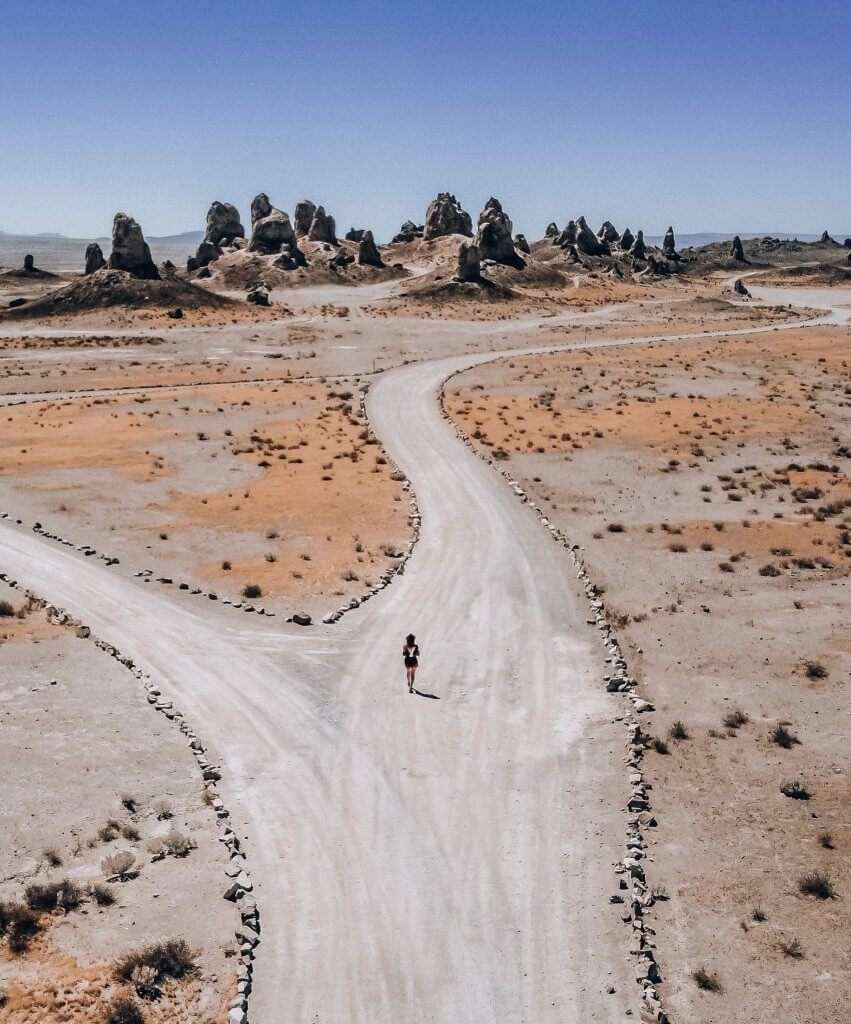 24. Drive the Entire Highway 1
Highway 1 is one of those epic drives that every American should experience just once.
The road snakes along the coast for much of the drive, on cliffs overlooking the ocean and patches of earth just at sea level. From beaches to forests to mountains, you'll experience it all on this road.
Start in either the north or the south, but definitely drive this road once! It's such a breathtaking California staple.
25. Embrace Nature at Yosemite National Park
There is a reason that this large patch of land became one of California's national parks. A multitude of different landscapes and natural formations live within the boundaries, from the giant sequoia trees to the rushing waterfalls.
Maybe none more so than the tall textured cliffs that are so often photographed.
Yosemite is a place where visitors can experience nature at its best. Activities like rock climbing, hiking, and mountain biking are all doable here. Yosemite is great for a weekend adventure, and provides one of the most unique things to do in California.
Pin Me for Later!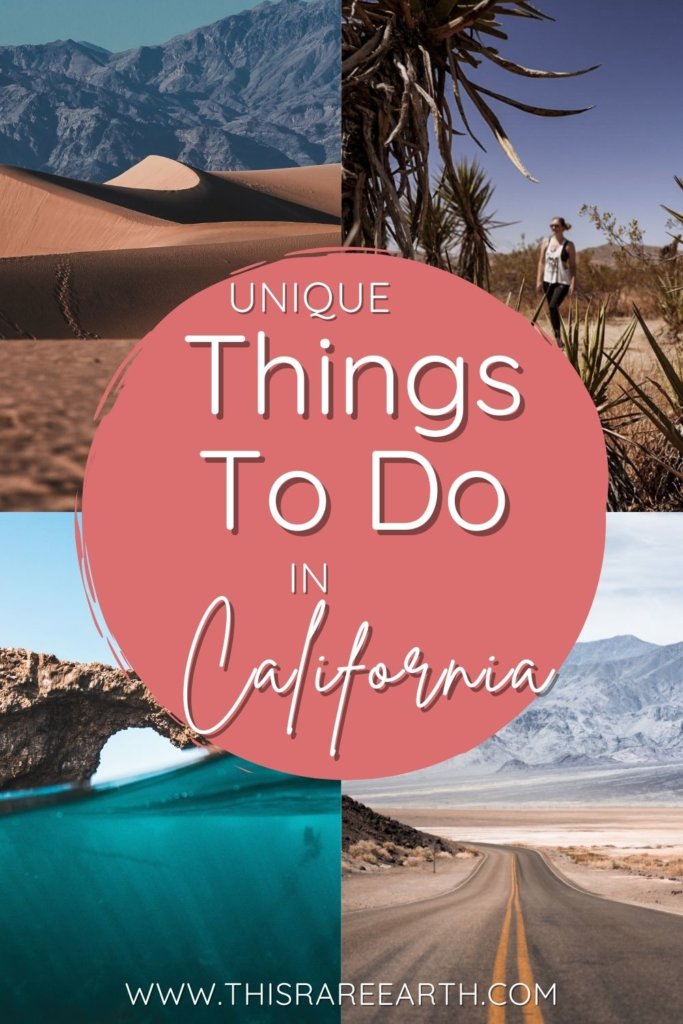 Are you inspired yet?! I hope you will enjoy visiting all of these fun and unique things to do in California! Let me know your favorite stop below!