The Trona Pinnacles offer a strange and unexpected escape from Los Angeles and the surrounding areas. Here is everything you need to know to visit the Trona Pinnacles, from what the Trona Pinnacles are, to Trona Pinnacles camping, to movies filmed at the Trona Pinnacles, and more!
Pin Me for Later!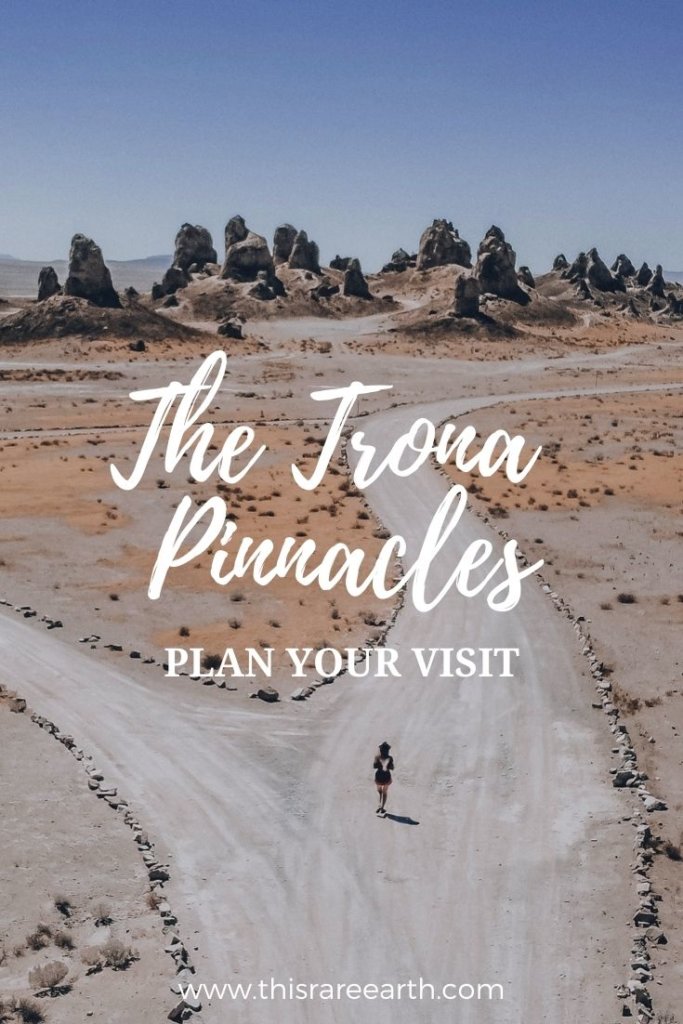 When I first saw images of the Trona Pinnacles, I was completely blown away. I had a ton of questions; What are these strange natural rock formations, rising straight up out of the dry, flat earth?! Are they even real?! How did they form and where are they?
I immediately began planning a visit to these unique rocks known as the Trona Pinnacles, and now, after several visits and lots of research, I can share everything you nee to know about this under-the-radar California destination so that you can visit, too.
What Are the Trona Pinnacles?
These rock formations known as the Tron Pinnacles are in fact naturally formed. They are between 10,000 and 100,000 years old, and used to sit submerged under more than 600 feet of water (WOW!).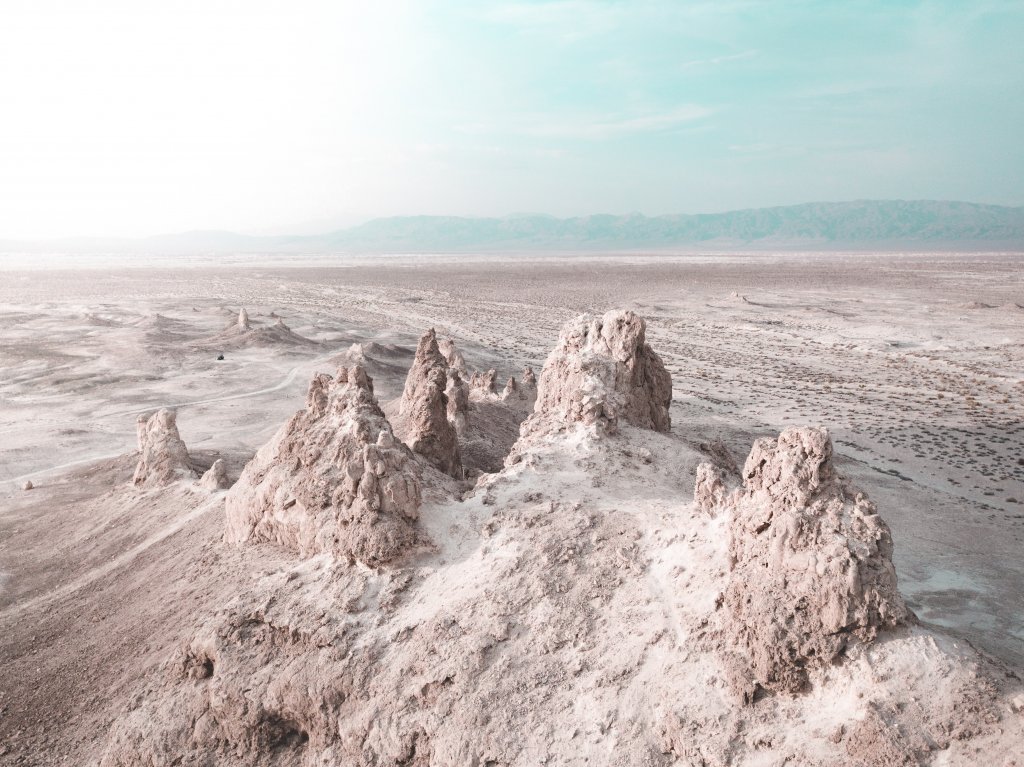 The Pinnacles sit on the Searles Lake Valley, which – though now completely dried up – used to connect lakes that flowed all the way from the Owens Valley to Death Valley National Park.
Rising from the bottom of what was once an ancient lakebed, the Trona Pinnacles are hands-down one of the most unique landscapes I've seen in the Mojave Desert (with my all-time favorite being Joshua Tree National Park, of course). They are called "tufas" which means porous rocks that were formed from the interaction of calcium-rich groundwater and alkaline lake water.
The Pinnacles range from quite small to over 140 feet tall, and there are four different types:
Towers– tall and skinny, 30-40ft
Tombstones– short and wide,20-30ft
Ridges– tufa "ruins", 140-800ft across
Cones– low stumpy mounds, 10ft
The Basics:
GPS Coordinates: 35.68143 / -117.39033
Cost to Visit: Free!
Road Conditions: Unpaved road with lots of large potholes. See below for recommendations on 2WD vs. 4WD.
What To Do Here: Hiking, photography, camping, climbing.
Pet Friendly: Yes
Park Hours: 24 Hours. No staff or rangers present.
Cell Phone Reception: Little to none.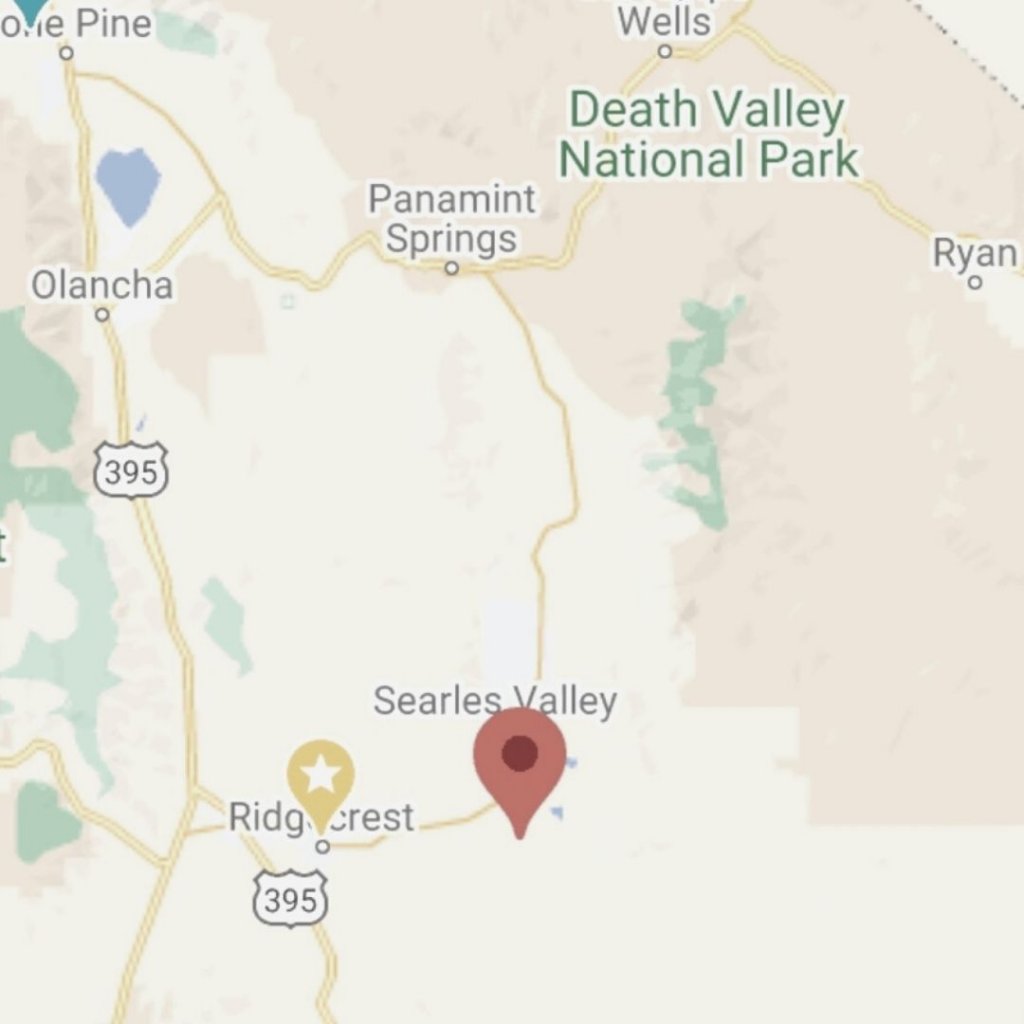 How Do You get to the Trona Pinnacles? A Trona, CA Map.
The Trona Pinnacles are three hours outside of Los Angeles, CA. You'll head north on I-5 North to CA-14 North, toward Death Valley. Follow SR 178 past Ridgecrest, CA, and roughly 20 miles along you'll see a sign for Trona Pinnacles.
After turning onto the BLM land, expect to drive another 5 miles past the initial signpost. The road is unpaved and it's fairly bumpy with large pothole areas. You'll be able to see the tufas way off in the distance.
In the summer, or when everything is dry, you can absolutely reach the Pinnacles with a standard car. I've driven there in a Prius and my only warning is to not drive the final steep hill once you reach the destination. You will know exactly hat hill I mean when you see it (there's no missing it). Be safe and just walk down from there.
For full "door to door" access, or during any periods of rain, definitely take a 4WD vehicle. These roads are unkempt and there is little to no cell service that far into the desert. If you camp, it's also nice to have a 4WD vehicle so you can park near to your campsite.
Click Here for a Google Map of Trona Pinnacles.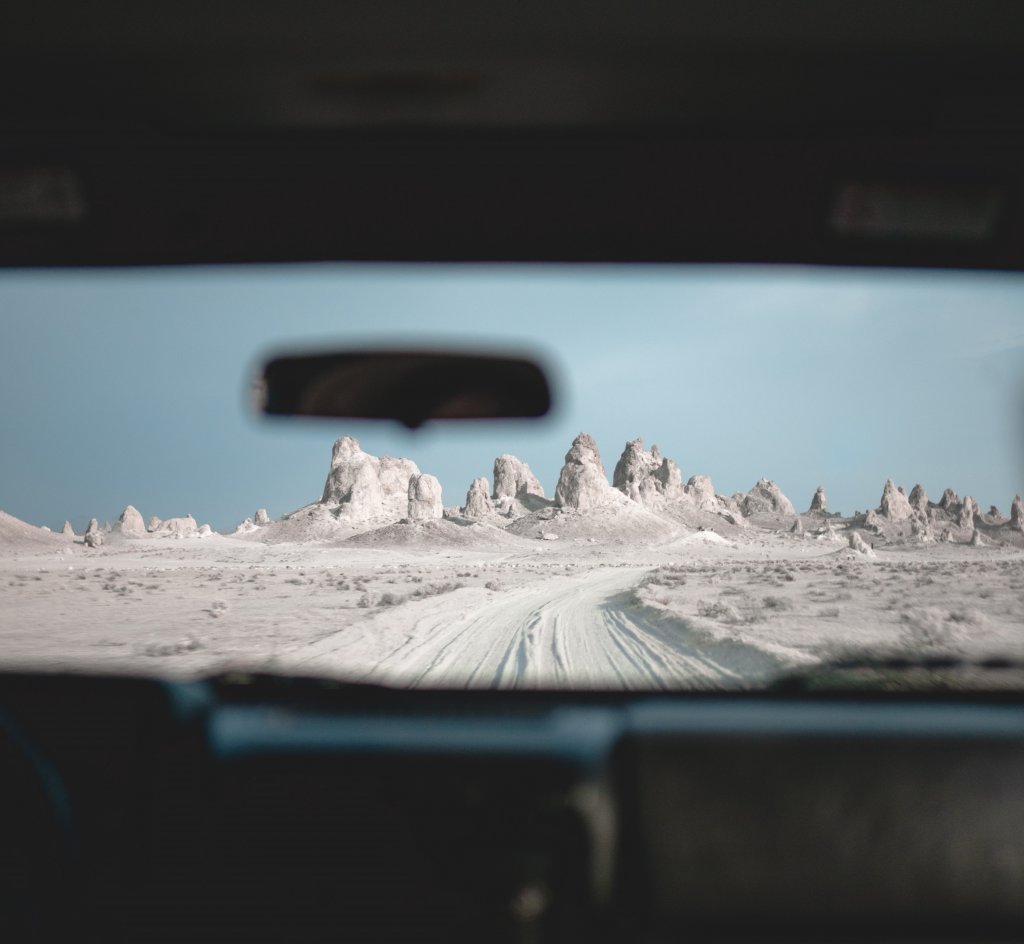 I do have a preferred road trip route to the Pinnacles, including other stops along the way. On Highway 14, one of my favorite stop is my beloved Red Rock Canyon State Park for some under-the-radar hiking. Leave LA as early as possible to enjoy Red Rock before continuing on towards the Trona Pinnacles.
If you have time afterwards or are on a weekend getaway, drive farther north to the Panamint Springs entrance to Death Valley. This whole stretch of California is beautiful. Camping is available in all three locations. Trona Pinnacles camping is covered in depth below.
What Movies were Filmed at the Trona Pinnacles?
For obvious reasons, the science fiction genre seems to love these rock formations for TV and film. They are pretty otherworldly, after all. Some television shows and movies that these sprawling rocks have appeared in:
Star Trek V: The Final Frontier
Battlestar Gallactica
Dinosaur
Lost in Space
Planet of the Apes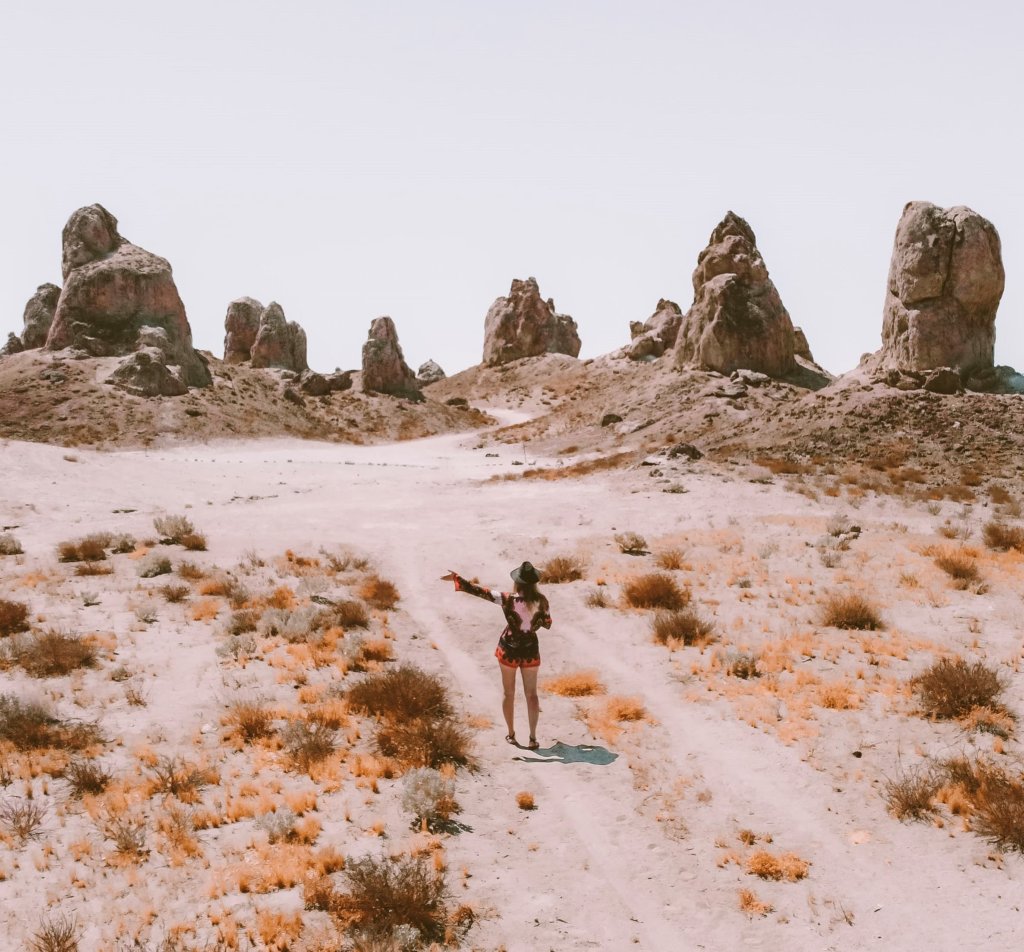 What to Expect: Trona Pinnacles Weather
In the summer, this patch of desert is dry and HOT. I've been here in the dead of summer and it is seriously intense. On the positive side, driving is easier in the summer as the dirt road is dry and firm. On the negative side, you will have to bring lots and lots of water and prepare ahead of time for hiking and camping. Temperatures can be comfortable in the 80's but will more likely reach 100 degrees or more in July and August.
In the winter, the temperature is much more comfortable for activities like hiking, ranging anywhere from the 60's and 70's. But, because rain is more common in winter months, you will have to be extra careful if you don't have a 4WD vehicle.
I've been here in both seasons and it's fascinating no matter when you visit. You just need to plan ahead.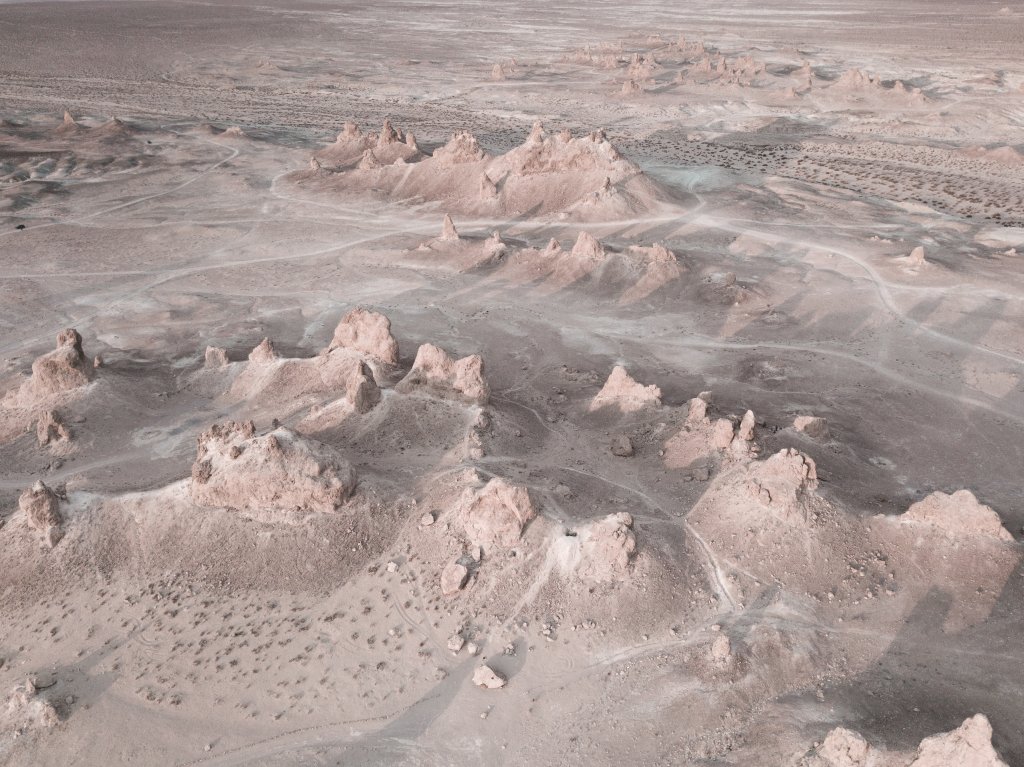 Trona Pinnacles Camping – is it allowed?
Can you Camp at Trona Pinnacles? Why yes, you can! And it's super easy to do so. Because it is designated BLM Land, camping is free and anywhere you want to set up.
A few things to know:
It can be fairly windy here, so setting up near to the Pinnacles can help to block some wind.
This area is popular for astrophotography, as it is a far cry from any city lights.
It's quite possible you will have the place all to yourself. I've only ever traveled here solo, and was completely safe each time.
The Trona Pinnacles is a super cool spot that is so unexpected in the middle of the flat Searles Lake Valley. Spending a night (or even just a day) here will temporarily transport you to another planet. The rock formations are so cool, and the camping is so quiet and calm.
Pin Me for Later!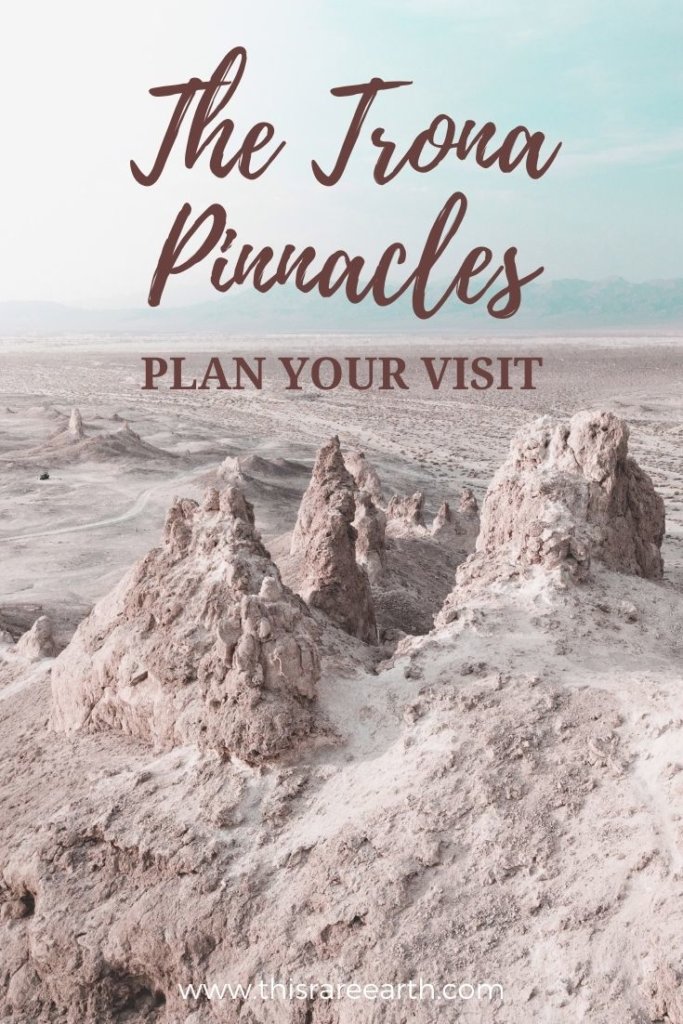 You should definitely add the Pinnacles as a stop on your next road trip!
Have you visited? Or have you never heard of this hidden gem? Let me know below!