Hiking the Anza Borrego Palm Canyon Trail is one of those quintessential experiences in the California desert. Palm Canyon Trail offers a variety of terrain, from rocky soil to rugged mountain to slick white rock. Here is everything you need to know about the Borrego Palm Canyon Hike!
Pin Me for Later!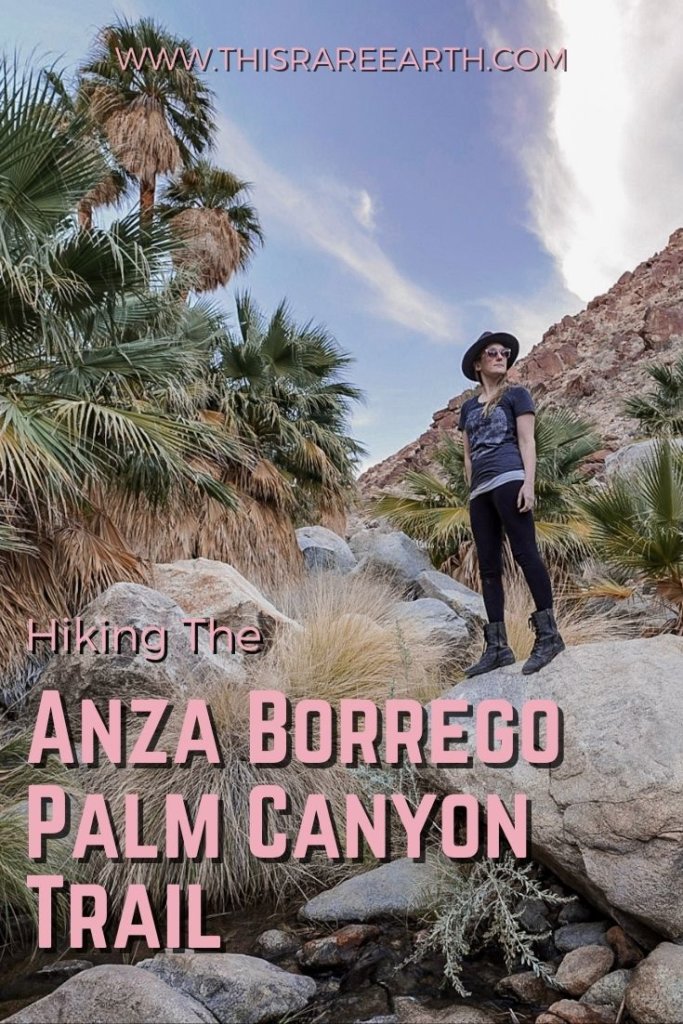 I had wanted to hike the Anza Borrego Palm Canyon Trail for a while.
Having visited Anza Borrego Desert State Park many times in the past, I can't exactly say why the park's most popular hike had so far escaped me. Maybe because I was more interested in hiking through the park's adventurous slot canyon, or exploring the wind caves. Both of which are fabulous, by the way.
Nonetheless, I kept the idea of this hike in the back of my head for years. I pictured the tall California Fan Palms; the rock-covered mountains; the prickly pear and ocotillo cacti. Not to mention the added lure due to the promise of seeing the oh-so-cute bighorn sheep.
The idea of this hike persisted. And finally, many years after my first visit to Anza Borrego, I made it a reality.
So how did it stack up?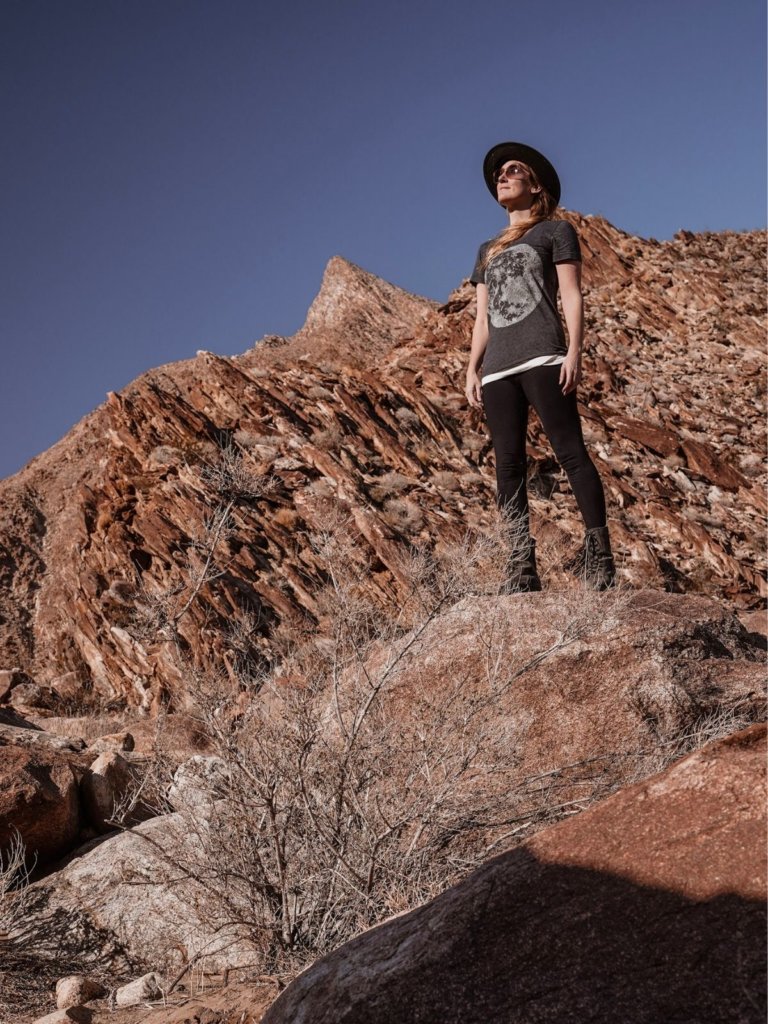 The Anza Borrego Palm Canyon Trail Hike
The Basics
Length: 3 miles
Level: Moderate
Type: Out & Back
Cost: $10 USD
Where is the Anza Borrego Palm Canyon Trail?
This hike is tucked away in Anza Borrego, past the Borrego Palm Canyon Campground and a short drive away from the Visitor's Center.
One thing to note, there is a Day Use fee required to access this area unless you have already paid to camp here. The cost is a flat $10 USD, which I avoided paying due to my California Explorer pass.
What is the Anza Borrego Palm Canyon Trail Like?
The hike begins on a flat, rocky and sandy stretch of land, and quickly begins to climb in moderate elevation. The twisting trail will take you across rock-covered ground, in between cacti, and between tall red-tinted mountains.
Stretches of the trail could be classified as Easy, but with thewinding 600 foot elevation gain and some required rock scrambling, hikers should be comfortable with Moderate conditions. The trail is fairly well marked, but there are sections where the markers are not quite easy to spot.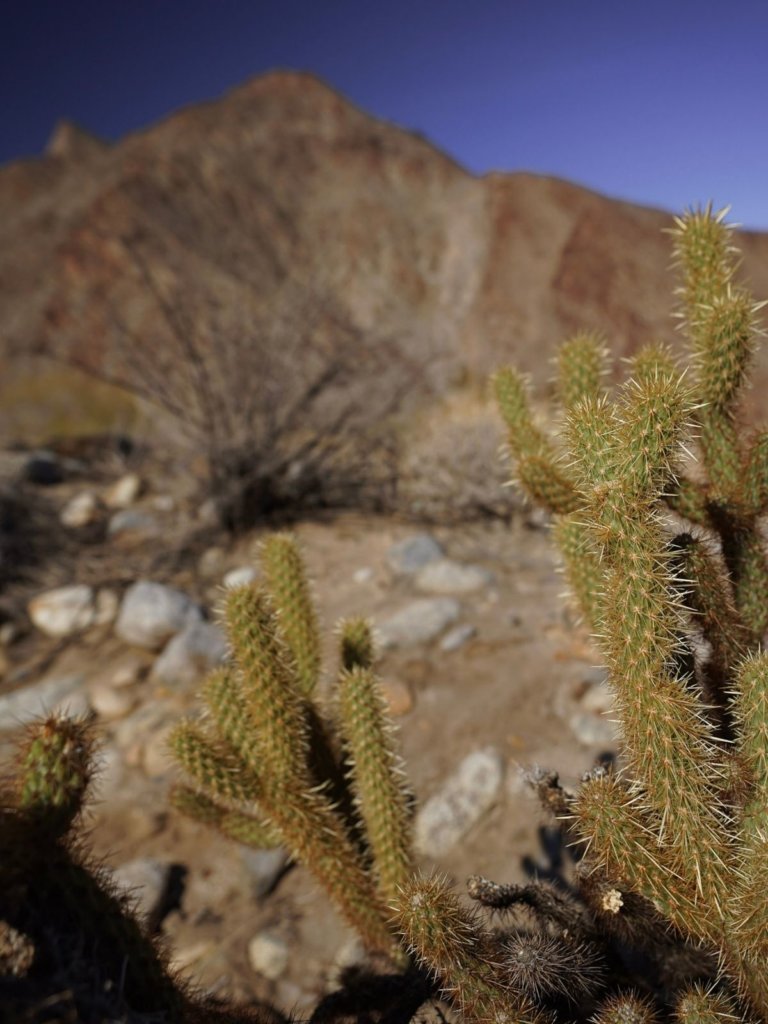 The desert flora and fauna was as fascinating as ever, and I definitely stopped to admire the desert brush and the prickly pear cacti on the way. Roughly half of the hike continues in this winding way, gradually gaining elevation as you trek across gravel, sand, and rock.
As you get deeper into the trail, you will start to see the tippy top of green palms tucked down in a ravine. And, the landscape starts to change.
This rocks grow in size, and they turn a white-gray color. The sound of trickling water starts to get louder. The California Fan Palms become more and more visible, and you quickly see large groupings of these native palms. Soon, the oasis becomes visible.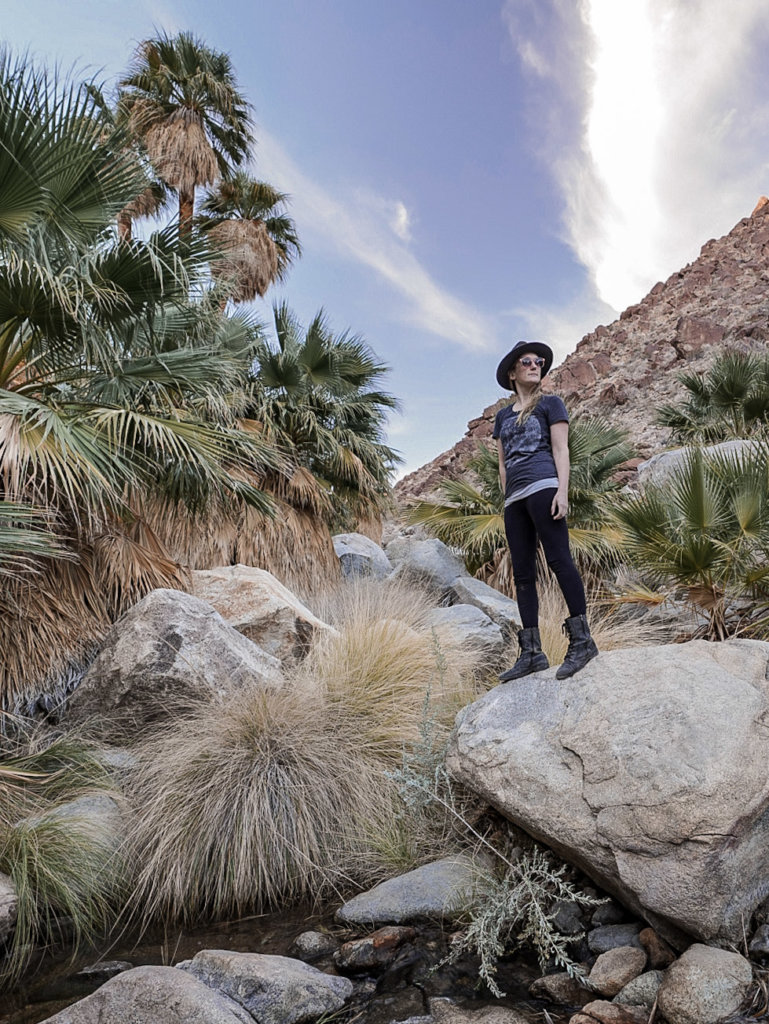 The Oasis
The beautiful oasis, nestled into a rocky V-shaped ravine below the trail, is home to the third largest California Fan Palm grouping in the state. The first largest is in Palm Springs, at Indian Canyons, where I covered the Andreas Canyon Trail. Incidentally, this hike was vaguely reminiscent of Andreas Canyon, by the way.
The trail leads to the first palm grove and small trickling pools. You may notice blackened and burned palm trees, and this was due to a manmade wildfire several years back. Additionally, a series of rainstorms and floods took out some of the oldest palms in this grove during the last decade. Thank goodness these guys are resilient!
Borrego Palm Canyon is where those lucky few will see the bighorn sheep, descending down to the fresh water. Sadly, I did not see them here – though I have seen them at Joshua Tree in the past.
For those who want to continue on, I've heard that you can continue exploring farther up the canyon. However, it was getting closer to sunset so I have not personally hiked beyond the trail's end. If you start later in the day, keep sunset times in mind as this trail could be treacherous in the dark!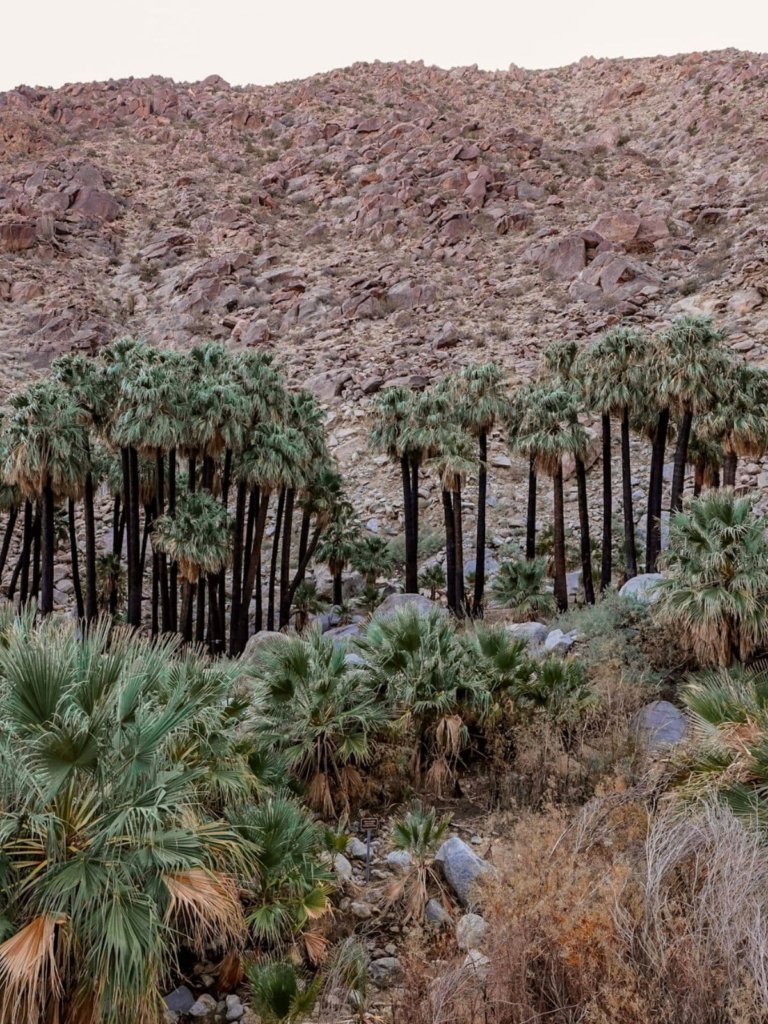 When to Go?
My friend and I took a road trip here to spend New Years in the desert, and we hiked this trail in the heart of California's winter. Because of the time of year, the temperatures were comfortable and the sun wasn't as fierce (though I will note that it got warm when the sun hit us and got quite cool closer to sundown.)
If you have never hiked in the desert, I highly recommend checking out my post on desert hiking gear and essentials. In the desert, there are a few additional safety measures to consider as opposed to elsewhere. So check it out!
October through May is the best time to hike the Anza Borrego Palm Canyon Trail (or any trail in this park, for that matter). You'll avoid the triple digit temperatures and if you're here in spring, will even see bright golden wildflowers.
FYI, I would not expect this trail to be empty unless you came on a weekday early in the morning. Since it is so popular, you will likely be sharing it with others.
Camping at Anza Borrego Palm Springs Campground
My friend and I exited the park that evening to stay in a hotel, and returned back the following morning for more nature-time. But prior to this trip, I have camped in this park many times.
If you are interested in camping near this trail, a campsite map can be found here. This is a great option particularly in the summer, when you want to start these types of hikes very very early to beat the heat.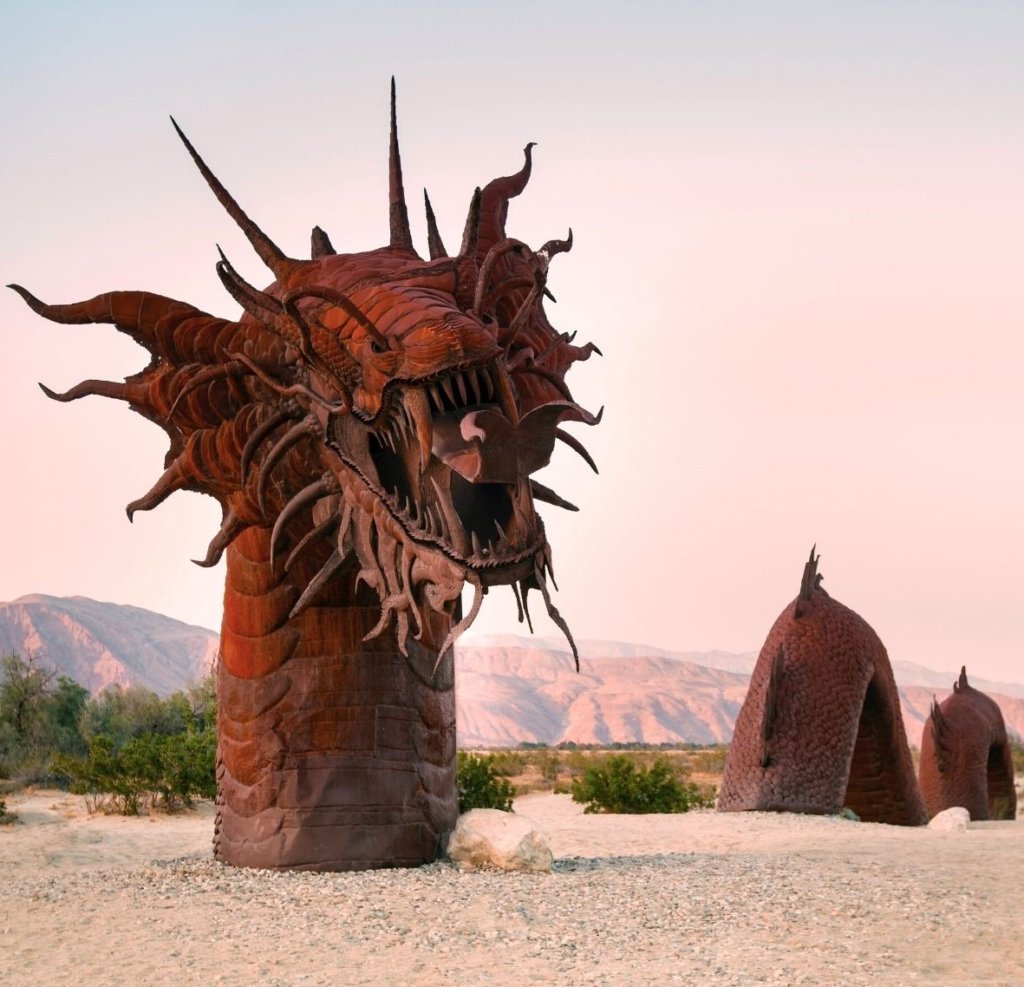 Where To Go Next?
You need to go and check out the Borrego Springs sculptures at Galleta Meadows while in the area. It's such a cool spot with all kinds of welded metal beasts! They are strewn across the desert and come to life in the sunrise.
You can also continue on to Joshua Tree, which is of course my all-time fave. The giant boulders and strange plants are simply awe inspiring. And, the many hikes in Joshua Tree will be a fun addition to your desert adventures.
And, if you have not hiked it already, you need to check out The Slot, right here within Anza Borrego.
***
So did finally hiking the Anza Borrego Palm Canyon Trail live up to the hype?
I would say yes! It was the perfect hike to celebrate New Years and an excellent time of year for the desert.
They say that how you spend New Years will determine how you'll spend the rest of the year. If that's true, then I'm excited for a great year full of lots of deserts, adventures and exploring, and loads of quality time with good friends. You can't beat that!
Pin Me for Later!