Looking for the best things to do in Borrego Springs, California? I've got you covered! After countless visits to this small desert town, I've created this full Borrego Springs travel guide to help you plan the perfect trip. For all the best places to see in Borrego Springs, keep on reading!
Pin Me for Later!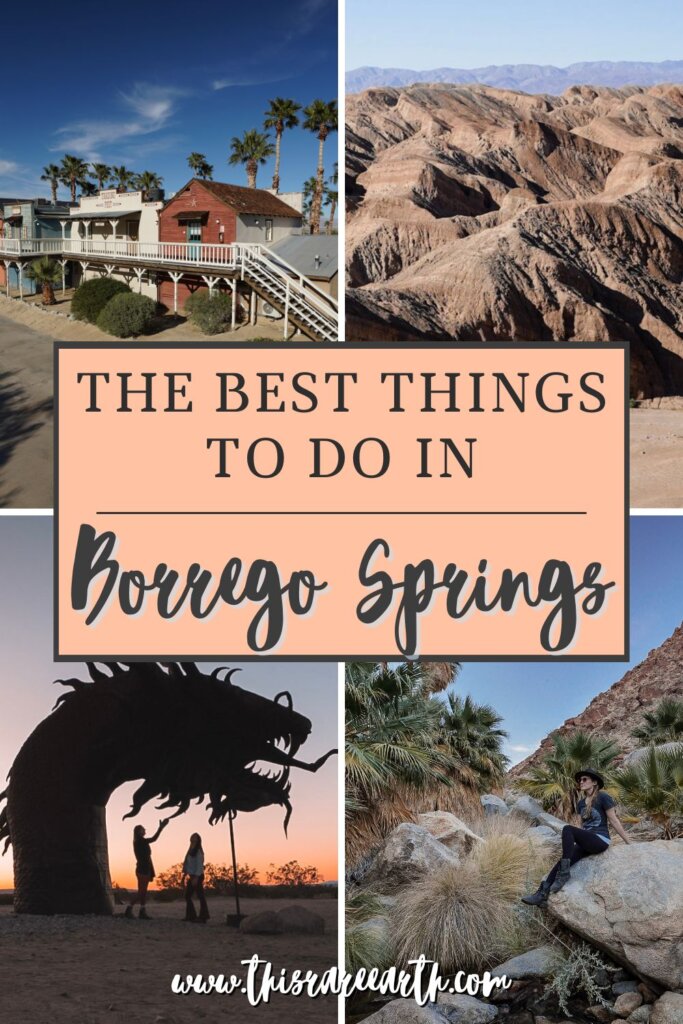 Borrego Springs is like a scene from your favorite Wild West movie.
Desolate landscapes, rugged terrain, a small quaint town, and a desert that stretches for miles. Thrown in some old time-y southwestern architecture, and here you have the perfect weekend getaway in Borrego Springs.
This quiet, quirky town is not on too many Southern Californian's radars. Don't ask me why – there are lots of sights to see and things to do in Borrego Springs!
I think it may be because it is tucked far enough away and is easily overshadowed by other popular desert locales, like Joshua Tree National Park and Palm Springs. But Borrego Springs is both laid back and lively, with great eats and quirky art.
In this complete Anza Borrego travel guide, I will cover everything you need to plan the perfect weekend in Borrego Springs, California. Let's dive in!
A Complete Borrego Springs Travel Guide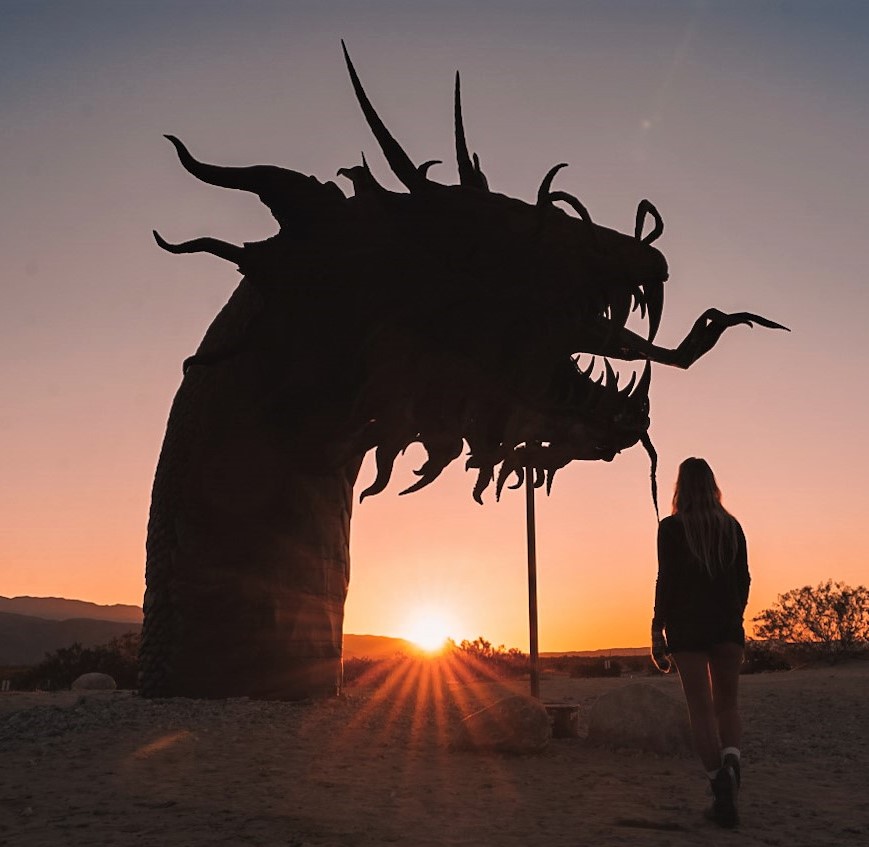 If you've been around for a while, then you already know how much I love my California deserts. I honestly can't get enough.
Even when I lived a short distance from the beach, I found myself in the desert much more often than the shore!
There is just something so peaceful – so beautiful – about the rugged and mysterious desert. if you're planning to visit Borrego Springs, I'm willing to bet that you will feel it, too.
Weather in Borrego Springs
Since Borrego Springs is situated in the desert, things can get very hot here. Here is what to expect during each season.
Spring in Borrego Springs
Borrego Springs has great weather from March to May. The highs typically hover in the 80s and lows in the 50s.
This is a beautiful time to visit Borrego Springs and view all of the colorful spring blooms on cacti and wildflowers around town. Bonus – when the conditions are just right, this area may showcase a colorful superbloom!
Summer in Borrego Springs
Things get very hot in Borrego Springs between June and September. The intense heat regularly sits in the triple digits, with highs around 106 degrees!
Start all strenuous activities early in the morning, or be sure to book a hotel with a pool. yes, I have visited Anza Borrego in the summer. It is doable, you just need to be willing to wake up and hike at sunrise.
Fall in Borrego Springs
From October through late November, the weather is close to perfect in Borrego Springs. It feels fairly similar to spring, with highs in the 70s and 80s and lows in the 40s and 50s.
Be aware that the days are getting shorter, so plan your hikes to wrap up before sunset. Most people plan their desert camping adventures for the fall, since nighttime temps are cool and comfortable.
Winter in Borrego Springs
Winter is a great time to visit Borrego Springs. From December to February, the average temperatures hover around 70 degrees Fahrenheit in the daytime and drop into the 30s overnight.
Winter is a great season for hiking and exploring, though it is often too cold to camp overnight.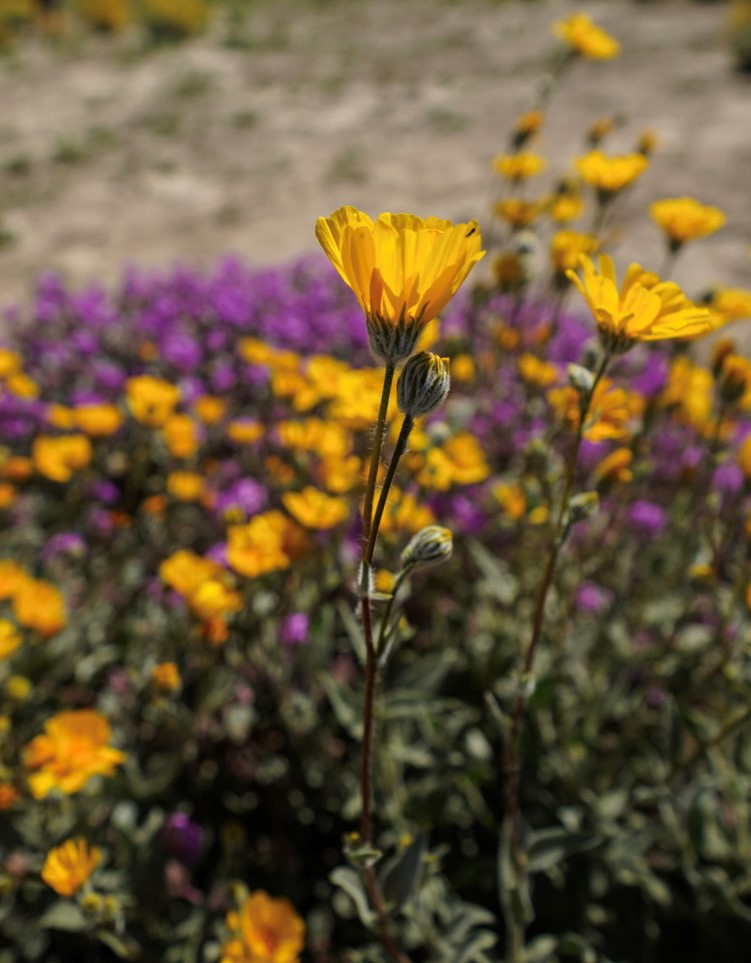 When to visit Borrego Springs
If you plan to be active and want to really explore all of the great things to do in Borrego Springs, I highly recommend either spring or fall. Winter is also a great time, particularly if you are a hiker.
From late October to early April, the temperatures will be a bit cooler and you won't run into scorching sun.
Borrego Springs is a hot and dry desert, just like Phoenix or Palm Springs. The town sees very little rain throughout the year.
In general, expect sunny skies, low humidity, and hotter than average temperatures. Oh, and, the most beautiful tan and purple mountains against clear blue skies!
On my last visit, I got to experience a Borrego Springs and Anza Borrego superbloom. This is when the winter rains have caused an abundance of bright wildflowers to grow – a stunning sight in the desert!
Pro Tip: Some shops and hotels shut down for the summer months, when fewer visitors travel here. So be sure to check ahead if you are dead-set on any particular activity.
What about the weather in Anza Borrego Desert State Park?
Since most people come to the area specifically to visit Anza Borrego Desert State Park (one of the best things to do in Borrego Springs) we should also talk about the weather within the park.
In general, you should expect the same temperature variations that are listed above for Borrego Springs. However, Anza Borrego is very mountainous, so as the elevation changes, so can the weather.
The other thing to be aware of within the state park – flash flooding can occur. This is particularly common during the rainy months, in winter and even spring, and is something to take seriously.
But, don't disregard flooding even in the summer. Thunderous storms can sweep through, leaving hiking trails and washes filled with rapidly flowing water.
If it is your first time visiting a desert town – or if you need to brush up on info – check out my desert hiking safety tips post.
Where is Borrego Springs?
Borrego Springs is located at the very center of Anza Borrego Desert State Park.
If you look at the map, Anza Borrego makes a sort of semi-circle shape, and in the very center is the small town of Borrego Springs. it is quite literally surrounded by state park on all sides!
And, though it couldn't feel farther from the the famous and popular San Diego, Borrego Springs actually is within San Diego County. It does spill over into Riverside country, too, as well as Imperial County.
Though a world away from the typical "Southern California" that most people picture, Borrego Springs is a worthy place to visit, nonetheless. In fact, it is because it is lesser-known than the popular towns that I really enjoy my visits here.
Other points of interest nearby include the Salton Sea, Slab City, Torrey Pines State Park, and the Carlsbad Flower Fields.
How to get to Borrego Springs
No matter where you are in Southern California, you are never too far away. Here is a lost of the major cities and nearby towns to give you a point of reference.
San Diego: Roughly 2 hours or 85 miles away.
Torrey Pines: Roughly 2 hours or 80 miles away.
Joshua Tree: Roughly 2 hours or 120 miles away.
Palm Springs: Roughly 1 ½ hours or 85 miles away.
Orange County: Roughly 2 ½ hours or 130 miles away.
Los Angeles: Roughly 2 ½ hours or 150 miles away.
So, Borrego Springs is just a stones throw away from many SoCal cities and parks!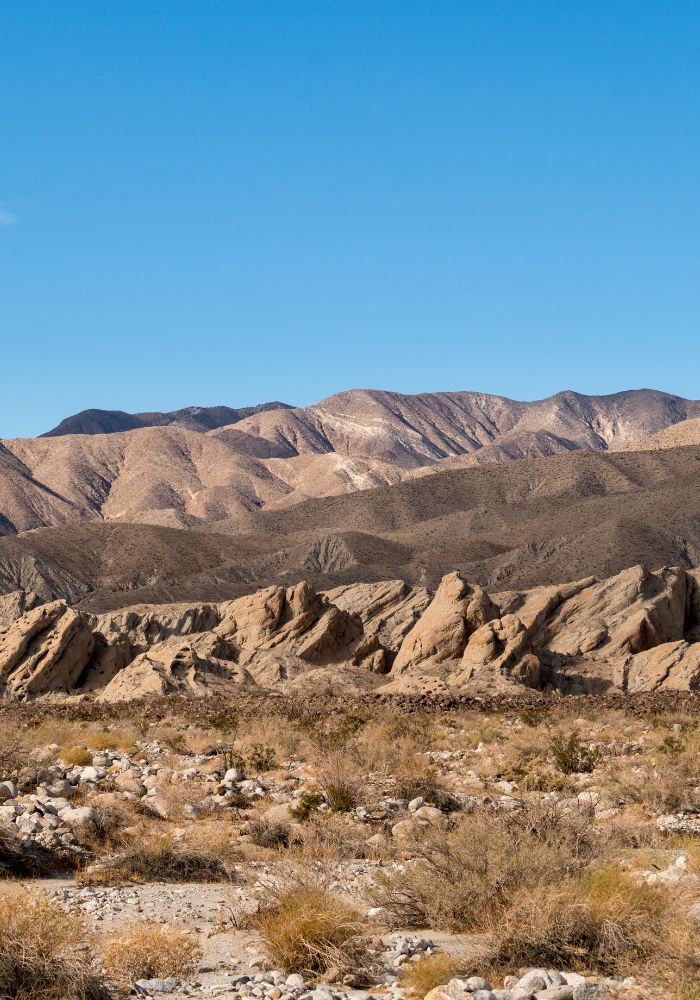 How to Get Around Borrego Springs
Borrego Springs is definitely the type of place where you need a car.
Whether you self-drive or pick up a rental car, you will need to drive yourself around. There is no public transportation to get you to town or get you around within town.
Pro Tip: If you drive a small car or sedan into Borrego Springs, consider renting a 4WD vehicle for just one day. This will allow you to get around some of the more remote areas within Anza Borrego. More on that later.
This small town has just a few roads that generally form a grid shape, save for the central Christmas Circle. This loop is in the center of town and you are bound to loop through this roundabout more than once.
One thing you will likely notice right away – there are no traffic lights in Borrego Springs! If this doesn't scream "quaint little town" then I don't know what does!
(Hint: I'll talk about why there are no traffic lights below.)
How many days do you need in Borrego Springs?
Though the town is small, many of the things to do in Borrego Springs tend to take a bit of time to complete. Because of that, I highly recommend around three days / two nights at least.
And the town is s peaceful that I can almost guarantee you will want to stay longer!
On my most recent visit to Borrego Springs, my friend Dana and I spent two nights and had roughly three days here. However, in the past I've stayed even longer, when I explored the depths of the desert park.
And, at our hotel, we met a family who was staying the entire week of spring break! So it really depends on how much time you have and what you want to see.
My advice: If you are just looking for a quick getaway and a taste of this desert town, stay for three days. If you want to go deep into the desert and go off-roading, do some strenuous hiking, and have time to relax, plan for a week.
I will say that we both left relaxed after spending our last evening at the pool and hot tub!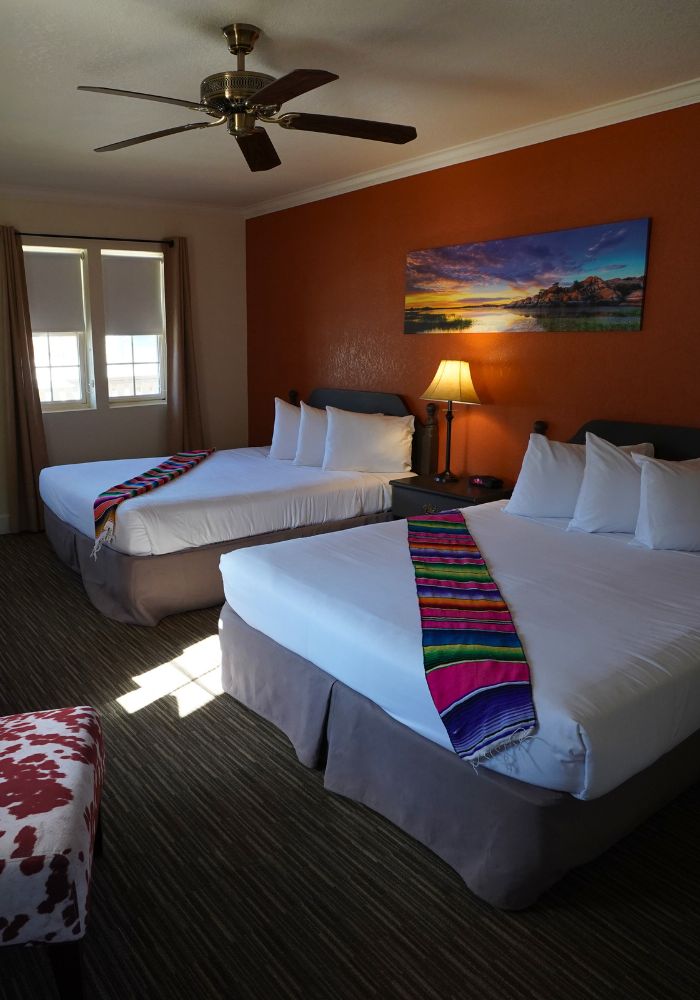 Where to stay in Borrego Springs
There are not a ton of hotel options since it is a small town, but there are plenty enough (and good ones, too!) You won't find chain hotels here, either.
Since I have now been here more times than I can count, I will list my top three hotel recs, as well as camping suggestions, below.
On my most recent trip to Borrego Springs, we stayed here for three days. It was incredible! The hotel is designed like a Wild West town, complete with a Saloon, Dance Hall, and Sheriff's Station – by paint job, at least.
The rooms, pictured above, are decorated in colorful comfort, with crisp white bedsheets. RV parking is plentiful, and the pool is perfect for relaxing in the desert. They have a restaurant on site and even live music outside. BOOK THE PALM CANYON HOTEL HERE!
I have also stayed at the Borrego Springs Resort and Spa on past visits, and it is another wonderful option. The rooms are large and comfortable, with a lot of amenities on site, such as tennis courts, a swimming pool, and a hot tub.
You'll have plenty of parking and friendly front desk staff. It is a great option! BOOK THE BORREGO SPRINGS RESORT HERE!
Last but not least, the Borrego Valley Inn is a southwestern style comfy hotel with private balconies and clean, affordable rooms.
Borrego Valley Inn has a great pool and air conditioned rooms that will keep you cool, even in summer. Guests can choose everything from a basic double room to a King Suite with a private jacuzzi. BOOK THE BORREGO VALLEY INN HERE!
Camping near Borrego Springs
If you are traveling on a budget or just want to experience the great outdoors, Borrego Springs is a wonderful place to camp. And, you have plenty of options.
Anza Borrego Desert State Park offers free camping almost anywhere within the park boundaries. I have more info for you in this post, but here are the general rules:
You must camp at least 100 yards from all water sources.
Cars must be parked less than one car length off the road, but you can walk further in to set up camp.
No ground fires are allowed, although fires burning in metal containers are okay.
You must bring your own firewood (and if you camp in colder months, you will want it!)
Now if you go the free route, be aware that you will be facility-free.
If you prefer a designated campsite, I personally recommend the Borrego Palm Canyon Campground, next to the Borrego Palm Canyon Trail. It is also within the park boundaries and accepts campers from October 1st to April 30th. You can book up to six months in advance.
What to wear in Borrego Springs
For anyone who wants to really dig into what to wear in the desert, check out my linked post. But I will try to sum it up here nicely.
The key to any desert climate is to dress in and pack plenty of layers. The temperatures can vary throughout the day, from scorching hot to freezing cold. Be sure to pack:
Rugged Trekking Sandals
I am obsessed with these exact sandals. They have traveled everywhere with me, across six continents so far! They are comfortable, and have a closed toe for protection from all the desert pokey things. Get yours here!
A Moisture Wicking Top
No matter when you visit, but particularly in spring and summer, you will want a moisture wicking top to stay comfortable and dry. Columbia products have never let me down yet. Get yours here!
A Hydration Backpack
A Camelbak backpack is practically a necessity for desert hiking. The one linked has a large water bladder and extra room for packing additional snacks, clothing, and gear. Get yours here!
A Wide Brim Hat
This is my all time favorite hat and it's absolutely perfect for the strong desert sun! The wide brim keeps the sun off of my face and neck, not to mention out of my eyes. It is fully adjustable so you can create the perfect fit for you! I love mine. Get your own here!
Eco Friendly Sunscreen
Make sure you pack a strong sunscreen to protect yourself from the desert sun. Even in the winter months, you can still get a solid burn if you're not prepared. Get yours here!
A Cooling Bandana
This bandana is a great item if you plan to do any hiking. It absorbs water and instantly cools you off, even in the summer months. It has built in UPF 50 protection. Get yours here!
Lightweight Hiking Shoes
In the winter, I recommend trail shoes or sneakers like these. There will be too much of a chill for sandals typically, and these lightweight and durable waterproof shoes are designed for hiking. Get yours here!
Things to Do in Borrego Springs, California
After so many visits to Borrego Springs, this list of things to do covers all the best activities both inside the park, within the town, and everything to see in between.
Here are all of my favorite things to do in Borrego Springs.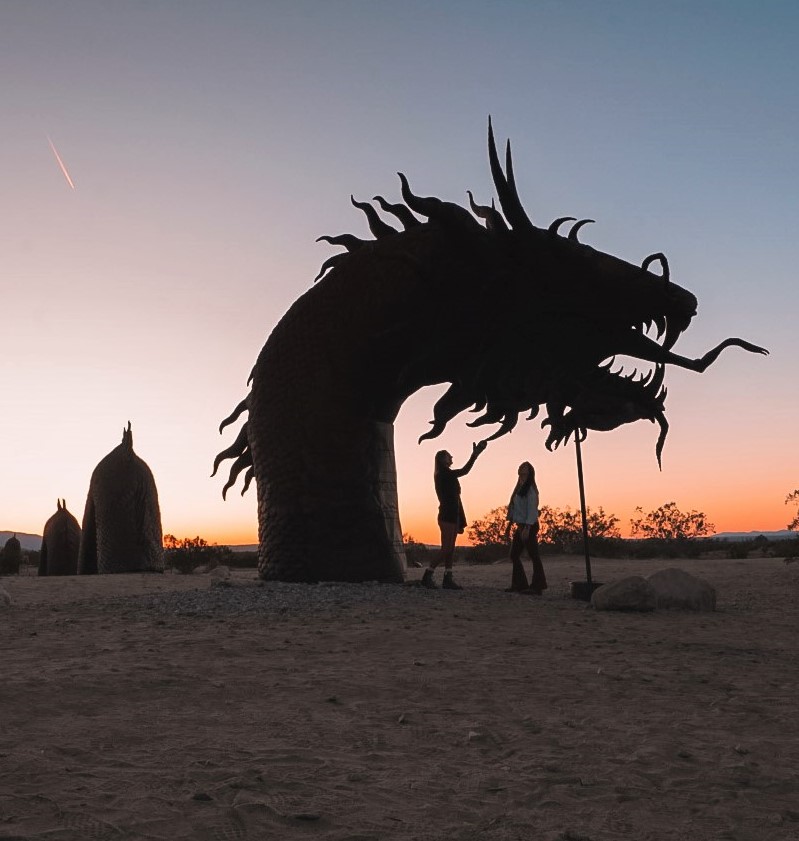 1. Explore Borrego Springs' wild metal sculptures.
Strewn all around the town of Borrego Springs, these metal sculptures have basically become a legend. I have a full guide to visiting the Borrego Springs sculptures, so do check that out for further details!
Galleta Meadows is a collection of several pockets of land. Each of these pockets are sparsely covered with huge prehistoric dinosaur sculptures, bog and reptile sculptures, and metal horses and elephants.
These incredible artworks were created by artist Ricardo Breceda, a self-taught welder, who so far has over 130 creatures in Borrego Springs.
Many of the sculptures are able to be seen from the roadside, but others require a walk deeper into the desert. I can admit that despite my many visits, I have certainly not yet found them all.
One of the most popular sculptures is easily the serpent sculpture. It is pretty incredible, and his tail even "crosses" the road into the desert beyond.
These are a must see! Learn more and plan your visit here.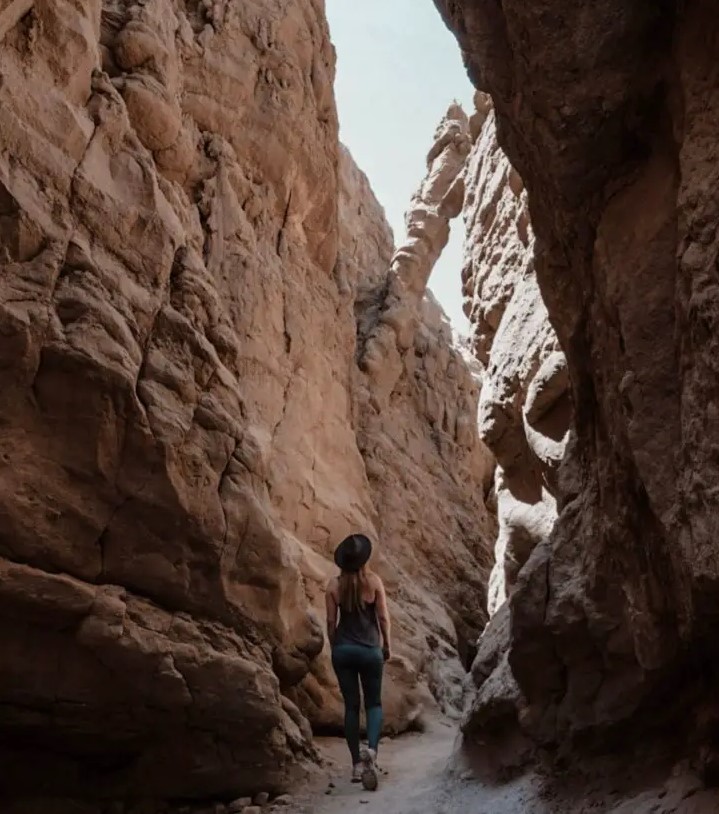 2. Hike through a slot canyon.
So far, this is my favorite hike within Anza Borrego Desert State Park.
This trail, casually called "The Slot" is super fun. If you were not aware that there were slot canyon hikes in Southern California, now you know!
I have made it here in a Toyota Prius, so this is one trail that can theoretically be reached by car. However, definitely check the recent rains and monitor the sand as you drive. Turn back if it gets too soft.
This hike is just over one mile long, and is a very easy hike. Once you descend into the canyon, everything is mostly flat, with a few tight sections or areas you need to step over boulders.
The incredible cliffs, the narrow passages, and the rugged landscape make this one of my favorite things to do in Borrego Springs. Learn more in my hiking guide for the Slot!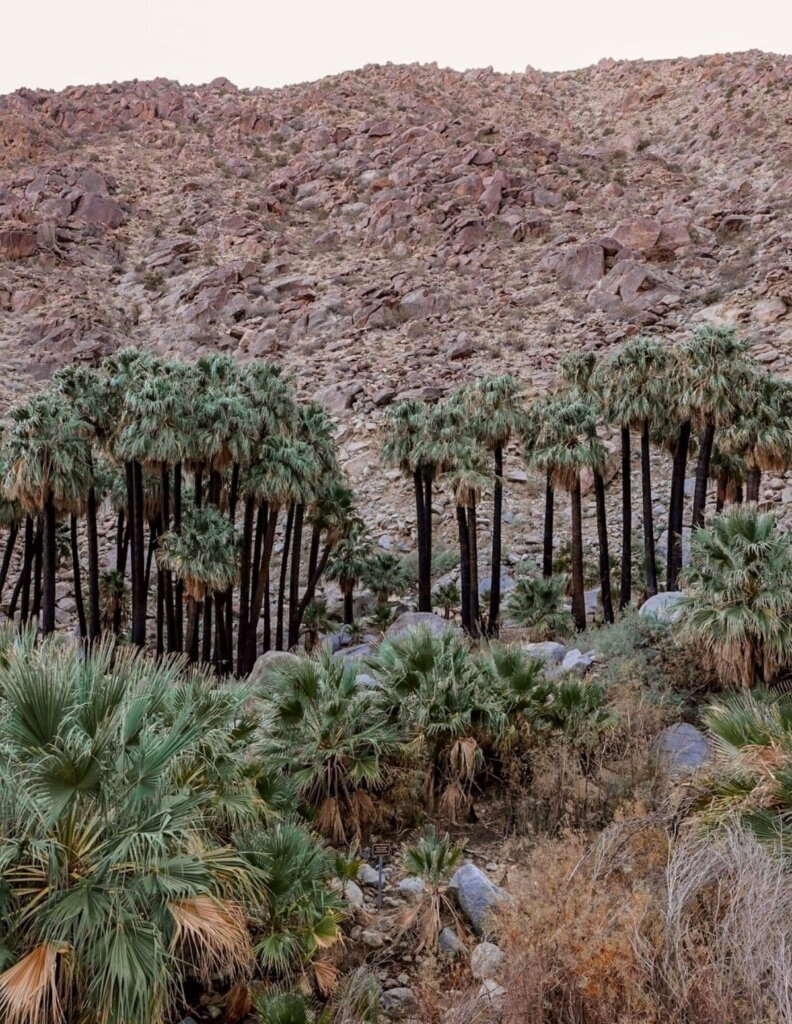 3. Discover a desert palm oasis.
Also within Anza Borrego Desert State Park, you have the opportunity to hike a moderate trail that ends at a giant California Fan Palm oasis. This is all found on the Borrego Palm Canyon Trail.
This trail leads hikers through rugged desert, between spiky cacti, and between wild red rocks. It ultimately ends at a flowing natural oasis surrounded by many large fan palms.
It is an incredibly beautiful trail!
This trailhead is found near the designated camping area. And, one thing to note – this area does require a small day use fee of $10 USD.
More details on hiking this serenely beautiful trail can be found here.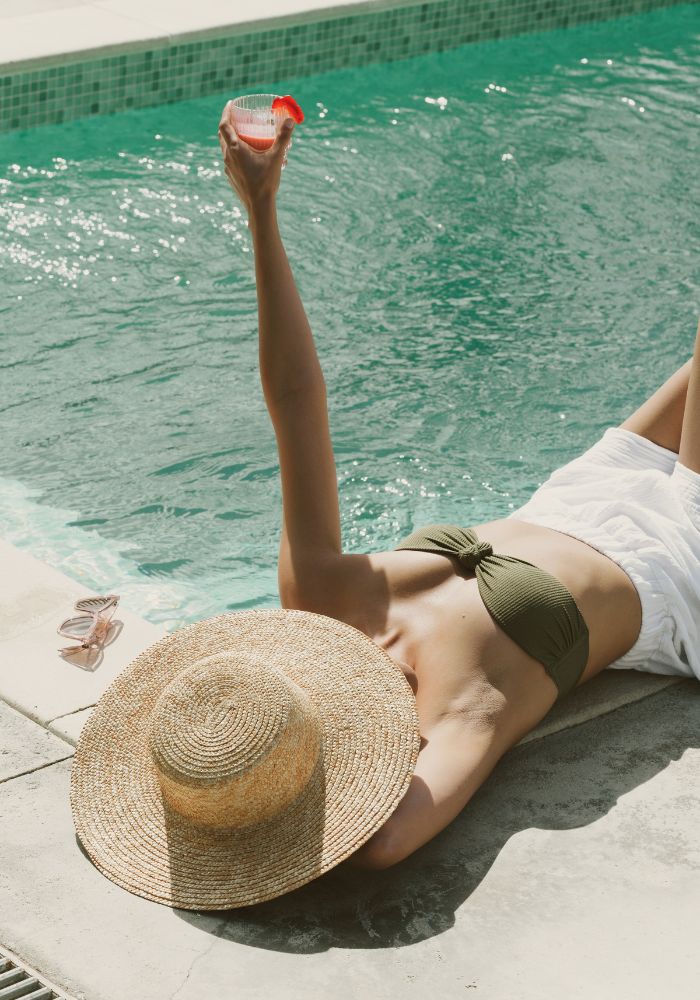 4. Soak and sunbathe at the pool.
There is nothing quite like a pool day in the middle of the desert.
And I would know! I've experienced them in the middle of the Arabian Desert as well as here in the American Southwest.
On my most recent visit to Borrego Springs, my hotel of choice was the Palm Canyon Hotel and RV Resort. Besides being insanely comfortable, and very "Wild West"… it also had a great pool area for swimming, relaxing, and chatting with fellow hotel-stayers.
My friend Dana and I met our hotel neighbors and spend one afternoon just soaking up that desert sun. Note – be sure to bring that sunscreen, because the desert sun is no joke!
If you are anything like me and want to spend just half a day relaxing, be sure to book a hotel with a pool, too.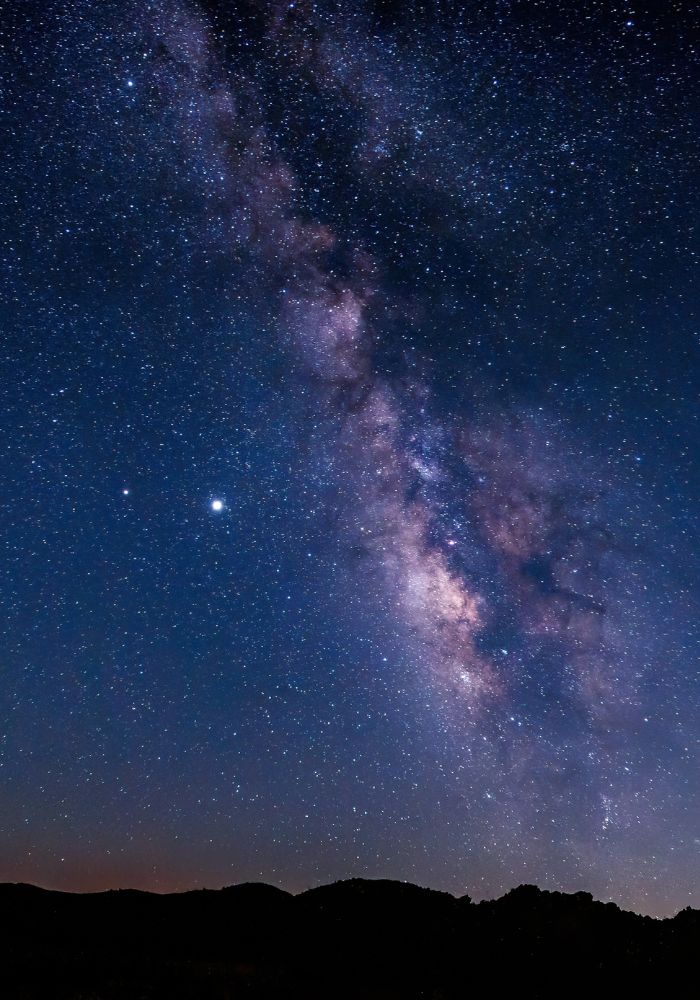 5. Don't miss the stargazing.
It's been several years since I went stargazing in the Anza Borrego Desert. But believe it or not, I remember it just like it was yesterday. The millions of sparkling dots up in the sky are unimaginable.
Borrego Springs was named an International Dark Sky Community back in 2009 due to the lack of light pollution here. So far from the larger California cities, the sky here gets dark.
In fact, that is exactly why there is not even one single traffic light in this small town.
You will be greeted with thousands of stars on any given clear night, but f you want to see and learn even more, you can book a stargazing tour. I've seen equally incredible stars in both Joshua Tree and outside of Phoenix, But, there is something special about seeing them here.
6. Listen to live music.
This was a case of luck for us, but the next time I visit Borrego Springs I'd be sure to do this again: catch live music at the local saloon.
The Palm Canyon Hotel has a restaurant and bar called Big Horn Burgers & Shakes. You can grab a few drinks indoors or you can sit outside and enjoy your meal at sunset.
We chose the outdoor option, and little did we know, it was about to come with a live show. The music was good, the crowd was lively, and the drinks were clever.
I ordered a special called the superbloom and it was the perfect choice for the surrounding springtime flowers. I have a feeling they rotate those specials based on current events, so there's bound to be something new each season.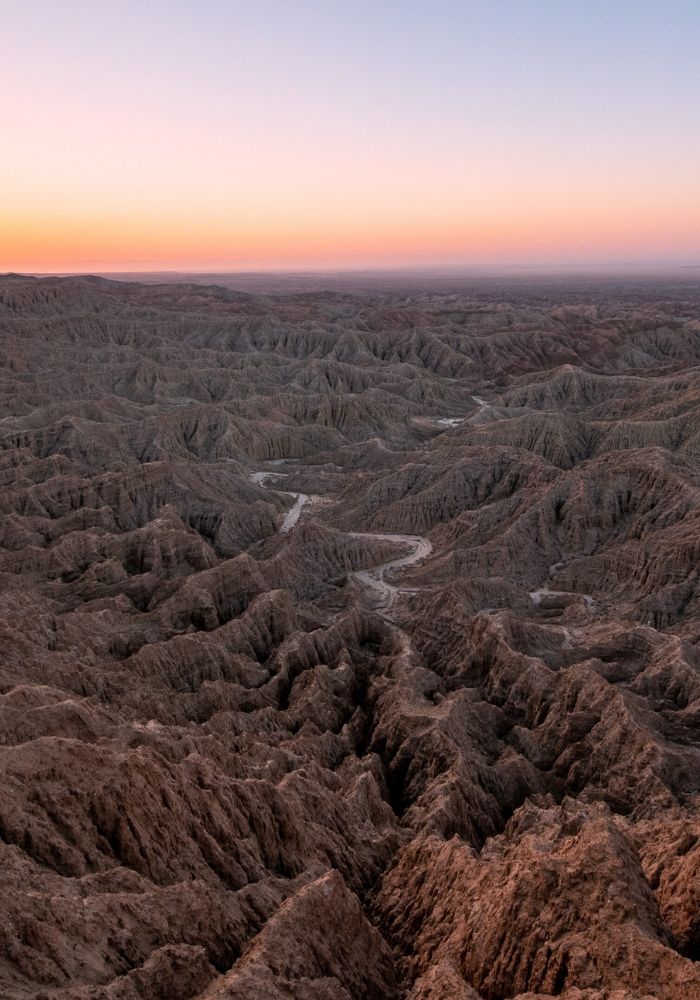 7. See the best sunrise at Font's Point.
Anza Borrego's desert doesn't disappoint when it comes to breathtaking views, and Font's Point at sunrise is the ultimate sight.
As the sun starts to crest over the distant mountains, it casts a warm, orange glow across the rugged landscape, illuminating the ridges and valleys below. The view from Font's Point is especially awe-inspiring, with the vast jagged peaks laid out before you.
The eroded badlands, towering mesas, and twisting canyons are all on full display, as the light gradually brightens and the shadows start to recede. The serenity and beauty is unmatched.
If you can't pull yourself out of bed for sunrise, you could also consider sunset. But I have to warn you, sunrise is the absolute best time to see it.
This is one of the best things to do in Borrego Springs and in Anza Borrego Desert State Park itself.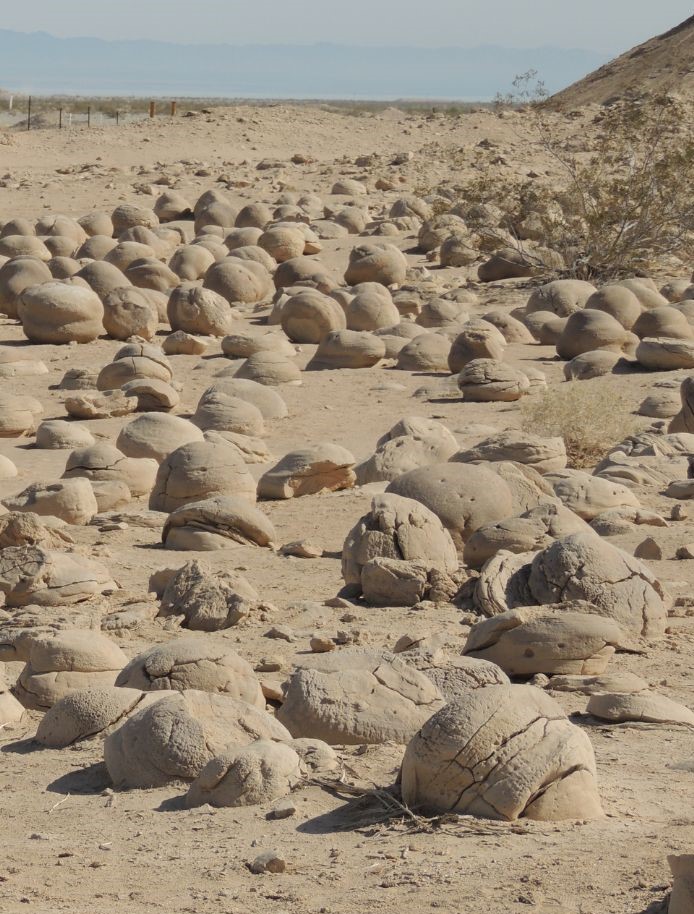 8. Find the quirky Pumpkin Patch (if you have 4WD)
I became obsessed with this strange area called The Pumpkin Patch some time ago, and honestly I still find it fascinating!
This strange geological phenomena features round, pumpkin-sized boulders scattered all across the desert floor, in a haphazard formation. They are called concretions, and are formed when tiny wet specks of sandstone dry and cement around a small fragment, like a shell or leaf.
Over time, these spheres grow as more dirt and sand is gathered. Note that you cannot access this spot without 4WD. But if you can get here, it is certainly worth the visit!
9. Go to the local farmer's market.
From November to April, Borrego Springs holds a local Farmer's Market every Friday morning from 8am-12pm. You can shop it at Christmas Circle Park, where all the roads converge into a central roundabout.
Support the local farmers and vendors while grabbing a tasty treat. You can purchase fruits and vegetables like strawberries, avocados, tomatoes, and broccoli. If you are looking for more of the dessert variety, you can even get some local chocolate and fudge here.
I highly recommend a visit both to support the locals as well as to get some fresh treats!
10. Take a 4WD tour.
If you want to see the rugged corners of Anza Borrego but don't want to be responsible for the 4WD or a rental car, consider booking a 4WD offroading tour.
This tour will take you to some of the most secret and hard to reach spots. Want to see some tough to find Galleta Meadows sculptures? They can take you. Want to see some off the beaten path trails? They can do that, too.
The expert drivers can take you through the mountains and deserts of Anza Borrego.
If you love offroading adventures or desolate, far away areas, this is great way to experience $WD in the desert.
FAQs on Borrego Springs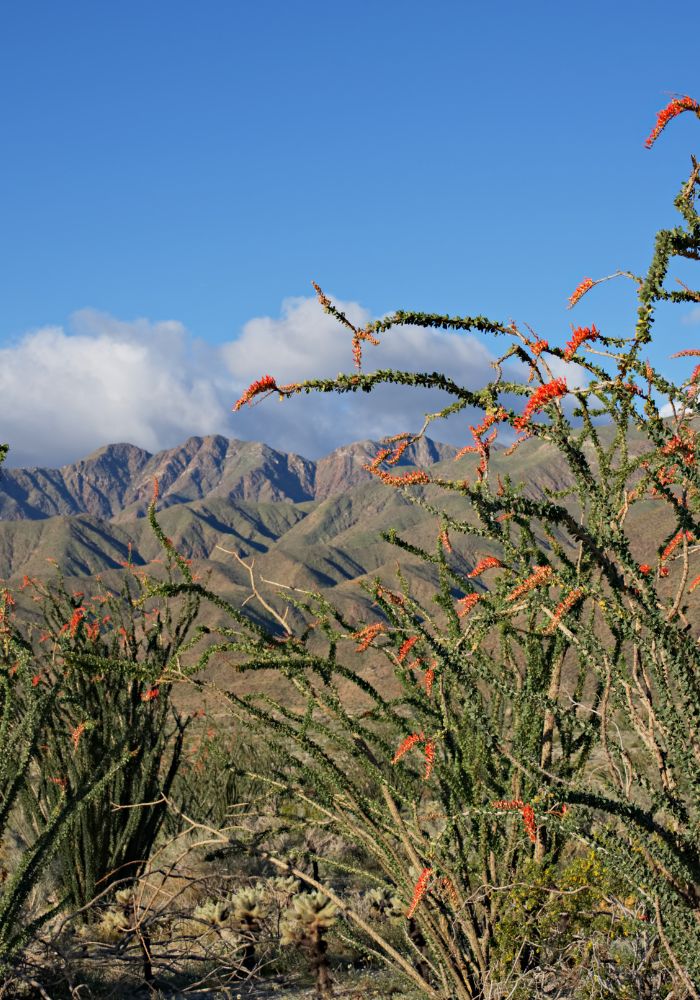 Is Borrego Springs worth visiting?
Hands down yes! Borrego Springs is the quiet Wild Western town you didn't know you were longing to see.
From endless desert landscapes to rugged mountains and refreshing pools, Borrego Springs is a great weekend getaway.
How far is Borrego Springs from the Mexican border?
The small town of Borrego springs is roughly 40 miles north of the Mexico border.
Does Borrego Springs have hot springs?
Borrego Springs is not famous for hot springs as the town of Desert Hot Springs or Palm Springs may be. But, an area called Five Palms Hot Springs can be found within the Anza-Borrego Desert State Park. These springs were named after the palm trees that surrounded them.
Why do people go to Borrego Springs?
People visit Borrego Springs to escape the hustle and bustle of city life in San Diego and Los Angeles.
They often visit specifically to hike in Anza Borrego, or to hunt for the Galleta Meadows scultpures, or as a stopover on a drive through the California deserts.
How far is Borrego Springs from Palm Springs?
Borrego Springs sits roughly 85 miles from the better-known town of Palm Springs. They both are equally fun and beautiful, depending on what type of getaway you are looking for.
Are there mosquitoes in Borrego Springs?
Mosquitoes can be found in Borrego Springs, particularly after rainy months. I highly recommend hiking with these bug repellent wipes to keep the bloodsuckers away.
What is the crime rate in Borrego Springs?
The crime rate in Borrego Springs is close to zero, when compared to surrounding cities. At last count, there were 5 violent crimes and 18 property crimes in the span of one full year.
What animals are in Borrego Springs?
Borrego Springs sees the typical California desert wildlife that similar areas have. This means rattlesnakes, coyotes, and small rabbits abound.
However, the large bighorn sheep are the real treat in Anza Borrego! Occasionally they can be spotted on the Palm Canyon hike.
What is the closest desert to San Diego?
The closest desert to Sand Diego is the Anza Borrego Desert State Park. In fact, it sits largely within San Diego county.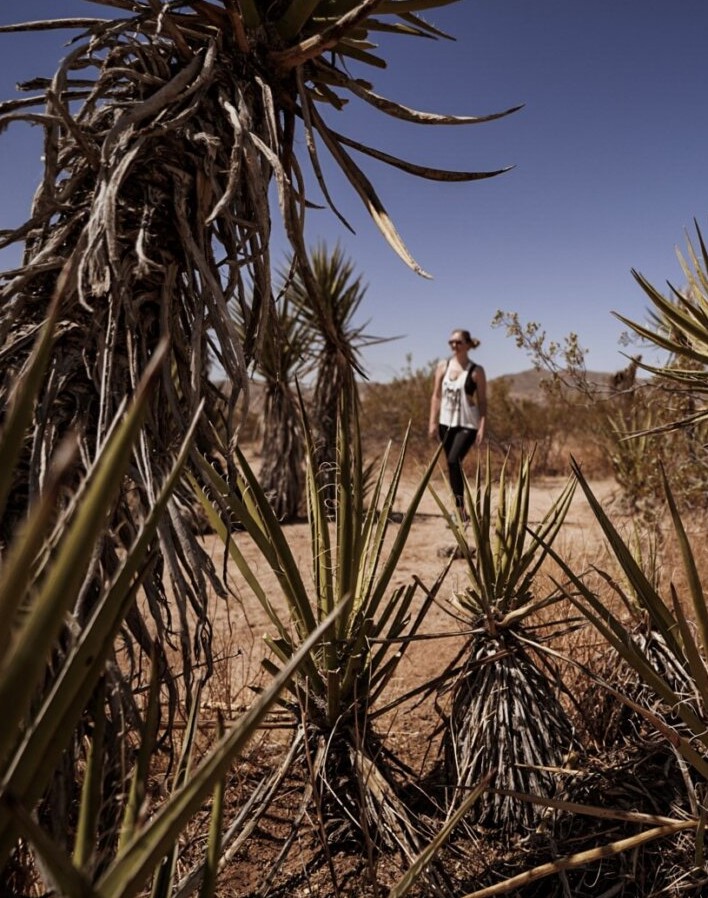 Where To Go Next
If you are up for more desert exploration, I highly recommend visiting Joshua Tree National Park for a very different experience! The landscapes here are unlike anywhere else, with large round boulders and very strange Joshua Tree plants.
Or, soak in the mineral waters near Palm Springs to relax. The retro town is a great spot that everyone in SoCal should see at least once. And, one of my all-time favorites hikes, Andreas Canyon, is found here.
If you'd rather head toward the coast for some unique views, drive over to Torrey Pines State Park. It's almost like looking at jagged peaks like Font's Point has, but in front of the ocean instead.
Lastly, if you are always looking for a good hike like I am, grab a copy of my 52 Hikes in Southern California e-book. It will give you a new hike to tackle every single week of the year!
***
I hope you have fun checking off this list of things to do in Borrego Springs. i bet you love this quirky Wild West town as much as I do!
Let me know below – what activity are you most excited for?
Pin Me for Later!