If you are planning a girls trip to Vegas, this Las Vegas guide is the perfect place to be. We will cover where to stay in Vegas, what to see on the strip, and several outdoor experiences that you may not have known about. Here is how to plan the perfect girls trip to Las Vegas!
Pin Me for Later!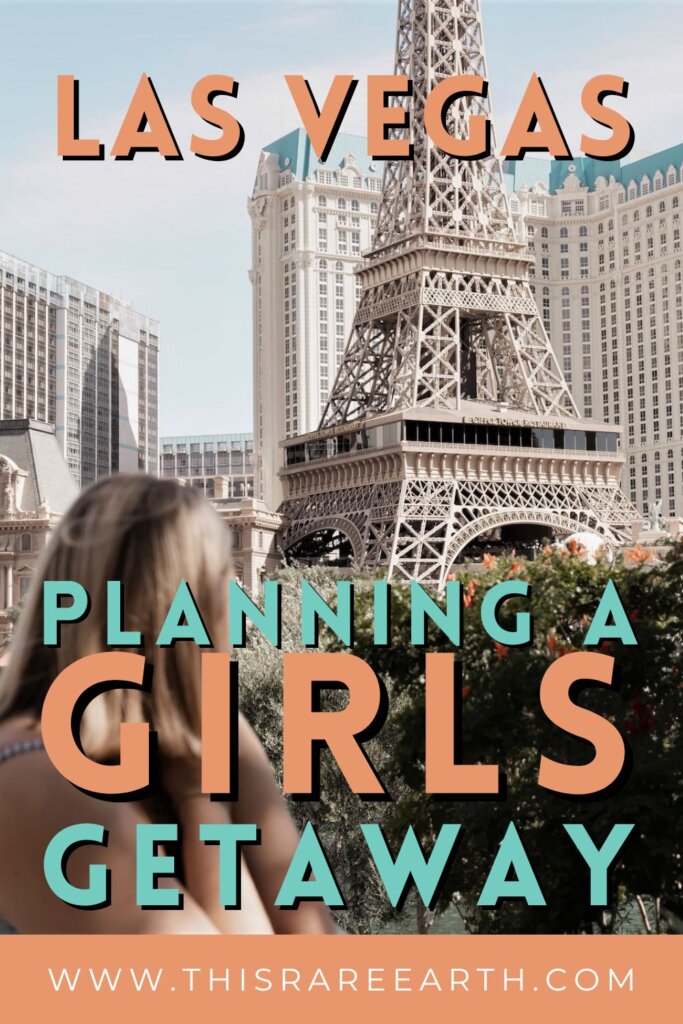 Having lived out in the American Southwest for many years now, I have found myself in Las Vegas more times than I can count. Sometimes to visit friends, others to see the incredible nature, and then others – the most memorable times, by the way – were on several fun girls' trips to Vegas.
Living in Phoenix, Arizona in my twenties, I took several road trips with my gal pals to Sin City. And more recently, I've done the same from Southern California.
A girls' trip to Las Vegas is basically a right of passage in your twenties. I can almost guarantee that you will make memories you'll never forget! Whether it's for a graduation, a bachelorette or birthday party, or just a fun weekend trip, Vegas has so much to do.
Below I will share my top tips for planning the best girls trip to Las Vegas. It includes where to stay, the best things to do, and even the most interesting outdoor and natural sights to explore.
You May Also Like: The Best Road Trips from Las Vegas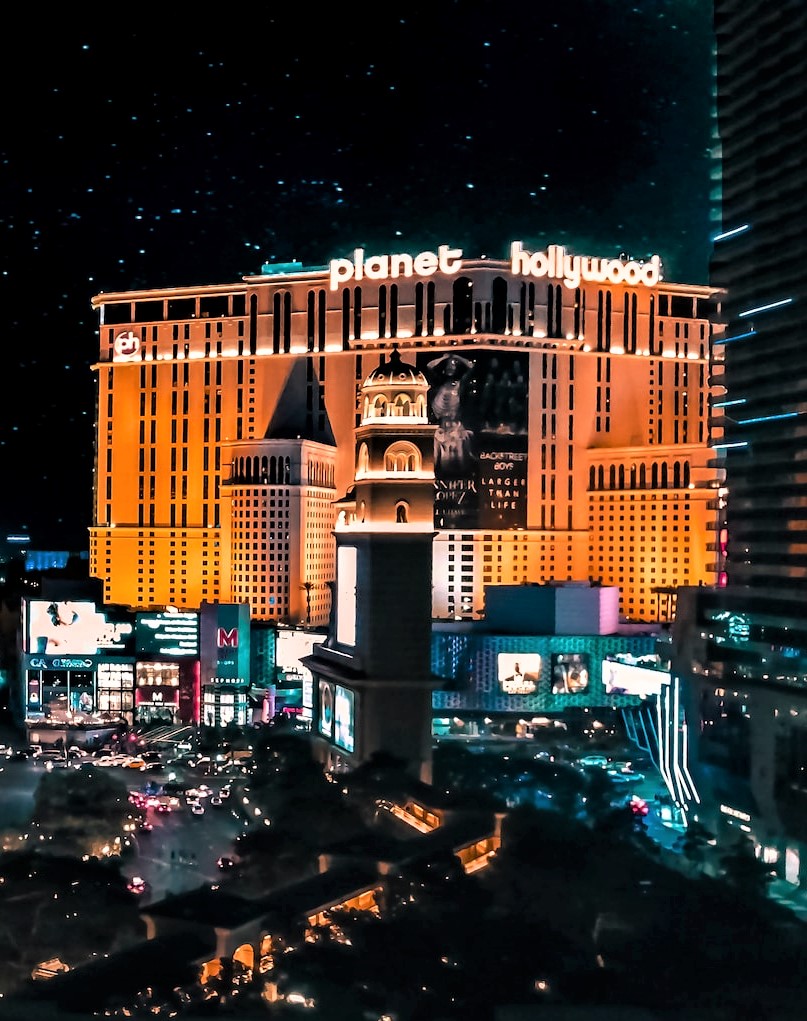 Where to Stay on a Girls' Trip to Vegas
When choosing a place to stay, consider your goals. If it is your first visit to Vegas or you plan to hit a lot of establishments and activities on the famous Strip, then I highly recommend a hotel in the middle of the action. You'll pay a bit more for the convenience, but you'll avoid fees for a taxi and Uber rides each day.
Planet Hollywood
Planet Hollywood is conveniently located in the center of the strip, near several of the biggest and flashiest casinos. The rooms are stylish and comfortable. on site, Planet Hollywood is known for hosting large concerts and big name music artists. They have two sparkling pools and spas, perfect for relaxing or partying.
Luxor
As someone who has experienced the real Egyptian pyramids, no, Luxor is not as impressive (obviously!) But, the sphinxes and pyramid is about as close as you can get to Ancient Egypt while in the US. This is one of the largest hotels in the United States, with over 4,000 rooms available. It also has indoor shops and restaurants, so you never have to go too far to find what you need.
MGM Grand
A friend of mine used to work here, so I've had the chance to see a lot of this hotel. It is on the far end of the strip, so you do need to be prepared to walk if you plan to explore. But, I think it's worth it. The pool is incredible. It has everything you could ever want, from a lazy river to a waterfall, and tons of chairs for relaxing. The rooms are very clean and the bedsheets are crisp – you will get your money's worth here!
When is the Best Time to Visit Las Vegas?
Las Vegas is located in the middle of the Mojave Desert, one of the hottest places in the entire USA. The city, however, is situated on top of a plateau, making it a bit more bearable than the surrounding desert.
Here is what to expect in Las Vegas in each season, to help you plan the best girls weekend.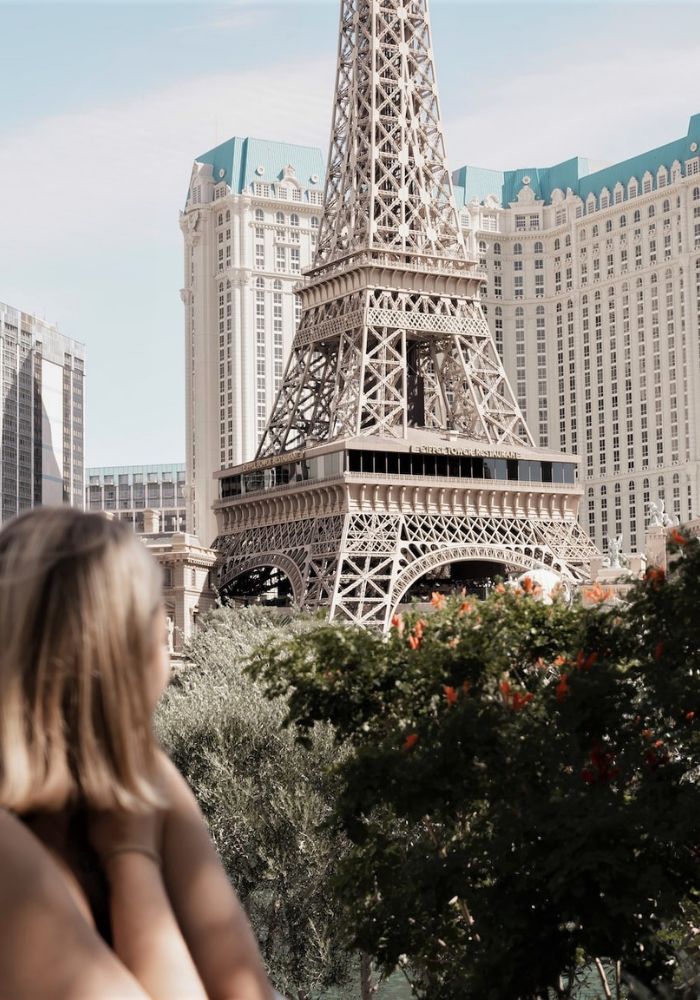 Summer in Las Vegas
June through September are hot. As in, very hot. Average temperatures in the summer can range from around 70°F to over 105° F. I have personally experienced temperatures here around 120°. The scorching sun can make spending time outdoors a bit rough, but not impossible if you plan your hikes early. The heat is a dry heat, so it is significantly more comfortable than humid areas.
On the bright side, just about every indoor attraction in Las Vegas is air conditioned, such as casinos, restaurants and museums. You should pack layers even in summer due to the change in temp between air conditioned rooms and the sunny outdoors.
You May Also Like: Desert Hiking Essentials for the American Southwest
Fall in Las Vegas
October and November are much more comfortable! Temperatures are much more mild, ranging from around 50° F to 80°F. The nights start to get colder, but the weather is ideal for travelers who want to explore the desert and surrounding parks like the Valley of Fire and Death Valley.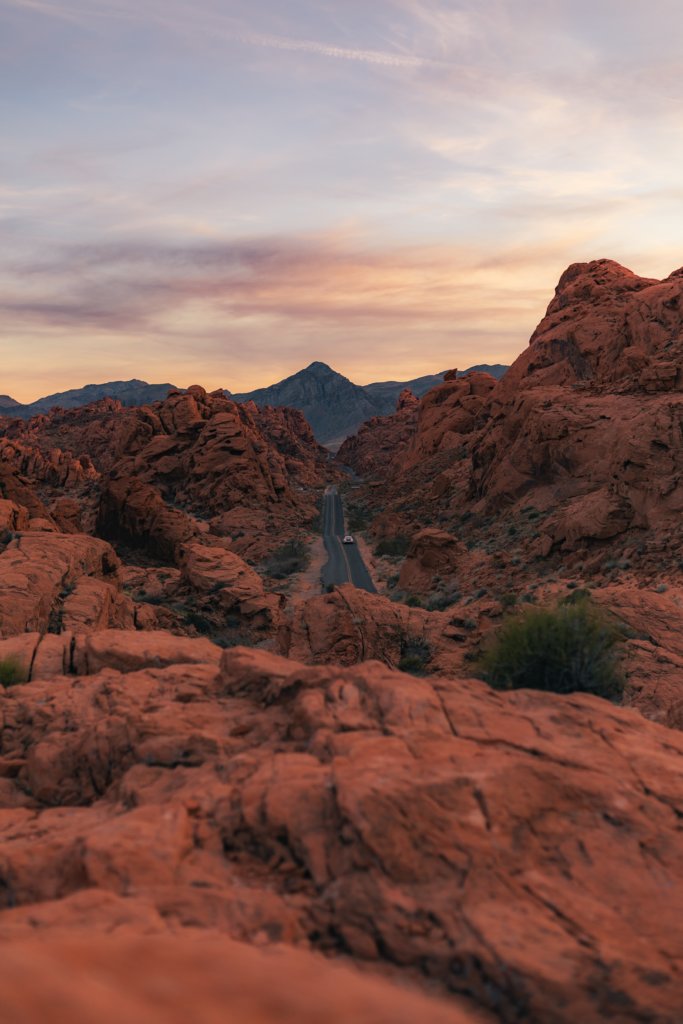 Winter in Las Vegas
In the winter, Vegas can actually get cold. December through February feature temperatures between 39°F and 57°F on average. Winter is a great time to see Vegas spruced up with Christmas trees and winter decorations.
Spring in Las Vegas
Between March and May, the days start to warm up once again. Expect daytime temperatures to hover between 70°F to 86°F. Spring is similar to fall in terms of temperature, but one bonus of visiting in spring are the wildflowers. Wildflowers bloom in the Mojave Desert and make your hikes extra pretty.
Things to Do on a Girls' Trip to Vegas
Full disclosure, I am an outdoorsy gal. I have much more fun exploring the outdoors and seeing natural sights than I do in an adult Disney-world kind of place like Vegas.
But I am going to rally and list out the best things to do both on and off the Strip so that you can plan the best girls trip for your group. Whether you love the glitz and glam, or the outdoors, or the offbeat – you'll find something for everyone in Vegas.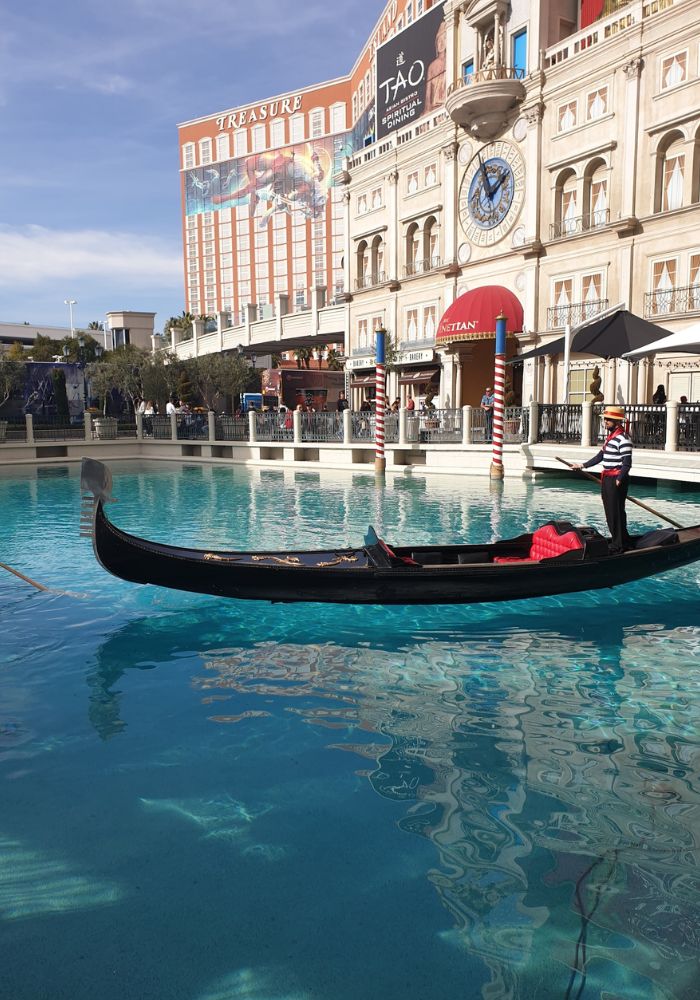 On the Strip
Take a Food Tour: Join a tour to experience the best eats in Las Vegas, from the top celebrity eateries to the local food history and culture. Book this top rated tour here!
Ride the High Roller: This gigantic Ferris wheel towers over the Las Vegas Strip and gives sweeping views of the whole city. Get your tickets here!
Visit the Mob Museum: Learn all about the history of gangsters at The Mob Museum in Las Vegas! The exhibits cover in-depth details on the notorious battle between organized crime and police. Book your tickets here.
Get your Bearings on a Walking Tour: This pop culture walking tour will help new-to-Vegas visitors get their bearings. It explores everything from Freemont Street to old-time slot machines, and even includes a drink! Book your tickets here.
The STRAT: For the adrenaline junkies out there, nothing beats the STRAT hotel's attractions. From fast rollercoasters to the tallest freestanding observation tower in the United States, you are bound to get a thrill here!
Madame Tussauds Las Vegas: If you've never been to one of Madam Tussauds famous wax museums, you've gotta see this in Vegas. You'll see your favorite celebrities and stars up close and personal – albeit made of wax. Part creepy, part cool.
Adventuredome: Found at the colorful Circus Circus Hotel and Casino, the Adventuredome is an amusement park with tons of fun rides, games, and attractions spread out cross 5 acres. It's definitely worth a stop!
Take a Gondola Ride at the Venetian: If you can't make it to Venice, the Venetian will deliver a world-class gondola ride for you and your gal pals. Ride to the Grand Canal Shops, mentioned below.
The Grand Canal Shoppes: Also at the Venetian, this is the place to shop til you drop. You'll find everything from clothing to makeup in the Italy-themed centre.
PanIQ Escape Room: My last suggestion located at the Venetian, this escape room is a fun time. If you think you and your girls can solve the puzzles and escape before time runs out, be sure to stop visit the PanIQ Escape Room.
LINQ Promenade: This promenade at Caesar's has loads of clothing shops, candy and treat stores, and even the Brooklyn Bowl Bowling Lanes and a zipline.
Shark Reef Aquarium: This Mandalay Bay aquarium features over 2,000 colorful fish, sharks, stingrays, and turtles, not to mention an underwater shipwreck.
Fountains of Bellagio: Catch the ultimate water fountain show of Vegas! Expect to see it every 30 minutes from Monday to Friday, between 3:00 PM to 7:00 PM. Then, until midnight, it runs every 15 minutes. On weekends and holidays, the fountains begins at noon.
The Hunger Games Exhibition: The MGM Grand has a new exhibition celebrating the blockbuster film, The Hunger Games. What better way to celebrate a girls trip to Vegas than to see the ultimate female heroine?
See Cirque do Soleil: One of the most memorable things I ever did in Vegas was see Cirque du Soleil with my gal pal who lived there. I highly recommend this experience, even if it is a bit of a splurge!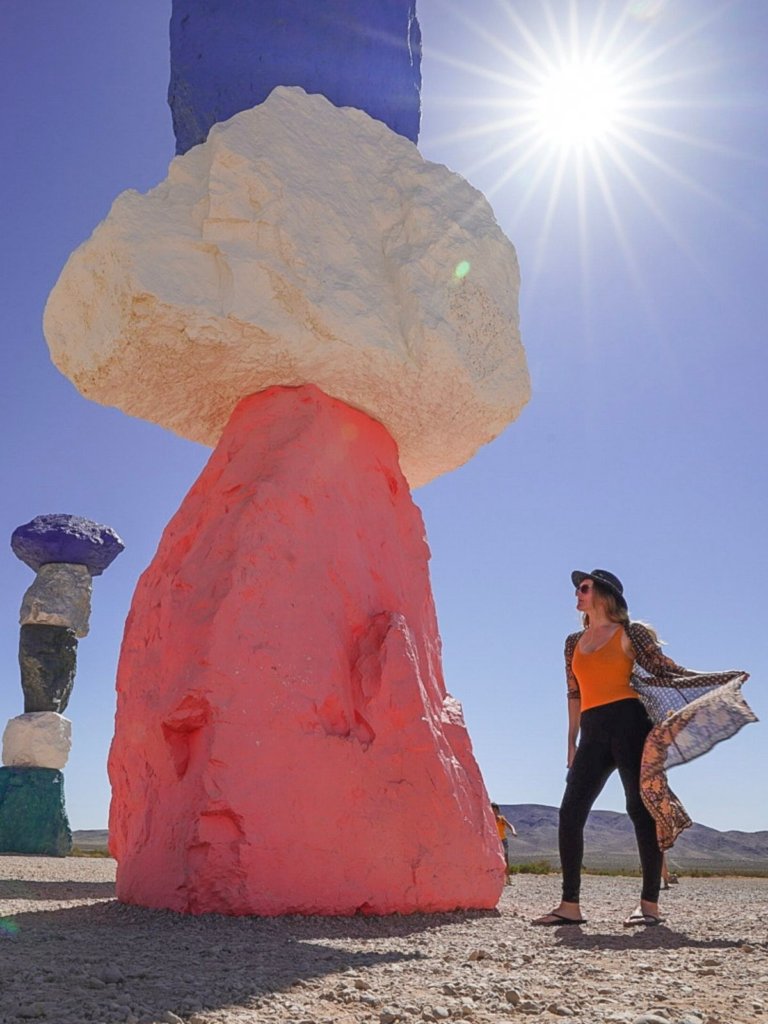 Off the Strip
Girls Trip to Vegas Tips:
Take advantage of a pool day. Even in the winter. Most hotels have heated pools or hot tubs, so even on cooler nights you can enjoy this major hotel perk.
If you are looking for a pool party, and your hotel doesn't host them, fear not. You can usually get day passes to the pool parties around the Strip.
Keep your eyes peeled for Club Promoters. My Los Angeles friend used to be good at this – she had Club Promotor's numbers in her speed dial. When they chat you up, get their numbers. They can often get your group on the guest list for certain clubs and get you in for free.
Flights will likely be cheaper from Monday through Thursday. While clubs and parties are extra wild on the weekends, don't worry. If you come on weekdays, Vegas is the kind of place you can always find a party.
Many casinos allow smoking. For me this is miserable! Luckily I am not a gambler anyway, so I don't need to spend much time in the casinos at all. I just want you to know in advance so you can prepare for it or avoid it.
Carry a small over-the-shoulder bag on nights out. Security typically won't let large bags in, or searches them heavily. Plus, why would you want to carry much around, anyway?
Pack a mix of sparkly club clothes, outdoorsy hiking clothes, and lounging clothes. You are likely to do all three things while here. Check out my Desert Hiking Essentials if you have never hiked in the desert before!
***
And there you have it! Everything you need to know to plan the perfect girls trip to Las Vegas.
Between the sun, the pools, the clubs, the hikes, and the food, you're gonna be exhausted by the end. But, it will definitely be worth it!
Pin Me for Later!