Saguaro National Park is located in Tucson, Arizona. Whether you plan to visit Saguaro National Park East or Saguaro National Park West, this guide will cover everything you need to know about Saguaro National Park hours, weather, and hiking.
Pin Me for Later!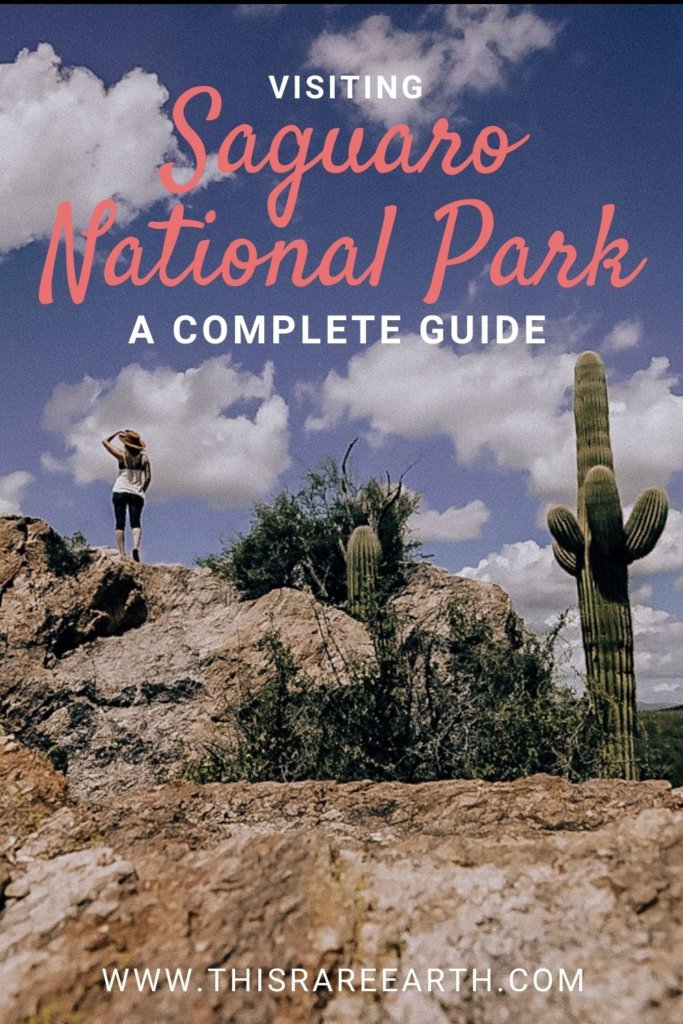 Would you believe that I once moved to Arizona just to live in the Sonoran Desert, next to the tall and wild cacti known as Saguaros?
It's true.
I have been absolutely obsessed with the desert landscape for as long as I can remember. And there are so many things to see in Arizona that I could have easily stayed many years longer.
Tucson, Arizona in particular is an exciting place. The temperatures typically lag a bit lower than those of Phoenix due to a higher elevation. And, there are a lot more outdoor activities than in urban Phoenix. Tucson seems to offer more small-town living vibes than big-city attractions.
And, Tucson has a stretch of protected desert land that just can't be beat; Saguaro National Park. Here is everything you need to know to plan your visit!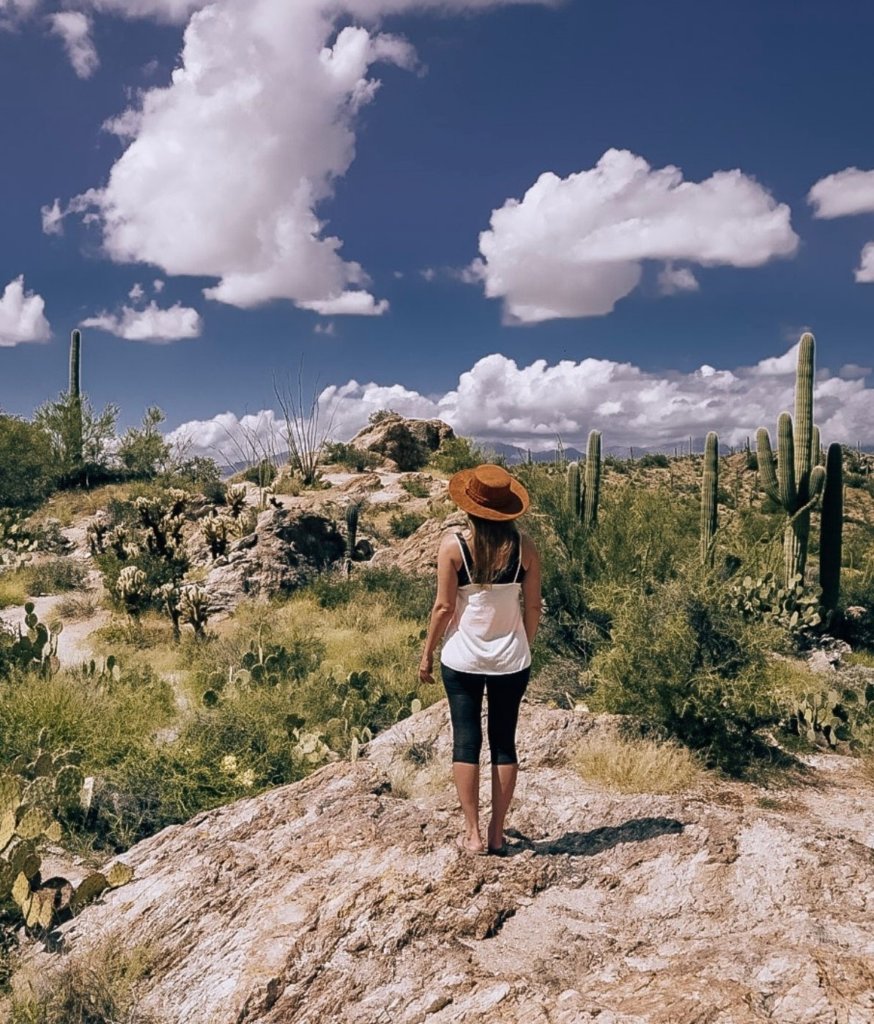 A Complete Guide to Saguaro National Park
The park is located in the Sonoran Desert, and offers everything from scenic drives to short walks to long treks. It is possible to see all of the highlights in just a half day's drive, but more time will allow you to go on a longer hike or camp in the backcountry.
The most important piece of information to note is that Saguaro National Park has two locations. That's right; it is bisected by the city of Tucson, Arizona.
Saguaro National Park West is located northwest of the city of Tucson and Saguaro National Park East is located southeast of Tucson.
It will take approximately one hour to drive through the city of Tucson from one half of the park to the other.
Both halves of the park feature a scenic loop drive through stunning desert scenery. Saguaros tower just off of the road and well out in to the distance.
Saguaro National Park West – The Tucson Mountain District
Here, the Tucson Mountains reign supreme. The tall cacti that are the park's namesake are plentiful. More people visit this section of the park than East, so expect to see many more cars on the road – even at sunrise.
This surprised me! I'm usually completely solo that early in the morning.
More than 70% of the park is a designated wilderness area, meant to preserve the natural desert land.
Saguaro National Park West Hours:
Sunrise to sunset.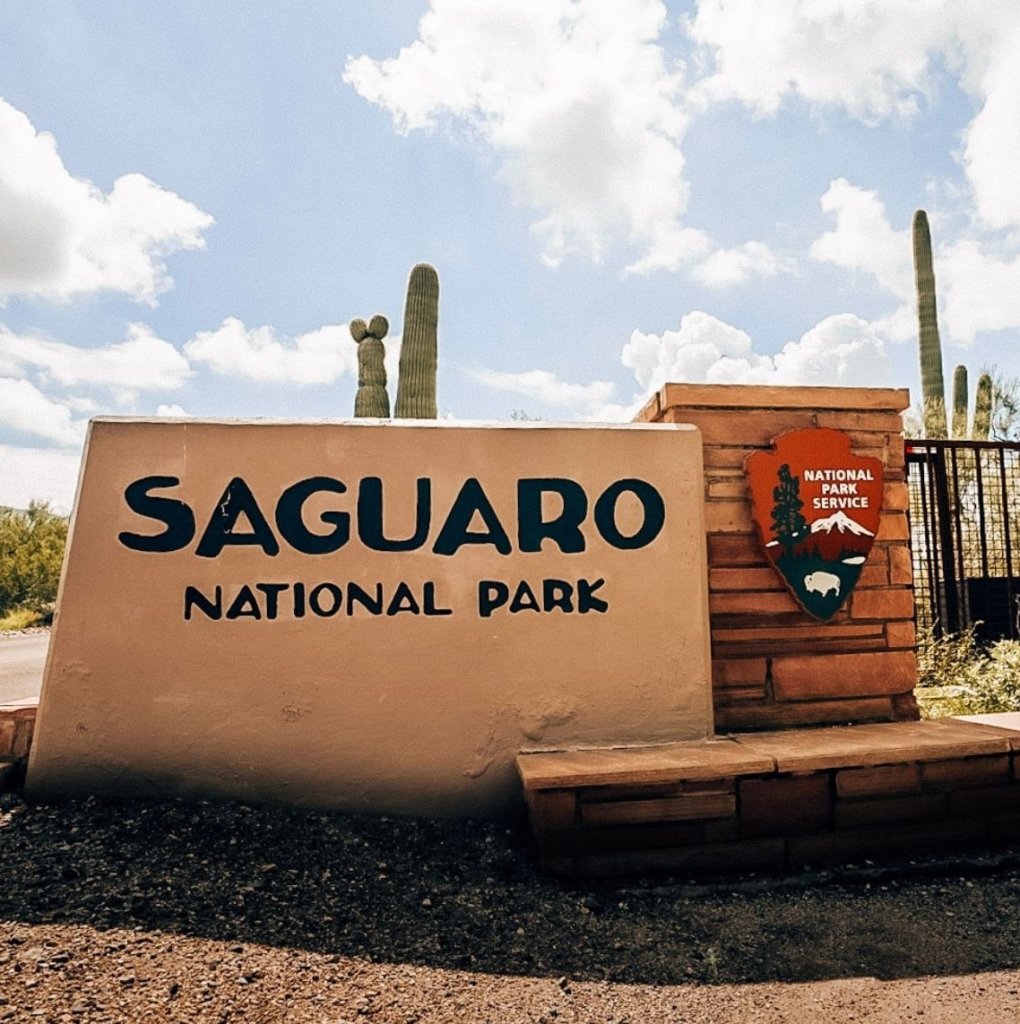 Saguaro National Park East
The eastern section is known as the Rincon Mountain District. It has a lower concentration of saguaros, but the orange and red Rincon Mountains create a stunning contrast against the greenery.
This section is the only place to camp inside the park. Even so, I saw far fewer hikers and visitors in this half. Saguaro National Park East is home to many miles of backcountry hiking , more so than are found at West.
Saguaro National Park East Hours
Vehicle access to the park is limited to:
5:00 a.m. – 8:00 p.m. in the summer; 5:00 a.m. – 6:00 p.m. in the winter.
Visitors can walk or bike into the park 24 hours a day.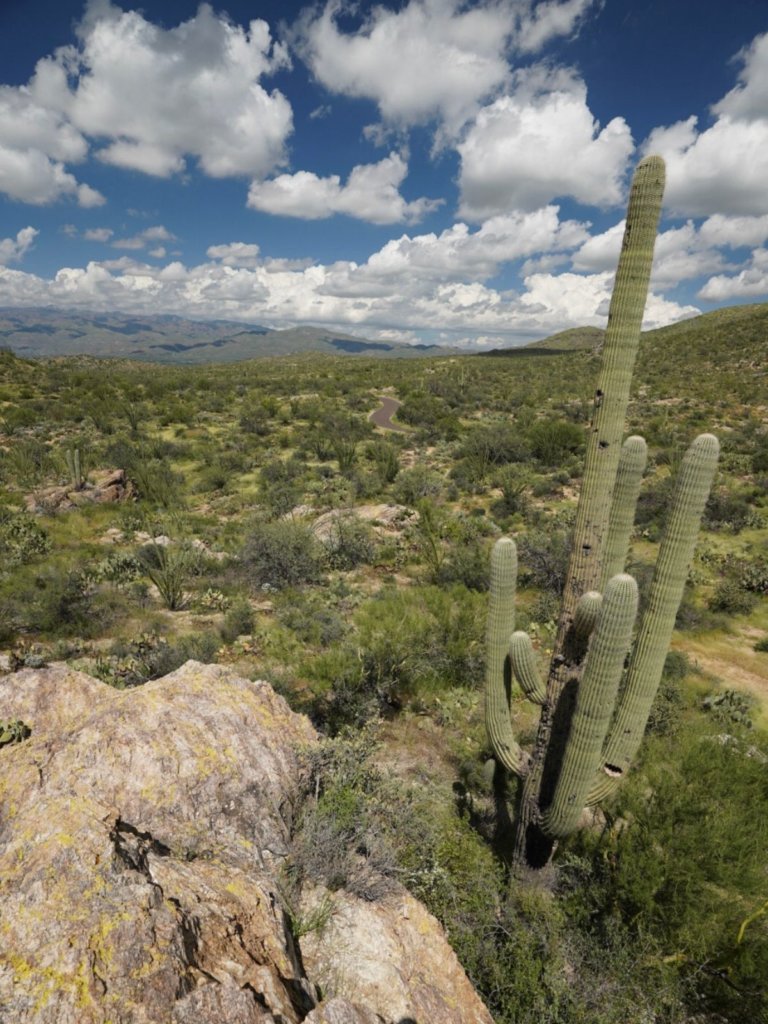 Entrance Fees
If you plan to explore the park for a week or less, a 7-day pass can be purchased for $25USD at the Visitor Center (Red Hills in the West or Rincon Mountain in the East). This will cover entrance fees for the entire vehicle, not to be paid per person.
However, if you are a frequent National Park visitor or plan to visit even 3 additional parks within the next 12 months, it's actually a better deal to purchase an annual parks pass. The America the Beautiful pass costs $80USD and is accepted at all 63 national parks around the country.
Purchase your America the Beautiful pass here.
When To Visit
The park's busiest time is from winter to spring. To avoid crowds, you can consider visiting during other seasons. However, if you plan on hiking, you may want to avoid the summer months due to extreme heat.
Seasons & Climate
Spring (March to May): Temperatures hover around 95F (35C) in the afternoon. Spring is a beautiful time to visit Saguaro National Park, because the Saguaro cacti and the desert floor erupt in colorful blooms. Hiking is far more comfortable in the springtime months rather than in summer, but it is still recommended to start early.
Summer (June to September): Summer is intense in Saguaro National Park. With soaring temperatures, typically reaching 110F (43C) or higher, and little chance for shade on the trails, this is not the time to tackle long or strenuous hikes. If you do plan to hike, begin early, carry loads of water, and definitely take a look at my desert hiking essentials list.
Fall (September to November): Fall temperatures remain fairly hot, particularly midday. Visitors should expect 95F (35C) from noon onward, but hiking is far more comfortable than in summer. If it's a rainy year, the fall months can offer bright green grass carpeting the desert – a rare sight!
Winter (December to February): Winter is another great time to visit Saguaro, with temperatures hovering around 70F (21C). This is the season to tackle back country hiking trails. The days are shorter though, so be aware of sunset times.
Maps of Saguaro National Park
National Park Service maps of both West and East can be found here. They feature the loop drive, hiking trails, and other points of interest.
I personally had cell reception in most areas of the park, but it never hurts to have an offline map on hand!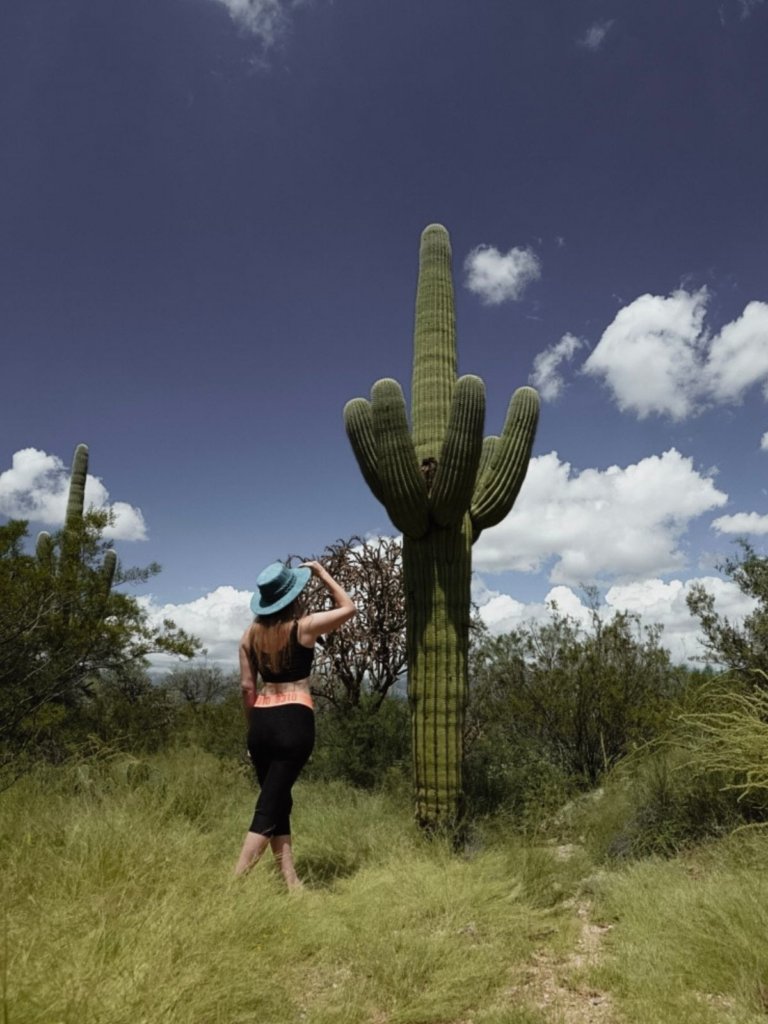 Hiking in Saguaro National Park
In a desert climate, sometimes short hikes are ideal – particularly on hot days or after the sun is high in the sky. In contrast, long and strenuous hikes in the wilderness are a viable option, too.
I have an entire post dedicated to hiking in Saguaro National Park that offers a longer explanation, but here are a few great option. Each hike below offers hikers stunning desert scenery with differing levels of difficulty and elevation gain.
Petroglyphs Trail at Kings Canyon
Length: 2.2
Elevation Gain: 291 feet
Type: Out & Back
Difficulty: Moderate
Location: Saguaro NP West
Mica View – Cholla – Cactus Forest Loop Trail
Length: 3.7
Elevation Gain: 121 feet
Type: Loop
Difficulty: Easy
Location: Saguaro NP East
Valley View Overlook Trail
Length: 0.8
Elevation Gain: 49 feet
Type: Out & Back
Difficulty: Easy
Location: Saguaro NP West
King Canyon Trail to Wasson Peak
Length: 6.7
Elevation Gain: 1833 feet
Type: Out & Back
Difficulty: Moderate
Location: Saguaro NP West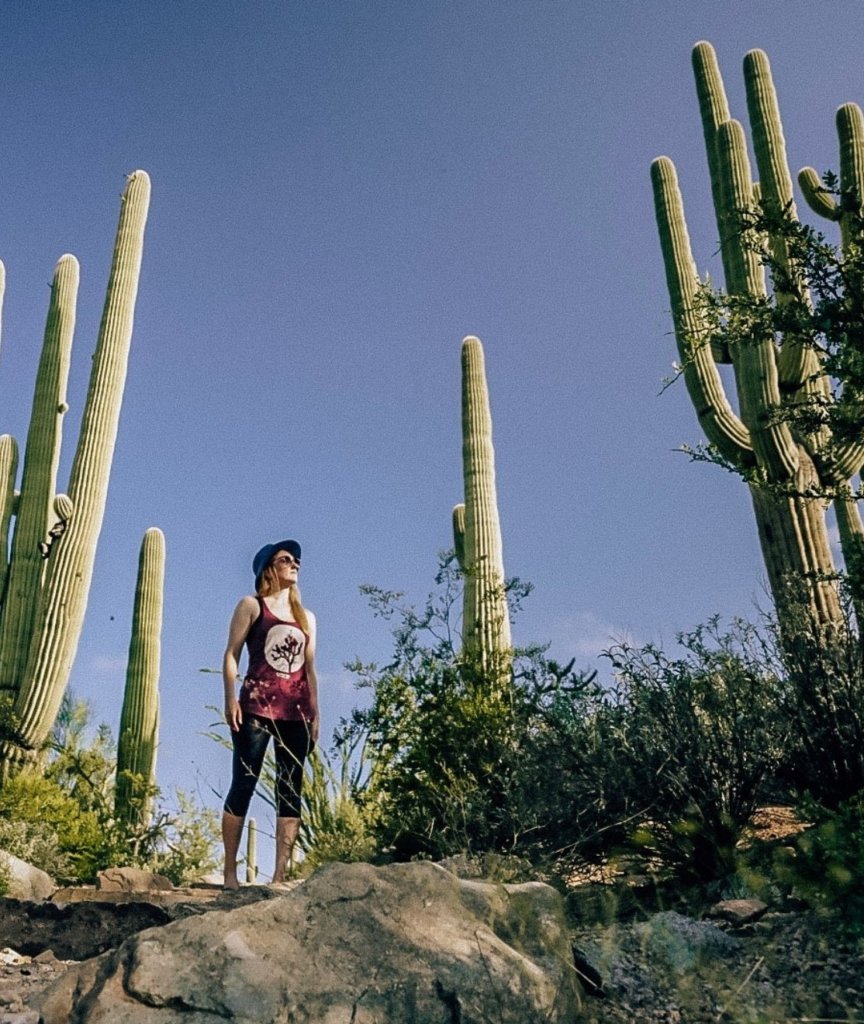 Sunset in Saguaro National Park
The tall cactus sentinels create an unreal backdrop for photographers and hikers alike! Sunset times vary throughout the year, and can be checked here.
Remember, the parks close at sunset so time all hikes accordingly.
Some great sunset spots for sunset on the East side include:
The Tanque Verde Ridge Trail: a .5 mile hike
Javelina Rocks
*Note that the driving loop in East stays open until 8:00 P.M., so there is plenty of time to leave short detour areas at sunset.
Some great sunset spots for sunset on the West side include:
Gates Pass
The beginning of Petroglyphs Trail
Both parks feature sweeping views off into the distance of the desert, so even if you can't make it to these specific areas, you are bound to find a great spot to watch that fiery sun go down.
Camping in Saguaro National Park
If you were hoping to camp inside of Saguaro National Park, unfortunately you are pretty limited on options. (That's great for the cacti and protection of the land, though!)
Here are your options for camping in and around the park:
Backcountry Camping is permitted on the eastern side of the park (The Rincon Mountain District). You need to first pick up a permit (free) from the Visitor Center. Literature on overnight hikes and camping spots is also available.
There are a number of Bureau of Land Management (BLM) areas outside of the park. Just like Anza-Borrego Desert State Park and the Alabama Hills, this means you can camp here absolutely free! Be aware, there are no facilities whatsoever so come prepared to be self-sustaining.  As always, be sure to "pack it in/pack it out" to keep the beautiful desert landscape clean!
***
Saguaro National Park is one of the most unique desert ecosystems to explore. These mighty cacti only grow in the Sonoran Desert, so drink it all in! Hopefully this guide helps you to plan in advance and see as much as possible.
Pin Me for Later!