If you only have one day in Sedona, this itinerary will help you make the most of it! It is completely possible to see the best of Sedona in one day, but we're going to pack in a lot. And, you'll probably wish you had longer to explore. Here is everything you need to add to your Sedona one day itinerary!
Pin Me for Later!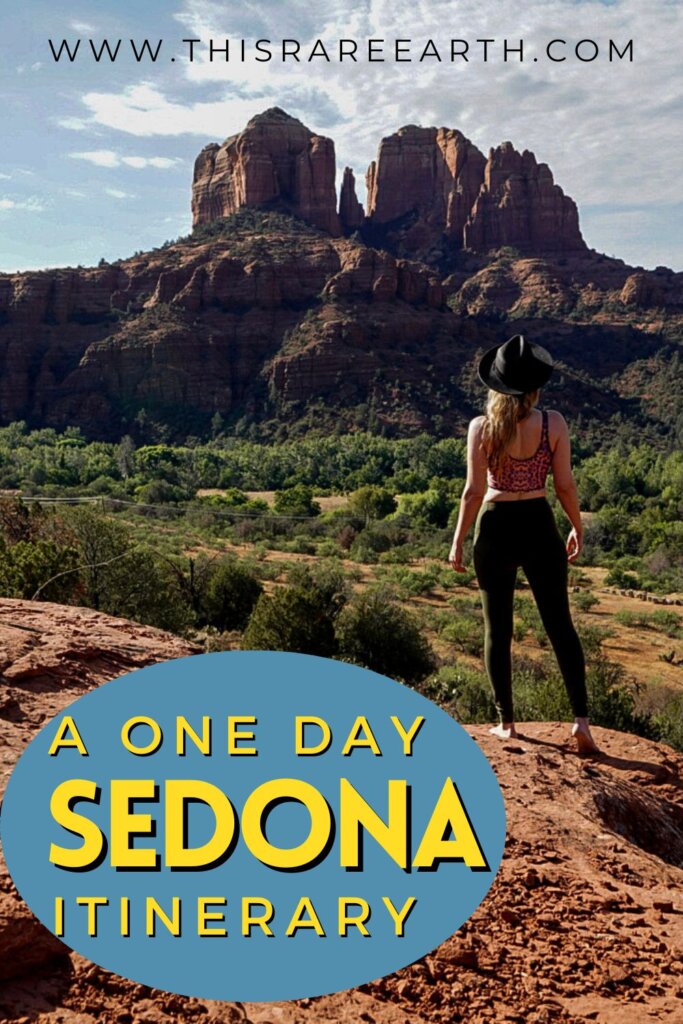 Sedona is well known far and wide for it's fiery red rocks, taffy-colored cliffs, and pine-tree covered hillsides. It's a far cry from cactus-covered Phoenix and not what most people envision when they picture Arizona!
But that is exactly why you should visit.
Sedona is a vibrant and surprising pocket of the state with many opportunities for hiking, swimming, arts, and spirituality. As a former Arizonan, I promise – a one day trip to Sedona is not to be missed!
Before diving in, here are a few FAQ's about visiting Sedona.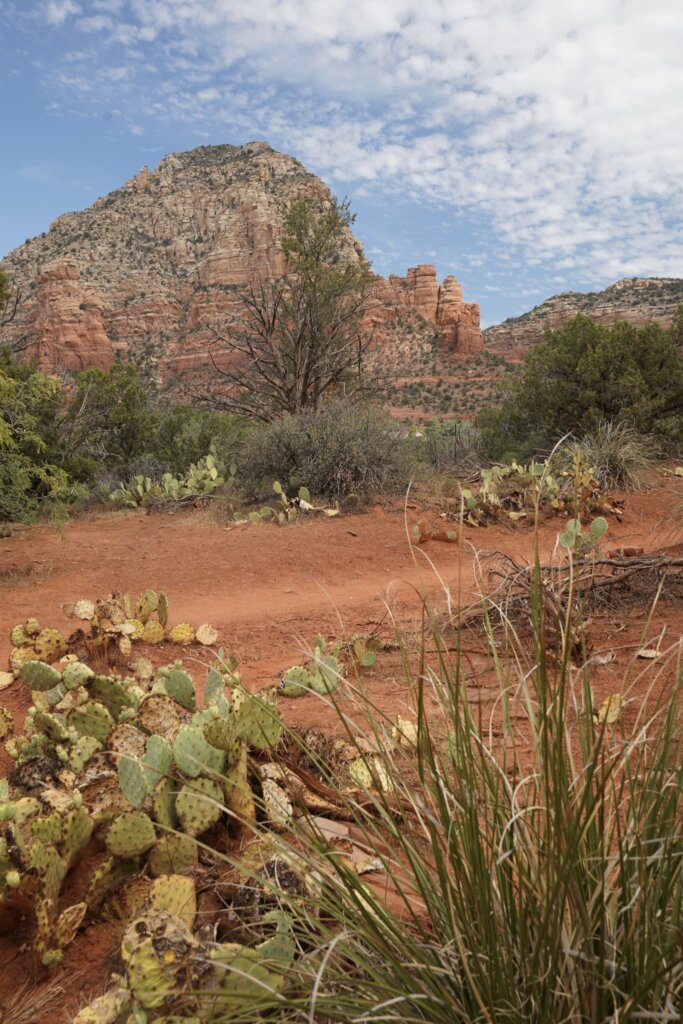 When Is The Best Time to Visit Sedona?
Though Sedona is farther north than Phoenix or Tucson, and despite the fact that winters can bring a dusting of snow, it still is common to hit the triple-digits during the summertime.
The best time to visit Sedona in terms of weather is from March – June and September – November. Take advantage of the milder (but not cold!) spring and fall temperatures.
If you want to go hiking in Sedona, the winter may dust the trails with snow and create a slippery surface from December – February. You'll be fine if you wear good shoes, though. July & August can be rough for hikers and adventure travelers, but are perfect for visiting the swimming holes.
How Far Is Sedona from Phoenix, Arizona?
Sedona is 118-miles from Phoenix. It will take roughly two hours to drive from Phoenix to Sedona, and there are several notable sights to see on your road trip! If you have the time, you should definitely factor some extra stops into your drive.
To make the most out of your one day trip to Sedona, I recommend arriving as early as possible – potentially even the night before. We'll talk about hotels below.
You May Also Like: A Phoenix to Sedona Drive: What to See on Your Road Trip
Is Sedona Even Worth a Day Trip?
You bet! Sedona offers so many things to do that everyone from nature lovers to art lovers to the more spiritual folks will find something to see here.
Sedona is also fairly compact. It is easy to get from one stop to the next without wasting tons of time on the freeway.
The Perfect Sedona One Day Itinerary
A quick note. You can always cross out or swap around any of the itinerary stops below based on the season or your preferences. If you prefer to stay at one spot longer, perhaps you will cross a different one off of the list!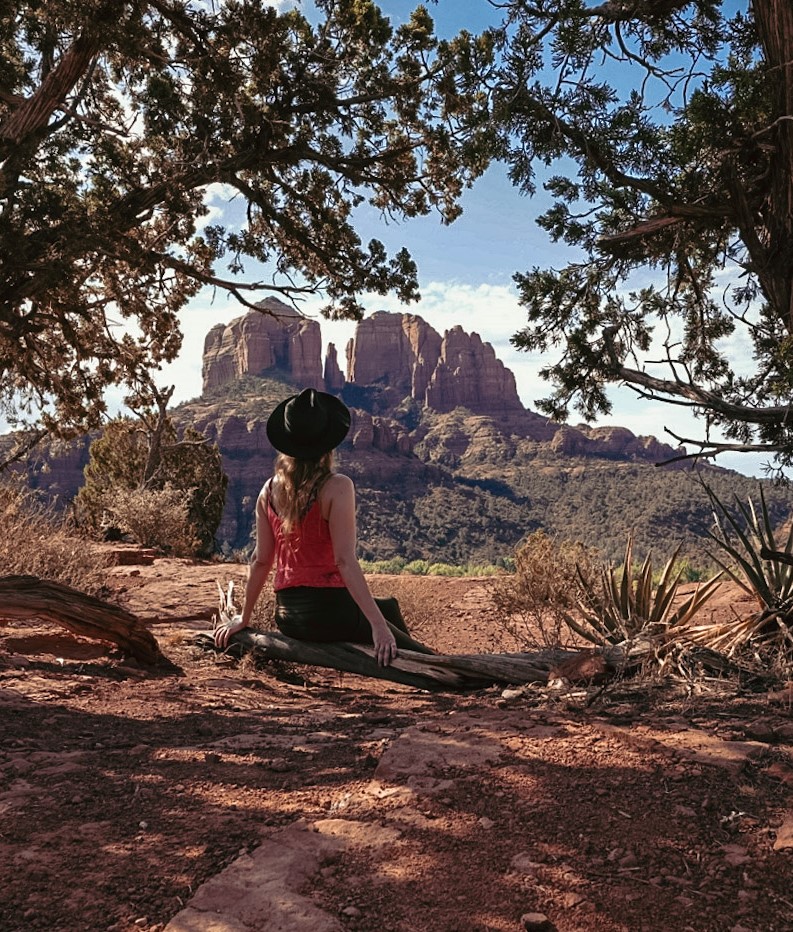 1) Start with an epic sunrise hike.
To make the most of one quick day in Sedona, I highly suggest you start your day early! As in, sunrise-early. Even if you're not typically an early riser, I promise that the views won't disappoint.
One of the best sunrise hikes you could choose is the Secret Slick Rock trail. It's one of the easiest (and shortest) trails in Sedona, which means that you won't need to spend hours hiking in the dark.
The parking lot is only about a half-mile from the end viewpoint, which overlooks the Crescent Moon Ranch and offers stunning views of Cathedral Rock. 
You May Also Like: Desert Hiking Gear and Essentials for the American Southwest
2) Grab breakfast at the Red Rock Café.
This awesome breakfast spot serves everything from Mexican-inspired breakfast enchiladas to fruit-covered French toast.
They are open from 7am-2pm every day except Tuesday. Check out the menu here.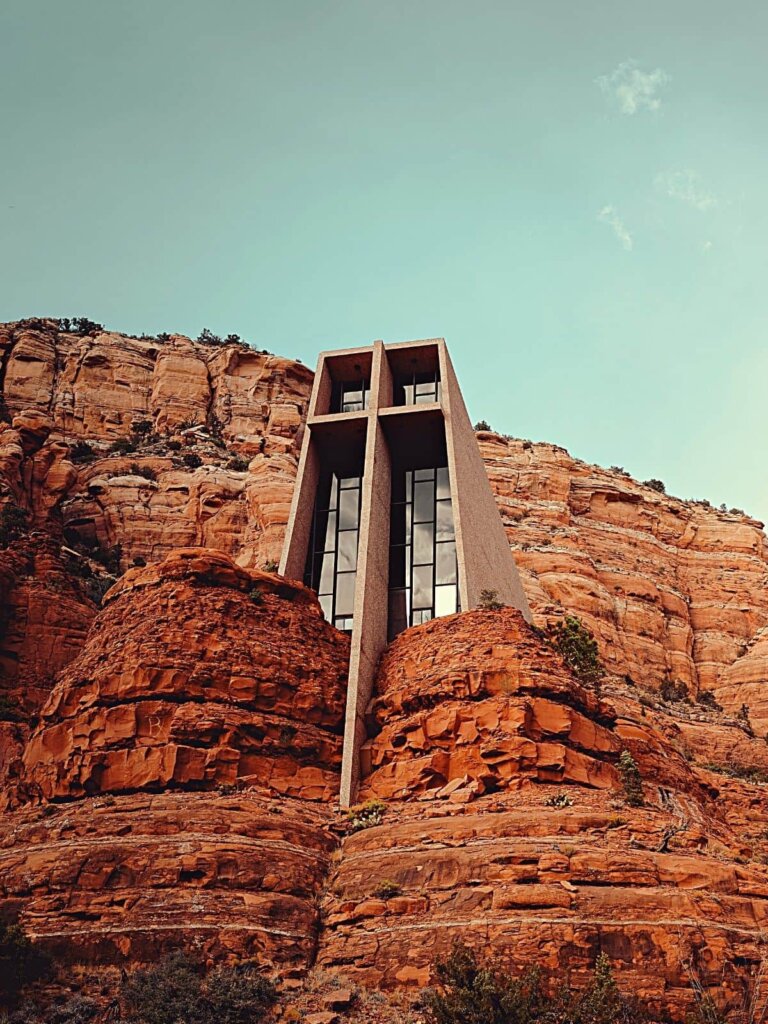 3) Explore an Energy Vortex.
While it's still early, be sure to get in a bit more walking and hiking in the outdoors.
There are four well-known vortex sites within Sedona. These vortexes are said to amplify your mood and energy. Most people report a physical sensation on either the nape of the neck or shoulder blades. Others reference a "vibration" felt from the ground.
I can't say whether or not these vortexes actually hold spiritual energy, but I can certainly say that they are beautiful. Each and every one of them are worth a stop for a short hike and photography session.
The exact location for each vortex is linked below..
Visiting the vortexes is one of the best things to do in Sedona.
4) Enjoy lunch with a view.
Next it's time for a healthy and delicious lunch, complete with one of the best views in Sedona. Head over to the Secret Garden Café, which serves lunch starting at 11:30am.
I personally love this spot because of the array of vegan and vegetarian meals available. But cuisine of all types can be found here. Bonus, they have a pet-friendly garden patio for those traveling with their furry best friends.
More information can be found here.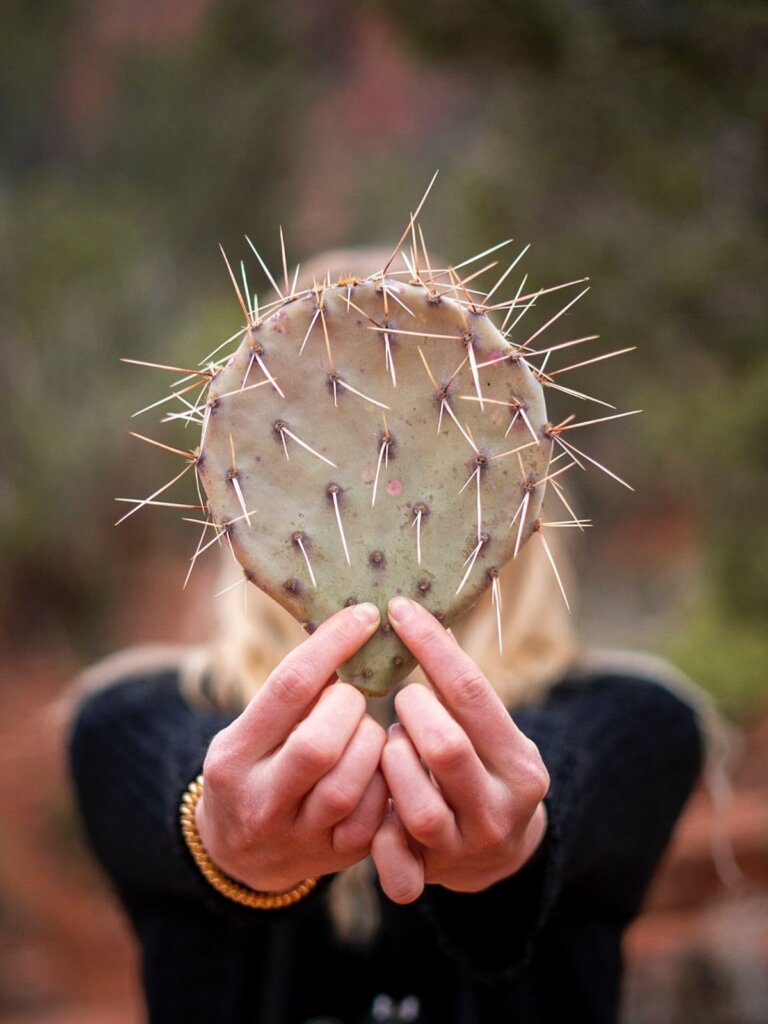 5) Learn about traditional Mexican arts and crafts.
The Tlaquepaque Arts and Crafts Village is an authentically-fashioned traditional Mexican village that offers a great way to spend an afternoon. Galleries, independent shops, and artists workshops line the cobblestone streets.
Oftentimes, you can watch artists create their works on site, providing unique opportunities for souvenirs. If you have holidays or birthdays coming up, consider shopping here for some one-of-a-kind handmade gifts!
Bonus tip: Tlaquepaque is pronounced "Talah-keh-pah-keh" and is located here, very close to the Secret Garden Café.
You May Also Like: Arizona Bucket List Things to Do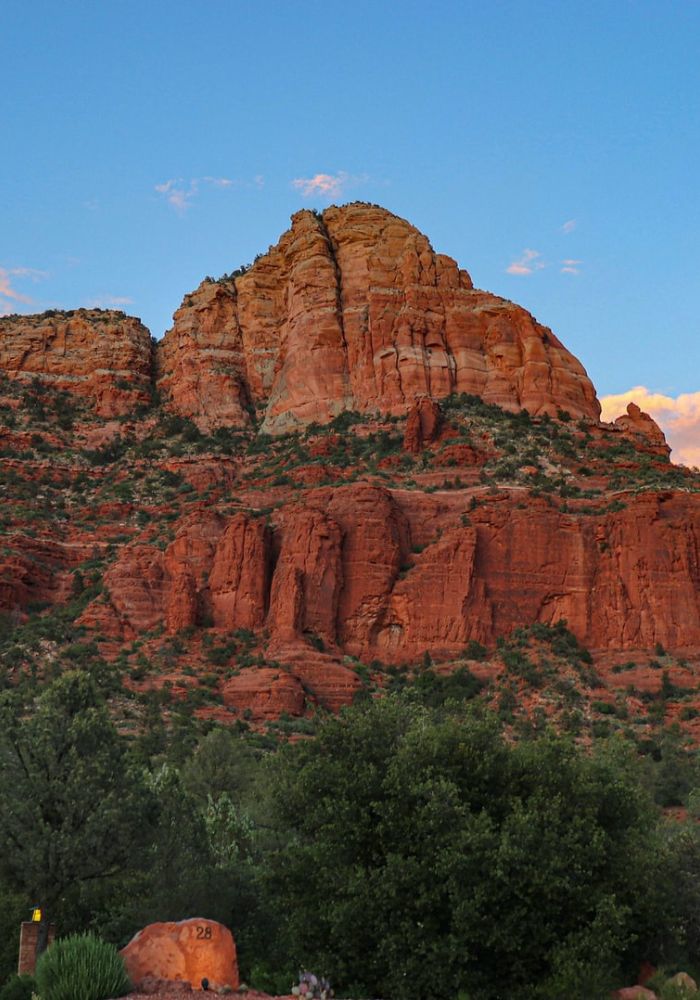 6) Take an Afternoon Tour.
By late afternoon, you might be feeling that post-lunch lull. If you've had enough driving and walking for now, consider taking a tour to see parts of Sedona that you may not have an opportunity to see otherwise.
Consider taking a Pink Jeep Tour to venture farther out into the Sedona desert. You'll get a range of times to choose from, so make sure you choose late afternoon.
This 4Wd tour drives you to the Mogollon Rim for spectacular views of the lowland deserts and forests. It is nothing short of spectacular. Book your Pink Jeep Tour here.
Alternately, you could opt for a Sedona Trolley Tour.
You have various options to choose from, like the West Sedona and Fay Canyon Tour. See curious rock formations like Thunder Mountain and Chimney Rock. Or, consider the 90 minute Sunset Tour. Trolley Tour information can be found here.
7) Grab dinner and relax with Arizona-made wine.
You read that right – there are vineyards right here in Arizona! Verde Valley is located just outside of Sedona and is host to some surprisingly tasty wineries. These can typically be reached in 30 minutes or less.
Burning Tree Cellars specializes in small and unique batches and does not distribute to third-party outlets. So, the only way to taste their wine is to visit their tasting room in nearby Cottonwood.
Or, try the family-run. Passion Cellars, which has won multiple awards for their deliciously complex wines. The winery is located in the quirky town of Jerome.
If you are continuing your drive out of town, then I suggest purchasing a bottle or two for later. If you plan to stay overnight in or around Sedona, then feel free to imbibe. Just drive safe or have a designated driver!
Where to Stay in Sedona
If you are including an overnight stay either before or after your one day in Sedona, you're in luck. You'll have plenty of options ranging from boutique to budget.
The top three suggestions are within Sedona, and the fourth is in nearby Cottonwood. I've included a Cottonwood option a) in case you hit the winery there and b) in case Sedona prices are too high. I've visited during the busy season and preferred to stay outside of Sedona and drive in.
Sky Ranch Lodge ($$$)
Hilton Sedona Resort at Bell Rock ($$$)
Arabella Hotel Sedona ($$)
Lux Verde Hotel ($$)
Where to Visit Next?
If you didn't just come from there, consider a stop in Phoenix! Hike among the cacti, score some major panoramic viewpoints, and explore the trendy downtown.
Here are some Phoenix planning resources:
or, head south to Tucson! Tucson is a surprisingly green for a desert and has loads of cool attractions.
Here are some Tucson planning resources:
***
Interested in swapping out any of the above stops n your Sedona one day itinerary? If so, check out my post on the best things to do in Sedona. If hiking is not for you, or if you want to skip the tour, you'll find additional options there.
Sedona is a quintessential stop for anyone who wants to truly explore Arizona's nature. The red and orange rocks are unlike anywhere else in the state!
Let me know below – which of these stops will you be doing first?!
Pin Me for Later!