This Sedona 3 day itinerary will cover the best of the best in Sedona, Arizona! From hiking to spirituality to food to relaxation, it's all here. Keep on reading for how to spend the best three days in Sedona!
Pin Me for Later!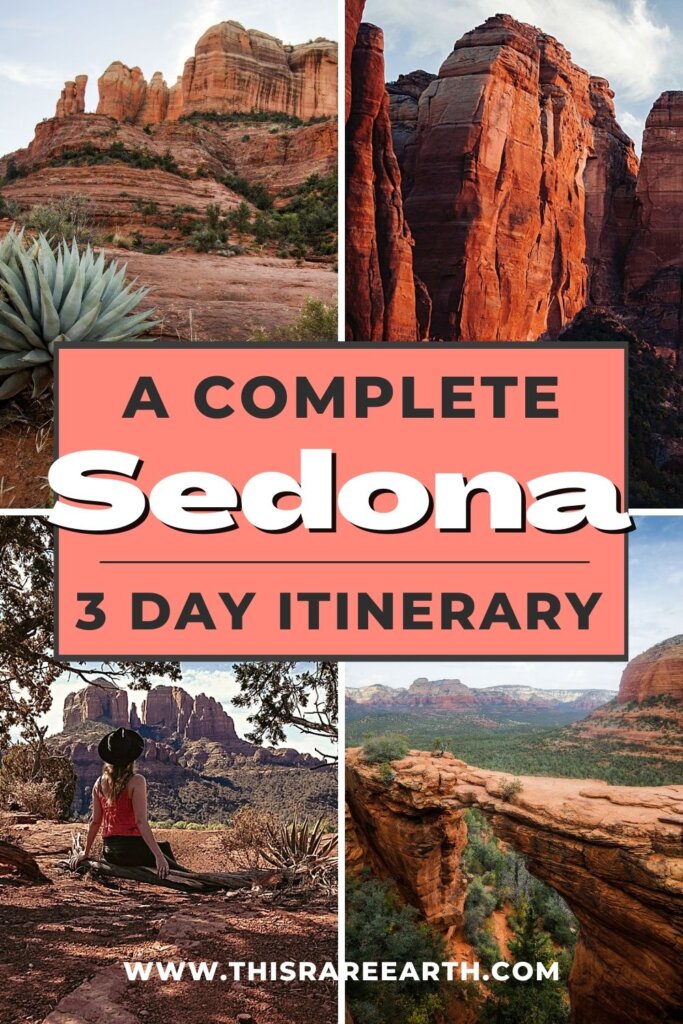 Sedona is consistently one of the most popular Arizona getaways year after year, and for good reason. The red-drenched cliffs, the breathtaking views, and the mystical vortexes are downright awe-inspiring. Add a dash of relaxation and great healthy food, and Sedona really seems to have it all.
Conveniently located halfway between Phoenix and the Grand Canyon, Sedona is easy to reach from all around the state. Truthfully, you could spend several weeks here without seeing everything that Sedona has to offer. But three days in Sedona is enough time to get a good taste of this artsy town!
If you're planning your first three day trip to Sedona, then this guide is for you. It combines all of the elements listed above, from adventure to spirituality to relaxation to food. Let's dive in!
You May Also Like: A Phoenix to Sedona Drive: What to See on Your Road Trip
Where is Sedona?
Sedona is located within the 1,842,959 acre Coconino National Forest, roughly two hours north of the city of Phoenix. This unique desert town is also surrounded by pine forests more so than cacti, and has a milder climate than it's southern neighbors.
Sedona – and the Coconino National Forest – are best known for the stunning terra-cotta colored rock formations scattered throughout the area. In fact, they are unavoidable, as Sedona's shops and homes are tucked right between the towering rocks, creating a picturesque town.
When Is The Best Time to Visit Sedona?
Though Sedona can be enjoyed year-round, you may prefer one season over another depending on what activities you are most interested in.
Though Sedona is farther north than Phoenix or Tucson, and despite the fact that winters can bring a dusting of snow, it still is common to hit the triple-digits here during the summertime.
From June to September, the days are long and hot. Start your hikes as early as possible and remember to stay hydrated! July and August are also perfect for visiting the swimming holes.
The best time to visit Sedona in terms of weather is from March – June and September – November. These shoulder seasons provide milder (but not cold!) spring and fall temperatures, often in the 70's and 80's.
The winter season may bring in a dusting of snow (that's right – snow in Arizona!) from December – February. But, winter is much quieter in Sedona and can be free of crowds.
You May Also Like: The Best Things to Do in Sedona
The Best Sedona 3 Day Itinerary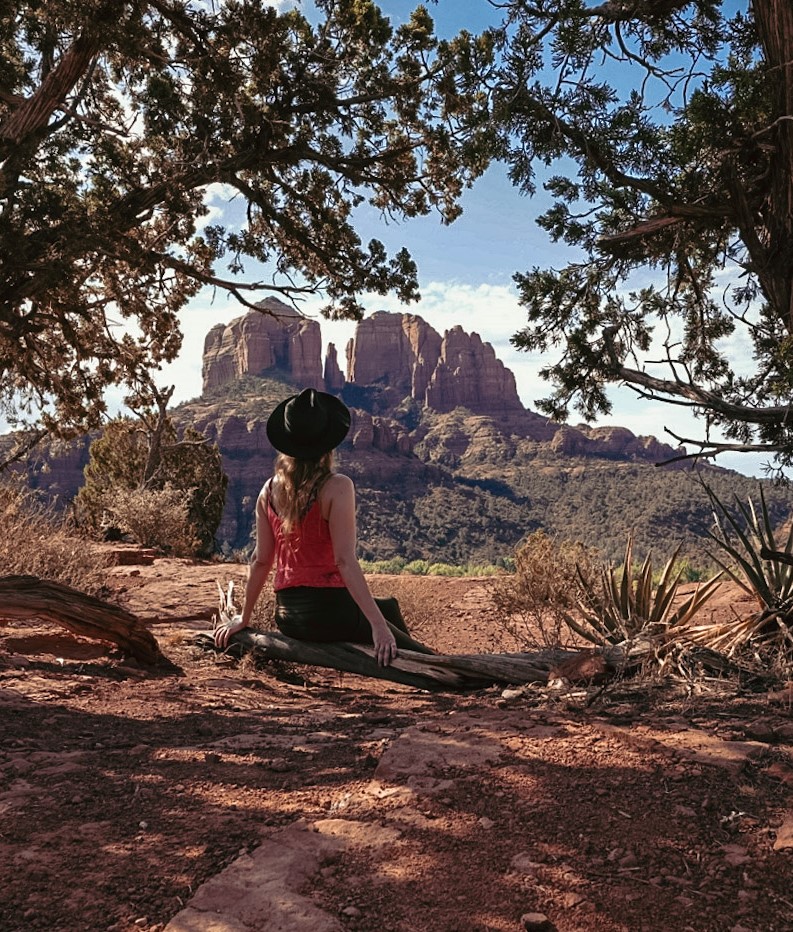 Day One
Hike for epic views at sunrise, visit the Chapel of the Holy Cross, shop at Tlaquepaque Arts, go off-roading on a Pink Jeep Tour.
1) Hike the Secret Slick Rock trail for sunrise views.
Since you are trying to see all you can of Sedona in three days, I highly suggest you start your days early! As in, sunrise-early. You'll be rewarded with some of the most beautiful views in the country.
One of my favorite sunrise hikes is the Secret Slick Rock trail. It's one of the easiest and shortest trails in Sedona, which means that it's doable for most people. The ground is fairly flat and the payoff is spectacular.
The parking lot is only about a half-mile from the end viewpoint, which overlooks the Crescent Moon Ranch and offers stunning views of Cathedral Rock. 
You May Also Like: Desert Hiking Gear and Essentials for the American Southwest
2) Grab breakfast at the Red Rock Café.
Red Rock Café is an awesome breakfast spot that serves everything from breakfast enchiladas to berry-covered French toast.
They are open from 7am-2pm every day except Tuesday. Check out the menu here.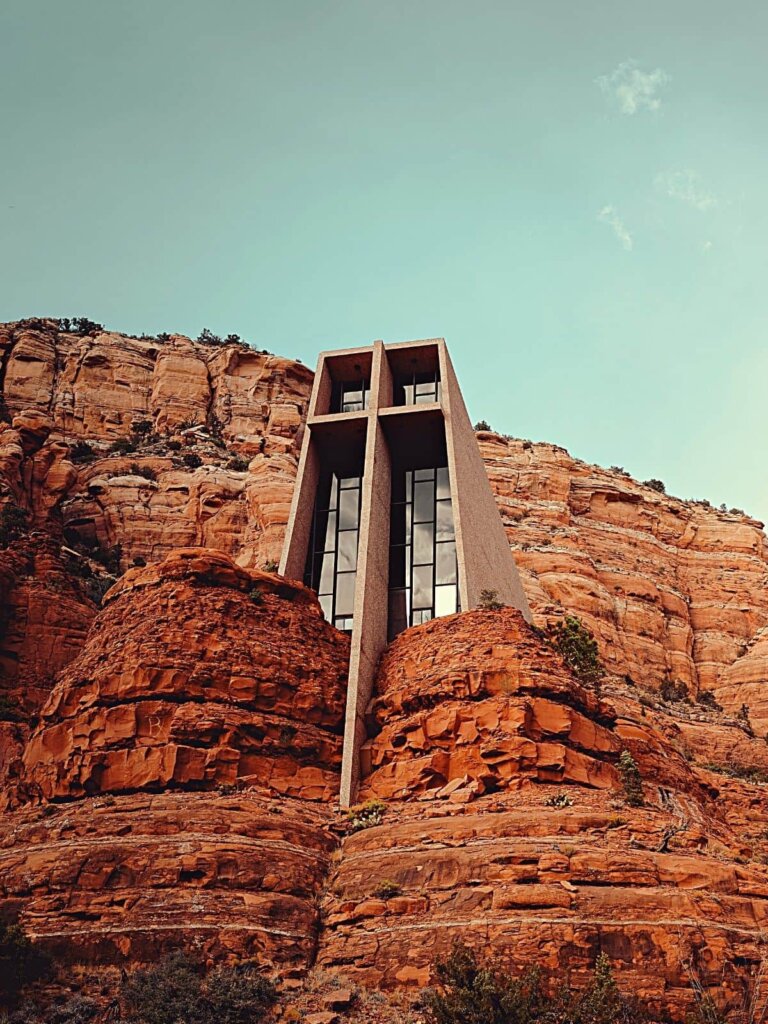 3) Explore the Chapel of the Holy Cross.
Take advantage of the still-early-morning lighting and head up to the Chapel of the Holy Cross – our first Energy Vortex of the trip.
This impressive church was built in the 1950s, and today is one of the top sights. Religious or not, this chapel is a sight to see as it sits tucked among the orange and red rock formations.
Arrive early for parking. If visiting in fall or winter, you might even witness a mysterious fog rolling between the surrounding rocks.
Chapel of the Holy Cross is one of four well-known vortex sites in Sedona. Sedona's vortexes are said to amplify your mood and energy. Some people report a physical sensation on the neck and shoulders or feel a "vibration" from the ground.
I can't say whether or not these vortexes actually hold spiritual energy, but I can certainly say that they are beautiful. Each and every one of them are worth a stop for a short hike or photography session.
Here is where to find the Chapel of the Holy Cross.
4) Enjoy lunch with a view.
This tasty lunch spot has some of the best views in Sedona. Head over to the Secret Garden Café, which serves lunch starting at 11:30am.
Cuisine of all types can be found here. The menu even features an array of healthy food options, including vegan and vegetarian meals. They also have a pet-friendly garden patio for those traveling with their furry best friends.
More information can be found here.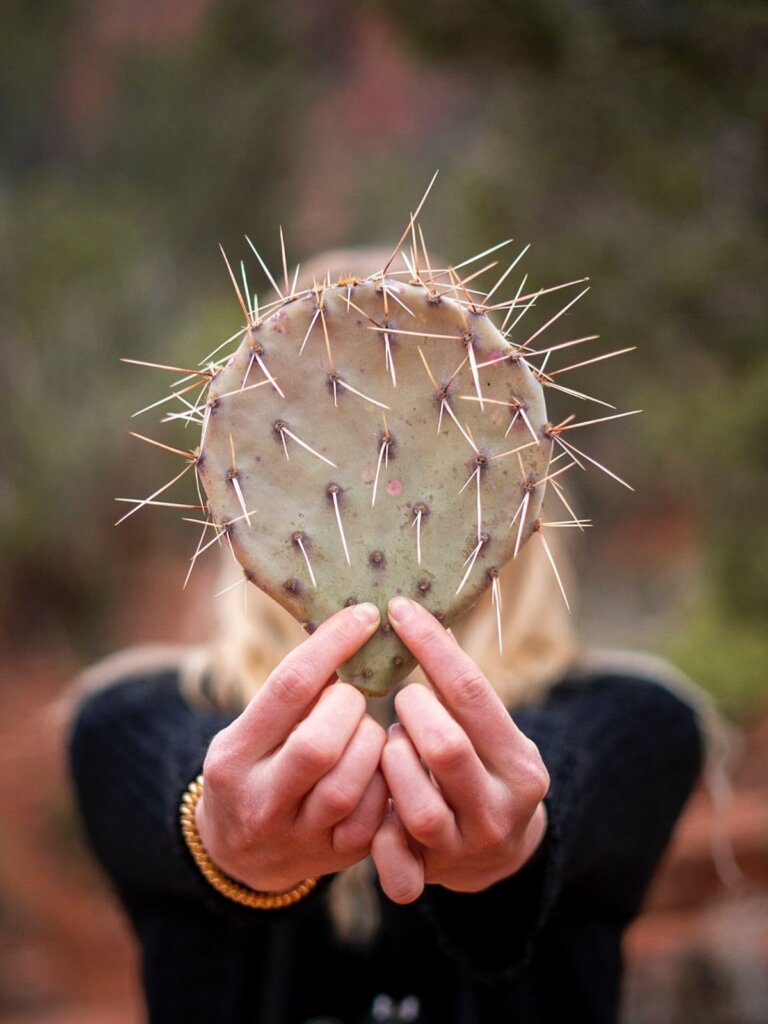 5) Visit the Tlaquepaque Arts and Crafts Village.
The Tlaquepaque Arts and Crafts Village is an authentically-fashioned traditional Mexican village that offers a great way to spend an afternoon. Galleries, independent shops, and artists workshops line the cobblestone streets.
Oftentimes, you can watch artists create their works on site, providing unique opportunities for souvenirs. If you have holidays or birthdays coming up, consider shopping here for some one-of-a-kind handmade gifts!
Bonus tip: Tlaquepaque is pronounced "Talah-keh-pah-keh" and is located here, very close to the Secret Garden Café.
You May Also Like: Visiting Arcosanti – City of the Future?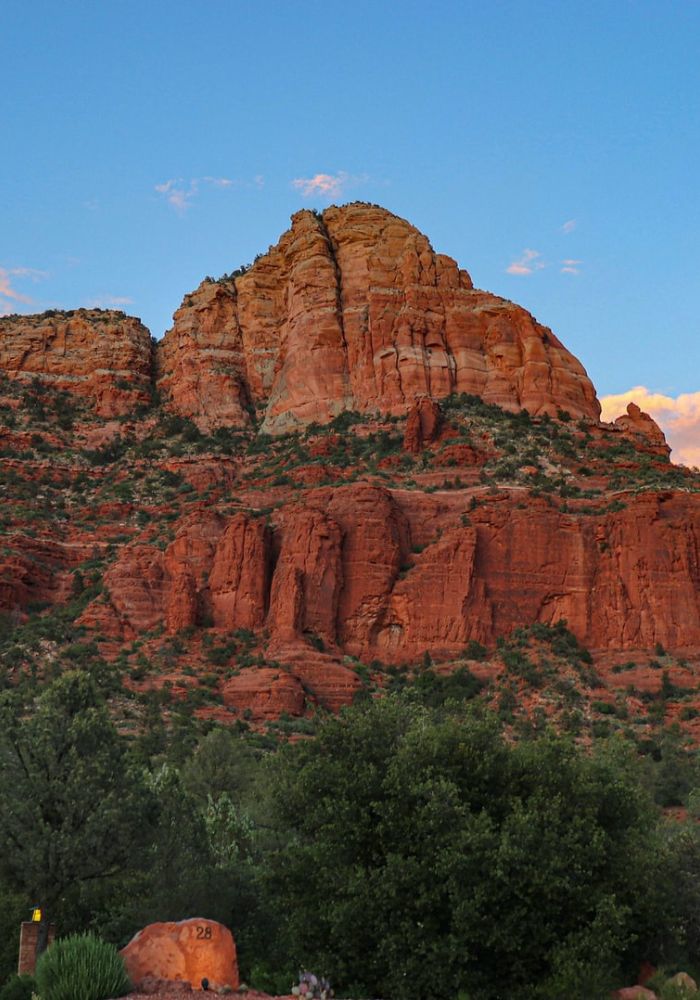 6) Take a Jeep tour.
By late afternoon, you might be feeling that post-lunch lull. If you've had enough driving and walking for now, consider taking a tour to see parts of Sedona that you may not have an opportunity to see otherwise.
Consider taking a Sedona Jeep Tour to venture farther out into the desert cliffs. You'll get a range of times to choose from, so make sure you choose late afternoon.
This four-wheel-drive tour takes you through the canyons and the peaks for spectacular views of the lowland deserts and forests. It is nothing short of spectacular! Book your Pink Jeep Tour here.
7) Enjoy dinner at the Wildflower Café.
This Arizona chain restaurant serves fresh salads, delicious soups and hearty pastas. It was perfect after a long day of exploring, whether you need something green or something loaded with carbs.
Wildflower Café is open from 8am-8pm and more information can be found here.
8) Tuck in for the night.
By now you are likely tired from your full first day of exploring. Scroll to the end of the article for my Sedona hotel recommendations.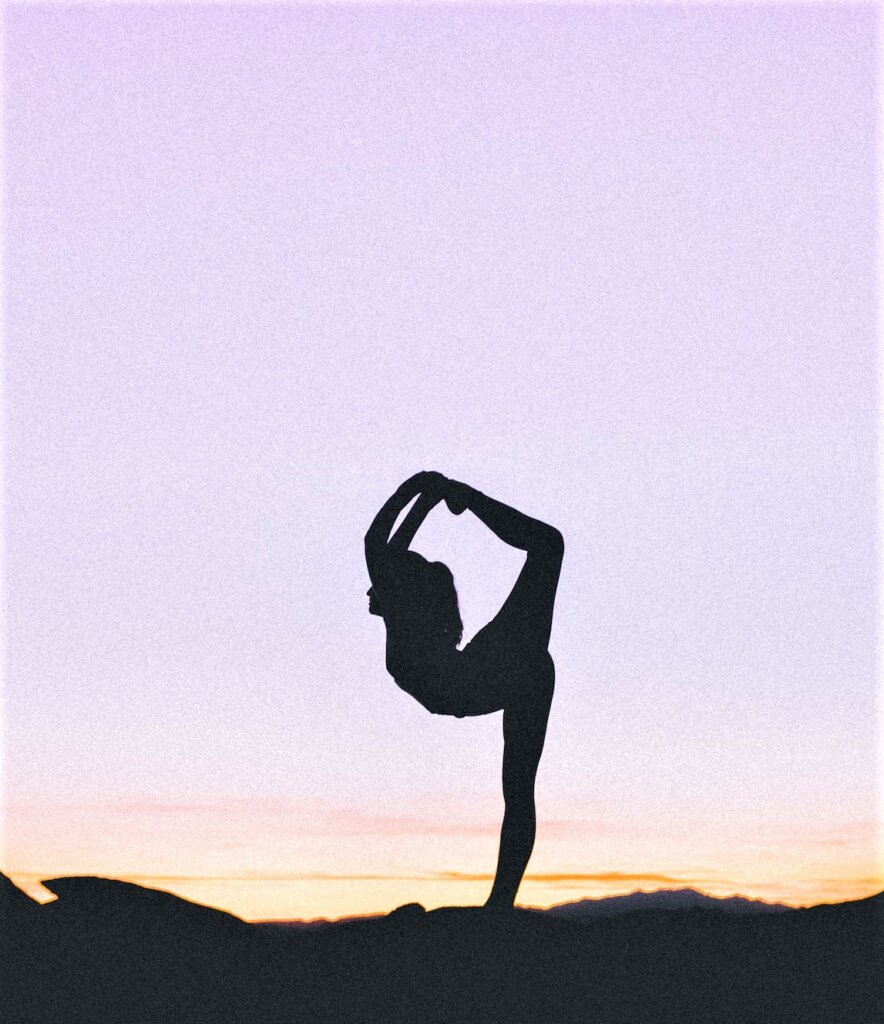 Day 2
Start the day with an early morning yoga session, get your hike on, experience the Slide Rock natural waterslide, take a trolley tour, and drink some Arizona wines.
1) Early morning yoga and hiking.
Start the second day of your Sedona 3 day itinerary with some hiking and outdoor yoga. Never tried yoga before? No problem! The tour below targets their yoga levels to their guests' experience.
One of my favorite ways to start the day, especially in a place as beautiful as Sedona, is by getting the body moving outdoors. This 3.5 hours guided tour takes you through colorful cliffs and canyons, with a knowledgeable guide, who will teach you about the desert flora and fauna and the local energy vortexes.
Once you find an open and flat area, the teacher will help you get setup for the yoga session, which lasts 45 minutes to one hour. Yoga mats are provided, so you don't need to worry about a thing.
I highly recommend the 7am departure, which will wrap up around 10:30am. Book your morning yoga hike here.
2) Head to Sedona Crepes for a tasty brunch.
You are bound to be hungry after all that hiking and yoga. Sedona Crepes is the perfect next stop – and yes, they serve much more than just crepes!
Now if you do choose to order their namesake meal, you have the option of either sweet or savory crepes. If you've never tried a savory crepe, give it a chance. The Veggie crepe is amazing and comes with a soup or salad. Very filling, and one of my favorite meals on this Sedona 3 day itinerary!
Other options include paninis, salads, tacos and omelets. You can't go wrong.
More info can be found here.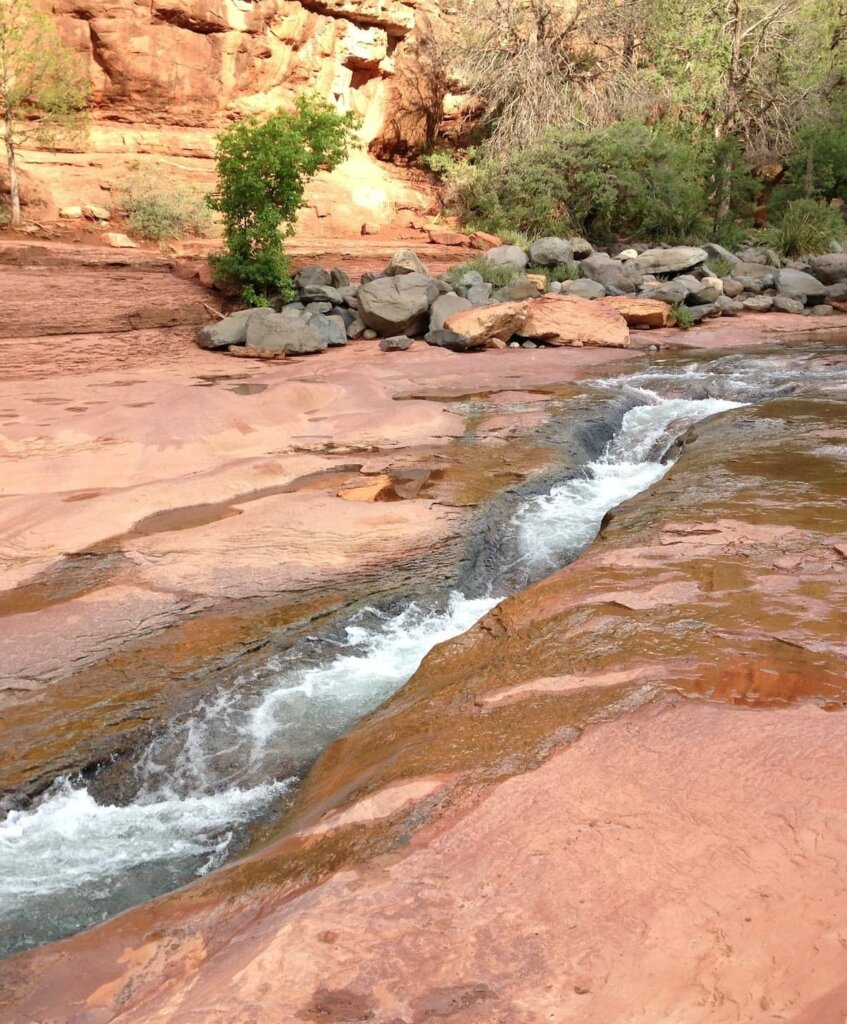 3) Visit Slide Rock State Park
State parks are some of my favorite escapes, since they are often less crowded than national parks but often just as beautiful. Slide Rock State Park does not disappoint.
This 43-acre area was originally a private homestead and apple orchard, and you can still see remnants of that past life today. Small cabins and farming equipment are scattered about.
Hands down the most popular activity here is the 80 foot long natural rock waterslide. It's like a naturally formed slip and slide that shoots you into the water below. The slide is super fun and very smooth!
Unfortunately, the slide is only open in the summer, but if you are visiting Sedona during other seasons, it is still worth a visit. Slide Rock State Park has short hiking trails and beautiful scenery year round. It's easy to spend a few hours here exploring.
4) Take a trolley tour.
After spending much of the day on your feet (or in the water), you are probably ready to take it easy for a bit. I recommend taking a Sedona Trolley Tour, so that you still get to explore but at a more relaxed pace.
You have various options to choose from, like the West Sedona and Fay Canyon Tour. See curious rock formations like Thunder Mountain and Chimney Rock. Or, consider the 90 minute Sunset Tour. Trolley Tour information can be found here.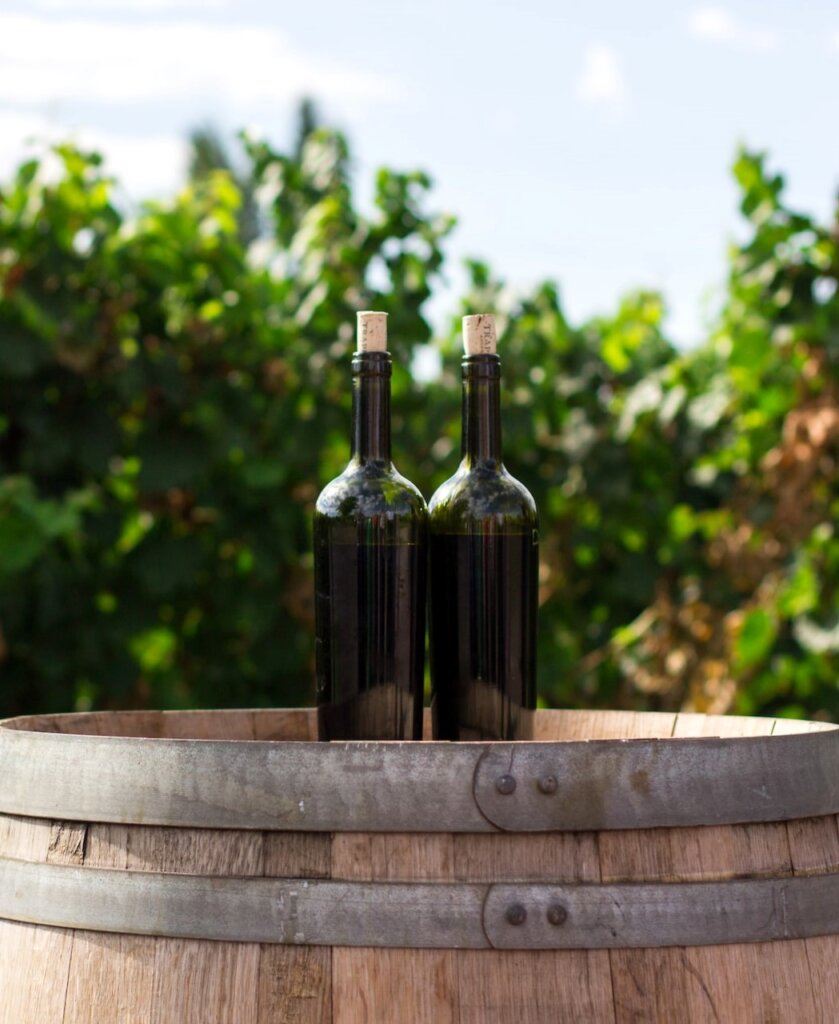 5) Relax with Arizona-made wine and light bites.
You read that right – there are vineyards right here in Arizona! Verde Valley is located just outside of Sedona and is host to some surprisingly tasty wineries. Most are less than 30 minutes from Sedona.
Burning Tree Cellars specializes in small and unique batches of wine so you are sure to find something special here. Their tasting room is in nearby Cottonwood.
Or, try the family-run Passion Cellars, which is the recipient of multiple awards for their deliciously complex wines. The winery is located in the quirky town of Jerome.
Want to take away the stress of planning your own wine tour? Consider booking a private hike and wine tour here.
6) Turn in for the night.
You have now made it through the second day of your Sedona 3 day itinerary! Check out my hotel suggestions at the end of the article for accommodation options in both Sedona and Cottonwood – perfect for if you visit Burning Tree Cellars.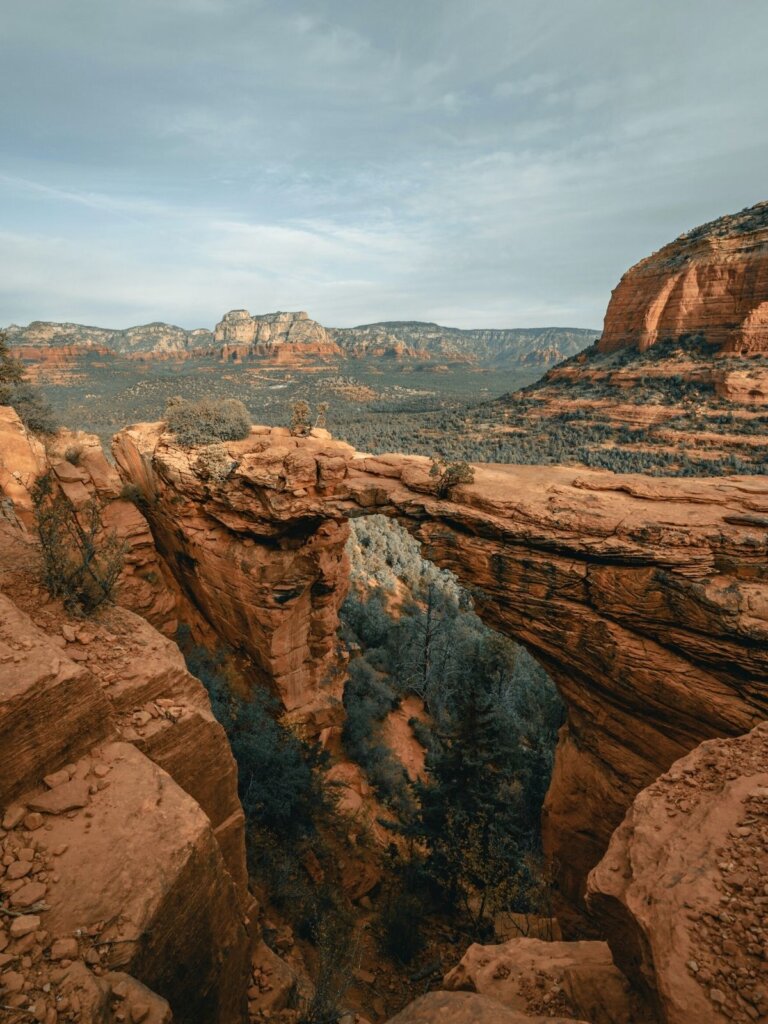 Day 3
Enjoy a popular sunrise hike, a day of relaxation, sunset at a vortex, and a UFO and stargazing tour.
1) Another stunning sunrise hike.
Devil's Bridge is the most popular hike in all of Sedona. To beat the crowds (and the heat), it is best to start this one early. Additionally, parking does fill up here if you arrive too late.
A moderately strenuous 4.2 miles, this trail leads hikers to the largest natural sandstone arch in the Coconino National Forest.
The trailhead is located along the unpaved portion of Dry Creek Road (FR 152) and it requires a 4WD vehicle to access. If you don't have a 4WD vehicle, you can park in the Dry Creek Vista parking lot and walk to the trail, which adds another mile to the hike.
Follow the markers for Devil's Bridge Trail. The beginning of the trail is smooth and leads through prickly pear cactus-filled washes. Once you arrive at the base of the bridge, continue up the natural rock staircases to the top for beautiful views.
If 4.2 miles is outside of your comfort zone, check out my Easy Hikes in Sedona post for alternate options!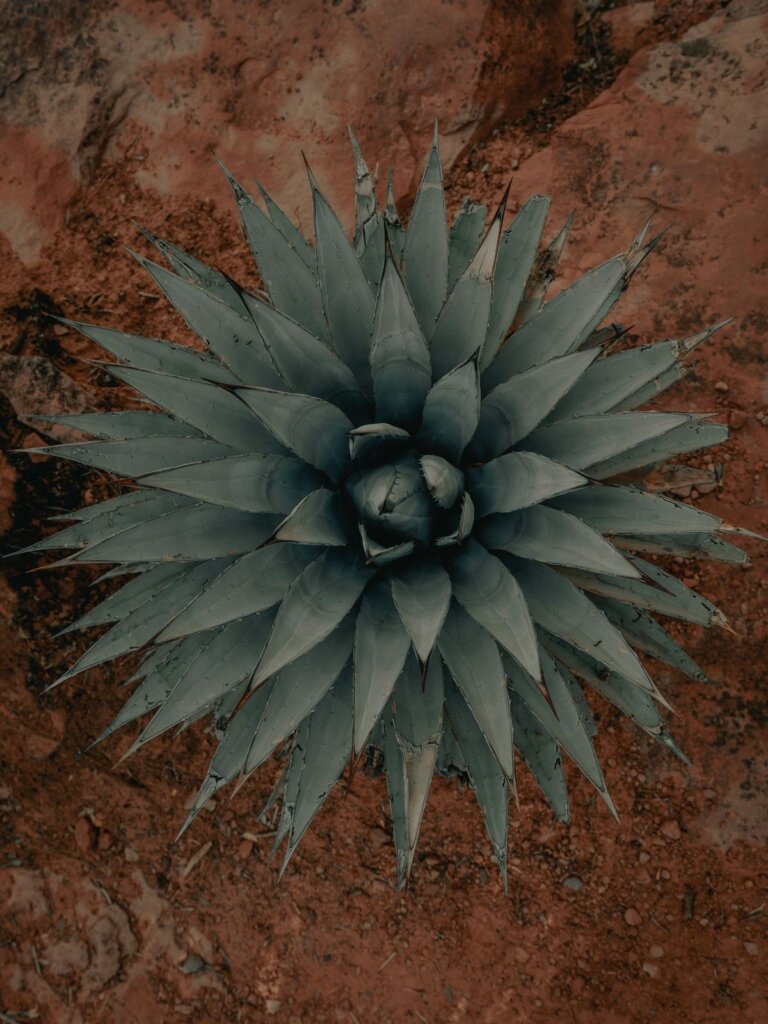 2) Grab breakfast at the Rascal Modern Diner.
Rascal, a Modern American diner is an awesome breakfast and brunch spot in Sedona. And, after working up an appetite on your hike, this is a great next stop!
Located in the heart of West Sedona, Rascal serves dishes like Chilaquiles, an Ancient Grains Breakfast Bowl, or the creative Vegan Bento Box.
More info can be found here.
3) Take some time for relaxation.
After a morning of hiking – and a few busy days in a row! – be sure to take some time to relax before lunch.
My favorite way to relax during my travels is to use the hotel pool. Nothing is better than some sun, a good book, and sparkling blue water.
Other options include:
Sedona is the kind of place with no shortage of relaxation options. As one of the best-known wellness destinations in the USA, Sedona will have something for everyone.
4) Next, a tasty meal at Indian Gardens Café.
This pizza and sandwich shop serves everything from typical hoagies to plant-based greens and grains. The soups and salads are hearty and fresh. Plus, the beautiful outdoor garden seating is so peaceful after your relaxation-session.
More information can be found here.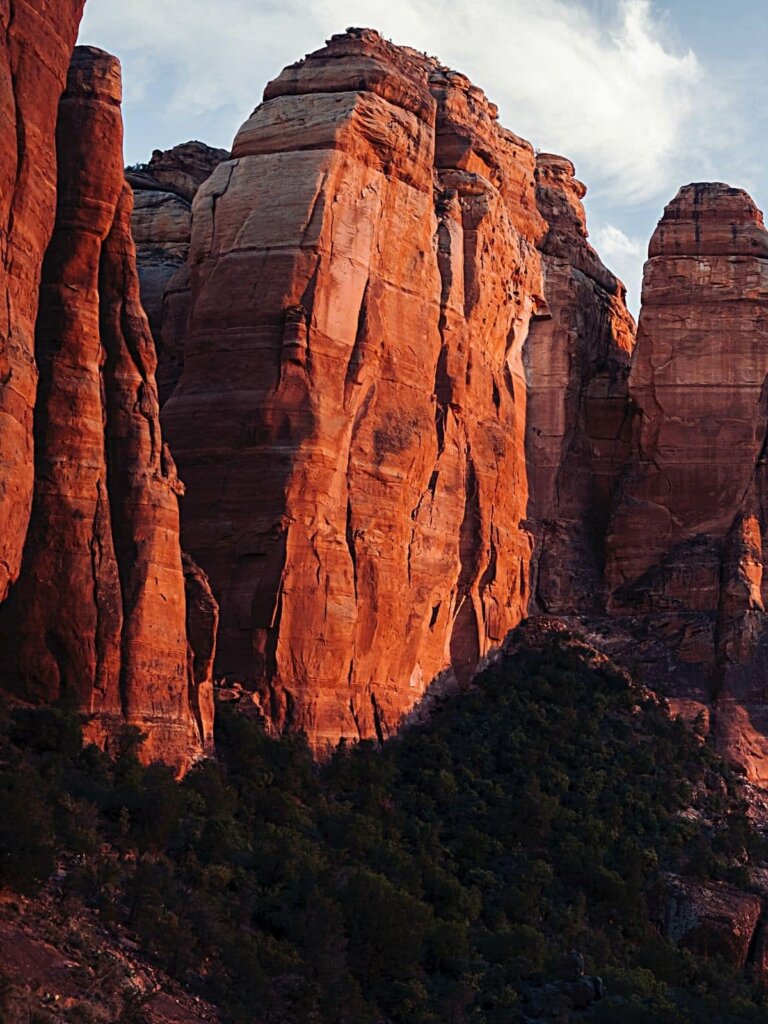 5) Catch a colorful sunset at Cathedral Rock.
Cathedral Rock at Sunset is one of the best ways to wrap up your 3 day Sedona itinerary. The towering terra-cotta colored spires can be seen from around town, but nothing is better than getting up close!
Now parking is likely to be a little rough at sunset. Either be patient or plan to take an Uber.
You May Also Like: The Best Travel Apps
This 1.2 mile hike has a fairly steep 652 feet elevation gain. Hikers ascend up to the top of the trail and are rewarded with a sweeping view of the green and red-drenched Sedona Valley.
The trail is pretty challenging, including areas of rock scrambling, but it is so worth it for the sunset views. The hiking trail can be found here.
6) Eat a tasty Mexican dinner.
Just like the city of Tucson, Sedona has some incredible Mexican restaurants. You can't leave without trying some of the dishes at Tamaliza!
Tamaliza is a casual, family-owned restaurant serving fresh tamales, enchiladas, and tacos – plus loads of vegetarian options. Details can be found here.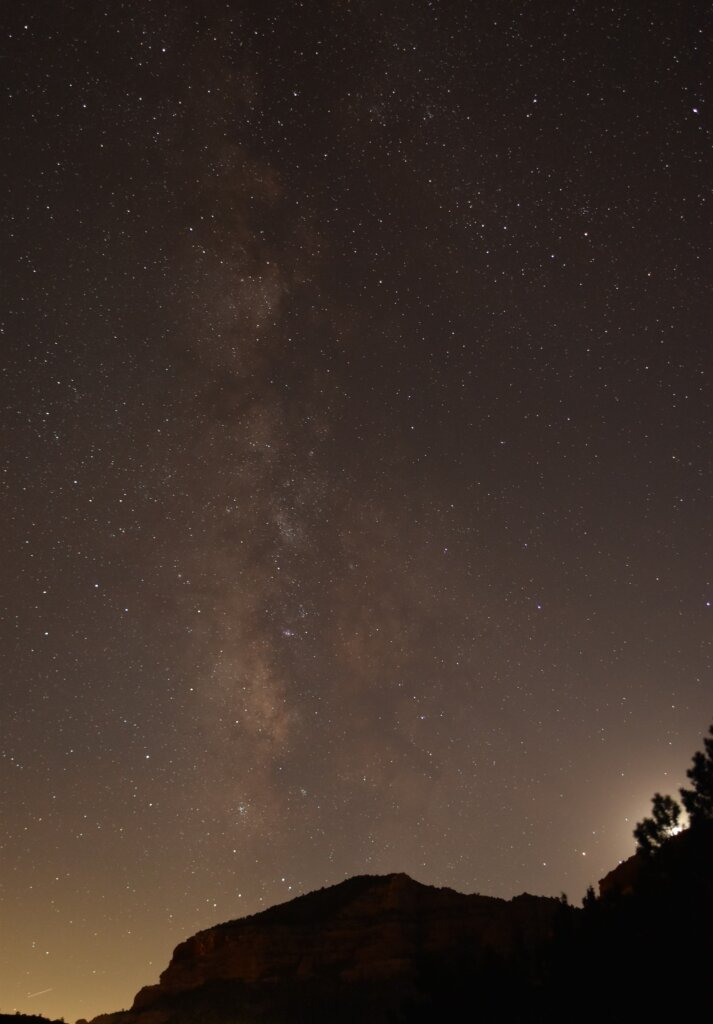 7) Go stargazing and UFO hunting.
If you happen to be staying overnight on your last day, I highly recommend experiencing the desert skies through stargazing. If you have never seen the bright stars against the black sky in the desert, whiteout the light pollution from the city, it is truly a sight to see.
Consider joining a stargazing and UFO Tour to see even more! Explore the night sky with your naked eye as well as with night vision goggles, which are provided. Your guide will also discuss UFO sightings and unexplained phenomena in the area.
Book your stargazing and UFO tour here.
8) Enjoy your last night in Sedona!
After a very active three days, your Sedona itinerary is coming to an end. Keep scrolling for my top hotel recommendations below.
Where to Stay in Sedona
Visitors have plenty of lodging options when visiting Sedona, which range from boutique to budget. There is something here for you no matter your style.
The first three hotels on this last are located within Sedona, and the fourth is found in nearby Cottonwood. I've included a Cottonwood option, too, just in case you hit the winery there and prefer a closer place to stay.
Also, if you visit Sedona during the busier months, the prices in town can get pretty high. Cottonwood is less than 30 minutes from central Sedona and much much cheaper.
Sky Ranch Lodge ($$$)
Hilton Sedona Resort at Bell Rock ($$$)
Arabella Hotel Sedona ($$)
Lux Verde Hotel ($$)
Bonus Tips for you 3 Day Sedona Itinerary
If you are flying to Sedona, you can choose either the Flagstaff or Phoenix Airport. Flagstaff is closer, but Phoenix is likely cheaper. It will take roughly two hours to drive from Phoenix to Sedona.
No matter where you land, you'll likely want to rent a car. Public transportation in Sedona is not plentiful, so a car is necessary to get around.
Parking can be difficult at the popular hiking trails. Plan to arrive as early as possible!
Uber and Lyft are options for short trips or for the day you visit the wineries.
Download offline Google maps to be safe! While I had service throughout Sedona, there were a few dead areas on the hiking trails. Most trails are well-marked but you never know.
You will need a Red Rock Pass or the 'America the Beautiful' National Park Pass for parking at the trailheads in the Coconino National Forest. Be sure to display your pass on your windshield while you're on the trails.
The Red Rock Pass costs $5 daily, $15 weekly or $20 annually. You can purchase the Red Rock Pass in person at some of the bigger trailhead parking lots, or in town.
I personally use the 'America the Beautiful' Pass because I always visit multiple national parks throughout the year. It costs $80 and quickly pays for itself if you're a frequent visitor. This pass gets you into all US national parks, national forests, BLM land, national wildlife refuges and more.
You May Also Like: A Flagstaff to Sedona Drive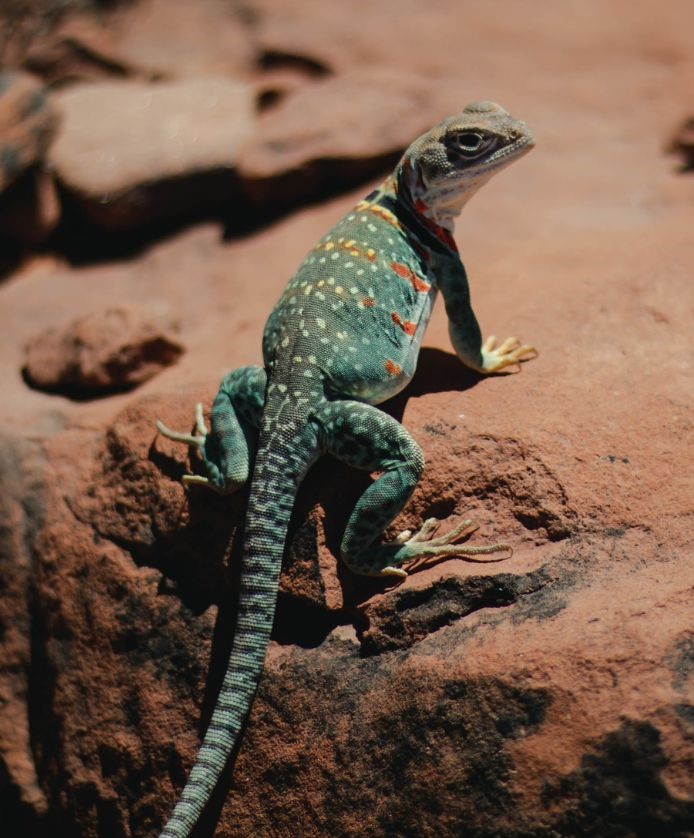 Where to Visit Next?
If you haven't yet been, consider a stop in Phoenix! Hike among the cacti, score some major panoramic viewpoints, and explore the trendy downtown.
Here are some Phoenix planning resources:
or, head south to Tucson! Tucson is a surprisingly green for a desert and has loads of cool attractions.
Here are some Tucson planning resources:
Sedona 3 Day Itinerary FAQs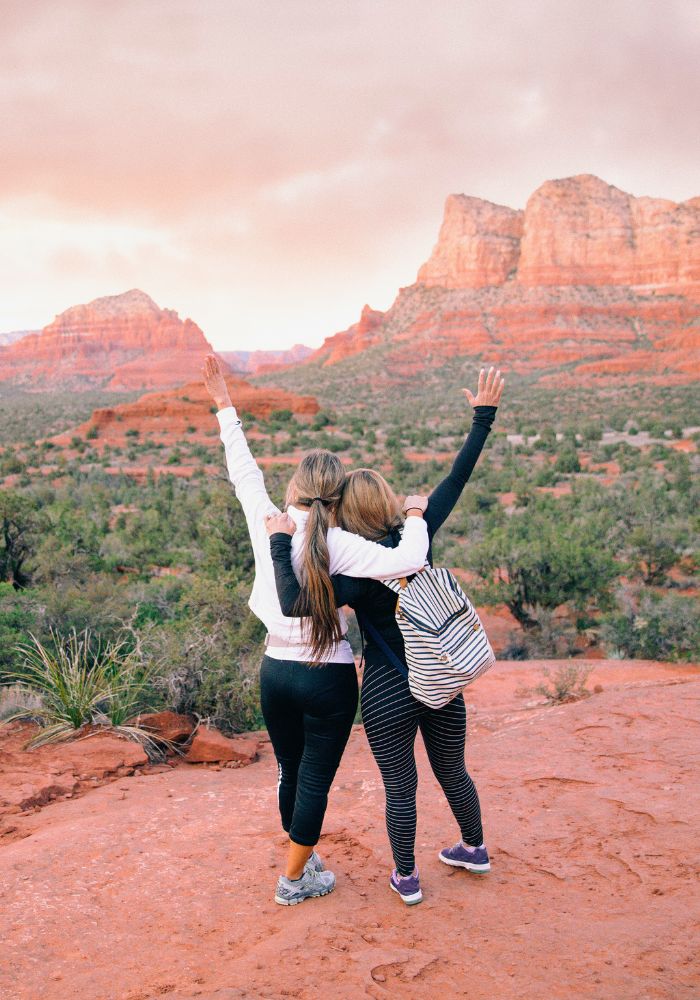 Can you do Sedona in 3 days?
Yes, three days in Sedona is a great amount of time to explore! You will have plenty of time for hiking, tours, and tasty eateries in a Sedona 3 day itinerary. Be sure to include any spiritual site like vortexes and yoga to get the full experience.
How many days should you spend in Sedona?
If you are able to spend a full week in Sedona, it is a great experience. One week will allow plenty of time to feel like you've seen it all. However, 3 days in Sedona is plenty if you follow this itinerary and plan ahead!
What month is best to see Sedona?
The springtime is arguably the most beautiful time to see Sedona. March, April and May provide fewer crowds and excellent weather – perfect for hiking, biking, and exploring.
How far is Sedona to Grand Canyon day trip?
If you want to take a Sedona to Grand Canyon road trip, it is completely doable in a day. The drive will take roughly two hours to reach the South Rim, where you can hike and explore the epic viewpoints.
What is the cheapest month to go to Sedona?
The winter months of January and February are often the cheapest months to visit Sedona. Crowds are thinner and snow often dusts the terra cotta peaks, and there is a chill in the air. Hotels and attractions may be a bit cheaper too.
What is the most scenic part of Sedona?
My personal favorite spots are the Cathedral Rock towers, and the Secret Slick Rock hiking trail to see them from afar. The Mogollan Rim that you see on many Jeep tours is breathtaking. And, the Sugarloaf rocks is also unique.
What time of year is best to stargaze in Sedona?
Stargazing in Sedona is great year round, except for during the monsoon period. This happens in July and August, where strong winds and rain can obscure visibility.
***
This Sedona 3 day itinerary explores so many aspects of Sedona! From epic hiking trails to a taste of the spiritual to fresh and healthy foods to the supernatural – we have packed a lot into these three days.
Sedona is such a fun place to visit! Let me know which of these three days sounds most exciting to you, and I hope you have a wonderful visit!
Pin Me for Later!