Arcosanti is a futuristic city" about halfway between Phoenix and Sedona. Intended to be an eco-conscious dwelling, this development was a bit before it's time! Read on for everything you need to know about visiting Arconsanti: The City of the Future – and why you should add this stop to your list.
Pin Me for Later!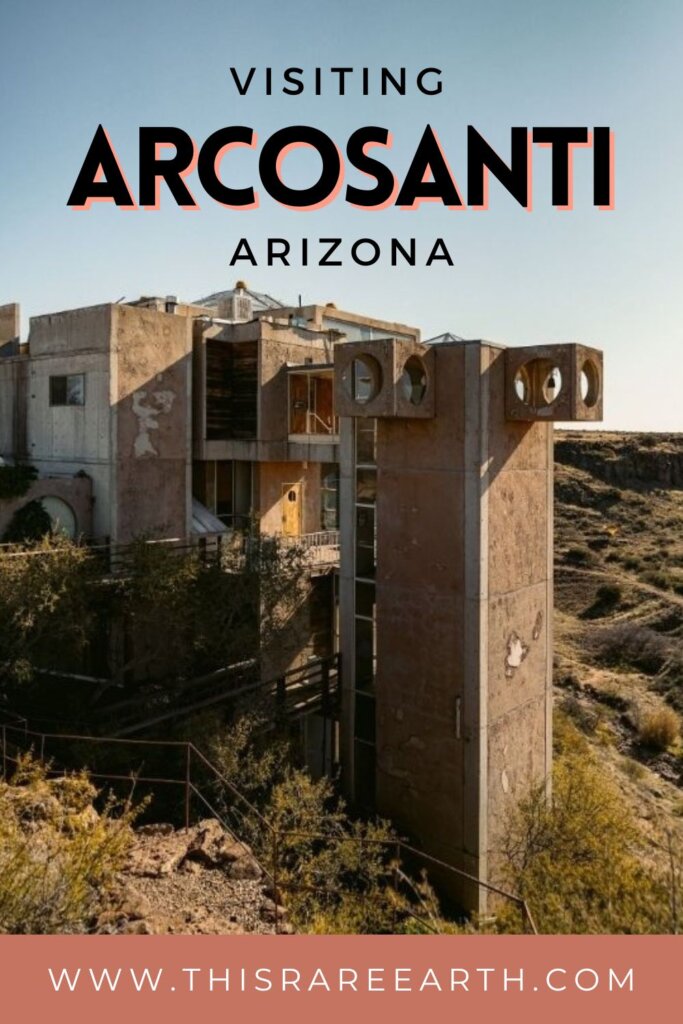 Tucked back in an unassuming plot of land midway between Phoenix and Sedona, Arcosanti sits largely unnoticed by the average passerby.
So what is this "City of the Future" and why should you bother to check it out?
A Bit of Arcosanti's History
Tucked away from civilization miles into the Sonoran Desert, this 24-acre piece of land was purchased by a man named Paolo Soleri in the 1960's. A former student of Frank Lloyd Wright, Soleri had been searching for a piece of land for his futuristic build site, Arcosanti.
He chose this spot because a) it was very cheap and b) it sat adjacent to the river Agua Fria, which would serve as Arcosanti's main water source.
Soleri followed the principles of Arcology, which state that a building's structure should work in harmony with the environment. While the unique look of the buildings are anything but "natural," the energy sources all work in harmony with nature.
Soleri decided to experiment with solar heating and cooling and construct the outdoor communal spaces to all be shaded. What did I tell you? This place, and Soleri in particular, was before his time.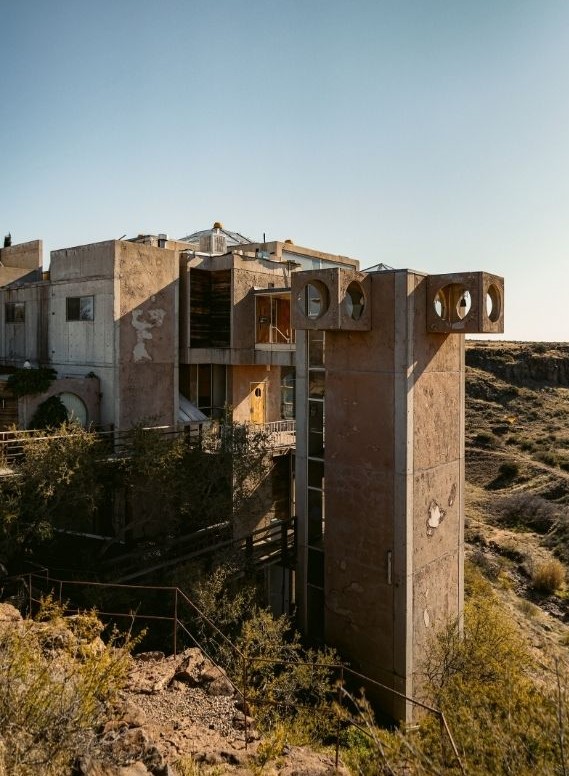 The purpose of this off-the-grid "urban laboratory" is to build a more sustainable living space for people to work communally with nature – not against it. He was interested in minimalism and hoped that his vision would catch on.
Soleri was born in Turin, Italy where locals lived a simple life and had everything they needed within a short walk away.
You May Also Like: A Phoenix to Sedona Drive: What to See on Your Road Trip
Where is Arcosanti in Arizona?
You can access Arcosanti from the US 17, at the Arcosanti exit. Drive East past the McDonald's and Love's gas station. Follow signs for Arcosanti to a long dirt road that leads to Arcosanti.
As you drive down the dirt road, you'll start to see large concrete buildings in the distance. As you approach, you'll notice the carefully constructed geometric shapes assigned to everything here.
Is Arcosanti Still Open to the Public?
Yes! Since the 1970s, thousands of individuals have either visited or lived at Arcosanti to learn about Soleri's vision. Visitors can attend workshops, try their hand at volunteering, and attend educational programs.
For day trip visitors, there are tours of Arcosanti offered several times a day, which are led by a local docent. Or, you could even book an overnight stay if you want a truly immersive experience.
Today, the community typically holds about 70 full-time, year-round residents.
You May Also Like: Day Trips from Phoenix
Can I visit Arcosanti Without a Tour?
At the time of writing, no. The first time I visited Arcosanti years ago, visitors were allowed to wander around on their own. However, nowadays a tour is necessary. I don't think that is a bad thing – in fact, it's the best way to truly understand the architect's unique vision and exactly how it is carried out today.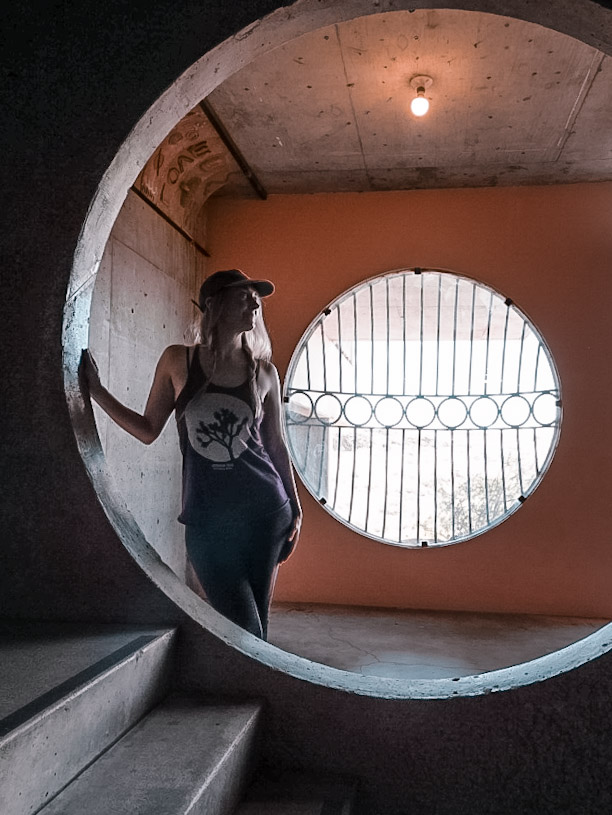 Daily Tours
Visitors have several options, such as a General Tour, which covers the history of Arcosanti and the founder Paolo Soleri. This tour runs about 1.5 hours and cost $22 per person, with discounts available for students and youth.
If you want a more in-depth tour, you could sign up for either the Architectural Tour, the Archives Tour, or the Sustainability Tour. These are offered by appointment only and cost $30 each.
Personally, the General Tour is what I recommend for the typical visitor not studying architecture or sustainability. it's a great overview.
More info on ticket purchases can be found here.
Staying Overnight at Arcoasanti
While I have not yet stayed overnight at Arcosanti, I would like to one day. It seems like an interesting experience! As a frequent solo traveler, Arcosanti seems like the perfect getaway for solitude and relaxation.
Guests get access to areas that day visitors don't, which you will see blocked off during your tour. These areas include the gardens, a swimming pool overlooking the canyon (which sounds magical to me), and the Sky Theater, to name a few.
The overnight stays range from group dorm-rooms to private guestrooms, so there is something for everyone.
Day visitors and overnight guests alike have access to a picturesque hiking trail found through the basement. It leads across the canyon to a tall hilltop offering great overhead views.
You May Also Like: Desert Gear and Hiking Essentials for the American Southwest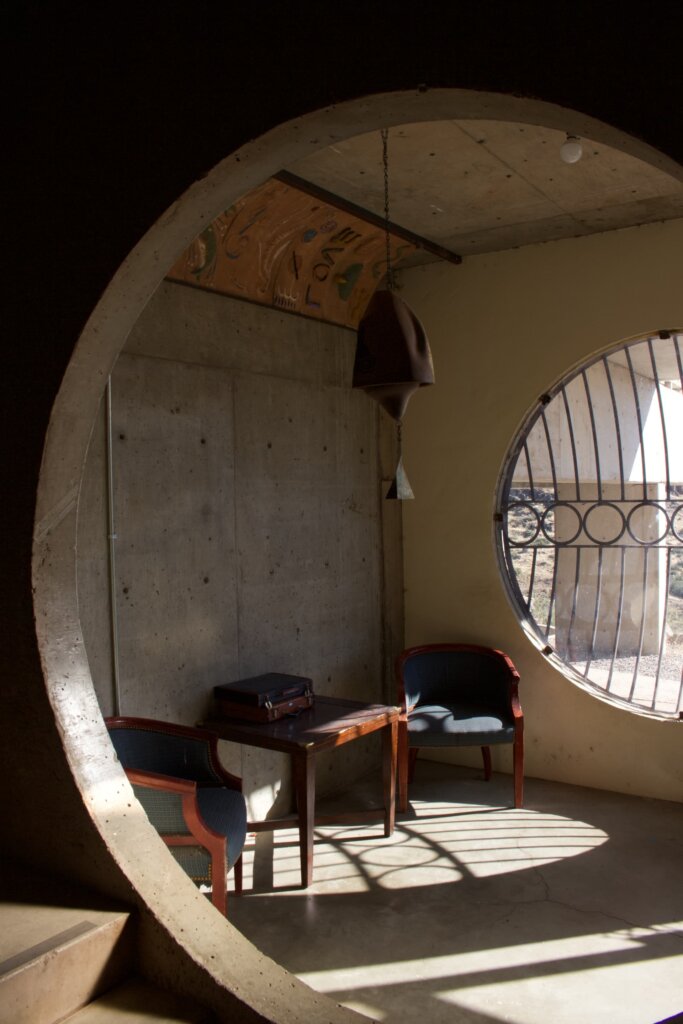 How Can I Live at Arcosanti?
Anyone can apply to live here, believe it or not. And, fun act – one of my college friends ended up living here for a bit after my first visit!
Each applicant must bring some unique skill or ability in order to aid in the development of Arcosanti. The residents do in fact live like a large family working toward a common goal, just as Soleri wished.
The living quarters include both single family apartments as well as communal living spaces. One interesting concept still in practice takes place at Ferguson's, the free store. Yes, a FREE store. The idea is, anything you don't need should be taken to Ferguson's. They can freely take what you donate and you can do the same.
The volunteer program offers housing, utilities, and education in exchange for weekly work hours. You might volunteer as an educator, artists, or admin, to name a few.
What About the Future?
While 70 people live at Arcosanti full time, Soleri's vision was for thousands to do so. Plans are in the works to expand the accommodations over time,such as another floor of live-work spaces and three additional structures.
As of now, Arcosanti is still gathering funding to reach these goals.
***
Arcosanti is a fun stop on any road trip through the Southwest. If you like architecture, or sustainability, or the downright quirky, then this stop is for you.
So what do you think? Is Arcosanti a City of the Future? Would you like to visit one day? Let me know below!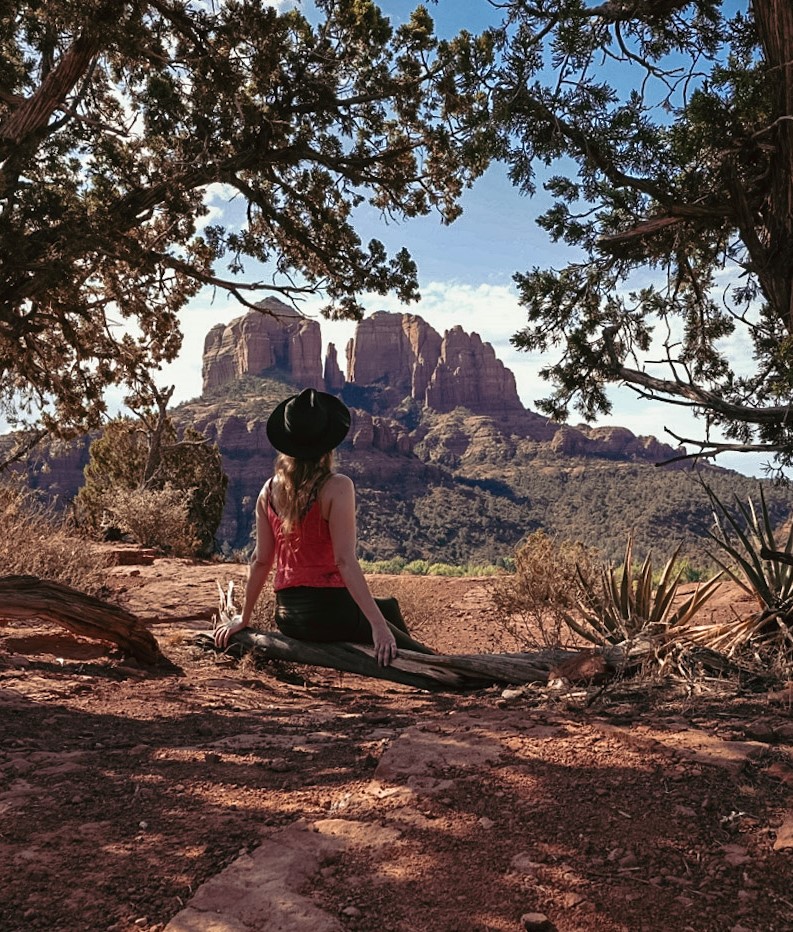 Where to Visit Next?
If you didn't just come from there, consider a stop in Phoenix! Hike among the cacti, score some major panoramic viewpoints, and explore the trendy downtown.
Here are some Phoenix planning resources:
Head south to Tucson! Tucson is a surprisingly green for a desert and has loads of cool attractions.
Here are some Tucson planning resources:
Or, check out these Sedona suggestions:
Pin Me for Later!