Though you likely picture a hot, barren desert landscape, it is in fact possible to see snow in Arizona! That's right – snow! As a former resident, I have found all of the best places to see winter snowfall in Arizona, and I'm going to share the locations with you.
Pin Me for Later!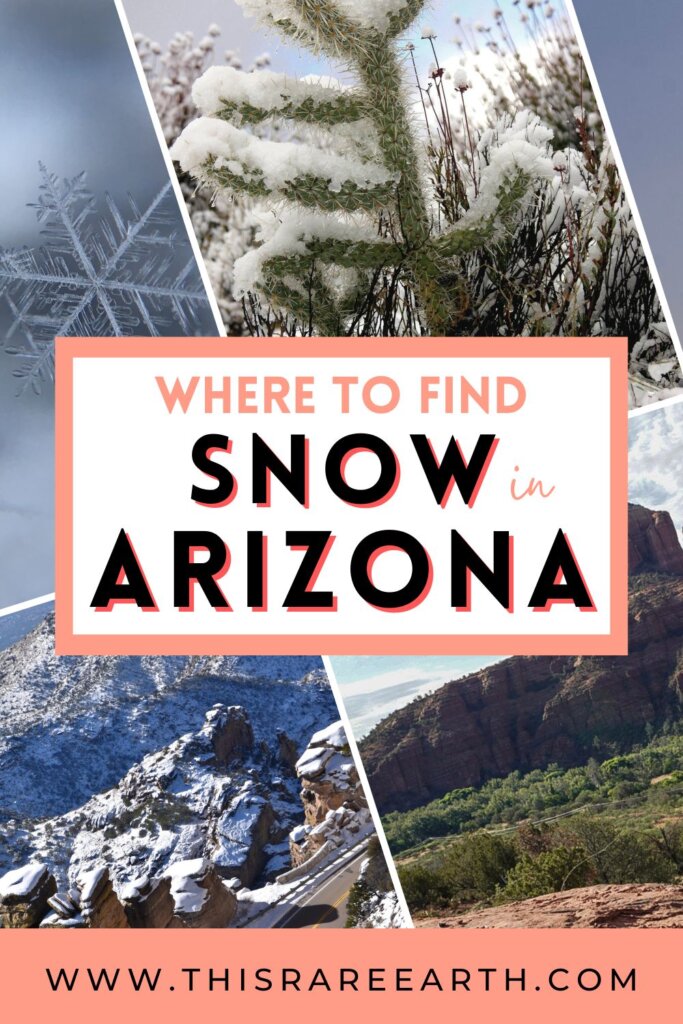 Would you believe that it is completely possible to see snow in Arizona, despite being one of the hottest states in the country?!
Well, it's true. Parts of the state are a regular winter wonderland, in fact.
Arizona may be best known for it's iconic Sonoran Desert landscape, full of towering orange rocks and giant saguaros. But, if you drive just a few hours outside of Phoenix, the elevation begins to increase significantly. Cacti are traded for pine trees and winter heat is traded for a chill.
In the winter months, there are several locations that experience regular snowfall, year after year. And, I am here to share them with you. Let's jump in!
Where Can You Find Snow in Arizona?
As a former Arizona resident, I too was surprised to learn that it can snow in Arizona. I may not have believed it if I hadn't seen if with my own eyes!
As someone who grew up experiencing the full four seasons, and then later terrible winters in my early twenties, part of the appeal of Arizona was the fact that it didn't have freezing cold winters. At least, not generally.
But after living here for quite some time, I came to appreciate seeking those cold wintery areas. There's something different about visiting snowy landscapes rather than living in them, am I right?
So, let me share with you exactly where you can find snow in Arizona, to experience a winter wonderland even in this desert state!
You May Also Like: The American Southwest is Full of Deserts. You Should Visit Every One of Them.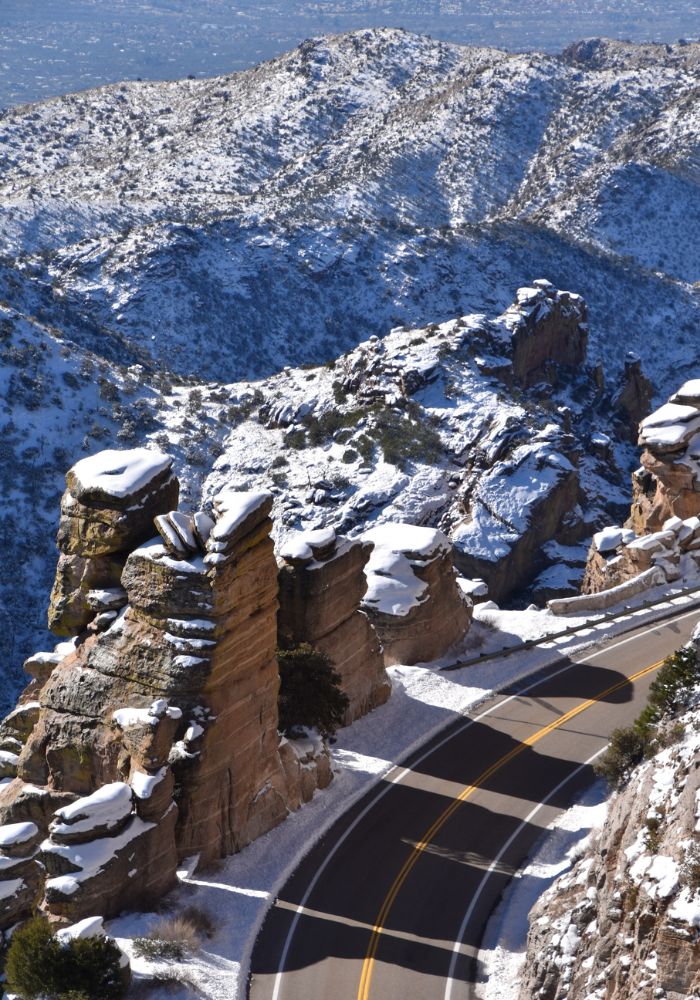 Snow in Tucson, Arizona
Mount Lemmon is one of the most popular places to visit in Tucson. And, it's easy to see why! This summit sits at 9,000 feet in elevation and offers a surprising array of activities year-round.
At the highest elevations, temperatures are up to 20 degrees cooler than at the base of the mountain. Meaning, in the winter, this mountain can become absolutely covered in snow.
The small town of Summerhaven sits on Mount Lemmon, as does Ski Valley, and both skiing and snowboarding are offered! This area does get crowded after a snowfall, since snow is somewhat of a rarity of Arizonans. But it is worth a visit despite the crowds.
Be aware, the road does close sometimes if icy conditions occur. Before you drive, I highly recommend that you check on road conditions in case of closures.
Check the forecast and live webcams at Mount Lemmon.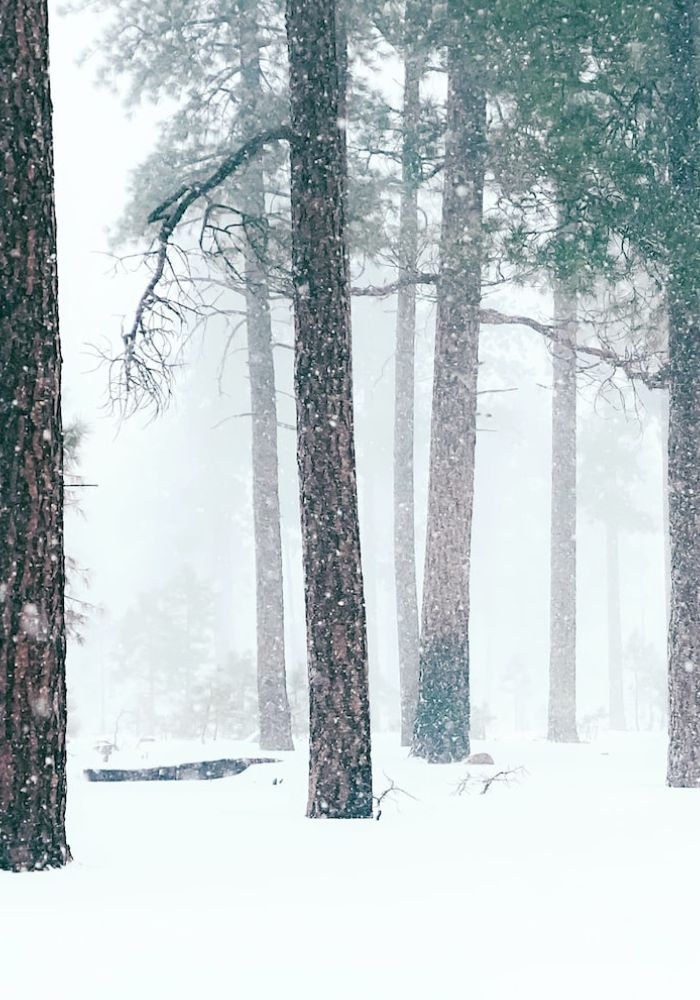 Snow in Flagstaff, Arizona
It's probably not a surprise that Northern Arizona is more likely to get snow than Southern Arizona. When snow falls in Flagstaff, Arizona, loads of people flock in on a day trip from Phoenix to enjoy it.
In under three hours from Phoenix, visitors can find opportunities for sledding, tubing, and skiing. Here are a few spots to find each one:
The Oakhill Snow Play Area near Williams – Sledding.
The Flagstaff Snow Park at Fort Tuthill Country Park – Sledding and tubing.
The Arizona Snowbowl – Skiing.
Elk Ridge Ski and Outdoor Recreation Area – Skiing and tubing.
Check out live webcams for snow in Flagstaff.
You May Also Like: A Flagstaff to Sedona Drive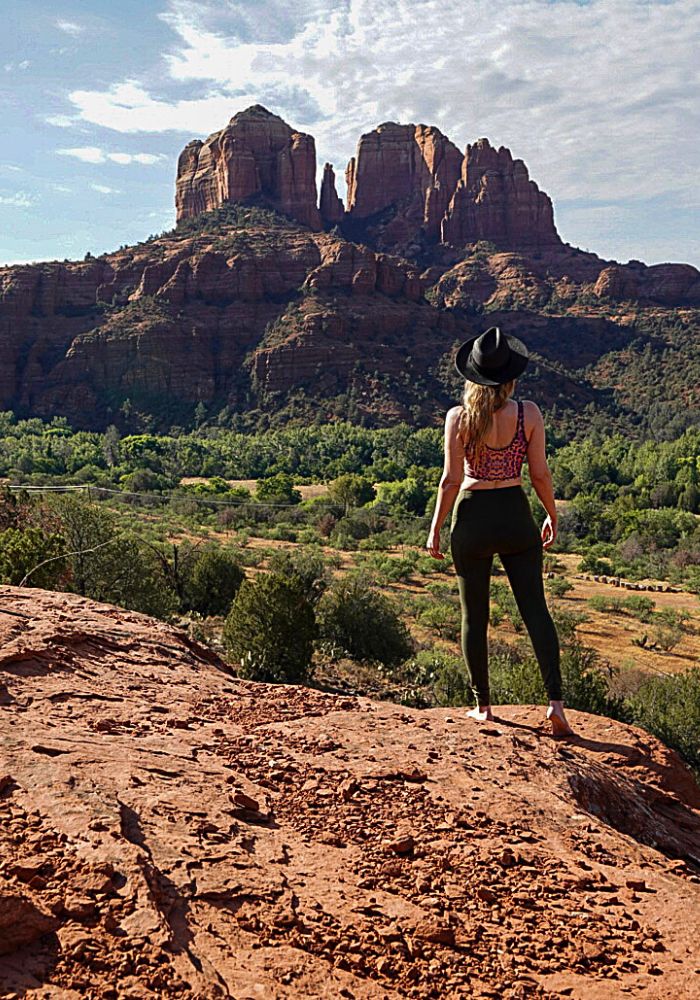 Snow in Sedona, Arizona
While Sedona doesn't usually see heavy snow cover, the higher elevations do sometimes get dustings of snow. The stark white against those orange colored rocks is just stunning!
I recommend checking out Sedona's many things to do and – if conditions allow – check out some of the short and beautiful hikes in Sedona. While sledding and skiing is not usually possible, the trails are amazing in the winter months.

Snow in the White Mountains
The White Mountains are roughly 3-4 hours east of Phoenix. Several operators offer winter sports and activities, the top two of which are listed below:
Sunrise Park Resort -Skiing and winter sports, as well as dining and lodging.
Hannagan Meadow Lodge – Sledding and snowmobiling.
Williams Valley Sports Area – Sledding, tubing, snowmobiling, and skiing.
Here is the live webcam for Sunrise Park Resort.
Snow in Payson, Arizona
Last but not least is Payson, Arizona. Occasionally, Payson gets enough snow to go sledding or snowman-building at Green Valley Park.
When Can You Find Snow in Arizona?
Generally speaking, the towns and areas of Arizona mentioned above can get snow between November and April. Heavier snowfall typically begins in January and runs through March.
Check the webcams listed above to get a live view of snow conditions. Additionally, check the weather report and road closures.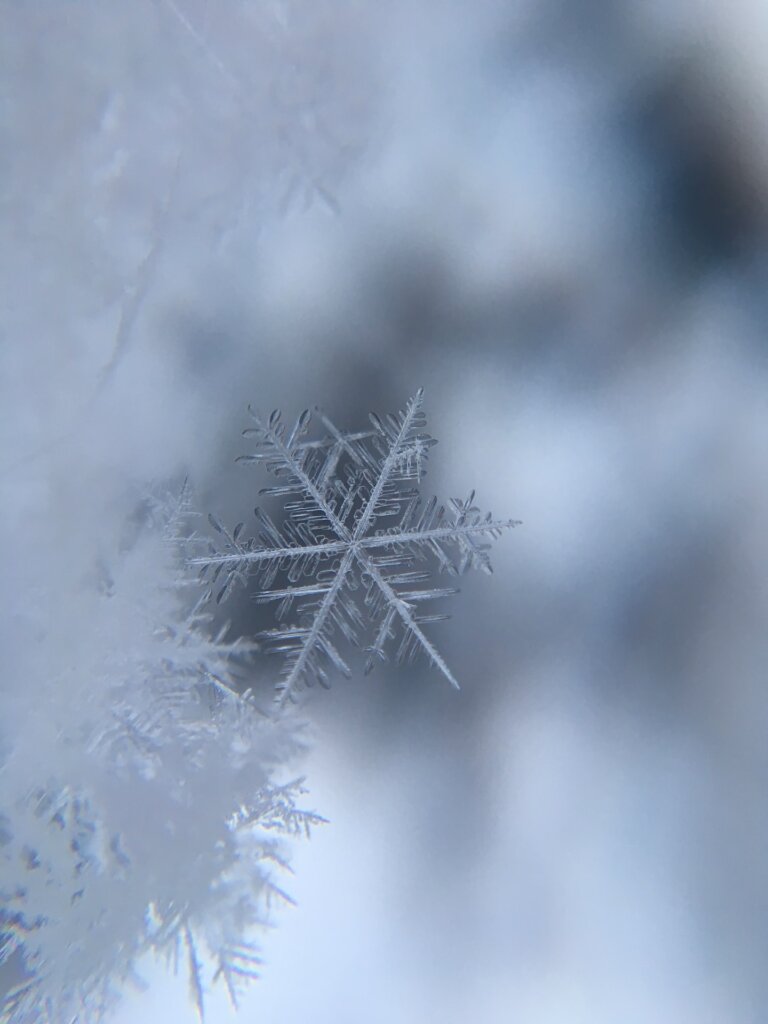 What to Wear for Snow Adventures?
Even though I moved to Arizona, I grew up in a state with four different season. So, I am no stranger to winter gear.
Here is some of my favorite winter wear for both warmth and physical activity – meaning it is movable and breathable, and keeps you dry. And yes – I personally own each of the items listed below.
I highly recommend this specific top from as the thumbholes keep the sleeves from riding up and exposing your wrists. This is key as your clothes will move as you are trudging through the snow, and exposed skin is the last thing you want.
You can pair the shirt mentioned above with these pants like I did– and I couldn't have been happier (or warmer!).
I absolutely love my Columbia Omni-Heat jacket. It gets me through all kinds of wintery temperatures and rolls up extra small in my suitcase.
These are the best winter boots I've ever owned. I never have wet toes and my feet have stayed toasty and dry in Iceland, the USA, and more.
The other item that keep my feet dry are these wool socks. I hear you– who wants to spend that much on a pair of socks?!? But I can promise you, even just one pair will be worth the investment. You will surely notice a difference.
I love a nice and warm heavy duty hat and set of gloves. The exact ones I own can be found here (hat) and here (gloves). Notice that the inside of both knitted items has a soft faux fur lining, specially designed to trap heat. Magic!
I don't personally swear by any specific scarf, but here is a nice and snug option that is priced under $15 USD. Not bad!
***
And that will do it! This comprehensive list on where to find snow in Arizona covers locations, activities, and what to wear.
Have you seen snow in any other areas of Arizona? Let me know below!
Pin Me for Later!