Even if you're not able to fly to exotic lands (or foot the bill!), the areas surrounding Los Angeles offer some of the most scenic and beautiful Spring Break road trips you could ever imagine. From pool parties to deserts to mountains, there is something that everyone can enjoy. Whether you are a SoCal native or just happen to be out west for school, here are some of the best road trip ideas from Los Angeles for your Spring Break!
Pin Me for Later!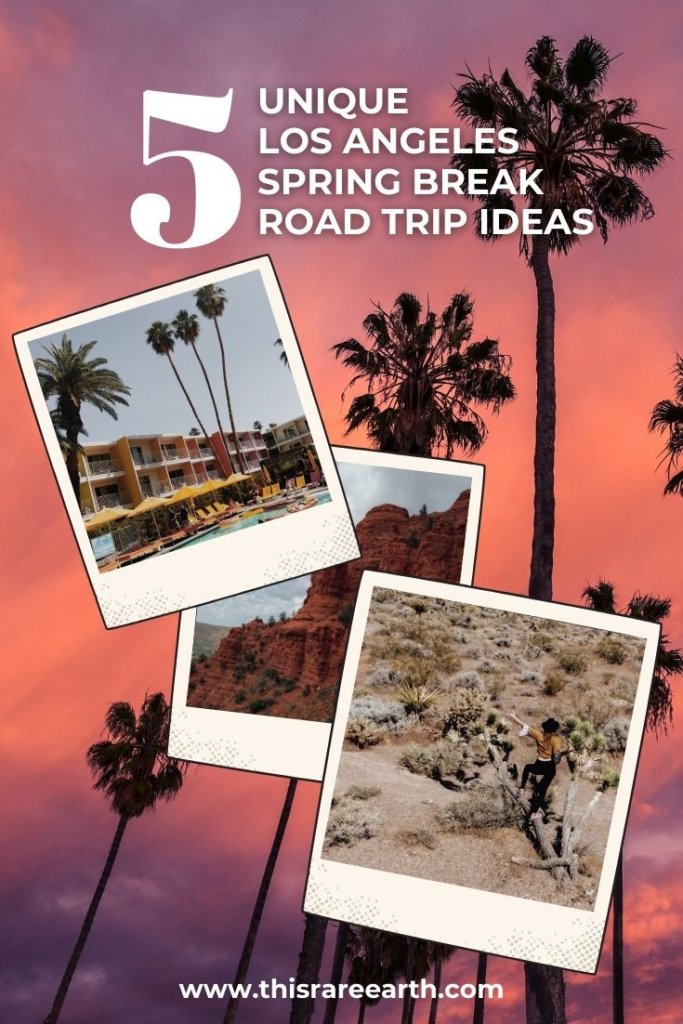 The 5 Best Los Angeles Spring Break Road Trips
Oh, the good old fashioned road trip. If you've been around for a while, you know that road trips are one of my favorite ways to get around the good old USA. Long stretches of scenic vistas with either good friends, good conversation, or a good podcast can truly be a transformative experience.
While I've personally driven across the country nine times (yes, you read that correctly!), this post will focus specifically on Los Angeles' surrounding areas and trips that you can enjoy in just one week.
First and foremost, if this will be your first road trip (or if you just need a refresher), I highly recommend checking out my post on How To Plan a Roadtrip Alone. Even if you're not actually going alone, this post holds ALL of the valuable info you'll need to have a safe and enjoyable trip on the road!
So let's get to it.
1) A One Week Road Trip Through the Mojave Desert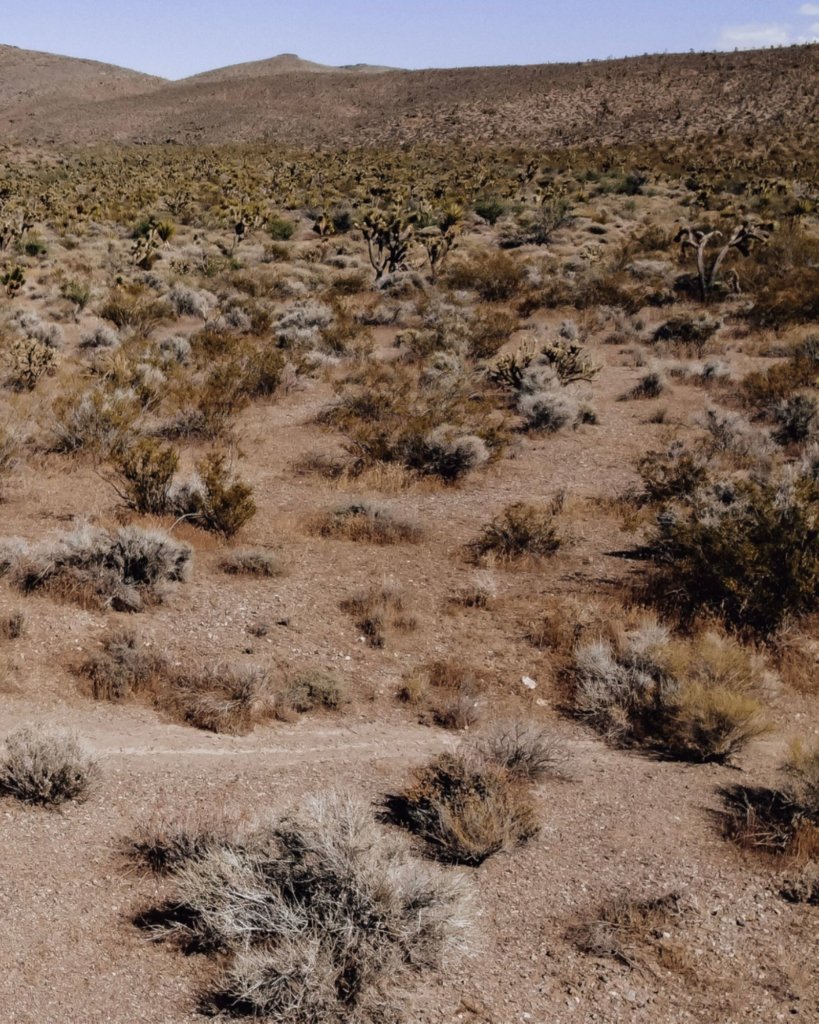 If you have any interest in the great outdoors, not to mention some of the most unbelievable landscapes you can imagine, than this trip is for you.
Easily my favorite of all Los Angeles Spring Break road trips, the Mojave Desert will not disappoint. For this trip, you will see three of the amazing desert parks of Southern California; the Mojave National Preserve, Joshua Tree National Park, and Anza Borrego Desert State Park.
I would suggest planning for two days within each park, which leaves you an extra day for added stops or off-route plans. Camping is typically available in each of these parks, but some may require reservations. I have each park's camping guidelines linked as well as a customizable map below.
Mojave National Land Preserve
First, drive north to the Mojave National Land Preserve. Depending on your exact starting point, this will take around two and a half hours.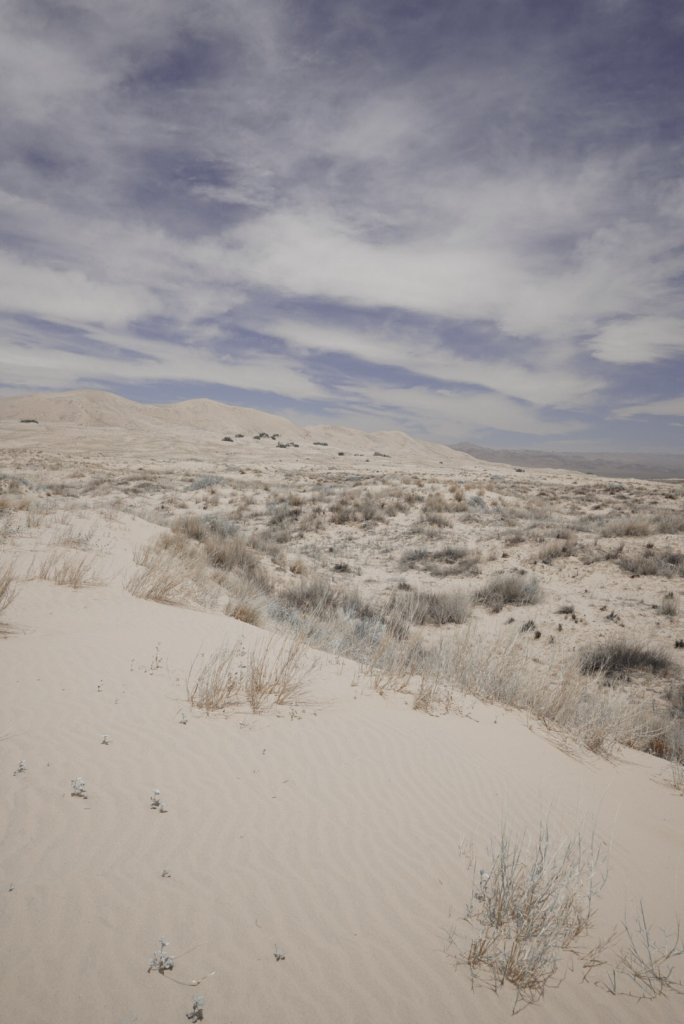 The park covers a hefty 1.6 million acres of the desert, so you can easily spend two days exploring! I highly recommend climbing the soft sand of the Kelso Dunes and exploring the underground tunnels in the Lava Tube. Visiting in the spring time means that the hiking weather should be pleasant, though leaving early in the morning is ideal.
The Mojave National Preserve does allow camping. Details can be accessed here. If camping is not your style, there are a number of affordable AirBnb's in the area.
This large park doesn't receive the credit it deserves, so have fun exploring! There are loads of hikes available; details can be found here.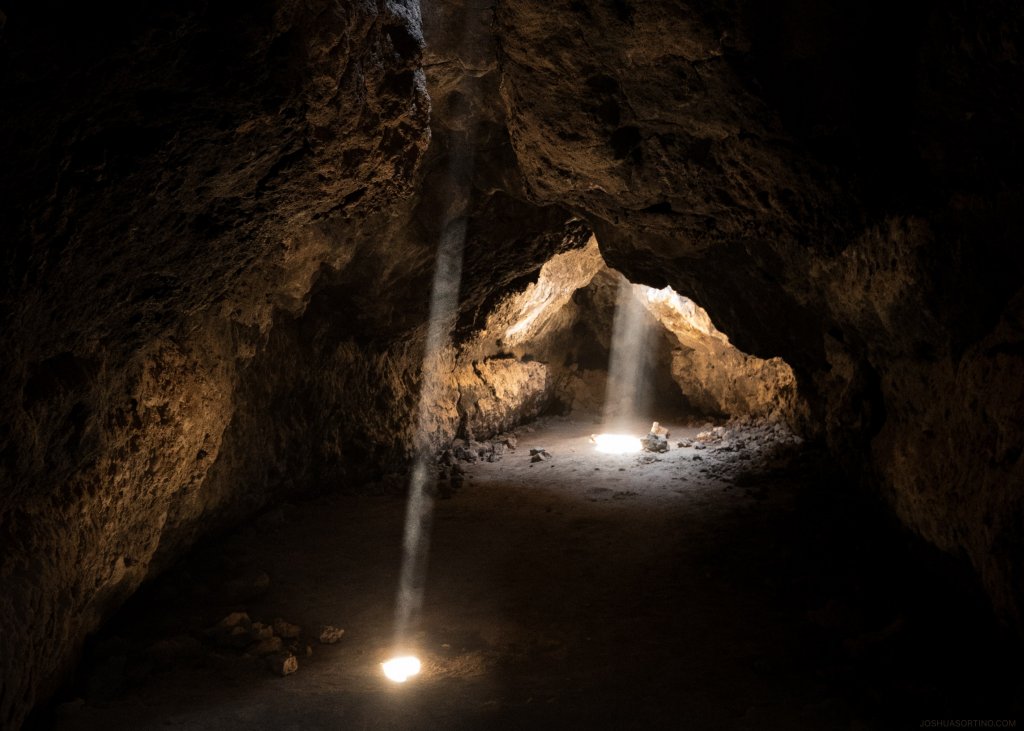 Joshua Tree National Park
You've probably already heard of Joshua Tree National Park, and for good reason. This park is incredible. Sweeping views of the famous Joshua Trees stretch for miles. Giant rocks rise up out of the earth. Cholla cacti await their next victims.
You can easily spend more than two days here, so if you have time to spare, this might just be the place to do it. At the very least, begin your three hour drive from Mojave National Land Preserve early to make the most of your time.
Joshua Tree National Park encompasses both the Mojave Desert and the Colorado Desert, meaning that you can see two vastly different landscapes depending if you are north or south in the park. Both are well worth a visit.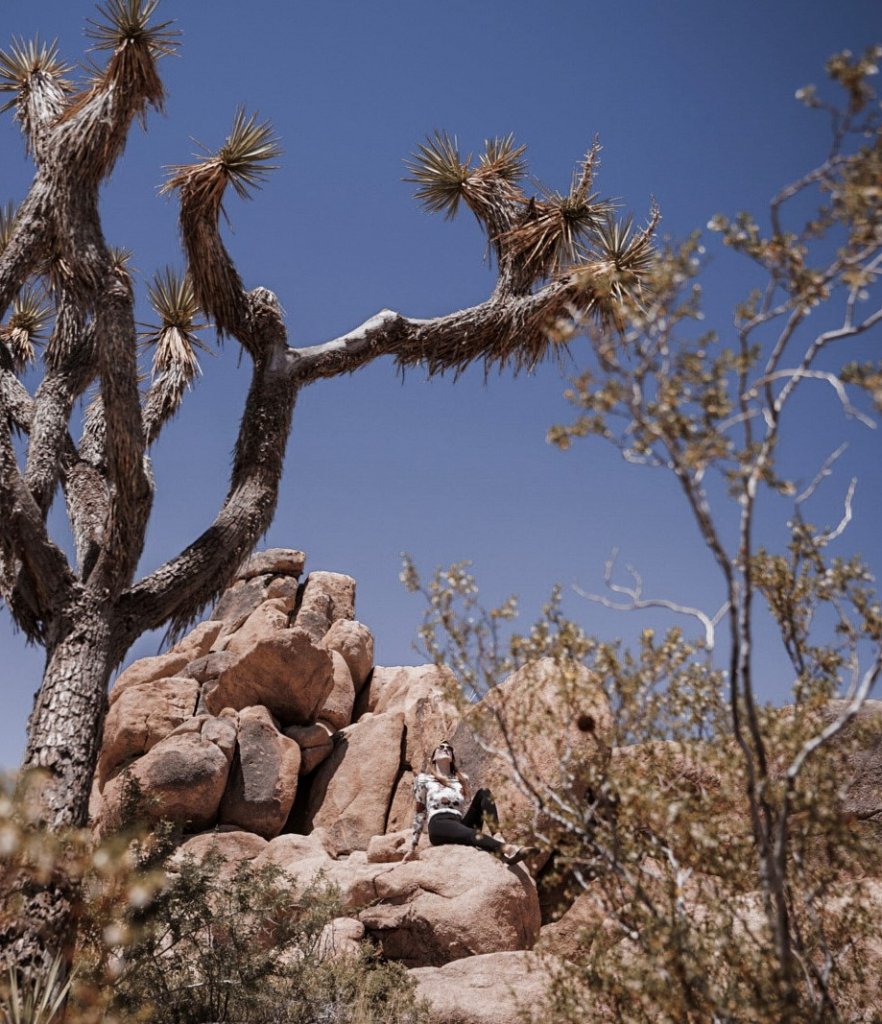 The north is where most of the hiking and camping lie, as well as picnic areas and rock climbing. The south is where the cactus gardens and untamed land lie, and is one of the best stops for sunset in the park.
I could actually go on and on about Joshua Tree, since it's one of my favorite places in the world, but – I already have. Check out my post on spending the perfect day in Joshua Tree here for my favorite hikes, sunset spots, and photo ops.
Anza Borrego Desert State Park
Day five and six of your desert road trip can be spent at Anza Borrego, a beautiful spot closer to San Diego. It will take roughly one and a half hours to reach the park entrance from Joshua Tree.
You would think that after four days in the desert, it would all start to look the same. But, Anza Borrego is another incredibly unique spot that is worth the visit.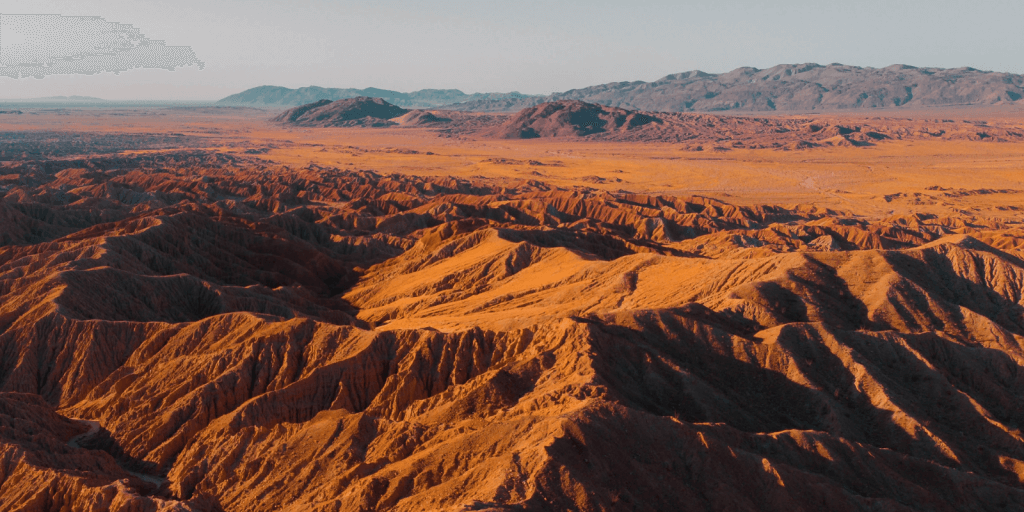 The mountains are one of the most breathtaking elements of the park. Incredible geological formations came about after a litany of earthquakes, erosion, and floods, and it is a sight to see. The scenery found on any of the hikes will not disappoint you!
Much of the park is inaccessible to visitors unless on a specified Jeep park tour. If financially possible, this is a great tour to take. Anza Borrego is also a designated International Dark Sky Park, offering some of the most spectacular nighttime views of the stars.
Camping is free and information can be found here. From this park, the final leg home will take just under three hours.
Last Day Tip: If you need a break from the desert, check out the nearby Borrego Springs area.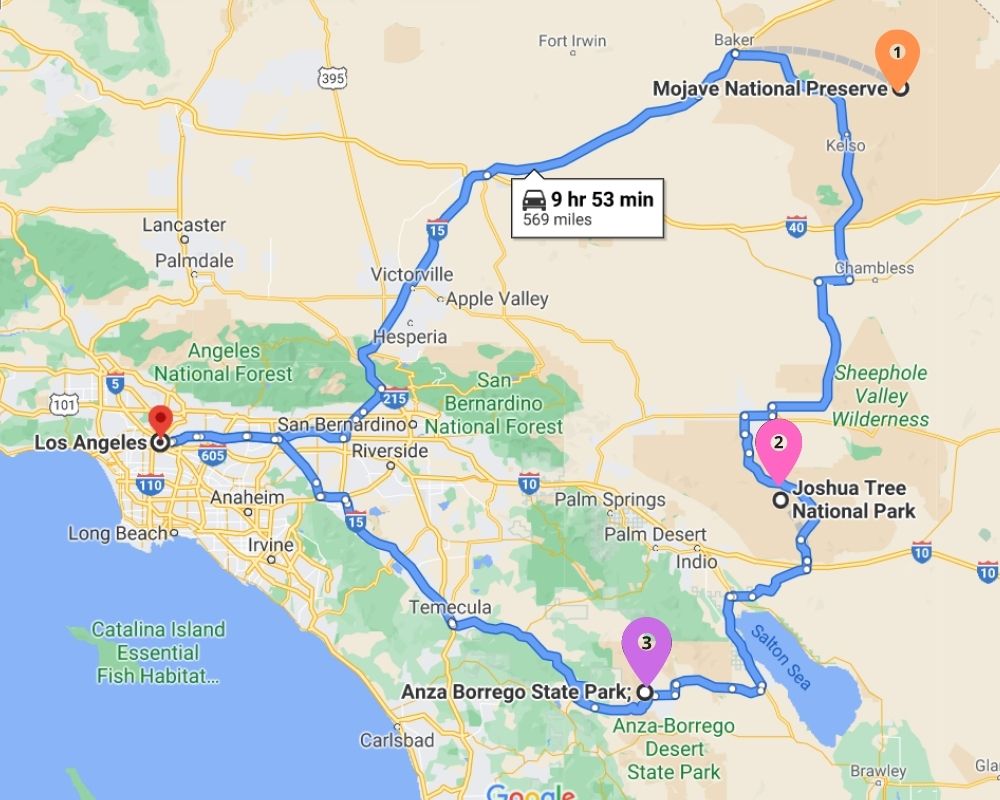 Hopefully you'll find these days connecting with the desert as awe-inspiring as I do! If not, maybe trip #2 is for you.

2) Drive Into Nevada – Offering So Much More Than Gambling!
Probably surprising myself most of all, Nevada has become one of my favorite stops in the Southwest. Seriously. While I personally don't enjoy gambling, I wasn't quite prepared to fall in love with the outdoor hikes and parks like I did!
I know what I just said. Gambling is not for me. But, if you do enjoy it, or if you just want to see what the Las Vegas hype is about, don't worry. This Los Angeles Spring Break road trip drives straight into Las Vegas, NV. And, there are plenty of odd and interesting stops along the way.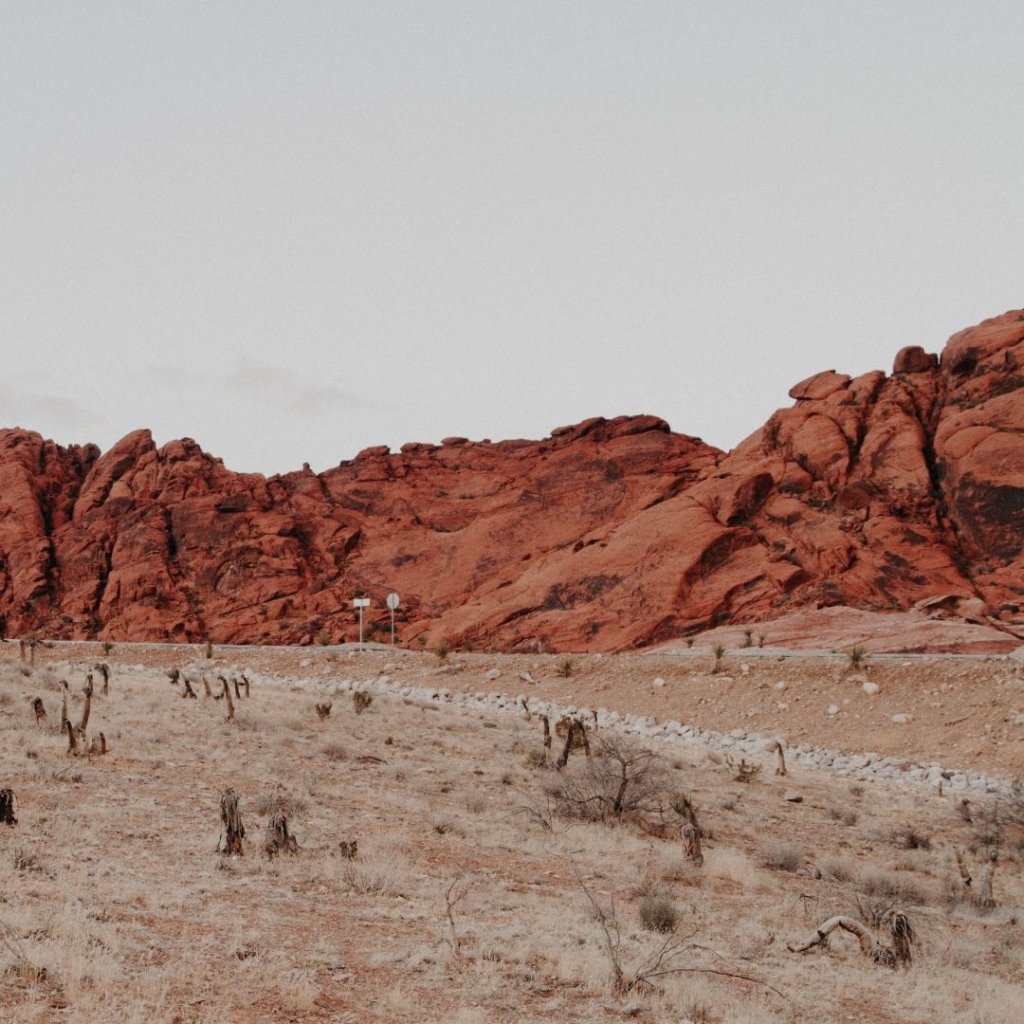 Las Vegas, Nevada
About four hours outside of Los Angeles, Sin City has enough of a reputation that I probably don't need to describe it to you. But just in case, here we go. Yes, the bright lights and loud ringing of casino games can be found here. Yes, fancy drinks and buffets are also well-known.
But Las Vegas does host incredible stage performances. As an aerialist myself, I always appreciate the Cirque du Soleil performances offered on the Strip. Dance shows, popular singers, magicians, and anything you can imagine has been hosted here.
So yes – eat up the nightlife if you need to. But I want to tell you about two must-visit parks in Nevada.
Red Rock Canyon National Conservation Area
First, very close to the Las Vegas Strip, is Red Rock Canyon National Conservation Area. This is a beautiful one day stop that sits approximately 25 miles outside of Las Vegas.
Red Rock Canyon offers a stunning 13 mile drive that is worth the visit even if you don't get out to do any hikes. But – how on brand – I completely suggest you do get out and explore. All relevant park information can be found here.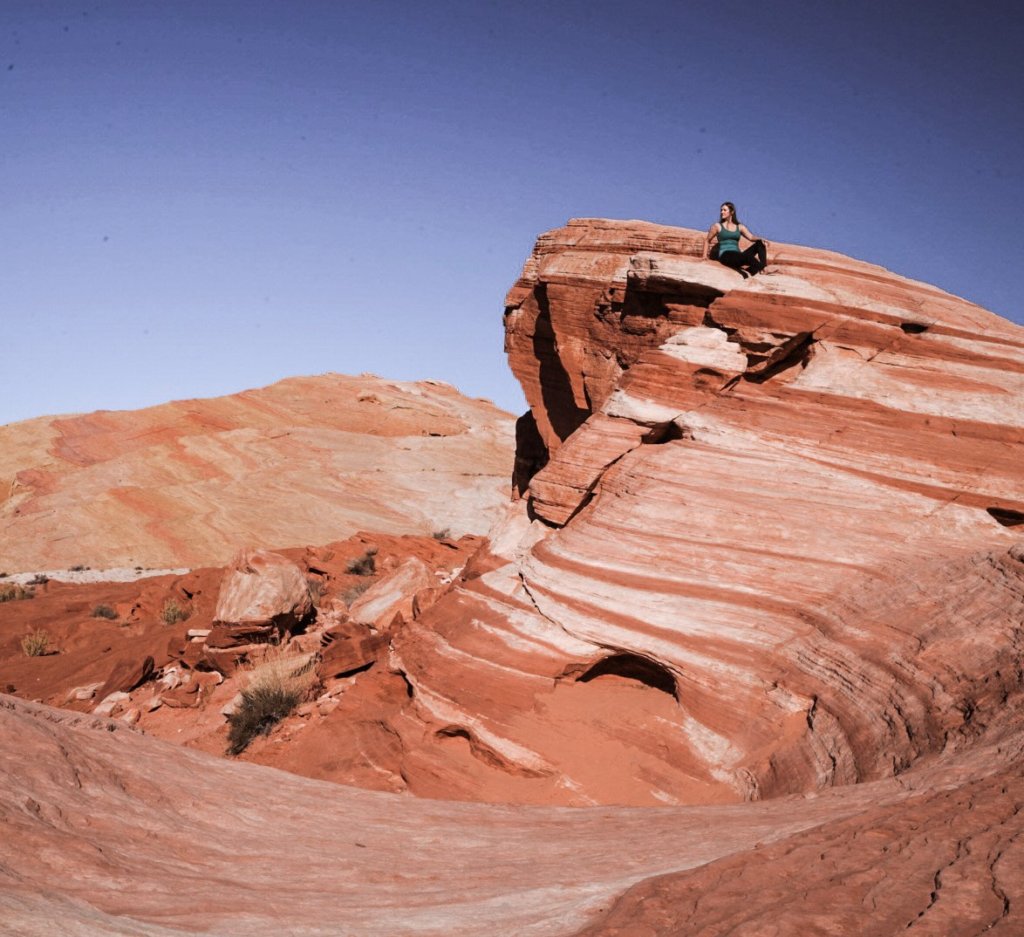 Valley of Fire State Park
One hour east of the Las Vegas area, Valley of Fire State Park was basically the pinnacle of my USA travels in 2020. It quickly earned the title of the Best State Park of the Year for me, and you should definitely go and see why!
Though Valley of Fire can be easily accessed in a simple day trip, I'd recommend spending at least two days here. Simply put, there are incredible trails and unbelievable rock formations, some dating back to the time of the dinosaurs, found around every corner. You simply can't see it all in just one day.
Though the hikes are short, the views are so incredible that I found myself spending a lot of extra time on the trails. Pictured below, the Fire Wave Trail was probably my favorite.
Out of all of the Los Angeles Spring Break road trips listed so far, if you are looking for a nice balance of night life and nature, Nevada might be your best option yet.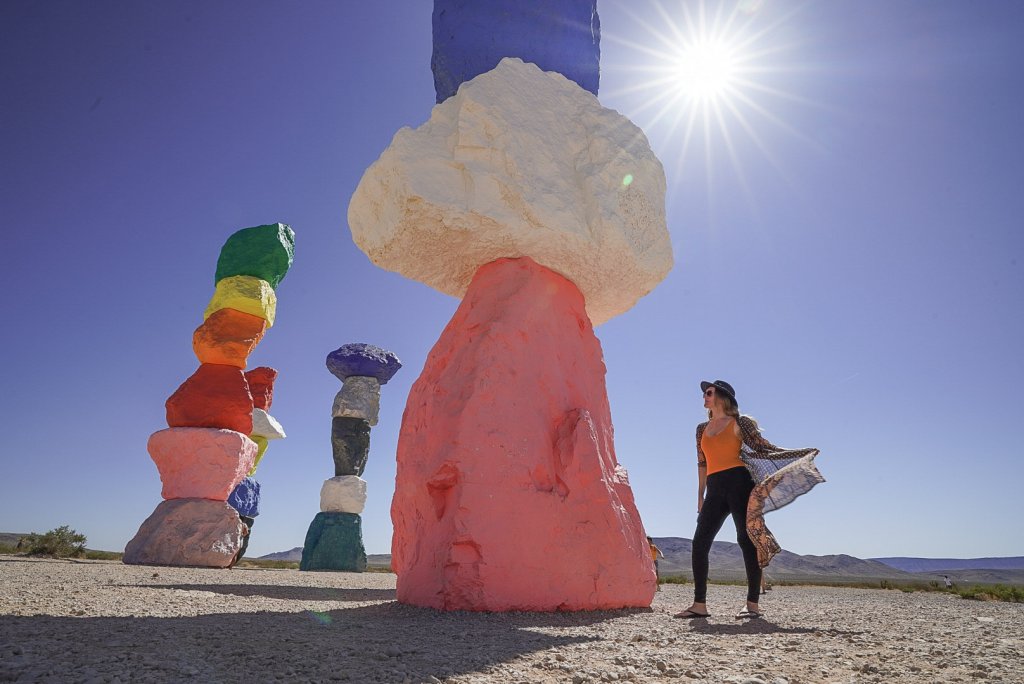 Seven Magic Mountains Art Installation
On the five hour trek back to Los Angeles, be sure to make a pit stop 20 minutes south of Vegas at the Seven Magic Mountains art installation. This is a great place to stretch your legs before crossing into California. You might as well get some great photos of this impressive artwork while you're here!
Build by Ugo Rondinone, these towering rocks are a stunning contrast to the surrounding desert. For my detailed breakdown on parking, hours, climate, and concept, click here. It's a cool artistic roadside stop that you've likely seen imagery of in Instagram!
3) Drive South of the Border into Mexican Wine Country.
Anyone living in Southern California is probably no stranger to the quick drive across the border from San Diego to Tijuana. And, as long as you're prepared, crossing the Mexican border can be easy and fun!
While I am a huge fan of the Baja Peninsula in general, there is a lesser known area called Valle de Guadalupe that is absolutely perfect to visit in the spring time! ??(Shout out to my friend Cecilia, my road trip pal for this one!).
Only three and a half hours south of Los Angeles, this is undoubtedly one of Baja's hidden gems. A beautiful wine country tucked in between deserts and mountains, offering gorgeous vistas, amazing food, and, of course, wine.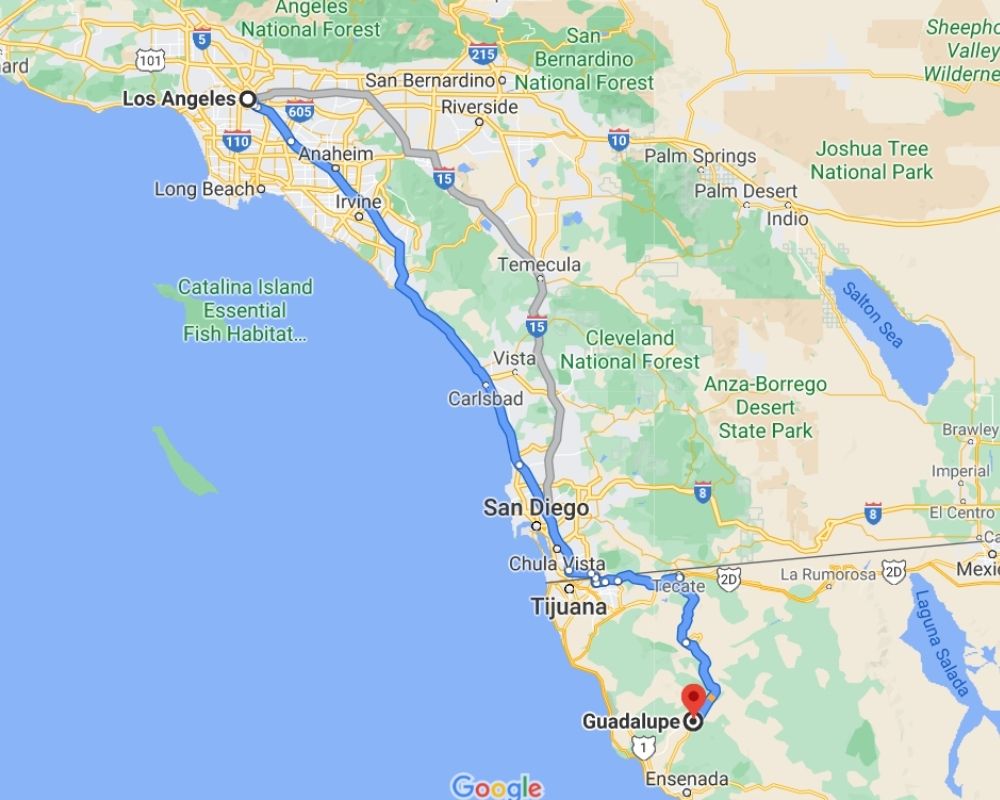 There are over 100 wineries in this increasingly popular region, located roughly 12 miles north of Ensenada. The wineries range from extremely modern and boutique to rustic and homey. Many of them offer world-class lunch and dinner options as well as an impressive array of wines.
This is an area that you can easily tailor to your specific budget, keeping costs to a minimum or going the more extravagant route.
With gorgeous vineyards, beautiful desert scenery, amazing food, impressive wines…. what's not to like?
If Valle de Guadalupe sounds like somewhere you might like to go, then my Valle de Guadalupe Travel Guide (coming soon) is a must read. There you will find in-depth tips on weather, costs, wineries, and safety.
You might also be interested in: A Baja Sur Road Trip
4) Arizona at it's Best
Ahh, incredible Arizona… I can't say enough about how beautiful your landscapes are. From barren desert to giant red rocks to Saguaro-dotted mountainsides… Arizona is seriously amazing.
I used to live in Arizona, so I easily have an entire blog's worth of Arizona favorite spots. But for your Spring Break road trip from Los Angeles, here is an itinerary that is both interesting and doable in a week.
Phoenix
First stop, Phoenix. Phoenix is roughly a six hour drive from Los Angeles, depending on your exact starting point. But, if you are road tripping with friends, it will go by pretty quickly.
Phoenix and the immediate surroundings offer a lot to see in a much more compact area than Los Angeles. It all depends on what your interests are, but here are some very cool spots to visit.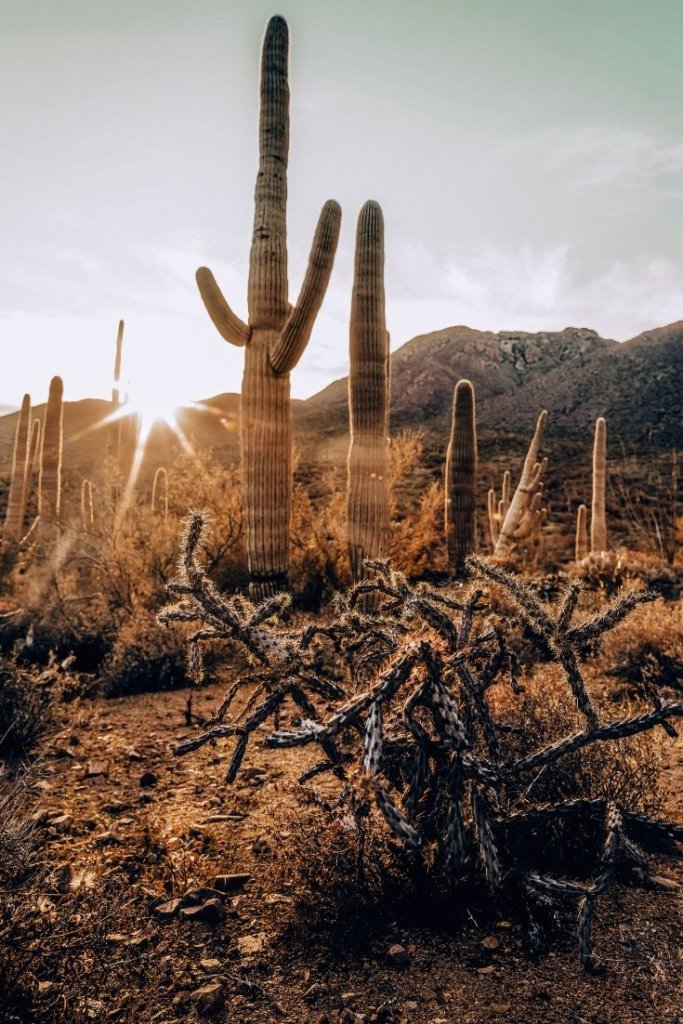 On the first Friday of every month, Downtown Phoenix hosts an Art Walk through more than 70 independent art galleries. It runs from 6 to 10 p.m. and I have found some really interesting pieces here. You'll also pass by restaurants and food trucks, so this is a fun activity before or after dinner.
If you're new to the desert, then definitely visit the Desert Botanical Gardens near Tempe. Full disclosure, this is coming from someone who loves the Southwest, but it's an incredible place to walk through. Lots of cacti, art exhibitions, and photo ops.
I get it – you're on Spring Break. Maybe you're not in the mood for cacti and art. In that case, head to Mill Road in Tempe. This is right near Arizona State University and has all of the coolest college bars.
Feel free to split your days to whatever fits your personality best, but I would recommend:
For those in the mood to party: prioritize the Phoenix and the surrounding areas and spend less time in Sedona and Flagstaff.
For those in the mood to hike and explore nature: prioritize Phoenix, Sedona and Flagstaff equally.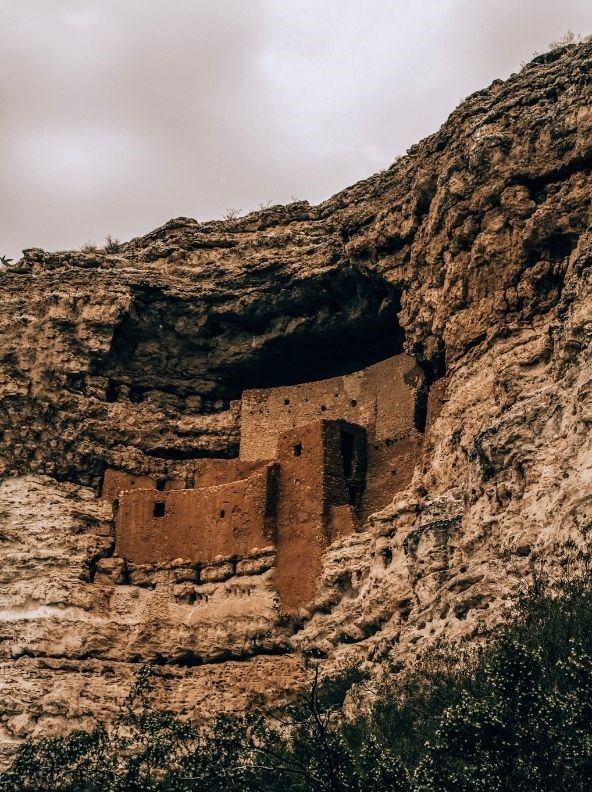 Sedona
Now on to Sedona, which is a short two hours north of Phoenix. Well, if you drive straight, that is.
I highly recommend leaving extra time to explore some of the offbeat and interesting things to see between Phoenix and Sedona. Click that link to be taken to a post that describes these spots in detail; everything from a natural stone bridge to ancient cliff dwellings to a before-it's'-time eco village to the mining ghost town of Jerome.
Once you reach Sedona itself, the tall and monumental rock formations will blow your mind. Reminiscent of Utah, these are certainly worth exploring! Hiking in Red Rock State Park would be a good way to stretch your legs and be inspired.
Besides the red rocky buttes, Sedona also offers a fun arts community, New Age shops, and lots of spas. The climate will be a pleasant change, becoming thick with pine forests instead of cacti. This is a great place to rest your head for at least a night and relax.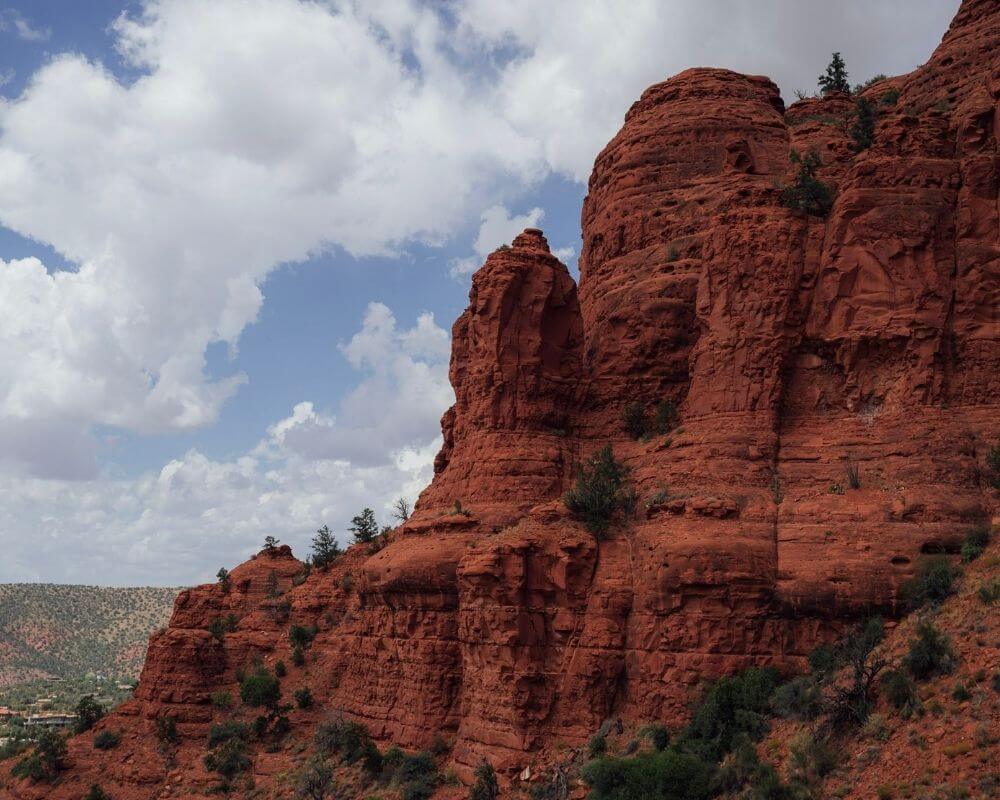 Flagstaff
And finally, on to our last stop – Flagstaff. Arizona's tallest mountain, Humphreys Peak, lives here. Hiking and biking are popular in the Flagstaff mountains, and it is easy to see why. You will be treated to more gorgeous scenery in the ponderosa pine forests of Arizona.
Astronomy and camping are popular here, due to the dark skies and bright stars. And, inside of the Roden Crater, the popular artist James Turrell is creating an observatory.
Piture Canyon is a fun place to discover petroglyphs carved by the Northern Sinaguan people, similar to those found in the Valley of Fire. And, there is also a great hike on the Moody Trail to a waterfall, so peaceful in the quiet surroundings.
Once you've split your week between these Arizona hot spots, it's time for your seven hour trek back to Los Angeles, where you have surely earned a good night's rest.
If this small taste of Arizona isn't enough, consider checking out my 12 Day California and Arizona road trip.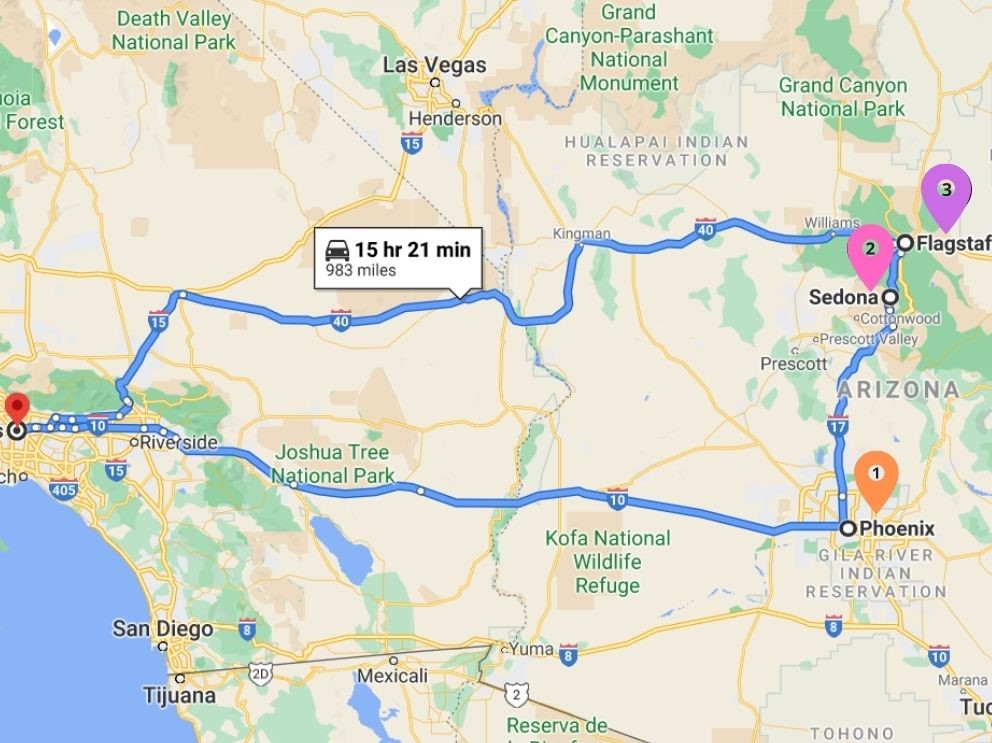 5) Head to Palm Springs for a Week of Pools and Parties
Palm Springs is the quintessential Spring Break Destination. This is absolutely the most popular of my suggested Los Angeles Spring Break road trip ideas… and with good reason!
Under a two hour drive from Los Angeles, Palm Springs is easy to reach. Not to mention, everything you'd need for a week of either relaxation or partying is at hand.
The hotels and resorts are no stranger to the Spring Break crowds – many are known to host large pool parties, hiring DJs and catering to the twenty-something crowd. Picture fancy cocktails, pool floats, and loud music, all with a stunning desert backdrop.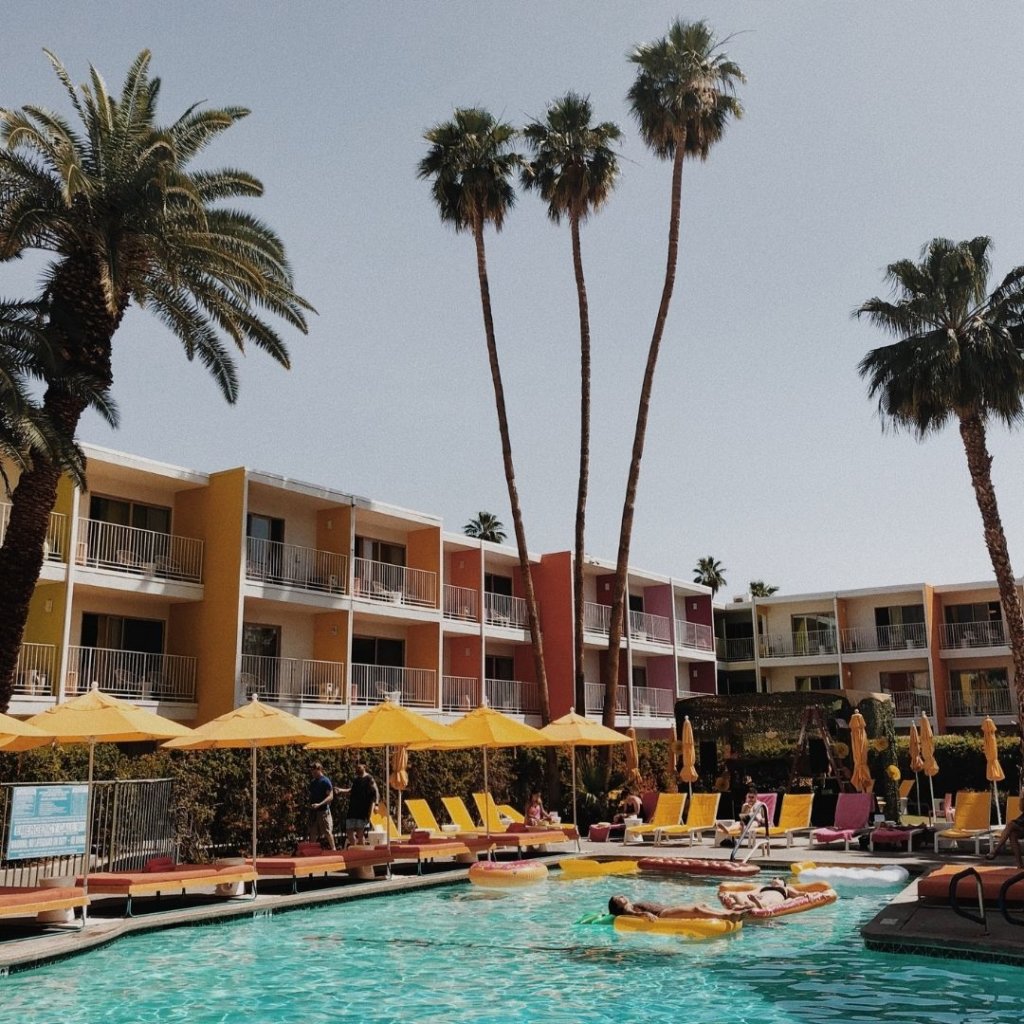 Springtime is actually the ideal time for visitors. The triple digit desert temperatures haven't yet begun and the beautiful sunny days are still on the cooler side.
For anyone looking to experience a bit of Palm Springs culture, there are plenty of attractions nearby. Consider visiting the Palm Springs Aerial Tramway, offering bird's eye views of the entire area, or the Botanical Garden, or even the Palm Springs Art Museum, which has a surprising collection.
I have an in depth post all about Palm Springs and the many attractions.

Palm Springs is also a gateway to Joshua Tree National Park, so if you are not interested in the entire desert road trip above but still want to check out this amazing park, you can.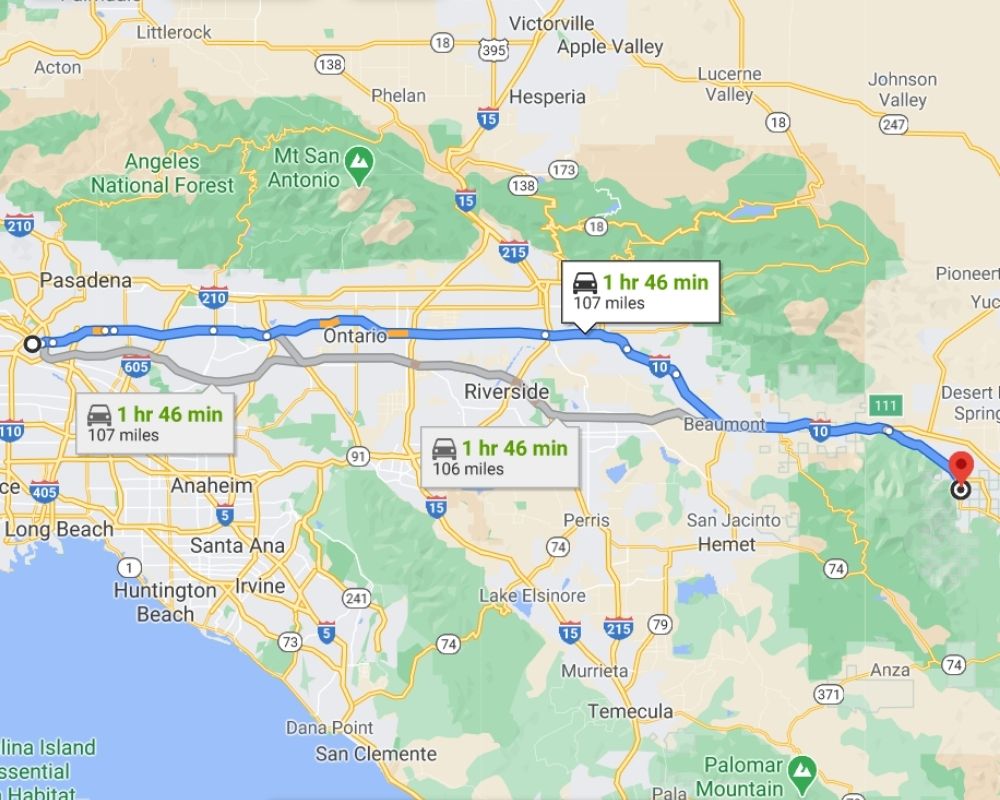 So let me know in the comments below – which one of these Spring Break road trips from Los Angeles would you take?
Pin Me for Later!