Looking for the best things to do in Moorea, French Polynesia? I've got you covered! Here you will find all the adventurous things to do in Moorea, the free things to do in Moorea, and even a few off-the-beaten-track ideas on what to do. I'll bet you'll fall in love with Moorea just like I did. Let's go!
Pin Me for Later!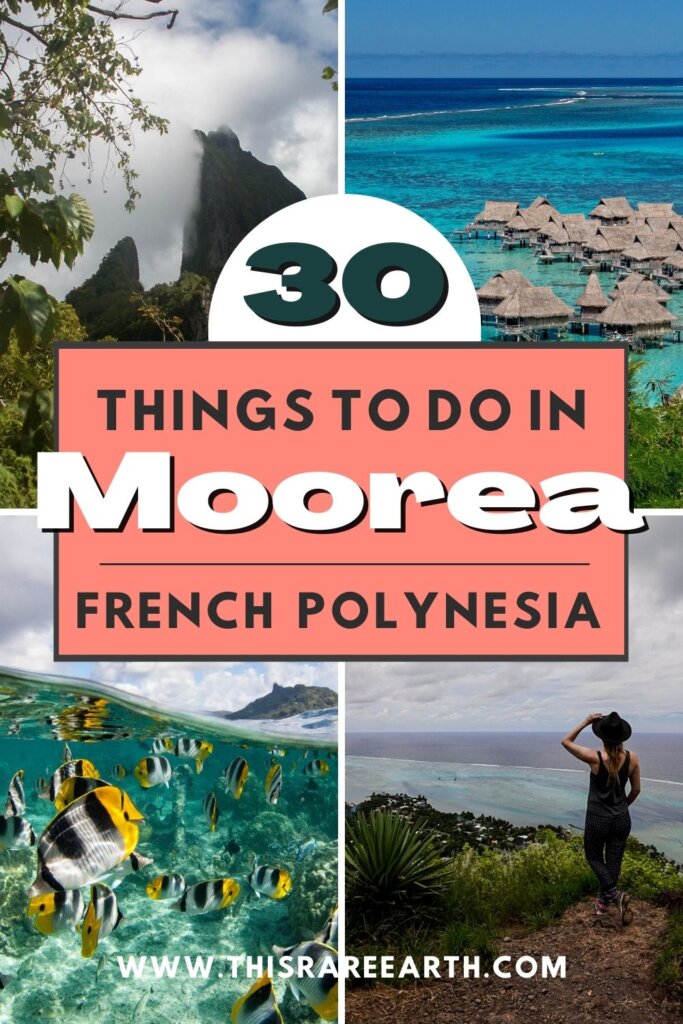 Want to see it all without the hassle of planning? No problem! Check out these top Moorea tours:
4WD Tour of Moorea: This tour includes transport to top Moorea attractions, like the Pineapple Farm, Belvedere Lookout, Magic Mountain, and Rotui Juice Factory. This tour is my top suggestion for anyone who wants to see everything that Moorea has to offer. Includes pickup and dropoff. Book your tour here!
Private Catamaran Snorkeling & Sailing: Enjoy a private day at sea aboard a catamaran charter on this half-day excursion. Snorkel and swim with rays, sharks, and tropical fish or lay out on the boat's deck for some sun. Snacks and drinks included. Book your tour here!
At least once per year, I find myself departing from my beloved deserts of the world in search of something more tropical. And I've gotta say, it never disappoints.
This year I visited French Polynesia. The bucket-list worthy, full-of-honeymooners, teal blue ocean French Polynesia. Home to Tahiti and – my new personal favorite, Moorea.
I chose to spend most of my time in Moorea because of the activities. I wanted the lush green hikes, the incredible mountain peaks, the clear blue ocean and the cultural gems.
And, I got it all, in spades. I fell in love with Moorea during my time here, and I have no doubt that you will too!
To help you plan the best trip possible, here are all of the best things to do in Moorea – from outdoorsy to nautical to cultural and beyond. Let's dive in – I am sure you'll find a lot here to add to your itinerary.
You May Also Like: How To Take the Ferry From Tahiti to Moorea
30 Things To Do in Moorea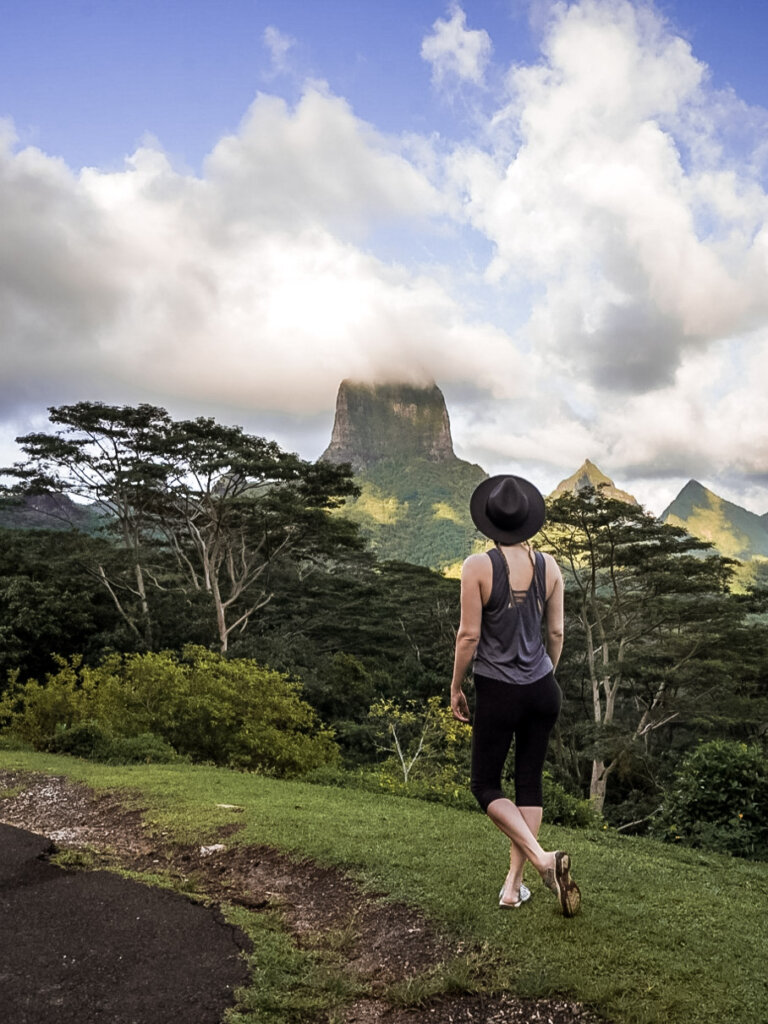 1. Belvedere Lookout
The Belvedere Lookout is one of those iconic viewpoints that you just can't miss!
Overlooking both the Opunohu Bay and Cook's Bay, this panoramic viewpoint is breathtaking. You'll be treated to lush green forest, jagged peaks, and blue ocean out in the distance. It is one of the best things to do in Moorea, hands down.
I visited Belvedere Lookout several times during my visit and one thing I loved – each and every time I got a different view! The clouds and mist moved, the sun shone differently, and the water was more or less blue. It made each trip completely unique.
Pro Tip: Don't just snap pics from the paved area. Walk down to the dirt just below the parking area for an even better spot, in my opinion!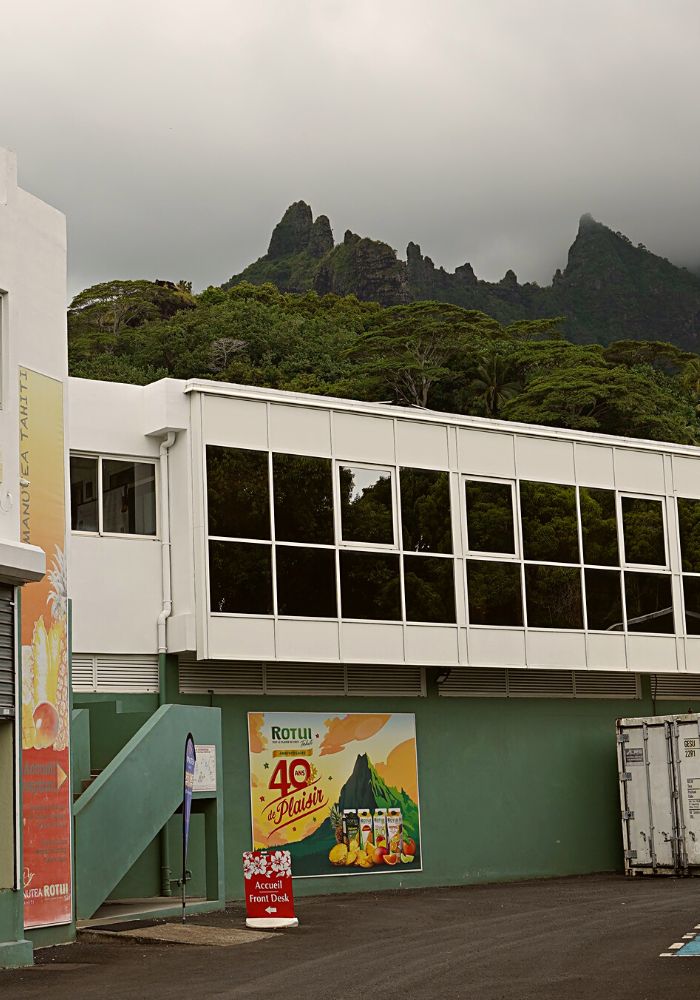 2. Rotui Juice Factory & Distillery
The Rotui juice Factory is the largest and most famous producer of tropical juice in French Polynesia. And, I would wager, the tastiest, too.
On site, this factory produces everything from mango juice to tropical blends to lime iced teas and much, much more. And they are experts at keeping that strong fruit taste without adding a bunch of artificial flavors!
Rotui also is a distillery of many types of alcohol. They have coconut liquors and the famous Tahitian Blend as well as ginger and passion fruit based alcohols. And, visitors to the factory get to do two things:
Tour the factory itself. This is a self-led tour, not a guided one, but I did learn quite a bit about the juice-making process.
Have a juice and/or alcohol tasting. Inside the shop, you can taste a selection of juices and / or fruits to see why I rave! The selection changes each day so you never know what you might try.
Pro Tip: If you visit the Rotui Juice Factory as part of a tour, your tasting will include something like seven types of drink! If you visit solo, you might be lucky to try three. So, if you want to get the most out of it, consider joining this tour, which I personally took and highly recommend. More below!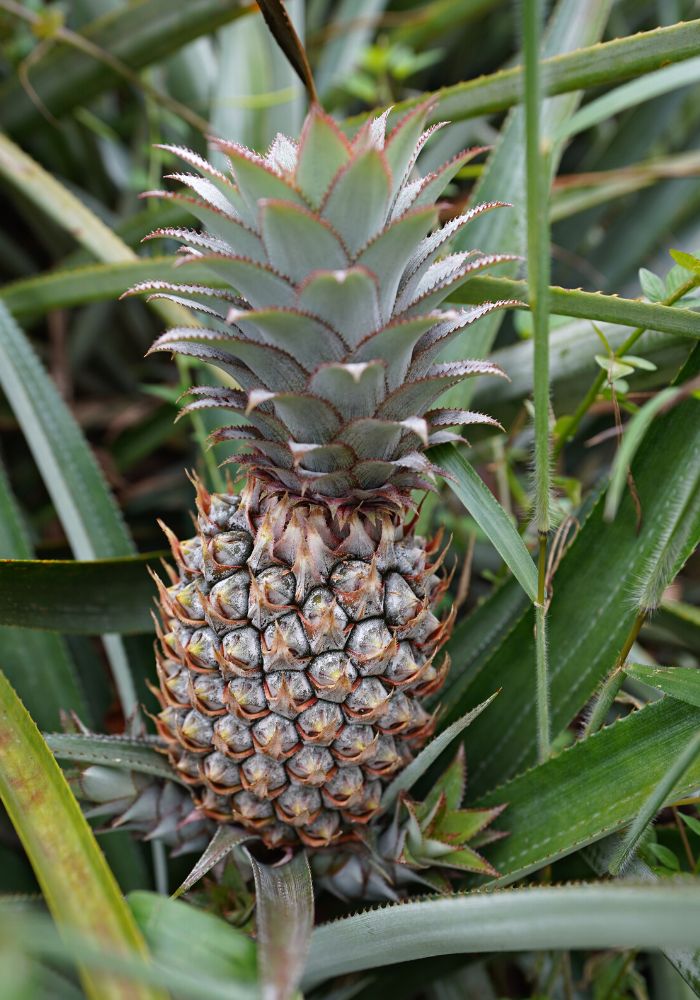 3. The Route of Pineapples
The Route des Ananas (route of the pineapples) is exactly what it sounds like. It's a long winding road that takes you through never-ending pineapple fields! And, it is just beautiful.
Some areas are haphazardly overgrown while others are neatly set. But, everywhere you look, pineapples!
Fun fact, I learned that pineapple plants produce for five years, but that the fruit keeps getting smaller each year. The farmers then remove the plants and let the soil rest for only three or four months before planting more.
80% of the pineapples produced here go to the Rotui Juice factory, so you know you are getting fresh pineapple when you buy their juice! The other 20% is sold on road-side stalls and in the grocery stores.
Pro Tip: Listen up! The Route des Ananas is awesome! But, it is forbidden to explore by rental car or motorbike. Don't risk it. Book a tour that stops here instead.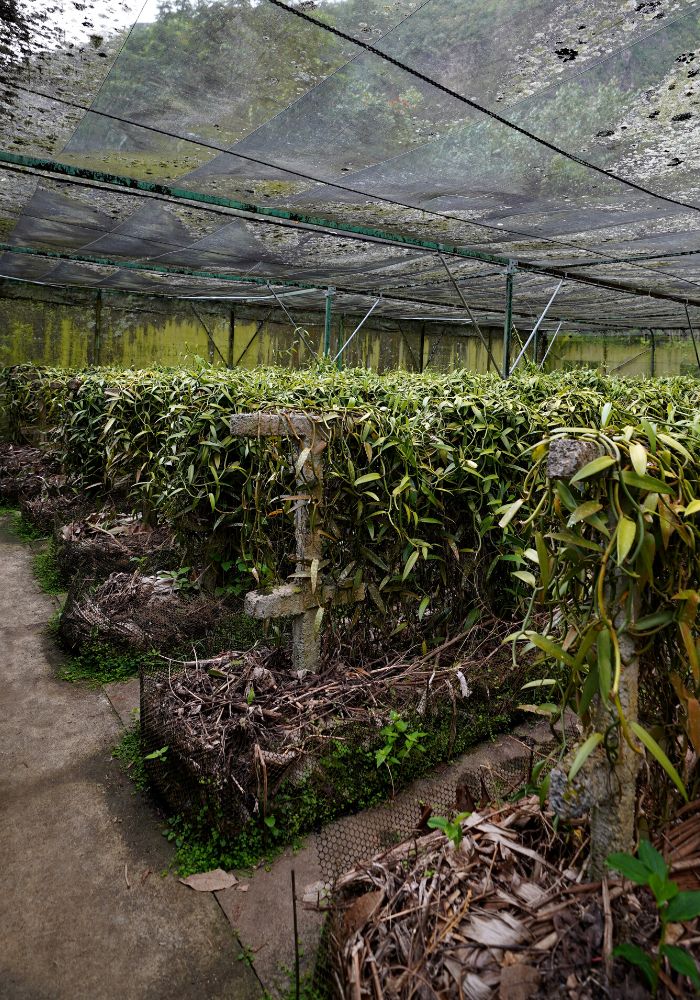 4. The Tropical Garden
The Tropical Garden is a small, family-run operation that produces some of the freshest fruit jams you will ever eat as well as grows fruits and plants on site.
Walk through their passion fruit vines and learn about tropical fruit cultivation. Did you know a banana tree produces fruit only once in its life? Neither did I! Until I visited here, that is.
You can also walk through the greenhouse filled with vanilla plants. The family has to hand-pollinate each and every vanilla bean pod as vanilla originally comes from Mexico and they don't have the bees here that would pollinate it in the native landscape.
The Tropical Garden is one of the best places to go on Moorea, and is definitely a hidden gem. The marmalade is delicious, the family is so friendly, and the fruits are gorgeous. Go!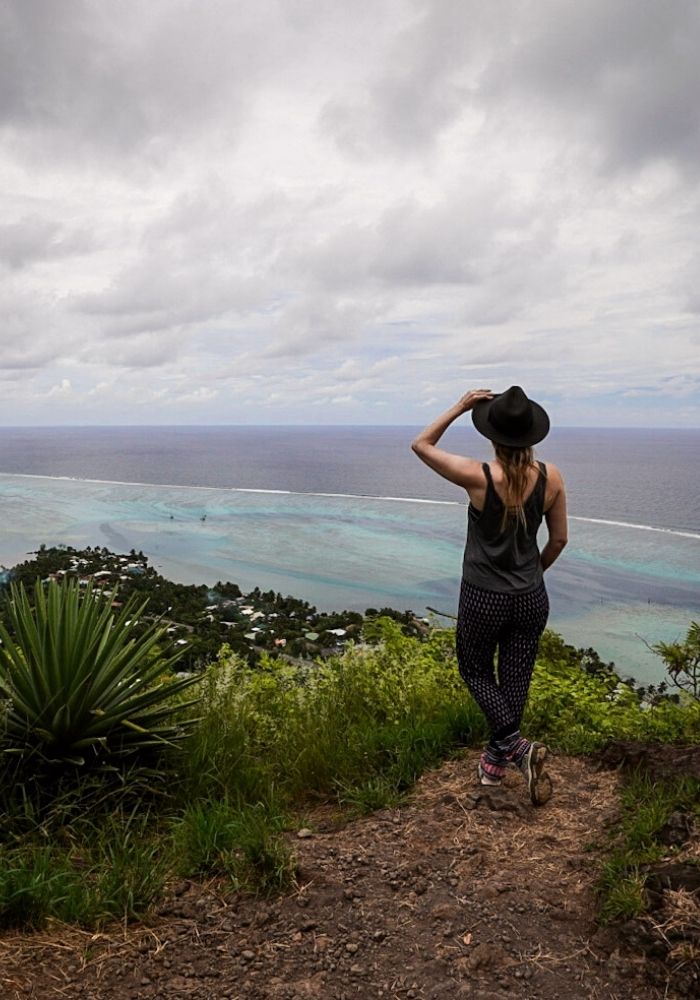 5. Magic Mountain
Magic Mountain offers one of the best panoramic views on the island, and is easily one of the top things to do in Moorea. But, it is not easy to reach.
This is another location that is banned by rental car companies, due to the insane winding road leading up to it. You will be tossed back and forth as you climb this mountain-side road, but I found it quite fun!
That is actually why they named it Magic Mountain – after the roller coaster amusement park in California!
You can choose to hike up to the top for a $2 fee, but I warn you that the hike is not easy. It is hot, humid, and has lots of ups and downs.
Or again, you can visit Magic Mountain as part of a tour. Your $2 fee will be included and you can ride along to see all of the pine trees, grapefruit trees, and various lookout points on the way to the main attraction.
Pro Tip: Listen up! Magic Mountain is an incredible viewpoint! But, it is forbidden to drive here by rental car or motorbike. Don't risk it. Book a tour that stops here instead.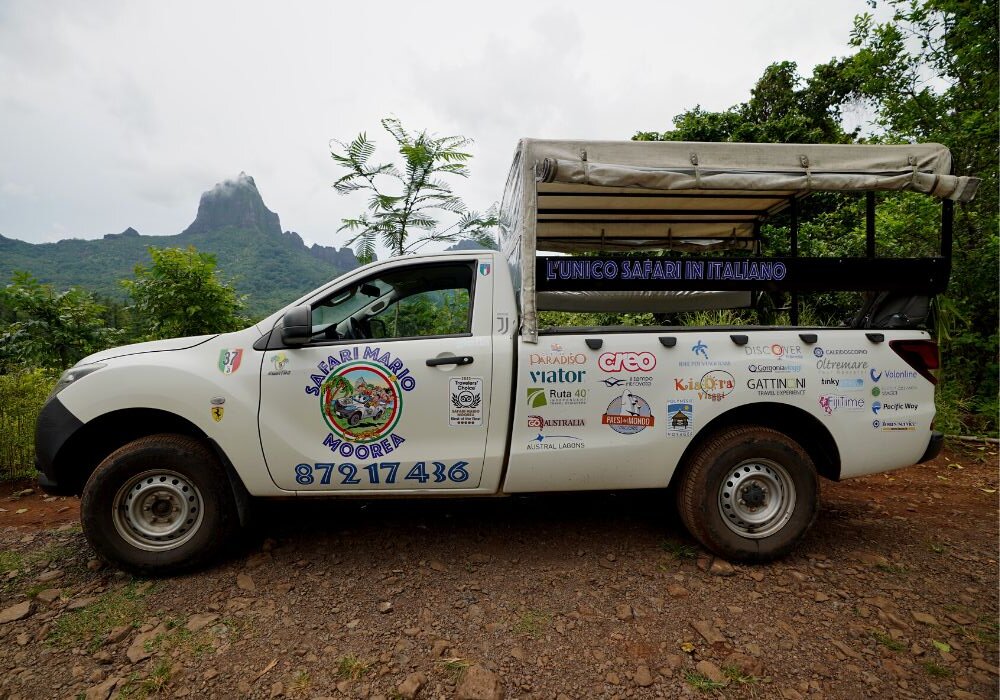 6. Take a 4×4 Tour (visiting all 5 sites above)
If you are interested in the stops above, I highly encourage you to book this 4×4 Tour that visits each of these can't miss places! That is exactly why I booked it – because I wanted to see the Route of the Pineapples and didn't want to risk getting in trouble with the rental company.
I have to say, this tour delivered more than I even expected. I never would have found a place like the Tropical Garden on my own! And, it was one of my favorite stops.
My guide Ron was full of information about the island and answered all of my strange plant questions, too. I cant recommend it enough. And remember, you'll get a much bigger tasting at the Rotui Juice Factory, see the pineapple plantations, and hit Magic Mountain, too.
Definitely book this tour if you want to see the stops above and gain a deeper insight into the island life!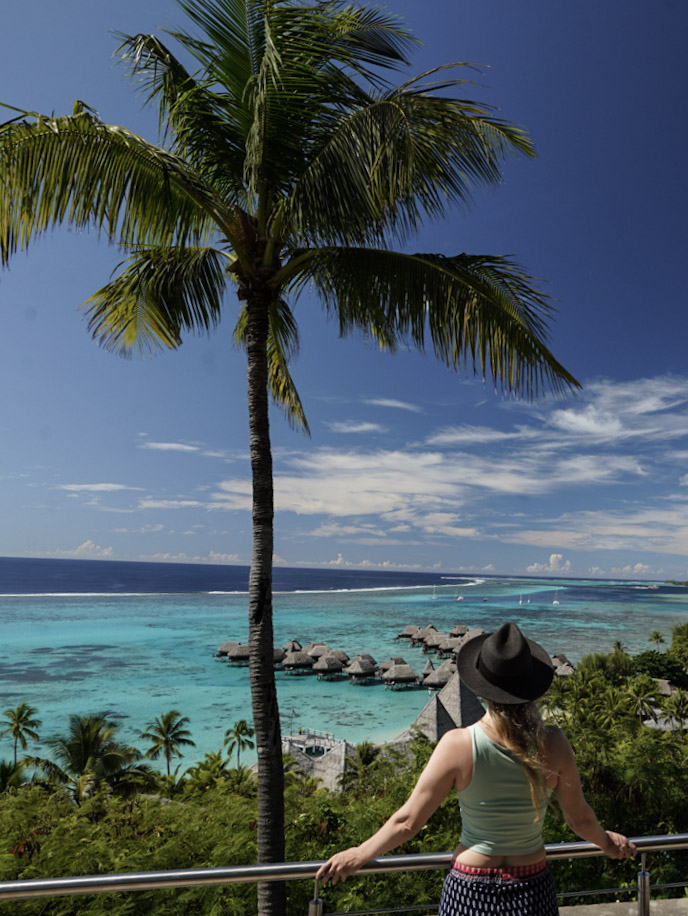 7. Teotea Lookout
Did you even visit French Polynesia if you didn't see the overwater bungalows atop sparkling turquoise water?
I joke, but the Teotea panoramic Viewpoint is a gorgeous place to stop and is certainly one of the best things to do in Moorea! It is a simple road-side pit stop with plenty of parking. People just hop out of their cars, snap a few pics, and then continue driving.
Super easy, and definitely worth it!
Located on the western shore of Moorea, and facing the silhouette of Tahiti in the distance, here you will get the most incredible view of turquoise waters off the coast.
The bungalows pictured here are the Sofitel Kia Ora overwater bungalows. I would say it is worth booking one night if you have never stayed in lodging like this! It will cost a pretty penny but like I said – at least one night here for a splurge!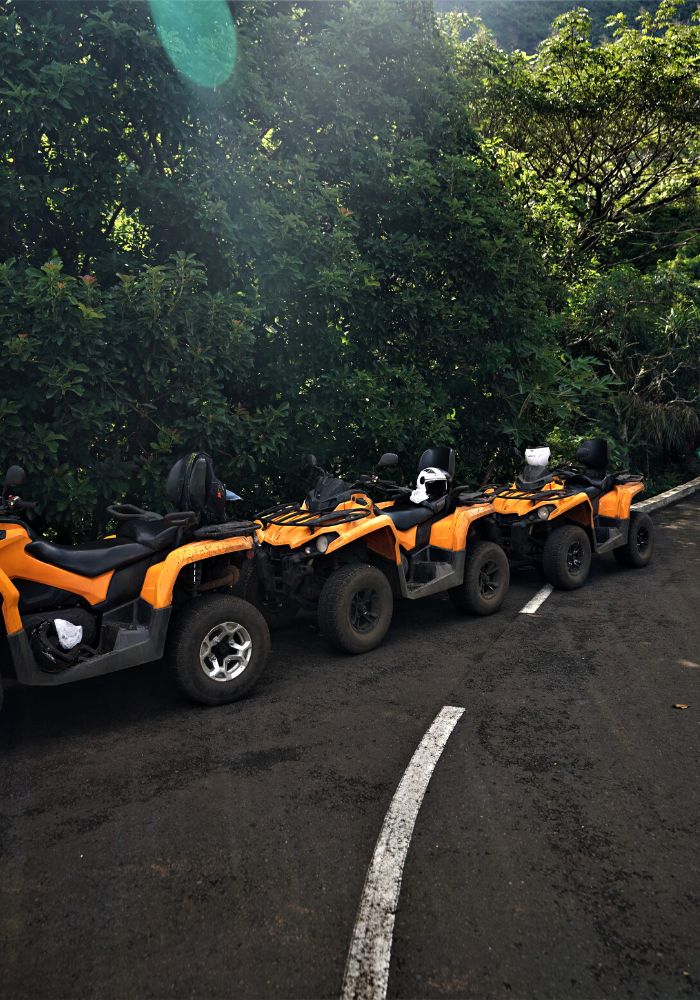 8. ATV Tour
One of the most adventurous things to do in Moorea, an ATV Tour is not to be missed for anyone seeking a thrill!
I always love a good ATV tour, and Moorea's didn't disappoint.
Drive the roads, cross the rivers, and smell the fragrant fruit plantations on this tour! You'll get to see parts of the island that just can't be reached by car or scooter. Thrill-seekers, don't skip this one.
This ATV tour includes a stop at the Belvedere Lookout and the Rotui Juice Factory. So, three birds in one stone?
Pro Tip: These tours run rain or shine so be sure to pack a waterproof shell like this one. It is rollable and foldable into a baseball-sized pouch so it is super easy to keep on hand. And, depending on when you visit, you very likely could get bursts of rain.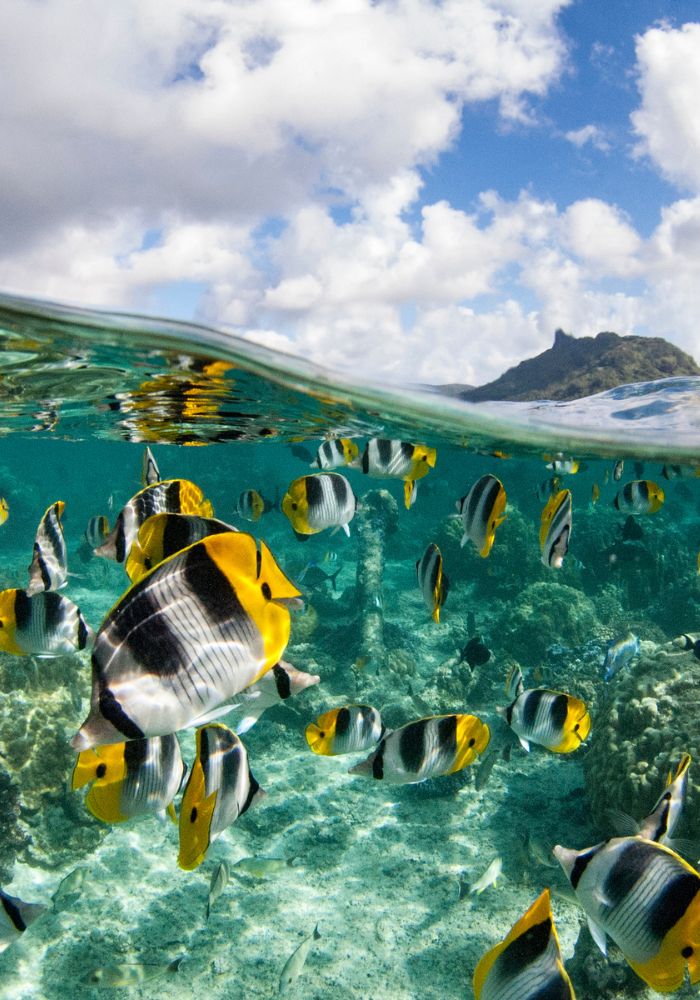 9. A Snorkel Trip
Want to get father out into the ocean for your snorkeling? I get it! There's only so much to see right offshore.
If you are a mermaid at heart, consider booking this full day snorkeling tour and set sail on a traditional Polynesian outrigger canoe.
Take in the tropical scenery by boat, go swimming and snorkeling in the Pacific, and have a cooking lesson and a barbecue lunch on a tiny island.
This tour includes all of your snorkel gear and pickup and dropoff from most hotels.
Note that this is a shared group tour with a maximum of 12 guests. But if you prefer a quieter experience, book a private snorkeling tour here.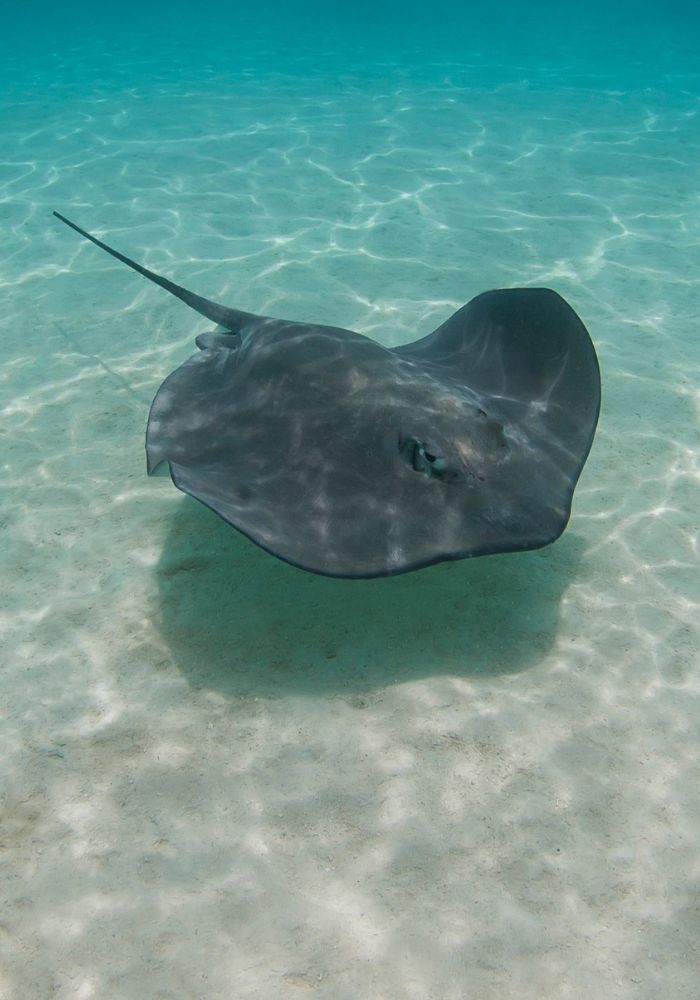 10. Power Scooter Snorkeling
I first became aware of the "scooter" snorkeling phenomenon while traveling Aruba some years back. And, I thought it was such a cool idea!
Think about it – you get deeper in the water faster, meaning you get to see more than you can while just holding your breath and swimming down.
Well, French Polynesia has the same opportunity. As one of the most unique things to do in Moorea, this tour is a must for anyone who wants to see the underwater world.
Set in gorgeous Tamae Bay – one of the prettiest snorkeling spots on the island – this effortless experience will introduce you to Moorea's ocean life. Your guide will point out the stingrays, sharks, dolphins, and turtles that you may come across.
11. Scuba Diving
If you are an expert diver, or have always wanted to get your certification, why not go for it in Moorea?!
Moorea Blue Diving is a top-rated diving center on the island. The offer everything from an introductory dive to dive packages and private boat rides. It is located in Tamae Bat, so you know you are in crystal clear water (not to mention, with expert dive instructors!)
You can dive at all hours, from sunrise to midday and even during the full moon. The diving business is located on the grounds of Manava Moorea Resort.
More info and current prices can be found here.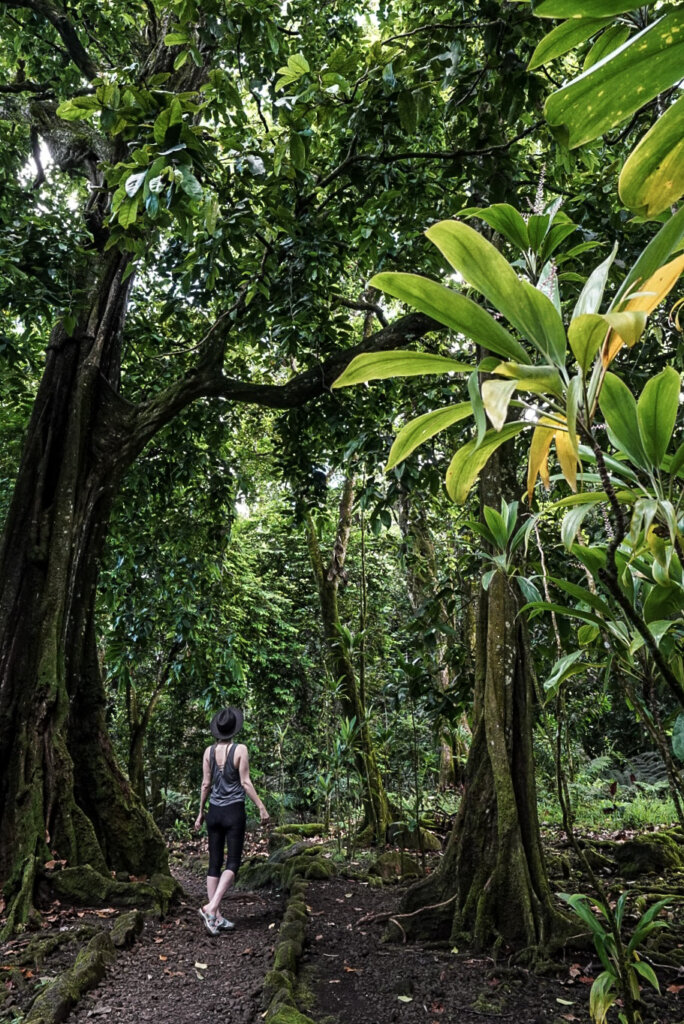 12. Three Pines Pass
Three Pines Pass was the first hike I did in Moorea, and it was a great one! However, I do need to warn you up front – the mosquitos on this path are relentless!
Pro Tip: Instead of packing a liquid or aerosol bug spray, opt for these bug repellent wipes instead! Since I travel carry on only most of the time, I can pack as many of these as I wish and not take up one ounce of my liquid allotment. Score! Get your bug wipes here.
On Three Pines Pass, expect jungle. Big green leaves, lush and dense forest, and dirt (or sometimes muddy) trails. This hike is rated as Easy and will take you through roughly 2 miles of trails.
This short but enjoyable hike leads you through lush forest to three pine trees (hence the name.) You'll get great panoramic views overlooking some of the pineapple fields mentioned above. Find the trailhead at Belvedere Lookout, on the left hand side of the parking lot.
It's a great way to spend a few hours! Just leave early before the heat sets in and make sure you wear a pair of sturdy trekking sandals like the ones I have on above. Can't live without them!
You May Also Like: A Moorea Hiking Guide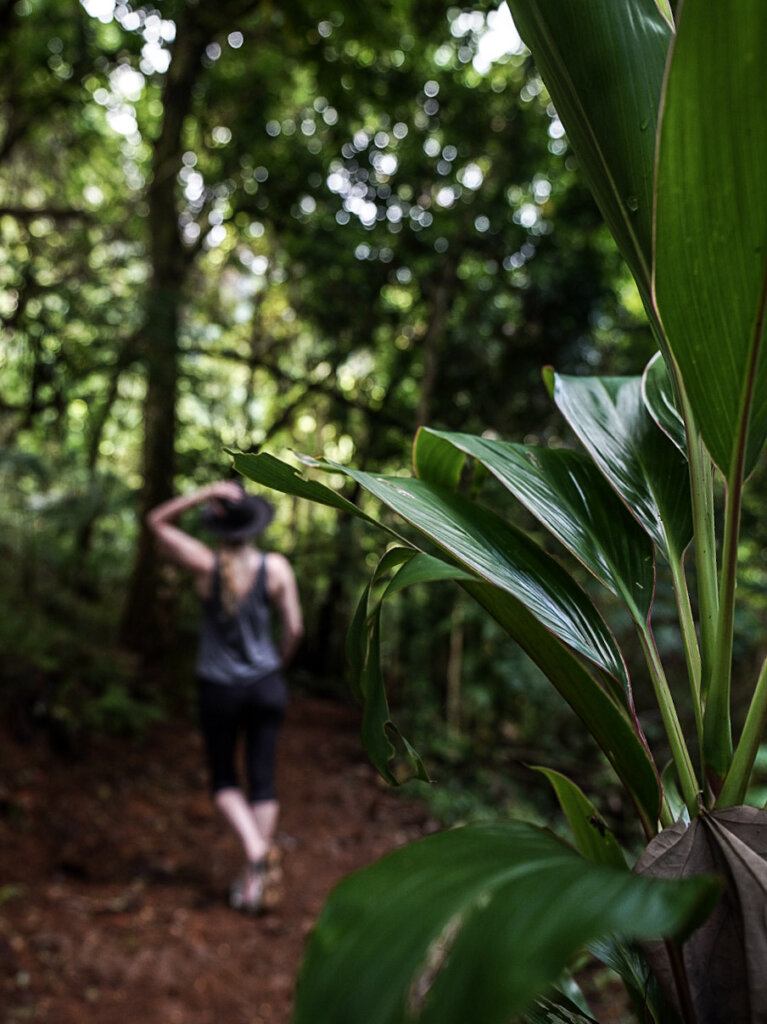 13. Three Coconuts Trail
Also starting at the Belvedere Lookout, Three Coconuts Trail begins on the opposite side from Three Pines Pass. Find it on the right hand side of the parking lot if your back is toward the bay.
Three Coconuts Trail is more challenging than Three Pines. This roughly 4 mile trail winds through similar terrain – so expect wet and muddy earth surrounded by lush green tropical plants.
The trail is well-marked, and you are likely to pass by another hiker or two during your trek. You'll be rewarded with some great views at the end!
Pro Tip: Similar to Three Pines Pass, you will definitely want to have bug repellent wipes and solid trekking sandals. However, because of the length of this trail, and the heat and humidity, I also highly recommend a hydration backpack. It will save your life!
You May Also Like: The Best Hiking Gear for Women
14. French Polynesian Temple Sites
I wasn't sure what to expect when I heard about Polynesian Temples, but it's an easy and free stop to make.
On the road up to Belvedere Lookout, you will see a few archaeological turn-offs. These are what await.
These ancient temples were once used for human sacrifices, and actually, it's quite rare to see them in the forest. Typically, Polynesian sacrifices were carried out at the shore, so that the spirits could fly out with the ocean.
In the forest, the souls are believed to be trapped here. So if you feel the hair rising on the back of your neck, you're not alone.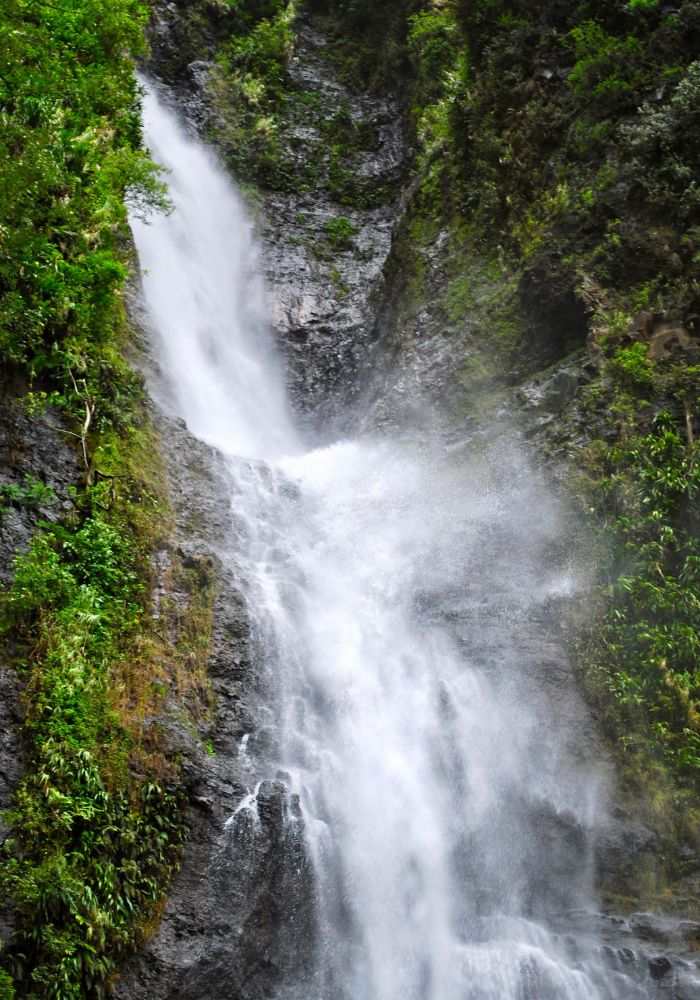 15. Visit Afareaitu Waterfall
If you prefer to be on land rather than in the the water, then a trip to Afareaitu Waterfall might be for you.
A hike to the Afareaitu Waterfall is off the beaten track, and it is one of the most fun things to do on Moorea! The views are top notch!
Picture lush green vegetation, bright tropical flowers, and the sound of birds above. That is what you will see heading to Afareaitu Waterfall. A short 45 minute walk will lead you to the base of the impressive waterfall, where you'll be able to enjoy a well deserved swim in the pool below.
Pro Tip: Don't forget to bring a packable travel towel for after your swim! And once again, I highly recommend these bug repellent wipes.
While it is completely possible to hike to this waterfall solo, you can also choose to book a tour here, too – particularly if you do not have a rental car.
A half day tour will hike you through the lush jungle while your expert guide teaches you about the legends of Moorea.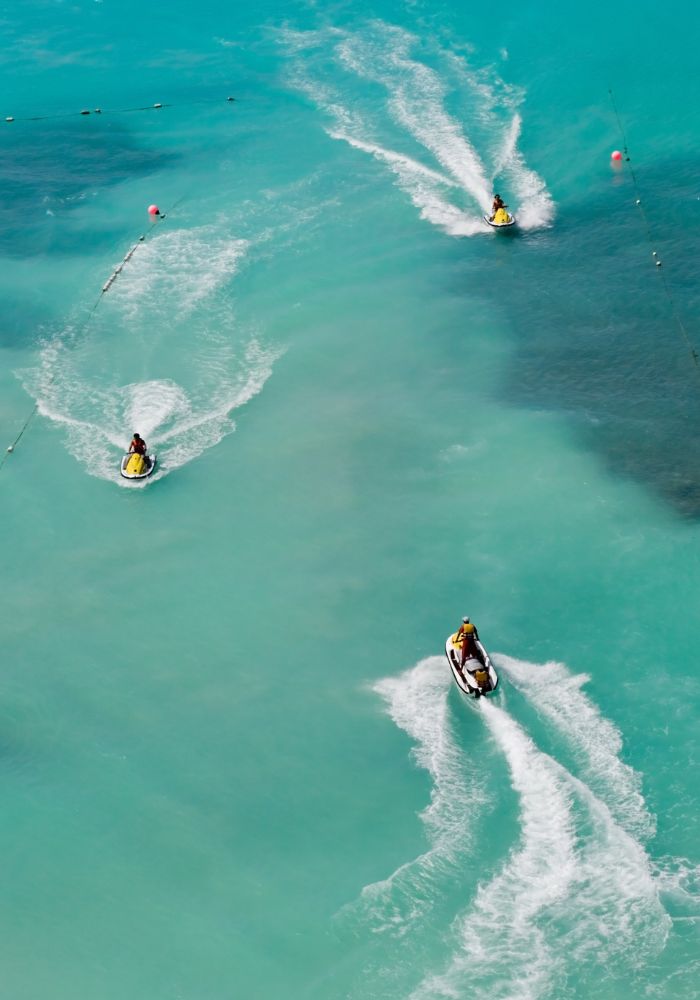 16. A Jet-Ski adventure
I saw loads of jet-ski excursions during my time on Moorea, and by the last day, I just had to find one for myself. I love to jet-ski! In fact, I used to do this every summer as a kid, and even as an adult it never gets old.
If you love to jet-ski, or just want to try it, there is no better place on earth to book a jet-ski tour. Moorea is pure beauty, and the clear water is breathtaking!
Whether you're a beginner or an experienced jet skier, this three-hour tour is tailored to your needs. You'll also get to swim with rays, colorful fish, and even sharks.
17. Horseback Riding
Ranch Opunohu Valley offers solo or group horseback riding tours in the lush green landscape on the island. The trail and timeframe can be set with the owner and guide of the ranch, so it is really up to you how long you wish to go for!
They cater to both new riders and experienced riders alike. You may see some of their horses grazing as you drive the island – that is actually how I first learned about them.
You can call, or have your hotel call, this number to set up a trail ride: +689 87 78 42 47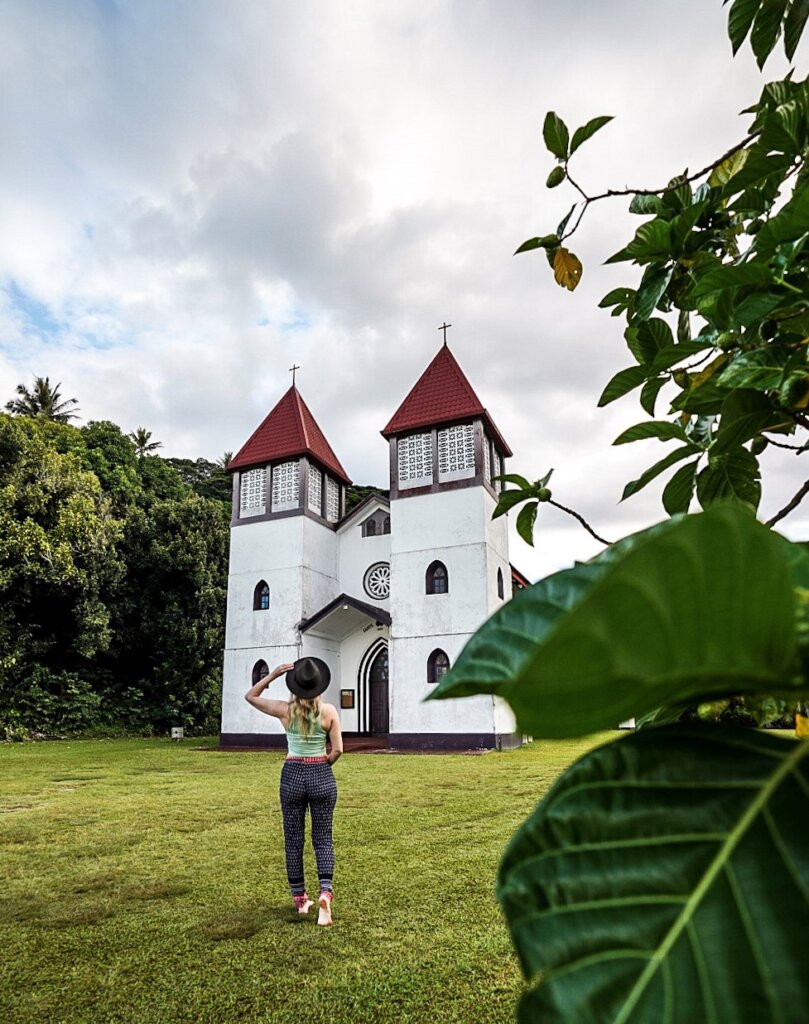 18. Explore the Churches
I had a great time locating all of the small and pretty churches around Moorea!
From churches to chapels, they all have a picturesque spire (or two) heading up to the heavens. And, architecturally, they are just super interesting.
My favorite was probably the old St. Joseph's Chapel, but all are picturesque.
On Sundays, you can explore the inside, too. Be sure to avoid mass times, though, so as not to interrupt the locals!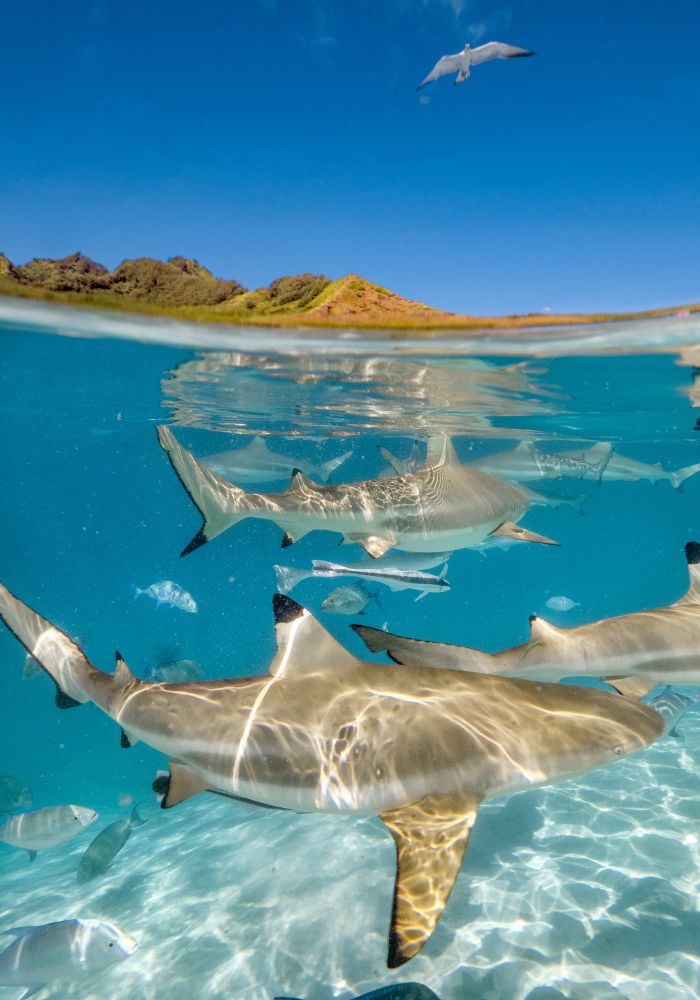 19. Swim with sharks and whales
Yep, you read that right! You can swim with reef sharks and humpback whales if you visit from mid-July to mid-November.
While you can find sharks in two other adventures listed right here, whales are a bit more rare. This small group tour will look for giant humpback whales during their migration – and you will get to hop in the water at the same time and snorkel near them!
If you enjoy wildlife as much as I do, then this tour might be for you!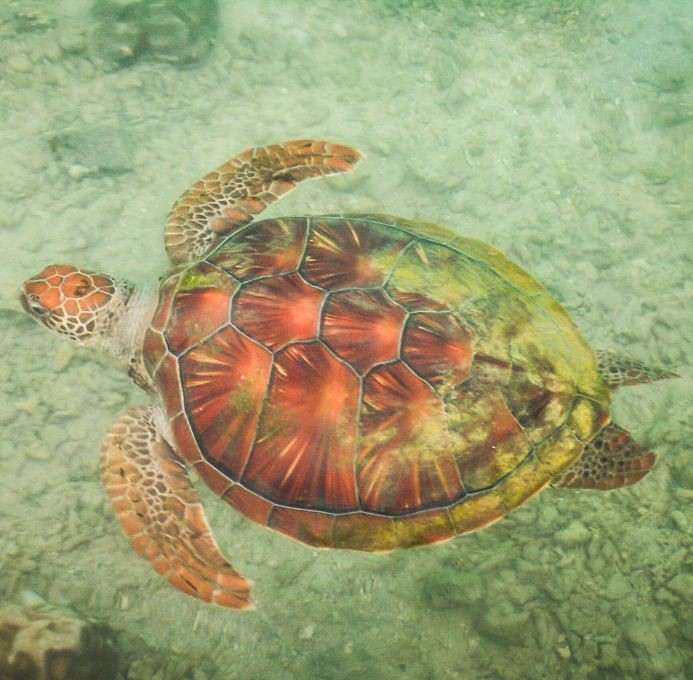 20. Te Mano O Te Moana Turtle Center
Te Mana O Te Moana is a sea turtle protection organization founded in 2004. Their mission is to provide education and information to preserve marine life.
This organization collects injured sea turtles from the wild, cares for them and provides medical intervention as needed. The goal is to release them back into the wild, and so far they have cared for over 500 of them!
Te Mana O Te Moana offers visitors organized tours on Wednesdays and Saturdays from 10am-11:30am. Note, you cannot visit without a reservation! Be sure to contact them to set it up:
Pro Tip: Because the tours are so limited, spaces do sell out. If this is a Moorea activity you really want to do, don't leave it to the last minute! Book it more than a week in advance.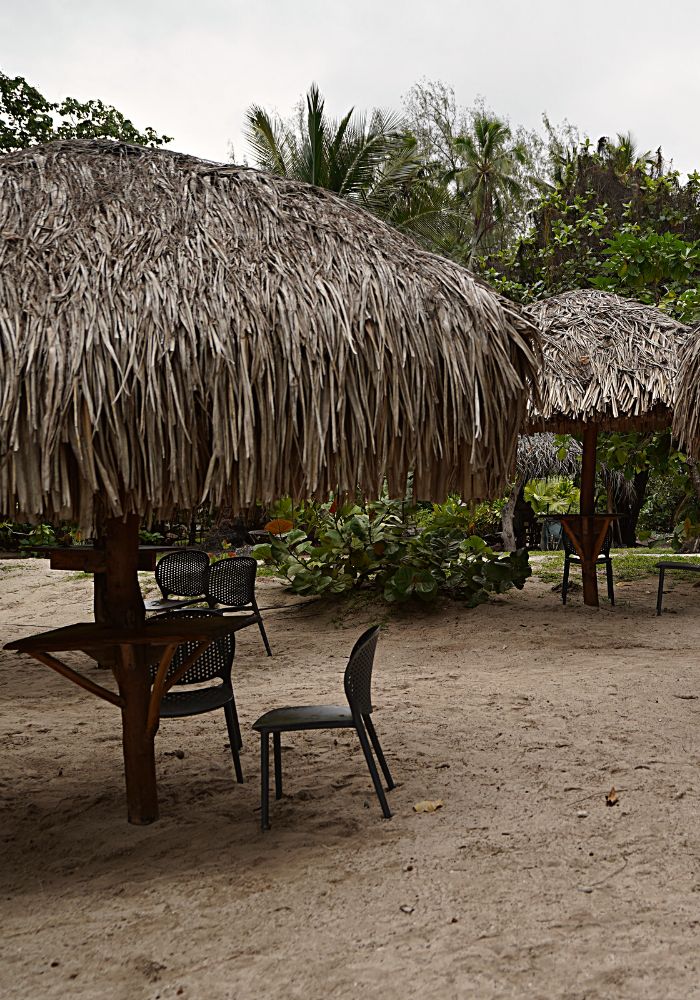 21. Visit Coco Beach Restaurant
On my last full day in Moorea, I decided to go to Coco Beach for lunch. Spoiler alert – it was awesome! So awesome, in fact, that I have written a complete review and guide on how to visit.
To reach Coco Beach, you need to take a boat to the motu, or small island, about ten minutes away. Coco Beach has a creative bar menu, fresh seafood, and even several vegetarian dishes (hooray!)
Reservations are required. Get all of the details here.
Pro Tip: Bring your snorkel gear to Coco Beach. This is one of the best snorkeling spots in all of Moorea! After you eat, you can take time to swim in the turquoise water here, where you might see reef sharks and rays if you're lucky!
Additionally, bring a sturdy dry bag to keep wallets, cameras, and phones safe.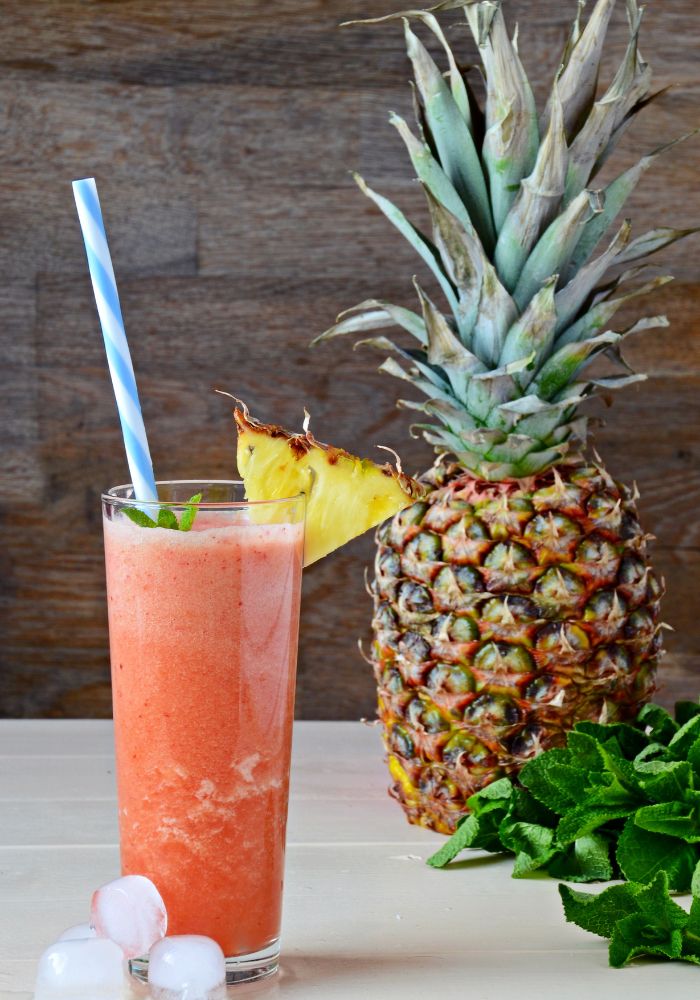 22. Tropical Fruit Smoothies (right off the tree!)
Of all the food-related things to do in Moorea, the tropical fruits are really where it's at for me. Passion fruit, papaya, soursop, and pineapple are available everywhere!
I found several smoothie shops around the island, some also serving acai bowls.
The tastiest blend I had was from the shop at the turnoff to Magic Mountain. They have some you can order straight off the menu, or you can build your own. I mixed banana, passion fruit, and soursop here, since soursop is not something I can get off the tree at home.
Don't leave Moorea without grabbing your own blended fruit smoothie! Your taste-buds will thank me.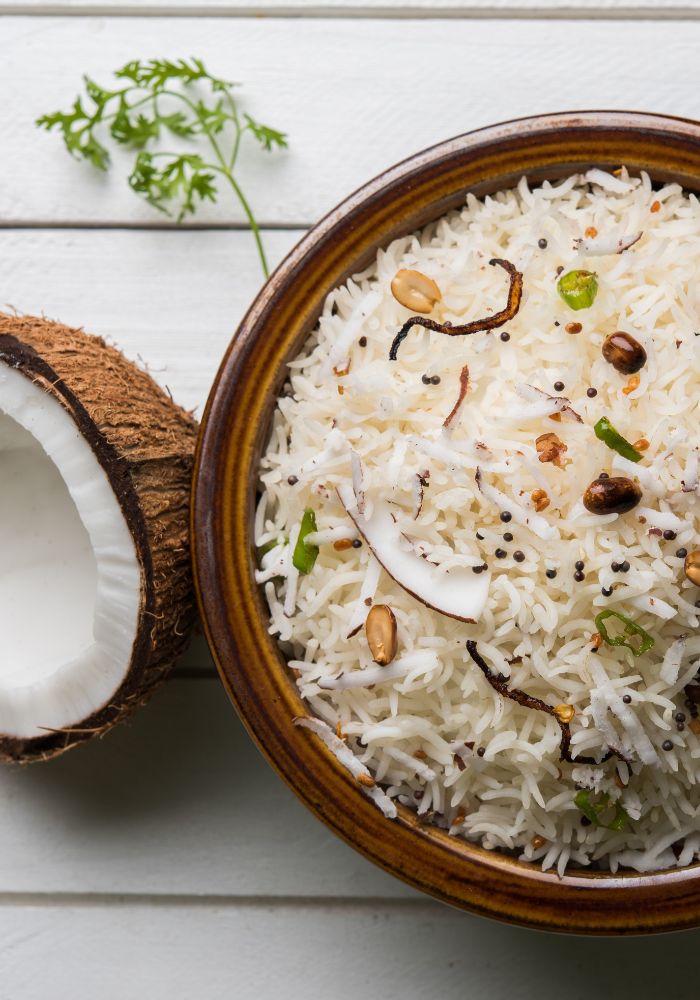 23. Take a cooking class
Do you enjoy cooking? Or, do you just want to learn to cook the tropical delicacies you have tried on the island?
If either of these apply to you, you might consider a French Polynesian cooking class. Learn to cook coconut bread, tasty tropical desserts, and a typical meal on the islands.
I've talked a lot before about how I enjoy taking cooking classes in the various areas I visit. I love learning techniques that I can take home and replicate. And, it is usually not an issue to make a vegetarian version of the meal offered.
if this sounds like a fun experience for you, too, then I say go for it!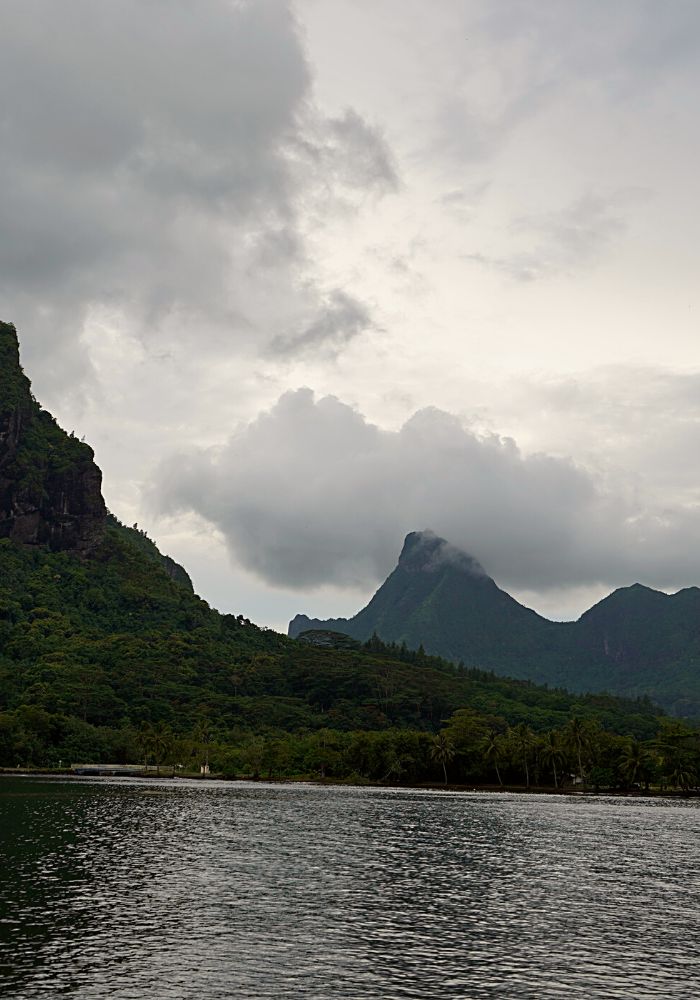 24. Find the Moana Mountain
When I was preparing for my trip to Moorea, I kept joking that I was about to visit Moana. Little did I know, I really was!
Moorea is one of the islands that the movie Moana was based on. The rugged peaks and shoreline that you see are inspired by Moorea.
And, Te Fiti herself was created off of one of the peaks here! The volcanic peaks near Mt Mouaputa appears like a woman's face looking up with her hair flowing behind her.
Can you see it? Does it remind you of Moana? Well that mountain, my friend, inspired the sleeping Te Fiti.
25. Rent E-Bikes
When I saw other tourists zipping around on e-bikes, I knew I had to try it! And if you don't plan on renting a car in Moorea, then you will really want to rent an e-bike, at least for one day.
E-bikes are electric bikes that will keep you going at top speeds, even all the way up to the Belvedere Lookout. It is completely possible to zip around the whole island on an e-bike.
And, the best part – the e-bikes are delivered to you right at your accommodation and picked up later, in increments of 4 or 8 hours, depending on what option you choose.
Pro Tip: I would not have enjoyed my time on Moorea if I didn't have the freedom to explore the island on my own. If you don't plan to rent a car, then you must rent an e-bike for at least one day! You won't regret it!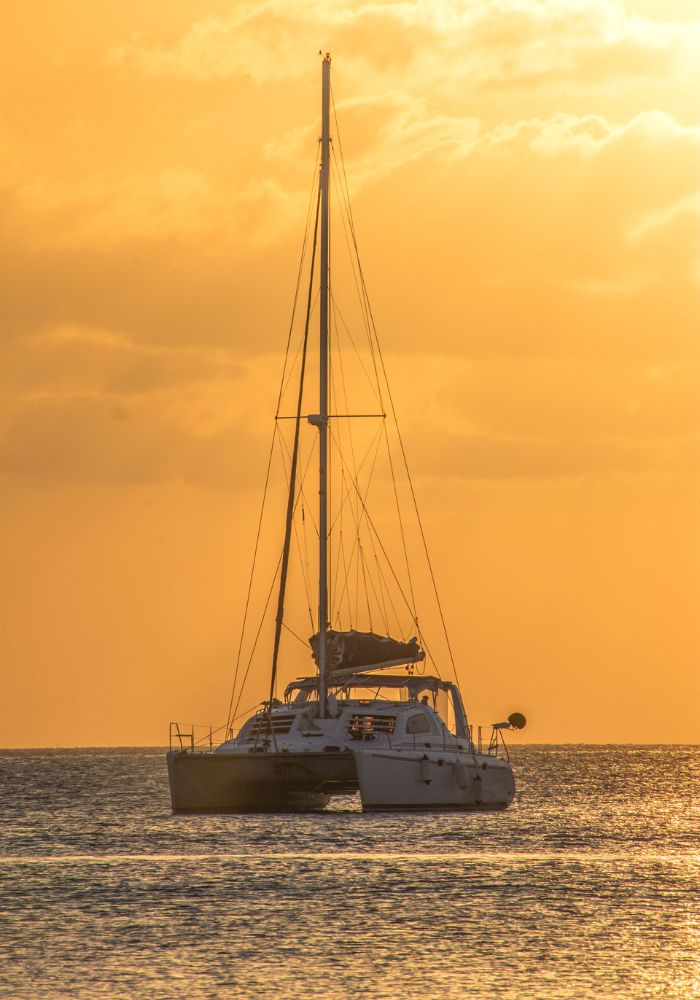 26. Go on a private sunset cruise
One of the best activities in Moorea, particularly if you are on a honeymoon or a romantic trip, is to go on a private sunset catamaran cruise.
This tour is truly hassle-free, as your guide will provide roundtrip transfer from your hotel, as well as juices and cocktails on the sea. You will enjoy panoramic views of the vibrant French Polynesian coast as you cruise through Cook's Bay and out into the open ocean.
The best part" Watching as the sun sets on the horizon, hand in hand with your loved one.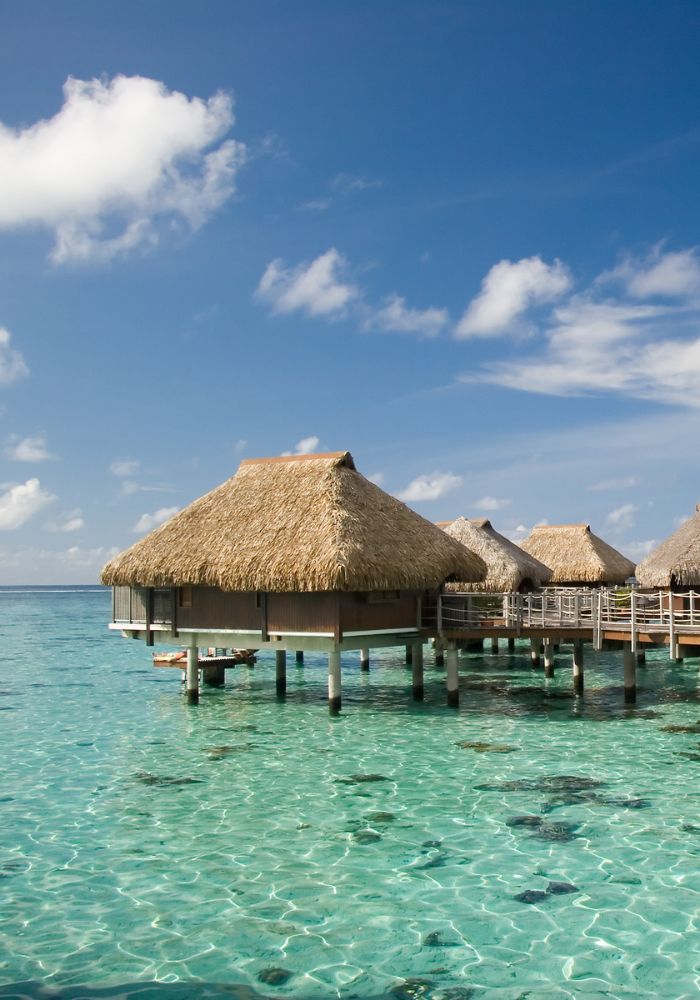 27. Stay in an overwater bungalow in Moorea
Above, I mentioned the panoramic view overlooking the overwater bungalows at Sofitel. But, you actually have a few top-rated choices of overwater bungalows in Moorea.
If you have never stayed in an overwater bungalow, I do highly recommend trying it out as a splurge! It will not be cheap, but if you can swing one night, go for it! It is a truly luxurious experience.
If you are traveling on a budget but still want a *beach hut* experience, I have a recommendation. Book one of the oceanfront beach huts at this affordable guesthouse. Note, the accommodations are basic, not luxury, and they don't have A/C. But hear me out!
I stayed here for several nights and was pleased. I'm not sure why the rating is this low; I found the staff to be friendly, the room, while basic, had everything I needed. And the location was also fabulous!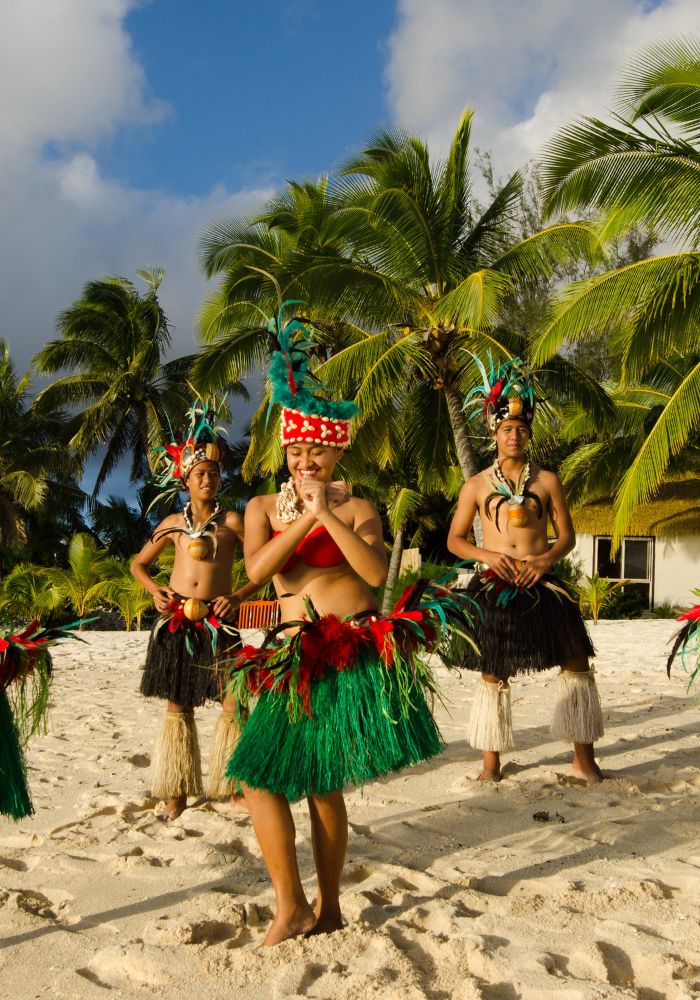 28. Tiki Village Cultural Center
The Tiki Village Cultural Center is the place to go to learn about Polynesian culture. This center offers a dinner, a small museum, and a show.
Visitors will get to experience a depiction of a traditional Tahitian village through various demonstrations of art and dance. The live dance and fire dance are the clear winners of the night!
Be aware, if you do the whole dinner, tour and show, you are going to be there for around five hours. Personally, I recommend the show only option, but of course it is completely up to you.
Buy your tickets here.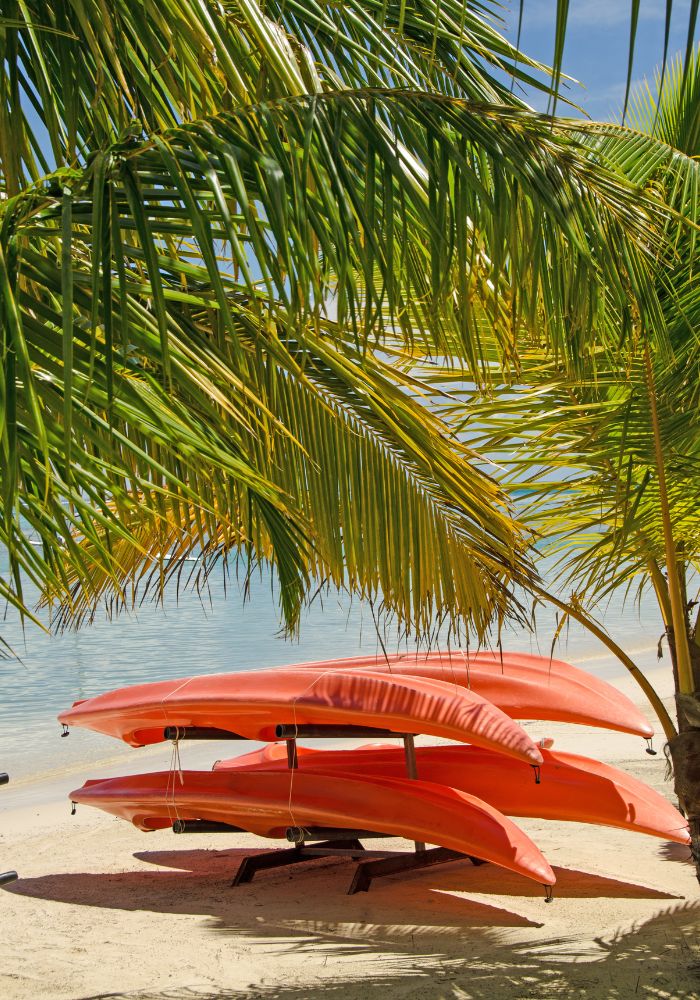 29. Kayak in the Pacific
Lucky for us all, this is one of the usually-free things to do in Moorea.
Every single accommodation I stayed in on Moorea had free kayaks to use on site. So it seems pretty common.
If you are staying inland, you may need to book a kayak tour, which is easy enough to do. But the water is so clear that you really should go out just once on the water in a kayak!
The best part? When you book a tour, you can get a clear kayak to see the ocean life below you, unobstructed.
30. Visit the Te Fare Natura Museum
The Te Fare Natura is located just off the main road in the Bay of Opunohu around the island. It looks like a half-circle covered in solar panels – you can't miss it!
Inside, this museum is jam-packed with exhibitions covering both scientific and cultural findings. Think biology, geology, and anthropology, though the exhibitions rotate from time to time.
Te Fare Natura is open from Wednesdays through Sundays and you can check the current prices here.
Free Things To Do on Moorea
Budget travelers, listen up! Some of the items above are completely free. Here is a highlight list of free things to do in Moorea:
Hike Three Pines Pass
Hike Three Coconuts Pass
Snorkel (as long as you bring your own equipment, like I did!)
French Polynesian Temple Sites
Belvedere Lookout
Rotui Juice Factory Tour & Tasting
Route of the Pineapples
Kayak
Explore the Churches
Important Things To Know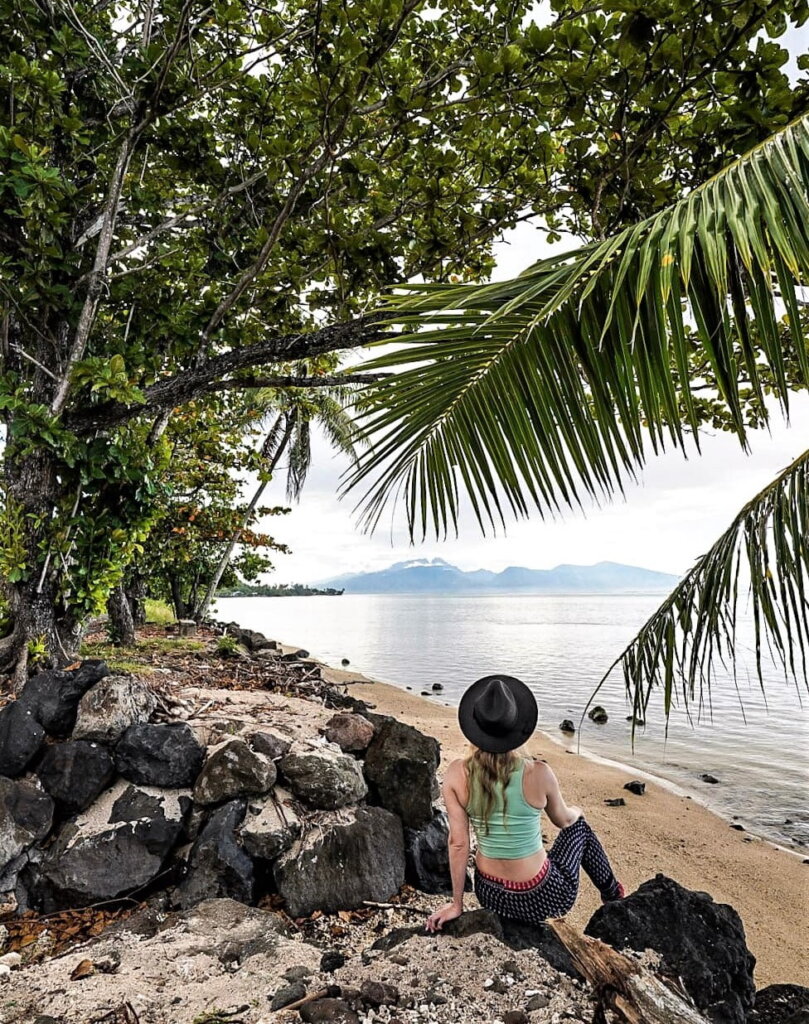 1. Renting a Car or Scooter
If you do plan to rent a car or scooter in Moorea, be absolutely sure to reserve it ahead of time! Otherwise, you are very likely to pay double the price. I always get the best rental deals here.
Now remember, even with a car or bike, you will likely be told not to go on the off-road streets, such as the Route of the Pineapples and up to Magic Mountain. This is why I recommend the 4×4 Tour to everyone, regardless of rental car status.
I rented both a scooter and a car in Moorea, and found the process to be painless. Scooters are significantly cheaper, which was no surprise.
2. What to Pack
3. When to Visit
French Polynesia only has two seasons: summer and winter. But remember, these islands are in the Southern Hemisphere, so their seasons are flip-flopped from the USA's.
May through October is French Polynesia's winter, and is largely considered the best time to visit.
The weather is pleasant and sunny, without feeling cold. Temperature range from about 85°F in the day and 66°F at night, making it ideal for a tropical getaway. (Particularly if your home base might be covered in snow.)
November through April is considered the summer. Things will feel hotter and more humid. Expect temperatures ranging from 71°F to 91°F.
In February, the islands usually receive a bit of rainfall – in fact, this is the heaviest rain Moorea sees all year. However, the rains don't last all day, in my experience. The humidity will build, and midday the rains will burst. After a brief downpour, the sun is shining again.
No matter when you decide to go, French Polynesia will have plenty of sunshine waiting for some island exploration therapy!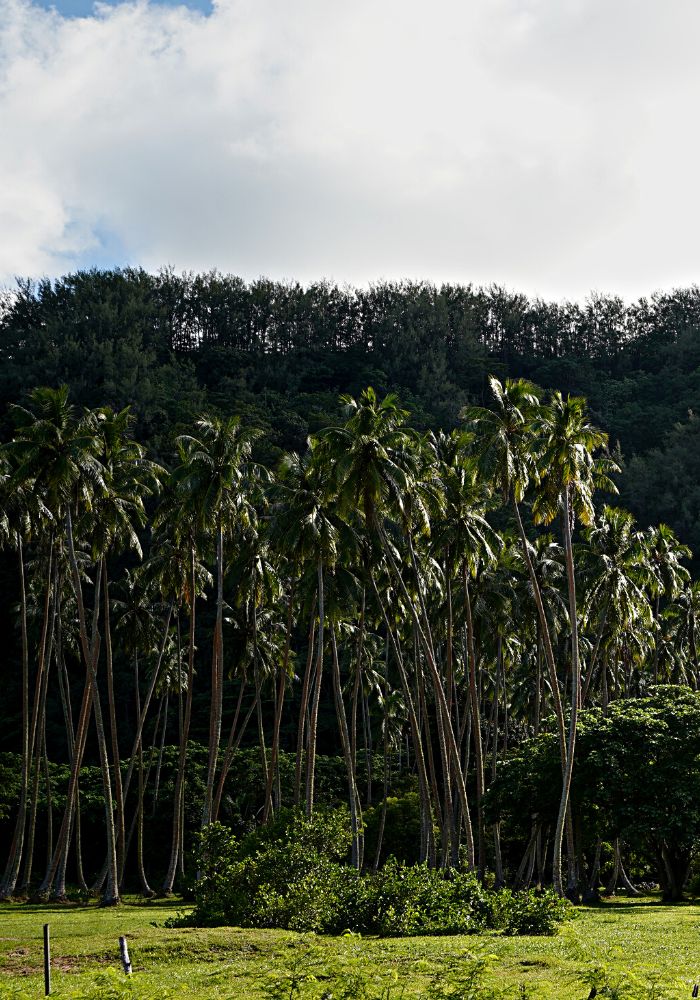 4. Getting to Moorea
When coming from Tahiti, you have two main options for getting to Moorea – either take the ferry, or book a flight.
The ferry is significantly less expensive and is very easy. It only takes about 30 minutes to reach, so realistically it is quicker than the airport rigamarole.
Personally I choose to take the ferry to Moorea, which you can read all about here. I go into logistics, tickets, and more.
If you choose to fly, you will need to depart from Tahiti Airport which, unfortunately, will not be cheap. Just be sure to book your flight as far in advance as possible to avoid astronomically high prices.
And, be aware that flights from one small tropical island to another small tropical island are never cheap!
5. Should I visit Moorea or Tahiti?
Tahiti and Moorea offer a unique comparison of bustling city life, breathtaking natural beauty, and exciting activities.
Tahiti is the largest island in French Polynesia, home to the capital city of Pape'ete. Pape'ete is a lively place, with its shopping, nightlife, and walking tours. Most of French Polynesia's population lives on Tahiti.
It is possible to get off the beaten path here, but Tahiti is thought of as more busy.
Moorea, on the other hand, offers a more secluded experience with majestic peaks and green-washed forests. It feels natural and tropical; vibrant and safe. This island is much smaller and laid back, and the lush greenery and blue waters are gorgeous.
Moorea is just 10 nautical miles from Tahiti and accessible by ferry or plane – but it couldn't feel more different!
Check out my post Moorea vs. Tahiti for the full comparison.
***
I hope that this guide of the best things to do in Moorea helps you plan your perfect trip!
Let me know below – which of these items is your absolute must do?
Looking for more French Polynesia planning resources??
Pin Me for Later!