So, you want to snorkel in Moorea? I don't blame you! Moorea snorkeling offers some of the prettiest underwater landscapes around. This guide will share all of the best places to snorkel Moorea, as well as what you'll see when you go.
Want to snorkel Moorea without the hassle of planning? No problem! Try out a snorkel tour!
⫸ 6 Hour Snorkeling and Lunch Tour: This full day group tour takes you out to sea on a traditional Polynesian outrigger canoe. Swim and snorkel all over Moorea, and have a barbecue lunch on a tiny island! This tour includes your snorkel gear and pickup and dropoff from most hotels. BOOK YOUR SNORKEL TOUR HERE!
⫸ Not into a group tour, or prefer a private experience ? No problem! Just book a private snorkeling tour instead!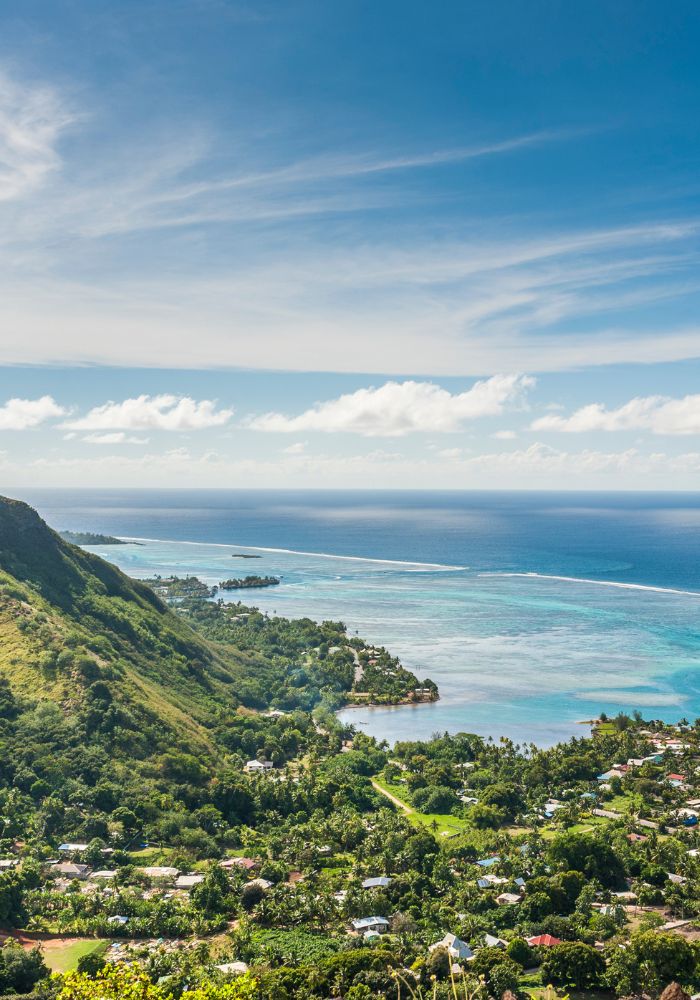 Moorea is one of the prettiest islands in all of French Polynesia.
There are so many things to do on Moorea, from visiting the beaches to exploring the ancient temple sites to finding the best hiking trails all around the island. But, perhaps nothing is so awe-inspiring as Moorea' underwater world.
Colorful coral reefs full of quick tropical fish, black-tipped reef sharks, and huge sleek rays are just some of what you'll see when snorkeling in Moorea. The water is crystal clear and the ocean life is abundant. And, even if you have been snorkeling elsewhere in the world, you are still in for a treat.
Here we will cover where to snorkel in Moorea, what you'll see, and the best snorkel tours on the island, too.
Let's dive in! (See what I did there?)
Where to Snorkel in Moorea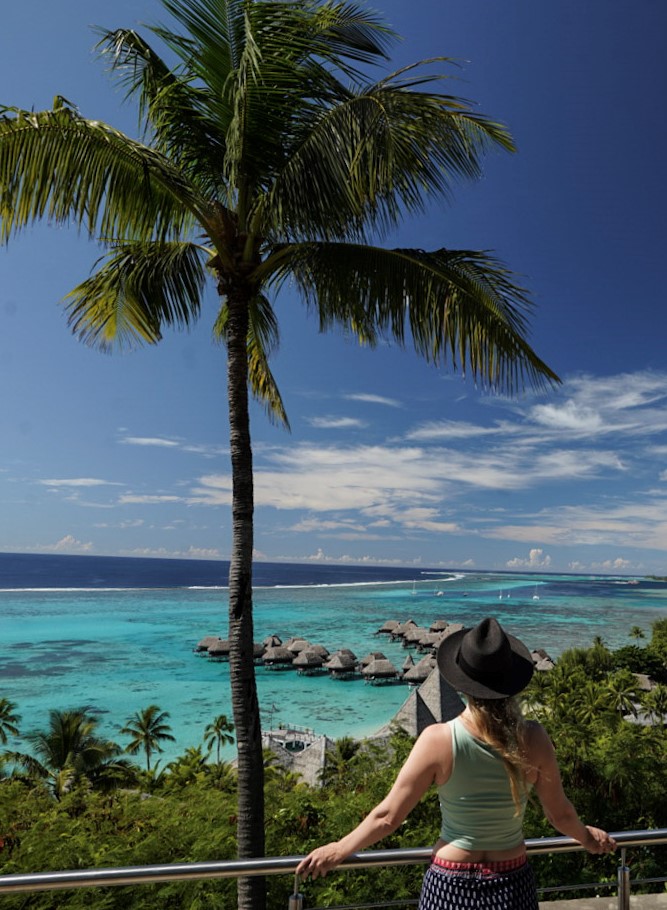 1. Temae Beach
One of the most popular beaches in Moorea, Temae Beach is found on the northeast of the island.
Bordered by a row of tall coconut palms, this white sand has crystal clear waters, making it a perfect snorkel spot in Moorea. The lagoon is warm and shallow, and brightly colored fish will swim right along with you. Snorkeling Temae Beach is definitely one of the best things to do in Moorea.
This wide beach looks out toward the island of Tahiti, the rugged mountainous peaks of Moorea, and the stunning, bucket-list-worthy overwater bungalows. This beach has historically been a popular place for locals, but it looks like the secret is out!
Underwater, you will see everything from wild anemones to colorful clownfish.
Where to stay at Tamae Beach
Sofitel Kia Ora Overwater Bungalows
The bungalows pictured above offer the quintessential French Polynesia vibe, don't they? It is definitely worth splurging for at least one night here, particularly if you have never stayed in an overwater bungalow!
If you are traveling Tahiti on a budget, you may not stay be able to stay for the full week. It will cost a pretty penny. But it really is an awesome experience.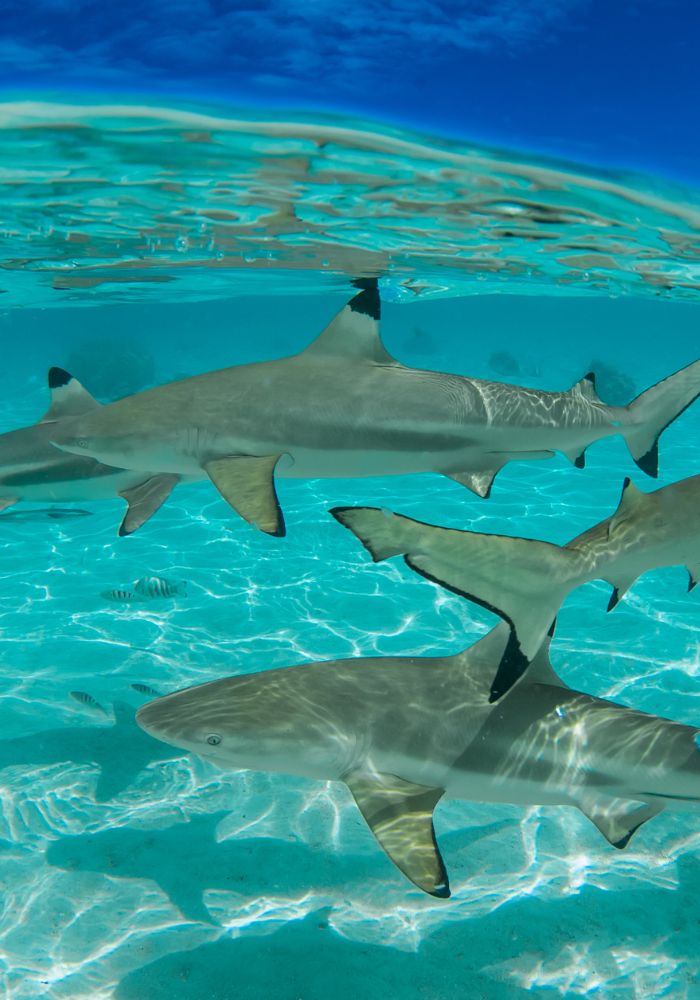 2. Motu Tiahura (Coco Beach)
One of my personal favorites, Motu Tiahura and its beach are incredible. A sandy shore leads into some of the clearest water in Moorea, and colorful reefs are a stone's throw from shore.
Here, you'll see the typical clownfish, anemones, and angelfish, but the highlight for me were the rays and reef sharks. This is the only area that I personally saw reef sharks while visiting Moorea.
Pro Tip: I have an entire post on how to access Coco Beach as well as a review of the restaurant there. Please check it out if you need some guidance on how to reach Motu Tiahura! Also, bring your own snorkel gear here. You cannot rent or borrow any on site.
Also worth mentioning, this was my personal favorite of everywhere I snorkeled in Moorea. I think it was the whole experience – taking the boat, hanging at the beach, te awesome water, and eating at the restaurant.
Where to stay near Motu Tiahura
This ultra-clean and peaceful villa has several bedrooms, a full kitchen, wifi and a beautiful view from the terrace. Villa Terava Nui is a great choice if you are traveling as a family or group.
To be clear, Motu Tiahura snorkeling does require that you get there on some sort of a boat. So no accommodation is "right there" so to speak.
Coco Beach offers boat service for a very small fee, or you can rent kayaks to paddle yourself over. The stress-free alternative is to book a tour that takes you to Motu Tiahura. More on that below.
No matter how you get there, just be sure you get there! This is one of the best spots to snorkel in Moorea.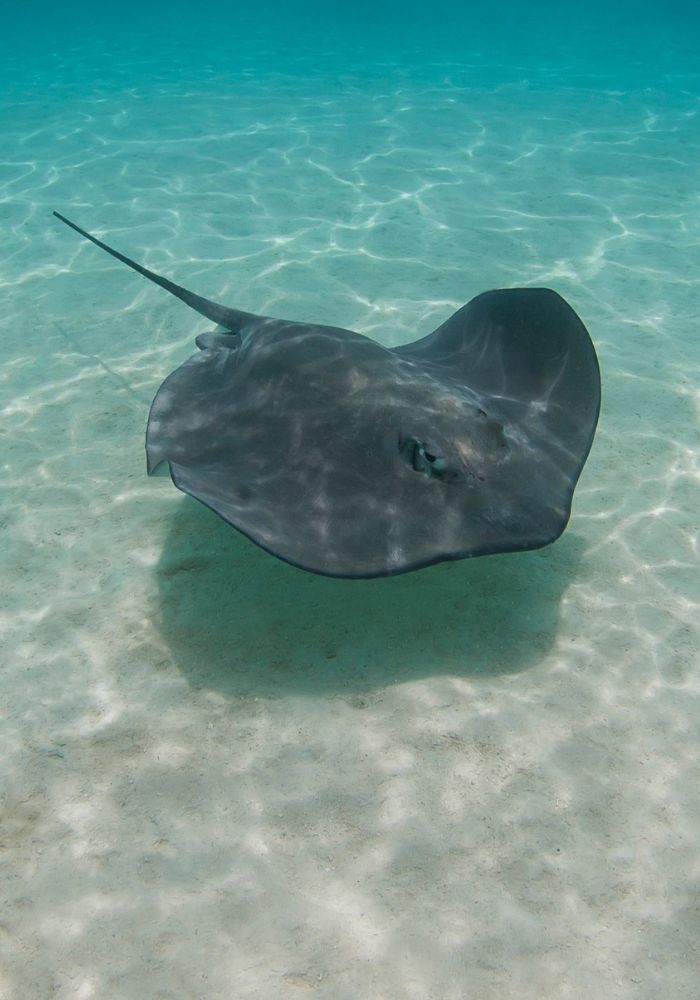 3. Tipaniers Beach
While Tipaniers Beach is not exactly a public beach, it does have managed access via the Hotel Les Tipaniers. Visitors may need to pay a fee to gain access, which is around $15 USD for a full day's use.
So, depending on how long you plan to snorkel, it definitely could be worth it!
From here, you can access Motu Fareone's coral garden to see the beautiful underwater formations. Plenty of fish will be swimming around you at all hours of the day, really!
Note that you can also access Coco Beach Restaurant and Motu Tiahura (mentioned above) if you rent a kayak here. So, you could do a two-for-one at Tipaniers if you plan ahead.
Where to stay near Tipaniers Beach
My top pick to access these beautiful waters is at Moorea Sunset Beach. They have private Polynesian style bungalows with full kitchens, flat screen TV and a peaceful porch for watching sunsets.
I stayed in this type of bungalow on Moorea and absolutely loved it!
4. Ta'ahiamanu Beach
Ta'ahiamanu Beach is a free public beach located on Opunohu Bay. This bay is a completely free yet stunning snorkeling spot.
Just off of the shore, you'll find waters teeming with colorful life. Tons of fish are present and the setting is ideal – full of loads of lush palm trees.
This clean beach is a popular spot for both locals and tourists, so come early and get a good spot!
Where to stay near Ta'ahiamanu Beach
Located beachfront right on Opunohu Bay, these gorgeous villas are tough to beat. Lush palm trees and vegetation spill right down the mountainside to the villa, which is situated directly on the sand.
The clear blue water is some of the best on the island, and once again the reefs are not far off shore. You will absolutely not regret staying here!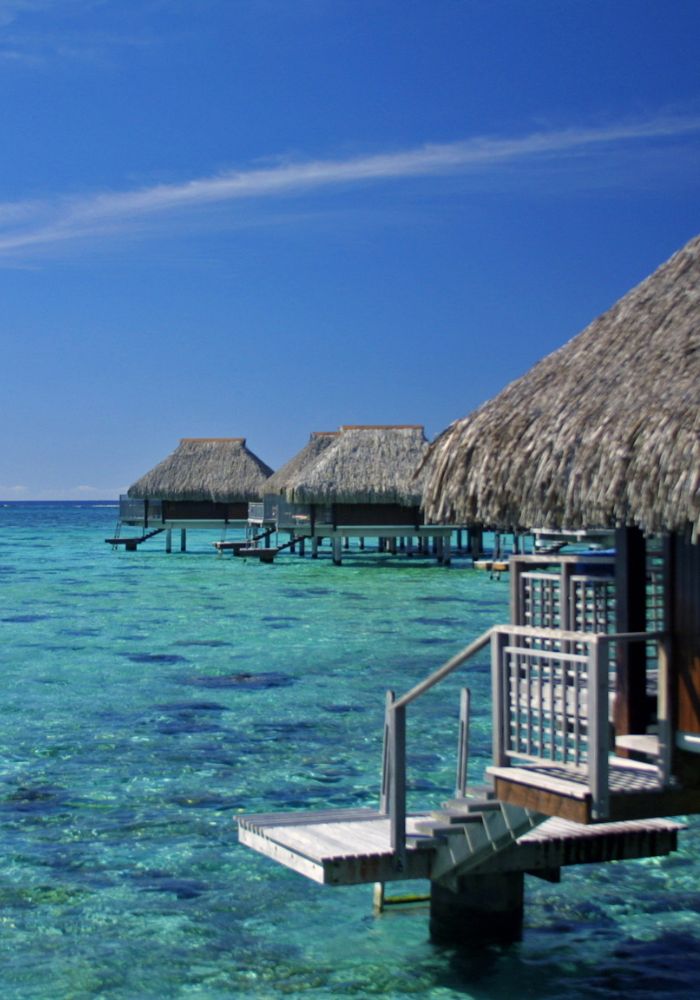 5. The Lagoon at the Hilton Moorea Lagoon Resort
So, I will be up front here. I've saved the most expensive option for last.
As you can see from the title, this lagoon is managed by the Hilton Moorea. Snorkel goers will need to be either staying here or pay a hefty fee for day use: w whopping $90 USD.
However, if you decide to make a day of it, your $90 fee also includes a lunch and use of the Hilton's pool.
If you snorkel here, you'll see a lot of butterflyfish, triggerfish, damselfish, clownfish and anemones, all swimming along in some of the brightest turquoise water I've seen.
Where to stay near the Lagoon
This is probably no surprise, but if this Moorea snorkel spot is on your bucket-list, then see if you can splurge on a room at the Hilton! You will get the ultimate in luxury overwater bungalows, and all of the amenities that the day pass gets. Plus, at the end of the day, you don't have to leave!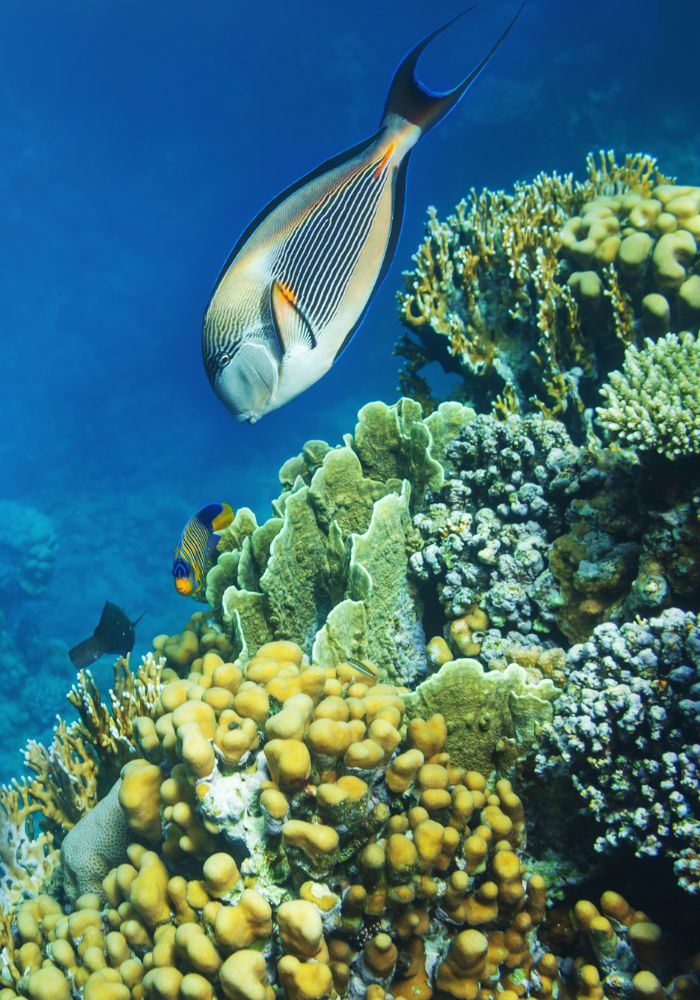 The Best Snorkel Tours in Moorea
Want to get father out into the ocean for your snorkeling? Or, maybe you prefer a completely stress-free experience and loathe the planning aspect?
I get it!
There are plenty of tour options that include snorkeling in Moorea. However, I am going to list the top two and make the choosing easy for you. One is a small group (i.e., cheaper) and one is a private tour (more expensive, but more flexile.)
Consider booking this full day snorkeling tour if you want to set sail on a traditional Polynesian outrigger canoe and embrace your inner mermaid.
Take in the tropical scenery by boat, go swimming and snorkeling all over the Pacific, and have a cooking lesson and a barbecue lunch on a tiny island!
This tour includes all of your snorkel gear and pickup and dropoff from most hotels.
Note that this is a  shared group tour with a maximum of 12 guests.
But if you prefer a quieter experience, book a private snorkeling tour here.
What Will You See When Snorkeling Moorea?
The most common ocean life you will see when you snorkel Moorea is as follows:
reef sharks
sea turtles
moray eels
butterflyfish
clownfish
triggerfish
wrasse
sting rays
starfish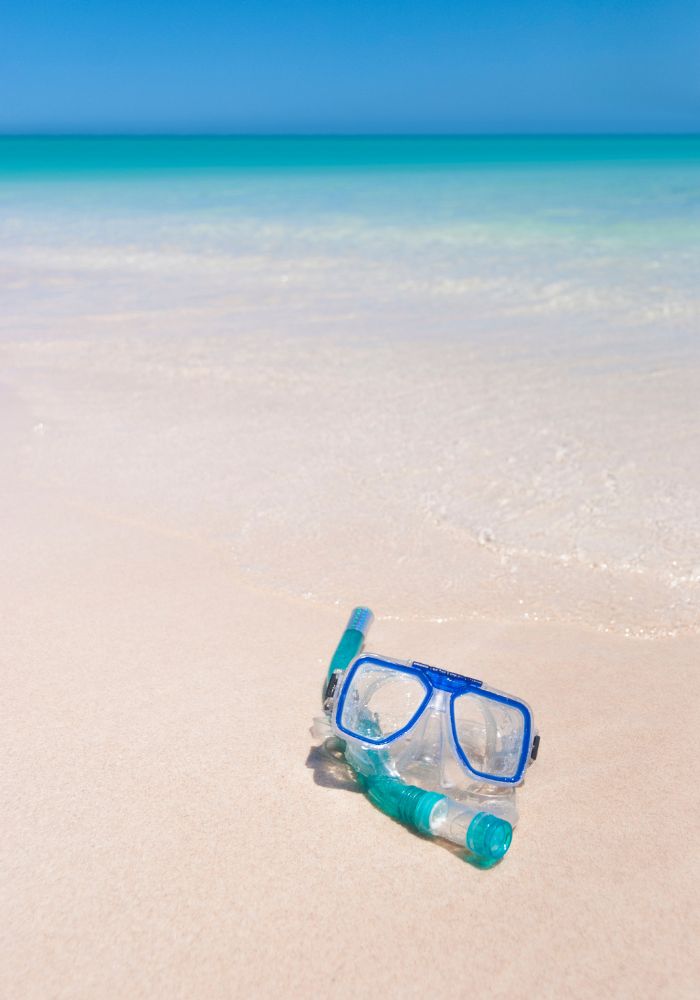 What To Pack for a Day Out Snorkeling
While I have an entire post on what to pack for Tahiti and Moorea, this is what you will need specifically for snorkeling:
***
I hope this guide has convinced you to snorkel Moorea! Or, if you already planned to, has helped you book the correct type of experience for your trip.
Whether you go for a group tour or a solo kayaking snorkel adventure, you will definitely not regret snorkeling in Moorea!
Looking for more French Polynesia planning resources??
Pin Me for Later!