Coco Beach Moorea is an easy day trip from the island. This complete guide will show you how to visit Coco Beach from Moorea, what to pack, and a complete review of the restaurant and island. Let's go!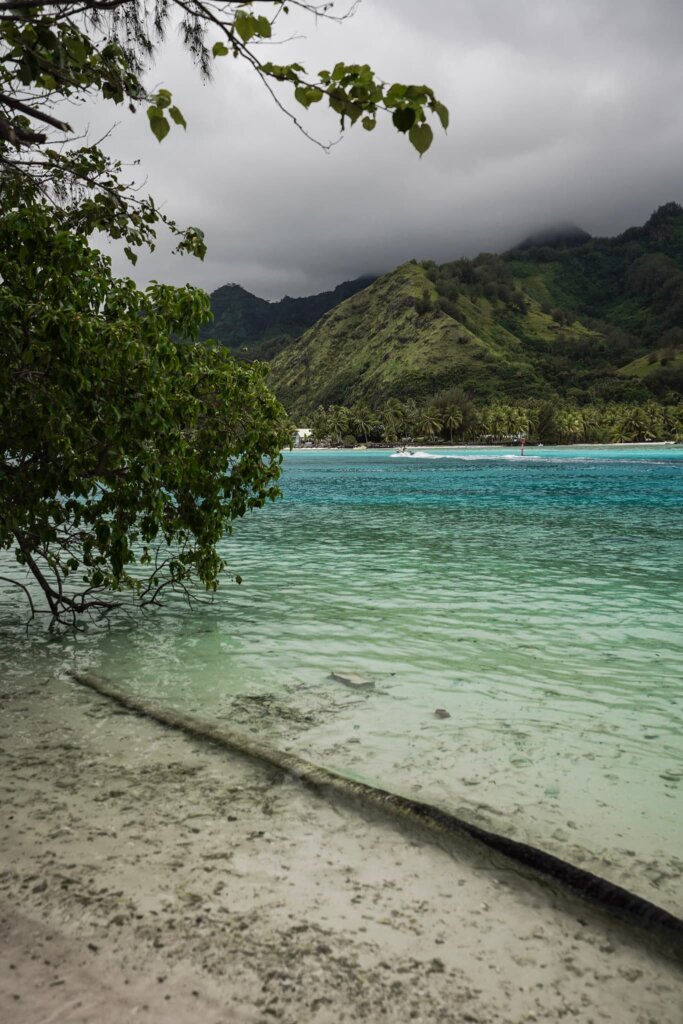 Coco Beach, Moorea is a restaurant and beach located just a 10 minute boat ride from the main island. It is one of the most popular things to do on Moorea and an easy day trip!
I really enjoyed my visit to Coco Beach, Moorea. But, I learned a few things on my visit that I would like to share with you!
Hopefully these tips make your visit to Coco Beach easy, fun, and the best it could possibly be. Let's dive into this complete guide and review of Coco Beach, Moorea.
What Is Coco Beach, Moorea?
Coco Beach is a family run restaurant on the private island of Motu Tiahura. It is on the North-West of the island of Mo'orea, and is one of the prettiest spots in Moorea!
The restaurant is surrounded by clear blue waters and lush tropical plant life. This long-time local spot is a popular place to eat, relax, and enjoy snorkeling and swimming.
The 20-year old restaurant is open from Wednesday to Sunday for lunch service only. Here you can get fresh Polynesian style cuisine right on the beach. You can enjoy tasty food with your feet in the sand, in front of crystal blue waters.
How To Get From Moorea to Coco Beach?
For those wondering how to get to Motu Tiahura and how to visit Coco Beach, there are three main ways to reach this spot:
1. Rent a kayak on the beach from Hotel Les Tipaniers.
Renting a kayak from Hotel Les Tipaniers is an easy option. Expect it to cost around $10USD per hour. In my opinion, this is a good option only if you are going to snorkel but not if you are planning to visit the restaurant. That is because the hourly charge can get expensive.
2. Book a boat tour.
Booking a boat tour on Moorea that includes a snorkeling stop here is another good option, particularly those who want an overview and tour rather than a lunch. Book your boat tour here.
3. Book a lunch and a Coco Beach boat transfer.
Coco Beach on Motu Tiahura does offer a boat service to and from the island for anyone making lunch reservations. The shuttle boat costs 500 XPF – roughly $5 USD – for round trip transfer. This cost can be added directly to your lunch tab, so there is no need to bring cash.
You will need book your lunch reservation and transfer in advance! They do not accept drop-ins. To make a reservation, visit their website.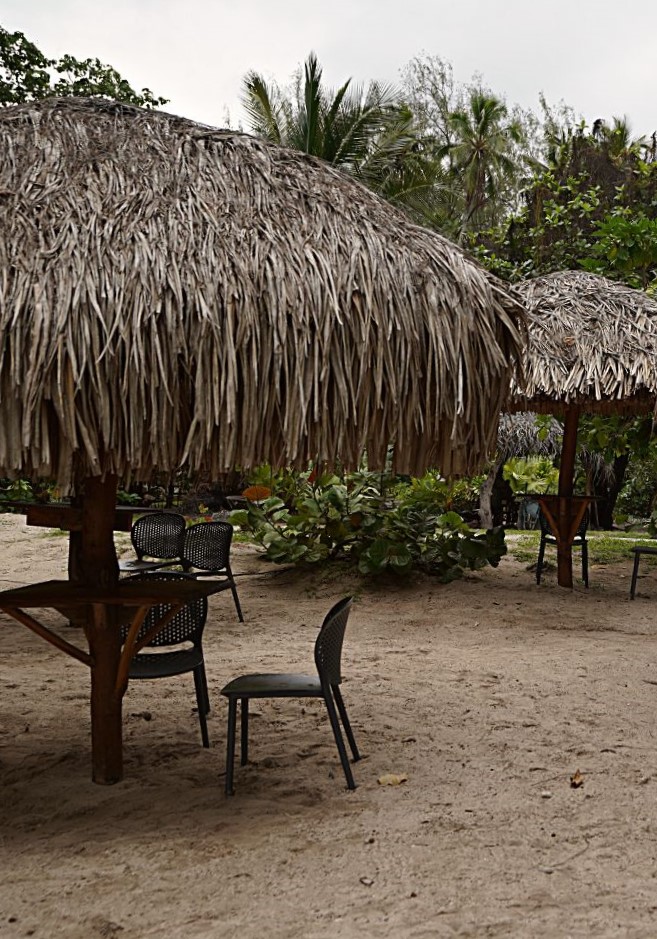 A Complete Guide and Review of Coco Beach
Traveling to Coco Beach is easier than you might think. Here I will go over the process of using the restaurant's shuttle boat and my best recommendations for booking!
When you make your reservation, you will need to select the time of your meal as well as add a boat transfer. The first available option is 10 am and the latest is 1pm. And, there are plenty of options in between.
Pro Tip: Book one of the earlier time slots. The last boat leaves Coco Beach to Moorea at 3pm. So, you have a 1pm lunch, you may only get an hour to swim and snorkel.
The restaurant has a designated parking area near the boat transfer, so if you have a car, no problem. Just park and wait for the boat at your planned time.
The boat ride takes about 10 – 15 minutes from pick up to drop off. At the pick up area, you will board from a wooden dock. However, at the dropoff, you will need to step down into knee-high water and walk to the island.
So ladies, listen up! Don't wear long dresses or skirts if you are worried about getting them wet.
You May Also Like: The Best Places to Snorkel in Moorea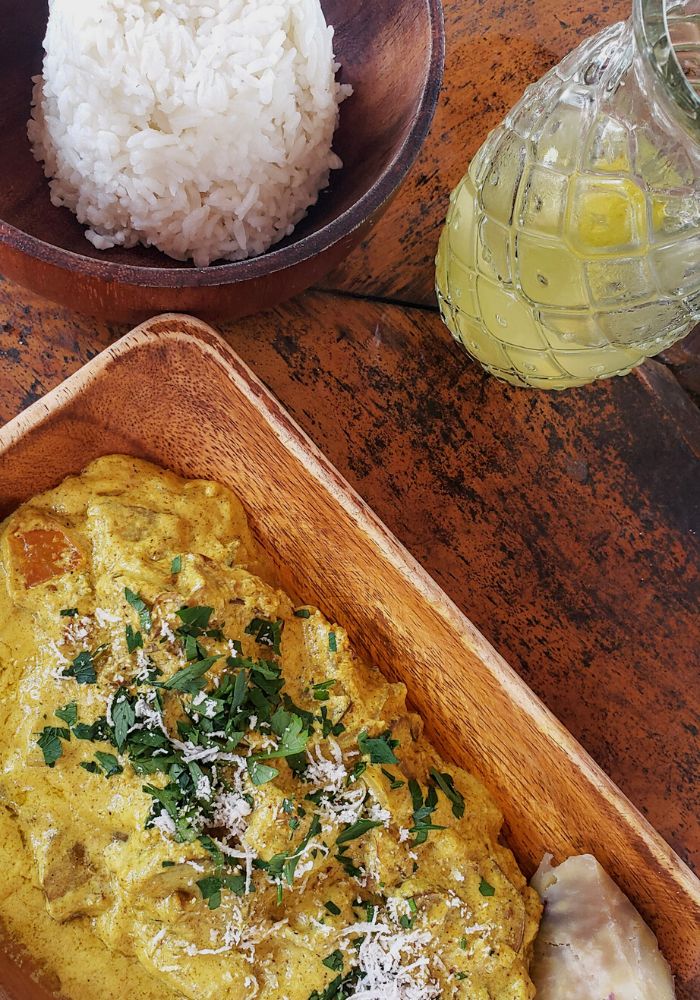 At the restaurant:
Upon arrival, you will get an assigned table, either on the wooden porch" or directly on the sand. I got a table on the sand and couldn't have been happier.
Coco Beach, Moorea offers a number of cocktails, some made with fresh pineapple or coconut juice, which couldn't be tastier.
The meals themselves have a strong focus on Polynesian cooking, and many include fish or meat. However, I had a number of vegetarian dishes to choose from.
I ordered a Moscow Mule to start, which had heaps of fresh ginger and fresh lime. Yum!
Next I had the coconut milk salad, which consisted of fresh cucumber, tomato and greens, all bathed in the tastiest coconut milk dressing I could have dreamed of. If I could have bottled it and took it home, I would have!
Lastly, I ordered the vegetarian curry with white rice, which was also very tasty. It had super strong curry flavors and freshly cooked veggies smothered in the sauce. And, it was very filling. I struggled to finish it all, but was not willing to leave any behind!
Hands down my favorite item was the salad, though, for reference. Something about the tropical taste while overlooking the clearest blue water was heaven.
You May Also Like: The Tahiti to Moorea Ferry: A Complete Guide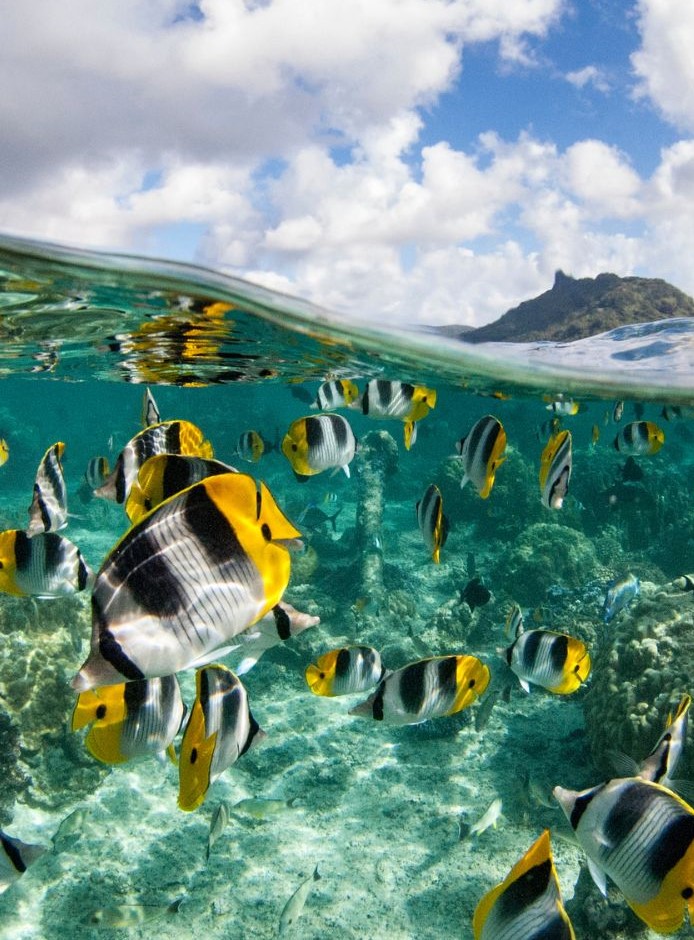 On the beach:
Motu Tiahura is well known as one of the best snorkel spots in Moorea. So, I highly recommend spending some time here after eating.
The shallow crystal blue waters are home to colorful fish, stingrays, and – if you're lucky – you may even see a reef shark or two.
Note that you will need to bring all of your own gear as there is none on site to rent.
Pro Tip: Bring all of your beach and snorkel gear to Coco Beach from Moorea. You cannot rent or borrow any from the restaurant. Below is exactly what to pack:
What To Pack for Coco Beach, Moorea
For anyone who plans to swim and relax here after lunch – and you absolutely should – here is everything you need to bring.
You May Also Like: A Moorea & Tahiti Packing List
Where To Go Next
Coco Beach, Moorea is a worthwhile way to spend an afternoon in French Polynesia. I would absolutely return back without hesitation, and I would also urge my friends and family to go and experience it for themselves!
After your visit, back on Moorea, consider hiking Three Pines Pass for a jungle experience. Or, take in the views at Magic Mountain and the Belvedere Lookout.
Looking for more ocean adventures? Then check out the best Moorea snorkel spots.
Not quite finished with tasty excursions? Then hit the Rotui Juice Factory. It was so tasty! Details on all of the above can be found in this post.
Or, consider taking my favorite tour on the island which hits all of the best spots in Moorea:
4WD Tour of Moorea: This tour includes transport to top Moorea attractions, like the Pineapple Farm, Belvedere Lookout, Magic Mountain, and Rotui Juice Factory. This tour is my top suggestion for anyone who wants to see everything that Moorea has to offer. Includes pickup and dropoff. Book your tour here!
***
I hope you enjoy Coco Beach as much as I did! Let me know below – what will you be ordering?! 😋
Looking for more French Polynesia planning resources??
Pin Me for Later!