The Moorea hiking trails are some of the most stunning and lush hikes I've seen. If you are looking for the best hiking trails in Moorea, you've come to the right place. This complete hiking guide will cover some of the best Moorea hikes, what to pack, and how to get around. Let's jump in!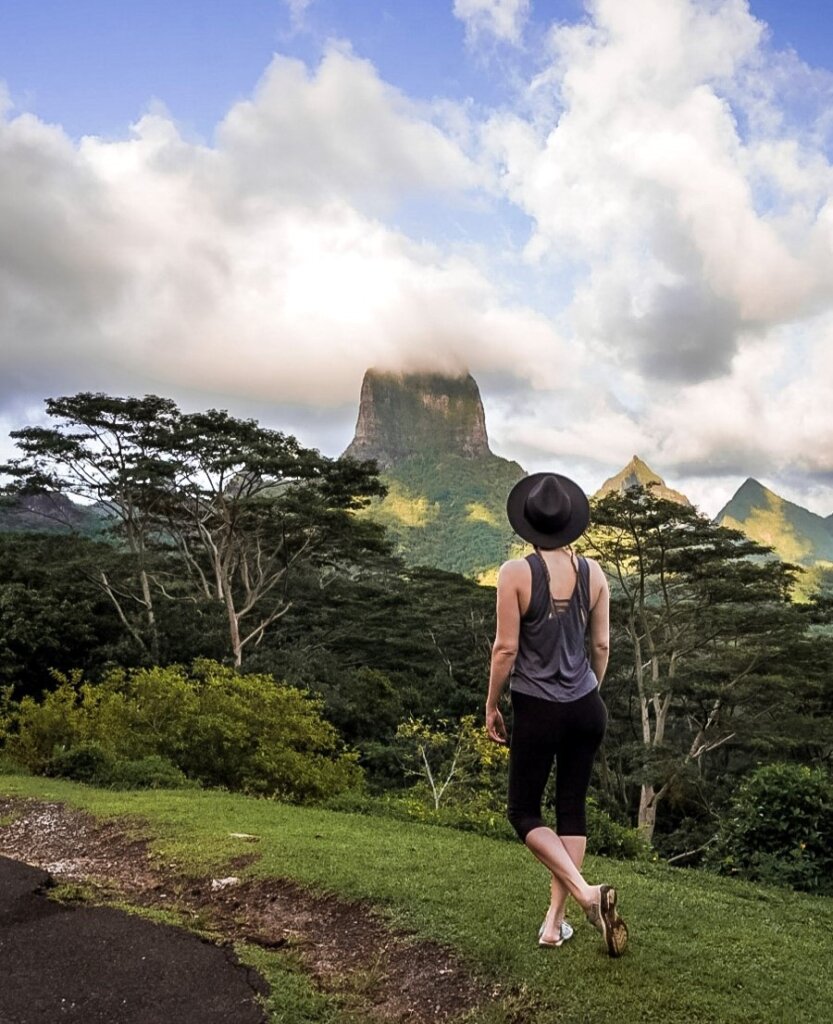 I specifically chose to spend most of my time in French Polynesia on the island of Moorea.
That's because there are so many fun things to do here. Adrenaline junkies have ATV tours, sun-worshippers have the beautiful beaches, mermaids have endless snorkeling opportunities, and nature lovers have hiking.
And, Moorea hiking is some of the best.
The forest is so lush here, the green so vibrant, that I recommend everyone try at least one of these hikes.
In this complete Moorea hiking guide, I will go over the best hikes on the island, what gear you absolutely need, and helpful details about weather and transportation. Let's dive in.
You May Also Like: The Best Things To Do in Moorea
The 5 Best Moorea Hikes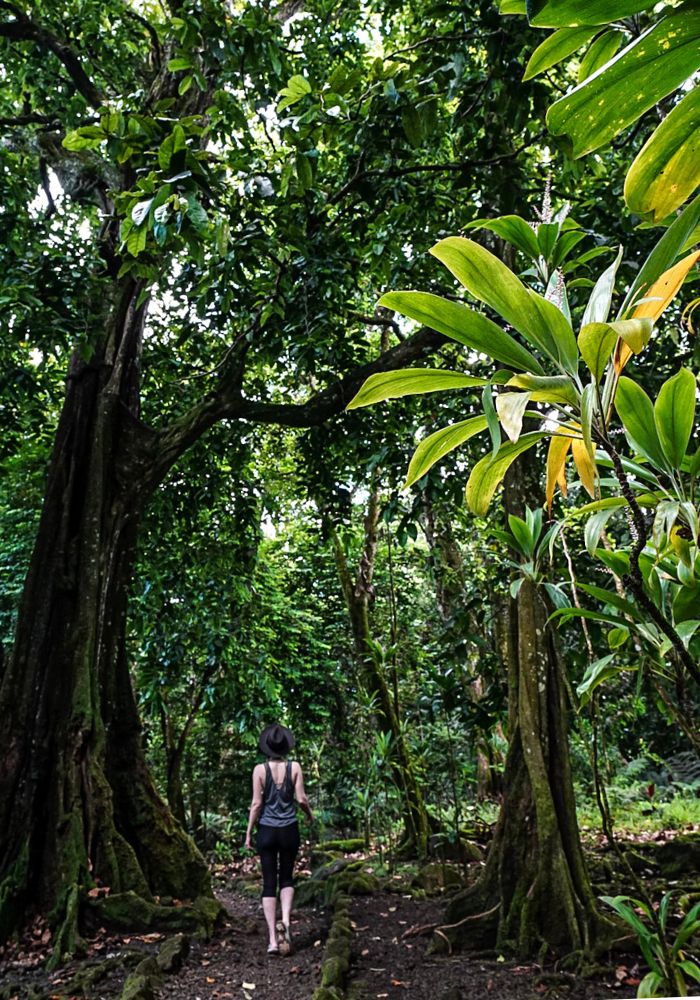 1. Three Pines Pass (Col Des 3 Pinus)
Three Pines Pass is the first of these Moorea hikes that I went on, and it was a great introduction to the island's tropical landscape.
Three Pines Pass is rated as Moderate. I would say for avid hikers, it will probably be Easy to Moderate. The parts that elevated it from easy was the humidity and also how slippery the trail was at some points.
The hiking trail starts at Belvedere Lookout, so you have a small parking lot and easy access to the trailhead. The trail begins on the left hand side when facing the forest. Just look for the sign that reads "Col Des 3 Pinus."
This is a great hike for anyone who wants to get a nice workout and be rewarded with an awesome viewpoint. The elevation gain is nothing to worry about, except if the trail is very slippery. Avoid rainy days.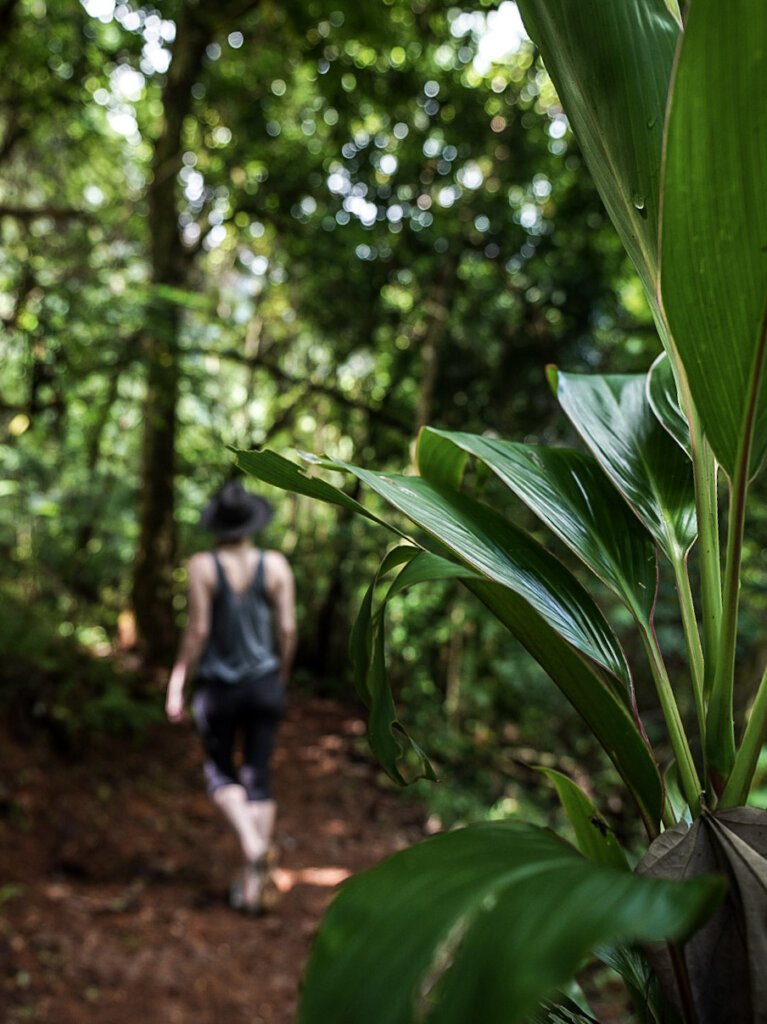 2. Three Coconuts Trail (Col Des 3 Cocotiers)
Also located next to the Belvedere Lookout, but on the right side of the hill, you will see the Three Coconuts Pass trailhead. Look for the sign that reads "Col Des 3 Cocotiers."
Three Coconuts Trail is another of the Moorea hikes that winds you through the luscious forest. The trails are surrounded by greenery and birds are chirping around you.
The highlight of the hike is the Three Coconuts viewpoint, which offers panoramic views looking out over Mount Rotui and the beautiful bays.
This moderate trail will get your blood pumping. Start early in the day because it is a moderate workout!
And, don't be fooled when you reach the green sign that reads "le col tetoatoa dit des 3 cocotiers alt 357 m." This is not the final viewpoint.
Keep hiking upward for another 5 minutes, using the ropes as needed to assist you. The final viewpoint is a cleared out area providing panoramic views of the two bays and the Rotui Mountain in the middle.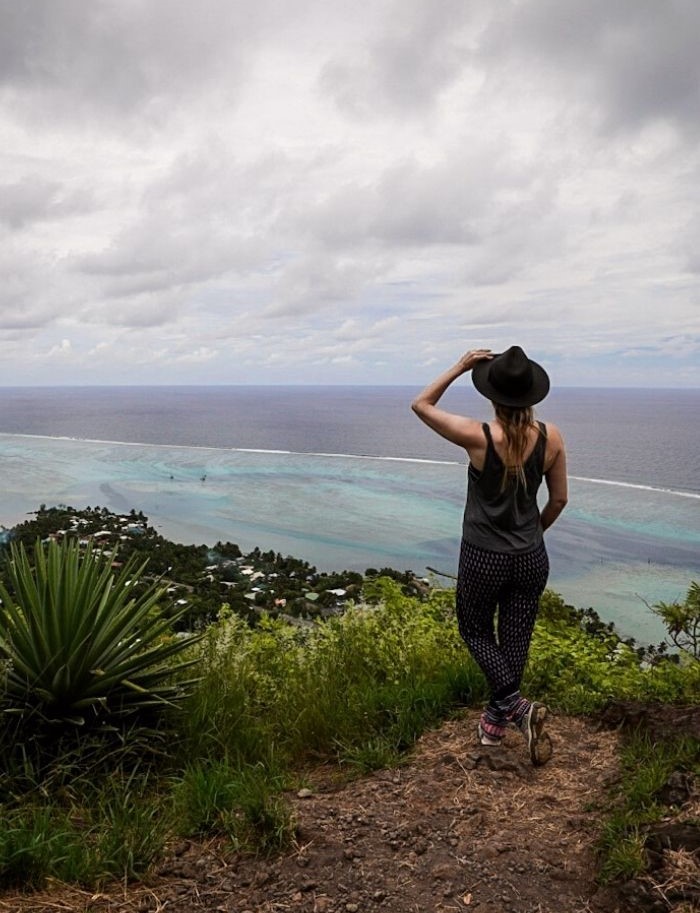 3. Magic Mountain
Magic Mountain is one of the most famous viewpoints on all of Moorea, and for good reason! The panoramic blue ocean and atolls are absolutely stunning.
It was hard for me to choose whether I like Magic Mountain or Belvedere Lookout more… but do I really need to choose? Luckily, we can easily visit them both.
This hike is Moderate, but be forewarned – there are some very steep sections! It will require you to be in good physical condition to make it to the top.
To find the starting point, navigate toward the Magic Mountain Lookout and turn inland once you see the Fare Tutava restaurant. You'll see a parking lot and likely other hikers ascending to the trail.
Once you reach the top, the views of Opunohu Bay are truly incredible. Be aware, you do need to pay a small $2 fee to hike to Magic Mountain. It can be paid directly to the restaurant near the parking area.
Pro Tip #1: If this hike sounds too treacherous for you, consider taking a 4 wheel drive tour. I personally booked and recommend this exact one here. It stops not only at Magic Mountain, but also the Belvedere Lookout, Rotui Juice Factory, and many, many more places! I can't recommend it enough! Book your tour here.
Pro Tip #2: I highly recommend a hydration backpack for this one. The elevation is a workout, and you will absolutely be feeling thirsty before you get too far in.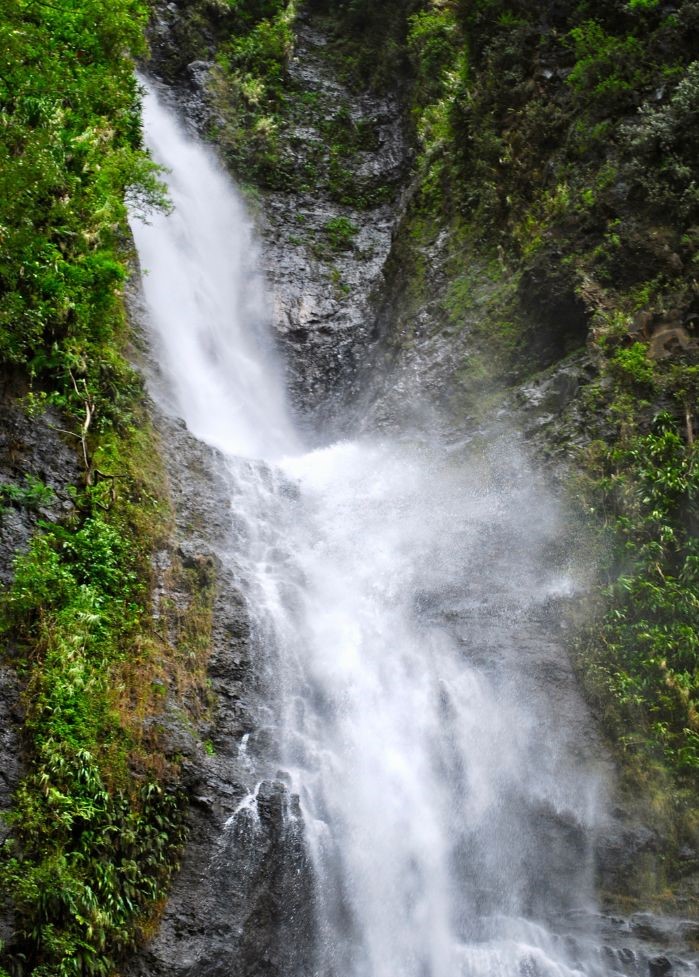 4. The Afareaitu Waterfall
If you're looking for an Easy hike with an exciting reward, I highly recommend hiking the trail to the Afareaitu Waterfall! It is an absolute must see in Moorea.
Well, I should say "waterfalls" plural, because there are actually two falls to see here.
The bigger of the two waterfall stands tall at 100 feet high. To reach it, you'll cross about one mile cross rocky terrain. There is one semi-steep section, but, overall this Moorea hiking trail is considered Easy.
Be aware, the road to reach the hike is pretty rough.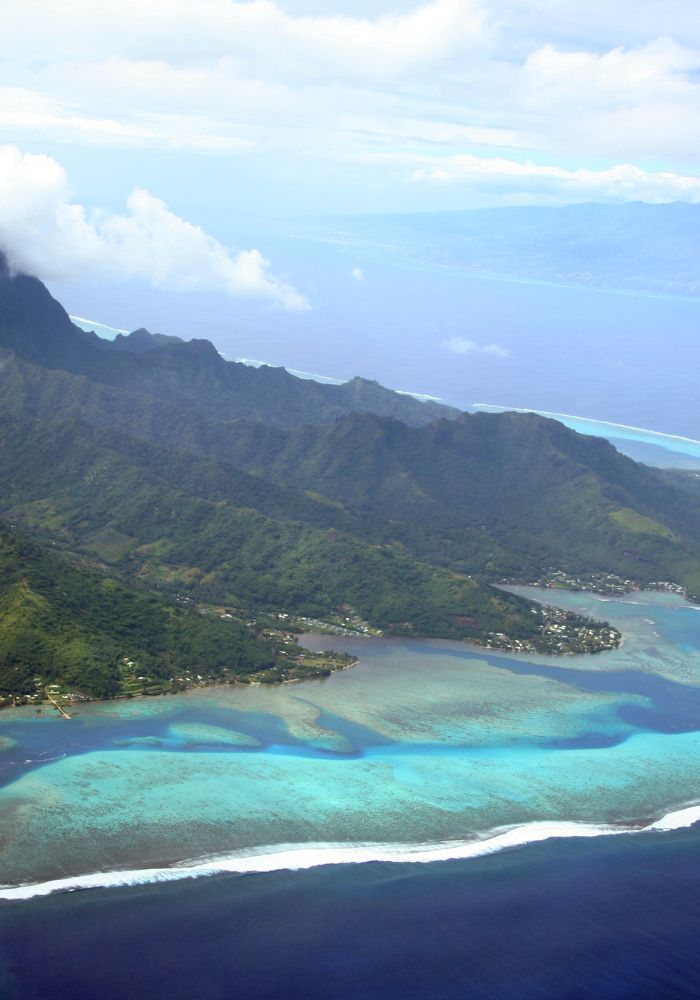 5. Mount Rotui
This one is for the serious hikers out there!
Mount Rotui is the huge peak that you see from the Belvedere Lookout, right in the center of the Opunohu Bay and Cook's Bay. It is also the namesake of the Rotui Juice Factory, one of the best things to do on Moorea.
Hiking Rotui is no joke. Having a lot of rock-climbing experience in my past, I appreciated the scrambling and uphill climb. But, I'm not going to lie. It was difficult, especially after the rain.
Only attempt this hike if you are very confident in your hiking abilities.
To find this hike, drive toward the Hilton and down the residential road opposite of the hotel. You will see free public parking near Ta'ahiamanu Beach. Follow the signs at the end of the residential road to the trailhead. And no, it is not necessarily easy to see.
If you do reach the top, the views will be incredible.
Pro Tip: Bring your sunscreen for this one (preferable a reef-friendly brand for use at the ocean, too.) And, you will need a hydration backpack here because you're going to need your hands for the scrambling. A hydration backpack means hands-free water access.
Moorea Hiking Gear
Hiking in Moorea can be a bit different than hiking at home, at least in my case! I come from a desert environment that can't even dream of this much green.
And, this lush tropical environment does require slightly different gear that I pack at home. In case this applies to you, too, I thought I would highlight the hiking gear that was absolutely essential for me on Moorea.
You May Also Like: A Moorea & Tahiti Packing List
Moorea Hiking Tours
Feel more comfortable exploring Moorea's nature on a tour? I get it! Sometimes it is nice to be carted around when you've on vacation, and avoid taking the time to plan every last detail yourself.
If you are interested in joining a Moorea hiking tour, here are my top three recommendations.
You May Also Like: Is Tahiti Safe? Solo Female Travel Tips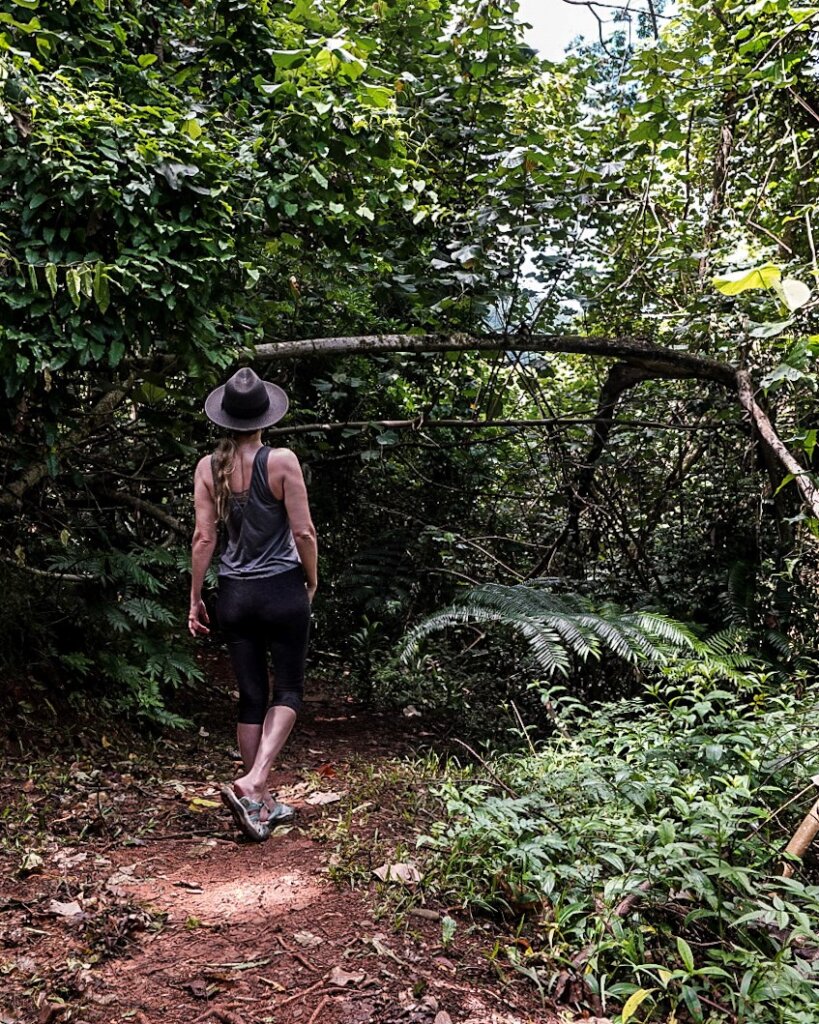 When to Hike Moorea
Moorea only has two seasons: the wet season and the dry season.
In general, the best time to visit French Polynesia is during the dry season. This runs from May to the end of September.
But, Moorea is a great place to visit no matter the time of year. In fact, I visited during the wet season where most people would say "don't go." And yet, I had mostly sunny temperatures every day but one!
The wet season runs from October to April. Suffice it to say that if you visit during the rainy season, you might get rain. But, you will likely get plenty of sunshine, too.
If you do visit Moorea in the rainy season, plan your hikes wisely. Try to allow at least one day after rain for the trails to dry out (have I mentioned how slippery they can get?)
Lastly, if you plan to do any of the longer or more strenuous hikes, start very early. As in, sunrise early. Because by midday things will feel extremely hot and humid.
How to Get Around
Getting around Moorea is an easy, albeit sometimes expensive, endeavor. But, to truly explore the island, I highly recommend renting your own wheels, for at least some of the time.
The question becomes, which wheels do you prefer?
On Moorea, you can rent cars, scooters, e-bikes, or book tours. These are your basic options, and all have pros and cons. Below, let's dive into them all.
1. Rent a car
Renting a car will not be cheap. I repeat, it will not be cheap. But, if you visit during the rainy season, you might prefer having a roof over your head rather than any of the bike options below.
Also, I realize that you may not be traveling Moorea solo like I did. So, if you are with a group, you may prefer a car to fit everyone in one vehicle.
So, though pricey, renting a car does have it's advantages.
My best tips for keeping costs down while renting a car is to reserve the car ahead of time and consider renting on Tahiti.
If you reserve your car early, you can save significantly versus renting on site. And, you could consider renting a car in Tahiti and transporting it to Moorea on the ferry. Read all about how to do that here.
2. Rent a scooter
I personally love riding scooters all over tropical destinations, and Moorea was no exception. I started my time on the island by renting a scooter.
There are loads of options, and I had a great experience using Moorea Scooter. They are also conveniently located an easy walking distance from the ferry terminal, so it's a no brainer.
Renting a scooter will cost a lot less than renting a car. But, you do need to a) know how to actually drive one and b) be prepared for rain, just in case.
3. Rent an e-bike
When I saw other tourists zipping up to lookout points on e-bikes, I knew I had to try it! And if you don't go the car or scooter route, then you will really want to rent an e-bike, at least for one day.
E-bikes are electric bikes that will keep pedaling even when you run out of steam. It is completely possible to ride around all of Moorea on an e-bike.
The e-bikes can be delivered to you right at your accommodation and picked up later, so it's really a no brainer. Easy island transportation, for sure!
4. Book tours
The three tours linked above are my top recommendations for hiking related tours. Care to check out other options? Browse Moorea tours here.
***
And that will do it for your Moorea hiking guide! I hope that this article has outlined the best of the best Moorea hikes and that you've pin-pointed the exact trails you plan to take!
Pin Me for Later!