Busy comparing Tahiti vs. Moorea to decide which island paradise to visit? This guide will break down key differences and similarities between Moorea vs. Tahiti. Let's dive in!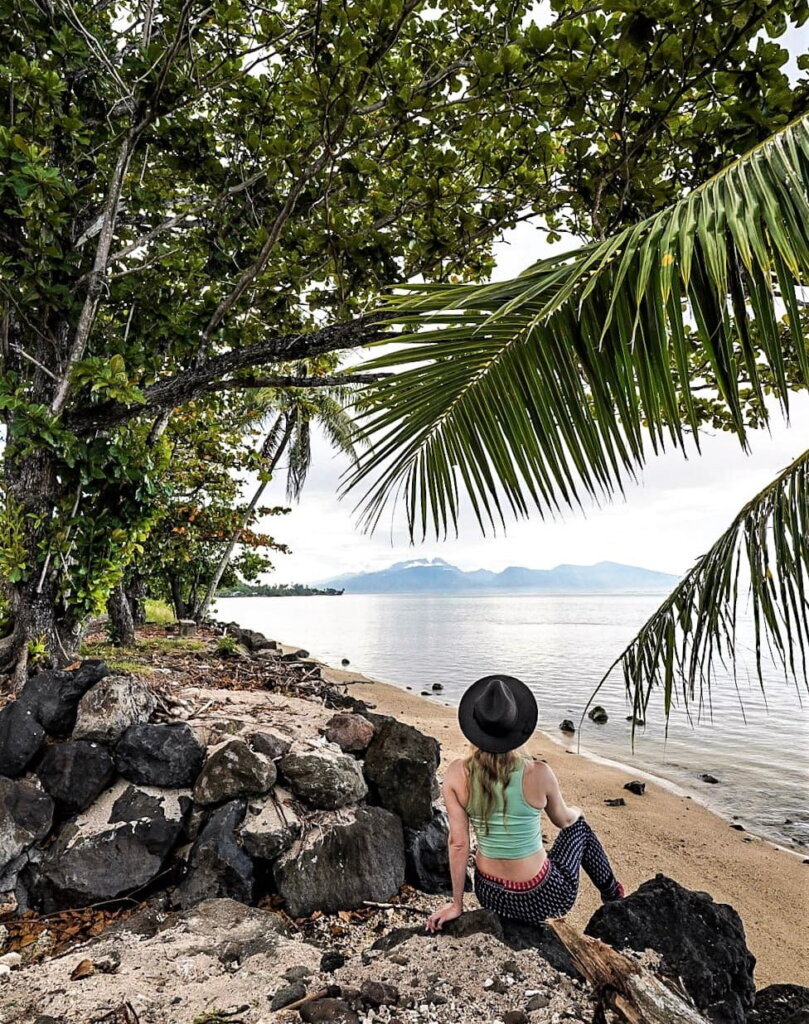 Moorea and Tahiti are two dreamy islands within the nation of French Polynesia.
Known for their lush tropical landscapes and clear blue water, both Tahiti and Moorea have found their way onto so many travelers bucket lists. And for good reason!
If you are traveling French Polynesia with limited time and trying to decide between visiting Tahiti vs. Moorea, this guide can help. Here I'll break down the similarities, differences, and what to expect from each island.
Spoiler alert – they are both beautiful! However, I do have a favorite….
You May Also Like: Is Tahiti Safe?
Tahiti vs. Moorea: Which Island is Better?
Where are Tahiti and Moorea?
French Polynesia sits in the heart of the South Pacific. Tahiti and Moorea can be found in seemingly the middle of nowhere, more than 2700 mile away from Hawaii and 3500 miles away from Australia.
For reference, they are about 700 miles from the Cook Islands.
Both islands feature towering volcanic peaks, unbelievably clear lagoons, and lush green hiking. Both islands have the same tropical weather. And, both islands have the same laid-back Polynesian culture and vibe.
So when it comes to comparing Tahiti vs. Moorea, where do we even start?
You May Also Like: The Tahiti to Moorea Ferry: A Complete Guide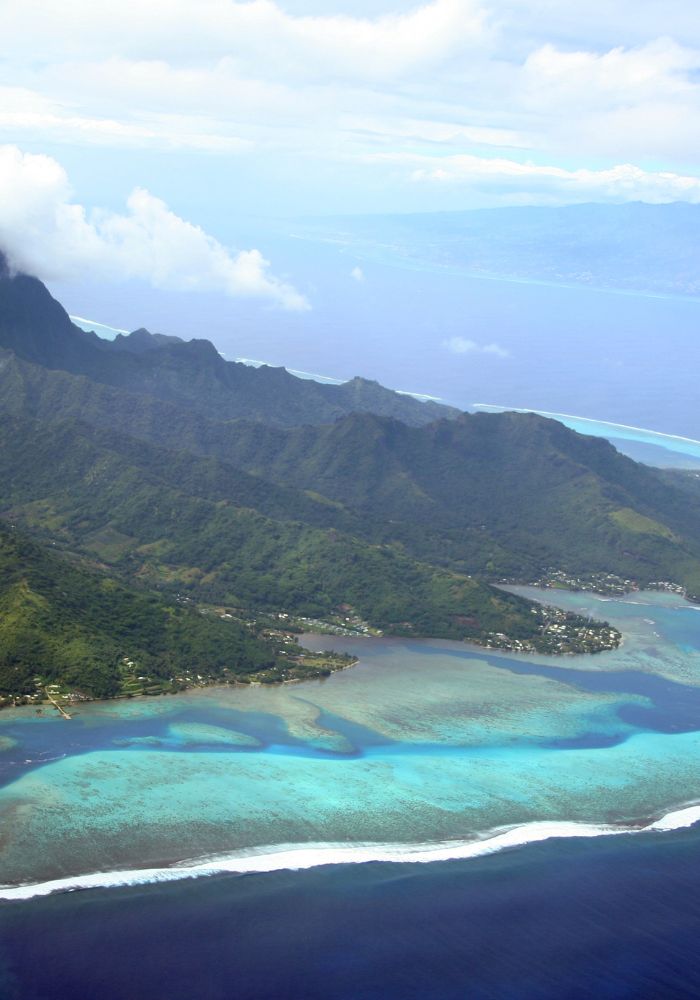 Tahiti vs. Moorea: Which is bigger?
Tahiti is the largest island in French Polynesia. This is where the large international airport lies and where most travelers will first arrive. This is also where you will find the majority of French Polynesia's 300,000 citizens – roughly 70% of the population.
Often underrated and even outright skipped, Tahiti is your gateway to the surrounding islands. But, Tahiti is quite beautiful in its own right!
Tahiti is divided into two sections: Tahiti Nui, which is the larger section to the west, and Tahiti Iti, which is the eastern peninsula. Tahiti is 28 miles across the widest portion, and driving a complete loop will take around six hours..
Moorea, on the other hand, is significantly smaller. It is part of French Polynesia's Society Islands archipelago, made up of 118 pristine islands and atolls.
Moorea is only 10 miles across and visitors can easily drive the entire island in about one hour. Moorea does, however, hold the second-largest population in the country, after Tahiti.
You May Also Like: A Moorea & Tahiti Packing List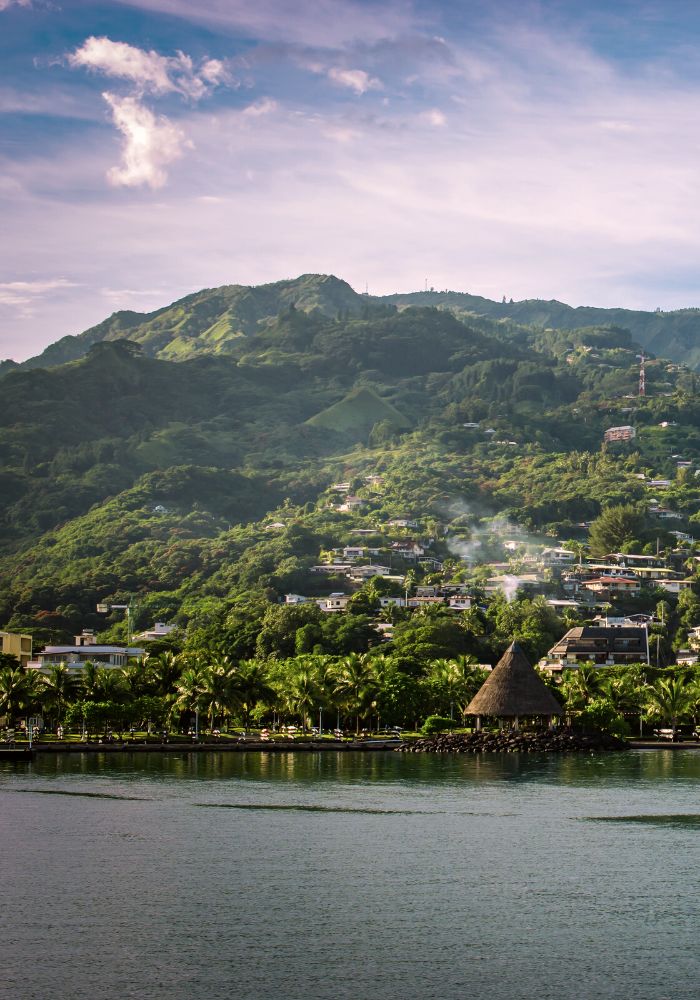 Which is more developed, Tahiti or Moorea?
Tahiti is easily the more developed of the two islands. Considering it is larger and holds most of the country's population, this is no surprise.
The roads are more plentiful (and better paved) and things are more accessible in Pape'ete, the main city. However, that doesn't mean Tahiti has no nature. Tahiti is still bathed in green plant life!
Moorea is more rural. It has more of that "small town vibe" and lacks any large buildings or high-rises. Many roads on the island are dirt roads that shoot off from the main paved circular route.
Moorea is known for its agriculture. Primarily, the never-ending pineapple plantations as well as fragrant vanilla farms. The island is extremely lush and rural, and is a lot less commercialized.
I had great luck on both islands in finding the modern amenities we've come to want, like wifi, cell signal, and hot water.
There is a ferry that runs between Tahiti and Moorea many times each day, so it is very easy to get from one to the other.
You May Also Like: The Best Things To Do in Moorea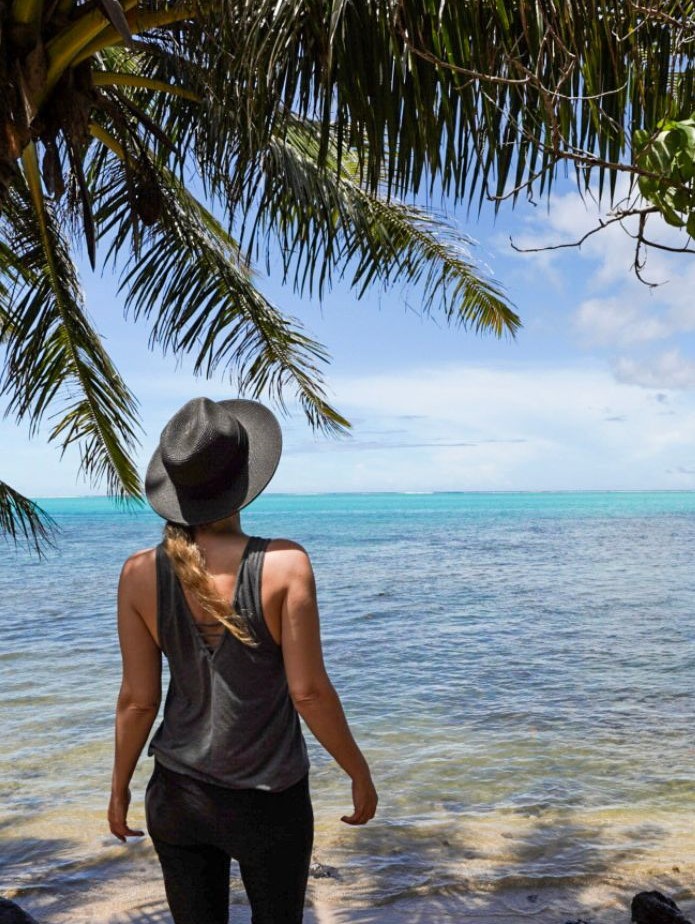 Who has the better beaches, Tahiti or Moorea?
Both Tahiti and Moorea have beautiful sandy beaches with some of the clearest blue water in the world.
What made Tahiti's beaches stand out is the you can easily visit black sand beaches. While I've visited black sand beaches before, it really never gets old, you know?
If seeing a black sand beach is on your bucket list, you should opt for Tahiti vs. Moorea, because you will not find any on the smaller island.
Tahiti's black sand beaches exist because of the island's volcanic origins. It is quite stunning!
On Moorea, you will find the white sandy shores more often associated with French Polynesia. And, for anyone looking to go snorkeling, I found Moorea's snorkeling to be a bit more beautiful.
You May Also Like: Coco Beach Moorea: A Complete Review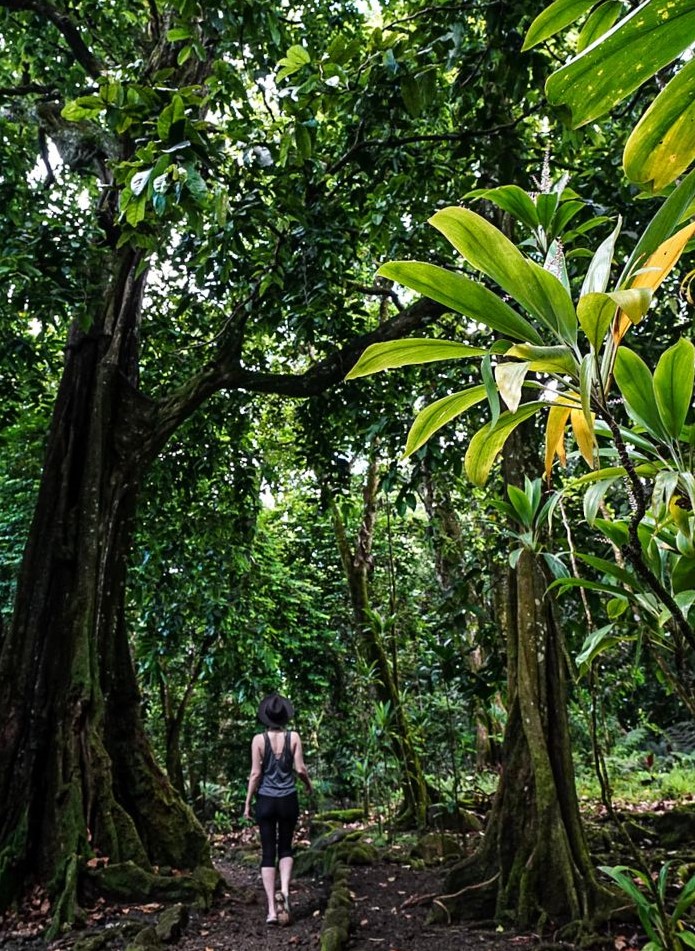 Which island has better hikes, Tahiti or Moorea?
Full disclosure, I went on more hikes in Moorea than in Tahiti, so this section might be biased. But the reason I went on more hikes in Moorea is because they were rumored to be more beautiful. Overall, I agree!
Because of Moorea's more natural and rural feel, the hikes are lush, green, and from another world.
Also, each and every hike seemed to have incredible viewpoints. Viewpoints overlooking rugged mountain peaks, beautiful blue shores, and rocky outcrops. Because Tahiti is more populated and "busy" I just didn't find the views to be quite as awe-inspiring.
Tahiti does, however, have some pretty great waterfall hikes, where – to my knowledge – Moore only has one. So if you want to chase all the waterfalls, you might consider Tahiti's hikes instead.
You May Also Like: A Moorea Hiking Guide
Pro Tip: While beautiful, these hikes trek through a tropical forest. Be sure to bring these bug repellent wipes, which are an essential item for any Tahiti packing list! The mosquitos here are no joke.
Which island is better for adventure-lovers?
Moorea offers many more opportunities for adventure over Tahiti.
On Tahiti, yes – you can find some adventurous things to do. But Moorea has many more options.
Want to ATV through the jungle? On Moorea, you can! Want to hike Moorea's rugged mountains using ropes to help pull you up? On Moorea you can! Want to parasail or surf or horseback ride? Again, on Moorea you can.
There are many more things to do on Moorea for those who love hiking, swimming, snorkeling, and adventuring.
Here are some of my favorite tours you can do on Moorea:
4WD Tour of Moorea: This tour includes transport to many of Moorea's top attractions, like the Pineapple Farm, Belvedere Lookout, Magic Mountain, and the Tropical Garden, among others. This tour is my top suggestion for anyone who wants to see a lot in a short amount of time. It includes pickup and dropoff. Book your tour here!
Hike to Arareaitu Waterfall: While it is possible to hike to this waterfall solo, the car rental companies don't allow driving on this dirt road. A half day tour will hike you through the lush jungle to a 100 foot beautiful waterfall. Book your tour here!
Private Catamaran Snorkeling & Sailing: Enjoy a private day at sea aboard a catamaran charter on this half-day excursion. Snorkel and swim with rays, sharks, and tropical fish or lay out on the boat's deck for some sun. Snacks and drinks included. Book your tour here!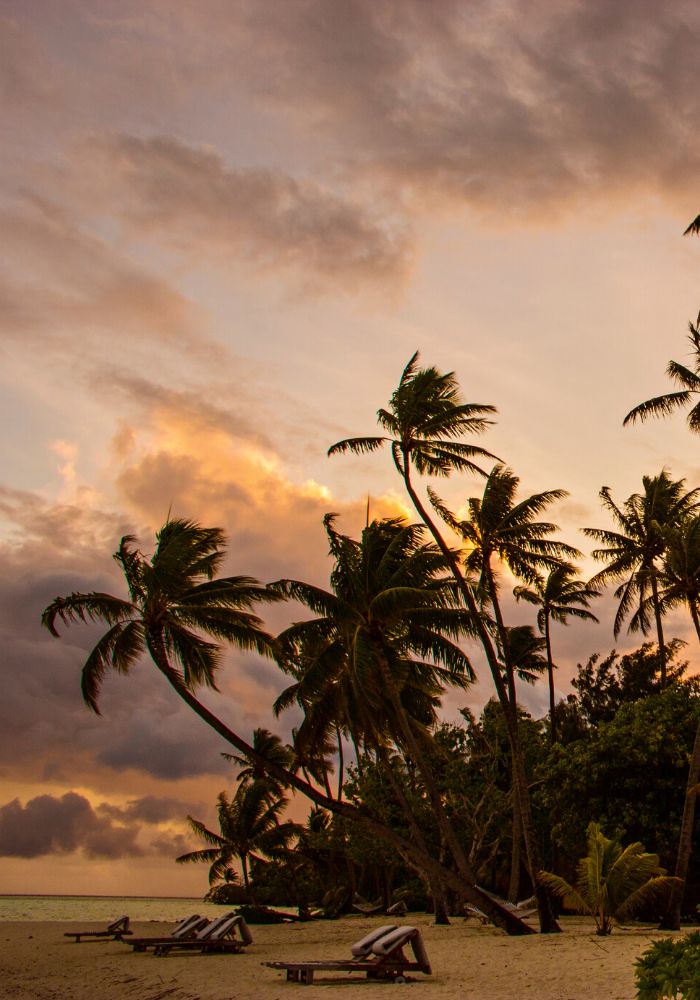 Tahiti vs. Moorea: Which is Better Overall?
When comparing Tahiti vs. Moorea and deciding which is better, I have to give that award to Moorea.
While Tahiti was very beautiful, I personally was looking for a quieter island experience. Moorea was perfect for me.
The crystal clear waters allowed me to snorkel to my heart's content. A trip to the Rotui Juice Factory introduced me to some incredible beverages form the juice and distillery. The ATV tours provided the adventure-dose that I needed. And the unbeatable tropical trails gave the best hiking experience I could have asked for.
If you have the time, I vote that you take the ferry and visit both islands. It is definitely worthwhile to do so.
But if you have to choose only one, and you want a lush but rural but adventurous and beautiful island, then Moorea is for you.
Which one would you choose? Let me know below!
Looking for more French Polynesia planning resources??
Pin Me for Later!