It's no secret. The United States is an amazing country with countless offerings for travelers! Here is my USA bucket list featuring the top 20 things to see, do, and explore in America.
Pin Me for Later!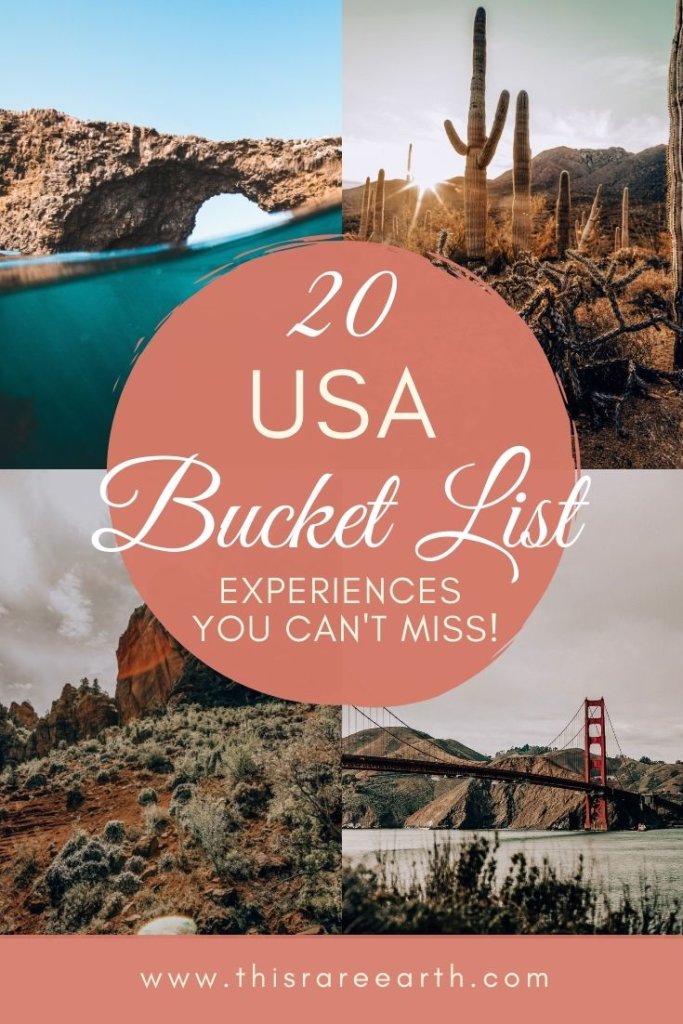 It's no secret; the United States is a huge country. There are literally hundreds of USA bucket list experiences that I could list here and still not scratch the surface of what the United States has to offer.
For now, I'm listing the top 20 bucket list items to see or do in America – things that are either unbelievable phenomena of nature, or an impressive achievement by man, and maybe even a quirky attraction or two that you shouldn't miss.
In no particular order, here are the top 20 things to see and do on your USA Bucket List!
USA Bucket List: 20 Things To See and Do In America
1) The Grand Canyon, Arizona
There's a reason why The Grand Canyon is known far and wide as a top sight to see in the USA. It is phenomenal! And over 5 million visitors can attest to that.
The first time I visited this 1-mile deep canyon, I was on a road trip through California, Arizona and Nevada with my best friend on New Year's Day. I got to spend January 1st looking out to the vast beauty. I remember commenting that the view looks like a green screen, as the rocky cliffs faded into the distance.
It was an extremely memorable start to a new year, and a site that no traveler should miss when driving through the southwestern states!
2) Joshua Tree National Park, California
I've said it before and I'll say it again; Joshua Tree National Park is one of my favorite places not just in the United States, but in the world. Yep! That's a tall statement. But I mean it.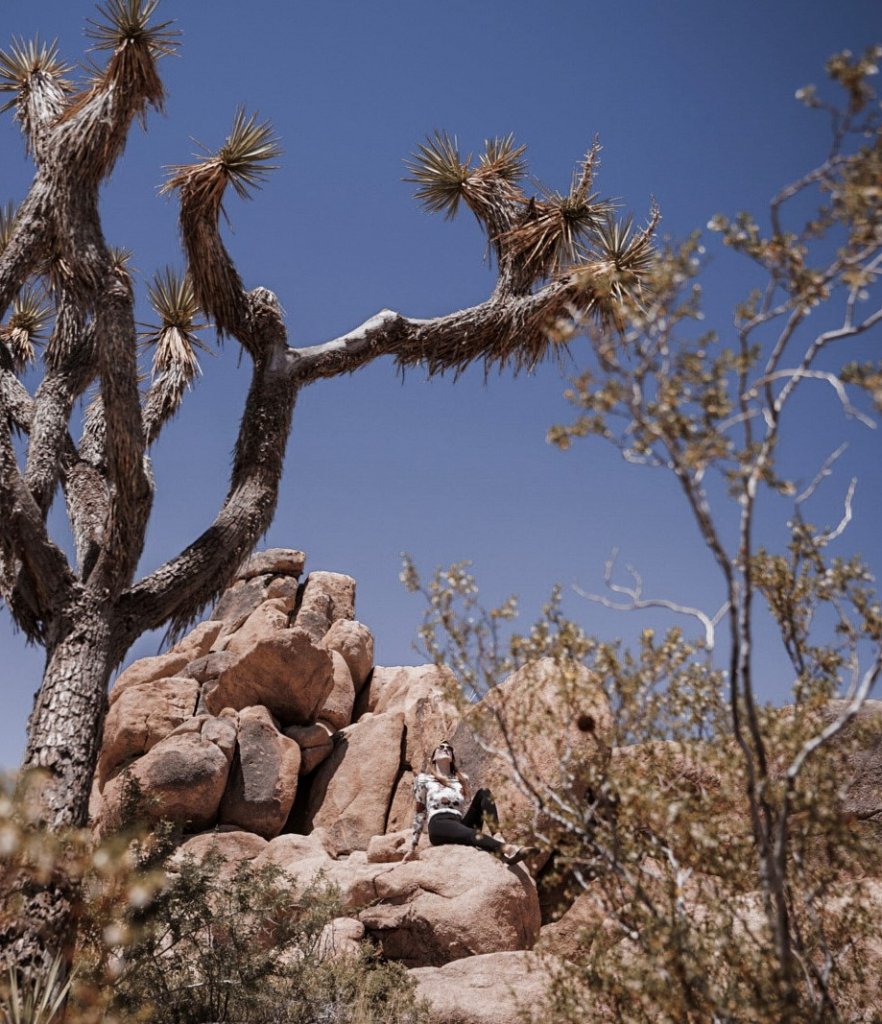 This desert ecosystem became a national park as recently as 1994, and it's easy to see why! There's a magic to Joshua Tree not found in every USA desert. Within its borders sits two very different desert landscapes – that of the Colorado Desert in the southern portion and the Mojave Desert in the northern portion.
The Mojave Desert is home to the famous Joshua Tree – a tall and spindly yucca – and the Colorado Desert is hotter and dotted with cacti. Joshua Tree National Park is a designated Dark Sky Park, perfect for stargazing! Joshua Tree is roughly 2.5 hours outside of Los Angeles and you NEED to make a stop here.
3) The Wild Horses of Corolla, North Carolina
You read that correctly – there are wild horses on the Atlantic Coast of the USA, in Carolla, NC. I've been lucky enough to see these beautiful creatures several times in my life, and it's always breathtaking.
They were originally brought in by explorers in the 1500's, and it's speculated that the horses either swam to shore from shipwrecks or are living remnants of long-forgotten and failed settlements. Today we see their ancestors roam the northernmost beaches in the Outer Banks. Don't try to feed or pet them; they are truly wild.
4) The Golden Gate Bridge in San Francisco, California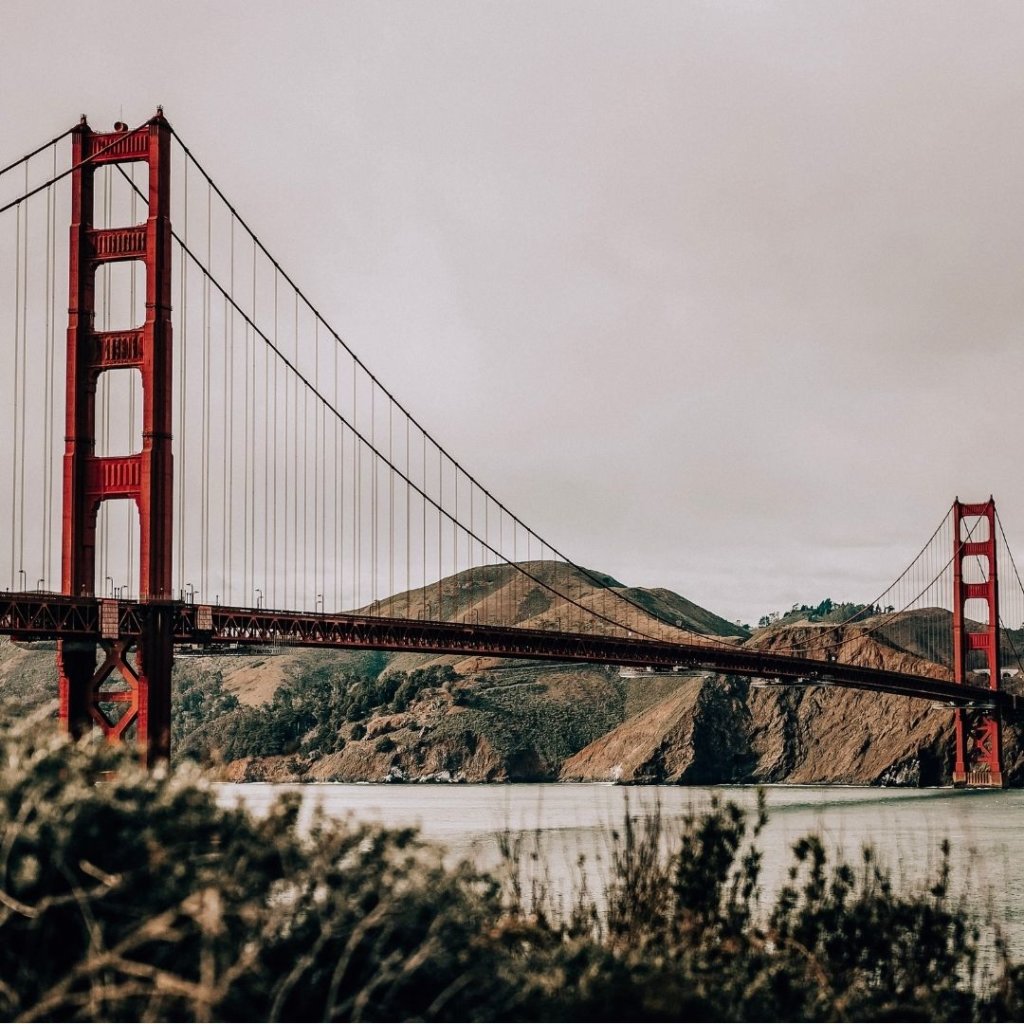 The first of our man-made iconic USA Bucket List spots is in San Francisco, CA. Once dubbed "the bridge that couldn't be built," today the Golden Gate Bridge stands tall and is considered one the seven wonders of the modern world.
Perhaps San Francisco's most famous landmark, this bridge endured a four-year struggle against fog and constant winds before finally opening in 1937. The bridge is nearly 9,000 feet long and it was painted the bright red-orange hue to remain visible even in fog. Fun Fact: it takes between 5,000-10,000 gallons of paint to repaint this bridge every year.
5) Valley of Fire State Park, Nevada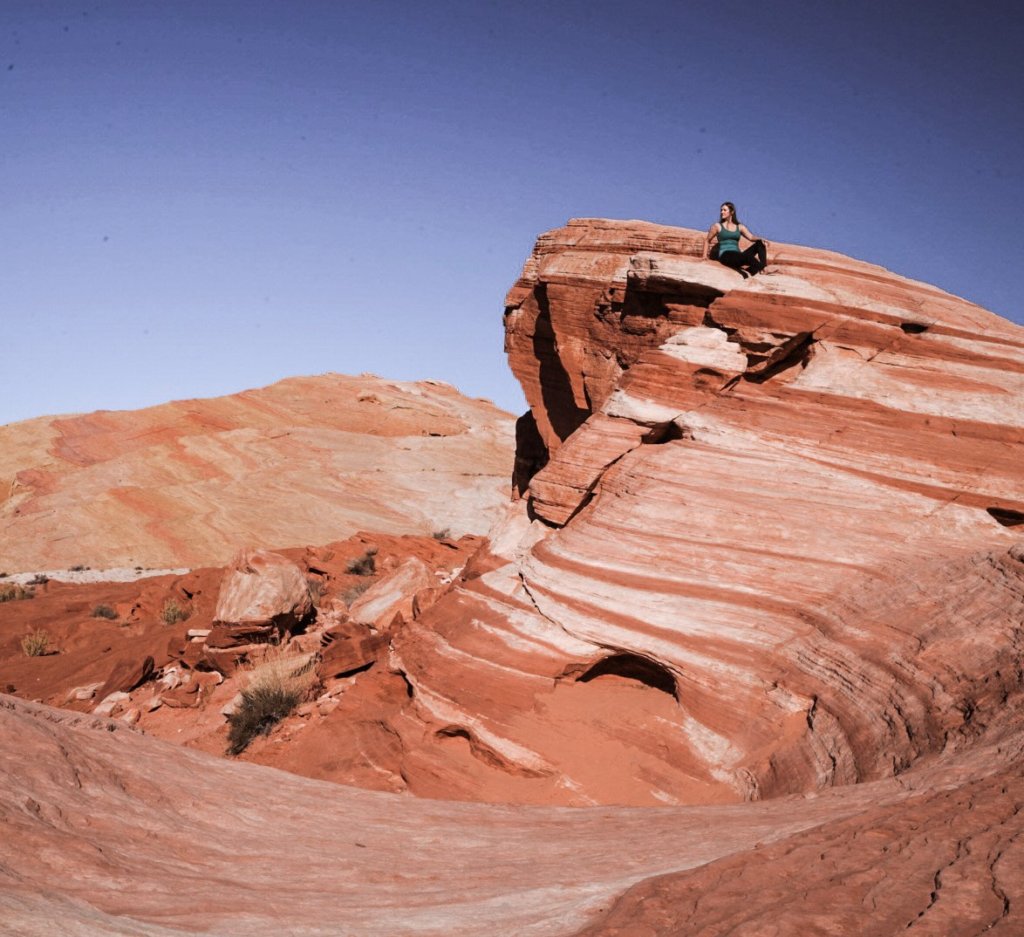 Some of the most impressive and colorful lands I've seen sit within Valley of Fire State Park's borders. Raw, unforgiving, red desert against blue skies is what you'll see here, with sandstone dating back to the Jurassic period. This is the only state park to make my USA Bucket List, and it made my Best Of Travel list for 2020, so I think that says a lot.
No matter where you are in this park, you will see endless spectacular views. White, black, red and even hints of pink and yellow rock are visible at every turn. Popular formations like Rainbow Vista and the Fire Wave have inspired me to return again ASAP!
6) El Yunque National Forest, Puerto Rico
The gorgeous Caribbean island of Puerto Rico absolutely deserves a spot on the USA Bucket List, as it is an official US territory. But more specifically, the El Yunque National Forest that covers over 28,000 acres of the island is what I want to talk about today.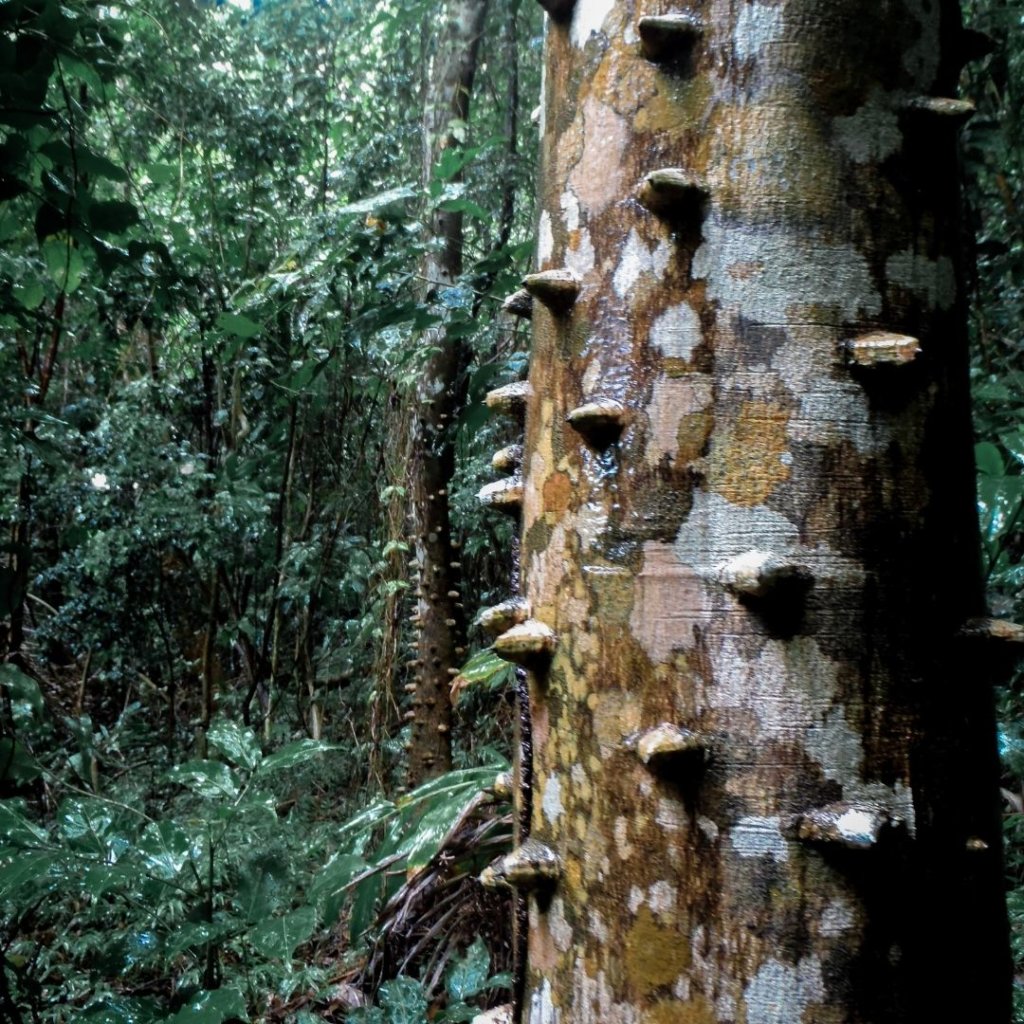 Did you know that the USA had a tropical rainforest within its boundaries? It does! El Yunque is it. And, El Yunque is beautiful.
The lush greenery and wild plant life of El Yunque is so unique, especially when compared to anything found on the mainland. This is a must-see for every American.
7) Whale Watching in the Channel Islands, California
Each year, giant grey whales swim through the waters of the Pacific, and California has a rare chance to view these whales in the wild.
Several years back, I took my parents on a whale watching adventure around the Channel Islands, and they were impressed by the giant creatures swimming so closely to our boat.
We also got to see dolphins swimming along, keeping pace with the boat for fun, and sea lions lounging in the sun. Whale watching is an incredible experience – add this to your USA Bucket List immediately!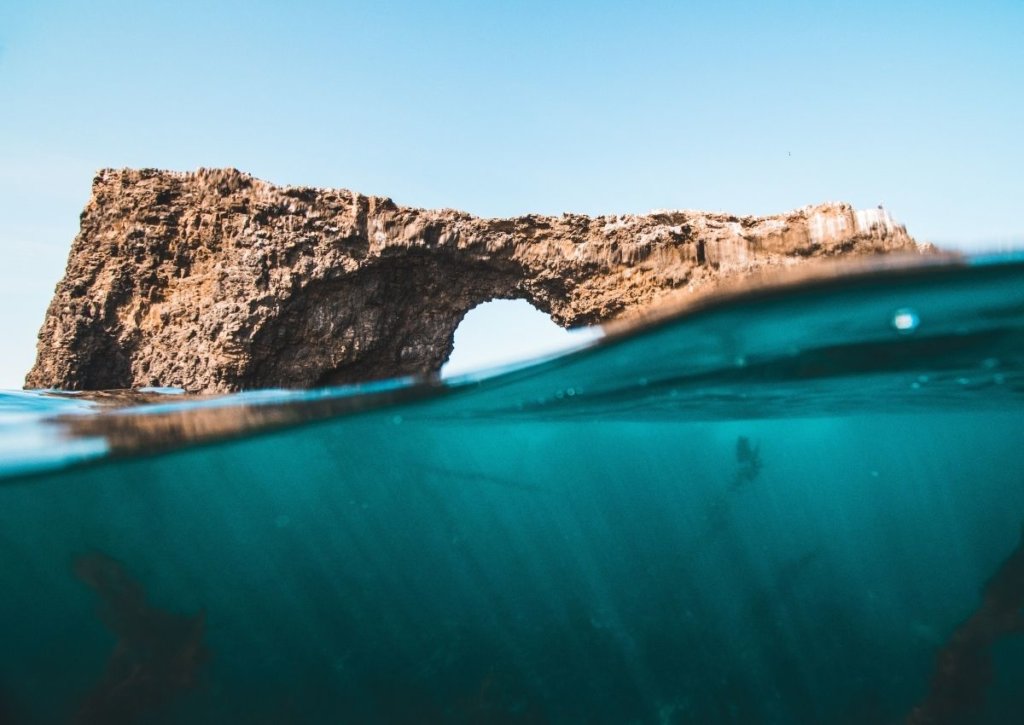 8) Explore the Islands of Hawaii
At the time of writing this, I've been lucky enough to visit both Oahu and Kauai – leaving the Big Island and Maui still on my bucket list. Like Puerto Rico, Hawaii is so different from the mainland USA – in climate, in culture, and in atmosphere. Seeing rainbows every day is a real thing here!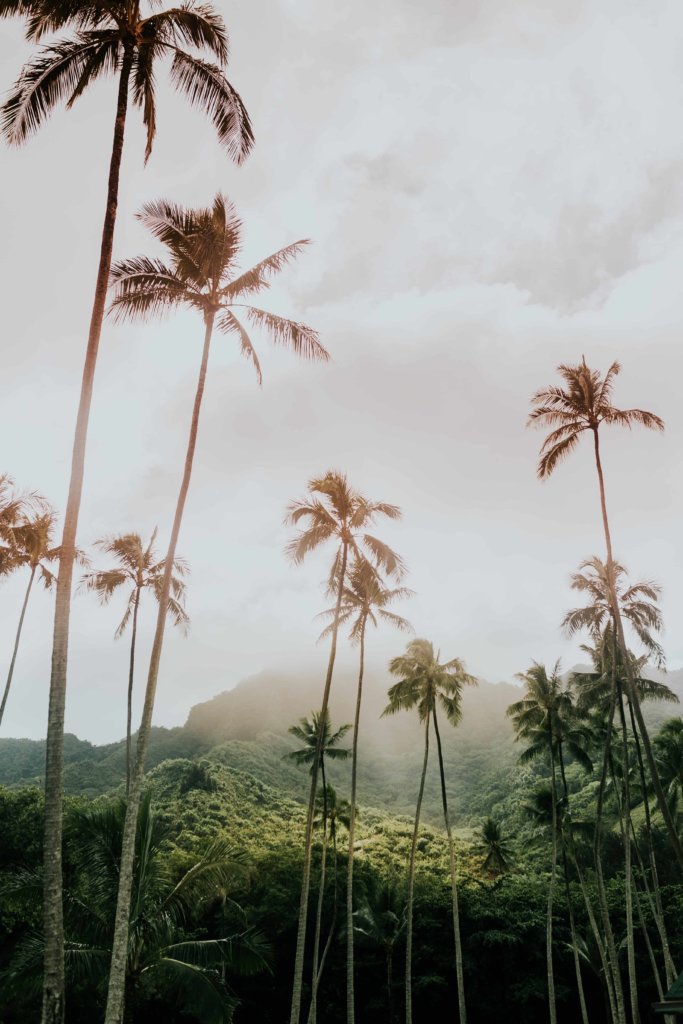 Kauai in particular feels very secluded and natural, still overflowing in lush greenery. In fact, it's known as "The Garden Island" because of the abundant plant life.
Waterfalls are everywhere, the beaches are gorgeous, and the people are friendly. If you get a chance to go, absolutely take it!
9) Visit Seven Magic Mountains in Nevada
Even if you aren't familiar with the name, you have likely seen photos of Ugo Rondinone's desert masterpiece called Seven Magic Mountains.
This public art installation sits in the middle of the Nevada Desert, with a mountainous backdrop, and is a stunning sight to see. The neon colors add such a contrast to the natural world!
Sitting just off of the highway and only about 20 minutes outside of Las Vegas, this free spectacle is more than worth it. That's right, I did say "free". Hundreds of visitors flock to see this artwork each day, making this a worthy addition to your USA Bucket List.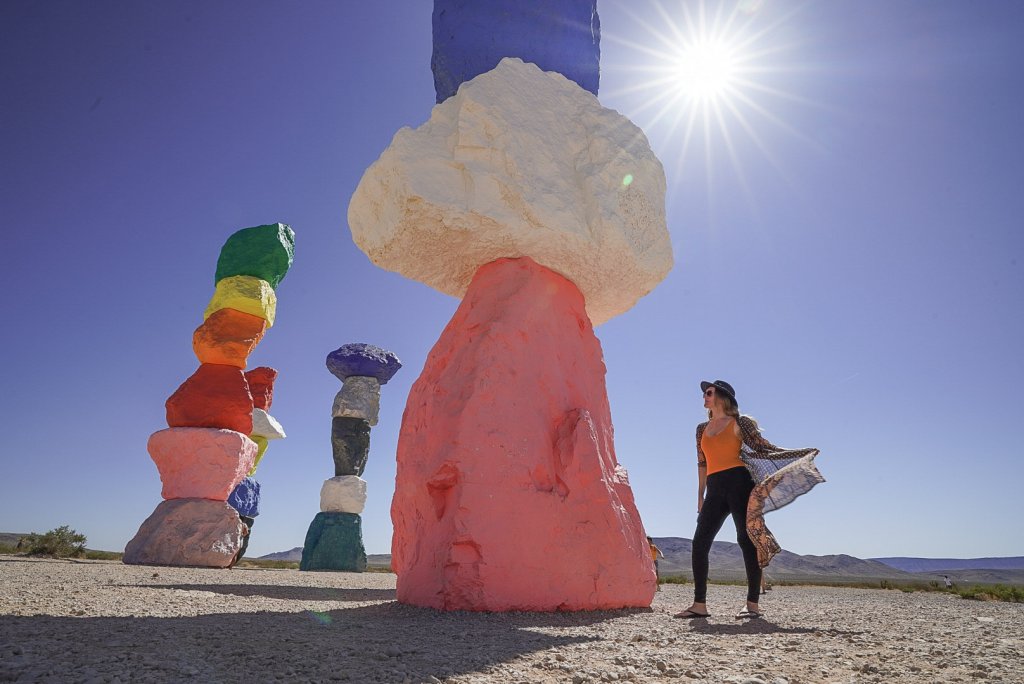 10) New York City and the Statue of Liberty
What would a Bucket List across America even be if it didn't include the iconic Statue of Liberty on New York Harbor? Americans see this symbol everywhere, so it's only fitting to see the real thing in person.
This copper statue stands over an impressive 300 feet tall and was completed in 1886. The total weight of the statue is over 200 tons!
The green color is not paint but a natural copper patina, which was unintended and planned to be removed when it first began to appear. Luckily it was left as is, because now the green hue is an integral part of the statue's identity.
11) The Saguaro National Forest, Arizona
It's no secret that I'm a desert gal. I love every desert, from the Arabian Desert to the Mojave Desert to the Sonoran Desert – which is where the Saguaro National Forest, in part, lies.
These giant cacti are probably my most favorite of all plant life – such character in their twisting arms!
Located near Tucson, one can't-miss section of the Saguaro National Forest is Cactus Forest Drive. This winding road offers unexpected, striking views of the surrounding desert landscape.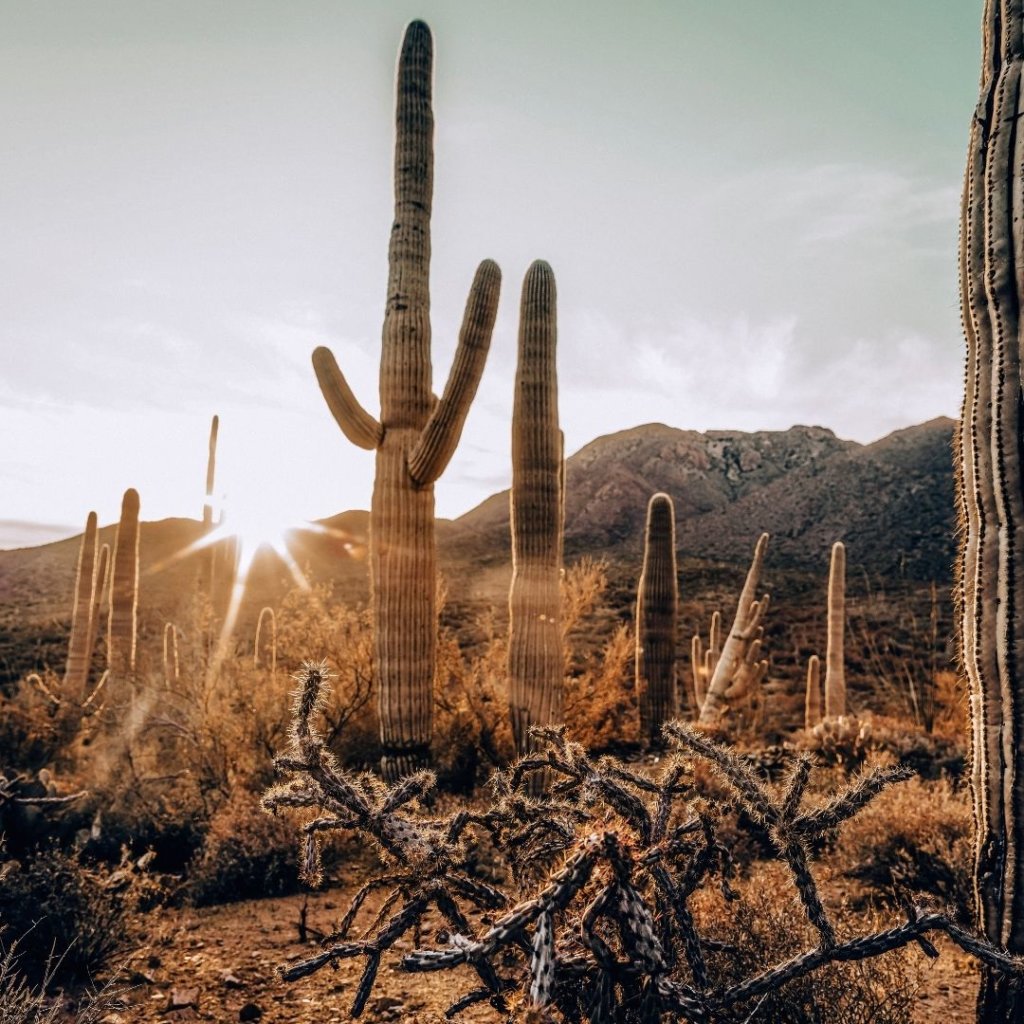 12) Glaciers & Grizzlies in Alaska
Alaska is known as "The Last Frontier, and for good reason; Alaska's untamed wilderness is a sight to see! Massive blue glaciers, wild grizzly bears, and stunning green plant life are breahtaking.
Alaska can be seen through multiple modes; by boat on a glacier cruise; by helicopter for a birds-eye view; or by foot to experience the spectacular hikes of this great state.
13) Pittsburgh, Pennsylvania: The City of Bridges
There are 446 bridges in the city of Pittsburgh, PA. Three rivers – the Allegheny, Monongahela and Ohio – converge in the city, creating an interesting landscape covered in highrises, waterways, bridges, and greenery. It's a unique city with much to explore.
With steep hillsides similar to those of San Francisco, and tall row-houses climbing those hills, Pittsburgh is a picturesque location.
The famous Pittsburgh Incline is worth a ride to see the view! Popular areas like the Southside and the Strip District showcase one-of-a-kind storefronts, restaurants and bars.
14) Death Valley National Park, California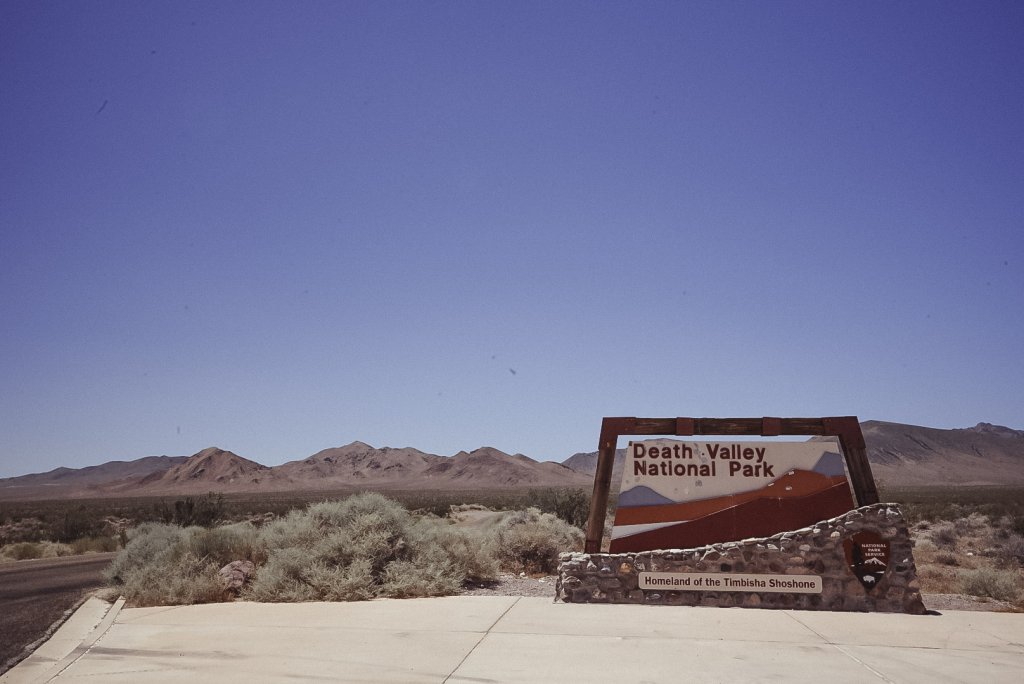 Death Valley National Park sits roughly 215 miles and 3.5 hours outside of Los Angeles, CA, on the Eastern edge of the state. Containing over 5,000 square miles of land, there is a lot to see in this famous National Park!
Everything from rugged mountains to white sand dunes, deep canyons and a dry desert are contained inside of the National Park boundaries. Death Valley is the hottest and driest of all national parks, often reaching over 120 degrees in summer months.
There are plenty of opportunities for desert hiking, and sightseeing spots like the Artist's Palette and Badwater Basin, which is the lowest point in all of North America, making it worthy of a spot on your USA Bucket List.
15) Zion National Park, Utah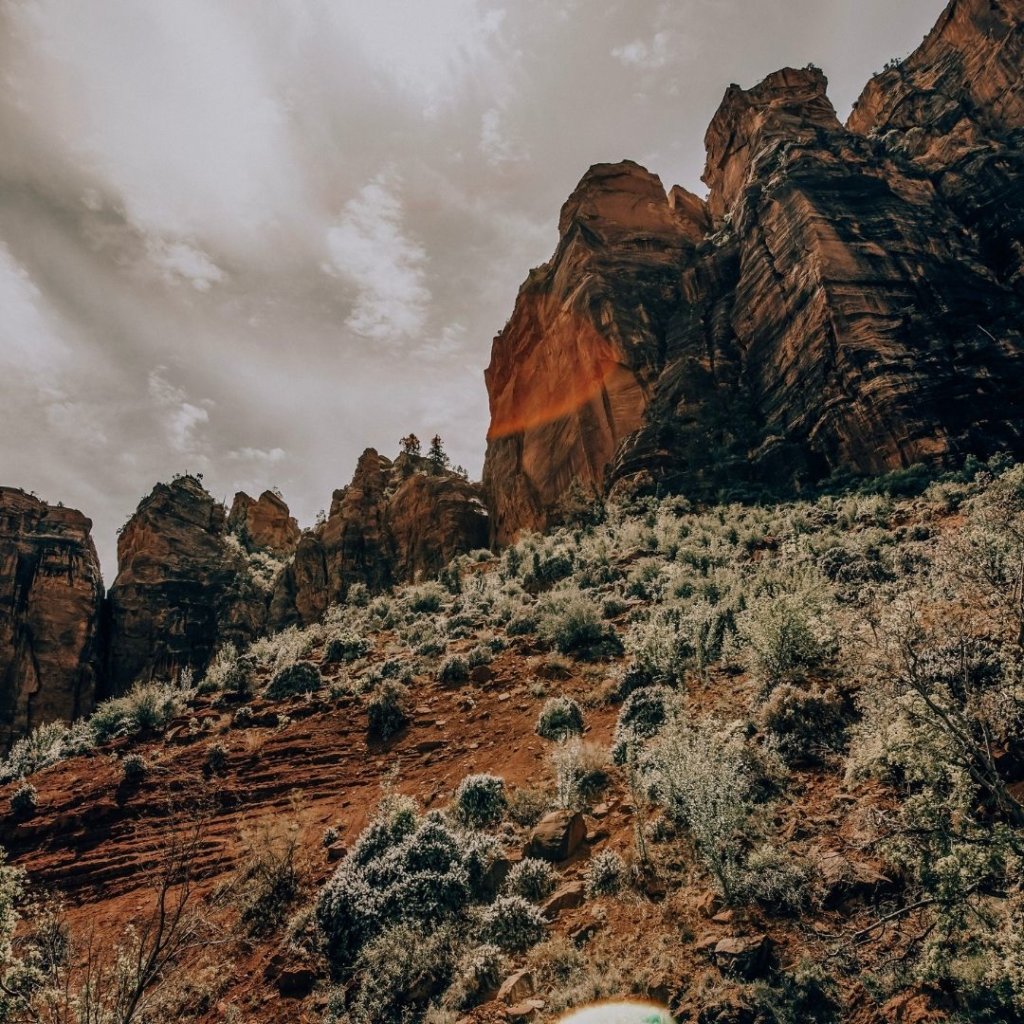 Zion National Park is one of the most breathtaking displays of colorful canyons and striking deserts in the entire United States. 84% of the park is "designated wilderness", meaning over 100 acres remain untouched by man.
Zion is one of my most memorable camping experiences of my life. The moon and stars sitting in the sky, shining light on the cliffs below… it's an image etched firmly in my memory.
Besides camping, Zion also offers amazing hikes and scenery as well as rock climbing and river activities.
16) Crystal Clear Waters in Key West, Florida
Key West is an island in the Straits of Florida, at the southernmost end of the state. Interestingly, Key West is actually closer to Cuba than it is to Miami, distance-wise! Only 90 miles from the Caribbean island, the Atlantic Ocean and the Gulf of Mexico meet here.
The island is only eight square miles and holds a melting pot of people from around the whole world. The sunsets are unbelievable and the water almost shimmers in the sunlight.
17) Get Artsy in Santa Fe, New Mexico
Founded as a Spanish colony in 1610, Santa Fe's familiar Pueblo-style architecture and winding streets hold both historical and artistic landmarks.
Now known as a creative hotspot, you can find everything from painting to glassblowing to ceramics here on just about every corner. Plenty of artist's studios offer live demos and even workshops, where you can try your hand at a new skill.
Santa Fe was the first capital city in North America, but 23 tribes of Native Americans have a history here that is celebrated every year at numerous festivals around town. Contrary to popular belief, Santa Fe sits in the high desert, meaning it actually has cold winters and tree covered mountains rather than cacti and red sand.
18) Deal's Gap in North Carolina & Tennessee
Deal's Gap is a mountain road that sits on the border of Tennessee and North Carolina. This road is famous because of an 11-mile stretch that alone has exactly 318 hairpin turns and curves – a motorcycle and sportscar dream – called Tail of the Dragon.
Bordering the Great Smoky Mountains National Park, this road is said to be haunted by both the Cherokee tribe and also buried soldiers from the Civil War.
To me, it didn't feel spooky, but it sure felt exhilarating to take all those twists and turns! Careful if you get motion sickness.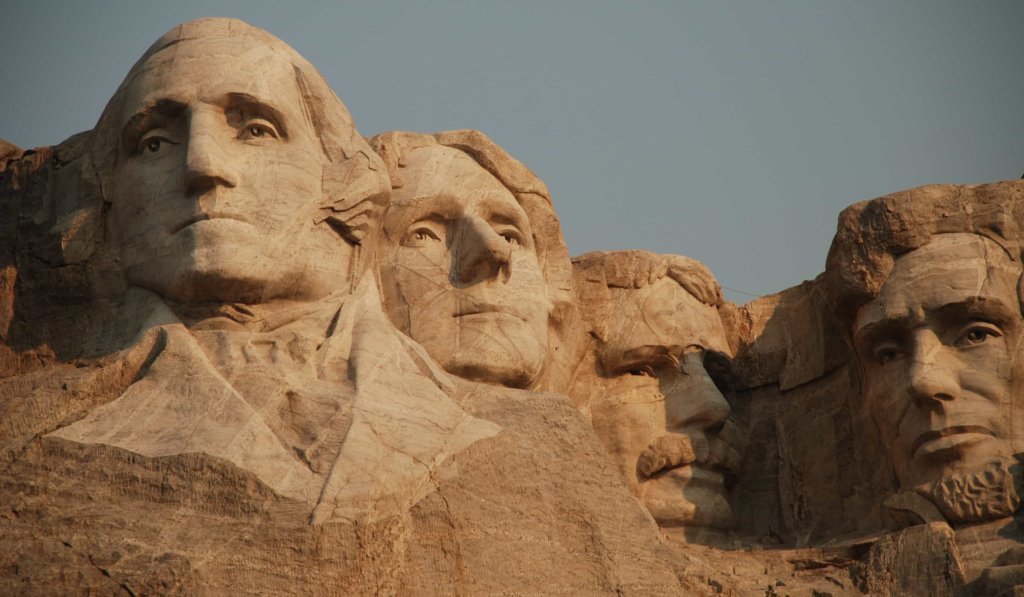 19) Take in History at Mount Rushmore, South Dakota
These massive, 60-foot high stones feature the faces of four past US Presidents; George Washington, Thomas Jefferson, Theodore Roosevelt and Abraham Lincoln. This makes it an obvious addition to your USA Bucket List.
Mount Rushmore National Memorial was completed in 1941 and has become an iconic symbol for the USA. Artist Gutzon Borglum carved the faces of our president's out of granite rock in the year 1941, which now welcomes over three million tourists each year.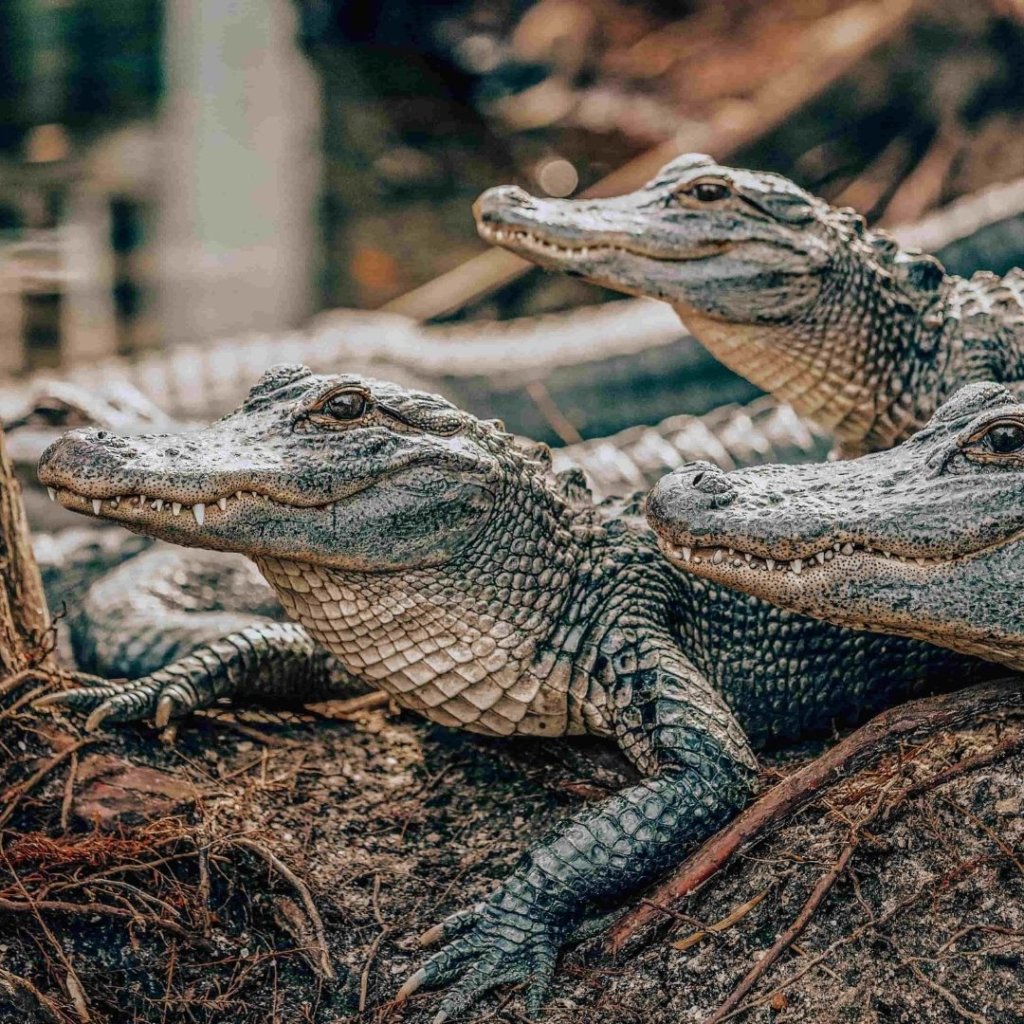 20) The Everglades, Florida
Florida's Everglades National park is without a doubt an often-overlooked gem in the Sunshine State. Covering a staggering 1.5 million acres, these wetlands host mangroves, tall grasses, swampland and marshes, and host creatures like alligators, turtles, and manatee.
Airboat tours are offered by several companies that will get you up close and personal within this wild habitat. It's truly an adventure! Highly recommended for your USA Bucket List.
Did you enjoy this list? You might enjoy 25 Simple Bucket List Items too!
Pin Me for Later!