Here are the top ten places to visit in Lithuania, written by a blogger of Lithuanian heritage! If you are wondering what to see in Lithuania or what the top things to do in Lithuania might be, then you have come to the right place. Read on for all of my insider tips to make your vacation in Lithuania the best ever!
Pin Me for Later!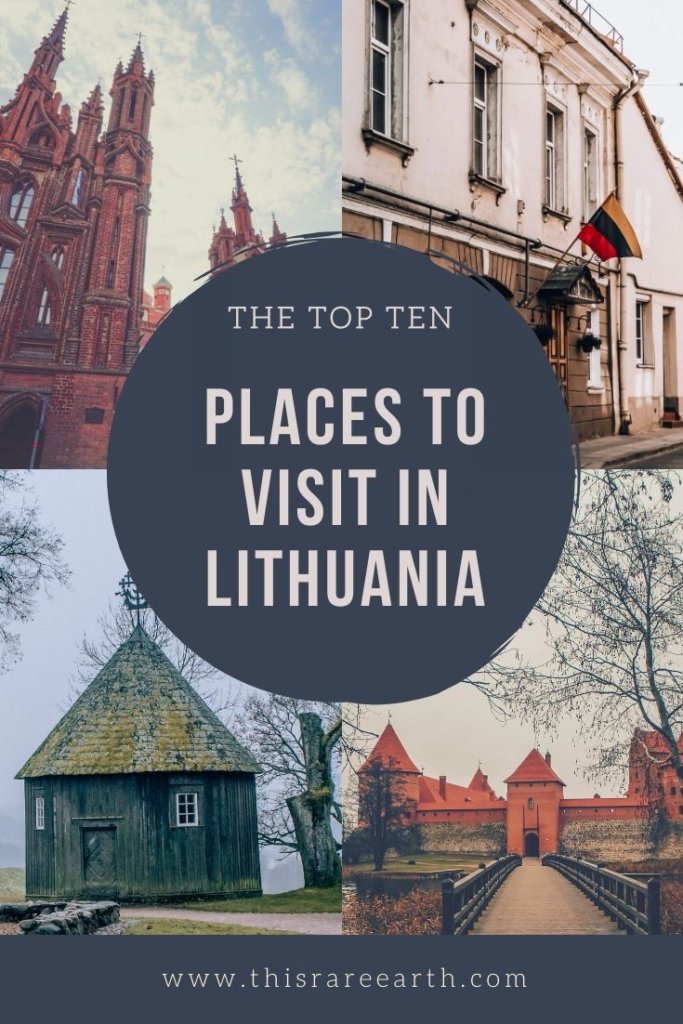 If you know me in real life, then you have undoubtedly heard MANY times about my Lithuanian background. It's no secret – I'm obsessed proud of my Lithuanian heritage and basically talk about it any chance that I get.
I was born in the USA, but my DNA (and heart) is Lithuanian. I visit my homeland every few years and have traveled the entire country – extensively – and in many ways. I've done a solo road trip in Lithuania, I've traveled the country by bus and public transportation, I've walked the city streets in the capital.
There are certainly no shortage of amazing places to visit in Lithuania which are all very near and dear to my heart. I am absolutely biased, but Lithuania is one of my favorite countries on the planet and there are countless things to do in Lithuania that will absolutely blow you away.
Though largely unknown in the larger world of leisure travel, let me show you why this beautiful Baltic gem should be at the top of your list.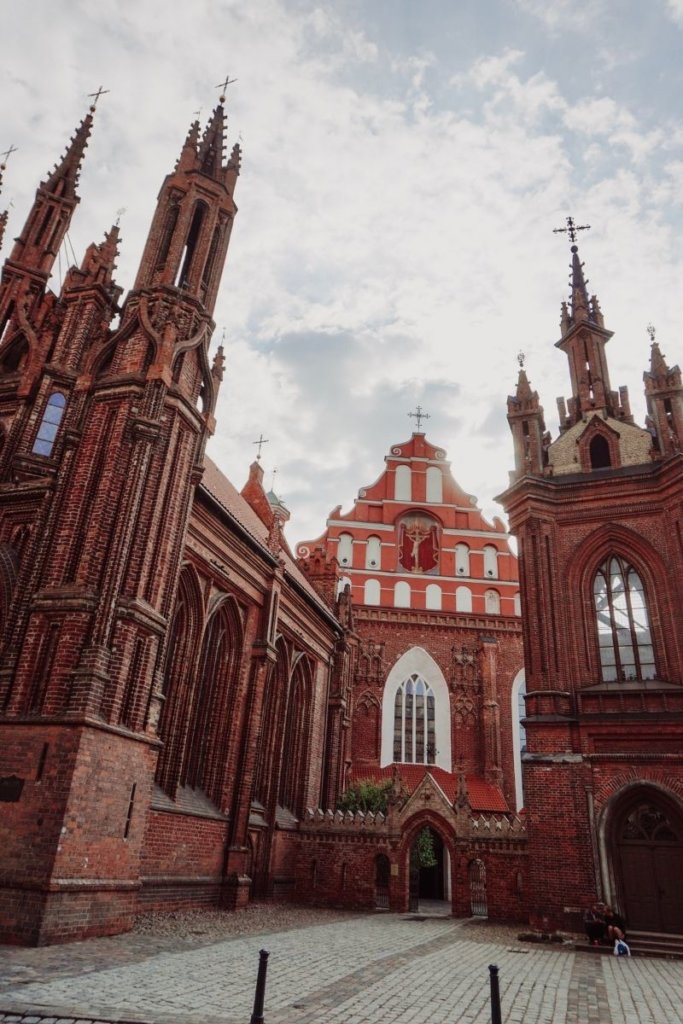 Top 10 Places to Visit in Lithuania
1) Vilnius
Most likely, you will enter the country through the Vilnius International Airport. Vilnius is the capital city and is a fascinating mix of old and new; historic and modern. The streets are alive with locals (around 85% of Lithuania's population are natives!)
Walking along the cobblestone streets of Vilnius Old Town is completely safe, morning and night (coming from a solo female). The streets are alive with locals (around 85% of Lithuania's population are natives!). Traditional Lithuanian restaurants line the sidewalks, offering tasty national dishes and flavors.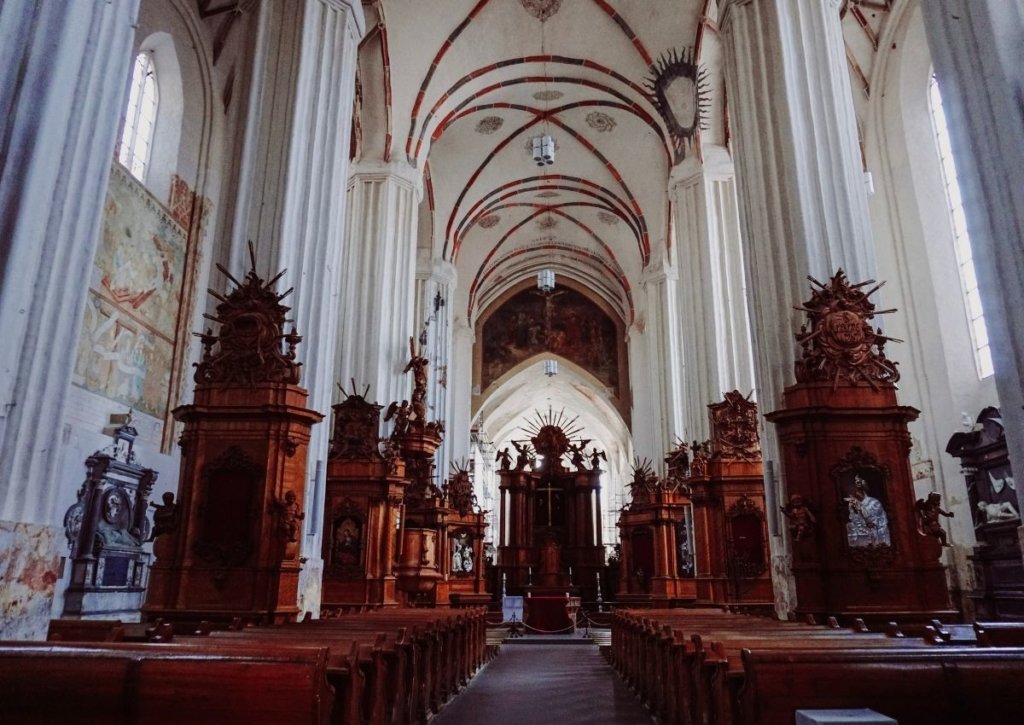 The Best Things To Do In Vilnius
There are so many interesting things to do in Vilnius, Lithuania, but there are three very specific places to see that I re-visit time and time again.
St. Anne and St. Bernardine's Church Complex – these churches are an amazing example of architecture in Vilnius, blending stunning Gothic-style and Baroque elements together.  The churches are right next door to one another, and seeing them side by side truly highlights the beautiful contrasting styles.  Both are free to enter, and the interiors are stunning. 
Museum of Genocide Victims (a.k.a. The KGB Museum and Museum of Occupation and Freedom Fights) – though extremely heavy and difficult to take in, this is without a doubt one of the most important places to visit in Lithuania. The building itself was used by the German Empire, the Lithuanian Army, and the KGB. Three stories of exhibits will teach you all about the atrocities suffered by the Lithuanians, as well as what the did to rise above it. Visiting this museum hits to me my core and I've never been able to exit without having shed some tears. This museum made me understand my ancestors in a deep way. More info Coming Soon.
Vilnius Cathedral & Cathedral Square. This Cathedral is located in Vilnius Old Town. Cathedral Square is a wide open space that hosts Lithuanian festivals throughout the year. Vilnius Cathedral is a stunning building considered the "heart" of Lithuanian religion and spirituality. Inside you can find impressive artworks dating back to the 14th Century.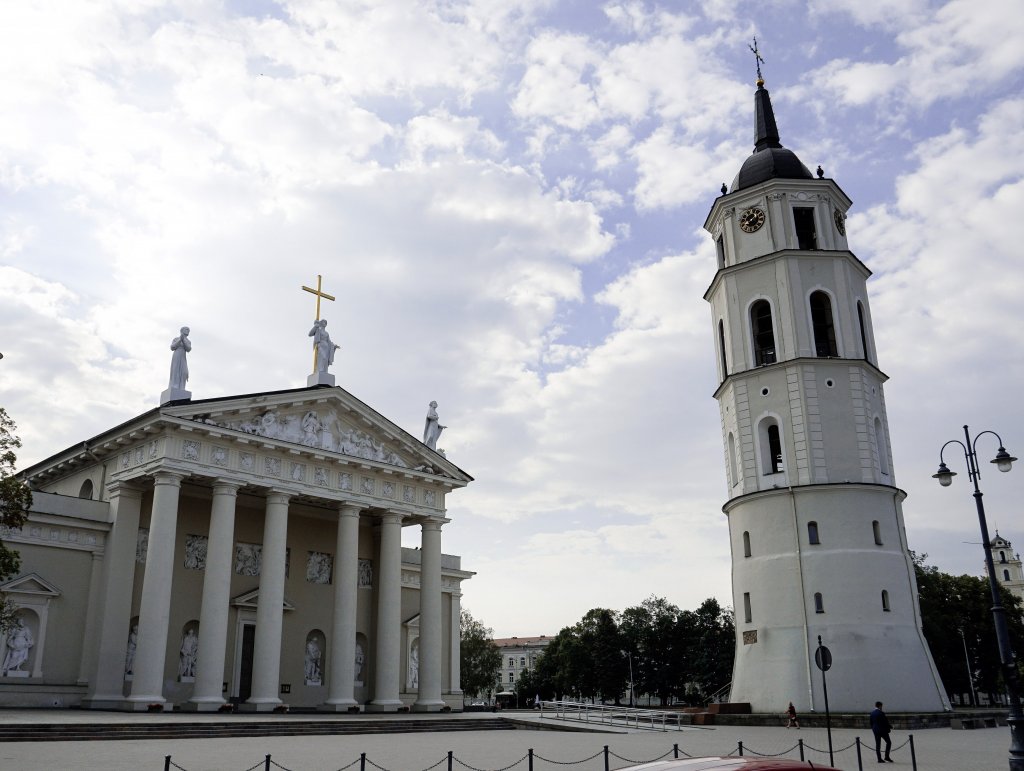 There is no shortage of hotels, hostels, and Airbnb options available for all types of travelers. (I stayed in Airbnb's 100% of the time during my last visit, which was a road trip around the entire country. It gave me a taste of Vilnius as a local would live, and it was fabulous! If you've not tried AirBnb before, click here for a discount on your first booking).
2) Šiauliai
Šiauliai was at the top of my list the first time I went to Lithuania. For anyone looking at that word and giving up before you even try, let me help! The town is pronounced as "show-lay" by locals.
I first heard about this place through family lore and was instantly fascinated. Šiauliai is well known for one thing: being home to the famous Hill of Crosses. The story of this site is a perfect example of the strength and resiliency of my people.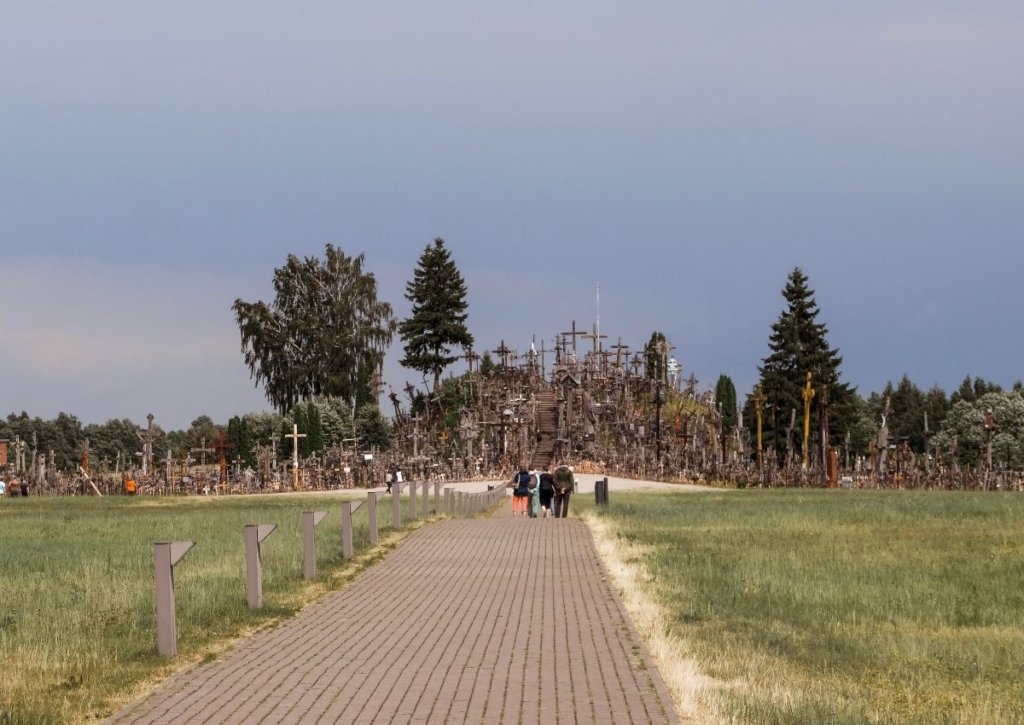 The original purpose of leaving crosses on the hill is unknown, but it is believed that the first crosses were placed here as early as 1831. The profound importance of this site lies in the fact that the Soviet government attempted to level the hill several times in the 1960s and '70s, but never were able to achieve it. They bulldozed it, they burned it, they removed the metal and stone. Those who attempted to bring crosses to the hill were either fined or incarcerated (or both).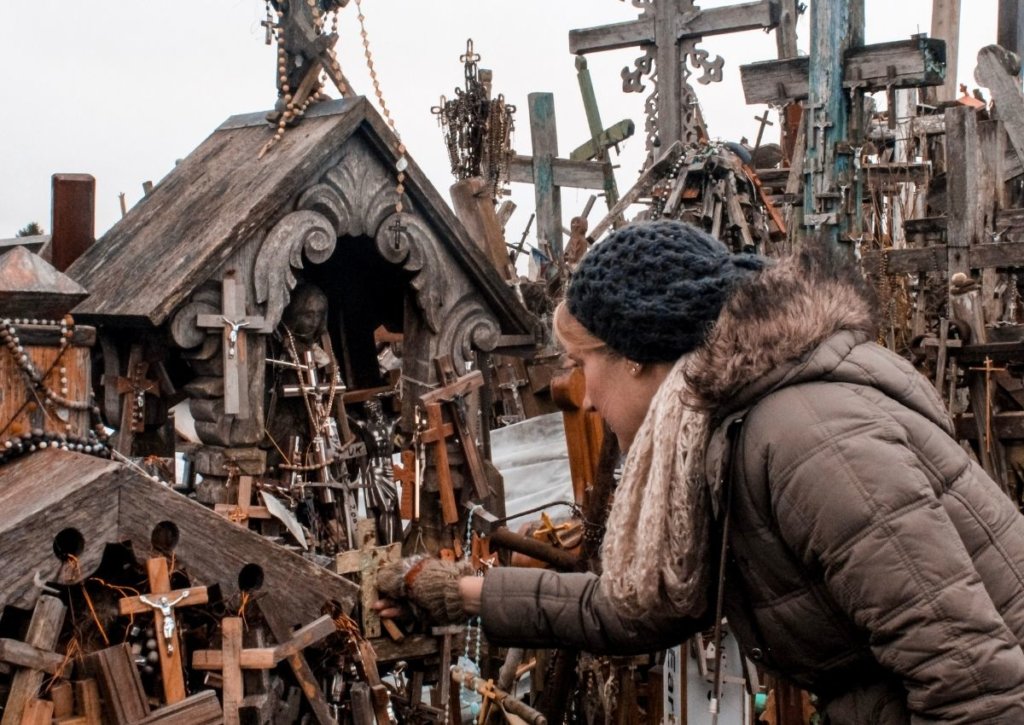 But the crosses just kept multiplying overnight, left by Lithuanians as an act of defiance against the Russians trying to stamp out Catholicism. The crosses stand as a Catholic Pilgrimage site and there are well over 100,000 crosses there today.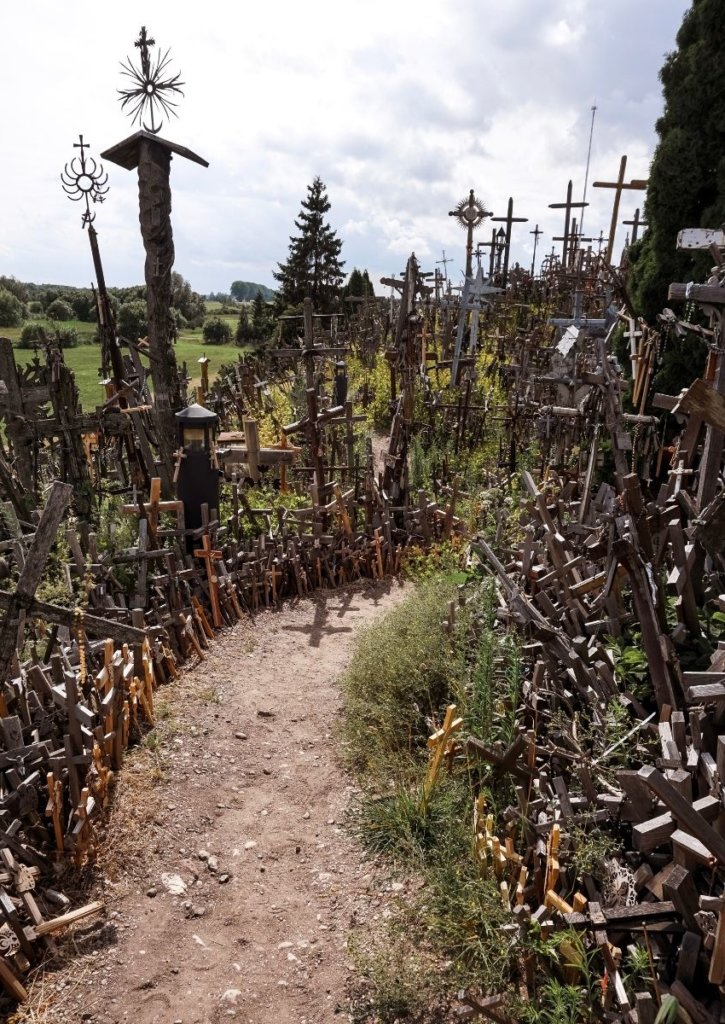 3) Trakai Castle
Trakai Island Castle is an easy day trip from Lithuania, taking roughly 30 minutes by car. It sits atop a small island on Lake Galvė and the original construction of this castle dates back to the 14th century. Yep – Lithuania is full of history.
The castle held great strategic importance to the Grand Duchy of Lithuania. It suffered major devastation over the years of war in Lithuania, and so it was built and restored in several phases. The original Trakai Castle frescoes were preserved and copied and the walls were restored. The most recent construction ended in 1961, leaving the castle you see today in the 15th century style.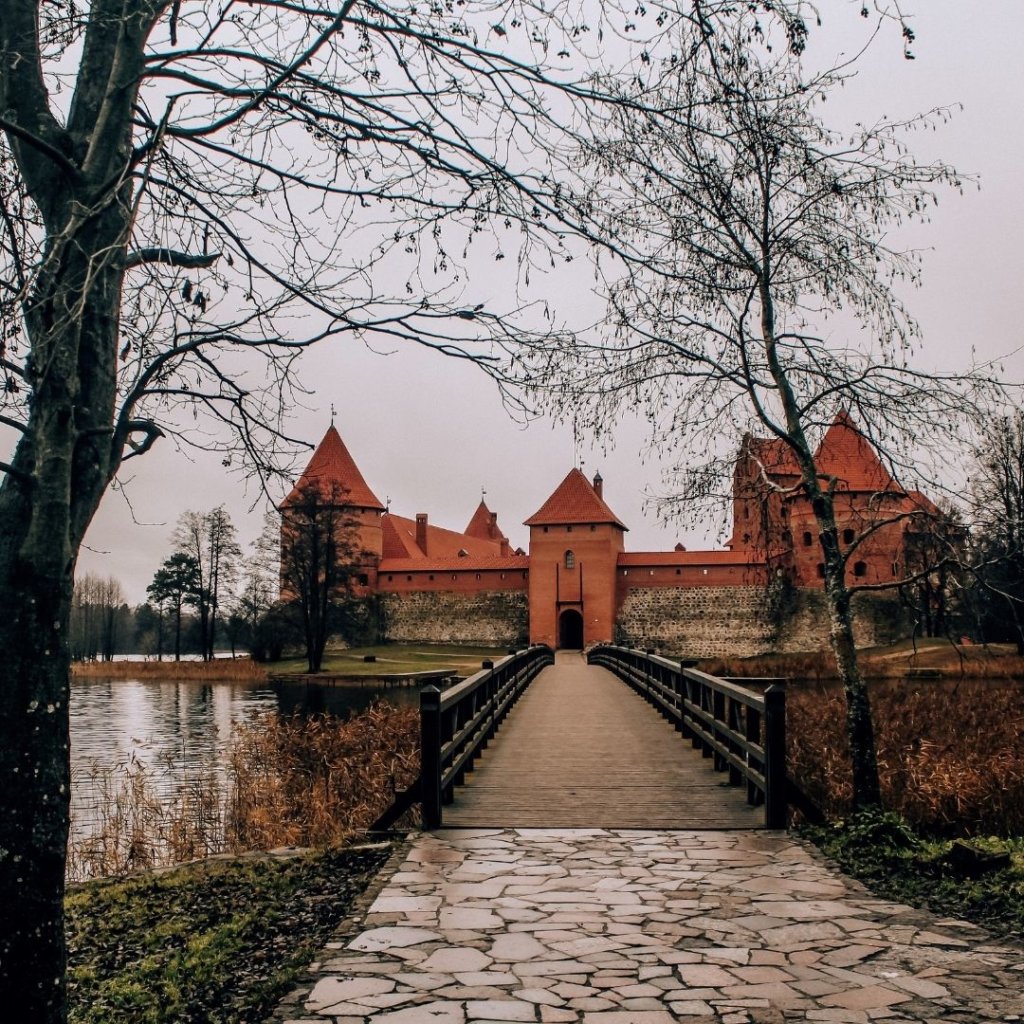 History aside, this castle is stunning simply because of it's surroundings. It's not everyday you see a castle built in the middle of a beautiful lake – a lake which has it's own history and folklore (but I'll save that for another time). Definitely add Trakai Castle to your list of Places to Visit in Lithuania. You will not regret it!
4) Kaunas
After Vilnius, Kaunas is the second largest city in Lithuania. The city has a storied past, between several Russian takeovers as well as German occupation in WWII. At one point it served as Lithuania's capital and was booming between both world wars.
What struck me about Kaunas was my visit to the Ninth Fort – another extremely heavy experience – but again, one of the most important places I've ever been to.
The Ninth Fort was once a prison and is now a museum. The huge jagged soviet sculpture is not only there for arts' sake; it is unfortunately built on the site of a mass grave. This informative museum extends through two buildings and the remains of the fortress walls, which you can explore.
You May Also Like: Things to Do in Kaunas, Lithuania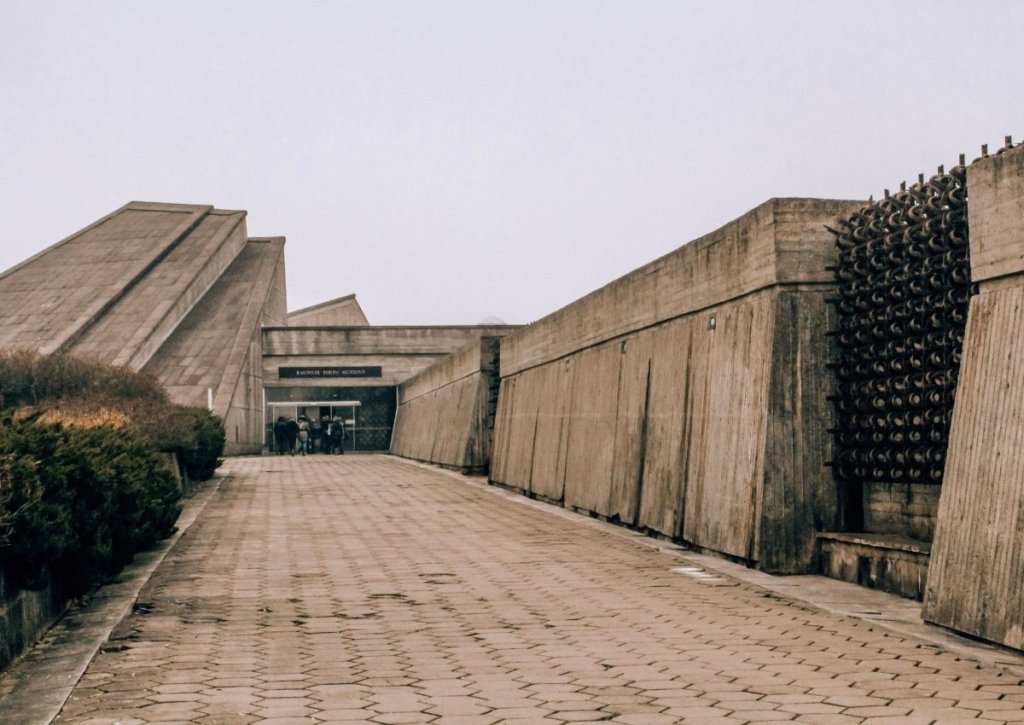 Lithuania has had more than its fair share of troubled and difficult history, between the atrocities of the Soviet regime and the Nazi genocide. Inside the Ninth Fort you will learn about the unbelievable struggles inflicted on Lithuanians from these two world powers – the Soviets and the Nazis – and see relics leftover from Lithuanian prisoners in the concentration camp as well as from Siberian labor camps. It. Is. Heavy. But wow is it important.
The Best Things To Do In Kaunas
Visit the Holocaust Memorial and Museum at the Ninth Fort.
Take a stroll and grab dinner in Old Town
Visit Kaunas Castle
5) Klaipeda
Klaipeda is a large port city on the Baltic Sea – and a large trading hub for Lithuania – favored by locals and tourists alike. It's extremely safe to wander solo around this town. Some areas are just plain quaint and others are slightly seedy, but again, I have never had any trouble here (or in the country in general).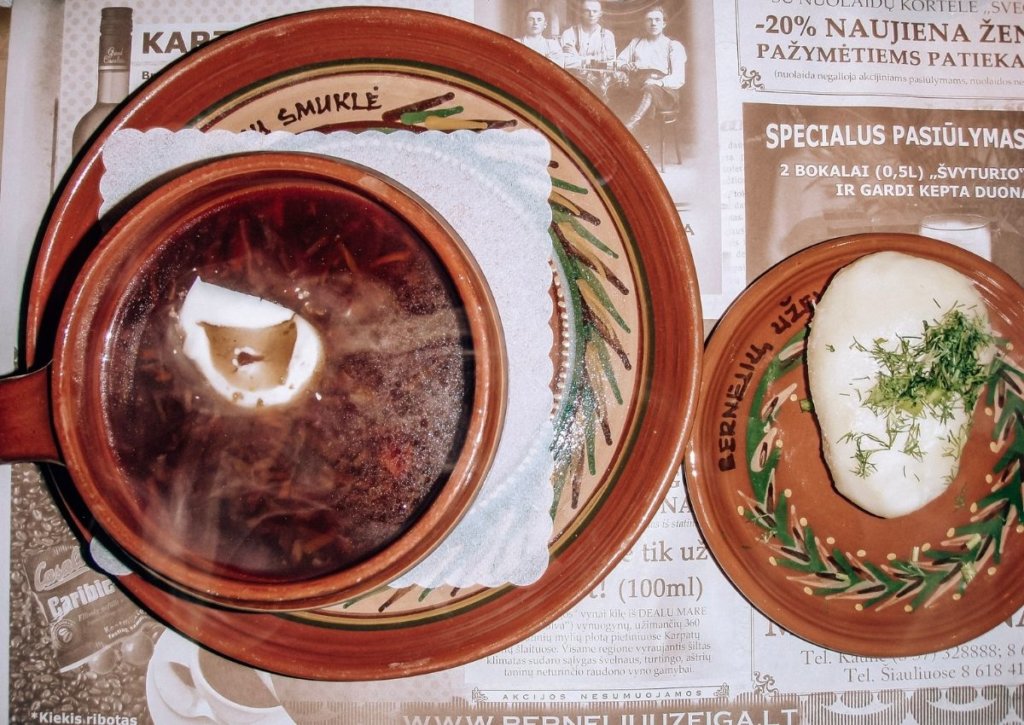 Klaipeda Old Town features rock-studded roads and German-style wood-framed buildings. There is a neoclassical Drama Theater and The Lithuanian Sea Museum includes maritime exhibits inside of a 19th-century fort. Restaurants and bars offer cheap and tasty food, Lithuanian beers, and local drinks. I have had some excellent food in Klaipeda that I still dream about!
I recommend a one-night stopover in Klaipeda on your way to….
6) The Curonian Spit
You absolutely need to visit the Curonian Spit while in Lithuania. No excuses.
The first time I went to Lithuania, I was extremely interested in seeing this strange strip of land in the Baltic Sea. You have to catch a ferry from Klaipeda to reach the Spit – but at the time there were no instructions on how one might do this.
In a great act of fate, I *somehow* got on the correct bus due to a spur of the moment decision (the bus driver didn't speak English and the bus signs were in Lithuanian) and *somehow* got off on the correct stop, even though this was years before I had a smart phone. (What can I say? I'm super cheap. But my tendencies toward frugality are what help me save a ton of money for travel).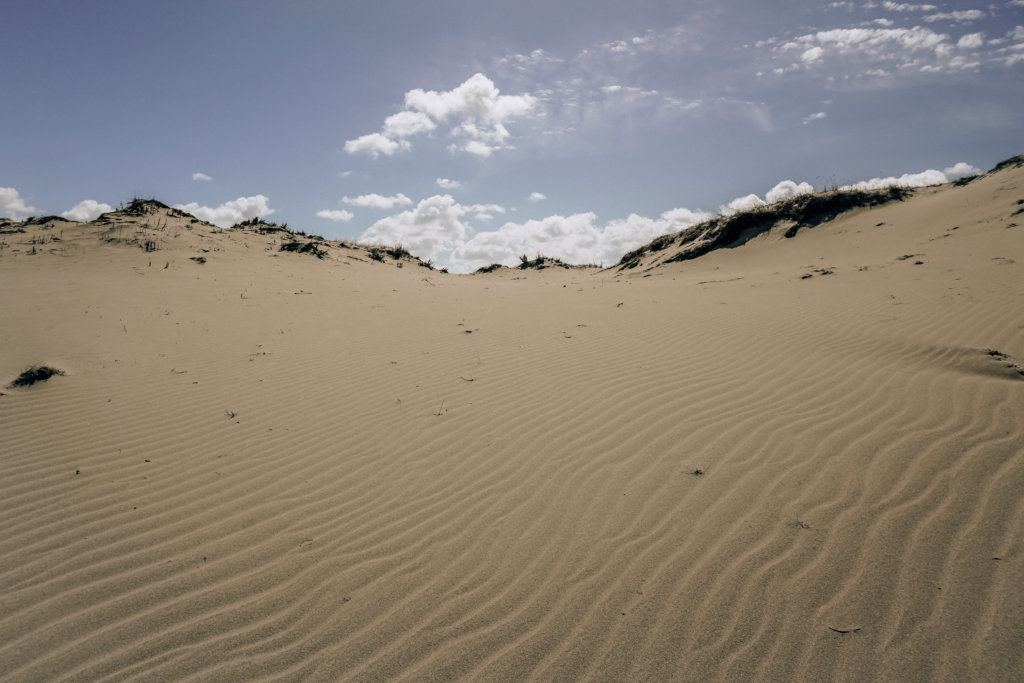 Nowadays I have ridden both the small people-carrying ferry and the car-ferry, and can execute this all with great confidence. But that first time, it was truly fate. Sometimes we can move mountains when the determination is real.
The Curonian Spit itself features seemingly never-ending coast with a long strip of forest in between. It is absolutey stunning, and I mean both the forest and the beach. The cutest houses and restaurants line the beaches and Nida is a popular place to stay overnight. Bring your bathing suit if you visit in the summer.
Most importantly, you MUST climb the epic sand dunes found at the Curonian Spit – these are the largest moving dunes in all of Europe. If you've been around for a while, you know that my favorite landscape on earth is the desert. Am I crazy to think that something about sand dunes might be imprinted on my DNA? Hmmm…..
Do not skip this. I have returned here on each and every visit to my homeland, Lithuania, and it is one of the most memorable places to visit.
7) Užupis
We're heading back near the capital of Vilnius for this one – the Užupis Republic. This quirky arts town was formerly the city's poorest district; buildings were in disrepair from the Soviet era and the streets were all but ruins.
As it happens all around the globe, artists took advantage of the low cost of living here , moved in in droves, and the now-restored area is home to some of the cutest, quirkiest cafes and art studios around. The self-proclaimed "Republic of Užupis" is Vilnius's artistic haven. It has its own anthem, proudly-displayed constitution, president, bishop, and army (of 12).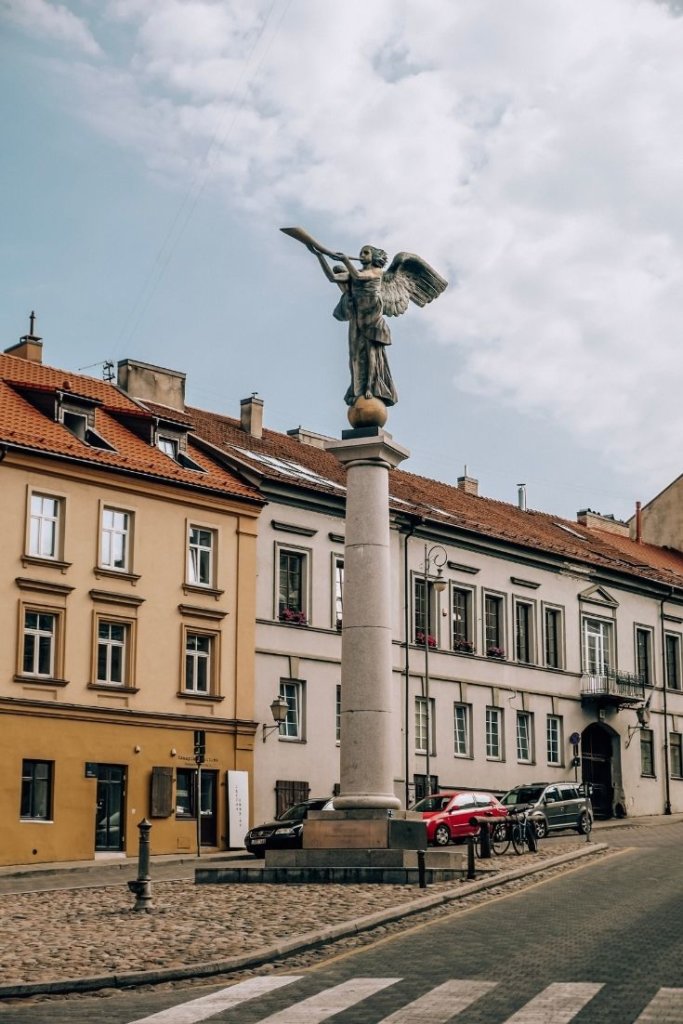 A well known site is the Bronze Angel of Užupis, a statue that you will undoubtedly see as you walk the streets. Be sure to bring some extra cash; you will see works of art here that you will never see elsewhere! This top is a MUST if you are looking for things to do in Lithuania.
8) Kernavė
Kernavė offers lush green landscapes and is a beautiful contrast to all of the Old Town vibes that the cities offer. Historically, Kernavė was also the medieval capital of the Grand Duchy of Lithuania, mentioned above.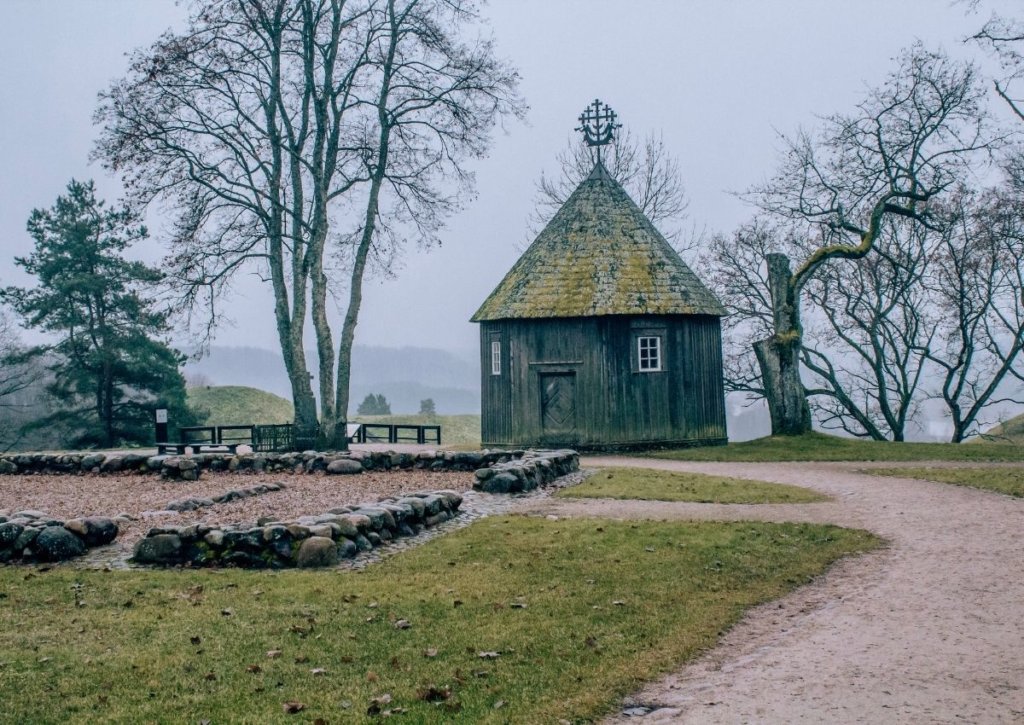 Today the city holds a UNESCO World Heritage – the Kernavė Archaeological Site – which holds cultural monuments from the Paleolithic Period to the Middle Ages. Interestingly, Kernavė was the last Pagan capital, and remnants of that history are evident.
Tourists can visit Live Archaeology Days, held at the beginning of July, where skilled Lithuanian craftspeople show-off their skills and sell handmade products. These include ceramics, glass art, jewelry, honey, and many more. Traditional Lithuanian musicians also share their talents during the festival.
9) Palanga
If you are visiting Lithuania in the summer, your trip would not be complete without a stop in Palanga! Situated in the northwest corner of Lithuania along the coast, this area of the Baltic sea is one of the most popular spots for family beach activities.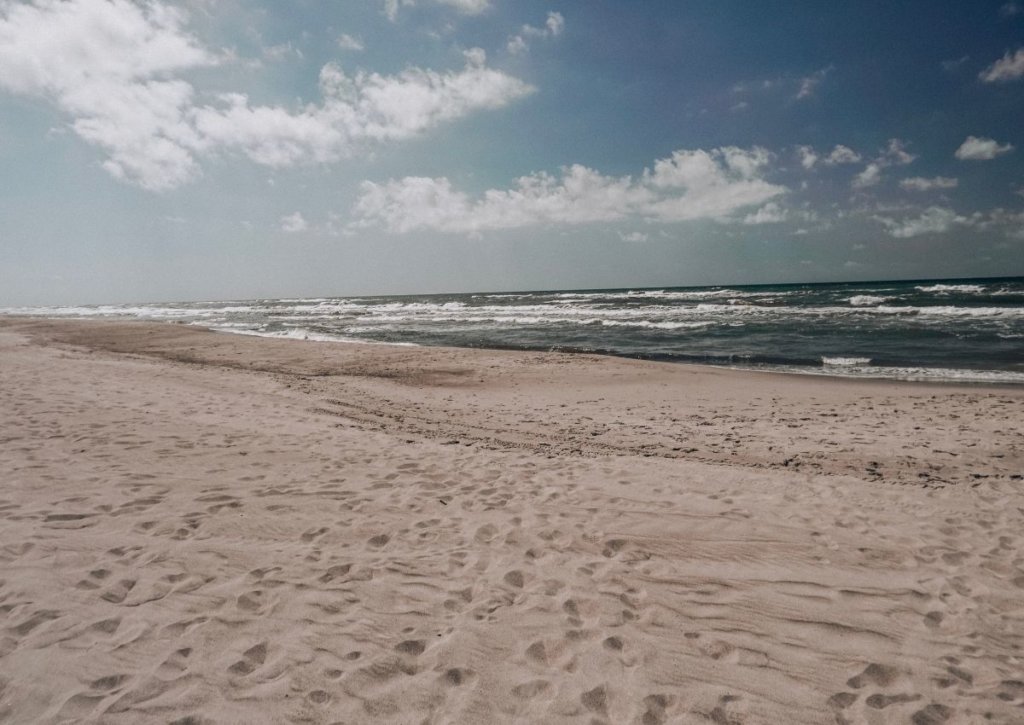 I highly recommend a visit to the Seaside Regional Park, where large trees line the sand all the way out to the water in some spots, creating a unique visual. Seaside Regional Park is a breathtaking spot for sunsets.
Tourists can rent bikes to ride through the Lithuanian Fairytale park, featuring interactive sculptures that kids like to climb and play on. Think "playground", but more creative!
10) Aukstaitija National Park
Last but certainly not least on my list of places to visit in Lithuania is the gorgeous Aukstaitija National Park – Lithuania's first national park (hooray!). Places like this make it easy to see why Lithuania was a Pagan nation. Nature ruled supreme in this lush green country and it is still awe-inspiring today.
70% of the park is covered in forests (and I suspect the other 30% is water, from what I saw).
There are currently no entrance fees for the park (who doesn't like free?!),but a small portion of it is strictly protected. These areas can only be entered after obtaining a permit and accompanying ranger from Aukštaitija National Park Headquarters.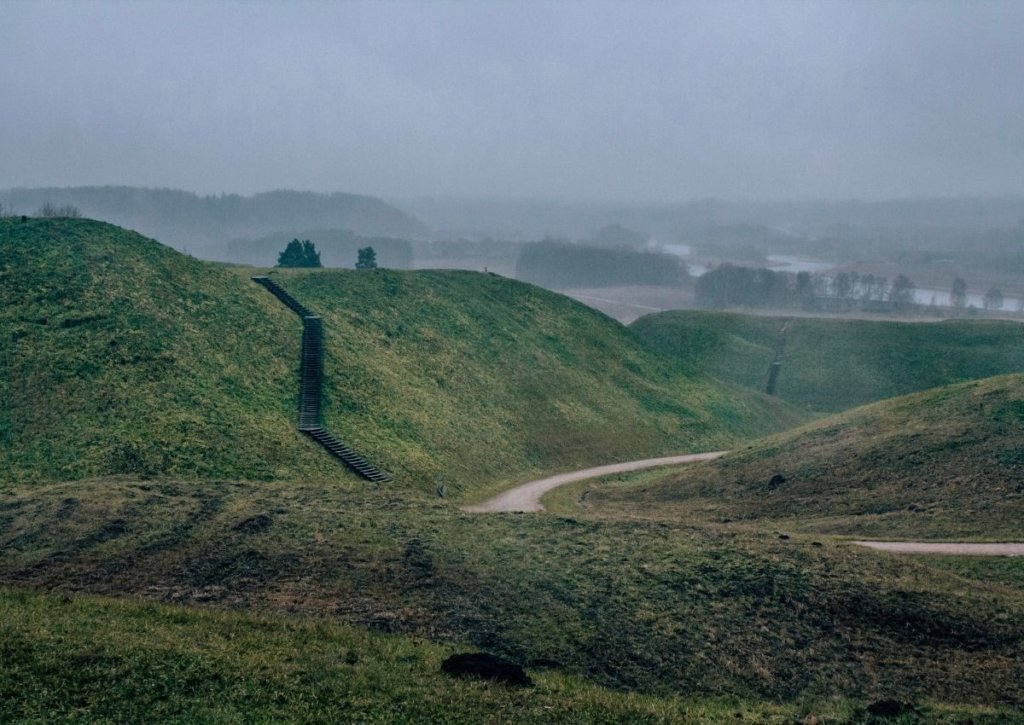 This list covers the top must-see recommendations I have for my homeland, from things to do in Lithuania to the top places to go and see. If you have time, I highly recommend stopping at each and every one of these. You will be left with the absolute best impression of Lithuania and will be dying to return, no doubt!
Pin Me for Later!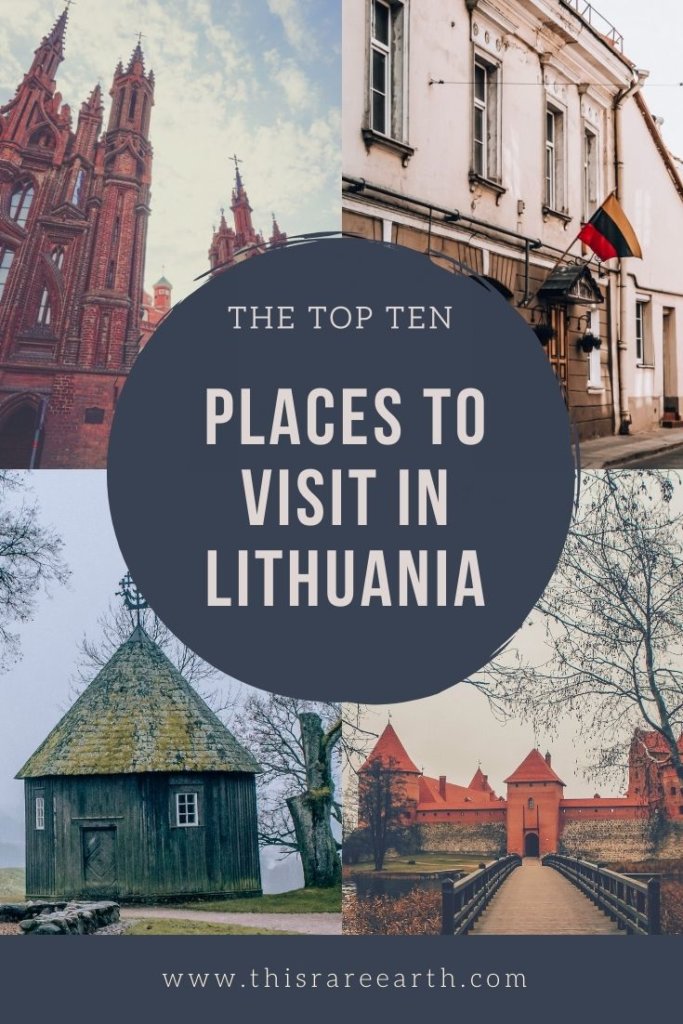 Any questions? Let me know below in the comments! Thanks so much for reading.