Trakai Island Castle is one of the most historic and beautiful places in all of Lithuania. Here we will cover how to visit, Trakai Castle opening hours and entrance fees, where to park, and where to stay. Here is everything you need to know before visiting Trakai Island Castle near Vilnius, Lithuania!
Pin Me for Later!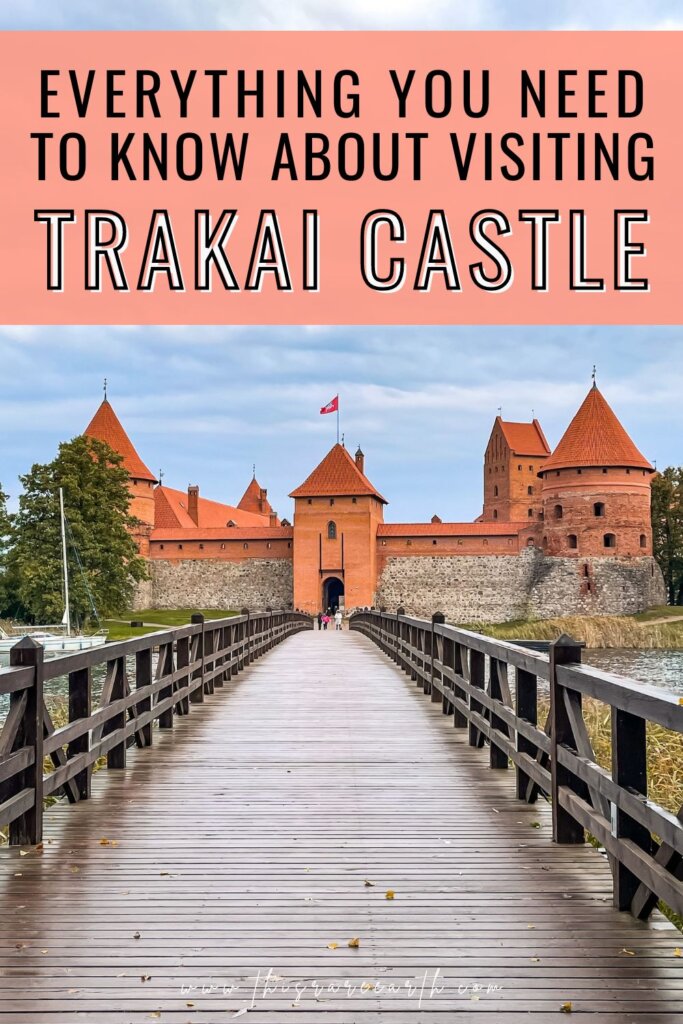 ➳ Trakai Island Castle is the most popular day trip from Vilnius, Lithuania. If you are not renting a car, book your tour here. The tour includes pickup and dropoff at your Vilnius hotel, an English speaking tour guide, entrance tickets, and transportation in an air-conditioned vehicle. It stops at not only Trakai Castle, but also the Paneriai Memorial Park.
Where is Trakai Castle?
Trakai Castle is just a short 30-45 minute drive from Lithuania's capital city, Vilnius.
A Brief History of Trakai Island Castle in Lithuania
Nestled amongst a picturesque lake landscape in Central Lithuania, Trakai Island Castle is one of the country's most popular tourist destinations. The castle, which was constructed in the 14th century, has a long and fascinating history. Here are three key moments from the castle's past.
The first recorded mention of Trakai Castle dates back to 1337, when it was built by Lithuania's Grand Duke Gediminas as a residence for Lithuanian nobility. (This is the very same Gediminas who has a castle tower in Vilnius, too.)
Trakai Castle has been through a lot in its 700-year history. The castle served as a residence for the rulers of Lithuania, as well as hosted the army and the horses, for many years.
In 1795, the castle was surrendered to Russian forces during the Lithuanian-Polish War. The Russians left much of it in ruins. In 1812, Napoleon's forces occupied Lithuania and used the castle as a military hospital. After Napoleon's defeat, Russian forces once again occupied Lithuania (you can learn more about these periods in Kaunas, Lithuania.)
In 1569, Lithuania joined forces with Poland to form the Polish-Lithuanian Commonwealth. As a result, Trakai Castle became home to a number of notable kings and queens, including Stefan Batory and Sigismund III Vasa.
After dealing with a number of wars and occupants over the centuries, Trakai Castle was finally designated as a historical monument by the Lithuanian government in 1962. Today, the castle is one of Lithuania's most popular tourist destinations, attracting visitors from all over the world.
If you're planning a trip to Lithuania, be sure to add Trakai Castle to your itinerary!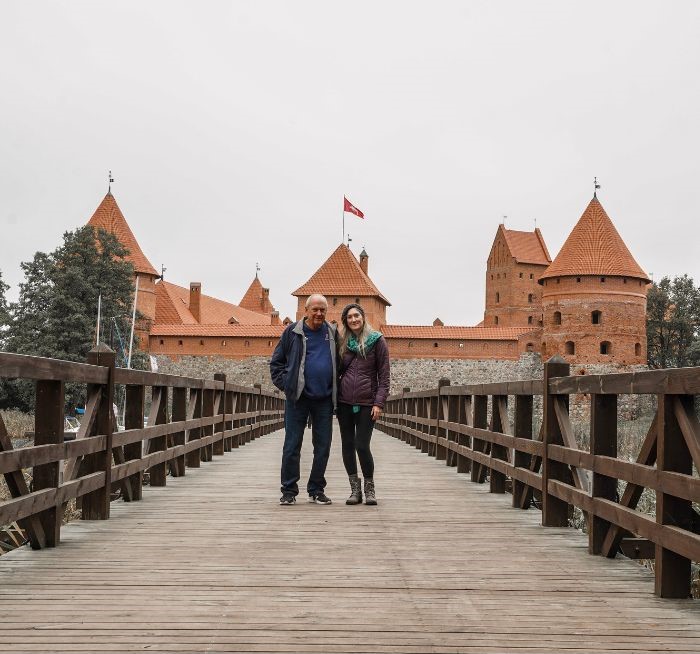 How to Get to Trakai from Vilnius
There are several ways to get to Trakai Island Castle from Vilnius, including by car, bus, or tour.
If you're traveling in a rental car, the journey will take around 45 minutes. From Vilnius, head west on Antakalnio street until you reach Ąžuolyno street. turn left onto Ąžuolyno street and follow it for about 3km until you reach the turn-off for Trakai. Follow the signs for Trakai and then drive over the causeway to the island. Once you're on the island, follow the signs to the castle.
If you're traveling by bus, there are regular buses that run from Vilnius Bus Station to Trakai Island Castle. There is no need to book tickets before arriving in Lithuania; this can be done as a walk-in to the bus station. The journey will take around 1 hour. When you arrive in Trakai, follow the signs to the castle.
Lastly, if you are not interested in DIYing your visit to Trakai Castle, you can always join a tour. This will be particularly useful if you want to learn more about the history. I always learn something new and interesting when on a tour, whether I'm visiting a new attraction or one that I've seen many times.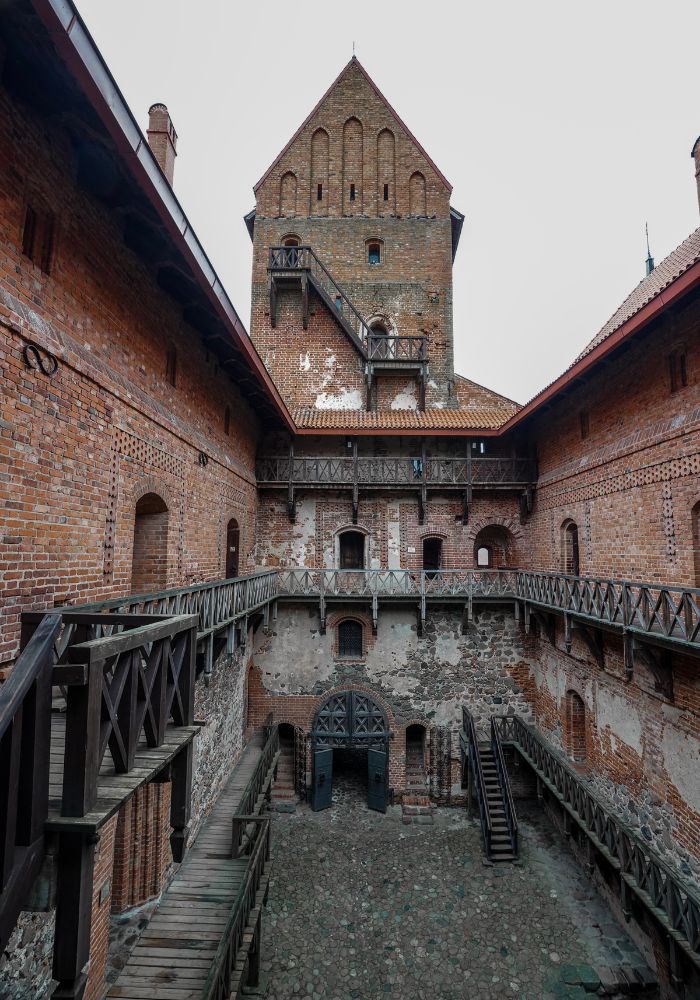 Trakai Island Castle Opening Hours
Trakai Island Castle is open to the public from 9am to 6pm daily. It is open year round, and there are plenty of activities to keep visitors entertained.
In the winter, the castle is covered in snow and looks like something out of a fairytale. Visitors can go ice skating on the frozen lake, or take a horse-drawn sleigh ride through the snowy woods. In the summer, the castle is surrounded by lush greenery, and visitors can enjoy boat rides on the lake or picnics in the park.
No matter what time of year you visit, Trakai Island Castle is sure to impress.
You May Also Like: The Best Places to Visit in Lithuania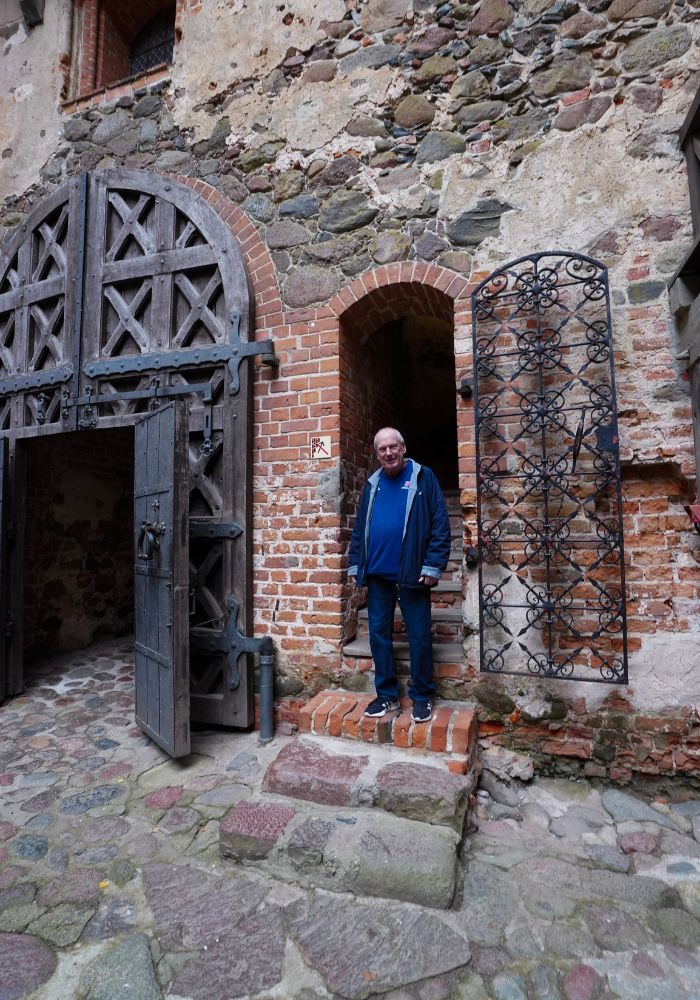 Trakai Island Castle Entrance Fee
Tickets for Trakai Castle can be bought on site, for anyone not visiting as part of a tour. The costs are as follows:
8 € – for adults
4 € – for students
4 € – for seniors.
18 € – for a guided tour.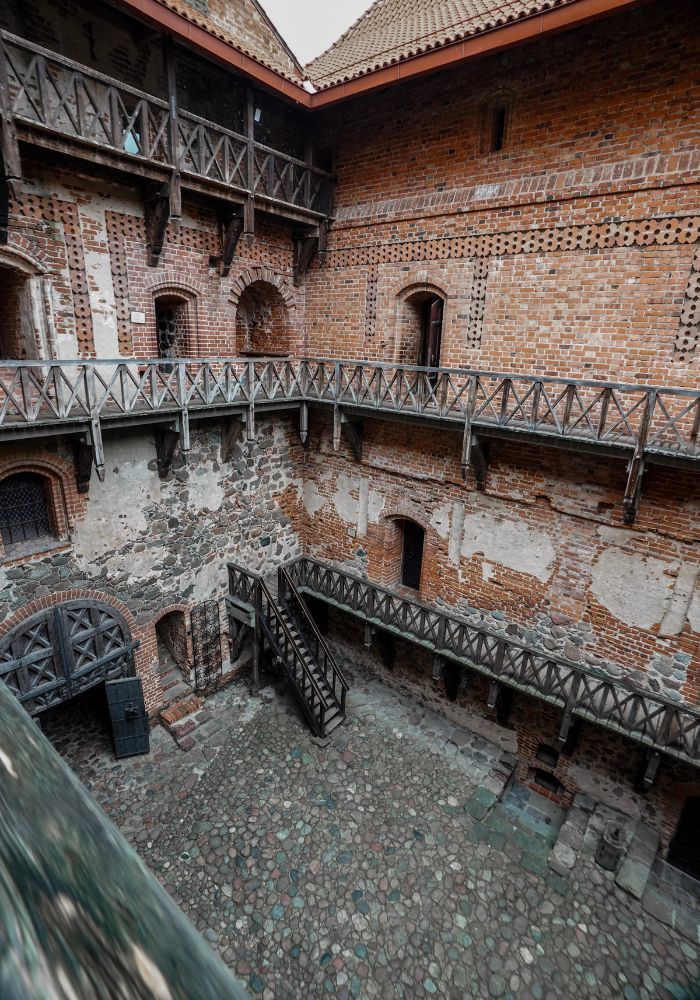 Trakai Island Castle Parking
Since the castle sits across a lake, you cannot drive right up to the castle, nor is there parking on site. Near to the bridge across the lake, you will see several parking options.
There is an official paid lot for visitors, which will place you as close as possible to the bridge. Alternately, some residents have struck up a small business on the side where you pay the house-owner to park in their driveway. Last time I visited Trakai, this is what my father and I chose to do.
Either of these options costs only several Euros. Note that many of the nearby streets do not allow parking alongside them. Be sure to read all applicable signs to avoid a ticket!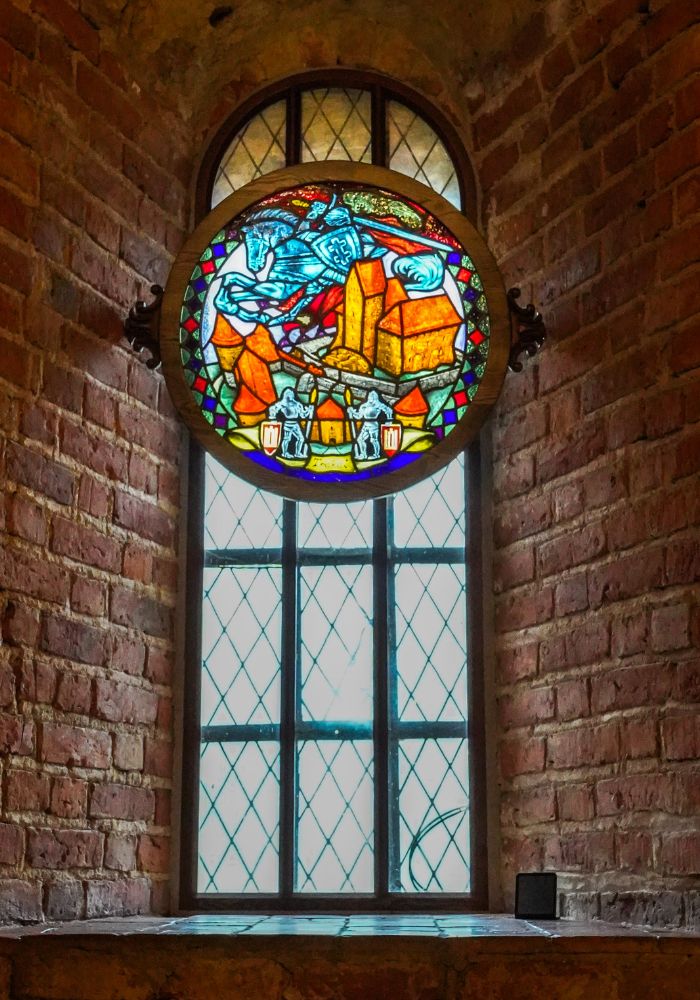 Trakai Island Castle Museum
Trakai Island Castle is a gorgeous structure that was once the main residence of the Grand Dukes of Lithuania. Today, it serves as a museum dedicated to Lithuanian history.
Visitors can explore the castle's many chambers, including the Great Hall, the Chapel, and the dungeons. You'll also see original artifacts, medieval brickwork, and learn all about the reconstruction and restoration of the damaged portions.
Fun fact, Trakai Castle is one of the most authentically preserved castles in all of Europe. Many movies and TV shows choose to film on location here!
The Trakai castle museum is a must-see for anyone interested in Lithuanian history or architecture.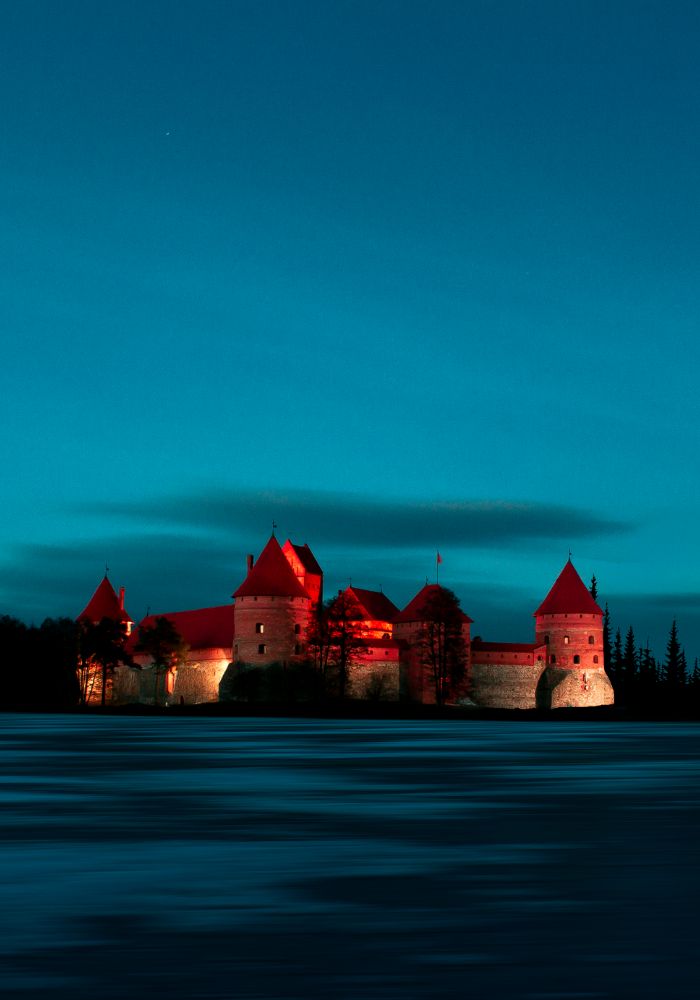 Trakai Lake
Trakai Island Castle is situated on an island in the middle of Lake Galvė. The water volume used to be significantly higher than it is today, acting as a protective moat against enemies.
Visitors can take boat rides on Lake Galve, swim in its waters, or simply enjoy the view from one of the many cafes and restaurants that line its shores. Whether you're looking for history, culture, or just a beautiful place to relax, Trakai and its lake are definitely worth a visit.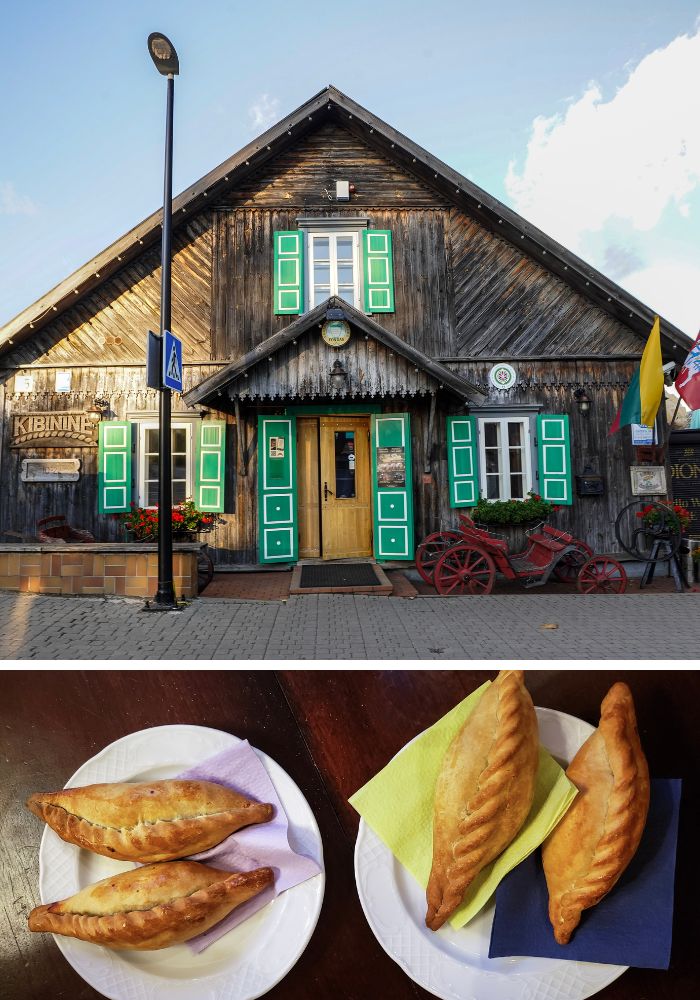 Where to Eat Around Trakai
If you're looking for a delicious and unique food experience, Senoji Kibinine in Trakai is a must-try! On my last visit, I booked a guesthouse that was just across the street from Senoji Kibinine.
Kibinai are traditional pastries local to this area of Lithuania, from the Keraites that lived here and helped to build the castle itself. You will learn more about this group of people inside of Trakai Castle, by the way.
Kibinai are made with several types of filling, such as potato and onion, spinach and cheese, veggie, or meat-filled, and they're absolutely delicious. The kibinai at Senoji Kibinine are some of the best I've ever had – they're crispy on the outside and fluffy on the inside, and the filling is just perfect.
If you're visiting Trakai, make sure to try their amazing kibinai!
You May Also Like: Traditional Lithuanian Foods to Try on Your Visit
Where to Stay in Trakai
My father and I really enjoyed this guesthouse. It was clean, comfortable, and had lots of room for just the two of us.
You'll have access to a kitchen, basement, sitting room, dining room, and basement. Note that there is a shared bathroom in the house, but it didn't cause any problems for us. My dad said that this was his favorite place we stayed in all of Lithuania!
Bonus, it is super close to the restaurant that I highly recommend – Senoji Kibinine.
Where to Go Next
Vilnius, Lithuania – the modern-day capital of the country, Vilnius offers history, culture, food, and some of the most ornate churches you will ever see. Take at least one day in Vilnius to stroll the Old Town and see the sights.
Kaunas, Lithuania – learn more about the country's harrowing war and occupation history in a quaint cobble-stone street type of town.
The Hill of Crosses in Siauliai – this religious monument is one that you can't miss! Thousands of metal and wooden crosses line a large hill, replaced many times in protest after the Soviets bull-dozed the hill.
Pin Me for Later!