Gediminas Castle Tower in Vilnius is a must see for anyone visiting Lithuania. Learn about Vilnius' history, get spectacular views of the city, and see some important artifacts inside the tower itself. Here is everything you need to know about visiting Gediminas Tower and the Upper Castle Complex in Vilnius!
Pin Me for Later!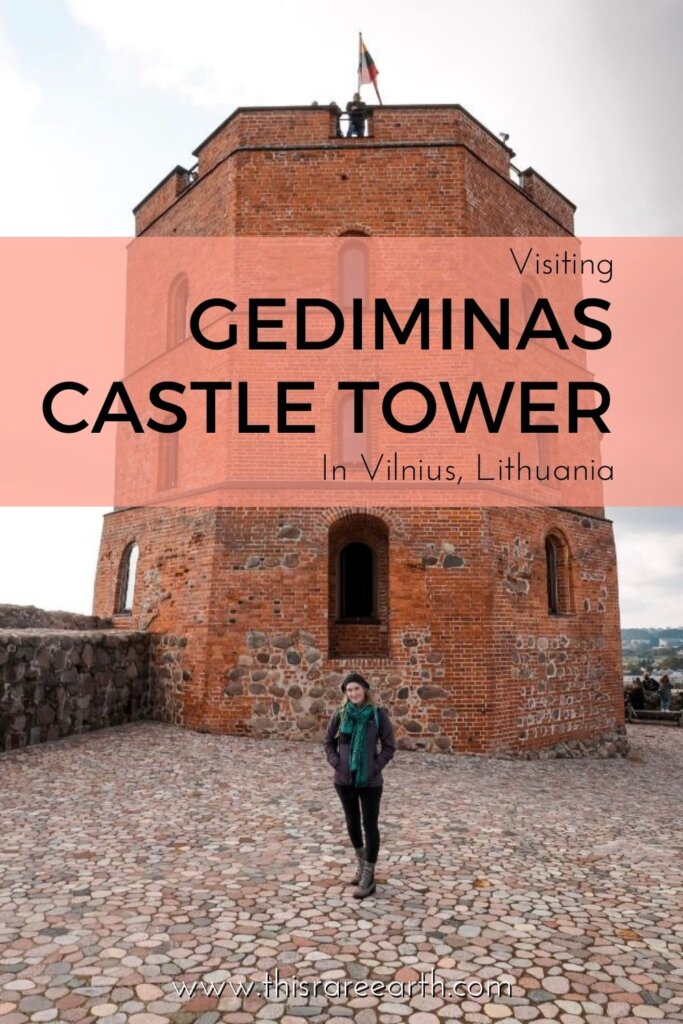 Blog Introduction: Gediminas Tower is a must-see for any traveler visiting Vilnius, Lithuania. The tower stands proudly as the oldest part of the Upper Castle in the city and has been a symbol of Vilnius since its inception.
Not only can you view the tower from down below – you can also go to the top of the hill and even inside Gediminas Castle Tower itself!
Here, we will explore the history of Gediminas Castle Tower and why it should be at the top of your list when planning a trip to Vilnius.
You May Also Like: Top Things to Do in Vilnius, Lithuania
Where is the Gediminas Tower in Vilnius?
The Gediminas Tower Castle is easy to spot from the centrally located Vilnius Cathedral Square. It towers over the city and is visible from several surrounding streets. It is adjacent to National Museum of Lithuania.
A Brief History Of Gediminas Castle Tower
Gediminas Tower was built in 1323 by Grand Duke Gediminas. He reigned over the Grand Duchy of Lithuania in the 14th century and is largely credited for Lithuania's unified language, culture, customs, and tradition.
Grand Duke Gediminas founded the current capital city of Vilnius, which stands as one of Europe's oldest cities. You can actually see a large statue of him at the base of the hill, close to the Tower with his same name.
Gediminas Castle Tower served as an observation post during times of war and was used to hold important documents such as treaties and royal decrees. Throughout its history, Gediminas Tower has been damaged multiple times by invading forces but always managed to be restored and remain standing.
Today, it stands proudly as a symbol of resilience and strength for the people of Vilnius.
You May Also Like: Traditional Lithuanian Foods to Try on Your Visit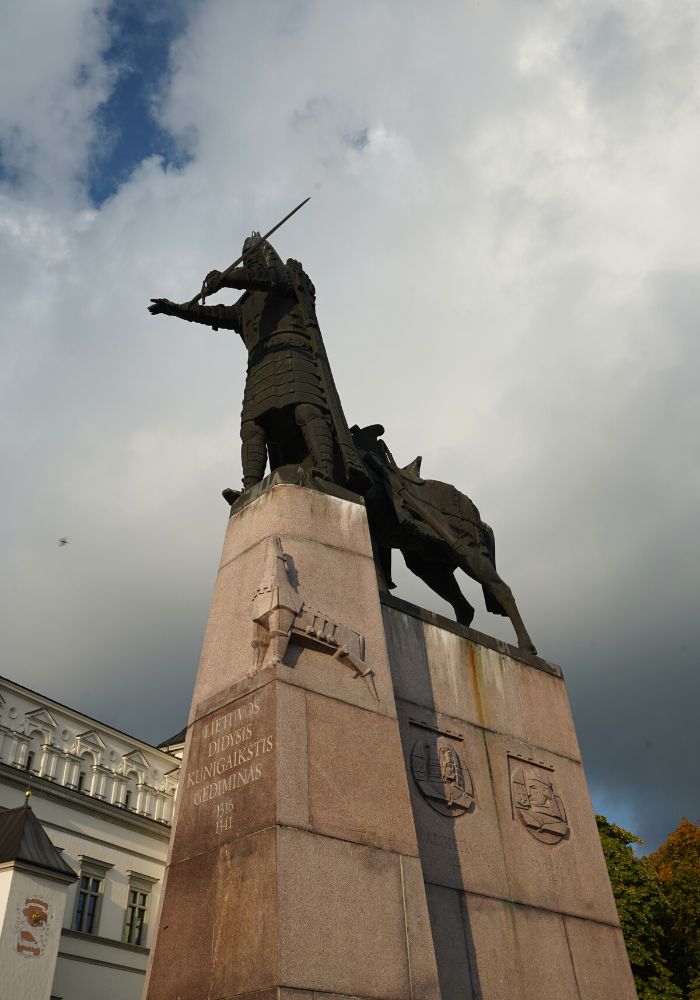 The legend of Gediminas and Vilnius
A brief but worthwhile side note – Vilnius was not always the capital of Lithuania. There is a legend as to why it was moved here. And, being Lithuanian by blood myself, I need to share it with you.
The original capital of the Duchy of Lithuania was Kanavé, which later was moved to Trakai. In Trakai, you can visit a more complete castle that I highly recommend! It is the number one day trip from Vilnius.
Years after the Trakai move, when Gediminas was on a hunting trip, he had a dream that changed the course of Lithuanian history. He dreamt of a wolf made of iron, who was howling from the hilltop of Vilnius. Taking this as divine guidance on where to construct his castle and build his city, he responded to the great wolf's call.
His obedience was said to bring good fortune and enabled Lithuania to defend itself against its enemies and preserve its independence until the breakup of the Soviet Union in the late 20th century.
If you look closely at the monument to Gediminas above, you will notice a wolf on the side which is a tribute to this legend.
You May Also Like: The Top Places to Visit in Lithuania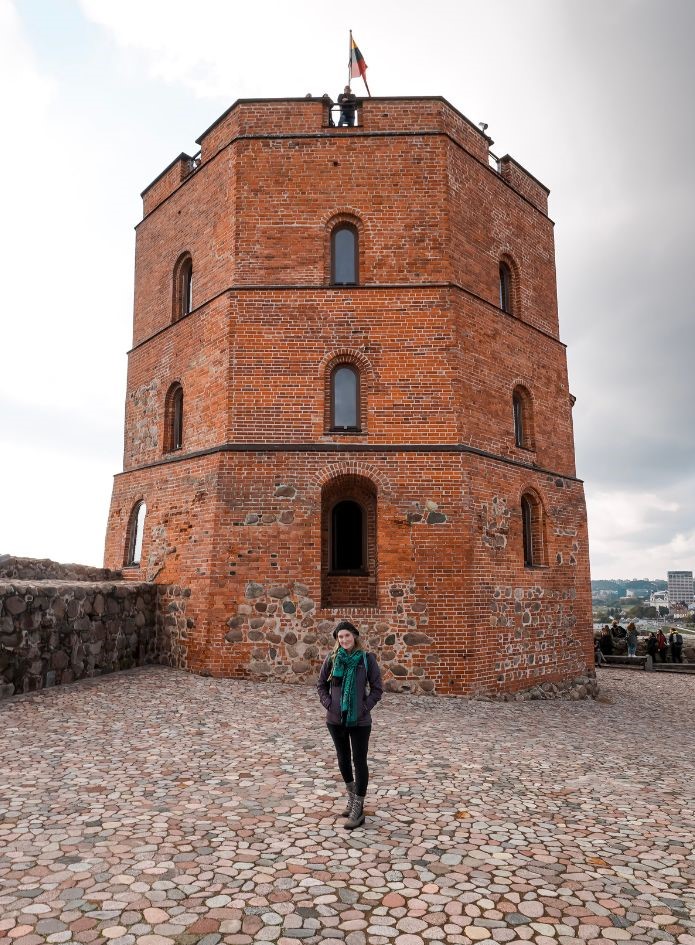 Visiting Gediminas Castle Tower Today
Today, visitors can climb up the steep staircase inside the tower for stunning views over Old Town Vilnius. Or, take in some interesting artifacts from Lithuanian history in the tower museum.
Inside Gediminas Castle Tower
Gediminas Castle Tower houses a branch of the National Museum of Lithuania. Its historical exhibition teaches about the history of Vilnius and offers a spectacular panoramic view of the city below.
While climbing to the top of the hill is free, entry into the museum does carry a cost (more on that below.)
Inside the tower sits three levels of exhibits about the Vilnius Castle territory, as well as jewelry and military artifacts. Learn about the tower itself as well as Lithuania's anti-Soviet demonstrations.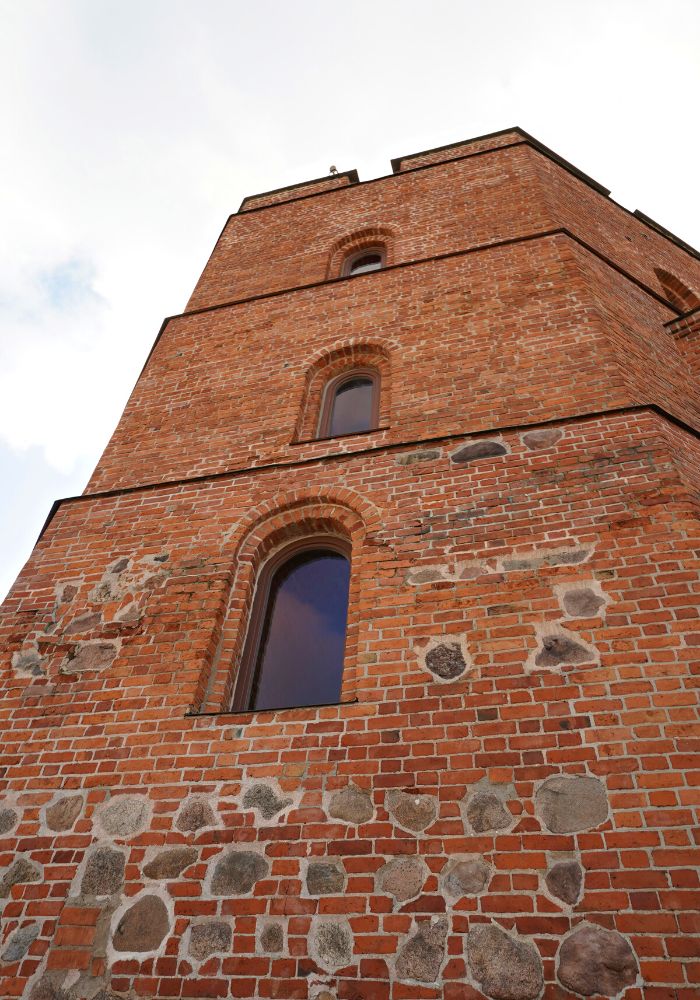 Gediminas Castle Tower entrance fees:
€6 adults
€3 children, students, seniors
The entrance fee to Gediminas Castle Tower Museum can be paid on site. You could also book an audio tour to get a deeper understanding of the tower and the city as a whole.
Note that for anyone who cannot or chooses not to walk up the hill, there is also a fun little tramway that transports visitors up to the top. The tramway costs just a few euro and varies depending if you book it one way or round trip.
I took the tram last time I visited Lithuania with my father, and it was a fun experience.
Gediminas Castle Tower operating hours:
Open 7 days per week from 10am – 8pm
Closed during national holidays.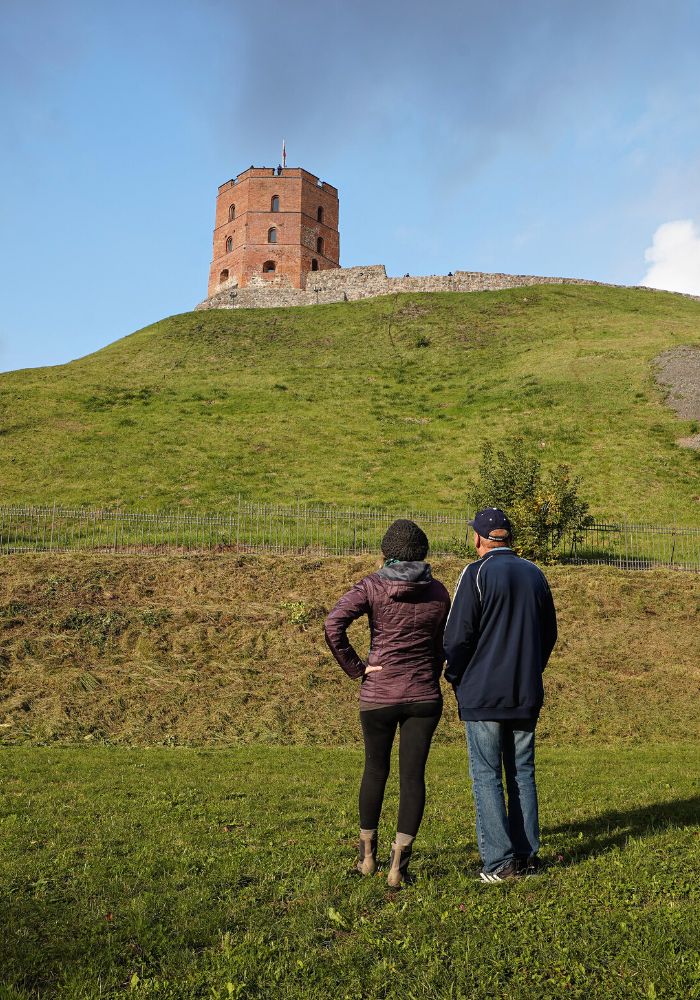 Where to Visit Next?
First and foremost, if you are interested in castles and history, you need to visit Trakai Island Castle. My post has information on both tours and visiting solo.
Within Vilnius, do not skip the KGB Museum or the quirky Republic of Užupis.
If you love learning about Lithuanian history, The War Museum in Kaunas should be on your itinerary, for sure! It was my father's favorite museum out of any he saw.
And lastly, a religious monument that showcases the resiliency of the Lithuanian people – the Hill of Crosses – cannot be missed.
***
Gediminas Castle Tower is an absolute must-see for anyone visiting Vilnius! From admiring the breathtaking views from atop the tower to learning about Lithuanian history, there's something for everyone here.
Make sure you add Gediminas Tower onto your list when planning your next trip to Vilnius—you won't regret it!
Pin Me for Later!