Looking for the best things to do in Vilnius, Lithuania? Not sure what activities in Vilnius are worth your while? Or maybe you are trying to see as many Vilnius attractions as possible in a short trip. Well I'm here to help! Read on for the best things to see in Vilnius, Lithuania.
Pin Me for Later!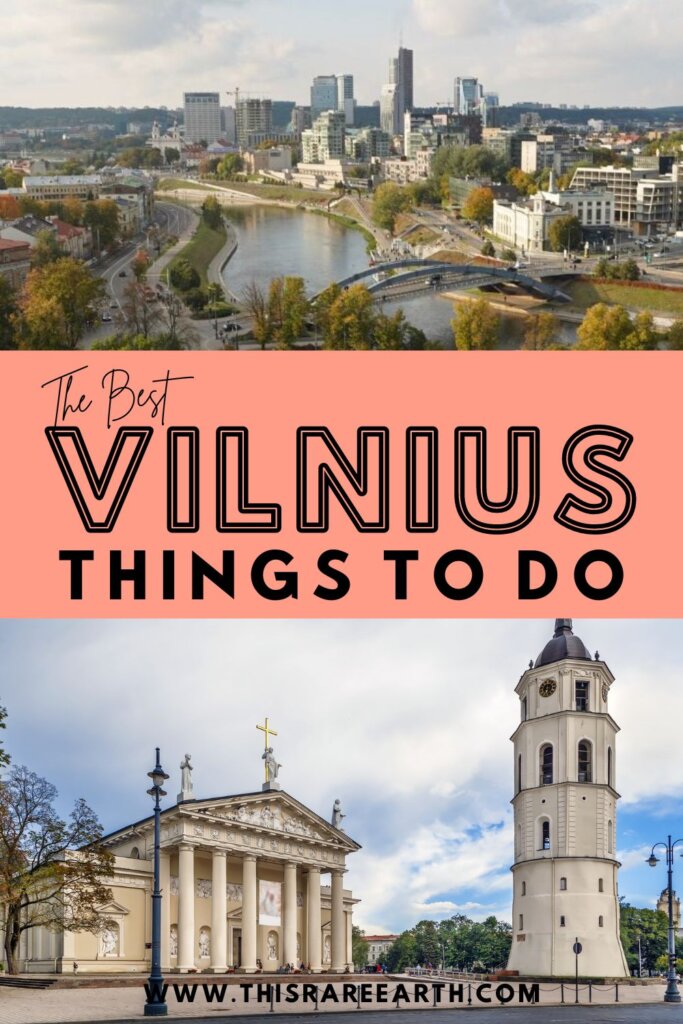 Lithuania is arguably one of the most interesting destinations in the world. Quaint and charming, old and new, lively and exciting – Lithuania has it all.
Before I go on, YES – I am 100% biased. I was born in the USA but my DNA (and heart) is Lithuanian. And I go back to visit Lithuania every chance I get, so I know this country very well!
There is no shortage of interesting places to visit all around Lithuania, but you are likely to start your trip in Vilnius, the capital. While I do think that no trip to Lithuania is complete without exploring the farther corners (Hill of Crosses, anyone??) Vilnius is certainly a must see.
Below is a great overview of Vilnius attractions to suit any first-time visitor. I highly recommend allowing yourself a minimum of two or three days to really get a feel for this amazing and historically rich city.
But first, the basics.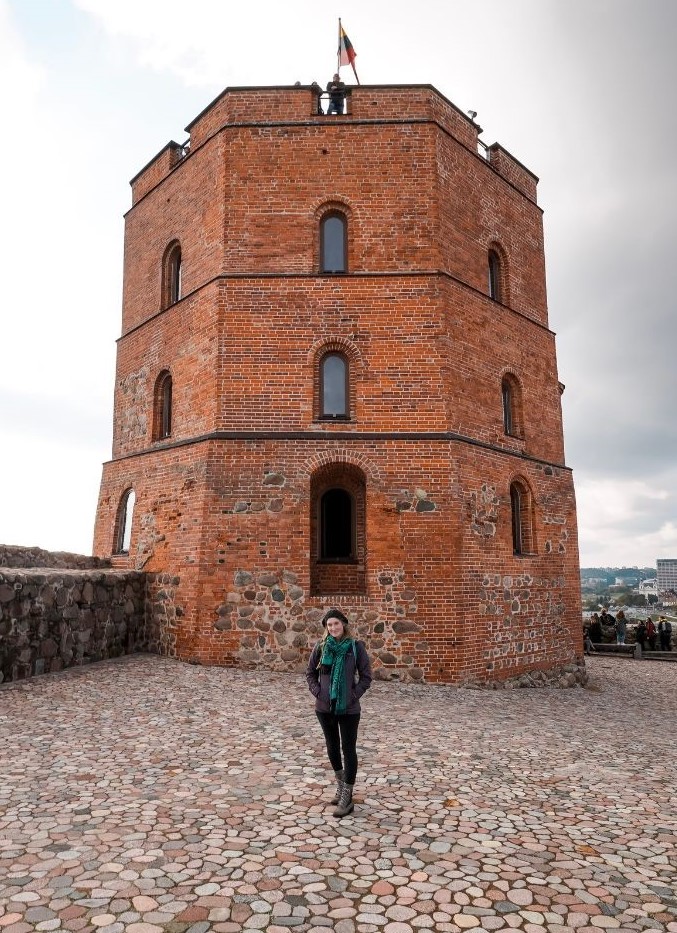 Is Vilnius Worth a Visit?
Absolutely! If you love interesting architecture, incredible food, quirky arts and a deep-rooted history, then Vilnius needs to be on your list.
Vilnius offers an unexpected blend of old and new. When I took my father to Lithuania, he walked away naming Vilnius as his favorite city we visited. He loved the blend of historic buildings and ornate churches against the modern and international city.
The medieval Old Town streets are stunning to walk through, blending Gothic and Baroque and Neo-classical styles atop cobblestone streets. Everything is walk-able if you are up for it, and walking is the best way to find hidden alleyways and sights that aren't noted as typical attractions in Vilnius.
Where is Vilnius?
So, where the heck is Vilnius, anyway? This capital city sits to the southeast border of the country, which is shared with Belarus.
Lithuania itself might not be among the most widely known countries in Eastern Europe – but I can guarantee, it's the best-kept secret! Lithuania is the southernmost country in the Baltic chain, just under Estonia and Latvia.
Zoom out on the map below to get an idea on Lithuania's geographic location.
When is the Best Time to Visit Vilnius?
I've visited Vilnius during all seasons and it has a definite charm all year round. It depends what you are looking for.
In general, most people would prefer to visit Vilnius between May and September for the warmest and sunniest weather. Note that it never truly gets hot in Lithuania by my California standards. The mid-70s is typical for mid-summer.
Lithuania is situated fairly far north, so the winters can get cold. Expect snow, freezing temps overnight, and sunsets around 4pm. yep, it gets dark quite early in the winter! As a Catholic country, winter brings out all the bright and festive Christmas decorations, which is a sight to see.
The fall months are stunning, with the colorful changing leaves and spring brings about bright green grass and colorful flowers in the rural areas.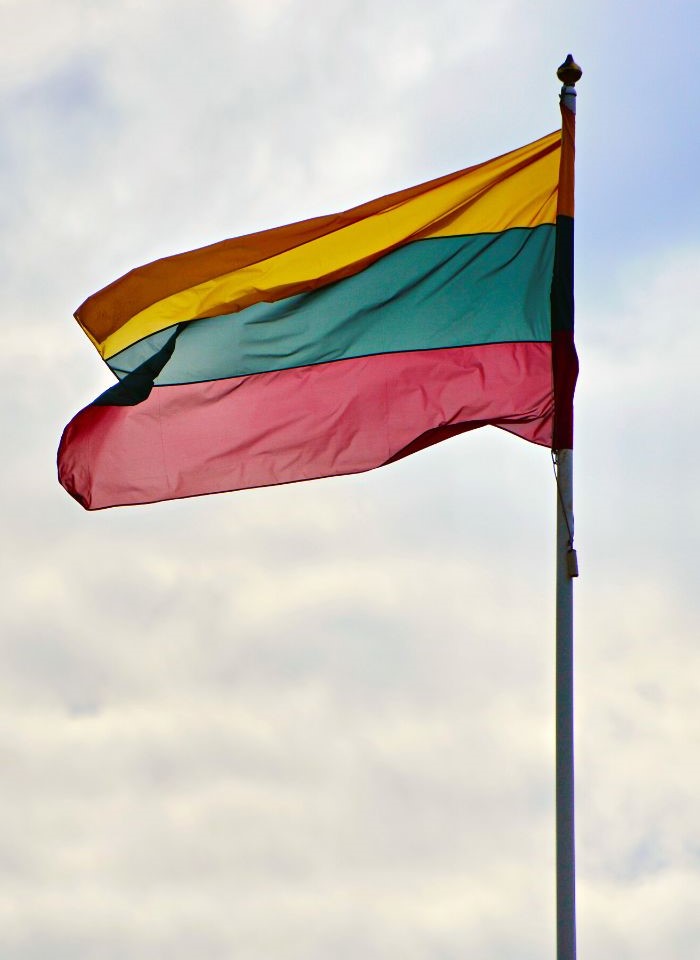 How Long Should I Spend in Vilnius?
At a bare minimum, you should really spend two to three nights in the city. This will allow you to exlore the best Vilnius attractions and things to see, to eat the best foods, and to find the quirkier corners.
Honestly, you could spend a week in Vilnius and still barely scratch the surface. But I would suggest to spend around three days minimum in Vilnius before (hopefully) venturing to other areas of Lithuania.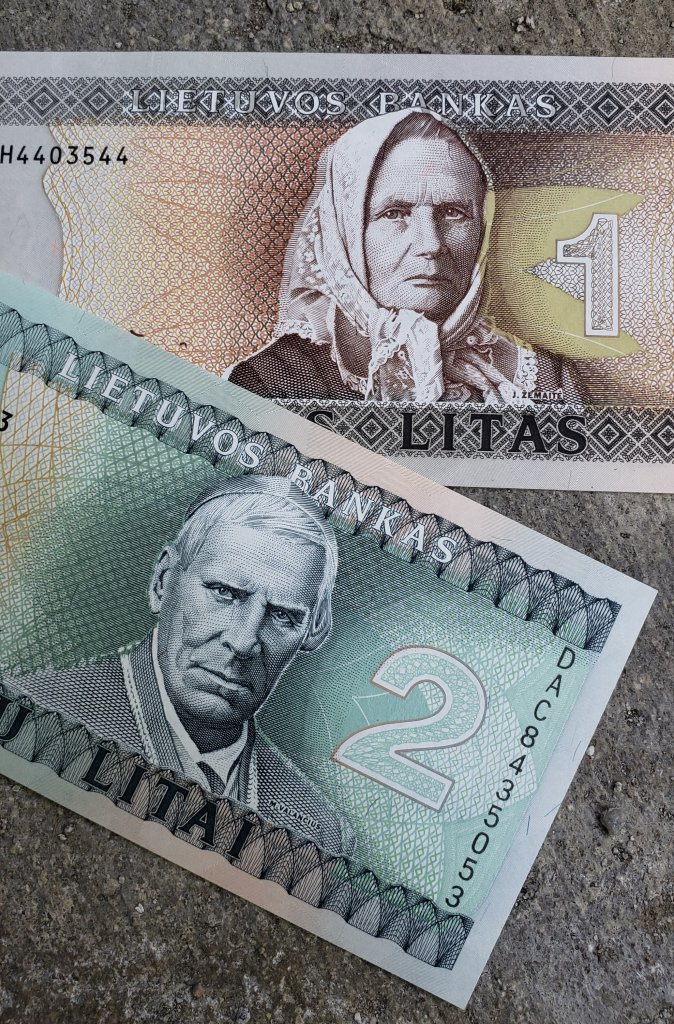 How Much Should I Budget for Vilnius?
I've got some great news for you; Vilnius is cheap.
Lithuania is a place to visit for travelers on a budget. The prices of food, accommodation, transportation, and attractions are low in comparison to many other European countries.
When I first started visiting, Lithuania still used the Lithuanian Lita as a currency. Nowadays they use the Euro, which has admittedly raised prices a bit, but it's still a very cheap destination as far as Europe goes.
You can eat for under 10$USD per meal and get a dorm bed for around 10$USD, too. Last time I visited, I only booked guesthouses, and the most I spent for stylish and well-located rooms was about $40USD.
Getting Around Vilnius
Vilnius is easy to get around, and travelers have several easy options to choose from.
For anyone on a shoestring budget, Vilnius has an extensive bus network that extends from the airport to all over the city. The buses can carry you from the airport into Vilnius in under 10 minutes for just a few dollars (depending on the current exchange rate). Current schedules can be obtained at the airport.
If you don't have the patience to figure out the bus logistics and have a slightly heftier budget, both taxis and Uber are an easy and cheap. For my solo females out there, check out my taxi tips before you ride.
Most of the city is walkable, so I recommend renting a car only if you plan to head outside of the capital city (which you absolutely should!) When I'm in Vilnius I typically explore by foot, Uber and bus. Then I rent a car (I always get the best prices here!) on the very day that I am driving out to farther corners.
Now, onto the good stuff! Keep going for some of the best activities and things to do in Vilnius, Lithuania.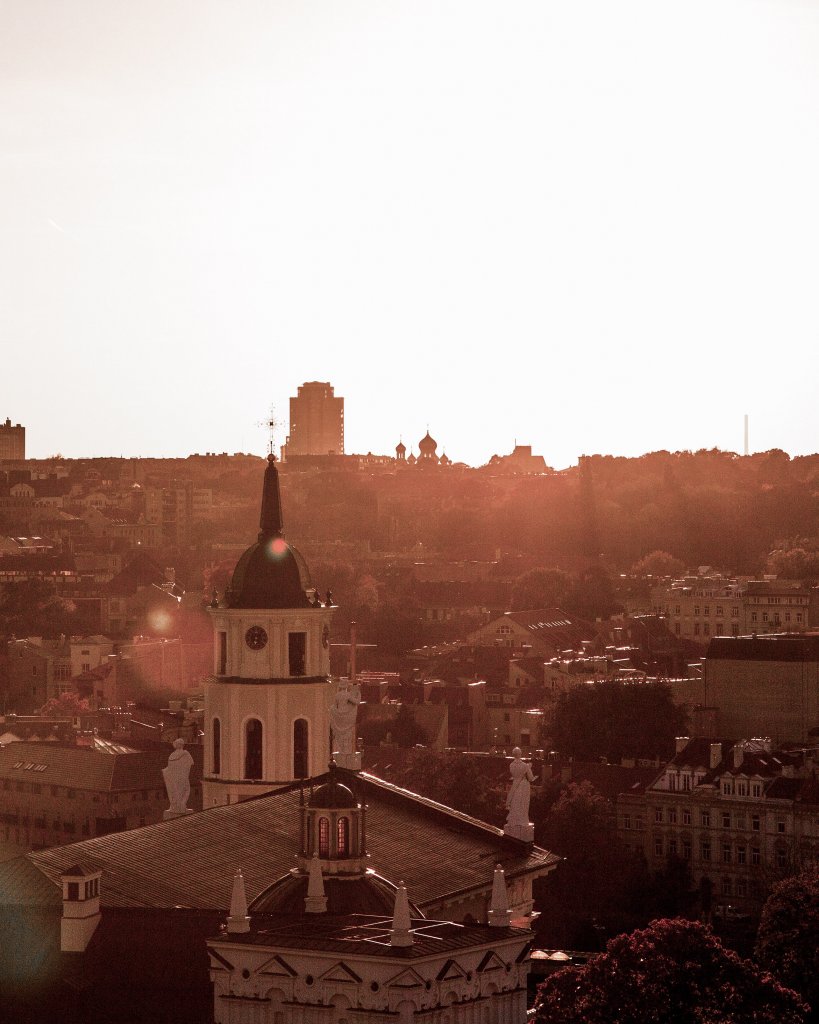 Top Vilnius Attractions to See
I said earlier that Lithuania is the best-kept secret in Eastern Europe. Let's discuss what makes Vilnius, specifically, so charming.
It's all in the details. The contrast between the centuries-old churches vs. the modern, hip cafes. The high-end jewelry made of Amber (a Lithuanian specialty) vs. the quirky galleries in the arts district.
There truly is something for everyone here. Whether you are fascinated by the history, or love to explore ancient castles, or you prefer more artsy and unique vibes, Vilnius has it.
Pro Tip: Consider purchasing a  Vilnius Pass that covers entry into many of the city's attractions for a flat fee. These cards are available in 24hr, 48hr and 72hr increments (at €34, €44 and €49 respectively.) It can save you lots of money if you want to see it all!
1. Cathedral Square & the Famous Bell Tower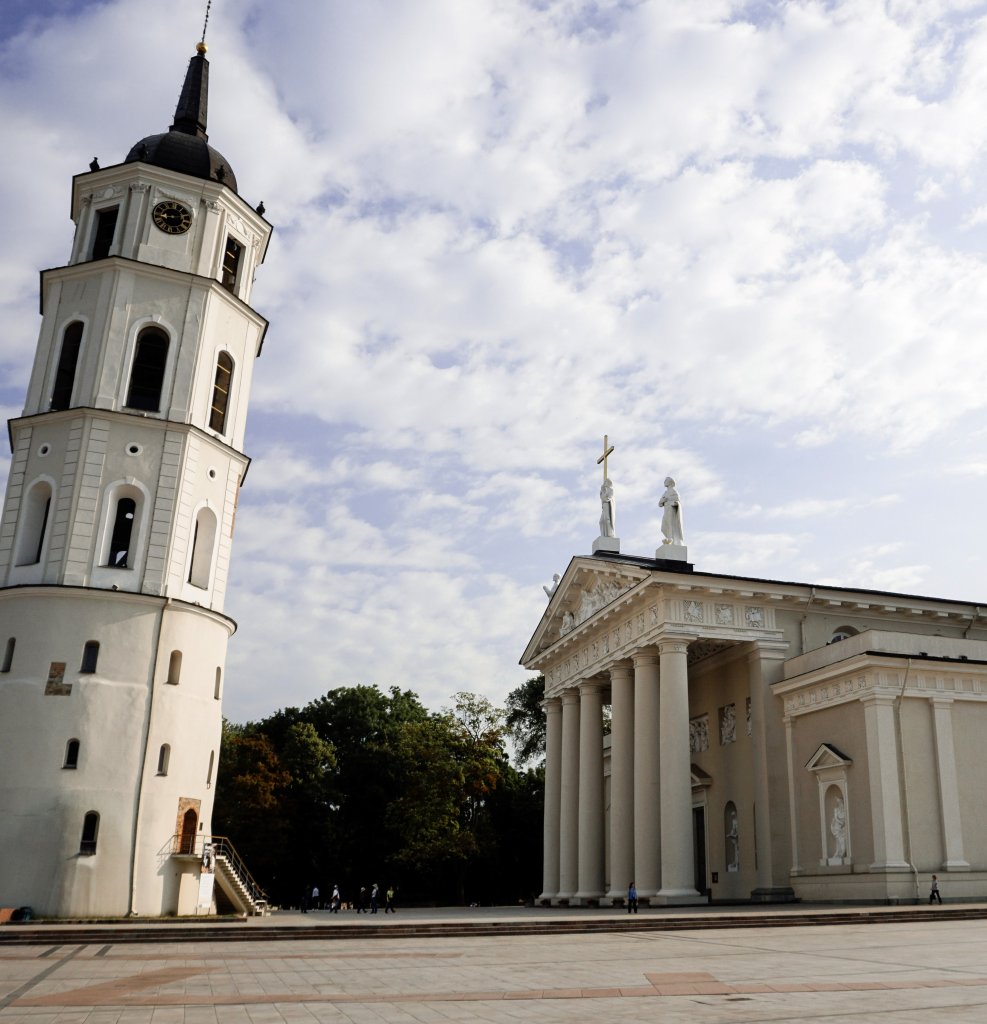 Cathedral Square is one of the most well-known meeting points in all of Vilnius. The wide open space is often used for festivals throughout the year, and one can't help but notice the gorgeous neoclassical architecture surrounding you.
The Cathedral of St. Stanislav and St. Ladislaus is the official name of the iconic building above. It is built upon the site of a former pagan temple and next to Gediminas Castle. Interestingly, though Lithuania is a strong Catholic nation now, it was the last pagan nation in Europe.
Visitors are also allowed to climb the tall white bell tower, set slightly off to the side. This is one of the best places to see Vilnius Old Town from above. I highly recommend it!
Operating hours are from 7:30am through 7:00pm, seven days per week. Entry is free.
Here is Cathedral Square's location.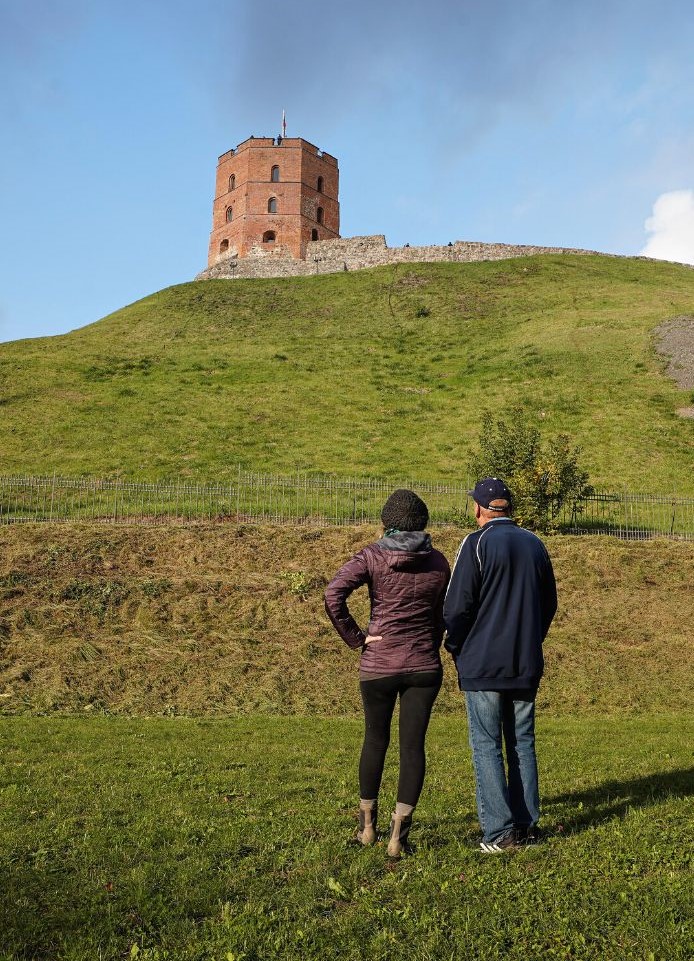 2. Gediminas Castle Tower
On a lighter note (and you will definitely want a lighter experience after exiting the Museum), Gediminas' Castle Tower is what remains of the Upper Castle. One of the many historical Vilnius attractions, this tower is well worth a visit.
This tower was originally built in the 14th century by the Grand Duke Gediminas. What you see perched on the hilltop is all that remains of the Upper Caste in Vilnius.
Visitors can walk up the hill to see the tower for free, or can pay a small fee to ride the tramway up to the top. Inside the tower is a small but interesting museum about Vilnius' distant and more recent history.
You May Also Like: Visiting Gediminas Castle Tower in Vilnius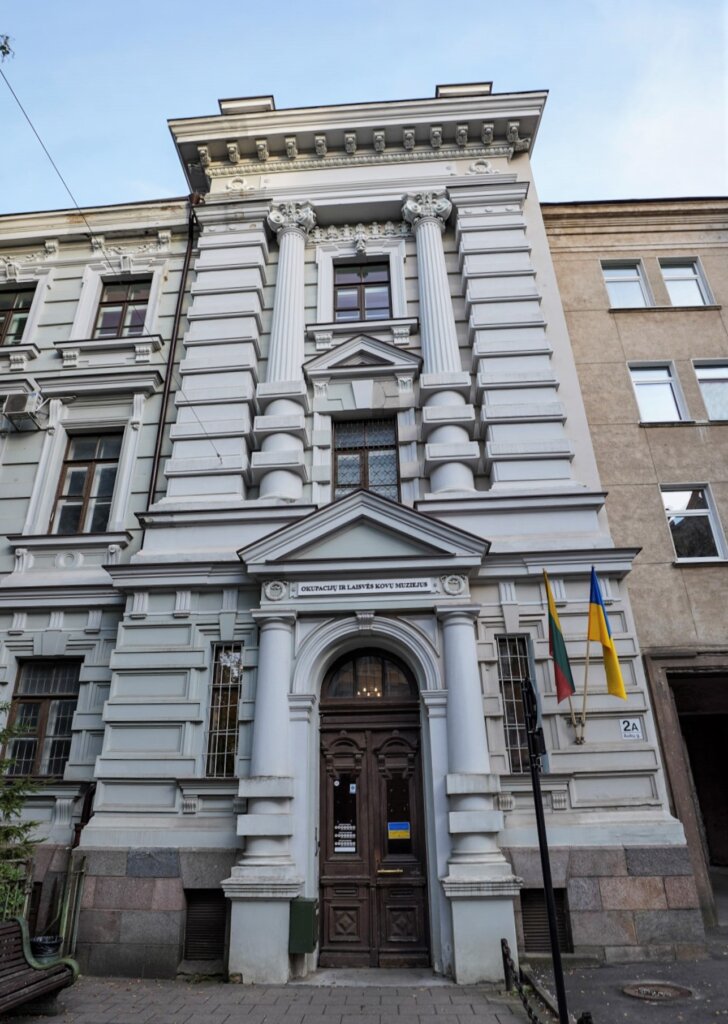 3. Museum of Occupation and Freedom Fights
This museum is likely the most important stop that you will make in Vilnius. Words cannot express how important the teachings of this museum are for Lithuanians.
First thing to note, this museum has gone by a few different names over the years. You will often hear it referred to as the KGB Museum and/or The Museum of Genocide Victims. Know that these are all referring to the same place.
This museum shows a sobering history of all-too-recent terrors that occurred in Lithuania over the years, from both Soviet and German occupations. Despite old family tales and extensive personal research, this museum taught me things I would never have otherwise known about Lithuanian history (and resilience.)
Each floor features photographs and names to commemorate victims and soldiers, whether known to history books or not. The museum shows not only unspeakable atrocities but also an unshakeable resistance. The basement holds a still-intact KGB prison and a bone-chilling execution room.
I can tell you with full honesty that I visit this museum every time I go to Lithuania, and I have not once left the building without shedding a tear. It is incredibly haunting but so, so important. If you want to understand Lithuania, then this is one of the most important things to do in Vilnius, hands down.
You May Also Like: Visiting the KGB Museum in Vilnius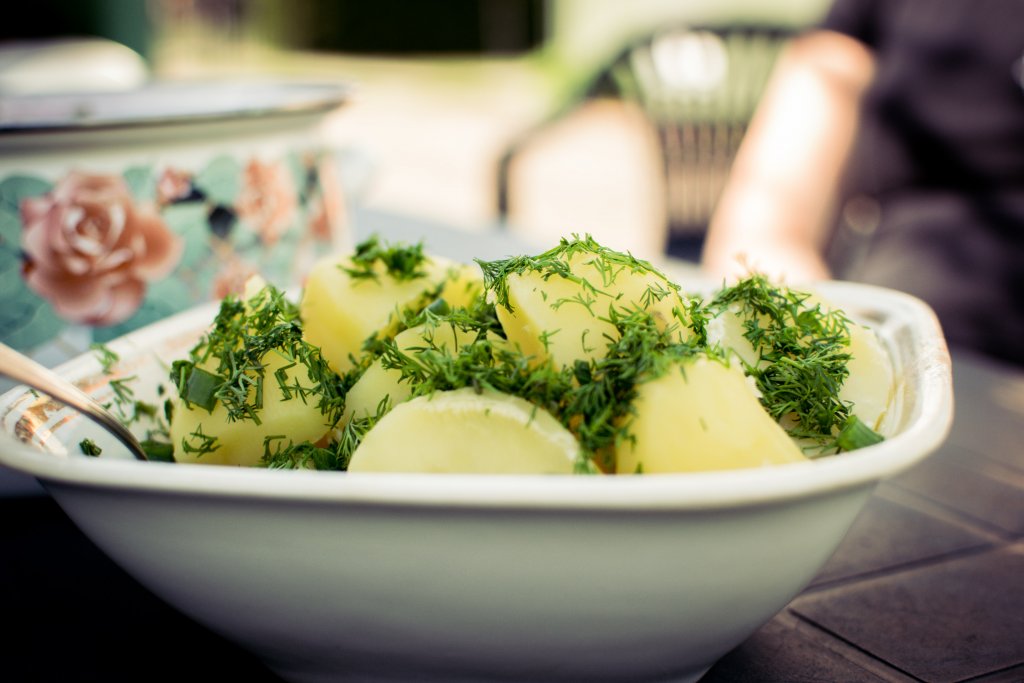 4. Etno Dvaras for traditional Lithuanian cuisine
One of the best and widely unknown highlights of Lithuania is the delicious traditional cuisine. Wne you've in Vilnius,Etno Dvaras is a must.
They are the first restaurant in all of Lithuania to have their dishes certified by the Lithuanian Culinary Heritage Fund. When you eat at Etno Dvaras, you know you are getting authentic Lithuanian food!
One of the most popular meals is cepelinai, which are huge dumplings made of potato flour, and filled with meats or vegetarian fillings like cheese. These are like no dumplings you've ever eaten though – the "walls" are extremely thick and they are absolutely filling!
Beet root soup, potato pancakes, and potatoes with dill are common staples as well.
To read more on Lithuanian traditional foods, check out this post.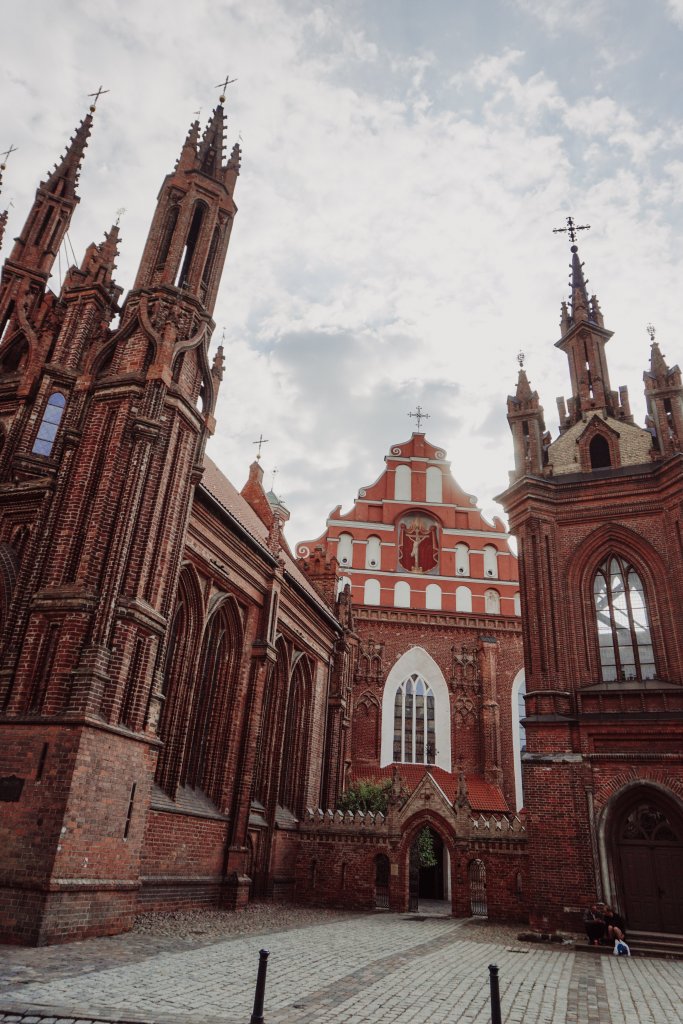 5. St. Anne and St. Bernardine's Church Complex
Let's start off with two iconic churches in the city. Visiting this church complex is easily one of the most popular things to do in Vilnius.
Each and every time I step foot in Lithuania, I visit St. Anne's and St. Bernardine's. They showcase opulent and differing examples of architecture in Vilnius, blending stunning Gothic-style and Baroque elements together.  
St. Anne's is the Gothic church showcasing the tall spires, It was designed in the 15th century by architect Benedikt Rejt, from Prague. From the time it was built, the exterior of the church has remained unchanged, though the interior has had some upkeep and more modern elements from the 20th century.
Not to be overshadowed, the impressive St. Bernardine offers a massive and unusual backdrop for St. Anne's, in a more bright and whimsical style. Seeing the two very-different churches side by side truly highlights the beautifully contrasting styles. Both are free to enter.
Here is the church complex location.
6. The historical Gates of Dawn
As the last remaining "gate" of the original nine, this arch is part of a historical wall that once surrounded Vilnius. The walls were built over 600 years ago, so it is easy to see why the Gates of Dawn holds huge historical significance. However, it also has a major religious significance, too.
People often stop and make the sign of the cross with lowered heads or even say a quick prayer before passing through. This is due to the small, hidden chapel inside the Gate which holds a religious icon of Mary that can be seen from the street below.
This Madonna of Mercy icon was painted in the 1700's. Much like St. Anne's and St. Bernardine mentioned above, whether you are religious or not, this is a significant stop. The Gates of Dawn is located on a small and unassuming street filled with amber shops and other retail stores.
Here is the Gates of Dawn location.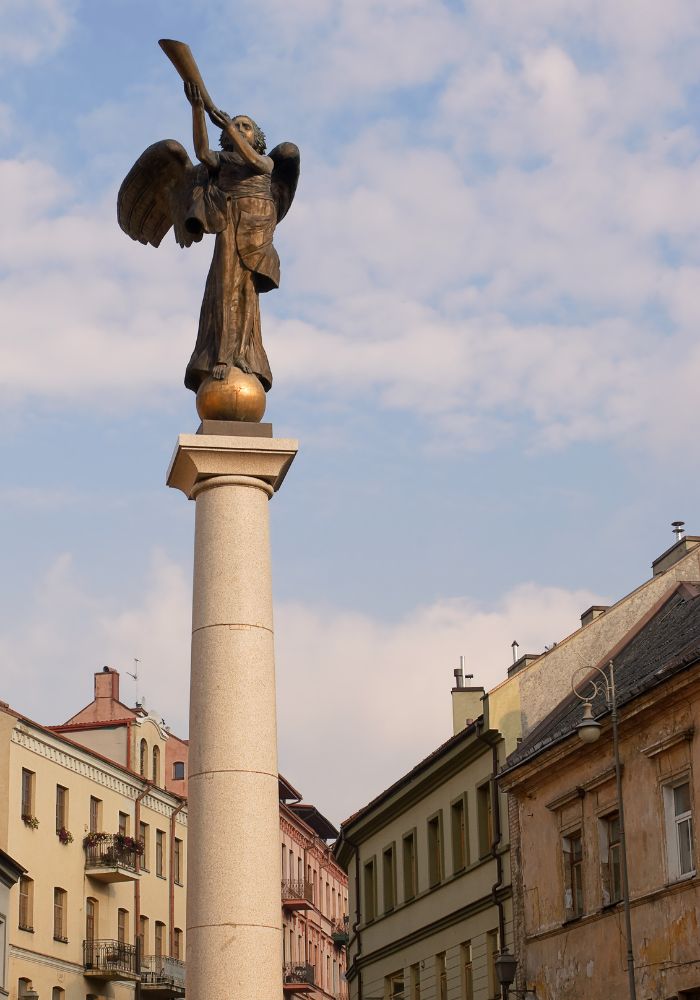 7. The Republic of Užupis
At the end of the Soviet era, Užupis was considered a very rough area in Vilnius. In fact, it was one of the last areas Lithuanians would want to be caught in, with crumbling buildings and high crime rates.
The neighborhood's Jewish population had an extremely rough go of it due to the Nazi occupation and their numbers were dwindling after the Holocaust. Things didn't improve under the Soviet occupation.
Following the collapse of the Soviet Union, Lithuania finally became free and independent once again. As it happens all around the world, artists came in and took advantage of cheap rents and large buildings to eventually create a progressive community and an artists' Utopia. This area became a place where a collection of quirky and free-thinking people could gather.
In 1997, the artsy residents of Užupis declared their independence on April 1st – or, April Fools Day. This was not an accident.
Though they have their own president, army, and flag, Užupis is a tongue-in-cheek kind of republic. The constitution, containing 41 lines, reads somewhat like a joke (though residents will tell you it's anything but!) The streets are lined with colorful and quirky shops, artist studios, and wall murals that are simply fun. It's a must-see.
Here is Užupis location.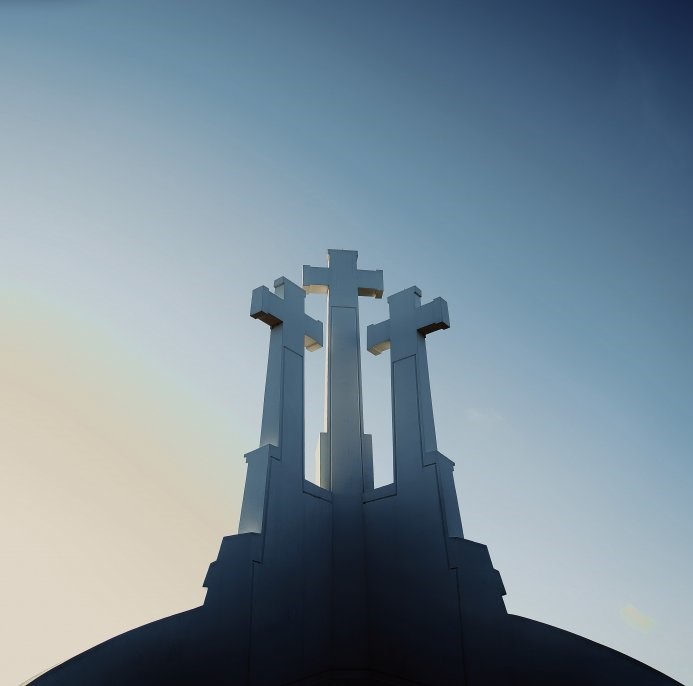 8. The Hill of Three Crosses
Not to be confused with the gargantuan Hill of Crosses in Šiauliai, these modest three crosses sit atop a hill in Vilnius as one of the more obscure attractions.
Originally, a trio of wooden crosses stood on the hill in Kalnai Park. There is ancient lore that tells a story of Franciscan monks who were slain here – which honestly may or may not be true. Nobody knows for sure, but the story touched Lithuanians enough that they build this wooden monument to honor "Bleak Hill".
Much like the famous Hill of Crosses in Šiauliai, this trio was torn down by the Soviets in an attempt to force the Russian Orthodox religion on a country that was deeply Catholic. The monument was rebuilt in 1989 as it stands now.
Climb this sandy, pine-covered hill for amazing views of Vilnius below. Bring some snacks and stay here for sunset below this symbol and enjoy a peaceful evening above Vilnius. The Three Crosses are free to view.
Here is the Hill of Three Crosses location.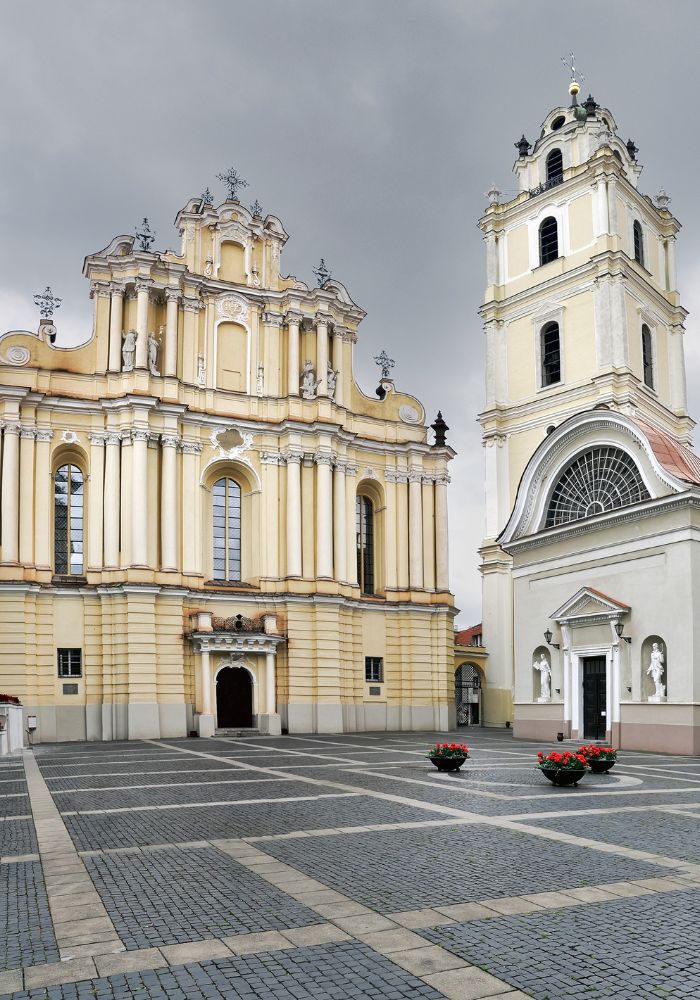 9. Vilnius University
One of the oldest higher education institutions in Europe, Vilnius University was founded all the way back in the 16th century. Over the years, new buildings, courtyards, and classrooms were added. This is why the University showcases a wide range of architectural styles within one school.
The two most visited attractions in Vilnius University are the library and the Church of St. John, both of which are worth a visit. Students from Lithuania and beyond, as well as tourists alike, can be seen gathering in the Grand Courtyard on warmer days.
Here is Vilnius University's location.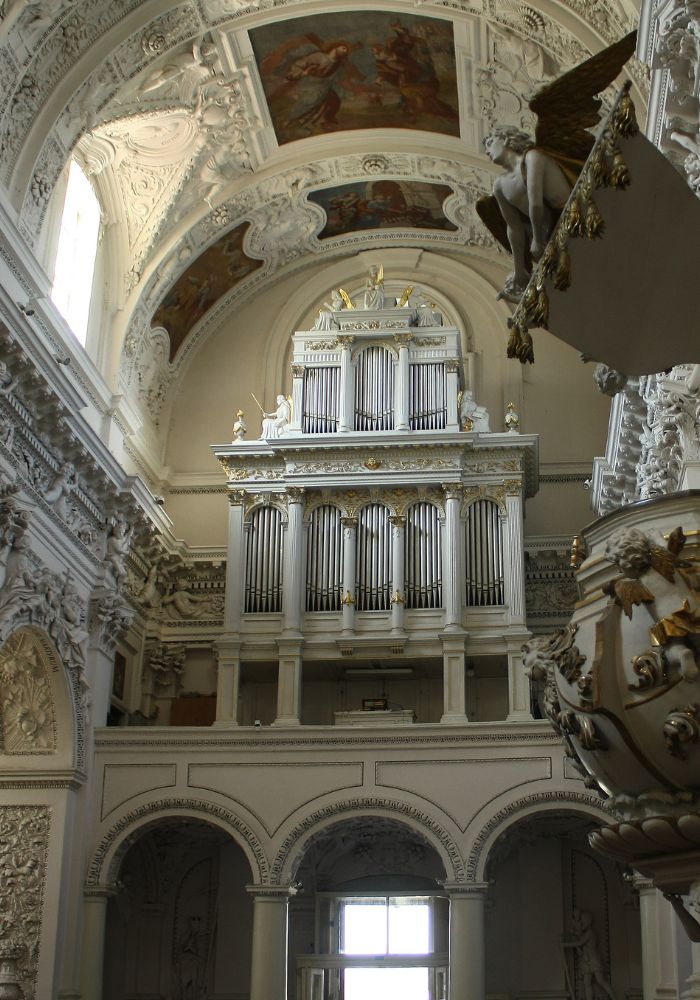 10. The Church of St. Peter and St Paul
The exterior of the Church of St Peter and St Paul is certainly beautiful, with it's pastel yellow walls and red tiled roofs. But the interior is where this beautiful church really shines!
Painted in a bright white shade, this church's elegance sparkles right before your eyes. Covered in stuccoes, frescoes and columns, as well as an ornate pulpit, this church is a stunner. It has around 2,000 intricately carved figures on display, making it one of the most unique churches in Europe.
Built between 1675 and 1704, the Church of St Peter and St Paul offers a visual extravaganza with so many sculptures and stuccoes for you to take in.
Here is the Church of St. Peter and St. Paul's location.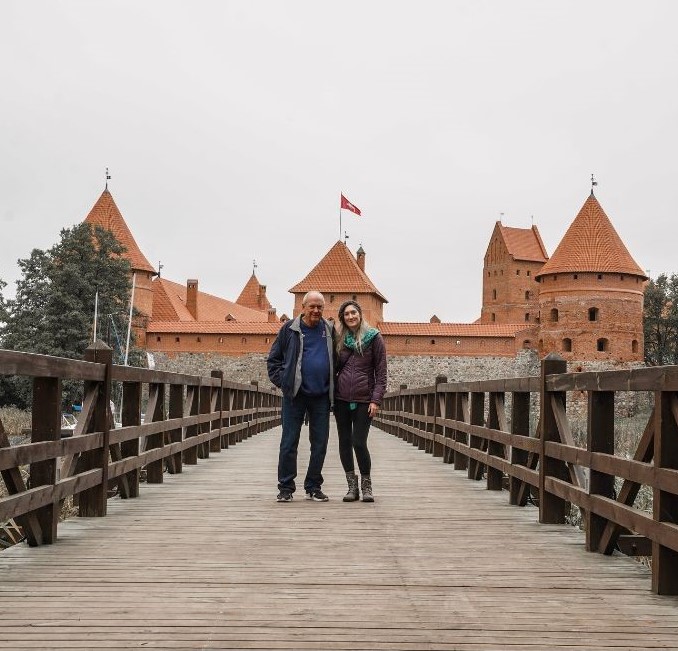 11. Visit Trakai Castle
Okay, full disclosure – this one is a roughly 25 minute drive outside the city, but it is so close (and so stunning) that I had to include it.
Trakai Island Castle's original construction dates all the way back to the 14th century. It sits atop a small island on Lake Galvė which essentially gives the castle a built-in-mote.
Trakai Castle suffered major devastation over the years of war in Lithuania, as so many places of importance did. Can I mention, I'm so proud of the resiliency of my people?!? The castle was restored over the years and the original frescoes were preserved and copied. The most recent restoration ended in 1961.
Inside, you will find exhibits showcasing traditional and historical artifacts – everything from local dress to weaponry. Other artifacts found in excavation are also on display, such as old coins. Trakai Castle's museum costs roughly $10USD, depending on exchange rates, and is more than worth it.
You May Also Like: Visiting Trakai Island Castle in Lithuania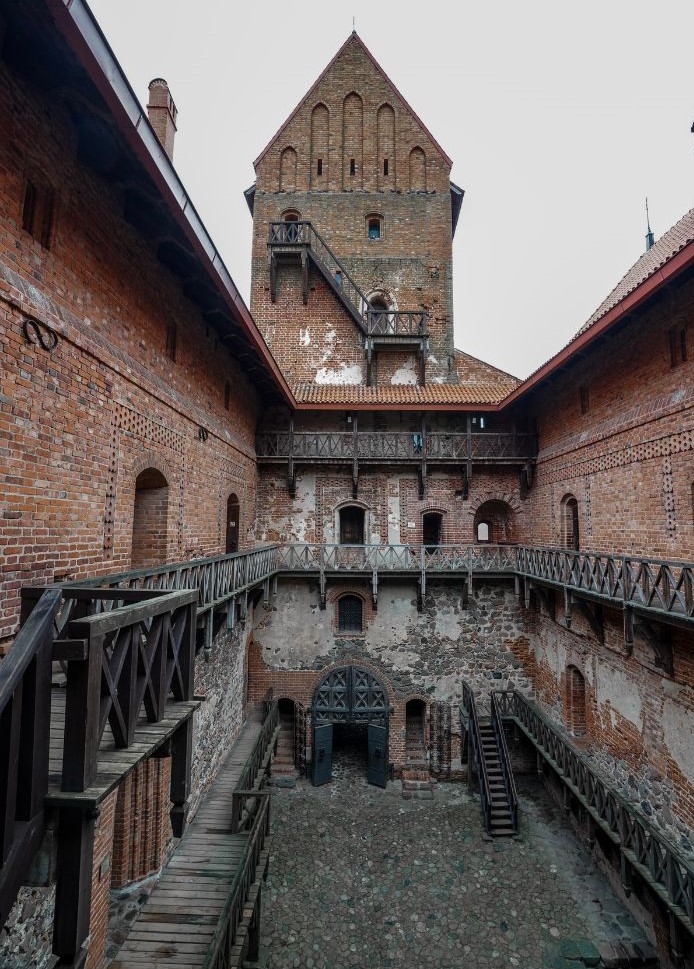 Where To Stay in Vilnius
I have been to Vilnius countless times at this point, and have stayed in many hotels and hostels. I'm going to link a few personal favorites below. Each of them are well located and comfortable.
***
I hope that this list of the best things to do in Vilnius, Lithuania helps you make the most of your time!
Lithuania is such a special place for me, and I hope you love it too. Let me know below which of these places in Vilnius was your favorite!
Pin Me for Later!
Did this list help you? Have you been to these Vilnius attractions? Let me know in the comments below!
---