Looking for the best things to do in Kaunas, Lithuania? With so many places to see and worthwhile attractions in Kaunas, its hard to know where to start. Luckily, I've got you covered. Here are the ten best things to see and do in Kaunas, Lithuania!
Pin Me for Later!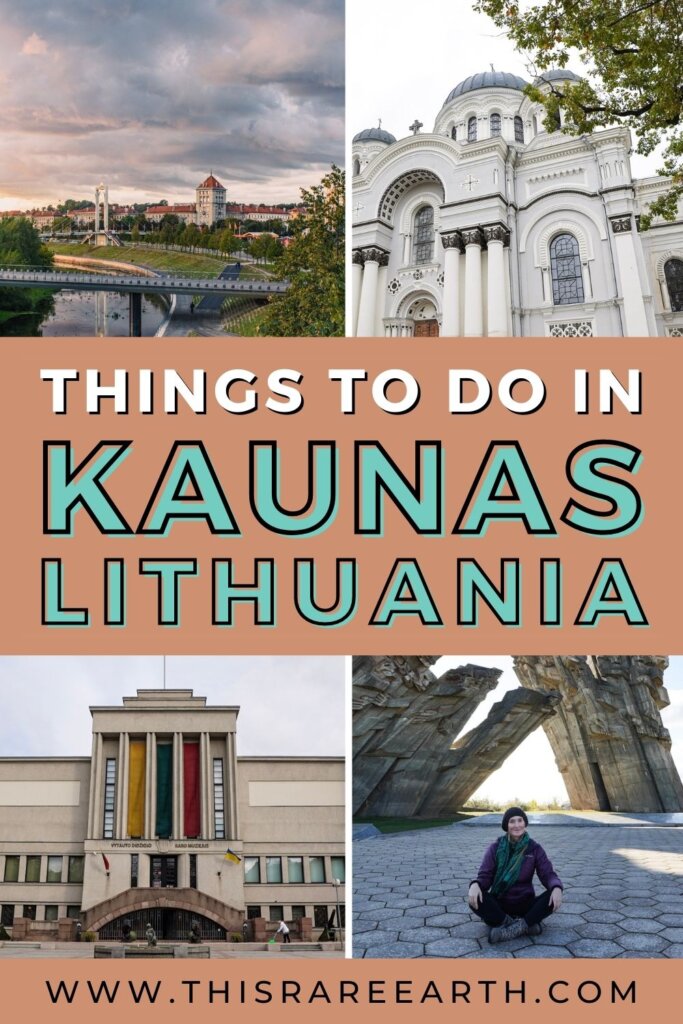 Kaunas is the second-largest city in Lithuania with a rich history that dates back to the 14th century. Kaunas used to be the country's historical capital prior to its move to Vilnius. Once you visit Kaunas, you will understand its charm!
Being Lithuanian by heritage, I have visited the city multiple times over the years and have found so many interesting and historical places to see in Kaunas! In fact, some of the Kaunas attractions on this list taught me quite a bit about my own heritage.
Situated at the confluence of the two largest Lithuanian rivers, the Nemunas and the Neris, Kaunas is the type of place that blends nature, history, education, and modern amenities all in one.
Kaunas is a vibrant and historic destination that should be on every traveler's radar. Here are the stops you just can't miss.
The Best Things to Do and Places to See in Kaunas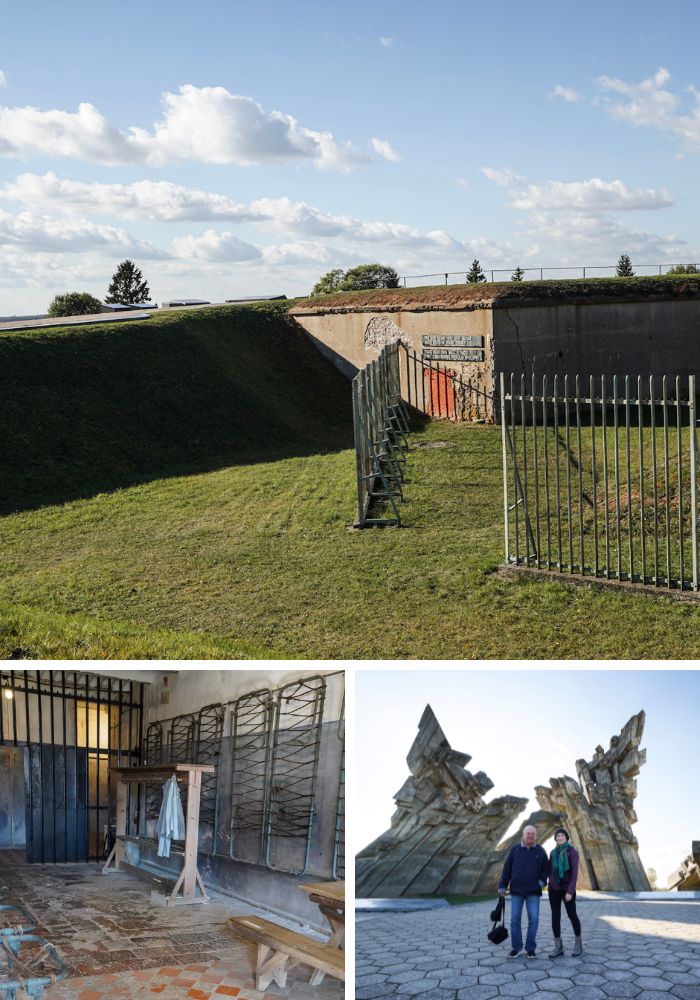 1. The IX Fort (Ninth Fort)
The Ninth Fort in Kaunas, Lithuania is a must-see for anyone interested in history or architecture. The fort was built in the late 17th century as part of the city's defensive walls, and it played a key role against enemy invasions.
Most poignant, the Ninth Fort was transitioned into a prison during the Nazi and Soviet occupations.
Now a museum, visitors get to can explore the casements, barracks, and the fort's underground tunnels as they learn about the country's struggle for independence. This former fort-turned-concentration-camp also tells the story of the Holocaust in Lithuania through bone-chilling artifacts, photos, and documents.
This sat at the top of my list of things to do in Kaunas when I took my father to Lithuania. He later told me that this was one of his favorite stops in the entire country.
The Ninth Fort is an absolutely essential stop for anyone interested in either Lithuanian history or World War II. Though a heavy experience, it is one of the most important places to visit to truly understand Lithuania's past.
You May Also Like: The Best Things to Do in Vilnius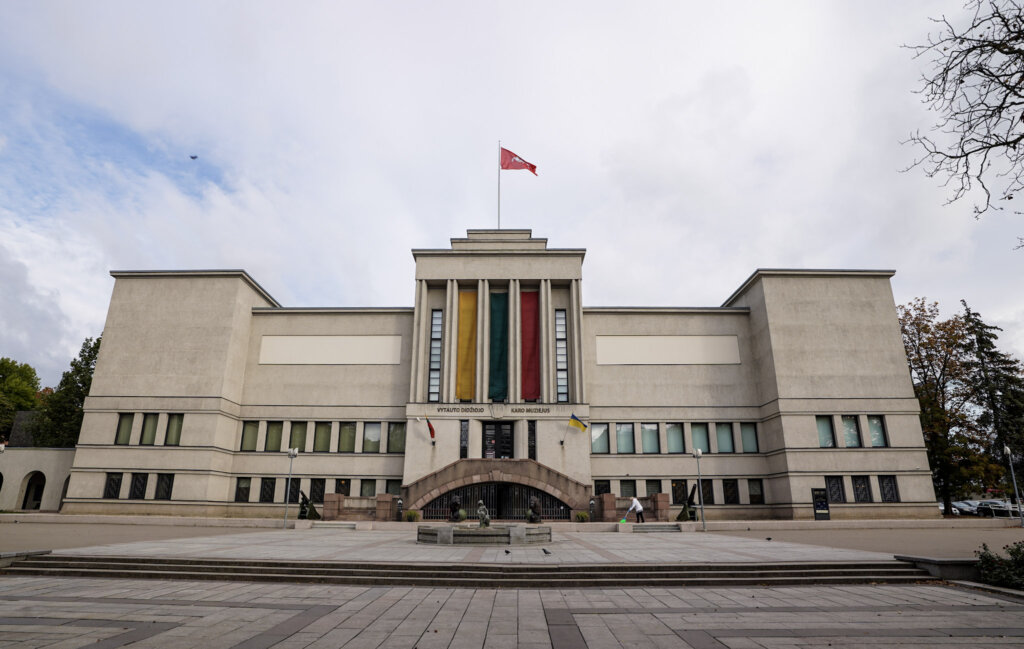 2. The War Museum
The War Museum in Kaunas is one of the city's most popular tourist attractions. The museum chronicles the history of the Lithuanian people during the 20th century, with a focus on the country's experience during World War II.
Located in a former military bunker, this museum features a wide range of exhibits, including an expansive firearm collection, historical weapons, photographs, and personal belongings of soldiers and civilians.
The museum spans several floors and galleries, with each room having an overall theme. There is even an old WWII intact airplane (as well as the remains of a crash.)
The War Museum also has a café and a small gift shop, making it the perfect place to spend an afternoon learning about Lithuania's wartime history.
3. Kaunas Old Town
Kaunas' Old Town is full of character and charm! With cobblestone streets, towering churches, quaint cafes, and traditional Lithuanian architecture, it's one of the most beutiful and walkable cities in the country.
Be sure to wander down Pilies Street, the main thoroughfare, to explore the plentiful restaurant options and boutique shops. And don't forget to try some traditional Lithuanian cuisine while you're there!
You May Also Like: The Top 10 Places to Visit in Lithuania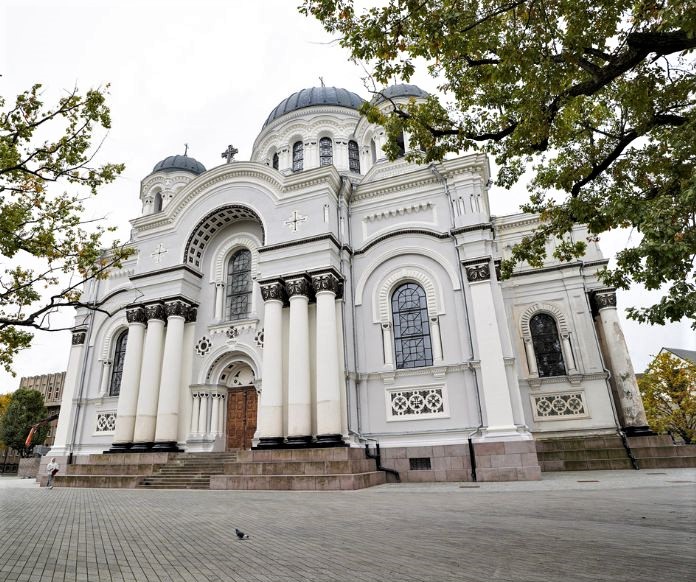 4. The Church of St. Michael the Archangel
One of the things that makes Kaunas unique are the beautiful and varied churches around the city. There are many in Kaunas, each with its own history and architecture.
One of the most notable churches is the Church of St. Michael the Archangel. It was built in 1413 and is one of the oldest churches in all of Lithuania. It stands on the cobblestone streets of Old Town and is difficult to miss! The white domed exterior is visually captivating.
It is well worth a visit and one of the top sights to see in Kaunas.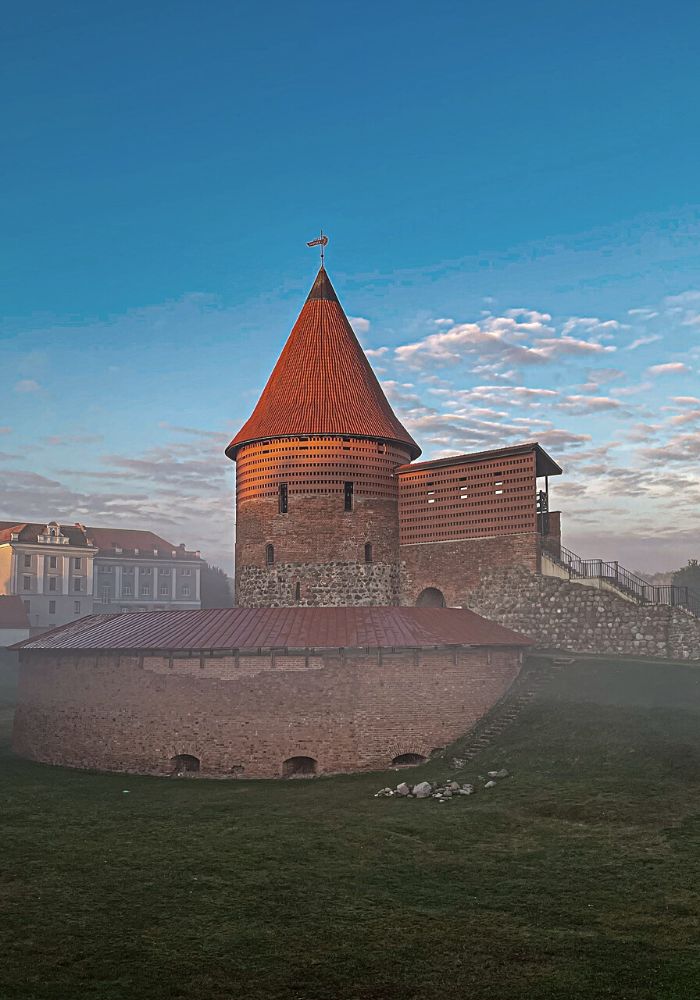 5. Kaunas Castle
Kaunas Castle is a medieval castle in Kaunas, Lithuania. Dating back to the 14th century, this castle was originally built to protect the city from attack by the Teutonic Order and Livonian Order.
Today, Kaunas Castle is one of the most popular tourist destinations in Lithuania. Visitors can explore the castle grounds, visit the museum, and take in breathtaking views of the city from the top of the castle tower.
The castle also offers stunning views of the Neris River and the city of Kaunas. For those looking to experience the history and culture of Lithuania, Kaunas Castle is a must-see.
You May Also Like: Visiting Trakai Island Castle in Lithuania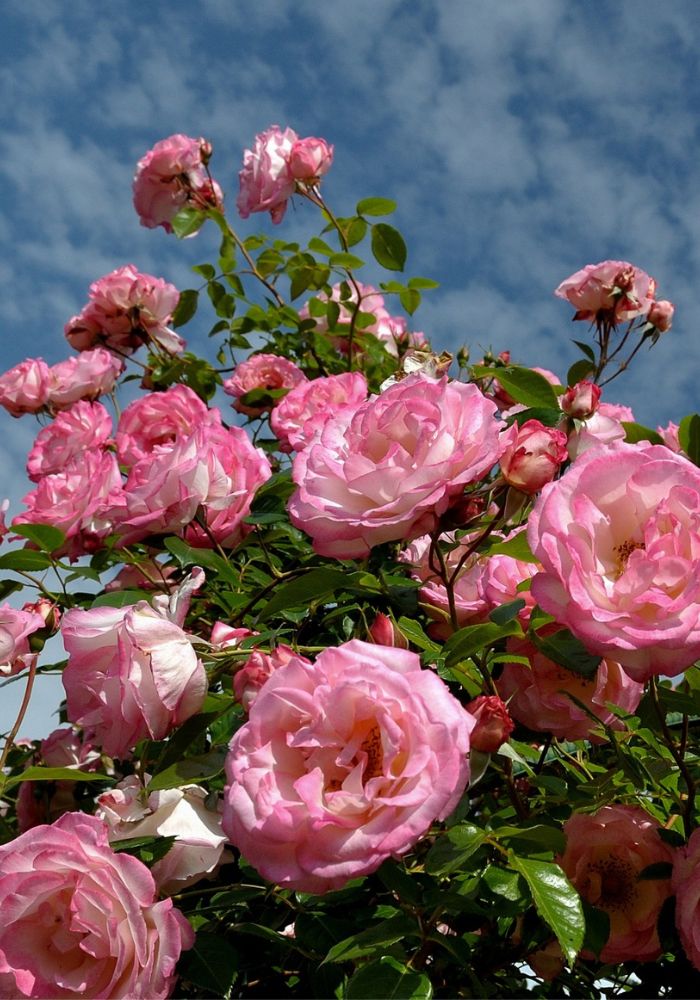 6. Kaunas Botanical Garden
Kaunas, Lithuania is home to a beautiful botanical garden that is perfect for nature lovers (like me!)
The garden covers over 70 acres and includes a variety of different gardens, such as a rose garden, an herb garden, and even a rock garden. In addition, the botanical garden is home to more than 10,000 species of plant life, including rare and endangered species.
Visitors can also find a number of sculptures throughout the gardens, as well as a greenhouse full of tropical plants. That's right – tropical plants in the Baltics!
The botanical garden is open year-round, and its diverse flora and fauna make it one of the most popular tourist destinations in Kaunas.
7. St. Francis Xavier Cathedral
The St. Francis Xavier Cathedral is one of the most popular attractions to see in Kaunas, Lithuania, and for good reason. It is known far and wide for its stunning Gothic architecture.
Visitors to the cathedral can enjoy its ornate exterior, as well as an interior that features a number of paintings and sculptures. The cathedral is also home to historical artifacts, including a missal dating back to the 15th century.
In addition to its architectural beauty, the St. Francis Xavier Cathedral is an important religious site, and it is the seat of the Archbishop of Kaunas. Tourists should make sure to include a visit to this historical cathedral on their list of things to do in Kaunas.
8. The Devil Museum
For anyone interested in the slightly strange, you need to stop at Kaunas' very own Devil Museum. This homage to Lucifer showcases over 3,000 artefacts of Satan – from rt to trinkets to carvings.
The collection here is primarily attributed to Antanas Žmuidzinavičius (1876–1966), a famous Lithuanian painter and professor, but has been added to over time. As part of the displays, you can see Žmuidzinavičius' paintings, too.
Besides the visuals, visitors get to learn about ancient legends, old beliefs, and superstitions about the Devil from around the world. It is definitely fascinating!
9. The M. K. Ciurlionis State Art Museum
The M. K. Ciurlionis State Art Museum showcases the works of the Lithuanian painter and composer Mikalojus Konstantinas Ciurlionis. This Kaunas museum exhibits his paintings, drawings, and music. The museum was founded in 1921, and is a fun stop for anyone interested in the arts.
Check their website for opening days and hours.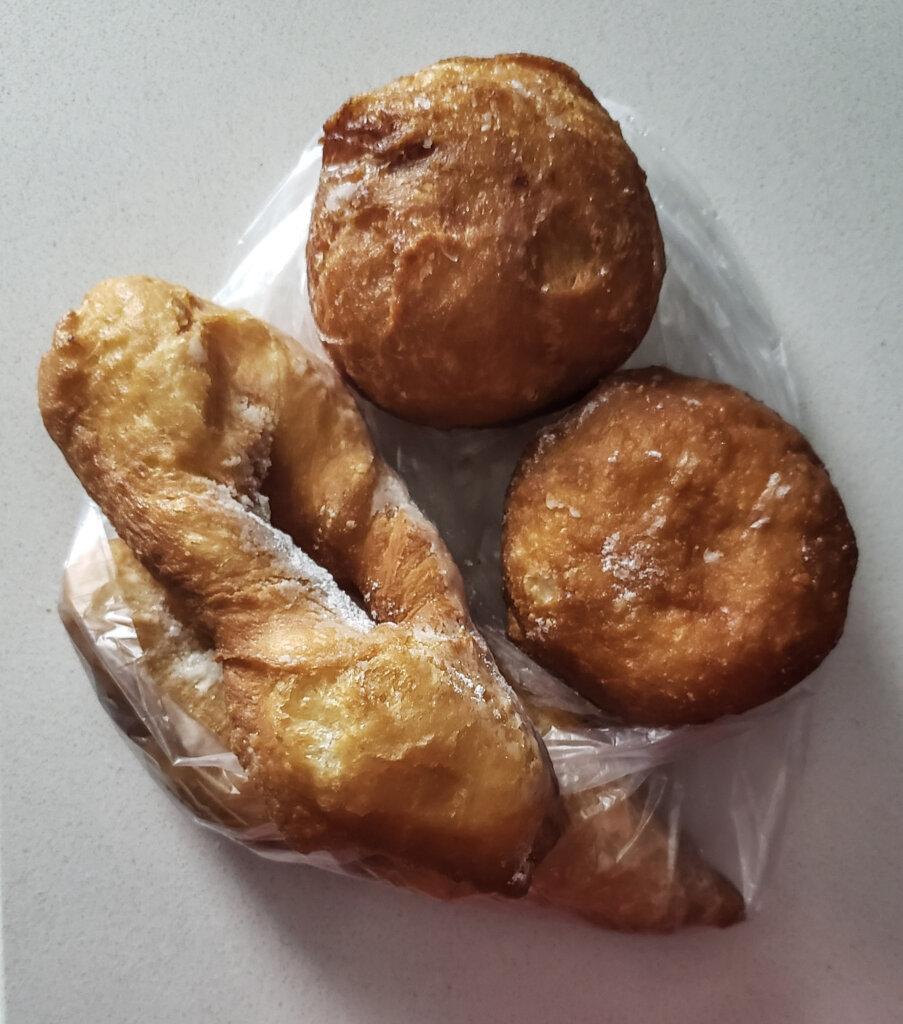 10. The Spurgine Donut Shop
The famous Spurgine Donut Shop in Kaunas, Lithuania is one of the top places to go when you're in the mood for something sweet. The donuts are made fresh in a variety of flavors, such as powdered sugar, chocolate, and strawberry filling.
My favorite thing about this place is that they don't care if their donuts are perfectly round. The weirder the better, in my opinion!
The shop offers a wide selection of coffee and tea, as well as other snacks, cookies, and pastries. At busy times, this place often has a line out the door – so come early or on off-peak hours!
The shop is located in the heart of Kaunas' Old Town, and its large windows provide a perfect view of the bustle of city life. Whether you're in the mood for a delicious donut or just want to people watch, the Spurgine Donut Shop is definitely worth a visit.
You May Also Like: Traditional Lithuanian Foods to Try on Your Visit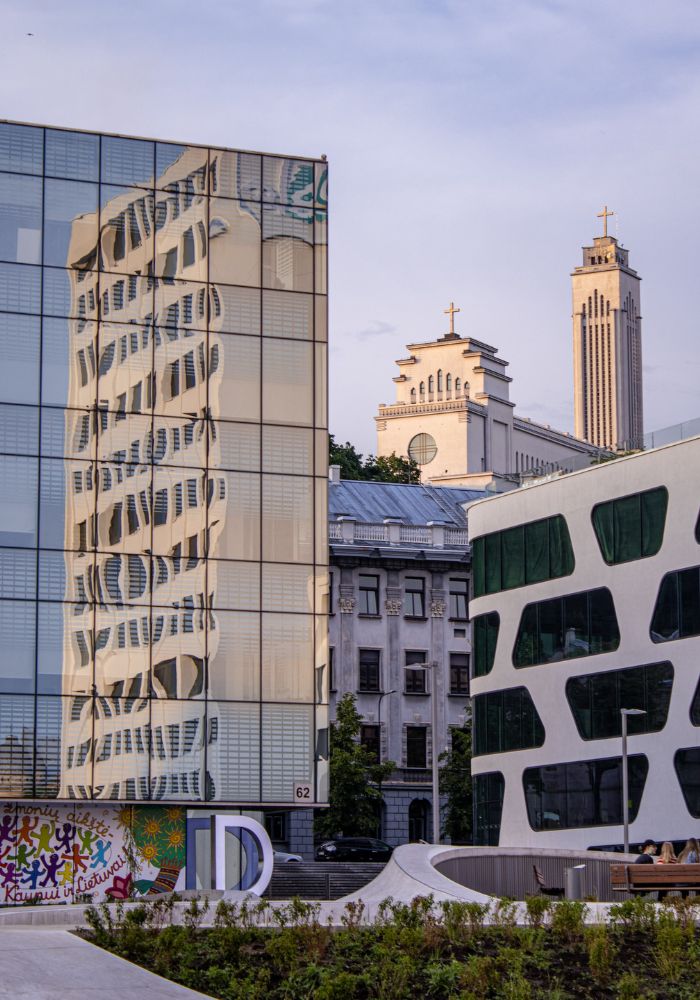 Where to Stay in Kaunas, Lithuania
This rich, historic city offers visitors a wealth of hotel options to choose from. Here are three of the best hotels in Kaunas, each with its own unique charms, that I personally recommend:
Hotel Kaunas is a four-star hotel located in the heart of Old Town. The hotel's location is ideal for exploring many of the sights mentioned above, and the rooms are comfortable and spacious. The hotel also has a fitness center, free wifi, and minibars in all rooms.
The Radisson Hotel Kaunas is another great option for those looking for a centrally-located hotel. The rooms here are clean and modern, and come with single beds, double beds, or family rooms. The staff is extremely friendly and helpful, and has an in-house bar and snack shop. The hotel also offers very reasonable parking, which is great if you have a rental car like I did.
Lastly, this Best Western Hotel is a great choice for visitors who want to be close to all the action. The hotel is located just a short walk from Kaunas Castle, and the rooms are spacious and well-equipped. Plus, the hotel has an on-site bar and restaurant, making it easy to relax after a busy day of sightseeing.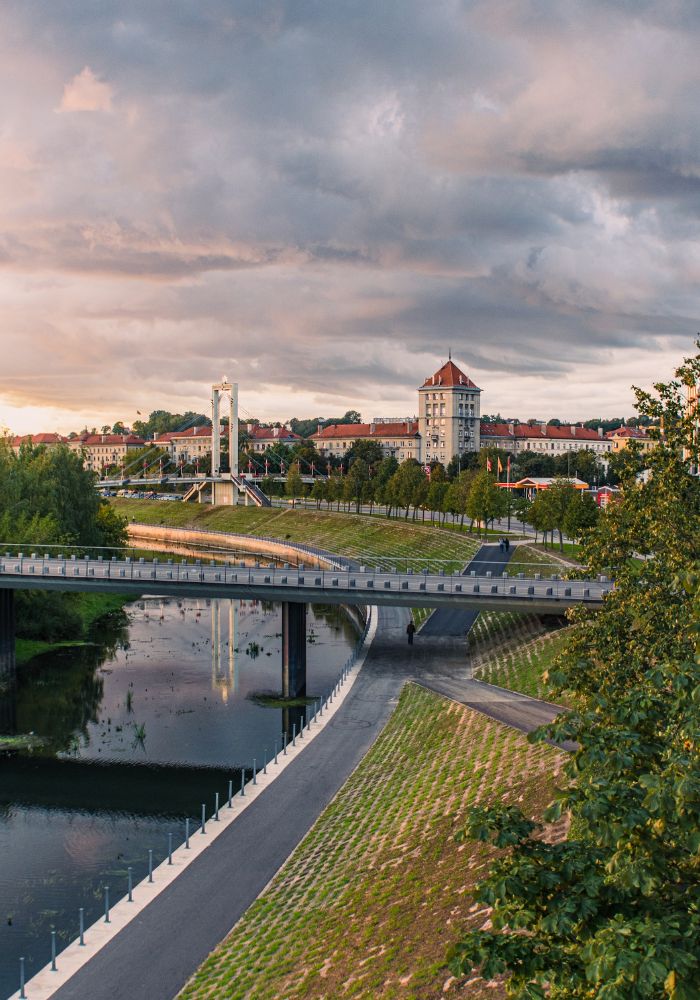 When is the Best Time to Visit Kaunas?
No matter what time of year you visit Kaunas, there's always something exciting to see and do. From spring festivals to winter markets, there's something for everyone in this Lithuanian city.
Spring:
Spring is a great time to visit Kaunas because the weather is mild and the flowers are in bloom. You should still bring a jacket and dress in layers, because nights and mornings will have a chill to them. There are also many festivals that take place in spring, such as the International Jazz Festival and the Book Fair.
Summer:
Summer is the busiest tourist season in Kaunas due to the warm and pleasant weather. It never truly gets "hot" in most parts of Lithuania! However, the busier pleasant season also means that accommodation and attractions will be more expensive. If you're visiting during summer, be sure to book your tickets and accommodation in advance!
Fall:
My most recent visit to Kaunas was in October, and I can attest that fall is a beautiful time to visit Kaunas because of the changing leaves. The weather is still mild in September and October, making it a great time to explore all that the city has to offer. festivals such as Dusetos Old Town Music Days and Kaziuko Mugė also take place in fall.
Winter:
Winter is a magical time to visit Kaunas with its snow-covered streets and Christmas markets! If you're visiting during winter, be sure to pack lots of warm clothes as the temperatures can drop below freezing. Skies can be overcast and grey, but you will have the city all to yourself.
***
Kaunas offers travelers a chance to explore everything from Lithuanian history to excellent cuisine through its plentiful museums, churches, and pedestrian streets. Though you can visit Kaunas on a quick day trip from Vilnius, with so much to see and do, you may need more time to take it all in!
Whether you're interested in history, culture, or simply looking for a charming yet quirky new European destination to explore, add Kaunas, Lithuania to your travel list. You will not be disappointed!
Pin Me for Later!